In this fast-paced internet era, young users need a smarter phone to meet all their entertainment needs. As an emerging tech brand, Blackview deeply understands this need and has launched its brand-new SHARK series – designed for youths, bringing unprecedented mobile photography experience and powerful performance! Recently, Blackview has introduced its first SHARK series model – Blackview SHARK 8. Powered by ArcSoft® 7.0 and 64 MP Camera with Super PD, SHARK 8 brings faster autofocus speed and higher contrast. On top of that, boasting 6nm Helio G99 and the latest DokeOS 4.0 based on Android 13, SHARK 8 offers unmatched customizability and flexibility.
Unparalleled Visual Experience with 2.4K 120Hz Display
8.35mm Slim & 198.3g light, 120Hz Refresh Rate,  Smart-K Box Speaker, 5000mAh Mega Battery & 33W Fast Charging  
One of the most anticipated highlights of SHARK 8 is its three vibrant colorways — galaxy blue, scorching gold, and moonlight grey. Besides, its 6.78-inch 2.4K display ensures a comfortable streaming experience and a 120Hz faster refresh rate results in more fluid motion on screens. Equipped with a smart-K box speaker, SHARK 8 delivers the most inspiring rhythms. Moreover, the 5000mAh battery and 33W fast charging prevent slow charging issues since SHARK 8 can be fully charged in just 78 minutes.
Super PD, Super-fast, Super-clarity
64 MP Rear Samsung® ISOCELL GW3 with Super PD, Backed by Blackview ArcSoft® 7.0 Algorithms, 13 MP Front Samsung® ISOCELL 3L6
With Super PD's higher contrast and rapid focusing, SHARK 8 allows users to capture decisive moments in any condition. Tailor-made for young users, SHARK 8 vividly presents every fleeting moment in the lens. Whether for rock climbing, skiing, or skydiving, every selfie and photo taken while exercising is sharp, in focus, and full of youthful energy.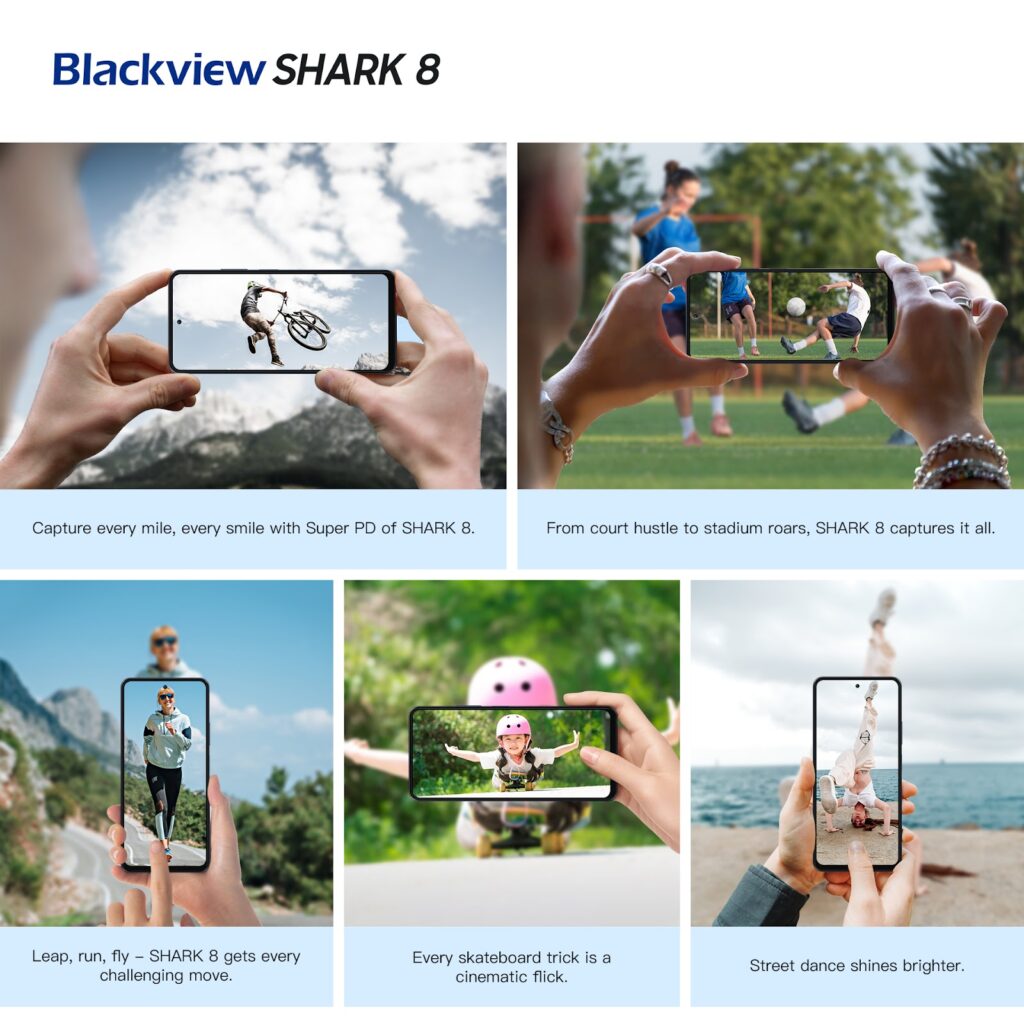 In addition, SHARK 8 can capture more light when it's dark due to Tetrapixel technology that automatically adjusts pixels according to the light intensity. Smart-ISO perfectly balances the brightness in any environment. Don't forget its 13 MP front camera, which delivers gorgeous yet realistic selfies and videos. The advanced Blackview ArcSoft® 7.0 technology is also applied to SHARK 8 with HDR Mode, Super Night Mode, Beauty Mode, and more.
Well-suited for CPU-intensive Games & Streaming
6nm MediaTek Helio G99, Up to 16GB RAM, 256GB ROM + Up to 1TB TF, 12,361mm² Integrated Cooling System, Constant Temperature below 39°C
Blackview SHARK 8 boasts 6nm MediaTek Helio G99, ensuring smooth operation of high-quality games and efficient multitasking. Featuring up to 16GB RAM, SHARK 8 provides users with top-tier fluidity. Furthermore, with 256GB ROM and up to 1TB TF card Expansion, users can freely download their favorite movies, files, and e-books. What's more, SHARK 8 has a superb cooling system to keep temperatures below 39°C, preventing overheating issues.
The Smoothest DokeOS 4.0 Fuels Youthful Passion
EasyShare App, Workspace App,  Atomized Memory 2.0, F2FS and EROFS, Real-time Accurate Subtitles
Running on DokeOS 4.0, SHARK 8's atomized memory 2.0 can release 5-9% of memory for other programs. Focus Computing allows for seamless switching between performance and power saving. Moreover, SHARK 8 can provide real-time accurate subtitles while watching foreign TV. The All-new EasyShare App can easily transfer files without the internet while the Workspace app protects users' personal data. More than that, the full set of personal themes and desktop icons provide users with more different choices. 
Price and Availability
Blackview SHARK 8 is scheduled to make its global debut on AliExpress, from November 11th to November 17th, 2023, and the final price will be only $93.99! (Limited to the first 50 orders per color). Click here to seize the opportunity to own this incredible Smartphone!