It's been 3 months since the release of the Doogee V30, one of the best-rugged smartphones in the world, it was highly sought after and loved by users. However, Doogee has never stopped to amaze me with the introduction of the Doogee V Max the latest 5G rugged flagship with a 22000mAh battery that sets it apart from the competition. This beast is run by MediaTek's Dimensitty 1080 octa-core chipset built with TMSC's 6nm process tech. The base memory configuration is 256 GB + 12GB can be expanded to 20GB by 8GB of virtual RAM. The camera set on the V Max includes a 108MP Ultra-HD Triple Camera, a SONY 20MP night vision camera, and more. On the front of the phone, you have a 6.58-inch display with a 120Hz refresh rate taking up most of the real estate. And like every rugged phone, is IP68 and IP69K rated with MIL-STD-819H certified and corning gorilla glass 5 and runs Android 12 OS. All of this I will talk about more in this review, so without wasting time let's move on to the article.
Doogee V Max Features
Rugged Design & Premium Build
Android 12 OS
MediaTek Dimensity 1080 Octa-Core
12GB+Up to 8GB Extended + 256GB ROM
6.58″ FHD+ 120Hz IPS Display
AI Triple camera (108MP+20MP+16MP)
SONY 20MP Night vision camera
22000mAh Battery, 33W Fast Charging
Stereo Sound by Hi-Res Certification
IP68, IP69K & MIL-STD-810G
Dual 5G Network, Wi-FI 6, NFC, BT5.2
Design & Build Quality
The Doogee V Max is one of the most durable smartphones on the market that is built to survive no matter what you use or work, it's extremely durable and not easy to break as tests prove. The smartphone is not much different from the Doogee V30 in appearance, with minor differences here and there, which has a practical design with an interesting texture like leather that fits comfortably in the hand and does not try to slip out, and the finish is extremely thorough. All of the parts have been superbly put together as a result, the phone appears tough. All the elements fit perfectly, the materials feel reliable, and everything is fine in this regard. Despite its Metal and rubber frame, it feels super solid when you hold it in your hands. The edges, ports, buttons, and all the other exterior components have a precise finish, which further boosts the feel-good factor.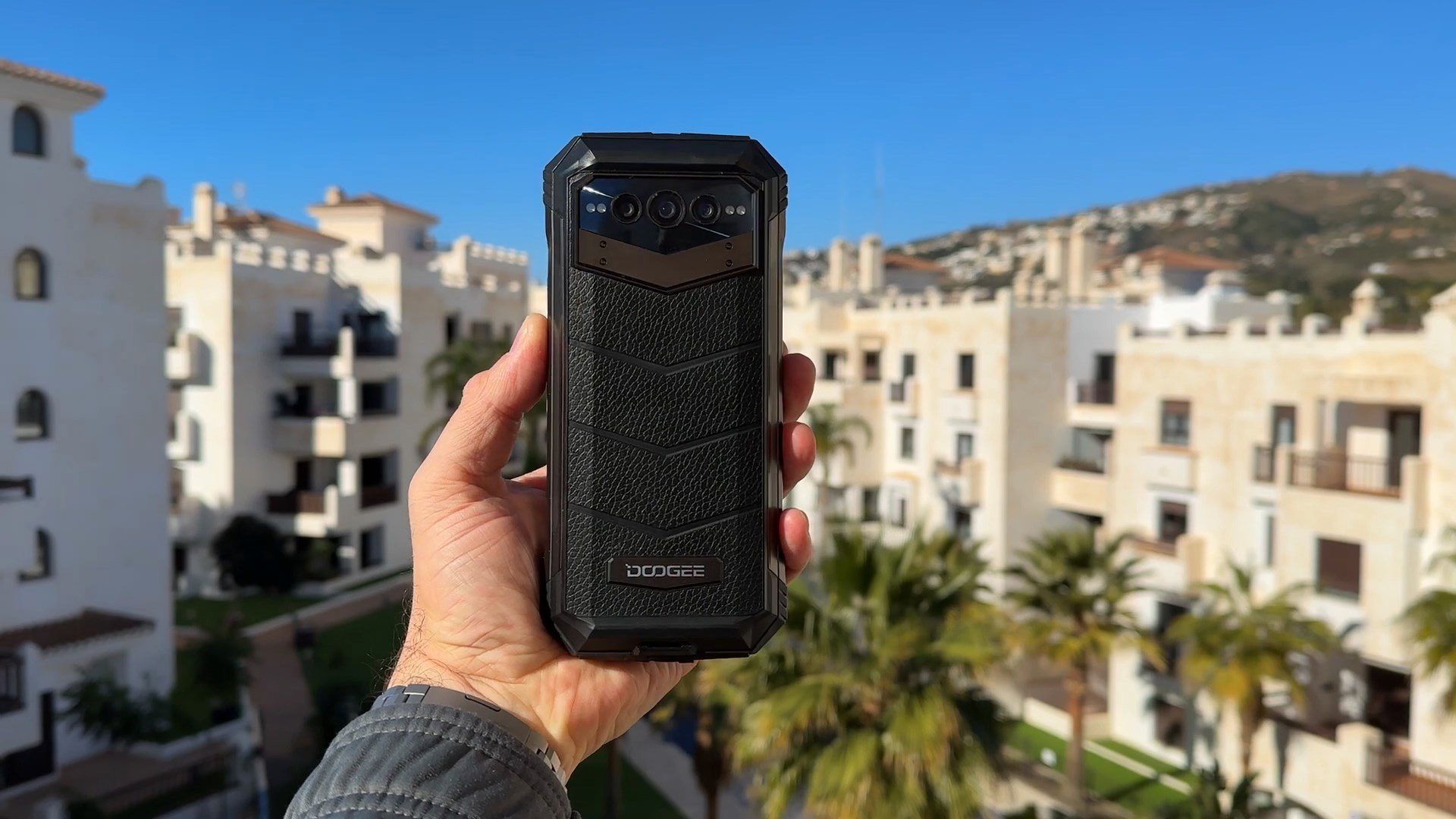 The design of the V Max is beautiful with some touches that make it look more eye-catching and more premium. it features a large screen on the front of 6.58 inches and a high-quality synthetic rubber body on the back with a frame of 27.3mm to make it one of the biggest phones I've ever had, despite its weight exceeding a pound. If you ask me about the quality of the manufacturing, there is nothing to complain about it, because Doogee is always working to provide high-quality products to users all over the world at affordable prices. So, The design and build of the V Max are very satisfying.
On The Front
In front of the device, you have a full screen of 6.58 inches that takes 83% of the body, according to the company, it has Corning Gorilla Glass protection. The bezels around the screen are neat, but with prominent edges. The notch for the front camera is classic Dot Drop with a 32MP camera on the middle of the top for taking selfies and video chats, which we will talk more about soon. However, there are Dual Speakers at the top and bottom for a more immersive stereo sound experience.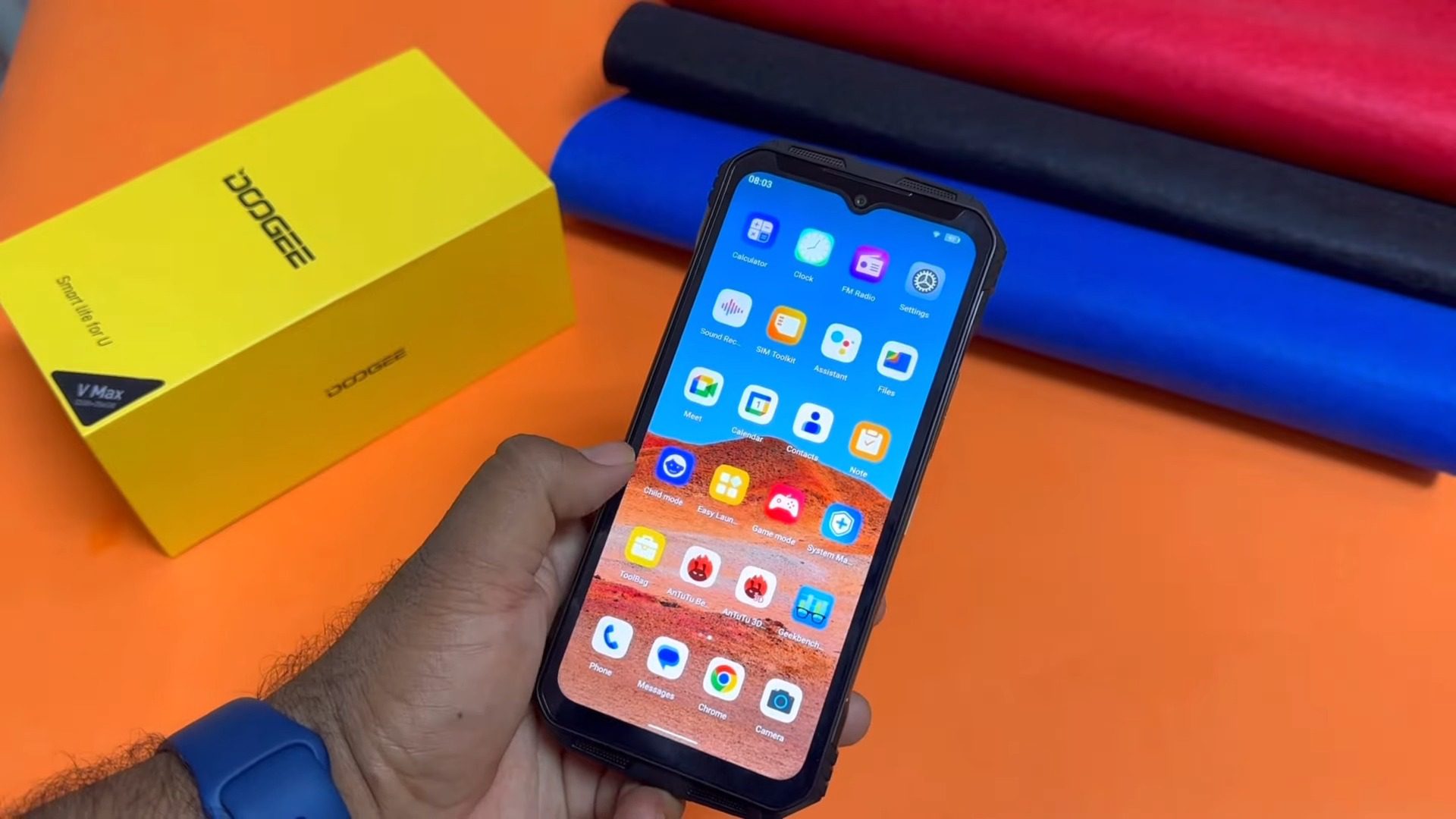 On The Back
But the back is radically different from any phone I've seen before with a premier look and came in three colors Black, Gold, and Silver and is made of a high-quality synthetic rubber layer, and reinforced with four thick cushions in the corners to handle the toughest collisions and for comfort when carried and also to prevent the screen from scratching. In the middle of the top, what catches your attention is an island with a bump and three cameras and flashlights, and has a sensor for infrared night vision. Also embossed the Doogee logo at the bottom.
Ports And Buttons
The volume button and power button are integrated with a side-mounted fingerprint scanner which is surprisingly good at this price, and there is a SIM card slot that holds two nano-SIM cards or a single nano-SIM card with a MicroSD card and has a customizable button, you can make a trigger to activate certain functions in the system settings. All buttons are made of durable metal, which gives them more solidity. In terms of ports, the V Max is equipped with a USB Type-C port that is covered with a waterproof port protector, keeping them safe from water and dust.
Doogee V Max – Waterproof
The Doogee V Max is covered by high-quality synthetic rubber and rated with IP68 and IP69K, which means it is dust-resistant scratch-resistant shock and drop-resistant, and water-resistant up to 1.5 meters for up to 30 minutes. Moreover, it can withstand high pressure and high-temperature washing test, and withstand 100 bar (1450 psi) high water pressure and 80°C high water temperature. In addition, it also has MIL-STD-810H certification, a military standard certification that ensures the integrity of the device is maintained in almost any situation.
Doogee V Max – Display Quality
Now, let's move on to why I fell in love with this phone. The display on the Doogee V Max is one of the best that you get with almost every other budget rugged phone nowadays, with a 6.58-inch IPS with FHD+ resolution and a 120Hz refresh rate with an aspect ratio of 19:9, and a modest screen resolution of 1080*2408. Despite the high resolution and 401PPI, There was a time when these specs were only found on flagship phones and it's exciting to see them trickle down to the mid-range segment. The display is definitely one of the strongest suits of the phone. Even though the display is an LCD panel, the bezels around the display are pretty thin and come with excellent viewing angles, crisp content, and accurate color reproduction. The display's contrast makes for an immersive viewing experience with deep blacks and vivid colors.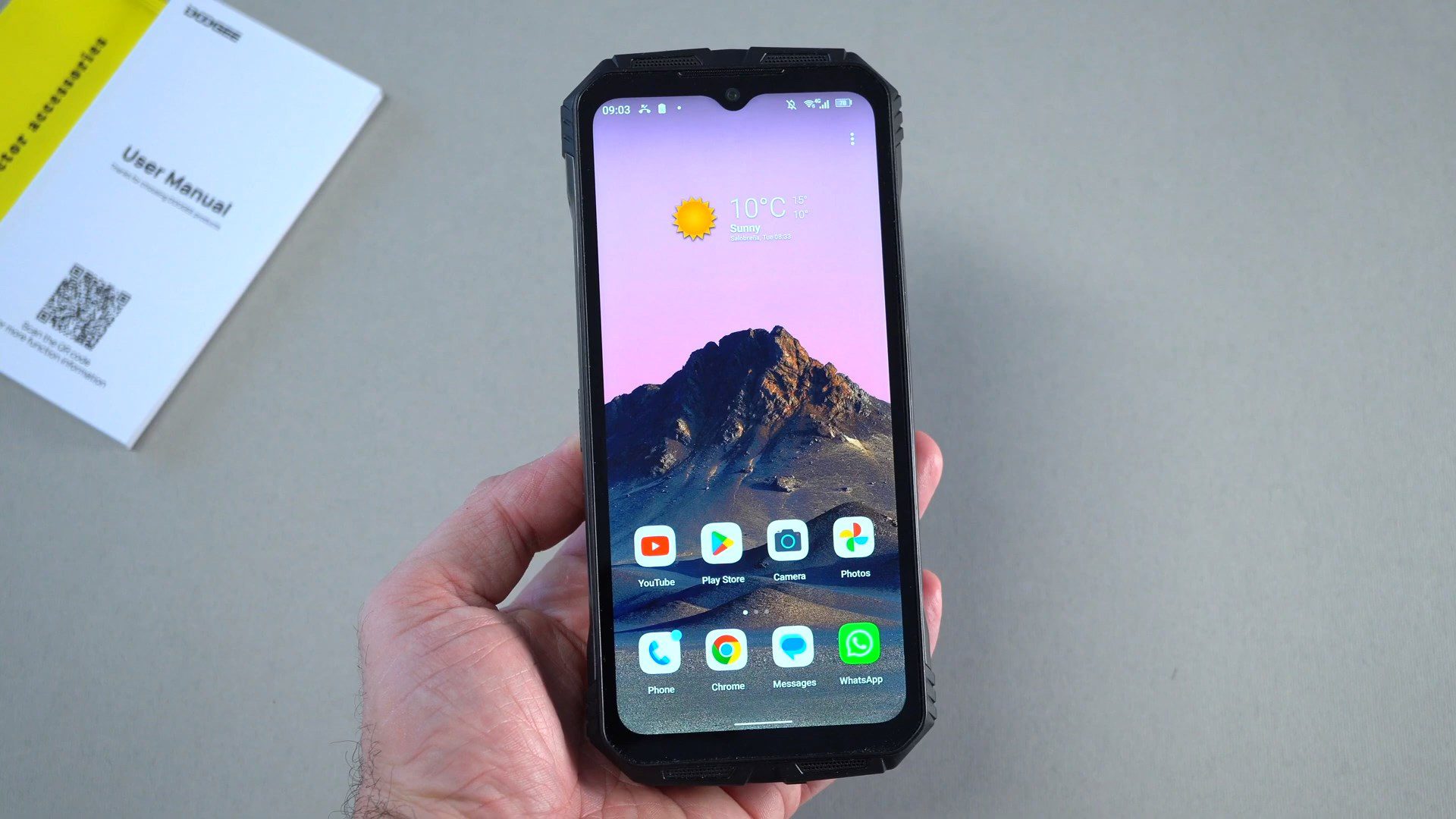 The first thing that caught my eye was the colors on this display, which look more vibrant than you'd expect from a rugged phone. Even the black levels are pretty good for the price, and that very well explains why the screen has a good contrast ratio and vibrant colors, and the content on the screen doesn't look very sharp. But that's what you get for the price.
What is more noteworthy is the 120Hz high refresh function. The high refresh rate can make you feel smooth at any moment when you move the screen, open SNS like Twitter and Facebook, and even play games at a high frame rate. Of course, The 120 Hz refresh rate works well most of the time but left it at the AUTO setting for the best performance and battery life. You can always force 120Hz if you want to.
Yes, I know that we all wanted an AMOLED display and it is a bit disappointing. However, the aforementioned panel is great for improved resolutions and the picture quality is very sharp maybe that can help you forget the high contrast of AMOLED. Although the viewing angles are still pretty decent and no darkening of the screen was visible even at almost 90-degree angles. While on a sunny day, the screen does not fade and remains readable, Of course, this does not apply to direct sunlight. In terms of brightness, recorded an impressive maximum of 400 nits.
This type of screen is the best you can get on a mid-range phone and provides good color reproduction with no picture distortion and blue light protection for comfortable reading. In short, It has by far the best display I've seen in a budget phone, and I find it perfectly adequate for web browsing and content consumption, you will get the best value for what you pay, a large and high-quality screen suitable for media consumption, whether you are watching the video, playing games or browsing the social media.
Doogee V Max – Cameras
So far, the overall rating of the Doogee V Max rugged phone is more than great, And this work continues through a triple camera system with a 108MP Samsung® S5KHM2SP03 sensor chip with F/1.8 Aperture & 7P lens. Also, a 20MP SONY® IMX350 Night Vision Camera & with F/1.8 Aperture & 2 Infrared Night Vision Lights; Finally there is 16MP Wide Angle & Macro Camera, for Wide Angle comes with F/2.2 Aperture and 130° FOV. To be capable of capturing the details, colors, or ranges to produce high-quality images.
This is with some great features most notably, the Night Vision mode, which takes night photography to the next level compared to its competitors, allowing you to take great pictures even in extremely low light. With this camera setup, the V Max manages to capture pictures with decent image quality, at least in daylight. The images look bright, vibrant, and quite detailed for the price. Speaking of low light, photos from the primary lens taken at night appear to be pretty soft and grainy. There's a lot of noise in the pictures and the colors appear quite washed out as well.
The V Max will manage to capture pictures with decent image quality, at least in daylight. But, Low-light environments bring out the limitations of this camera. Plus, the main camera sensor helps you capture gorgeous memory for any moment with clear and sharp images. Also, offer plenty of Photo Modes including background blur, HDR, night scene, AI scene recognition, portrait beauty algorithm, etc.
Moving on to the ultrawide lens, the colors of the photos taken via this lens closely match the colors from the primary lens, which is a good thing. The dynamic range is decent enough, There is also minimal barrel distortion in ultrawide images, and in daylight, you can get some pretty social-media-worthy shots from this lens, however, the low-light performance is less than ideal.
For macro we have images with little detail, It's a camera even capable of recording cool photos, but it's far from being attractive. The dedicated blur camera does a good job in not very complex scenarios.
Video Recording
The Doogee V Max can record videos at up to 4k resolutions at 30fps with the rear and front. The quality of the videos is good at this resolution, but there is no stabilization. If you want to reduce some of the shakes, you will have to shoot in Full HD with lower quality.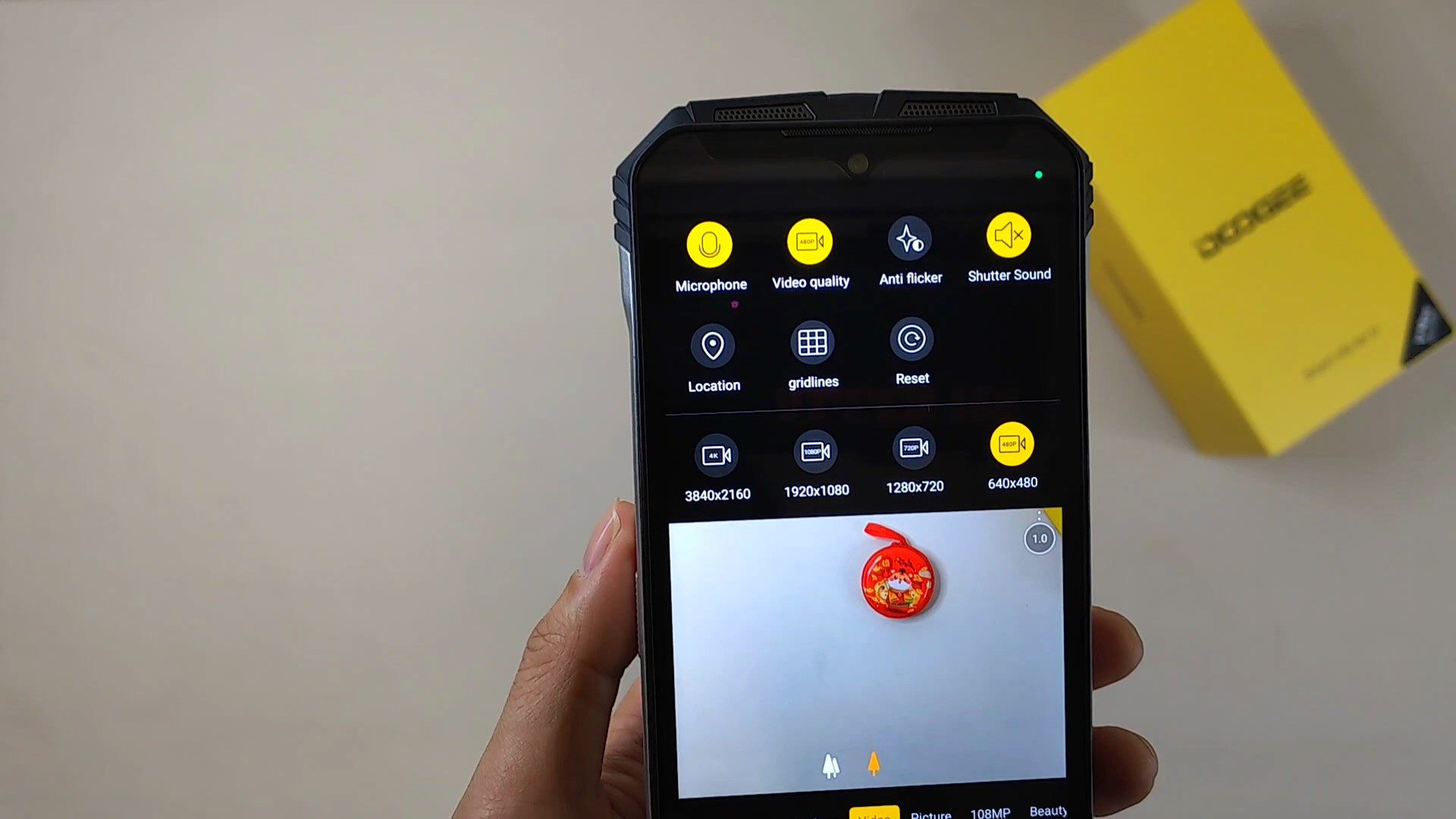 Front Camera
Thankfully, the Doogee V Max adopted a 32MP Sony® IMX616-AAJH5-C Sensor chip front camera to make decent selfies. The skin tone and details are good, just the exaggerated contrast and excessive noise in darker points compromise the quality a little. Night selfies lose sharpness but are still good enough to share on social media. Portrait mode separates the planes well and has few errors in a blur.
Infrared Night Vision Camera
The night vision mode of this phone is one of its main strengths. It features a 20MP resolution Sony IMX350 sensor, which can help you see everything at night. You just need to click on the icon to enter night vision mode and you will see all the differences. When taking pictures in the dark, and in extremely dimly lit environments, the image quality is very good. And in the deepest darkness, it seems to pick up some kind of lens flare-type effect. Also, distances play an important role to get accurate details. I am amazed that the camera worked so well, one of the most useful features. If you've got this camera for hunting, camping, or general wildlife spotting, it might be the best pick.
Doogee V Max – Overall Performance
DOOGEE has not disappointed in the performance department as well. The DOOGEE V Max is powered by the Dimensity 1080 chipset by MediaTek, which is certainly a powerful chipset in this price range, which is an improved version of the Dimensity 920 with slightly better performance, better efficiency, and beefed-up camera support. So, it sits right at the edge of the mid-range and high-end segments and we found it in mid-range phones like the Realme 10 Pro+, Xiaomi Redmi Note 12 Pro+, or even Infinix Zero 5G 2023.
With a 1080 SoC under the hood, the V Max can handle almost every task that you throw at it. This 6nm SoC can handle day-to-day tasks easily and gets updated performance with two Cortex-A78 performance cores clocked at 2.6GHz (up from 2.5GHz), while the six Cortex-A55 remain clocked at 2.0GHz.
Moving on, apps opened up quickly, and multitasking was a breeze. I could easily switch between different apps seamlessly and the phone doesn't get hot, and it doesn't throttle either. It is among the fastest and will not disappoint anyone. The fact that it has 12 GB RAM and supports up to 8GB of virtual RAM for improved speed and performance, the V Max manages to hold many apps open in the background. It also consumes less power, thereby offering more mileage in terms of device usage. Also has 256GB storage but if that's not enough then the company has included a microSD slot for up to 2TB. This combination is a powerhouse when we talk about mid-range smartphones, particularly for system responsiveness.
For gaming, I ran PUBG and the title ran at 60fps at Ultra graphics without any major stuttering after prolonged usage. I would, however, lower the graphics for a more seamless experience. I also played some games such as Call of Duty: Mobile and Asphalt 9: Legends and the experience was quite good. While CoD Mobile and PUBG could run at medium to high settings, I had to lower the graphic settings for a better playable experience. You can choose to play at the Max frame rate setting but will have to be content with low graphics. On the other hand, Asphalt 9 ran smoothly without any issues. The lighter ones take advantage of the 120Hz screen to reach 120fps, while more demanding games run well with less fluidity. Surprisingly, the phone did not heat up even after playing games for more than 30 minutes.
Moving to benchmark tests, the DOOGEE V Max scored 820 and 2,348 in Geekbench's single-core and multi-core tests. And scored 5,12,159 points in AnTuTu which is decent, these benchmark results are one of the best in the rugged segment, and push the SoC beyond what's likely with real-world usage, which in the V Max case is much more than just passable for most use cases.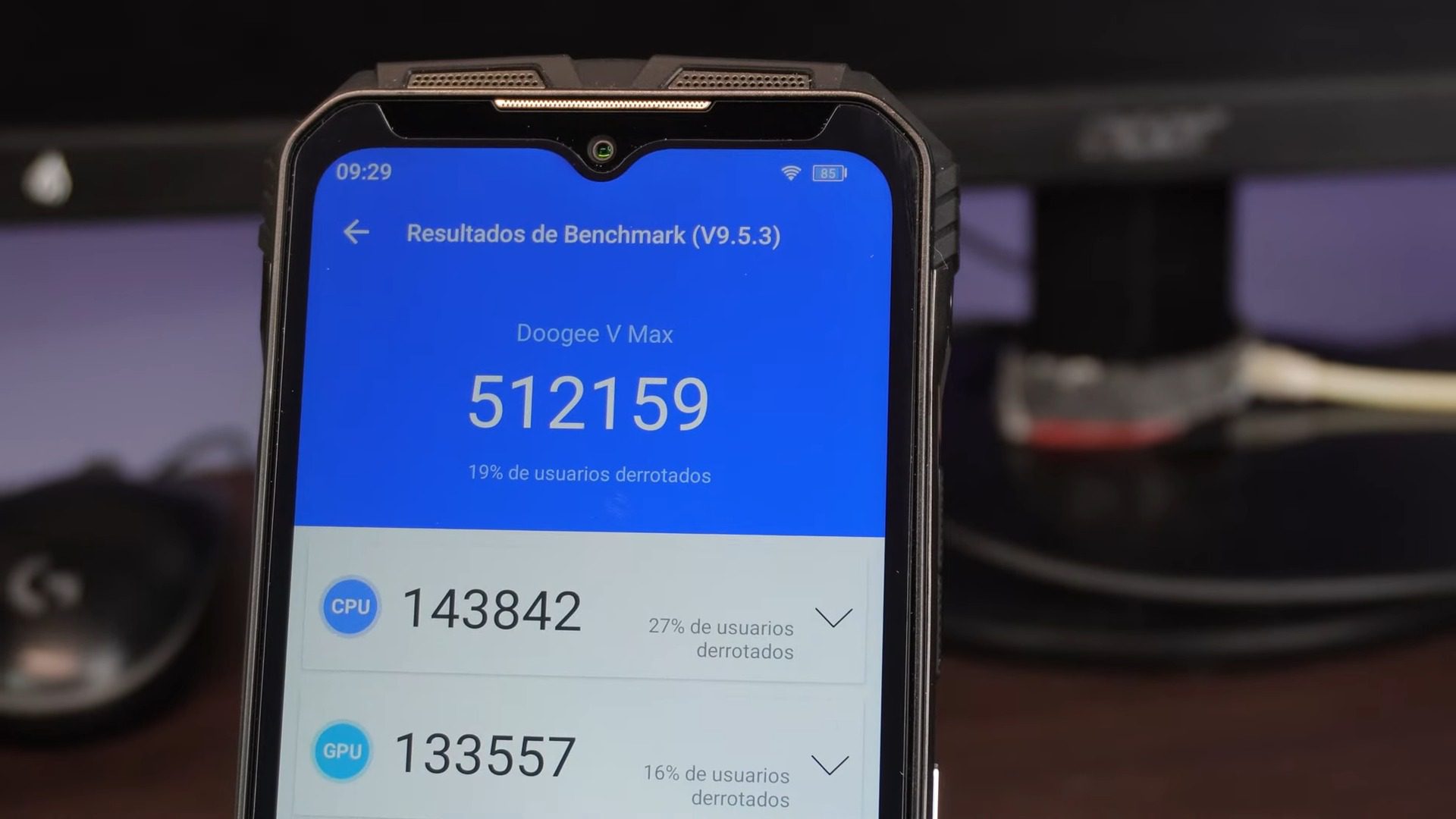 Software
One of the standout features of the Doogee V Max is that it will be an early adopter of Android 12 for a better user interface, privacy dashboard, and some interesting customization additions with UI that has better gesture navigation controls, a dark theme, and contains most of the features that come with the system, the most important of which is the presence of all Google services, Making the smartphone experience smoother and more personalized. Also, I like the large icons, animations, and overall responsiveness of the GUI.
As I always say, the stock Android system is best for these devices, with a simple and smooth launcher for better performance, especially since it does not contain pre-installed apps or games, I really hate this because of the large number of ads, Thanks here it is different. However, it has a toolkit app which is the User height meter, compass, gradienter, protractor, and more, but does not burden the device and is without pop-up ads.
Playing Content
Playing the content on YouTube, was very smooth. You can play videos at a maximum of 1080p at 60 FPS without any problems or lag, And this is the highest quality you can get. My major issue however is the lack of Widevine L1 certification which restricts the video resolution on most streaming services to a mere 480p. While this does not become an immediate deal breaker, if you like watching your content on your smartphone, this might be an issue. This level may be difficult to find in many Chinese smartphones without exaggeration.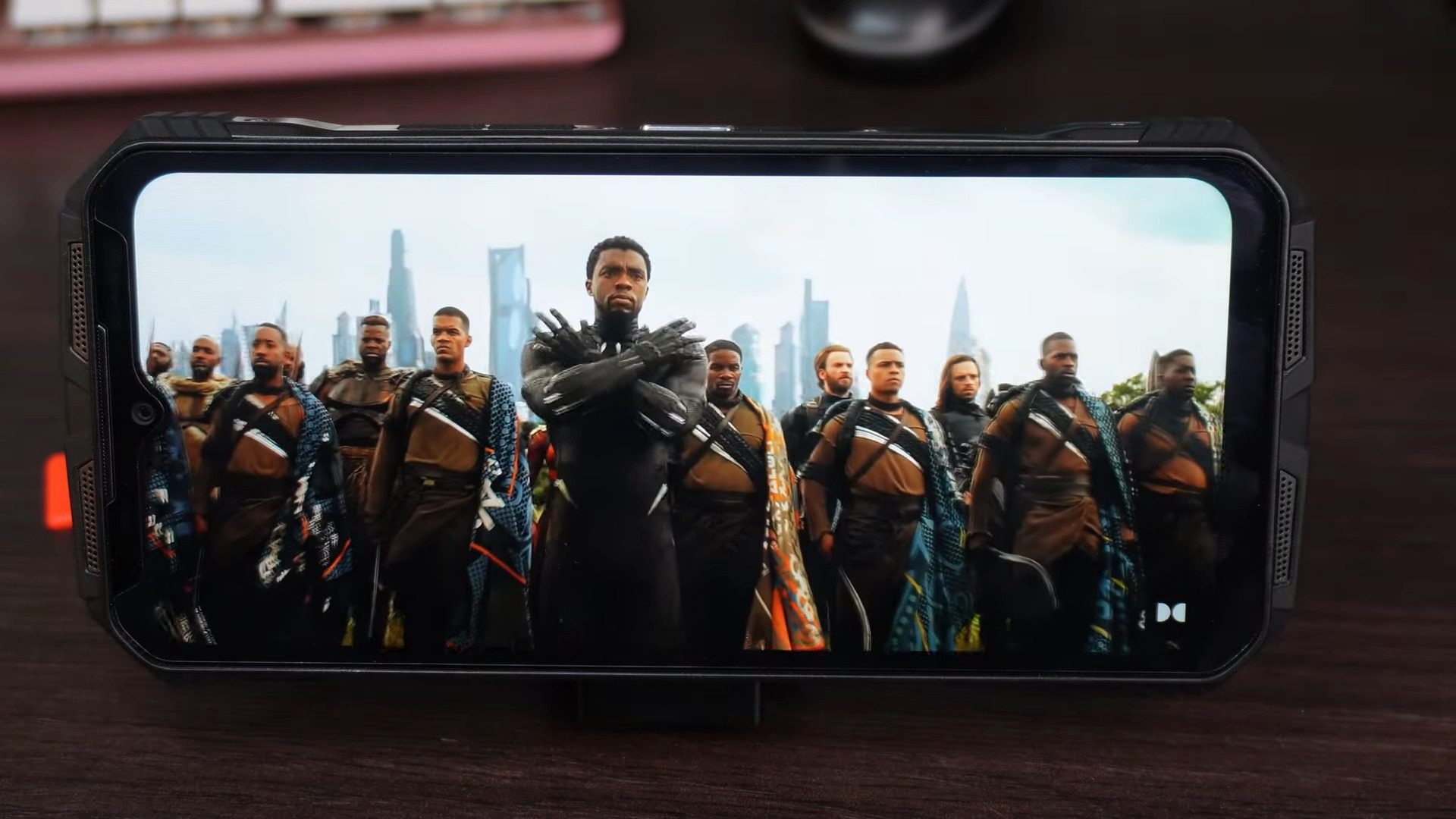 Sound Quality
Doogee also did an excellent job with the speakers. In terms of audio capabilities, the phone punches above its weight with dual loudspeakers onboard. The sound is great for watching movies or listening to music, with rich and detailed sound. Thanks to the dual box speakers by Hi-res, Doogee V Max brings ultimate enjoyment of a sense of technology so that you can enjoy the epic theater-level movie at home with ease. The clear sound produced by the dual speakers without distortion whips you into extreme excitement and thrill when gaming, listening to grand symphonies, and watching movies.
Connectivity & Call Quality
Doogee V Max is a dual-SIM smartphone equipped with a SIM slot that accommodates two 5G nano-sim cards that support all bandwidth offerings of 5G and 4G and so on, which provides a super speedy user experience. And the most talked-about 5G network will supposedly be 10 times faster than the 4G network carrier with 2.3GBp/s download and 1.2GBp/s upload which allows us to say goodbye to said buffering when playing 4K videos and gaming lag. So it's expected that you will get wide coverage and good signal quality for making phone calls and accessing the Internet easily, In addition to having a MicroSD card on the same socket.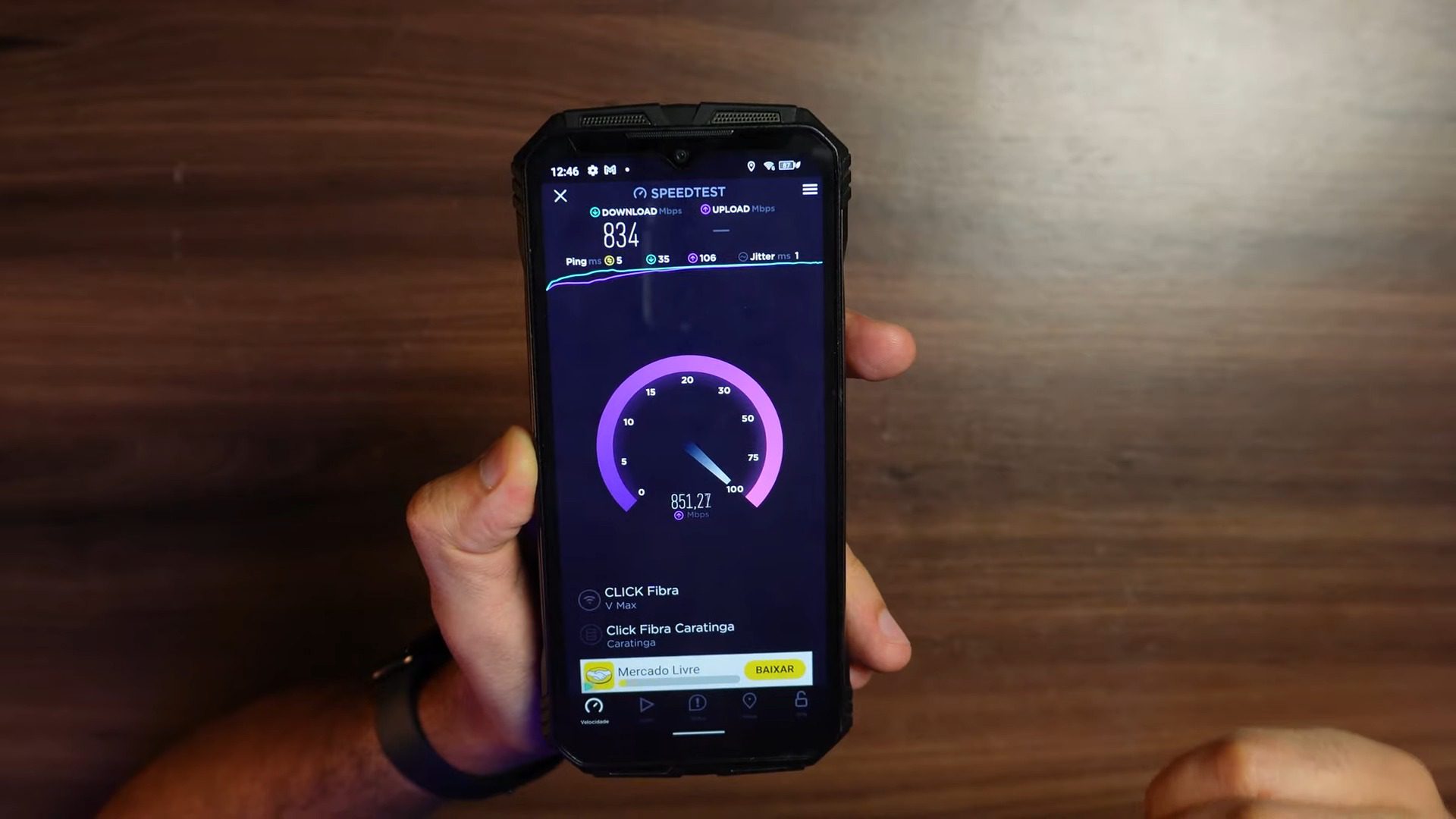 To connect to WiFi networks, It supports dual bandwidths of 2.4GHz & 5GHz and WIFI 6 providing low latency and faster transmission speed, resulting in greater efficiency, reliability, and security. Of course, there is Bluetooth 5.2. That's not all, there are also some basic sensors for a smartphone, including a gyroscope, accelerometers, and even an electronic compass. Also, has NFC so you can make mobile payments (Supports Google Pay) and first dual-frequency GPS. L1+L5 dual-frequency, the signals work together, and the positioning accuracy is increased by up to 10 times. Even in complex urban environments, precise positioning can be achieved.
Battery And Charging Time
As a rugged phone, the battery in the Doogee V Max is no less important than the rest of the requirements. Thanks to the 22000mAh battery, it's one of the largest battery capacities you can have in a smartphone. Enough to handle the daily demands and it will easily last for at least four days, if not more. This means you can go on the weekend on a camping or fishing trip without having to worry about charging your phone every day. Of course, the time is less when playing games or using 5G, and with moderate use, it mostly takes about 3 hours to fully charge 22000mAh using Type-C with support wireless charging, and there is fast charging supports 33W. However, I can say that the battery was satisfying.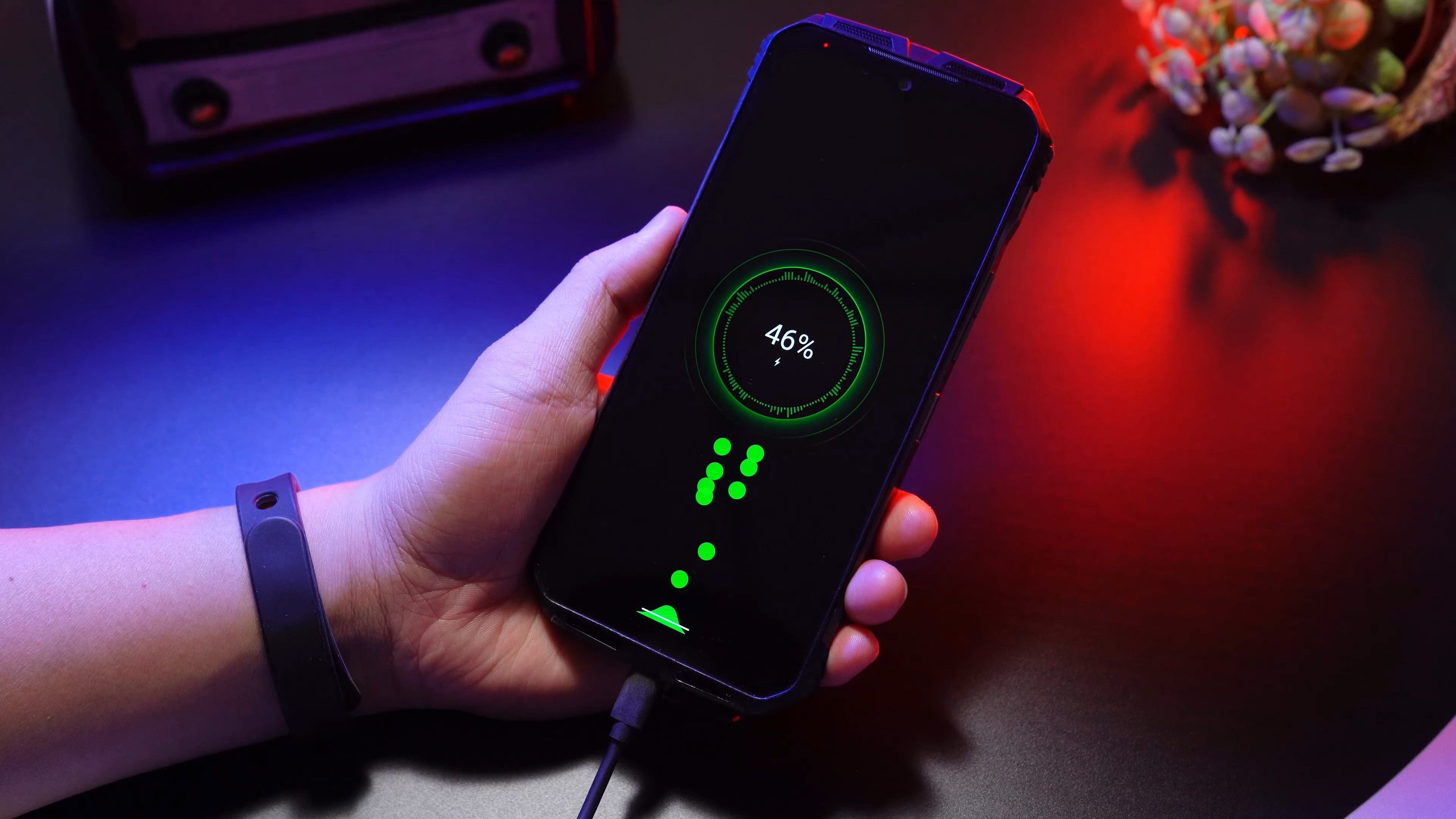 Also, V Max supports reverse charging which comes in handy when another device is short of power such as a smartphone, smartwatch, earphones, etc, So you can make it as a power bank at any time.
For a regular user, the battery will easily last for a whole working day, depending on your usages such as the times you open the screen, and the type of applications you run, also it suffices for more than 2-3 days consecutive of watching videos. however, its performance was good and this is mostly because it is equipped with stock Android 12 and doesn't have many pre-installed programs, even the interface is simple without any complications or processes in the background and this is what limits battery drain.
Final verdict
We have definitely been one of the most rugged Doogee phones in recent years after Doogee V30, the Doogee V Max makes a good impression and has got a rendition of the rugged phone design. And there is no doubt that the V Max holds all the ingredients to be a leading rugged smartphone in this price category.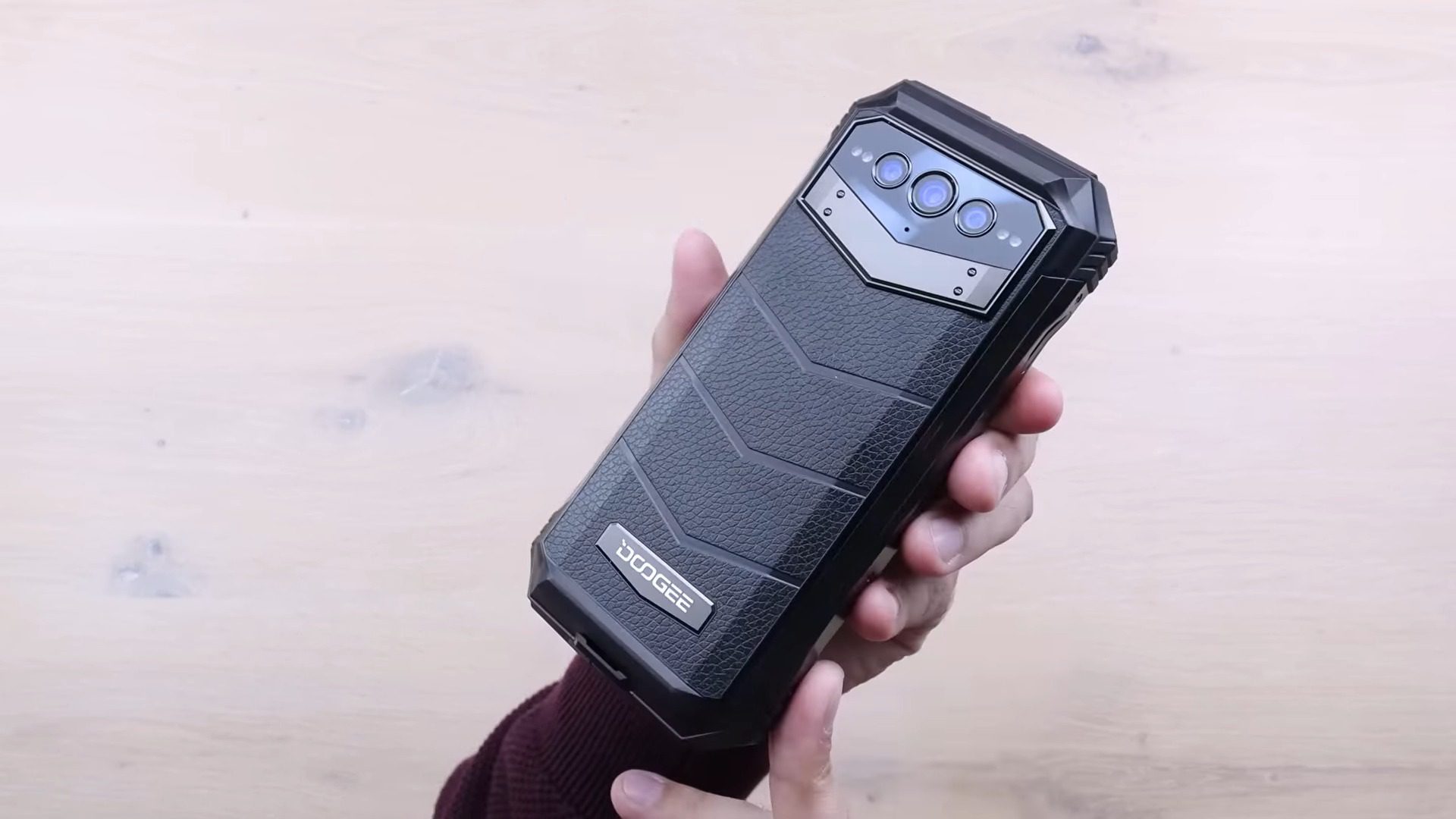 And what really distinguishes it from any other phone is its large 6.58-inch FHD 120Hz Display ensures an enjoyable viewing and good use of the latest Android 12 features and most importantly the battery that will last all day that you will not need to charge while you are on a safari or camping with friends, or just finding a gadget for your daily work, it will be a reliable companion, especially with the build quality and durability, and the best protection certificates for a smartphone against water, dust, and even shocks, And the most important in my opinion the 108MP cameras, with good performance making it to perform for all tasks. in addition to the quality infrared night vision camera that will be a great help for those who work or deal in dark environments. And there are many attractive features, and most importantly, it is affordable.
Despite the many features that we mentioned, the Doogee V Max looks like a fairly balanced device and positioned itself as one of the top contenders for the title of the best affordable rugged phone on the market, with features perfect for anyone who needs a rugged phone at this time.
Doogee V Max Price And Where To Buy
Usually, better performance means a higher price, but not in the case of Doogee V Max. The smartphone is now only priced at $380 on Aliexpress Store. So, don't miss the chance to snatch up at one, And to view its price or buy it, you can access the offer by clicking on the store icon.
What's in the Box?
Doogee V Max Rugged Smartphone
USB Type-C cable
33W Charger
Card PIN
Anti-explosion film
Packing Box
Manual
Warranty Card