Welcome to our in-depth review of the IW9 Watch, a remarkable smartwatch from the IWO Series that has been generating significant buzz in the market. As a replica of the highly popular Apple Watch Series 8, the IW9 Watch not only captures the essence of the original but also introduces a groundbreaking feature called Dynamic Island. This innovative function sets it apart from other smartwatches, making it a truly unique timepiece.
The IW9 Watch offers a compelling combination of style, functionality, and affordability, making it an attractive option for individuals seeking a high-quality smartwatch without the hefty price tag. While it mirrors the premium qualities and advanced features of the Apple Watch Series 8, the Watch is designed to be accessible to a wider audience, providing a budget-friendly alternative without compromising on performance and functionality.
Now let's talk about the star feature of the IW9 Watch – Dynamic Island. This function takes the user experience to a whole new level. In addition to its remarkable design and innovative features, the Watch boasts an array of functionalities and advanced features to its robust performance and budget-friendly price and stands out as one of the best-value smartwatches on the market. Join us as we dive deeper into its impressive features, exploring every aspect that sets it apart, and discussing why it's a smartwatch worth considering.
Making & Answer Calls via Bluetooth
2.05-inch Screen, Dynamic Island
5 Days Battery Life, Wireless Charging
Watch Faces, Menu Style
Customize Side Button
Heart Rate & Blood Pressure Monitor
Wallet Function & Business Cards
Multifunction NFC, Voice Assistant
Multi-Sport Modes
Build-in Local Games
GPS Route Tracking
Unboxing Video
Design And Build Quality
The IW9 WATCH – a smartwatch that may resemble Apple Watch clones but still offers noteworthy features. Emulating the design of the Apple Watch 8, this timepiece captures the essence of elegance. With its 2.05-inch 2.5D curved display and slim chassis, the IW9 boasts a sleek and modern look. The Crown button on the right side allows for seamless page-turning, zooming, power control, and navigation, while the side button below it provides easy access to various actions. The microphone is positioned between the buttons, and the left side houses the speaker for crisp call quality. If you're seeking a more standout watch, the JS9 Pro Max or HK8 Pro Max Ultra comes highly recommended.
The IW9 WATCH makes significant strides in the right direction within this segment. Its lightweight and comfortable design makes it a desirable accessory, while its impressive functionalities and Apple-inspired design enhance its appeal. As one of the top smartwatch clones of the Apple Watch Series 8, it exudes elegance and offers a premium feel. Despite its budget-friendly nature, the IW9 boasts sturdy construction and a high-quality stainless steel body with a sleek glossy finish in silver. With its 44mm case dimensions and weight of 50g, it closely resembles the exact copy of the original Apple Watch even more than JS9 Pro Max or HK9 Pro that comes with an AMOLED display.
The IW9 offers the flexibility to customize the side button according to your preferences. Whether it's a long press or a double-click, you can assign your most frequently used functions or shortcuts for quick access. Whether you're interested in tracking sports activities, monitoring SPO2 levels, checking your steps, or keeping an eye on your heart rate, the choice is yours. Simply navigate to the settings menu and select the function that suits your needs.
Underneath the IW9, you'll find the sensor that powers all the health and sports features of the device, showcasing its commitment to providing comprehensive tracking capabilities. As is customary, the metal ring facilitates wireless magnetic charging, ensuring convenient and hassle-free charging experiences. Additionally, on the sides, you'll find two lock buttons designed to secure the strap in place, providing a reliable and secure fit.
The strap plays a significant role in completing the overall aesthetic of the watch. Crafted from lightweight and comfortable silicone, it ensures a pleasant experience during extended wear. Moreover, its removable nature allows for customization, as you have the option to use any 42/45mm belt. For those seeking alternative options, there is also the possibility to purchase a metal or leather strap, further expanding the style choices to suit individual preferences.
Display Screen
Now, let me share with you why the IW9 WATCH smartwatch captured my heart. One of the most significant advancements in recently cloned smartwatches is the display, and the IW9 excels in this aspect. With its stunning 2.05-inch IPS display, it offers larger and slimmer bezels, providing an immersive viewing experience like never before. The display is incredibly vibrant, boasting punchy colors that bring content to life. What sets it apart is its size, matching the Apple Watch Series 8 in dimensions, allowing you to enjoy a larger screen estate. The impressive resolution of 360*435 pixels and a high pixel density of 320 PPI ensure crystal-clear images and text. Additionally, the extremely narrow bezel maximizes the display area, truly elevating the visual appeal of the IW9. Prepare to be captivated by its gorgeous and immersive screen.
The IW9 smartwatch offers an exceptional experience, especially considering its budget-friendly nature. Thanks to its impressive color accuracy and sharpness, the display provides clear and vibrant visuals. While it may not match the brightness of models like the JS9 Pro Max or HK9 Pro with AMOLED displays, it's important to note that comparing a watch with an AMOLED screen to one without wouldn't be fair. Nonetheless, the IW9's display still performs admirably under direct sunlight. Whether you're reading notifications or monitoring your health stats, the WATCH ensures ease of use without the need to constantly reach for your phone. Undoubtedly, it boasts the best screen among budget smartwatches in terms of size, making it a standout choice for those seeking a visually pleasing and functional smartwatch without breaking the bank.
Additionally, the inclusion of always-on screen dials, a feature typically found in OLED screens, sets it apart from other devices in its price range. Despite the technological challenges, the WATCH overcomes these obstacles to deliver an impressive always-on display experience (though not identical to OLED screens). This is particularly useful for quickly glancing at the time or other information without needing to raise your wrist or tap the display. The smartwatch offers two screen dial options for the always-on display: a digital clock and a pointer clock. Both options provide clear visibility, and the choice between them depends on personal preference. However, it's important to mention that the always-on display may slightly impact battery life, although not significantly.
While it lacks tap-to-wake or palm gesture functionality, it offers a raised hand to brighten the screen option. Notably, the smartwatch allows customization of vibration intensity, adding a personal touch. It also supports passcode security, featuring a lock screen similar to watchOS.
One of the standout features of the IW9 is the dynamic island, a functionality also found in the latest iPhone models. The dynamic island serves as a quick access panel for your frequently used applications, enabling you to view essential information while keeping the main watch face visible. For instance, if you start a timer and switch to another application, the remaining time will be displayed on the dynamic island, allowing you to quickly access the timer when needed. This feature proves especially handy when playing music from platforms like Spotify, as an animation indicates that music is playing, and you can conveniently control playback from the watch itself. Furthermore, when placing the watch on the charging dock, the dynamic island showcases an animation along with the battery percentage, providing a visually pleasing charging experience.
One of the reasons why I particularly appreciate this type of screen is its large size, which occupies a significant portion of the interface. With its narrow sides, this design element is typically found in higher-priced smartwatches, making the IW9 WATCH resemble the Apple Watch Series 8. Personally, I find this screen to be superior to others and believe that its implementation should be more widespread. Its expansive display provides a more immersive and visually pleasing experience overall.
Multiple Watch Faces
The IWO Series has put great emphasis on providing a diverse range of watch faces for the IW9. With 10 pre-installed watch faces, you have a selection of options to choose from. Switching between watch faces is made easy through various methods, such as by rotating the button or using the RDFIT app. Additionally, users have access to online library of watch faces with over 200 faces for download, offering a wide variety of choices for free. These watch faces encompass various styles, including colors, retro, analog, 3D, and digital designs. Users even have the option to use their own photos as a watch face background or choose any wallpaper they desire, allowing for a personalized touch.
However, it's important to mention that the watch faces provided with the IW9 Smartwatch are not as themed or interactive as those on the Apple Watch Series 8. Additionally, some watch faces lack the black-red theme and compass compatibility found in the other copy of the a apple watch series 8.
On a positive note, the smartwatch does offer a smart island option that can be disabled in the settings if preferred.
Waterproof
The watch is equipped with an IP68 waterproof rating, which means it can handle sweat and splashes of water. However, it is important to note that the watch is not suitable for swimming or exposure to hot water or saltwater, as it is not specifically approved for such activities. To prevent any potential damage in the long or short term, it is advisable to avoid submerging the watch or exposing it to water. Additionally, with the presence of a speaker and microphone, it is recommended to keep the watch dry to maintain its functionality. In the event that the watch does come into contact with water, it is advisable to dry it thoroughly before using it again, ensuring its longevity and optimal performance over time.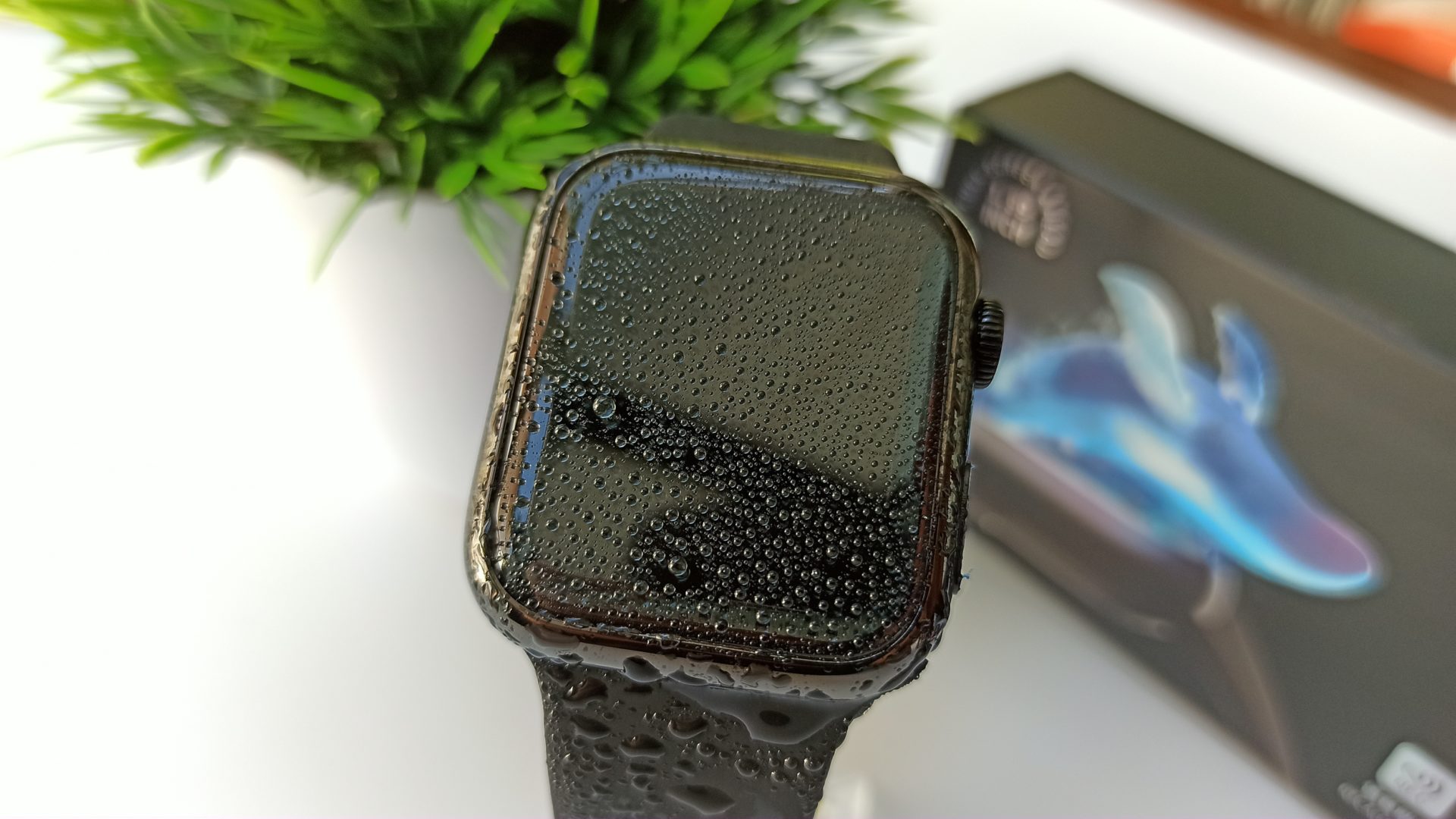 Under The Hood
While the IW9 WATCH may appear similar at first glance, it boasts significant upgrades under the hood. It is powered by the top chip, the RTL8762D, featuring high performance. With 128MB of storage capacity, the watch can store essential data such as contacts, watch faces, and notifications. In terms of sensors, the watch incorporates a highly reliable Heart Rate and G-sensor. This sensor is known for its accuracy and provides valuable insights into your health and fitness.
In addition to its impressive hardware and sensor capabilities, the IW9 is equipped with Bluetooth v5.0 chip. This advanced Bluetooth technology ensures fast and stable connections, allowing you to make and receive calls effortlessly. You can stay connected without any concerns about connectivity issues, thanks to the reliable and speedy Bluetooth performance of the watch.
However, it does not have its own GPS sensor, which means that you will always have to use it with a smartphone to get your location, but there is a feature called GPS Route Tracking that allows you to share the route you follow during sports with friends. The IW9's powerful hardware and sensor combination make it a standout choice in the smartwatch market.
AI Voice Assistant
One notable advantage of the IW9 WATCH is its built-in speaker. This allows for voice communication with your voice assistant. This advanced feature enables you to effortlessly give voice commands and ask queries, allowing you to perform specific tasks with ease. The voice assistant acts as your personal AI companion, whether you need to set reminders, check the weather, or access information on the go, the voice assistant on the IW9 simplifies these tasks and enables hands-free operation.
NFC Access Control
The smartwatch in question brings a new level of convenience with its NFC Access Control feature. This innovative technology allows for keyless and frictionless door entry using the smartwatch as an authentication device. Simply raise your wrist when reaching home to quickly open the door. The NFC functionality of the device supports IC door cards with a frequency of 13.56MHz, which covers a majority (80%) of the market. It also enables payment through popular platforms like Alipay and WeChat Pay, offering secure and convenient transactions. It's important to note that while NFC supports these payment platforms, credit cards or other payment modes are not supported. This feature adds to the overall versatility and convenience of the smartwatch, making it a valuable companion in your daily routines.
IW9 WATCH Gestures
The software experience of the IW9 smartwatch is generally delightful and offers a rich user experience. Navigating through various apps and functions is smooth and intuitive. The touchscreen serves as the primary method of navigation, allowing you to swipe left, right, up, and down to access different parts of the software. A convenient feature is the Control Center, accessible by swiping down from the top of the screen. From there, you can conveniently view connectivity status, change brightness, enable Bluetooth Call, settings, lock screen, Do Not Disturb mode, sound settings, Alipay (for Chinese users), access the dial pad, and even trigger the SOS feature, among other options. The software interface is designed for easy accessibility and seamless control over your smartwatch experience.
By swiping from the left, a convenient new split-screen will appear like the menu, displaying essential information such as the current time and date, QR Code, Weather, and recently used applications, This is a handy feature for multitasking and quickly switching between different functions.
When swiping from the right, you'll discover a range of useful shortcuts at your fingertips. These shortcuts include step tracking, blood oxygen level monitoring (Spo2), music control, heart rate monitoring, and weather. Furthermore, you have the flexibility to customize these shortcuts and add additional components based on your preferences and needs.
To access the main menu, simply by pressing the crown button on the smartwatch. This action will reveal a range of useful features and options. Among the available options, you'll find heart rate and sleep monitoring functionalities, various sports modes tailored to your fitness needs, and a comprehensive settings menu where you can customize the device according to your preferences. Additionally, the smartwatch offers convenient features such as capturing photos, music control, weather updates, games, voice assistant, menu styles, and phone functions. The diverse range of features and capabilities accessible through the main menu ensures that you have all the tools you need.
The IW9 WATCH offers users the option to personalize their smartwatch experience with three different menu styles to choose from. These styles include the Striped Six-Square Grid and Grid Style, among others. Each menu style provides a unique and visually appealing way to navigate through the device's interface. Whether you prefer a more organized grid layout or a stylish striped design, the IW9 has you covered. Switching between menu styles is as simple as double-clicking the scrolling wheel, allowing for effortless customization based on your preference.
Health & Fitness Functions
The IW9 WATCH stands out as a highly competitive smartwatch that caters to all the essential aspects one would expect. Specifically focusing on sports activities, it is evident that the company has put considerable effort into providing comprehensive support for a wide range of exercises. Whether you enjoy walking, cycling, or engaging in winter sports or ball-related activities, this smartwatch is well-equipped to meet your needs. By scrolling through the extensive list of available options, users can explore numerous different activities, ensuring there's something for everyone.
The IW9 WATCH combines impressive sports features with extensive health monitoring capabilities to help you track your well-being throughout the day. The smartwatch records a wide range of health metrics to provide a comprehensive overview of your daily activities and indicators by tracking steps, distance, and calories and continuously monitoring heart rate 24/7. The inclusion of a SpO2 sensor allows real-time tracking of blood oxygen levels. Continuous heart rate monitoring provides insights into cardiovascular fitness. Sleep tracking functionality assesses sleep quality, analyzing patterns and wake time. The 9 Pro Max empowers users to manage their well-being proactively with these features.
While the watch incorporates a sensor that offers improved accuracy compared to other smartwatches, it's important to note that the measurements provided by the device may not be entirely accurate. It's crucial to understand that the watch is not a medical instrument, and as is common with many watches in this price range, the measurements can be unreliable to some extent. However, despite these limitations, the watch still serves as a valuable tool to raise awareness of your health and physical performance.
How To Pair The IW9 WATCH
To fully enjoy the extensive features of your IW9 WATCH, it is recommended to connect it to the RDFIT app, which offers a range of beneficial functionalities to support your fitness and overall health. The app is compatible with both Android and iOS devices and can be downloaded from the Google Play Store or the App Store.
Pairing your IW9 WATCH with your phone is a simple process. Follow these steps:
Step 1: The first thing to do is to go to your phone's settings. Then, turn on your phone's Bluetooth connection, and add the device. Two options add a device, search, or scan a QR code.
Step 2: Next, you would need to Sign up for an RDFIT account. Or, Log in to your existing account (if you already have an account).
Step 3: Allow all notification data. A notification interface will pop up requesting your permission to allow Wearfit access to certain functions on your mobile phone. (Denying any of these permission requests might prevent RDFIT from working properly).
Once you have downloaded and launched the app, set the necessary permissions. Then, add your IW9 smartwatch device and connect it to the app. Customize your personalization options and settings according to your preferences. Once connected, the app will facilitate seamless communication with your smartwatch, automatically adjusting the time, language, and weather settings. Additionally, it provides features such as phone call functionality and software updates for the smartwatch, if available.
RDFIT App For IW9 WATCH
The IW9 WATCH smartwatch seamlessly integrates with the RDFIT app, enhancing its functionality with a wide range of features. The app includes a dedicated health menu that displays comprehensive data collected by the smartwatch. You can easily access information such as the number of steps taken, daily goals, calories burned, and distance traveled. By clicking on each label, you can expand the view to explore more detailed information, including weekly and monthly summaries.
The app also offers detailed sleep monitoring capabilities. By clicking on the sleep monitoring label, you can access data related to light and deep sleep, total sleep duration, awake time, and more. This information is presented in an informative graph, allowing you to track your sleep patterns over time. Furthermore, the RDFIT app provides access to vital health metrics such as heart rate, blood pressure, and blood oxygen levels. Each metric has its dedicated label, which can be clicked to either initiate real-time measurements or review previously recorded data. With the app, the IW9 smartwatch expands its capabilities, empowering users to monitor and analyze various aspects of their health.
Main Features of the App
The RDFIT app offers a comprehensive range of features and settings that greatly enhance the functionality of the IW9 WATCH smartwatch. It provides a seamless experience with features such as customizable watch faces, and the ability to manage your wallet and business cards directly from the app. Notifications from your smartphone can also be conveniently accessed and managed through the app, ensuring that you stay connected and informed. The app includes health reminders to help you stay on your goals and NFC functionality for convenient contactless payments and access control. In addition, the app provides various settings to personalize your experience, including the option to add your favorite contacts for quick and easy access. While the app allows you to add up to eight favorite contacts, it ensures that you have easy access to the most important people in your life.
Control Short Videos
One of the interesting capabilities of the IW9 WATCH smartwatch is its ability to function as a multifunctional smart remote control short videos with simple operations for watching videos. Using the smart remote control feature, you can easily perform actions such as one-click control, pause/play, and navigate up and down. Additionally, you can even use the smartwatch to indicate your liking for content. While this feature may not be advantageous for everyone, it provides additional functionality that can be useful for those who prefer the convenience of controlling their media playback from their smartwatch.
Bluetooth Calling Function On IW9 WATCH
The IW9 WATCH smartwatch offers a unique feature that sets it apart from other smartwatches. In addition to receiving call notifications, it allows you to answer smartphone calls directly from the watch itself. By syncing your smartphone and the smartwatch via Bluetooth 5.0, you can easily answer incoming calls by tapping the button that appears on the watch's screen.
With its integrated microphone and speaker, the IW9 ensures clear sound quality during calls, even in noisy environments such as when on the road. The microphone is primarily used for on-wrist calls or when paired with a smartphone. This means that you can not only see incoming call notifications on the watch but also make and receive calls directly from the watch using Bluetooth connectivity. This eliminates the need to take out your phone every time you want to make or answer a call, providing convenience and efficiency.
Furthermore, the smartwatch allows you to save important and frequently-called contacts, making it easier and faster to initiate calls without searching through a lengthy contact list. Additionally, it features a dial pad for quick and convenient call dialing.
To activate the Bluetooth Calling function on the smartwatch, you need to connect it to a compatible app. Once connected, you need to manually go to the phone's Bluetooth settings and pair this smartwatch (Bluetooth Name: "IW9 Call"). Upon successful pairing, you will receive a notification confirming the connection for calls and audio.
Notifications
Let's talk about notifications on the IW9 Smartwatch. When connected to your device, the smartwatch displays notifications from various apps, including messages, calls, and social media alerts. However, it's worth mentioning that the absence of a red dot indicator for unread notifications, a feature present on many new clones of Apple Watch, is noticeable.
IW9 WATCH Battery Life & Charging Time
The IW9 WATCH excels in its battery performance, making it a standout feature of this smartwatch. With a substantial 400mAh capacity, it boasts one of the largest battery capacities in its price range. The battery life is impressive, offering up to 5 days of usage under typical conditions and around 3 days under heavy usage. The actual battery life may vary depending on the specific features and functions you utilize.
Charging is convenient and hassle-free, thanks to its wireless charging capability. Simply ensure that you place the watch correctly on the charger, and it will begin charging automatically. A full charge typically takes around two hours, allowing you to quickly replenish the battery and continue enjoying the smartwatch's functionality without extended downtime.
In addition to its impressive features, the IW9 WATCH offers a delightful charging experience with captivating and vibrant animations. While charging the watch, you'll be treated to a visually appealing display that seamlessly switches between horizontal and vertical screens. To enhance your bedtime experience, simply activate the "bedside clock mode" and place the watch on its side while connected to the power supply. The watch will automatically transition into the bedside clock mode, allowing you to use it as a convenient bedside lamp.
When it comes to charging, it is recommended to use a maximum 5-watt power charger or connect it directly to a USB port on a computer for optimal safety and performance.
Final Verdict
The IW9 Watch from IWO Series stands out as a remarkable smartwatch that excels in style, functionality, and affordability. As an impressive replica of the Apple Watch Series 8, it offers a sleek design, solid build quality, and a range of features that make it a compelling choice for smartwatch enthusiasts. While the IW9 Watch may not match the original Apple Watch in terms of display technology or certain advanced functionalities, it delivers a satisfactory user experience at a more affordable price point. The inclusion of the innovative Dynamic Island feature, which showcases battery percentage while charging and adds music animations during playback, adds an element of uniqueness and engagement to the user interface.
One of the key advantages of the IW9 Watch is its affordability without compromising on performance or functionality. It provides a budget-friendly alternative for those who desire the benefits of a high-end smartwatch without straining their finances. This makes it an attractive option for a wide range of individuals who want to enjoy the convenience and features of a smartwatch without breaking the bank. In terms of functionality, the IW9 Watch offers a comprehensive set of features that cater to health and fitness tracking. With heart rate monitoring, sleep tracking, and activity tracking capabilities, users can easily stay on top of their fitness goals and monitor their well-being. While it may not match the precision of higher-end smartwatches in terms of health monitoring accuracy, it provides satisfactory results for most users.
While the IW9 Watch offers an impressive set of features and a budget-friendly price, it is important to consider some of the potential drawbacks of this smartwatch. While it provides essential information and supports the Dynamic Island feature, the overall display quality and resolution may not be as sharp or vibrant as new clones of smartwatches with AMOLED displays like JS9 Pro Max and HK9 Pro.
When considering value for money, the IW9 Watch emerges as one of the best options in the market. It combines the allure of a premium smartwatch with an attractive price point, making it accessible to a wide range of users. The cost-effectiveness of the IW9 Watch does not compromise its performance or quality. Whether you're a fitness enthusiast, a fashion-conscious individual, or simply in need of a reliable and stylish accessory, the IW9 Watch is sure to exceed your expectations.
IW9 WATCH Price And Where To Buy
The IW9 WATCH Smartwatch is currently available on the AliExpress Store for a very good price. So, don't miss out on this great deal. And to view its price or buy it, you can access the offer by clicking on the store icon.
IW9 WATCH Smartwatch
Silicon Strap
Wireless Charger
User Manual
Model
IW9 WATCH
Color
Black, Sillver, Pink
Chip
Realtek-8762DT
Memory
RAM: 128MB
Bluetooth Version
5.0
Compatible OS
Android 5.0, iOS 10.0 or above
Operating Mode
Full Touch + Rotate Crown + Side Button
APP Name
RDFIT
App Language
Simplify Chinese Traditional Chinese and English, French, German, Japanese, Spanish, Italian, Korean, Russian, Czech, Portuguese, Turkish, Greek, Latin, Vietnamese, Danish, Thai, Arabic, Polish
Watch Language
1. English, 2. German, 3. Italy, 4. French, 5. Russian, 6. Spanish, 7. Portugal, 8. Turkish, 9. Hebrew, 10. Czech, 11. Arabic, 12. Korean, 13. Japanese, 14. Persian
Sport Modes
Support
Waterproof
IP68
Sensor
G-sensor, Heart Rate Sensor
Screen
Size: 2.05 inch
Display Type: IPS screen 2.5D Curved
Resolution: 485*525 Pixels
Battery
Battery Capacity: 400mAh
Standby Time: Up to 30 days
Using time: About 4-5 days
Charging Time: About 2 hours
Charging Type: Wireless Charger
Case and Band
The shape of the dial: Square Shaped
Band Size: 42/44mm ( Removable watch strap)
Band Material: Silicone
Case Material: Stainless Steel + Plastic
Weight: about 50g
Size: 38*45*10.5mm
Other Features
Main Features: Watchface download, Bluetooth call, Heart rate, BP, SPO2, Voice Assistant, NFC, Location Sharing.
Information Push: Synchronous incoming messages notification from Notification Center on your phone.
Calls: Make & Answer calls after connecting Bluetooth with Smart Phone.
Pedometer, Sport, Sleep Monitor, Vibration, Bluetooth Music, Weather, Stopwatch, Alarm Clock, Remote Camera, Find Phone. Background management of running APP, Real compass function.