A short while ago, Kospet launched a new smartwatch that is more designed for outdoor fitness fans. This watch is known as the Kospet Raptor the first rugged Smartwatch from the company. Its durable and protected with Waterproof, Dustproof, and Anti-collision and equipped with 20 sports modes and a large battery that lasts 30 days. And this why it's suitable for outdoor sports. This does not mean that it lacks beauty, the design is elegant and modern, and it comes with more than 50 attractive watch faces, Of course, the price is budget and affordable for everyone. For more detailed information about this smartwatch, follow the full review.
Waterproof / Dustproof / Anti-collision
20 Sports Modes
50+ Original Creative UI Watch Faces
30 Days Standby
47g Ultra-light Body

Design:
In terms of design. The Kospet Raptor is undoubtedly has a durable and elegant design intended for outdoor sports and more suitable for men, It has a classic circular shape that gives you an impression of the durability with a strong body made of Metal and Glass fiber composite to withstand the harsh environment, although the body is large, but is light with a weight of about 47 grams, and the thickness is large 13.3 mm with thick edges, and there are four hex screws on the corner for greater durability, and on the sides, there are two prominent buttons Energy and return. As for the colors, it comes with two options colors, Black or Gray, which are very compatible with it.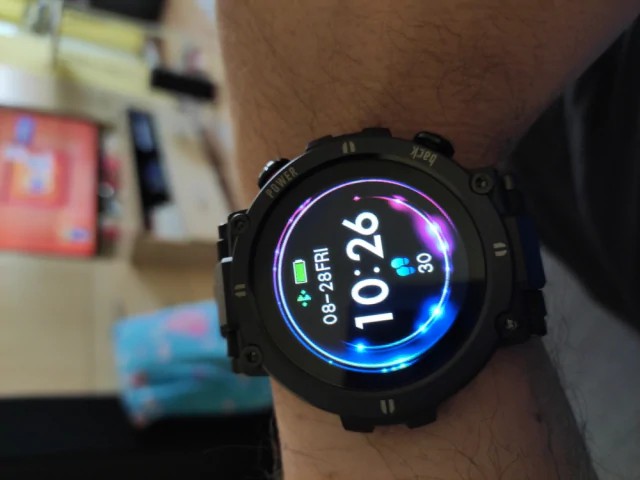 The strap is made of 22mm TPU, skin-friendly and durable, which keeps your wrist from itchiness with sweat-wicking keeps the hand dry, and is suitable for long-term wear. It also comes in two colors, Black and Gray.
From the back panel, as usual, nothing catches your eye, just a heart rate sensor and two pins magnetic for charging.
Display:
The display of the Kospet Raptor is a little better than the others, because its a high-quality TFT LCD 1.3-inch round screen with a resolution 320 x 320 pixels and full touch support, the clarity and contrast is good even if you are outside in the sunshine you will not encounter Any problems reading information and interacting with the user interface and watch faces.
It also supports raising your wrist to wake up the screen, You don't need to release your hands, just gently raise your wrist and you're done.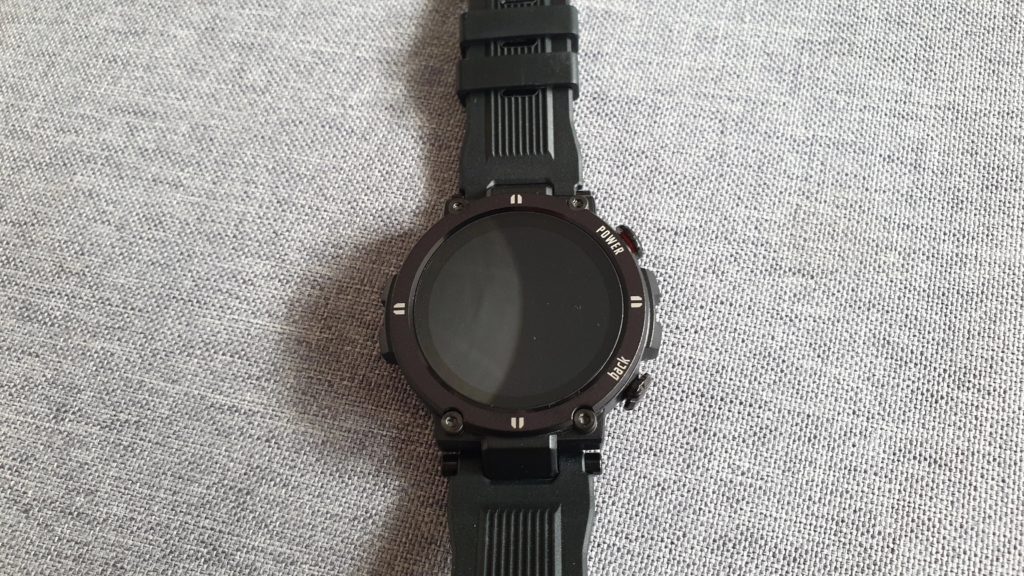 Waterproof:
Because the Kospet Raptor is designed for outdoor sports it is equipped with 3 protections (waterproof / dust-proof / anti-collision). And with the IP68 standard and 5ATM certified, you can wash your hand with it or take a shower or even swim with it in a short time and do not dive too deeply underwater. And has a better dust-proof and is more durable to use, It can also withstand high and low temperatures, high and low humidity, and work correctly in low atmospheric pressure high in the mountains, etc.
Under the Hood:
Raptor smartwatch is equipped with an nRF52832 chip with 64 KB of RAM and 64 MB of ROM, which gives you smooth movement between menus and fast data processing, in addition to that it contains a sensor to monitor heart rate and monitor blood oxygen, And unfortunately has the old Bluetooth 4.0 version.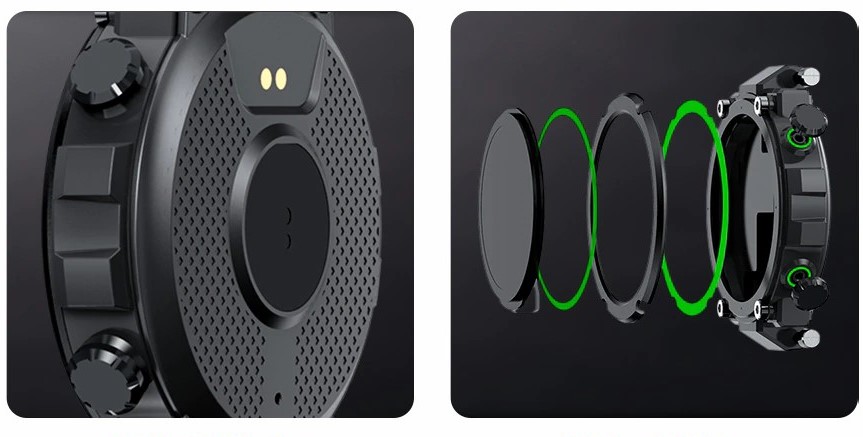 Health And Fitness on Kospet Raptor:
Actuality, the Kospet Raptor smartwatch promises to meet all your health and fitness needs, So in terms of maintaining your health, It provides you with full monitoring of heart rate and blood oxygen on 24/7, And while you sleep, the watch monitors your deep and light sleep periods to improve its quality, with the possibility of automatic activity tracking steps, calories, and distance.
This smartwatch also is the best companion for you while practicing outdoor fitness, and one of the strengths is that its equipped with 20 professional sports modes to help you train more efficiently, including these sports: Running, Walking, Trail running, Free training, Mountaineering, Skiing, Swimming, Basketball, Football, Badminton, Rugby, Baseball, Tennis, Golf, Bowling, Dumbbells, Sit-ups, Rowing machine, Elliptical machine.

Software:
The operating system in the Kospet Raptor is standard with a clear and intuitive user interface but needs to be linked with your smartphone to synchronize the data collected in the watch. This is done via Bluetooth through the Da Fit app on the App Store and Google Play, which is compatible with Android 5.1 or iOS 9.0 and above, and the application works to prepare the smartwatch and use it more efficiently. It also collects your data while you are doing sports to analyze your performance in order to improve and leverage it while preserving your health.
Also, the app offers you more than 50 original UI watch faces ( Creative, Fashionable, Diversified ) that can be downloaded directly and installed on your watch, allowing you to change more watch faces according to your desire and mood. And this feature and with such a quantity of watch faces you will not find in any watch in the same category and the price that you find in more than 20, it is really something worth in this watch.
Functions:
With the Kospet Raptor smartwatch, you can get many features like Receive Call and message notifications, sedentary reminders, alarm clock, Remind you of long inactivity, weather, control your smartphone's music and camera, etc.
The battery of Kospet Raptor:
And finally, The smartwatch has a 230 mAh battery give you the long operating time about 30 days of standby time, and this with stops all sensors and Bluetooth functions. Also, it gives you 8-12 days of continuous usage depending on how many times you use it, and this on just a single charge, Which takes about two hours to fully charge by attaching the magnetic charger and the pin to the bottom of the device.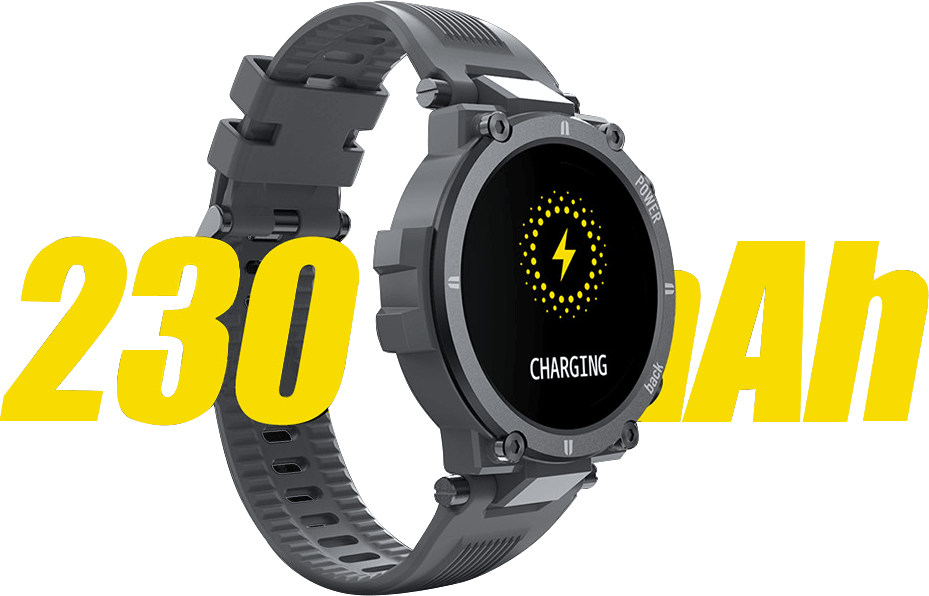 Kospet Raptor Price And Where to buy:
The Kospet Raptor Smartwatch is currently available on Gearbest store for just $31.99. This is a very good price So, If you are a fan of outdoor sports, this smartwatch will be your best choice. don't miss out on this great deal. And to view its price or buy it, you can access the offer by clicking on the store icon.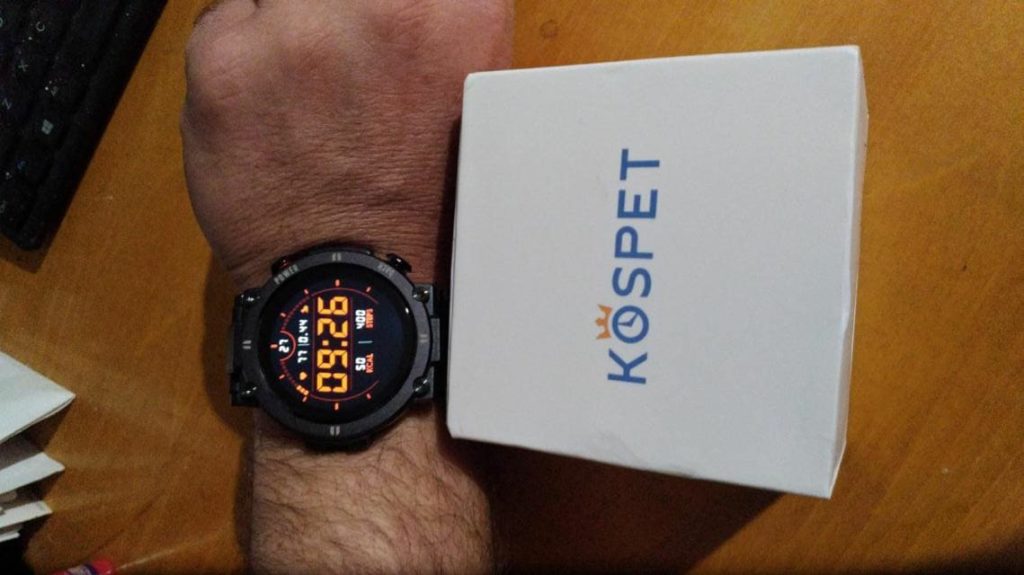 And I will be grateful to you if I purchase through this link because the company will give me a commission on that and this helps me to bring more devices for review and development from the site and improve the quality of the reviews and thank you in advance.
Kospet Raptor Smart Watch
1 x Strap
1 x Charging Cable
English Manual
Warranty Card
2 x Screen Protector
Specification of Kospet Raptor
General
Brand: Kospet
Model Number: Raptor
Color: Black, Grey
Chip: nRF52832
RAM: 64KB
ROM: 64M
Screen: TFT with 320 by 320 pixels
Screen size: 1.3 inch
Waterproof / Water-Resistant: Yes
IP rating: IP68
Bluetooth Version: Bluetooth 4.0
APP: Da Fit
Compatible OS Version: IOS9.0 and above, Android 5.1 and above
Sensor: Heart-rate monitor, Proximity sensor, Accelerometer
Battery
Battery Capacity: 230mAh
Standby time: up to 15 days
Normal use: 8-12 days
Dial and Band
Band material: TPU
Case material: Metal + Glass fiber composite
Shape of the dial: Round
Dial size: 4.7 * 5.2 * 13.3cm
Band size: 12.5 * 2.2 cm /8.5*2.2 cm, wear range 150-220MM
Features
Language: Arabic, English, French, German, Italian, Japanese, Korean, Portuguese, Russian, Spanish.
Dimensions and Weight
Product weight: 0.0500 kg
Dimensions: 47.2 x 52.0 x 13.3 mm