If you are looking for a budget USB microphone and you are confused about what to choose due to the many options and you want the best value for what you pay. Today we are going to highlight a new player in this market which is the DM30 condenser microphone designed specifically for gamers by Maono, which is showing promise at the moment, by targeting beginners and boasting a set of features for its price that definitely impressed me much more than I expected. However, the sound quality is sufficient for streaming, gaming, and other forms of internet and media recording.
The MAONO DM30 is probably one of the best budget microphones on the market right now, with a professional sound chipset for great sound quality and high-sensitivity cardioid pickup, good durability, RGB lighting with 8 different modes that you can control via a button or software monitor that allows you to monitor and adjust the sound recording without noise. So we'll give you the full breakdown of what makes it an excellent microphone at just $50. So to find out all about it, keep reading to find out!
Maono DM30 Features
Lightweight and Compact
Solid base and metal build
3-in-1 Multi-function Knob
9 Controllable RGB Light
Smooth and Clear Sound
Zero Latency Monitoring
Real-time monitor output
Plug and Play
High Sensitivity
Cardioid Pattern
Reduce Ambient Noise
Maono Link software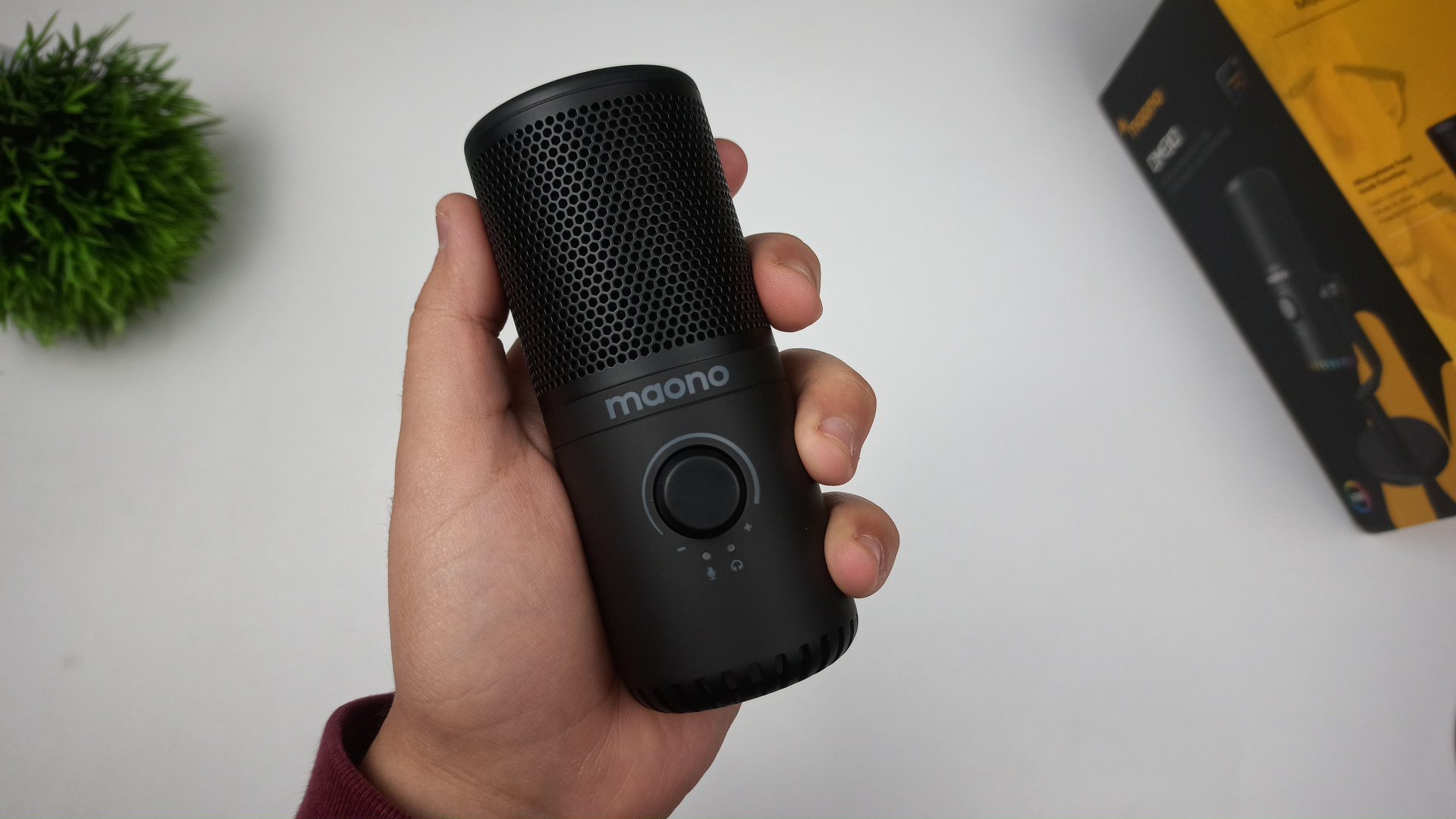 Unboxing
Design And Build Quality
Build quality and design may not be one of the areas budget mics really focus on, but that's not the case with the Maono DM30. When you pick up the mic for the first time, you'll immediately be reminded of how beautiful it is in its simplicity, build quality, and how heavy it is, since it's all metal except for the cover. Plastic top and buttons. Although it is plastic, it is not that bad and will not be an obstacle. And in the version that I have it is black and there are other colors to choose from according to your desk from purple, pink or white, they look really cool, and for this microphone, it is impossible to tell that it is a budget microphone at all.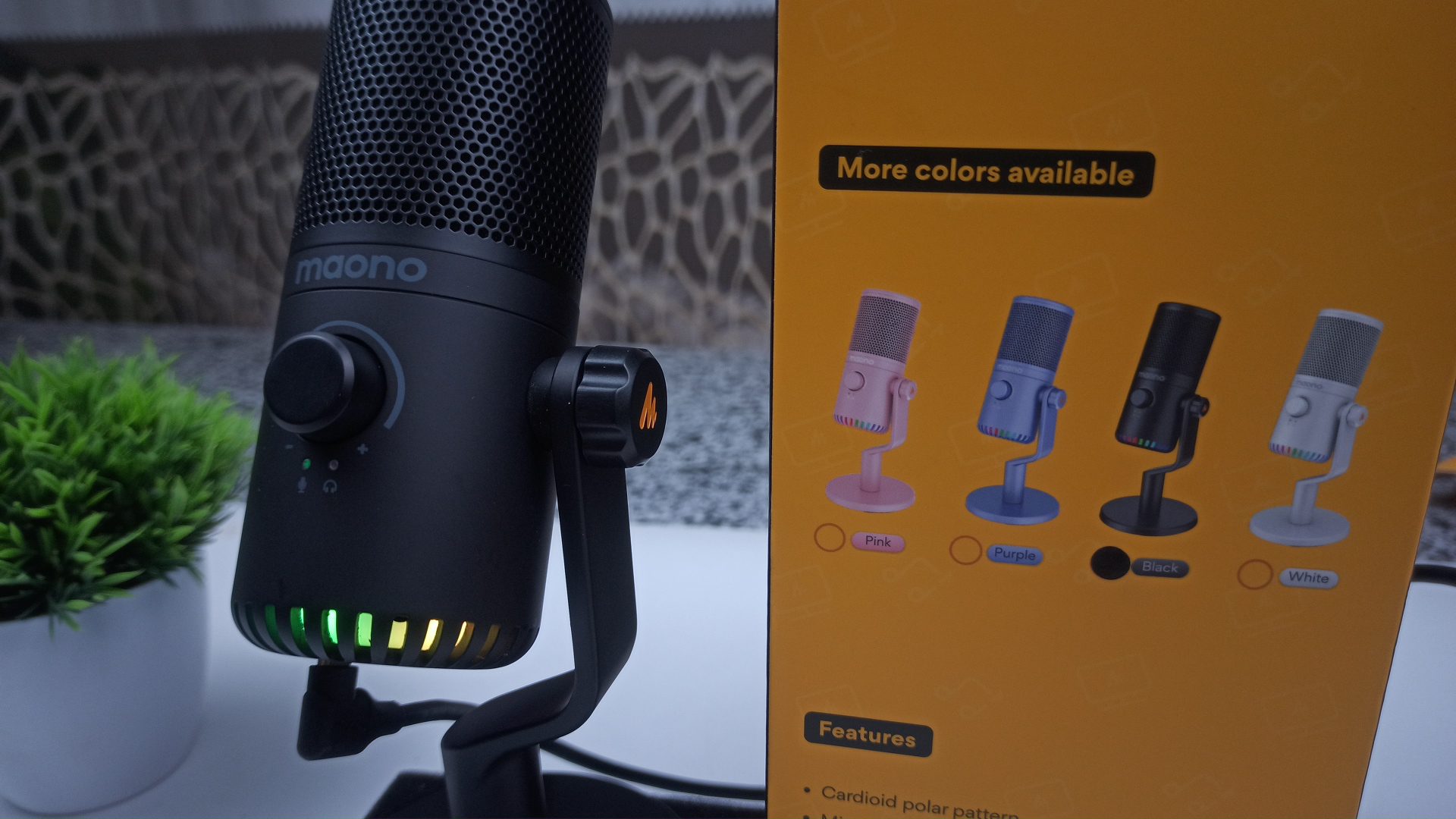 The heaviest part of the microphone is the base which provides it with enough stability on a table to prevent bumps or accidental knocks, and the stand allows you to rotate the microphone to accommodate enough range of motion for any PC user. However, it is only adjustable back and forth meaning it can rotate up to 300 degrees. The microphone can be disassembled into 3 parts to solve this by purchasing a boom arm to extend the range of movement of the microphone. The boom attached to the mic is completely removable like the base and can be mounted on the boom where there is a second screw hole in the bottom.
The DM30 has a full array of RGB lights on the bottom of the mic through the holes that give off a nice glow that really makes it stand out. It can be changed in many different ways. The simplest way is a button at the bottom that controls the RGB lights with a total of 9 different modes one of which turns off the light completely, or cycles between 7 different solid colors for example, red, orange, yellow, green, cyan, blue, magenta, or the last option is a scrolling rainbow option. The rainbow mode only rotates, so you shouldn't expect any other modes like Breathe, Strobe, etc. By the way, the other way to adjust RGB and other settings like set the illumination intensity is through the Maono Link program, which I will talk about it more in another paragraph.
The microphone also has a handy knob interface on the front allowing you to easily control the gain and, with the push of a button, mute the mic if needed. You can also rotate the button on each side to control the volume once it reaches the maximum or minimum level, the indicator light will flash several times. In fact, there are two LEDs under it, one for the microphone and one for the headphones which are always off unless you plug in headphones. The microphone light is always on and turns red when the microphone is turned off and green when it is on.
There are two ports on the bottom, a USB Type-C port, and a 3.5mm port for connecting a pair of wired headphones for real-time mic listening at the same time as you're recording, this is great for gamers in particular, and if you wanted to even use this for podcasts or similar. And finally, a button that controls the RGB lights.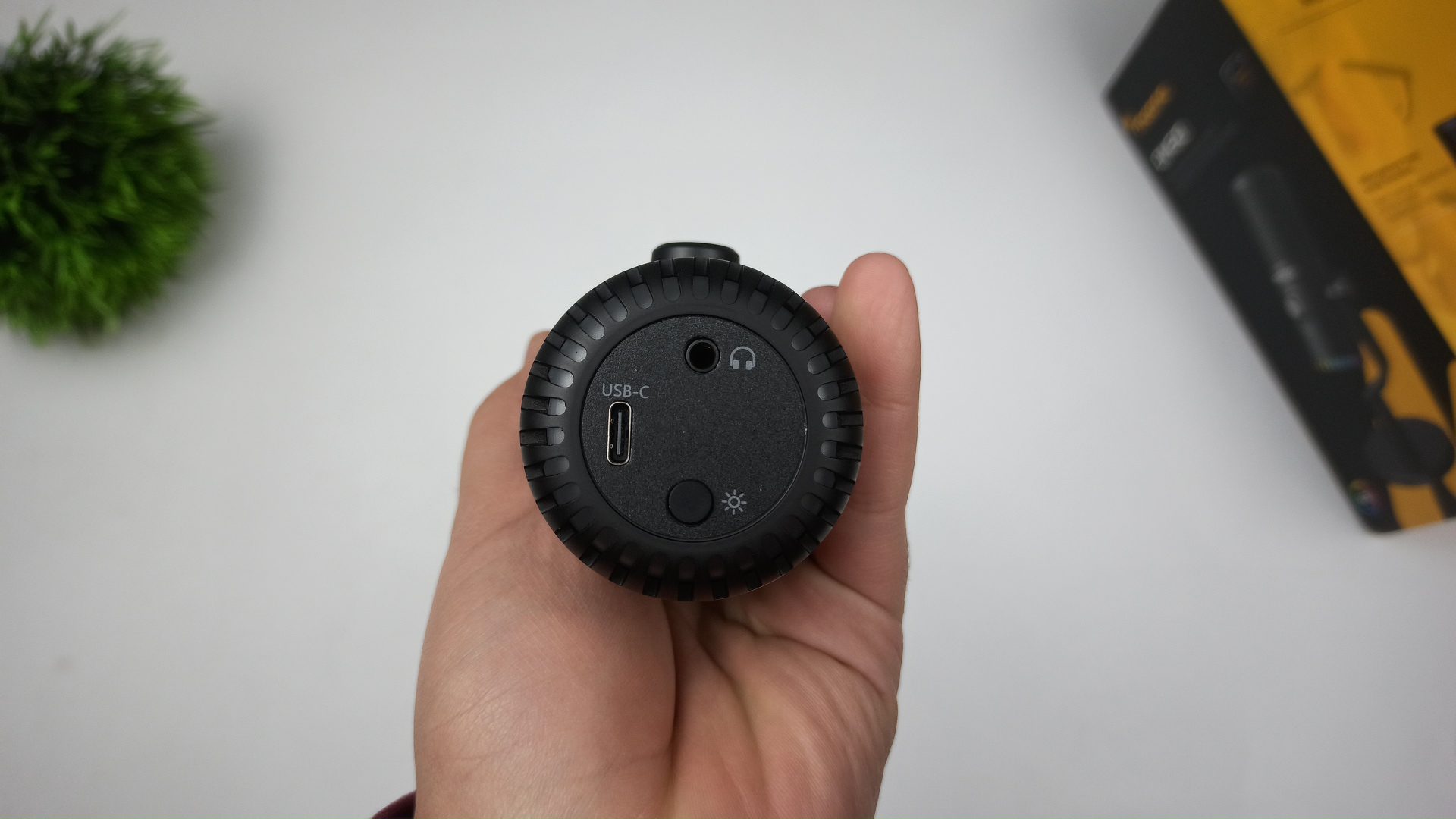 Overall, the DM30 from Maono is designed to please all gamers, and for a budget USB microphone, having such a high-quality stand really impressed me and I absolutely love the design; It is efficient and small and does not take up much space on the desk and fits into any environment, and its capabilities allow it to cover other types of scenarios perfectly.
Connection & Compatibility
The Maono DM30 is a plug-and-play microphone, so the connection is easy and simple, just plug the cable connected to the microphone into any USB port. The operating system quickly detects the device, after which a green LED lights up under the control knob, symbolizing readiness to record. The USB cable that came with the microphone was easily changeable to USB-C allowing you to use the microphone to record on your computer (Windows and Mac) or phone.
Sound Quality & Performance
You can expect the DM30 to deliver great performance and sound quality for its price. When listening to recordings, my voice was clear up to six inches from the mic, and it performed better than I expected. It has a high-sensitivity condenser microphone core with a sampling rate of 24-bit / 48 kHz. It is very useful if you cannot sit close to the microphone. This will help you get good results from a distance, as it is able to detect your voice from a reasonable distance without Significant loss in size or quality.
However, this sensitivity along with the large size of the microphone can be a bit of a disadvantage when it comes to environmental noise. So I advise you to lower the volume below 90% and use noise reduction.
Although the microphone's polar pattern is cardioid and it's important to note that the microphone is directionally sensitive, which is useful for filtering out keyboard and mouse clicks, it will blur most background details, only picking up sounds from the front of the microphone. This is good if you plan to use the mic for things like gaming, as you can isolate your voice more effectively from things like background chatter, keyboard noise, or even the air conditioner. However, it is not of the best quality possible (which is to be expected for a beginner mic) since this mic is located on a desktop, it picks up vibrations from typing and mouse movements, and it picks up keystrokes as well. So you will still hear some noise coming from the extensions.
Acoustically, perhaps the main feature of the microphone is its very bright sound. It captures a lot of detail, which is excellent for activities like podcasting and singing. It really allows your voice to pop. The combination of all these elements results in a sound that's both natural and warm, beating many microphones around its price range. Loudness is acceptable, and bringing the mic closer allows you to pinpoint those fine details in your voice, and it's hard to argue with the results.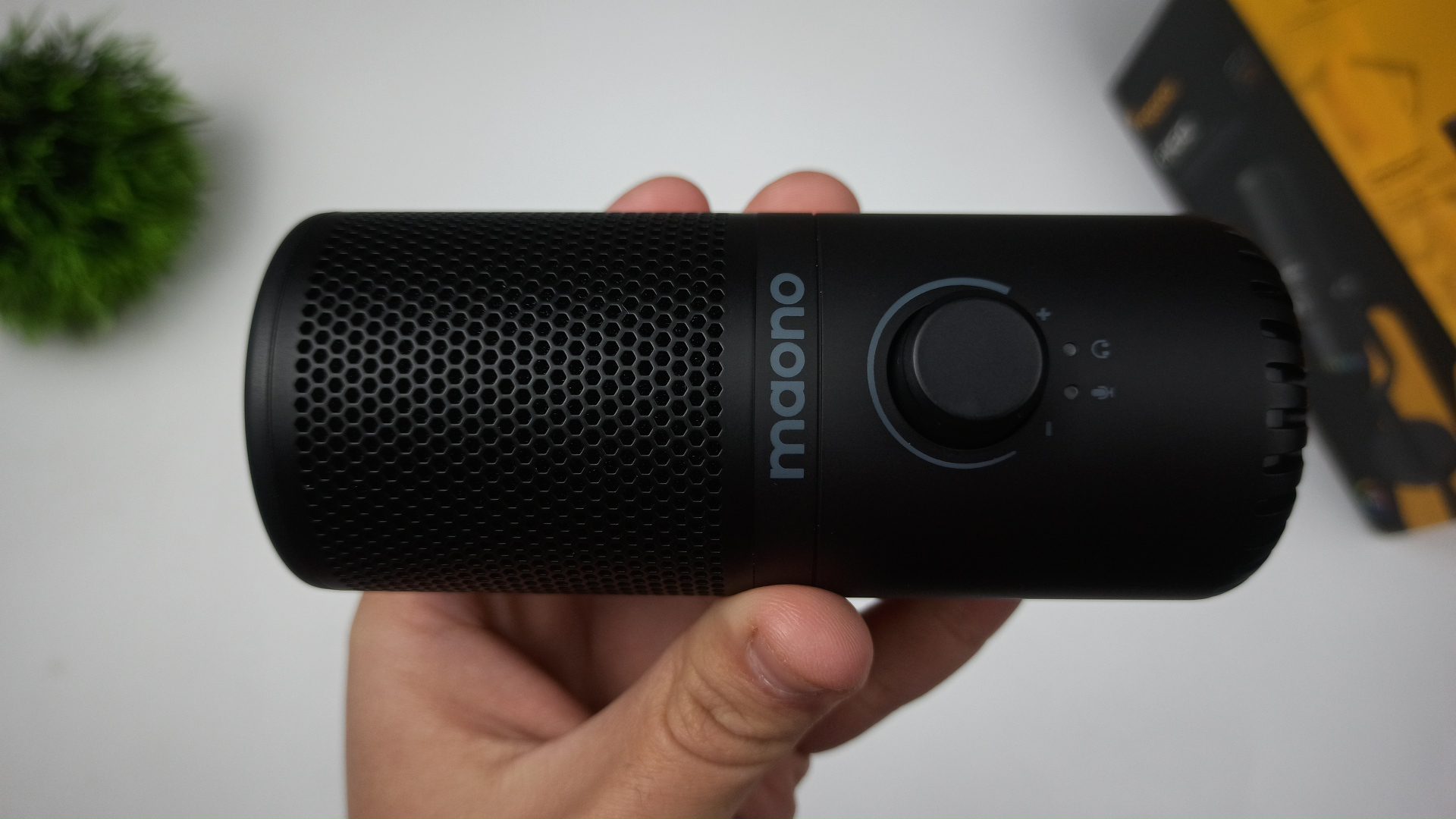 The software lets you Maono Link (which I'll talk about later in this review) which you can use to change the tone of your voice into something deeper by choosing between preset sound modes all of which let you customize and set your preferences. The program also has an advanced section to further tweak the audio input with professional options like Gain, Compressor, and Limiter which are often seen on streaming/broadcasting software. It also has a simplified equalizer with preset patterns to further alter the sound.
Overall, I wouldn't recommend it primarily for singing, but rather as a means of communication and the like, and it's a great-sounding microphone. You can comfortably record a podcast with it, but I highly suggest using the included Maono Link software to enhance the sound to your liking. Since it's a cardioid condenser mic, you'll notice that it picks up some noise faintly, but for the most part, in a good setting, you shouldn't have too much trouble getting a nice clean sound.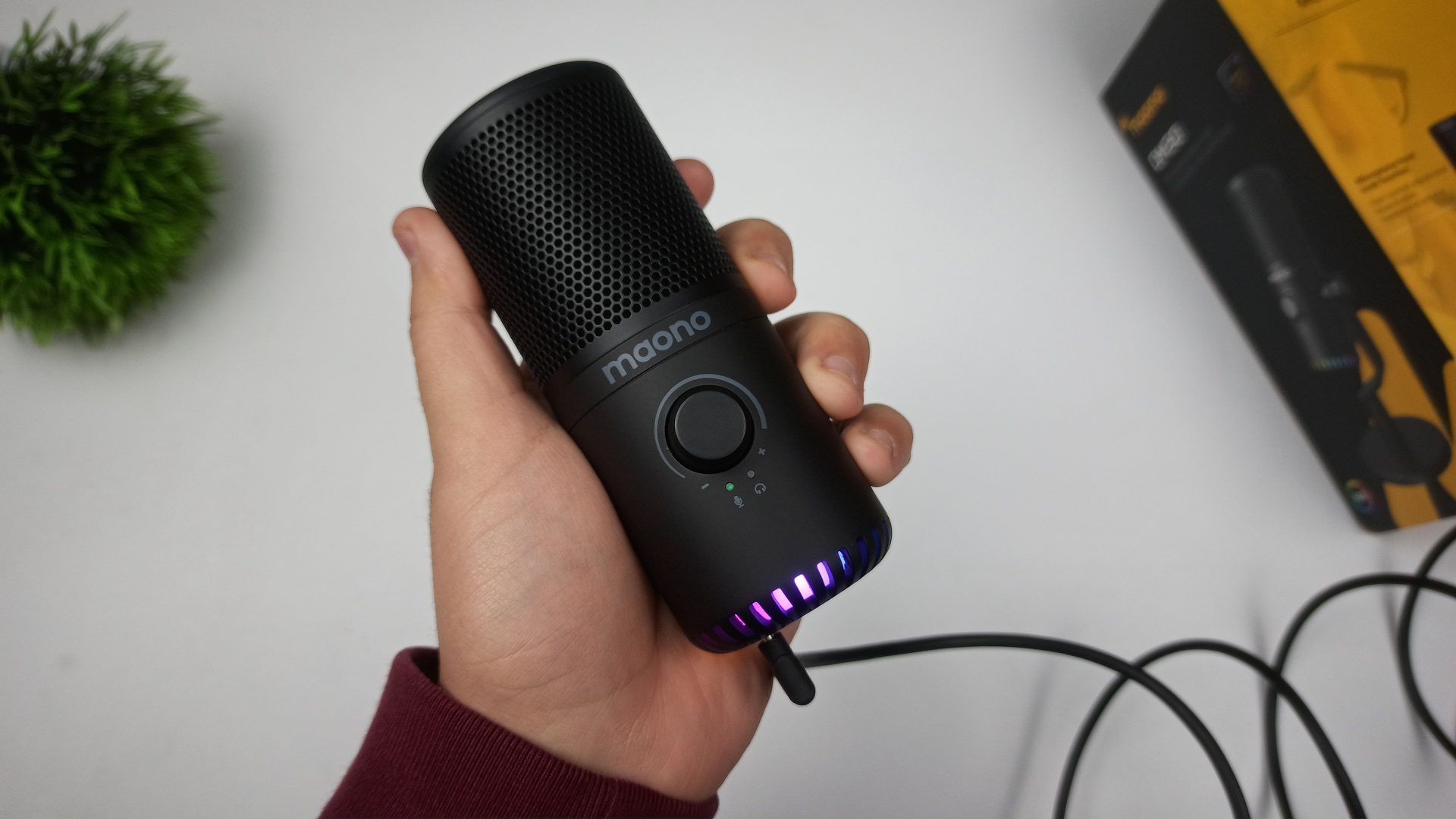 Maono Link Software
While the Maono DM30 functions as a simple plug-and-play device, any compatible computer will recognize this microphone. However, unlike most other entry-level microphones, it comes with proprietary software called the Maono Link available on the company's website, which brings out the full capabilities of this microphone. It's a simple program, available for Windows and macOS, that helps you manage microphone settings from within your computer and for more advanced microphone control.
From within the program, there is one working window divided into two halves, Standard and Advanced. It provides some simple management options in Basic Mode, and other, more complete options in the Advanced Mode tab you get access to basically all the controls you could hope for from a microphone.
In the standard part, the program handles everything a microphone does, but with more options. In the software, you can adjust the tone from 4 presets Deep (default), Natural, Bright, and Legacy. This means you can efficiently change and test settings as you wish until you find the configuration you like. You can track a fairly schematic mapping of the input signal level, adjust microphone gain and headphone volume by specific percentages from 0 to 100, turn off the microphone and monitor the microphone, and also control the backlight – not only to choose the color but also to set the brightness which makes it useful For late night gaming when you don't want your device's lights to stand out. While I'd like to see more control over EQ and RGB options, Maono has done a good job of giving owners just enough control without freaking them out.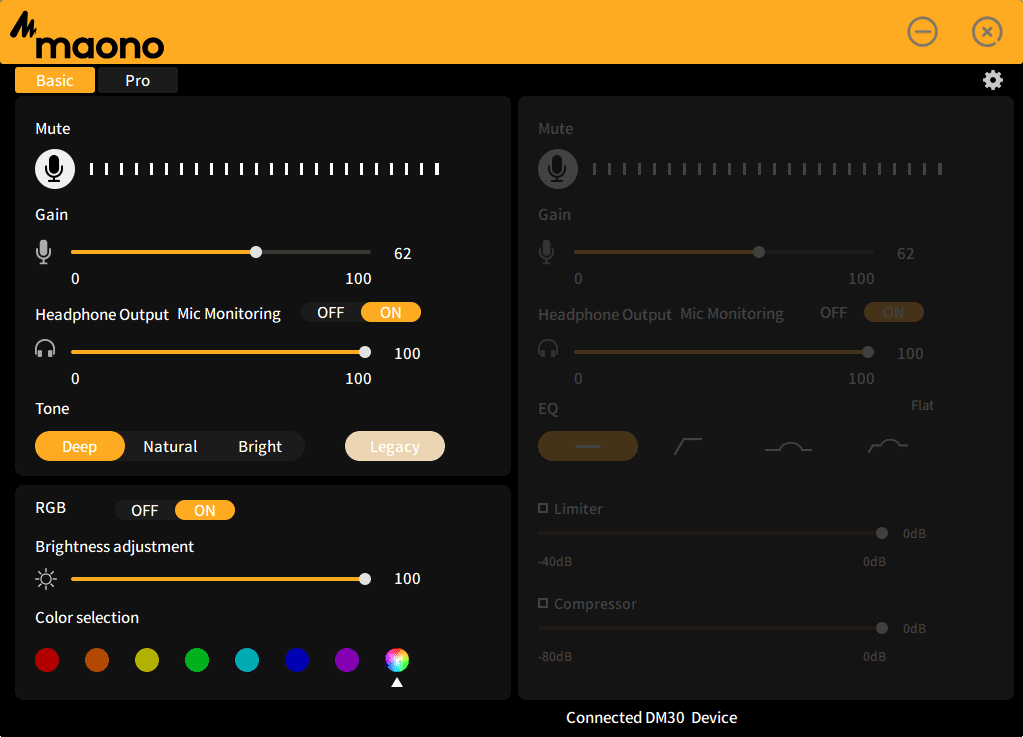 As for the setting tone, I personally like a natural tone, though I can see some cinematic uses of depth. If you have a very deep voice, you might consider using a bright voice to make it gentler.
If you go to the "Advanced" tab, you can adjust the equalizer, limiter, and compressor settings. Select frequency response – flat sound, high-pass filter to suppress low-frequency noise, "presence enhancement", implemented in the form of a twisted mid, which can "stretch" the sound in a noisy environment, as well as a combination of the latter two options.
When it comes to the equalizer, you can apply a high-pass filter, boost the mid-range presence, or use a combination of the two. It's kind of limited and I'd prefer if they gave you the option to create a custom EQ. I'd advise instead using your own EQ in post-processing.
Finally, I should mention that the Real-Time Microphone Monitoring feature can only be used if you plug your headphones into the 3.5mm port on the bottom of the microphone.
Maono Link is surprisingly well-optimized, which we didn't expect. Most of the time, microphone software bundles are riddled with bugs and lead to poor performance, though, which didn't happen here, and it's particularly impressive inside a package that's under $50.
Final Verdict
If you are in the market for a budget microphone under $50 that performs well. The Maono DM30 is definitely one of the most attractive options on the market. It impresses right from the start with its elegant build quality, premium look, and color options. Which really gives the impression that it is much more expensive than it looks. While the RGB lighting gives it a gaming aesthetic.
Considering the more than decent sound quality, it's hard not to be impressed by the quality of the Maono DM30 condenser microphone. It exceeds any expectations you might have with its bright sound while retaining a more neutral, natural feel on the vocals. Clarity is also impressive, and the audio capture is excellent here. What all of this results in is an all-in-one mic, and it handles things like podcasts, games, music, and more.
And with the additional features you get, such as its impressive Maono Link software that gives any user convenient customization options and its useful and well-grouped presets, it makes for a versatile entry-level microphone suitable for almost any situation. I can safely say it is definitely worth its money. With that said, the DM30 isn't a gaming mic, it's a great value audio device for those who don't want to waste time on tuning and adjustments. I honestly don't think you can find a better microphone for the price.
Maono DM30 Price And Where To Buy
The newcomer Maono DM30 will have all the credentials to be considered a Best Buy, thanks to the very competitive price of $50 on an official website. So, don't miss out on this great deal.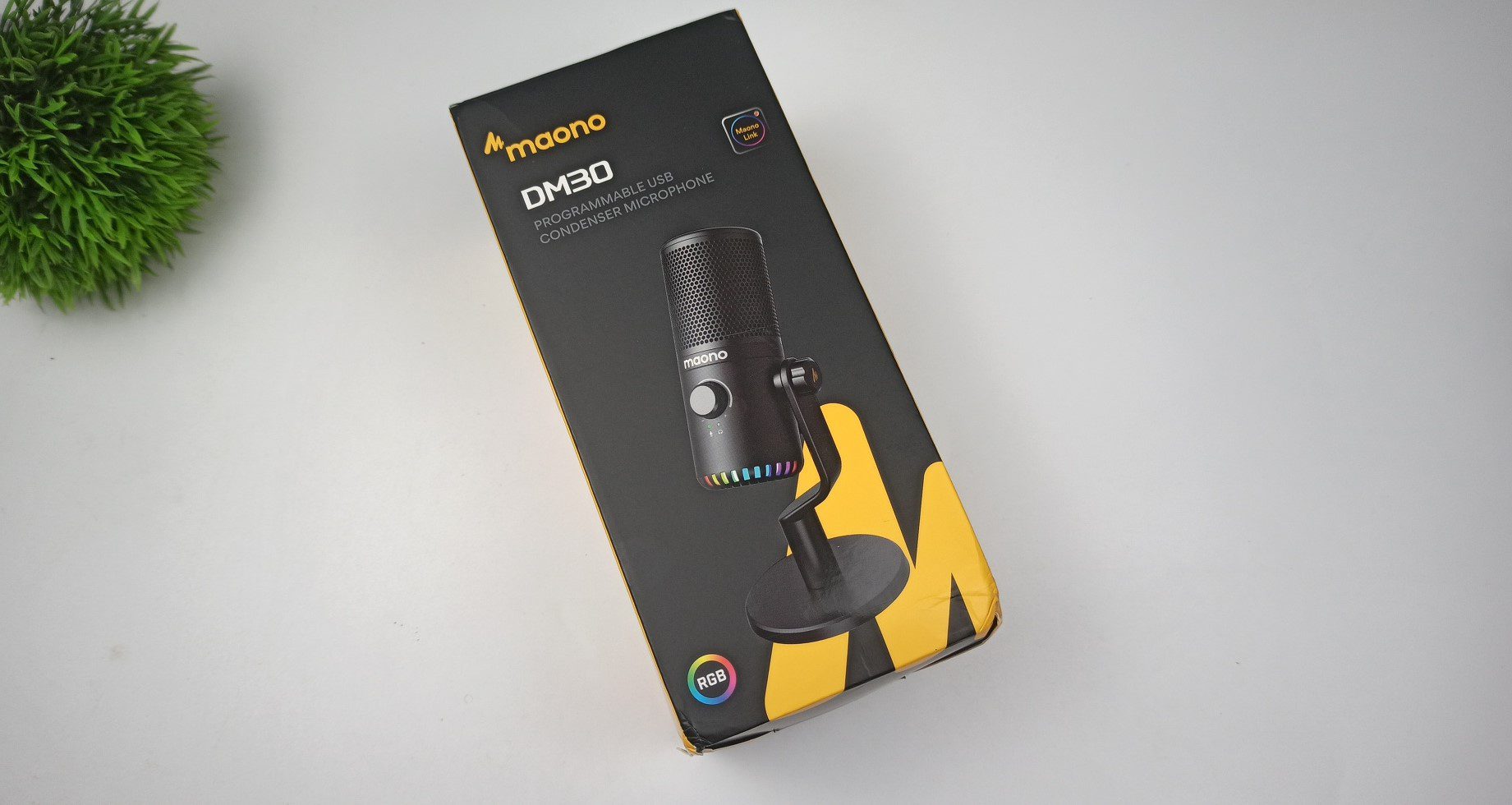 MOANO Gaming Microphone
Metal Stand
USB 2.0; USB A to USB C, 1.5m
User Manual
Maono DM30 Specifications
Sound Pickup Device: Condenser
Materials: Metal and plastic
Color: Black / White / Pink / Purple
RGB modes: 7 Solid Colors + 1 Rainbow Effect
Polar Pattern: Cardioid
Sensitivity: -4dBFS (1V/Pa at 1kHz)
Frequency Response: 20Hz – 20kHz
Connectivity: USB Type-C
Compatible Devices: Computer, PC, macOS
Controls: 1-Touch front button + knob combo
Connector Type: USB, 3.5 mm Jack
Compatible Systems: Windows, Linux, macOS
Real Monitoring: 3.5mm headphone jack real-time monitor output
Frequency Response: 20Hz – 20kHz
RGB Light: 8 modes of RGB lighting
Software: Maono Link software
Weight 480 grams approx. (including support)