Xiaomi has launched alongside the Redmi Note 11 and Redmi Note 11S, the new Redmi Smart Band Pro that brings with it a new look similar to HUAWEI Band 6 design and many features, such as an AMOLED display, SpO2, stress tracking, and multiple sports modes. With the improved feature list, and offer good value for your money. but is this enough? Let us dive into the review to find out.
Redmi Smart Band Pro Features
1.47" Full AMOLED Screen
200mAh Battery
Customize Watch Faces
Heart Rate Monitor & Stress Tracking
5ATM Waterproof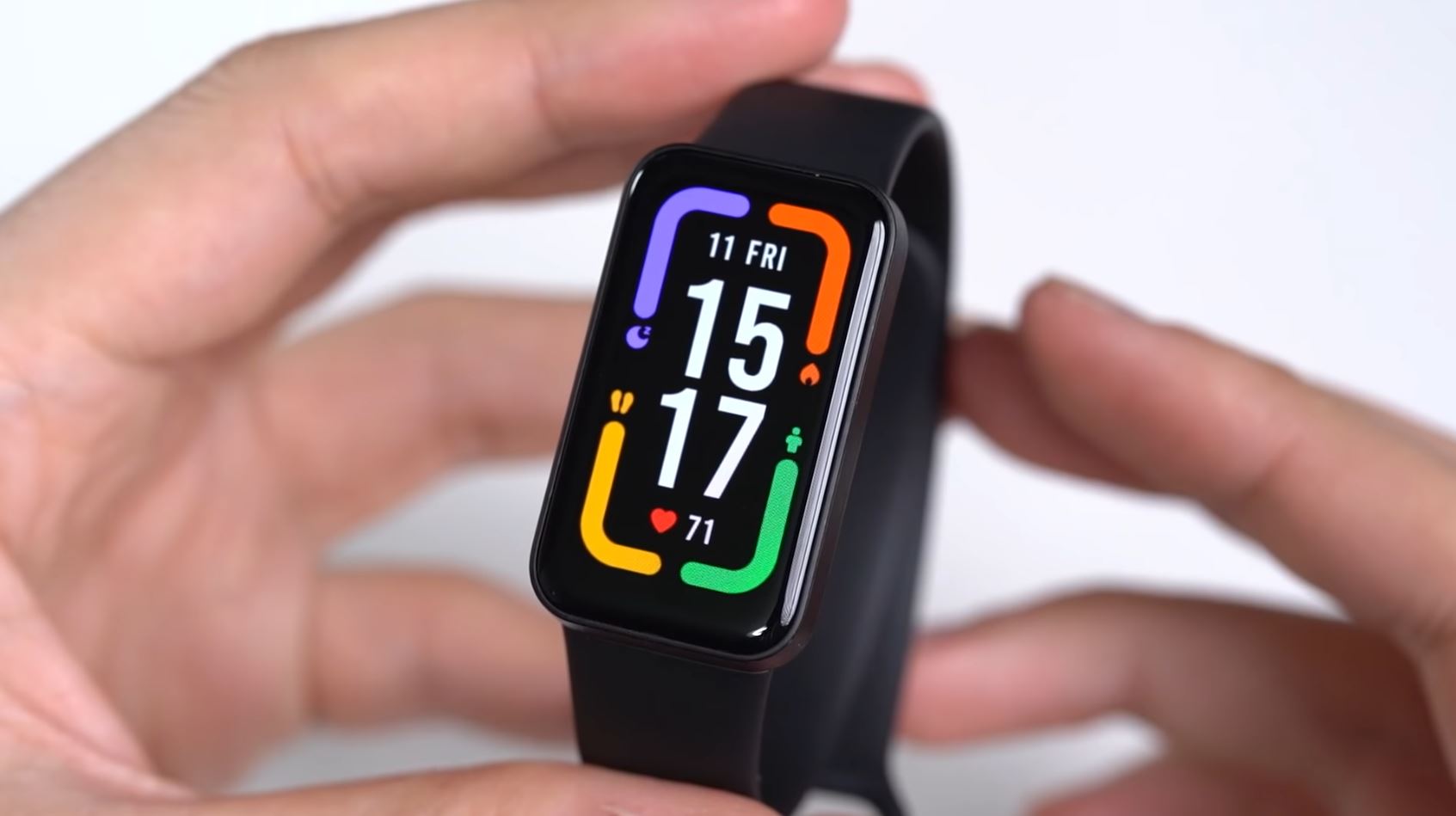 Design And Build Quality
The Xiaomi Redmi Smart Band Pro has a modern and elegant design that is somewhat similar to the Huawei Band 6 and looks like a smartwatch instead of a bracelet, as it has a rectangular polycarbonate body without any buttons and with a wide 1.47 inch AMOLED screen, so the navigation depends on touch only. It's also very light at only 25.5g, I barely noticed it on my wrist, and I also wore it to sleep without any issues. Overall, the band has good build quality.
The bottom side houses all the health sensors including a 6-axis sensor (accelerometer sensor, gyroscope sensor), optical heart rate sensor also known as PPG, and also comes with a SpO₂ sensor. There are contact pins, making it easy to connect this fitness band for charging.
When you get to the bracelet, it's detachable and made of skin-friendly TPU and the strap can be adjusted from 130mm to 220mm, depending on the length of your wrist. It's a little cramped, but this is required for maximum accuracy in heart rate readings. Regarding color options, you will only get black. One would expect Redmi to add other color options in due course.
Waterproof
The Redmi Smart Band Pro is water-resistant with 5ATM protection, which is a great upgrade so you can put it on during the shower or in the pool and you can wear it when washing hands or on rainy days, what makes this rating better than IP68 is the possibility of using the watch for swimming because it can withstand pressure at 50 meters of depth Water, And this you will not find in any other smartwatch. However, exposure to saltwater or hot water can damage it.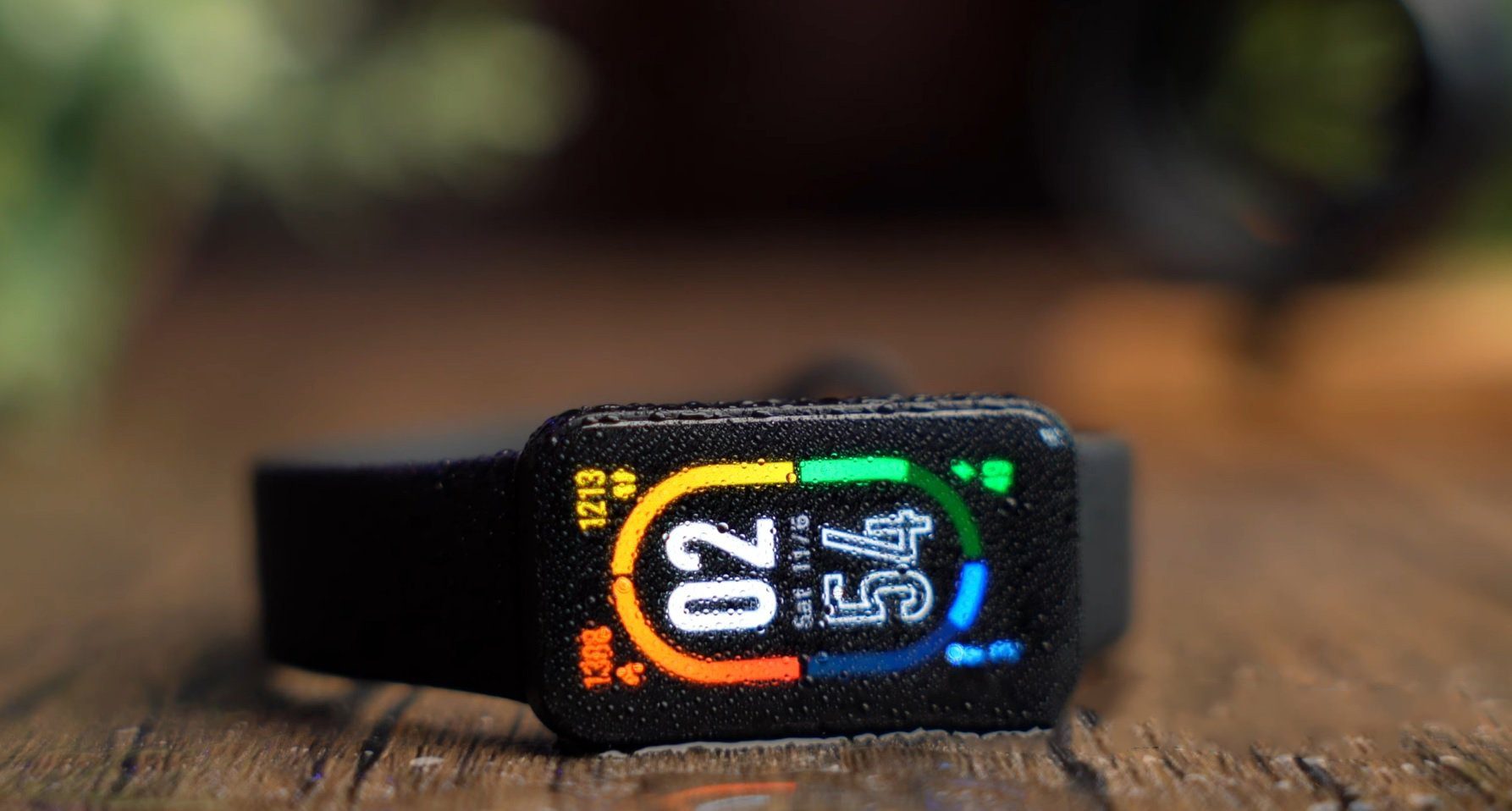 Display Screen
The screen in the Redmi Smart Band Pro is my favorite type and one of the strengths of this smartwatch. What distinguishes its design is definitely the 1.47-inch AMOLED screen that is 2.5D curved to display better content and details, and because it has a resolution of 194 * 368 pixels with a high refresh rate and provides up to 450 nits.
This is what makes it one of the best screens in a budget smartwatch in terms of size and resolution, even the sharpness and brightness are very good and vibrant, especially when you wear them in the sunlight you won't be disturbed by it thanks to an ambient light sensor that allows the screen to automatically adjust the brightness depending on the surrounding conditions, This is something you rarely see in this price range or a smart bracelet. The Wake-UP feature also activates the screen by simply raising your wrist, and you can turn it off from the bracelet itself.
Now, one of the great features of a monitor is Always-On Display support. This is not available on many competing brands like the Honor Band 6 which is a rarity in fitness bands and watches at this price point. Always on Display can be turned on from the bracelet display settings and you can schedule it as well. When the screen is off, you can still see the time and date on it in a fairly simple but clear format. You can actually lock the screen just by placing your hand on it, easy and simple.
Redmi Smart Band Pro Watch Faces
In terms of watch faces, Xiaomi Redmi Smart Band Pro has four different watch faces pre-installed, and you can easily switch between them in several ways, by long pressing on the home screen or choosing more via the Xiaomi Wear app for 50+ online watch faces available Download with customization capabilities for a variety of colors, vintage, analog, 3D and digital faces or even your own photos as watch face wallpaper or any background. Downloading a new watch takes a few seconds and you cannot store multiple watch faces on the same device. The widescreen and AMOLED quality makes some of them look very good.
How To Use Redmi Smart Band Pro
The interface is smooth and I didn't notice any stutter while switching between the apps and home screen it's pretty easy to use. even the screen responds well to touches and clicks, with some stuttering when you tap the screen to wake it up – sometimes it takes a few taps, sometimes just one. Overall the user interface is very simple and is managed by taps and swipes without the presence of buttons.
You can swipe down for notifications, swipe left or right to view shortcut apps, and control center, including the music control, the camera that is still in beta, view heart rate, blood oxygen, weather, activities, goals, and basic settings. All of this is customizable and you can have up to 7 tools on the fitness band at the same time. Additional software can be found and installed through the smartphone application.
To access the main menu, swipe up from the home screen. Which contains exercise, activity, stats, heart rate, SpO2, sleep, stress, breathing, cycles, weather, music, camera, alarm, stopwatch, timer, notifications, find phone, flashlight, settings.
Health & Fitness Functions
One of the important points of the bracelet is fitness and activity tracking, so the Redmi Smart Band Pro can track nearly 110 different types of commonly used activities such as walking, running, cycling, HIIT, trekking, and swimming with the feature of automatically detecting some activities such as running and walking surprisingly accurate.
Since it does not have a built-in GPS, it relies on the paired smartphone for accuracy. It only takes a few seconds to get the GPS from the phone for outdoor workouts, and you can start your workout right from the bracelet, lack of (GPS) may not be a concern But others may have a different opinion.
Apart from the sports features, It also allows you to track the number of times you stand in a day, the number of calories burned, track heart rate, SpO2, sleep, stress, menstrual cycles, and daily exercise minutes. You can also set a daily steps goal. But tracking your heart rate during exercise takes a lot of time. Since this does not have a button, you need to press and hold the screen to pause or stop the workout. Xiaomi also says it uses the LifeQ Health algorithm, which makes the measurement accurate.
Although it has a good sensor that is more accurate than other sensors, this does not mean that the measurements provided by this smartwatch are completely accurate, as most of them are largely unreliable because it's not a medical instrument, but it makes you very aware of your health and physical performance. unfortunately, this is often the case with watches in this price range.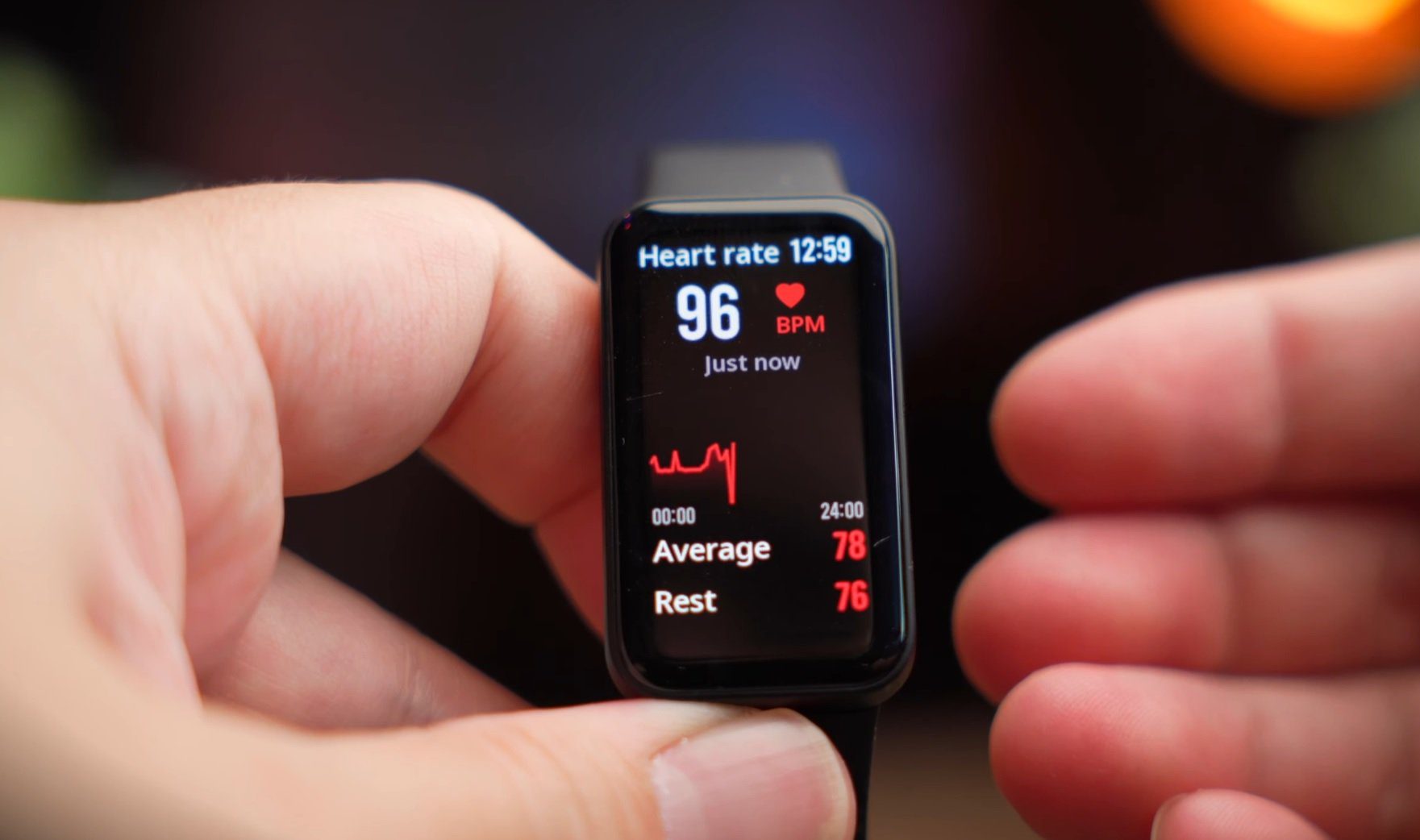 Xiaomi Wear App For Redmi Smart Band Pro
The Redmi Smart Band Pro can be paired with Android and iOS smartphones using the Xiaomi Wear and Xiaomi Wear Lite apps, respectively, and the pairing process is simple. But sometimes there seemed to be a bit of a lag in syncing data between the phone and the watch despite being connected all day, an update should fix this issue. Other than that things were generally going well.
Like most other health and fitness apps, you get the main dashboard with panels displaying various stats. Click on any of them to see your daily, weekly, and monthly totals. In the interface, it contains a status section, exercises, and profile.
The status section displays steps, calories burned, latest exercise stats, sleep data, heart rate, and standing details.
The exercises tab displays the options for outdoor running, walking, hiking, and outdoor cycling that you can start right from the app.
My profile section displays battery status, the option to change band faces and settings. And you can customize your own fitness bracelet.
How To Pair The Redmi Smart Band Pro To a Smartphone
It's easy to connect the Redmi Smart Band Pro to your phone. After installing the Xiaomi Wear and setup, all you have to do:
Turn on the Bluetooth of the watch and mobile phone.
Click Add device in the APP settings to connect the watch to the APP.
iPhone phones need to agree to app display message notifications, Android phones need to agree to read all notification permissions such as contact information, and agree to app background operation in the settings.
When this is done, it will communicate directly and without any complications, with automatic setting of time and language, weather, in addition to a phone call feature, and update the smartwatch software if available.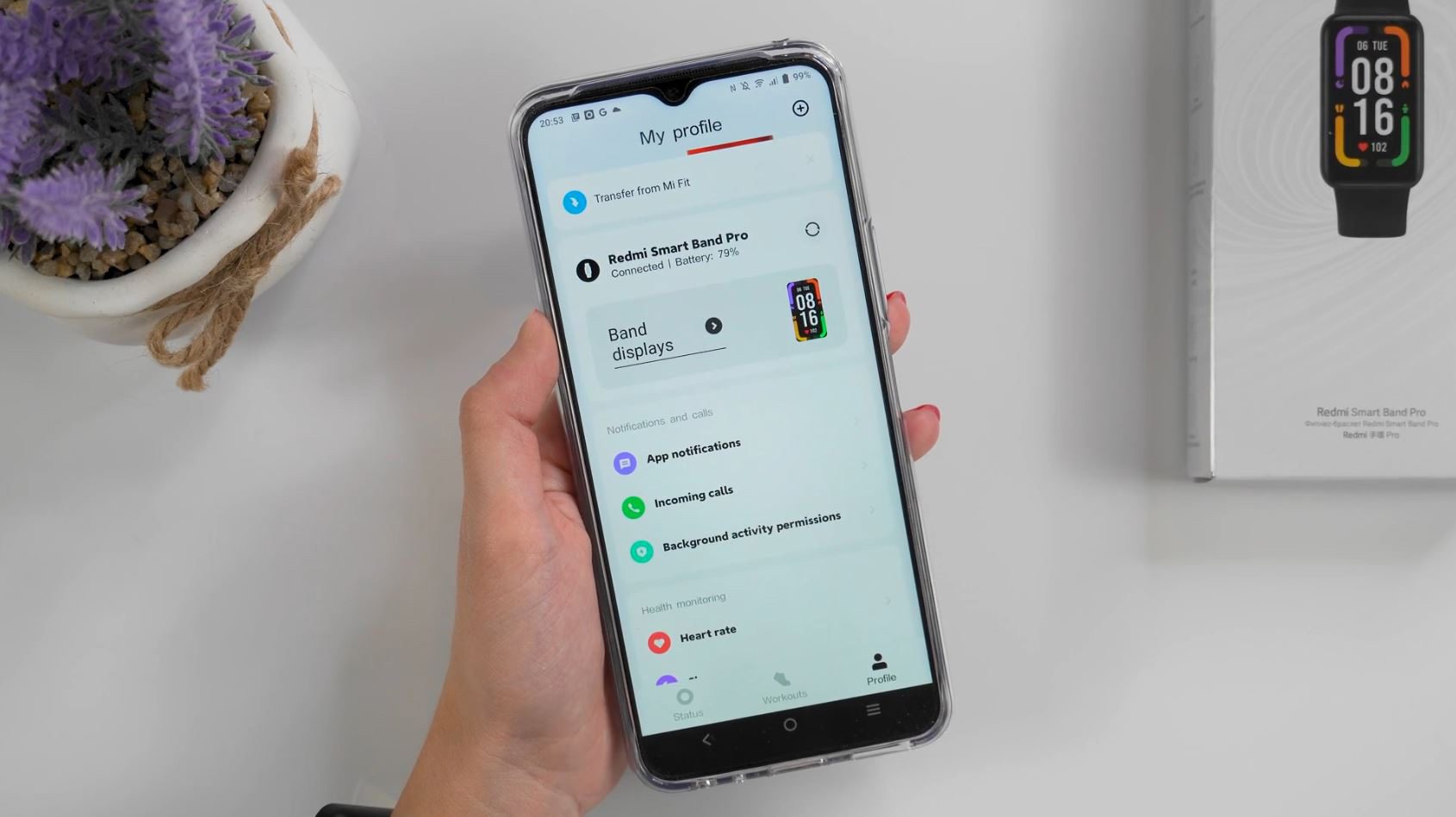 Notifications
Notifications are clearly visible and easily readable. You can access call or message notifications with many other functions such as stopwatch, alarm, calendar, reminders to not sit, remote control of the camera to take selfies with a touch on the screen, and you can control the music from your watch only.
Redmi Smart Band Pro Battery Life & Charging Time
The battery life of the Redmi Smart Band Pro is acceptable due to the small battery of 200 mAh, it can be used for more than a week without charging. And with basic use, you should easily get the promised 14 days of battery life and 20 days in power-saving mode. Well, if you turn on the always-on display, enable blood oximetry, sleep tracking, notifications, and other features, don't expect up to two weeks of battery life with all of this enabled, you'll end up with about five days to a week of use as mentioned. In addition, the charging time of the bracelet itself is about 90 minutes using a magnetic charger. Since the battery lasts for about two weeks, the long charging time does not matter.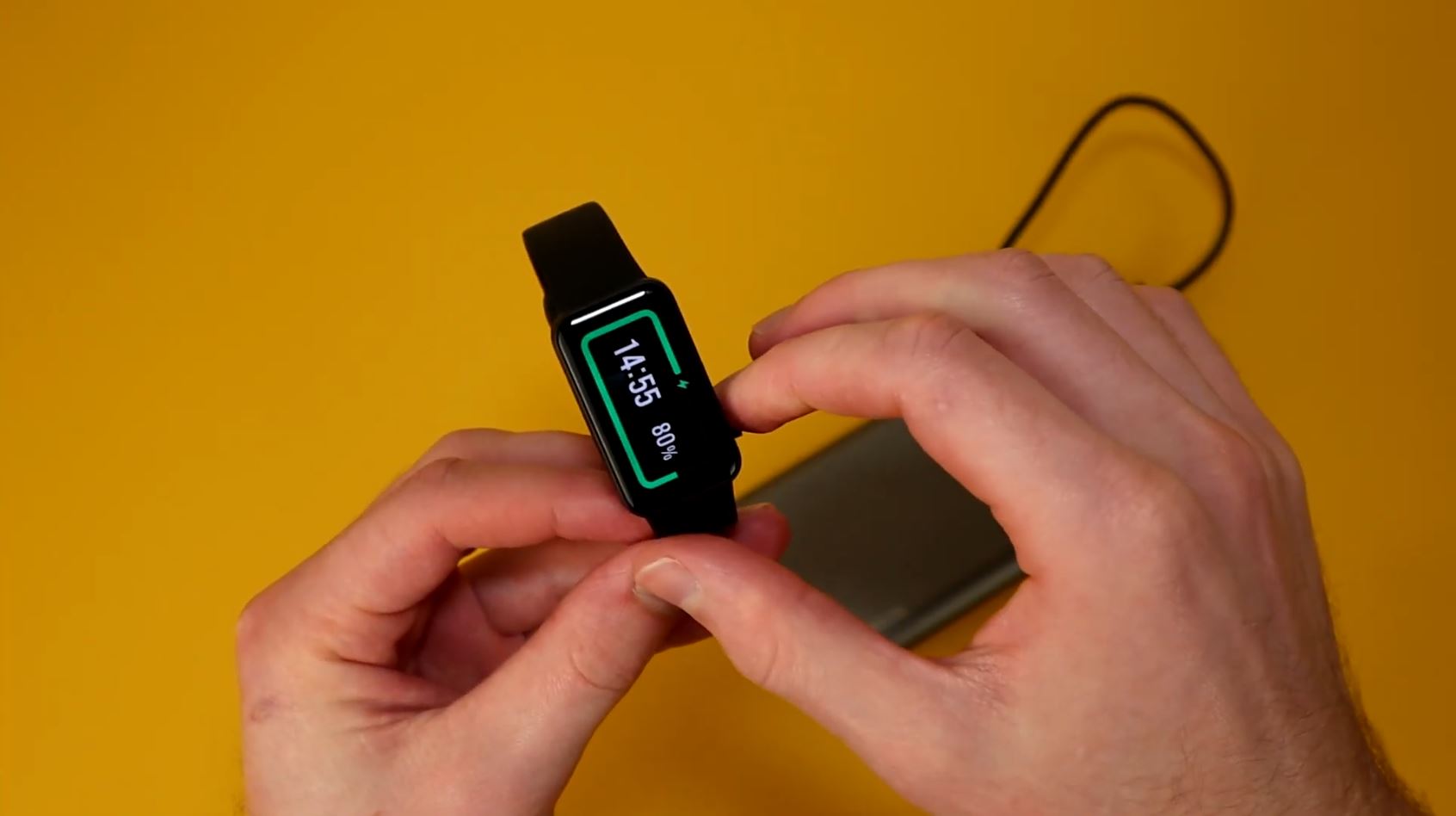 Verdict
The Redmi Smart Band Pro packs in all the features that one would expect from a fitness band with several workout modes, has 5ATM water resistance, offers a good battery life, and also includes an ambient light sensor for auto brightness adjustment, and has been launched at a good price. The highlight of the band is definitely its beautiful AMOLED display and Always-On function gives it the lead and makes it better in this category. Yes, there is no built-in GPS but you do You find it in any other fitness range in this range. There are some issues with the app sync but this can be fixed by an update easily. So, If there is a middle ground between smartwatches and fitness bands, and at this time, the Redmi Smart Band Pro is the boss of it.
Redmi Smart Band Pro Price And Where To Buy
The Xiaomi Redmi Smart Band Pro is currently available on the AliExpress Store and Banggood for a very good price So, don't miss out on this great deal. And to view its price or buy it, you can access the offer by clicking on the store icon.
Redmi Smart Band Pro
Magnetic Charger
User Manual
Redmi Smart Band Pro Specifications
Brand
Xiaomi Redmi
Model
Smart Band Pro
Bluetooth Version
BT 5.0
Compatible OS
Android 6.0 or above; iOS 10.0 or above
Operating Mode
Full-Touch
APP Name
Xiaomi Wear
Watch Language
Supports English, Spanish, Russian, Brazilian Portuguese, Italian, French, German, Ukrainian, Polish, Korean, Portuguese, Turkish, Japanese, Czech, Thai, Indonesian, Greek, Vietnamese, Romanian, Traditional Chinese, and Dutch
Exercise and Record
110+ Sport Modes
Waterproof
5ATM
Sensor
6-Axis sensor: low power-consumption 3-axis accelerometer and 3-axis gyroscope
Screen
Size: 1.47 inch
Type: AMOLED
Battery
Battery Capacity: 200mAh
Using time: About 14-20 days
Charging Time: About 1.5 hours
Charging Type: Magnetic charging
Material
Band Material: Silicone
Watch Case Material: ABS