If you are looking for a power bank with high battery capacity, stylish design, and all the protection you want, then you are in luck because Romoss has launched its latest power bank named ROMOSS PEA60 with a large capacity. In this review, we will take a closer look at the PEA60 model, as it has everything consumers need in terms of battery capacity, features, and price. It has a capacity of 60,000 mAh with 3 input ports and 4 Outputs, and it also has a LED screen that displays the current capacity of the power bank and all this at a price not exceeding $ 40.
60000mAh High-capacity
18WPD3.0+QC3.0 Two-way Quick Charge
Huawei SCP 22. 5W Super Fast Charge
3 Input (Micro/Type-C/Lightning)
4 Output High-quality Batteries
Safety & Reliability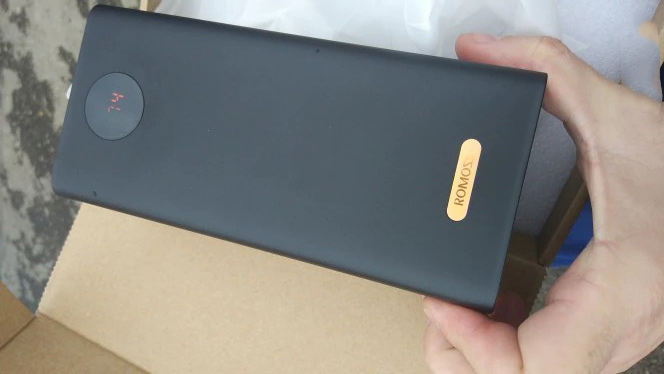 Design And Build Quality:
ROMOSS PEA60 is a 60,000 mAh power bank that features a unique design compared to power banks in terms of the size of the large body built of high-quality plastic in black color, in addition to being heavy with a weight of 1.3 kilograms, which makes it difficult to carry it with one hand and this is normal, With power bank such a capacity it will not be small.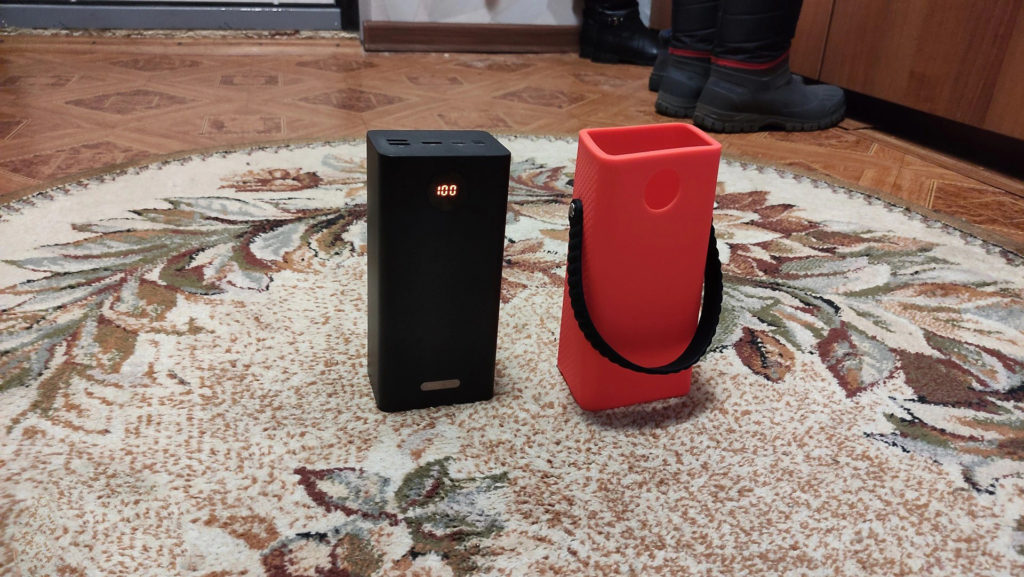 On the top, there is a circle LED display with a glossy finish that displays the battery percentage of the power bank in orange color, which gives you a better idea of ​​its power level.
With regard to the ports, it contains 3 USB Type-A output ports at the top, one for fast charging and the others are normal, in addition to Type-C for fast charging, input and output, and for output also there is a micro USB and lightning.
Performance of ROMOSS PEA60:
With a high-capacity 60000 mAh lithium polymer battery, you can charge four devices at once (without fast charging), which means that iPhone 12 can be charged 13 times or Samsung S20 9 times, so it is suitable for daily use, travel, camping, or Other outdoor activities. You will not have to worry about your mobile devices running out of charge.
Micro-USB: 5V / 3A, 9V / 2A
Lightning: 5V / 3A, 9V / 2A
USB1-A / USB-2A: 5V / 2.4A
USB2-A: 4.5V / 5A, 5V / 4.5A, 9V / 2A, 12V / 1.5A
Type-C: 5V / 3A, 9V / 2A, 12V / 1.5A
USB1-A + USB2-A + USB3-A + Type-C: 5V / 3A
Supports QC3.0, PD3.0 (up to 22W), Huawei SCP and FCP, Samsung AFC, MTK PE.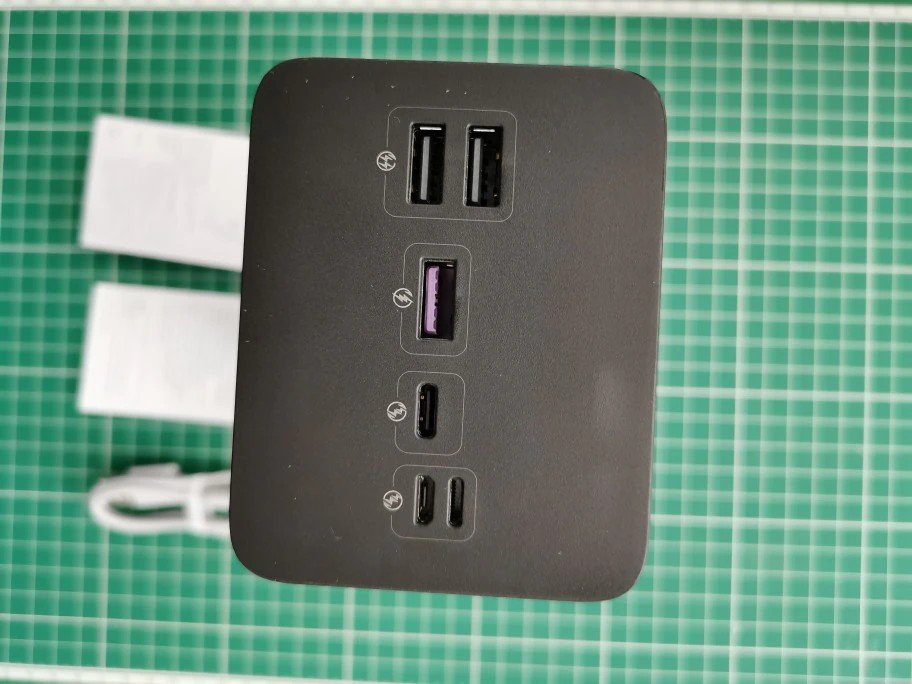 ROMOSS PEA60 can be recharged in three ways via micro-USB cable, lightning or USB Type-C. Meanwhile, it can recharge smart phones and other gadgets.
The battery is designed for everyday use, but not for everyone. For those who do not need to operate a laptop or something of this size, the power bank will serve for a long time as a backup power supply for phones and other equipment operating at voltages of up to 12 volts.
An acceptable ripple level for almost all outputs, but not for all voltages and currents, plus the power of each output in pairs at a level of 16 watts with high capacity is what makes the PEA60 Romoss battery special.
With PEA60, you can charge both electronic and wearable devices using "fast" protocols. The battery is spacious and heavy and is built on a new circuit that allows you to charge high-current phones at low voltages, especially Huawei models.
When it comes to power banks, surge protection is extremely important to safety. Fortunately, the Romoss Power Bank comes with 10 layers of protection to prevent overcharging, over-discharging, over-voltage, abnormal overheating, short circuits, and many more.
ROMOSS PEA60 Price And Where To Buy:
The ROMOSS PEA60 Power Bank is currently available on the Aliexpress store for a very good price, I recommend this product for anyone who suffers from a power outage in his area or needs power when going out on trips, This power bank is your best reserve for you. So, don't miss out on this great deal. And to view its price or buy it, you can access the offer by clicking on the store icon.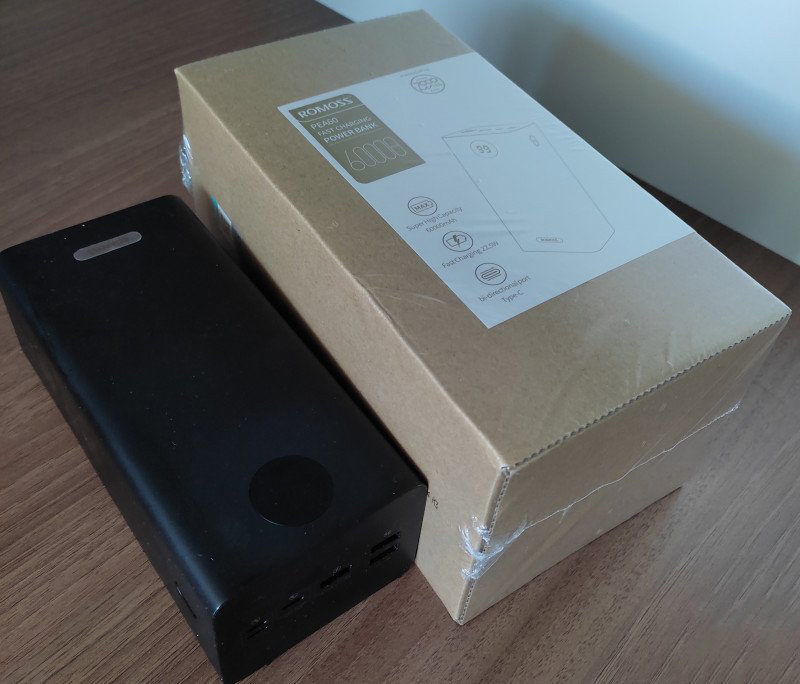 ROMOSS 60000mAh power bank
Cable
Use Manual
ROMOSS PEA60 Specifications
Brand Name
ROMOSS
Power Bank Model
ROMOSS PEA60
Power Bank Color
Black
Power Bank Capacity
60000mAh
Battery Type
Li-polymer Battery
Type
Power Bank/External Battery Pack/Portable Charger
Features
Built-in Cables
Digital Display
Exactly Display
High-capacity
Certification
FCC/CE/RoHs
Compatible Model 2
Power Bank For iPhone 12 11 X Xs XR Xs Max 7 8 6 6s Plus Powerbank
Compatible Model 3
Charging Power Bank For Huawei Xiaomi Redmi Note 6 Pro Phone Powerbank
Fast Charging 1
18W Fast Charging for iPhone Xiaomi
Fast Charging 2
22.5W Fast Charging for Huawei
Output Interface
triple USB
Output Interface
USB-Type C
OriginCN
(Origin)
Input Interface
Micro USB
Input Interface
USB Type C
Input Interface
Lighting
Shell Material
Plastic
Type
Portable Power Bank
Support Quick Charge Technology
Two-way Quick Charge
Max Input
18W
Output USB 1
5V 3A/9V 2A/12V 1.5A
Output USB 2
5V 3A/9V 2A/12V 1.5A
Output USB 3 (SCP)
4.5V 5A or 5V 4.5A or 9V 2A or 12V 1.5A
Output (Type-c)
5V 3A/9V 2A/12V 1.5A
Input(Type-C)
5V 3A/9V 2A
Input(Micro USB)
5V 2A/9V 2A
Input(for iPhone)
5V 2A/9V 2A