Baseus has been releasing many cheap wireless earphones with different specifications and each work well for a specific category of people, but the common thing about their products is that they are solid, from the simple and pretty designs with rigid bodies to the well-implemented and optimized features such as the Bluetooth connectivity, the Baseus app, and the battery life, that's why we are reviewing another one of their headphones called the Baseus Encok w12, new affordable wireless earphones with Bluetooth 5.1, good sound quality, huge battery life, and full Baseus App support for both Android and IOS, is this headphone a good fit for you? that's what we will find out in this review.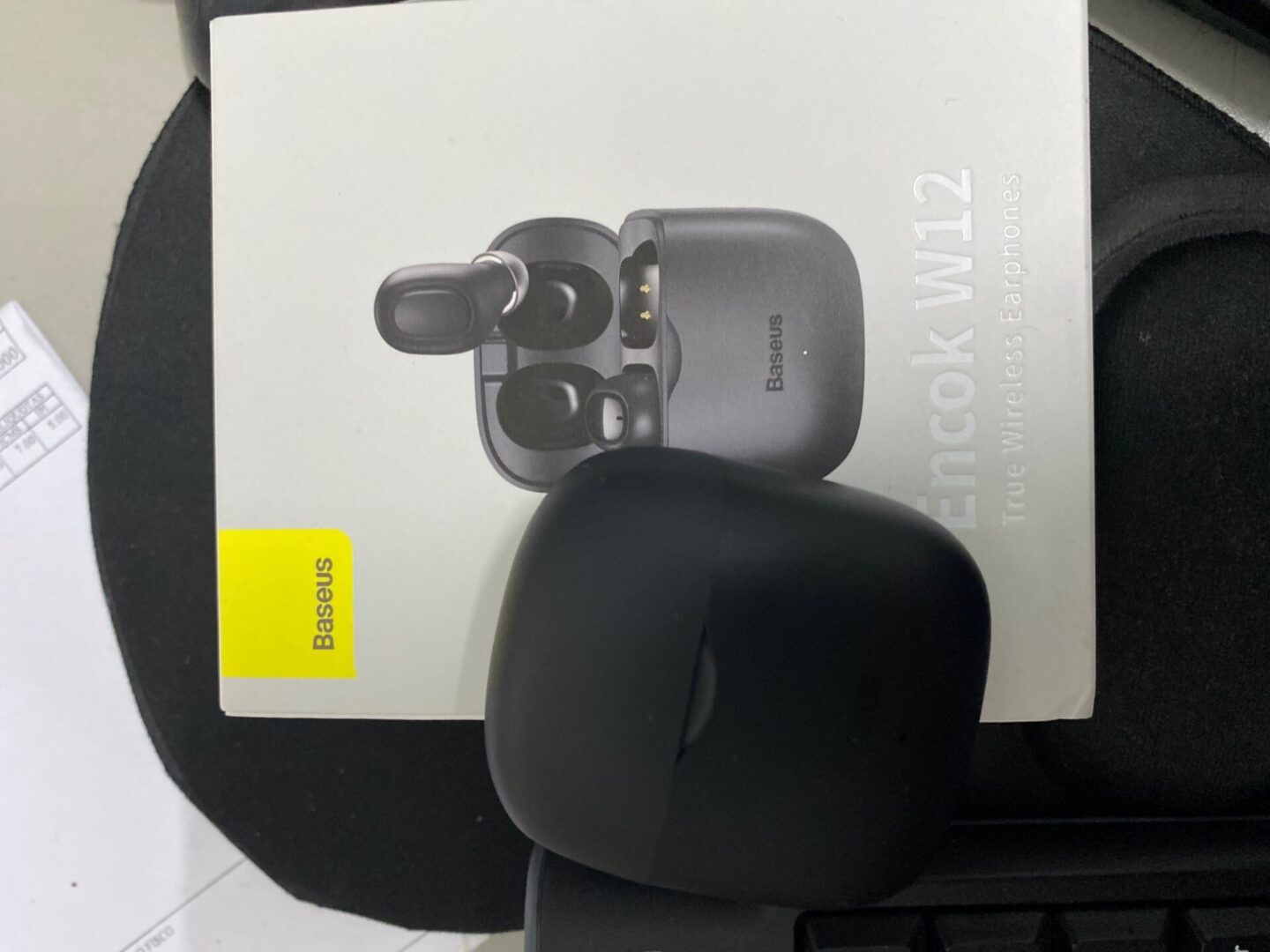 Baseus Encok W12 Features
•In-ear Minni Style (Snug fit)
HiFi Stereo Bass & BT5.1 Chip
Call Noise Reduction technology
low latency Gaming mode
Baseus app Full Support
20h of total Battery Life
Ultrafast Charging
IPX5 Waterproof
Design & Build Quality
Charging Case
Despite the current trend of making charging cases slimmer, tinier, and more lightweight, this design is a bit more old school, it is a bulky square shape with curved on every side which makes look elegant and feel comfortable in the hand, and the dimensions are 53mm in height * 48mm in width * 28mm in depth, from these numbers you can imagine how that simply can't fit in one's jeans pocket, but it will still fit perfectly inside a shoulder bag, the case is made out of ABS plastic with a nice matt finish that will keep it looking new for longer periods and protect from easy scratches and dirty looking fingerprints, it is available in three colors: black, white and purple.
On the front side, we find the LED dot that indicates the charging of the case, above it, there is the Baseus logo and at the center, we find a small curved cut that helps you lift the lid up, from the back side that is literally nothing but the traces of the hinge. From underneath there is only the USB C charging port and information such as the model and the certifications, unfortunately on this model we get a curved bottom side which means that the charging case cannot stand on flat surfaces.
The lid on top is made of the same material, it is well held with magnets to the rest of the body, so it does not budge when you shake it but you can easily open it with one or two hands, once you open it you can see the inside of the charging case which is made of glossy plastic and has room for the two earbuds with two pins for charging, it is spacious inside and allows you to take the earbuds in and out without any problems, the fact that the hinge does not wiggle left and right makes me confident about the build quality and the durability of charging case.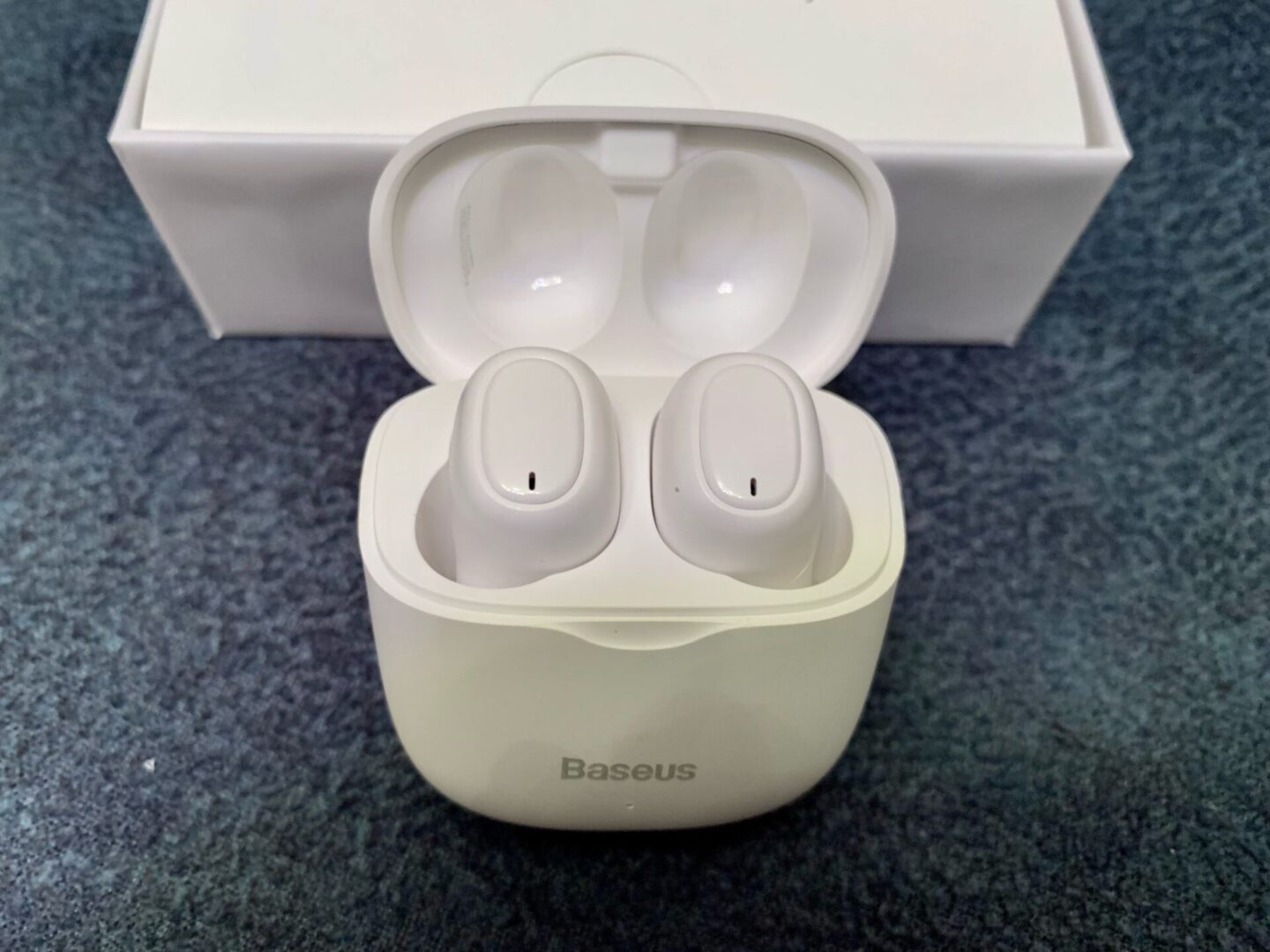 Overall, even though I prefer small and lightweight charging cases that fit inside your pocket easily, I find this charging case very interesting I really love the way it looks and how curvy it is on every side and the way it fits comfortably in your hand especially that you can put it in a handbag and carry it around.
Earbuds
The Baseus Encok w12 earphones looks pretty neat and elegant, it has got a bean shape with the dimensions of 15mm*30mm, so they are not very small after all, nevertheless, they only weigh 4 grams and have very comfortable wear, they are fully made out of ABS plastic with a matt finish just like the case to keep them looking new for a long period except for the top area where we find a glossy plastic panel.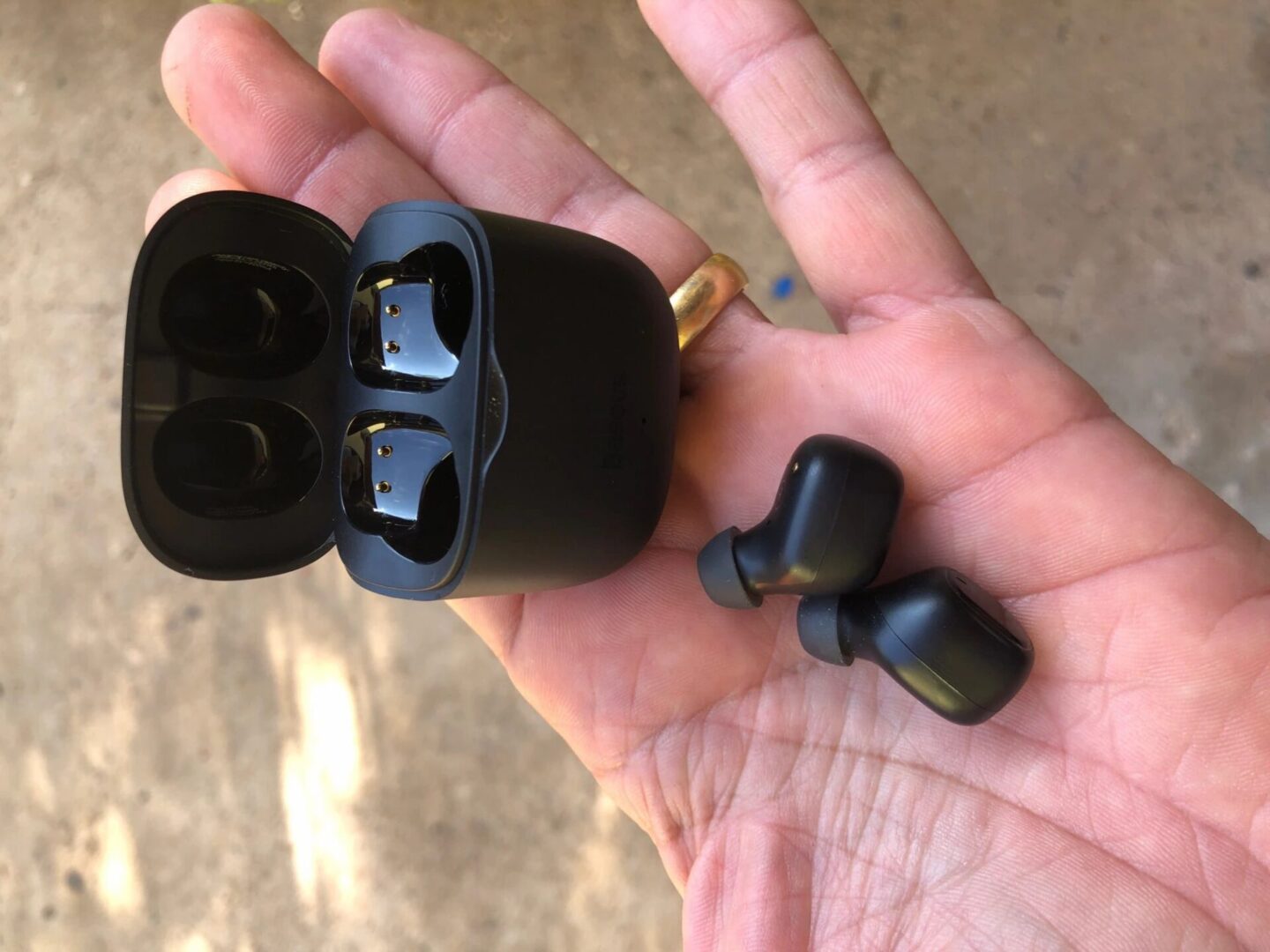 The encok w12 earbuds are the in-ear style with medium size nozzles not too big not too small, and they come with three size replaceable ear-tips in the gray color to fit different ear shapes, as for the LED, we get one LED dot on the top area that indicates battery charging and connectivity, the glossy panel also houses the multifunction touch control area which is mainly used for music playback, calls and for launching voice assistance, on the inner side sid we can clearly notice three pins for the charging.
All in all, this design is beautiful, I personally prefer smaller designs, even though it might look a little bulky on your ear, it is nothing to be alarmed by, the fit comfortable and it sticks very well to the ear and won't fall off during a physical activity which is encouraging to practice sports while listening to your favorite tracks or podcast.
Baseus Encok W12 – Touch control
The multi-function touch control area is located on the glossy panel of the earbud which gives a nice feeling to the touch, it has an optimal location with a very wide area so it is very hard to miss it, it uses a smart IC sensor that improves responsiveness so it executes your commands immediately as well improving the accuracy, on top of that, the touch controls are adjustable in the app, you can customize the action triggered by each gesture in the app settings, this will allow you to get comfortable with your new earbuds more easily by changing the layout to the same as previous one, for example, unfortunately though, we don't get any volume control gestures which is a shame since most earbuds have that and it's an easy feature to implement, buy it is not a deal breaker.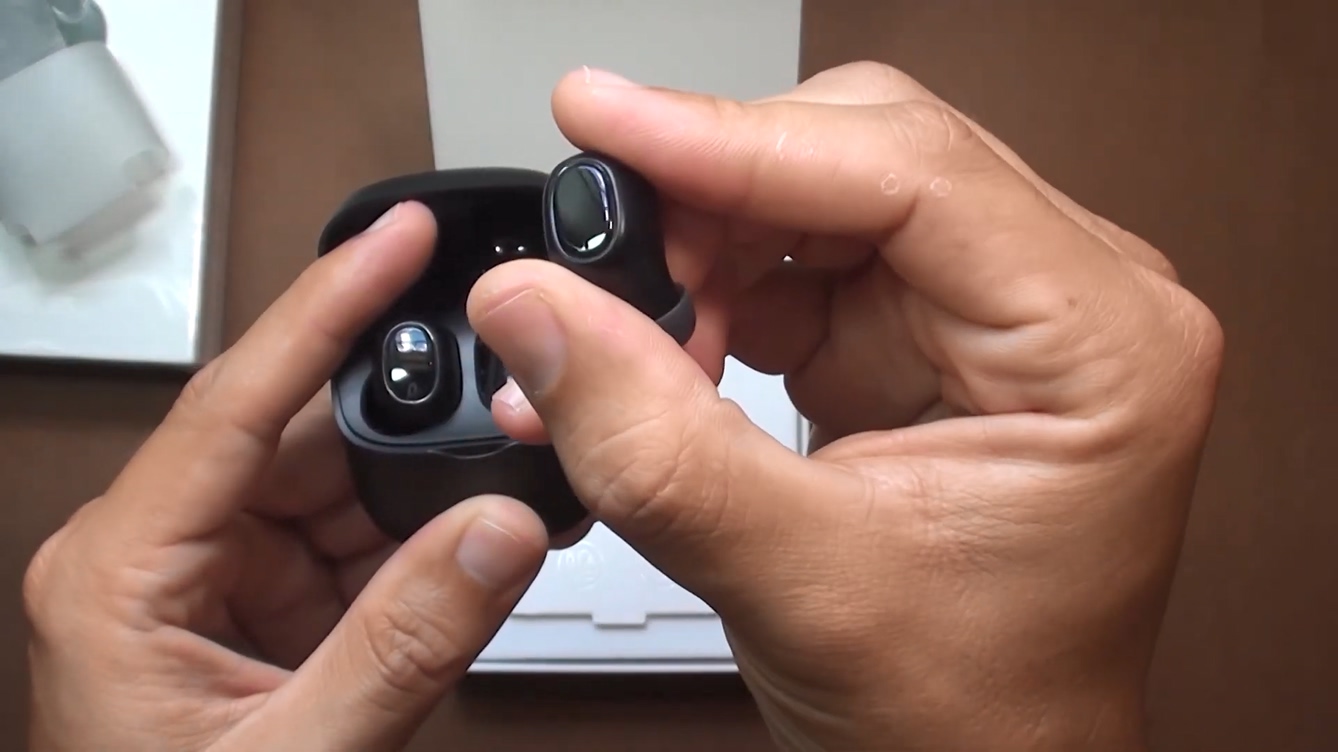 The touch controls are as follows:
Music playback:
Double click pause/resume
Long touch right earbud to skip the current track
Long touch the left earbud to play the previous track
Triple tap on any earbud to activate the voice assistant or low latency mode
Calls:
Double click to hang up
Hold for 2s to reject the call
Baseus W12 – IPX5 water resistance
The Baseus Encok W12 wireless earphones are IPX5 water resistance certified, this rating means that they can withstand jets of water from all directions without getting damaged but they are not dust resistant at all, this will allow you to use these earbuds in the rain, expose them to light water sources and sweat and they will not be harmed, you can wear these earbuds and practice heavy sports sessions at the gym where you are going to sweat, but they will be just fine, this is very encouraging for sporty people who like to enjoy music or even a podcast during a jog.
I strongly advise against exposing the Encok W12 earbuds to any sort of hot or salt water, as well as submerging them under water, because it will damage your earbuds beyond repair.
How To Pair Encok W12
The pairing process of the Encok W12 with your smartphone or any other Bluetooth-enabled device is pretty simple, and thanks to the improved Bluetooth 5.1 chip, the connection established between the two devices is stable and steady, the transmission is seamless and you won't encounter lags or cuttings, to pair these earbuds with a smartphone, you will have to follow these few steps:
Take the Baseus Encok W12 out of the charging case, they are now in pairing mode
On your smartphone, turn on Bluetooth and put it in discovery mode
Look for Baseus Encok W12 and click on it and allow pairing
With these steps, the pairing is complete and you may proceed to enjoy listening to music or consuming content, this process is required only at the very first pairing with a new device, from that point on, you will only need to activate Bluetooth on your smartphone and put the earbuds in your ears, in the Bluetooth settings, you can change the decoding technology since it supports both AAC and SBC, iPhone users can benefit from the high audio quality of the AAC, but for Android, AAC drains the battery so it is recommended to stick with the SBC decoding. It is worth noting that you can do the pairing process from the App, the app offers a lot more features and customizability, additionally, these earbuds have dual channel support, which will allow you to use a single earbud while the other is charging with no issues.
How To Use Baseus App
One of the main features you get with the Encok w12 is the full app support, you can take better advantage of your earphones by downloading the Baseus App available in Play Store and App Store, the interface is user-friendly and simple to use, and it offers a lot of features that make sense and I find practical that you would miss out on otherwise like customizing the touch controls and find my Earphones.
In order to use the app, you first need to download and open it as well as grant it the permissions it asks for so it can function properly, once on the main screen:
click on the add device or the yellow plus button on the top right corner
Login or create a new account
A list of baseus models will appear, search for your model the Encok w12
Click on it, then take the earbuds out of the case simultaneously and place them near the phone and click next
Once a Baseus Encok w12 device shows on your screen with the mac address, click on it and wait for the pairing process to complete and add the device
That was all for the pairing, after that, you will be presented with the home screen containing information about your earphones such as the model name and the battery level for each earpiece individually at all times, as well as other cool features.
Baseus App Features
After pairing the Baseus Encok w12 earbuds with your device through the app, you may want to start benefiting from all the features the app offers, for starters, you can click on the Encok w12 earbuds on the home screen which will take you to a different screen where it displays the left and right earbud with their corresponding battery levels, underneath that you get two buttons, the first is the find my earbuds button where click on it and choose which earbud you are looking for and it will make beep for some time until you find it and turn the sound off, the second button is the gestures settings where you can customize the action executed with each gesture, I find the original convenient, but this feature is especially useful for people who are changing earbuds, to make the change easier, it is possible to make the gestures layout like your previous earbud.
On the next screen we find the track my earbuds, this feature uses GPS to locate your earbuds on the map if you ever lose them, finally, we get to the settings section, here it displays the model you currently have, and you can change the earbuds' name, and unbind the device, but the most important feature is the update firmware option, updating the firmware is very important in case any new features or security update come along.
Baseus Encok W12 – Sound Quality
The sound quality on the Baseus W12 is decent, the Compound Diaphragm Moving Coil inside the earbuds has support for frequencies from 20hz up to 20khz, but the sound signature is warm and the sound is bassy, the earbuds are not voluminous and at high volumes, you can notice some distortion, so they are not perfect for music but they are solid for videos and movies.
Fortunately, we get an equalizer in the app to modify the sound profile, you can change the sound of the earbuds to match your preference, and you can either choose the preset sound effects or create a new one and save it, the second feature that can improve the sound quality tremendously is to choose AAC decoding for iPhone users since it offers a superior sound quality than SBC.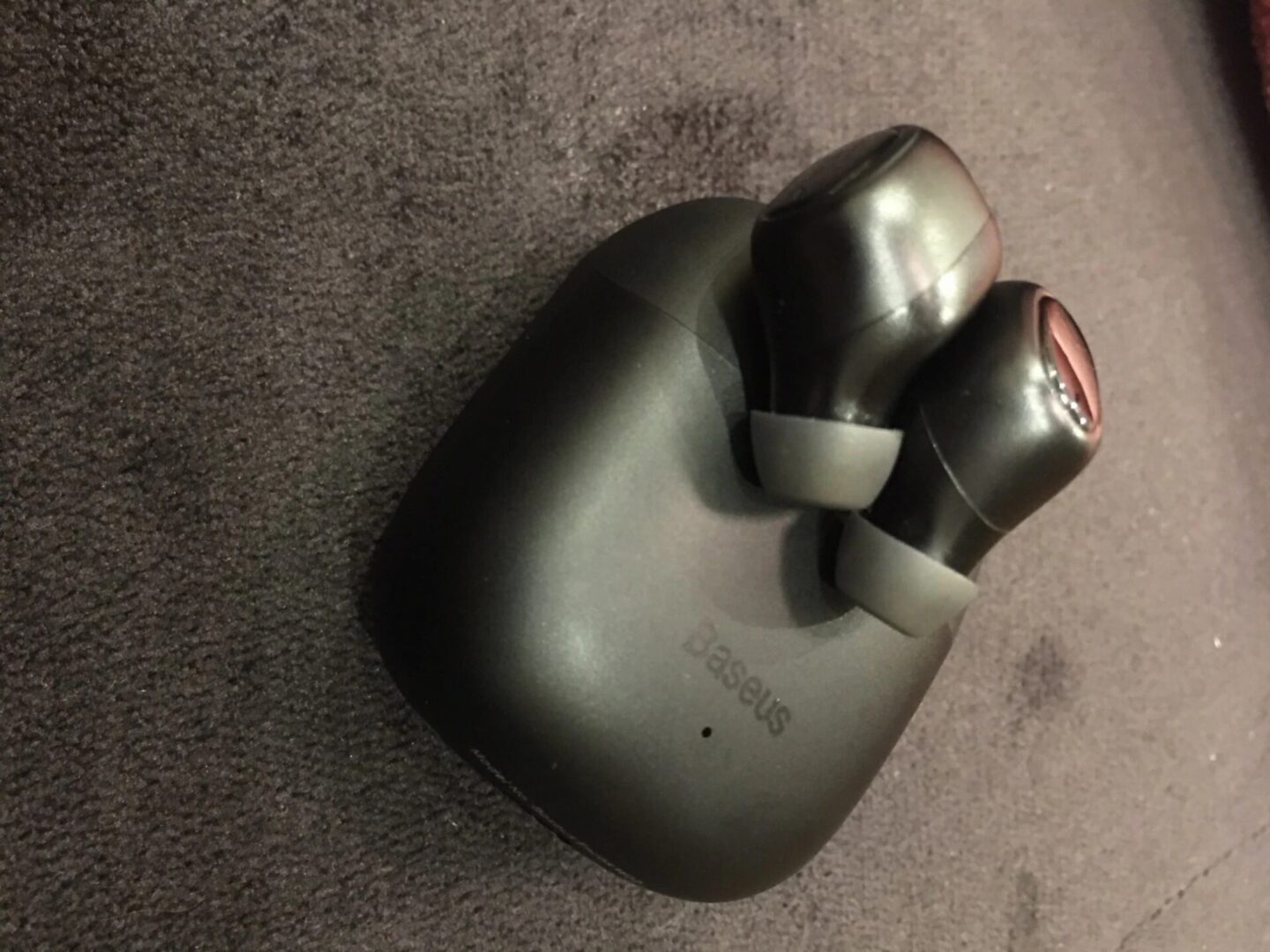 Overall, if you consider headphones of a similar price range, these are above average, the sound is clean and you can enjoy your music or consume content with good audio quality for only around 20$ and that's a good deal, I would also recommend you check out LENOVO XT88 earbuds because they have a great sound quality and cost less.
Microphone Quality
The Baseus encok W12 earphone is equipped with a 4 microphones setup and has ENC technology for calls, the sound quality we get is just acceptable like any other earphone in this price range, in a quiet environment it works perfectly, and the recipient can hear you fine, and if there is a consistent noise in the background such as a fan or drilling sound, ENC will take care of it by ignoring background noise and prioritizing your voice, which is great, but once you use them in a complex environment such as a crowded street or in the supermarket, the sound quality drop significantly and it is near impossible to pass calls, the recipient can't hear clearly anymore and you will have to repeat yourself several times.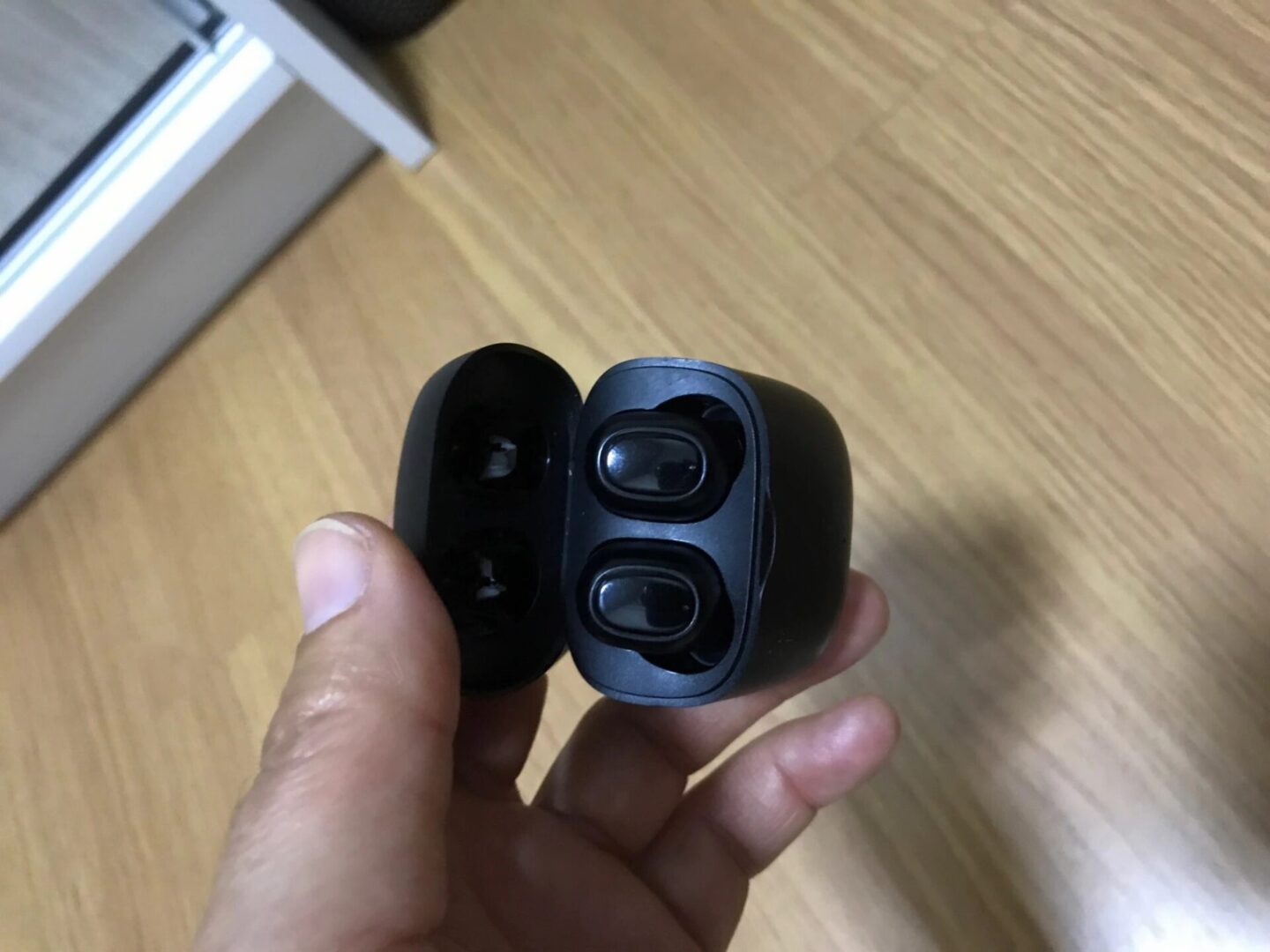 If you are looking for a budget earphone with a great microphone, you might want to check out The QCY T20 budget earphones with ENC and ANC technology, since it offers one of the best microphones in this price range.
Baseus W12 Earphones – Gaming & Low Latency Mode
Baseus advertises the Encok W12 as a 50ms low latency gaming headphone, but the reality is, it is not, during gaming I was able to notice some delay which would be impossible on a 50ms headset, so if you are in the market for a low latency cheap headphones not to be left behind in online gaming, I recommend you check the MoonDrop chu wired headphones since they have very low latency that will actually help with gaming in addition to very high sound quality.
On the other hand, these earphones provide a good content consumption experience, whether you are watching a movie on Netflix or just a youtube video, the audio-video synching is on point, you will not be alarmed by any delays or lags and that's all thanks to the Bluetooth 5.1 chip inside.
Although you can activate the gaming mode by tapping three times on the earphone or in the app, the gaming mode doesn't actually reduce latency or improve the gaming experience, most brands use these terms as a marketing technique to make it sound cool, but in reality, I have never noticed that gaming mode actually improved the latency or contributed to gaming by any mean.
Baseus Encok W12 – Battery Life & Charging
The Baseus Encok W12 Bluetooth earphones are equipped with a large battery the charging case has a 400mah battery and the earbuds have a smaller 40mah battery inside, in a single charge, the earbuds can last up to 5 hours of continuous usage, and with the charging case, you will get a total of 20 hours of battery life at 70% of volume, the charging case charges using the USB C that comes in the box in around 1.5 hours, as for the earphones, they charge up to 100% in an hour, but thanks to Ultra-fast charging technology, you can charge them for 10 minutes and use them for about 2 hours, which is great for when you are in a rush.
Final Verdict
In my personal opinion, The Baseus Encok W12 is a good option if you want to listen to music, watch a video, movie or listen to a podcast, it might even do the job for a casual mobile gaming session, and if you use them indoor you can even take calls, but if you plan on using them outdoors, you will face few issues because they are not loud and the microphone is mediocre, the good thing is that the connection is seamless and stable, and the app works well with the earphones, as for the price, I think it matches what these earphones offer and that's a good deal.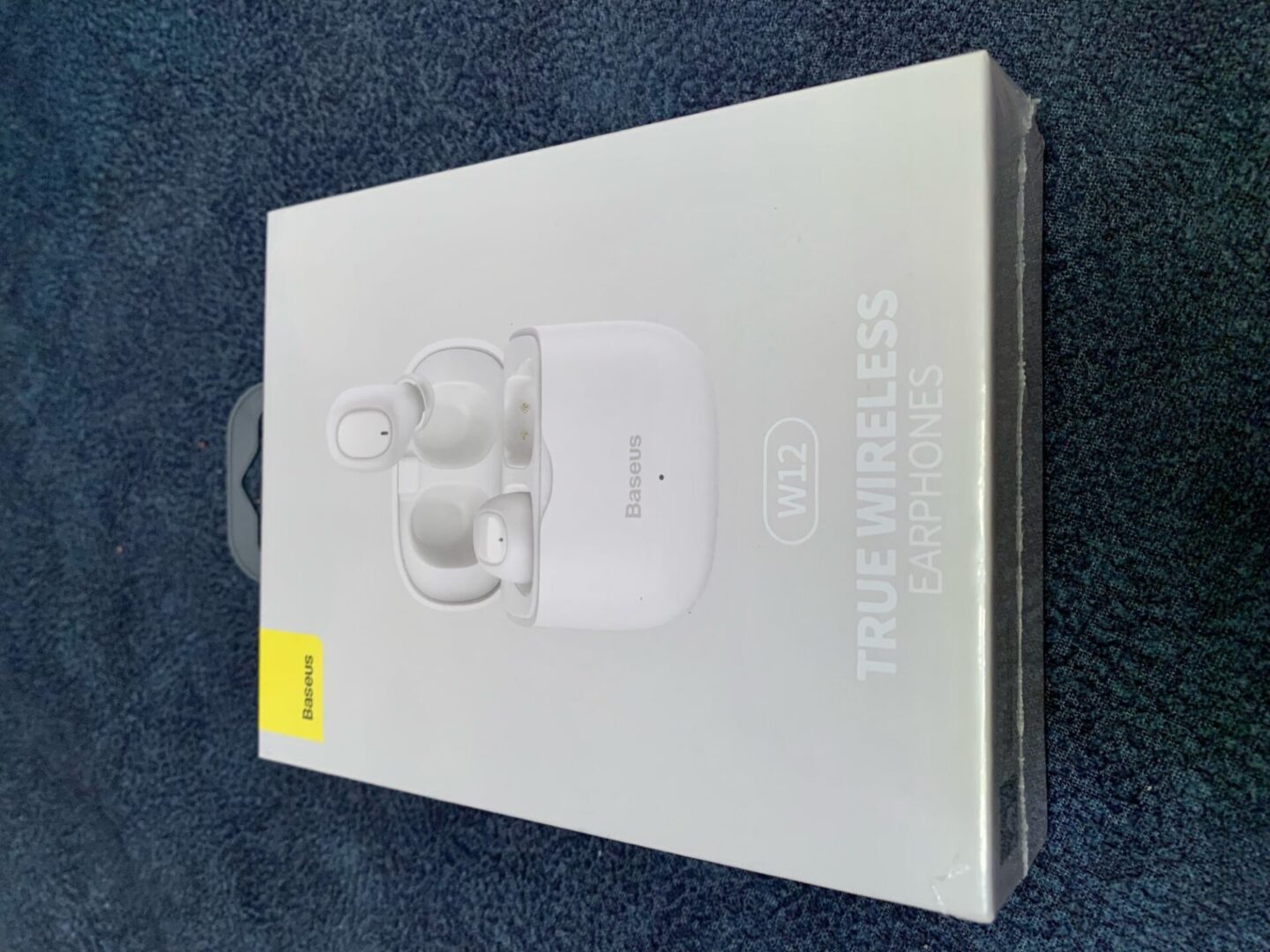 Baseus Encok W12 – Price and where to buy
The Baseus Encok W12 is available for purchase at AliExpress Store at a very cheap price, check it out, and don't miss out on this great deal.
Package Content
Baseus encok W12 earbuds
Charging case
USB C Charing cable
Warranty card
User manual
replaceable eartips Sizes L, S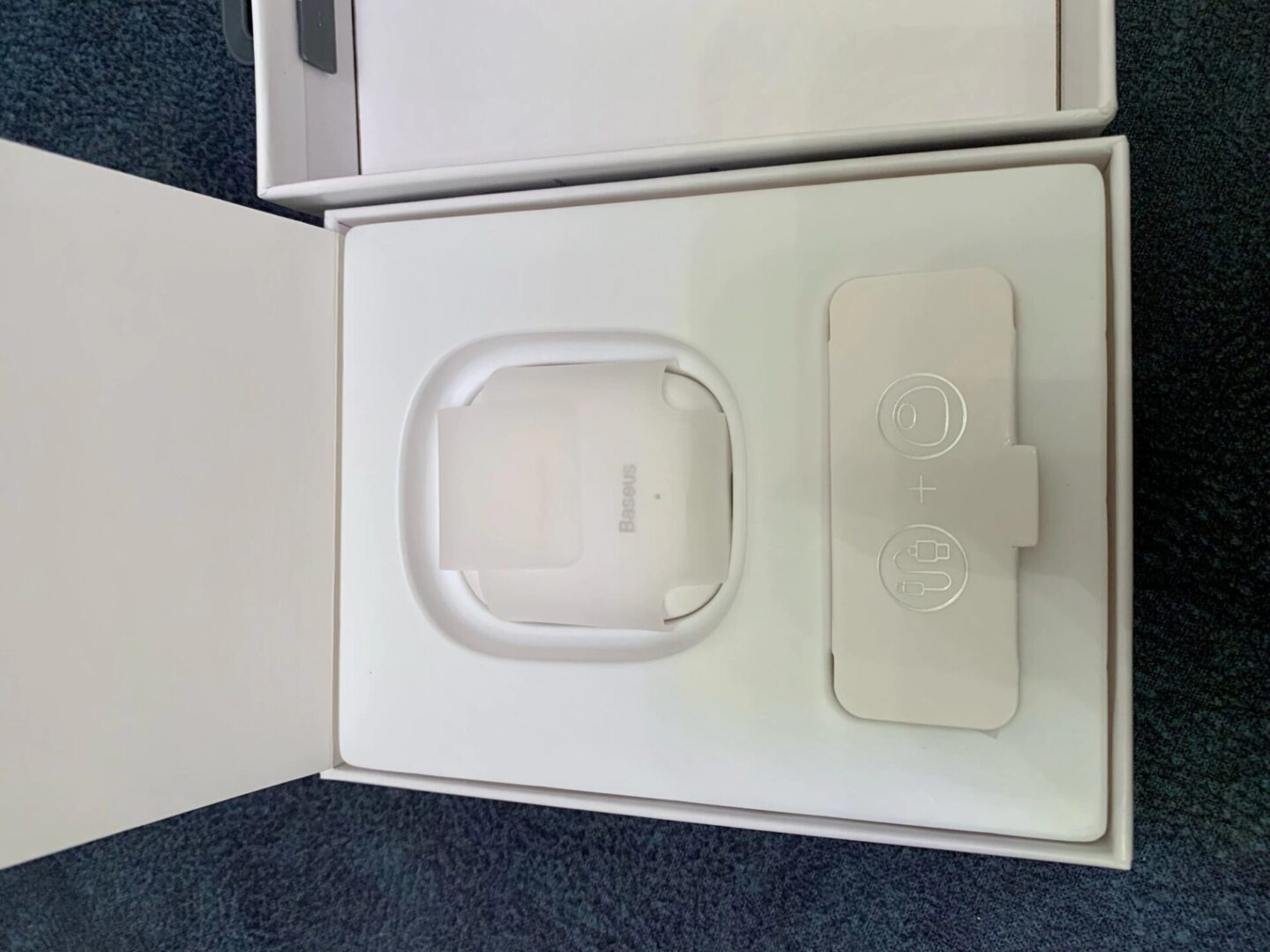 Baseus Encok W12 – Specifications
Color
Black, White, purple
Wearing Type
in-ear
Material
ABS+PC
Microphone
Yes
App support
Baseus App
Bluetooth Version
V5.1
Transmission Distance
33 feet (10m)
Frequency Response
20-20kHz
Battery Capacity
Earbud: 40mAh*2
Charging Case: 400mAh
Music Time
Earbuds: 5h
Total: 20h
Charging time
Earbuds: 1 hour (fast charge)
Case: 1.5 hours
Charging Port
Type-C