Among the many wireless earphones in the market, each new model shines between the rest of the models in one particular feature and that becomes its main selling point, the thing we usually look for in a headphone is a comfortable sitting inside the ear so it neither hurts the ear nor falls off, decent audio quality and clear Bluetooth calling, a hustle free connectivity and variety of compatibility as well as long-lasting battery life, so today we have picked the QCY T20 Ailypods earphone with Bluetooth 5.3 and ANC.
The T20 Bluetooth earphone from QCY is a cheap wireless apple AirPods 3 copy, that brings high-end features for people on a limited budget, it packs. a Bluetooth 5.3 chip that allows for seamless and effortless connectivity with most Bluetooth-enabled devices and high audio quality with the best decodings, a long duration battery of up to 5 hours of continuous usage, ANC, and 4 mics with ENC technology for better Bluetooth calls as well as a low latency mode for gaming, we will go over this and more stuff in this review.
QCY T20 Features
QCY APP Functions
Customizable control
EQ Free Adjustment
Gaming mode
Sleeping Mode
Voice assistant
Bluetooth 5.3
ANC and ENC
Design And Build Quality of the QCY T20
Charging Case
The charging case of the QCY T20 earphones is ultra-small and minimalist which is my personal favorite look, it is made out of plastic with a matt finish which, unlike the glossy one, doesn't leave fingerprints and won't get scratched easily and so it will look new for a longer time, the design is pretty compact and it comes well protected in a nice packaging, it has a round shape inspired by running tracks and is curved on every side that makes it easy to hold in one hand, especially that the size of it is small with only 32.5*18.3*20.3mm which is practically a 3rd of the palm of a hand, not to forget that it is very lightweight and you can easily slide it inside your pocket and it won't bother you at all.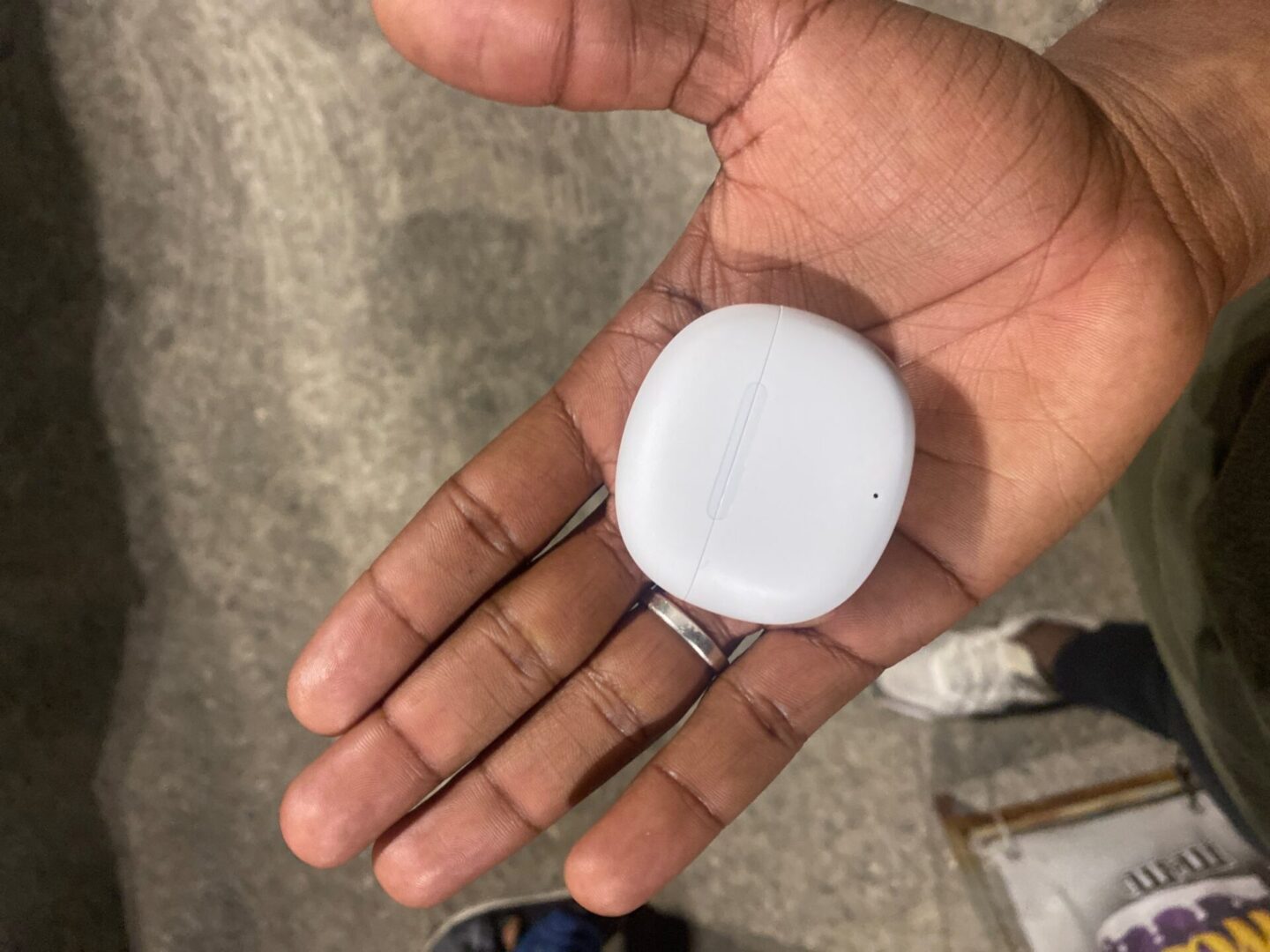 On the front side, you will find the LED indicator that indicates the connectivity as well as the lid opening, as mentioned before the design is simple and minimalistic so no logos or anything like that is present here, the lid is held magnetically to the rest of the case so firm that it won't open if you simply shake, but it is easily opened when you do it intentionally, there you will find the two earbuds sitting inside a compartment made with a glossy plastic which nice to have since it can't receive damage and it will always shine the same.
From the backside there is the hinge with the QCY logo only and to be honest, they could have hidden the hinge somehow to make the aesthetics look better, from underneath we find the USB type c charging port which is yet another win, QCY decided not to cheapen on the charging port and I see that as a positive thing for the customer.
Overall, I loved the minimalistic and compact design that looks almost like soap, and I find it very convenient and aesthetically pleasing had it not been for the ugly hinge on the back.
QCY T20 Earbuds
The Ailypods wireless earphones look a lot like the Airpods 3 from Apple with a Semi In-Ear headphone design, but the stem is kind of different because it is thicker and square, the earphones are made of glossy plastic that reflects the light very well, and the stem is about 2.6cm long which is average in this category and we have seen other earphone with shorter stems, but still it has a metal etched mesh on top with the gray color which is a cool looking new design in the market.
The LED indicator is located right on top of the metal etched mesh and lights red when charging, in that same space you will find the multifunction touch control area that you can use easily with one finger to control music playback, calls, and wake-up Siri, the overall quality of the earphones is good and doesn't look or feel cheap, it is lightweight and comfortable on the ear even for extended periods of time even though we don't recommend that since it will damage your ear long term, the design fits the ear so well that it sticks very good inside the ear and won't fall off even when you shake it hard while practicing sports for example and that is encouraging for people to do healthy activities to stay in better shape all while enjoying their favorite tracks or podcast.
In my opinion, the look of the QCY T20 is acceptable and some might even like it even though I prefer smaller models because they are cuter per se but practically the bigger the stem, the more battery you can fit inside it earphone thus giving more autonomy to the user.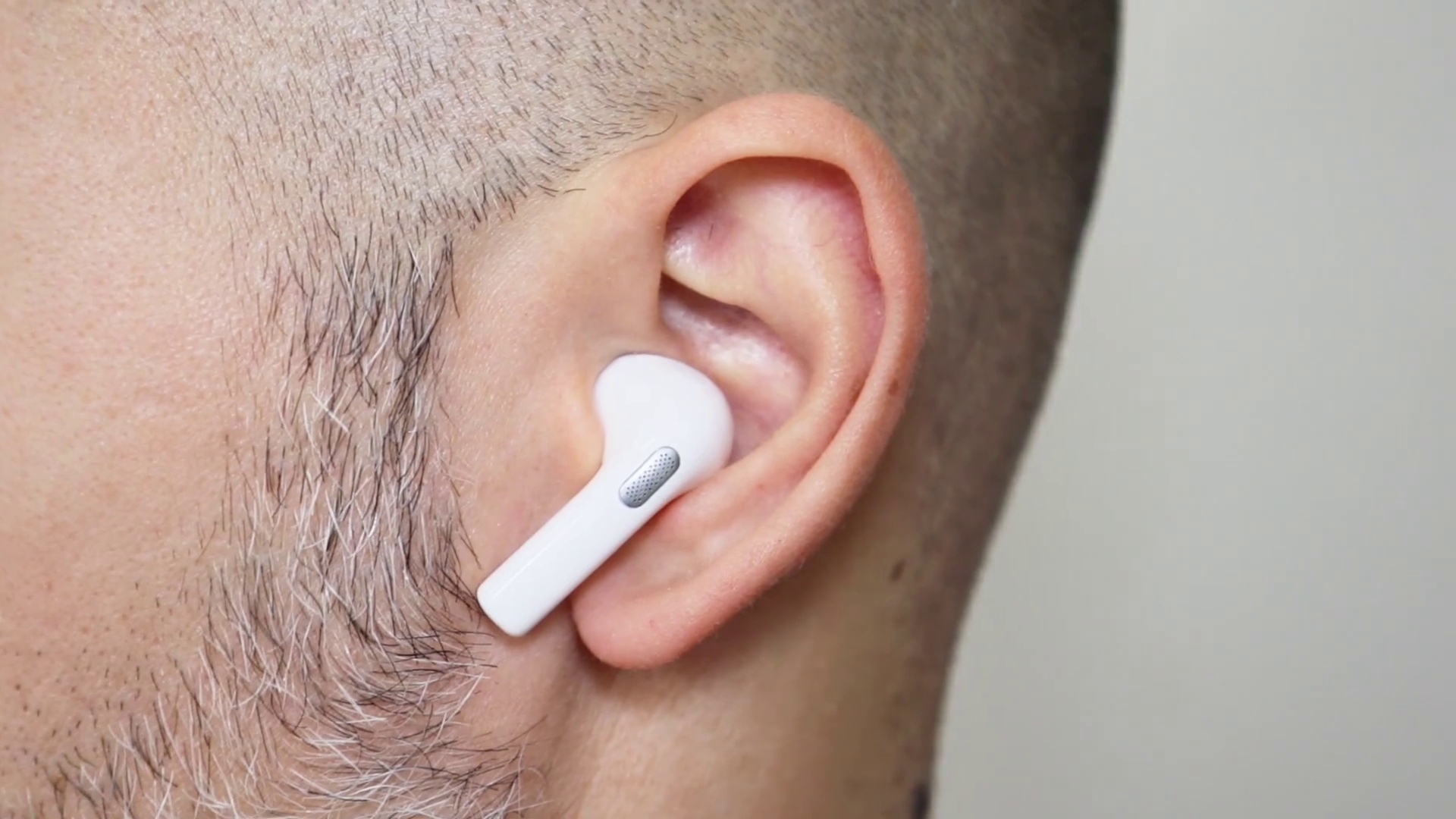 QCY T20 Touch Control Panel and voice assistant
The multi-function touch control area on the QCY T20 is located on the top, right where the metal mesh and the LED indicator are, both on the right and left earpieces and each has different functionalities, the touch control is very sensitive and well optimized to respond to your touch and execute your commands, using the QCY app, you will be able to customize the actions of each touch control gesture, which is a feature found only in flagship wireless earphones.
Other than that the touch control is as useful as usual and you can use it to reduce the need to pull your phone to call contacts or ask google assistant for today's weather, you can do all of that right from the wireless earphones, the possible touch controls are listed below :
Calling/Voice Control:
Answer/end call: Double touch
Ignore call: Keep touching 1.5s
Music/Gaming:
Pause/resume playing: Double touch
track forward: Keep touching the right earbud for 1.5s
track backward: Keep touching the left earbud for 1.5s
Voice assistant: Triple touch left earbud
Low-latency mode: Triple touch right earbud
Factory reset: 5 times simple touch on both earbuds
Waterproof IPX4
The Ailypods earphone are IPX4 certified which makes them resilient to water splashes, this will help you get by your day without worrying about them getting damaged by rain or sweat, and it will allow you to practice sports more freely while enjoying your music for example and I think that's very important for an enjoyable sports session, but never submerge them under or wash them with water because they will get damaged permanently.
How To Pair the QCY T20 with Smartphone
Even though it is preferred to pair the device using the app since it gives you tremendous features, you can still do that just from the Bluetooth menu without the need of the QCY app if you are using windows or MAC OS, you simply have to turn on Bluetooth on your an put it in discovery mode, next take the QCY T20s out of the charging case to put them in pairing mode, you will see a device under the name Ailypods pop on your screen, click on connect and it will pair seamlessly, you can now use the wireless earphone to listen to your favorite podcast or watch movies on Netflix with high audio quality, but you can also pass calls with them since they offer a decent microphone quality with enc. Once the pairing is done once, the process from that point on is as easy as turning Bluetooth on and putting the earphones inside your ear, one additional feature is that the QCY T20 is capable of working with only an earbud so if one earphone gets low on battery, you can keep using the second to listen to content and pass calls while the first is charging inside the case.
Thanks to the new and improved Bluetooth 5.3 technology chip integrated inside the QCY T20, it is compatible with most Bluetooth-enabled devices and on a variety of platforms such as Android, iPhone, windows, and MAC OS, it provides the most seamless and hustle-free pairing experience you can get on a device of this price range just as if you were using a mid-range device, the up to date Bluetooth 5.3is also power efficient and play a major role in the long battery life this device provides.
The QCY APP
The QCY T20 works better when you use it with the app, it is called QCY and is available to download on the Play Store and The App Store, it is compatible with devices that run Android 6.0 and IOS 12 and above only, the app allows you to use the Ailypods to their full potential, in order to do that you will have to download and install the app on your smartphone, accept the terms and allow the permissions such as Bluetooth and GPS so the app can function properly, Login in or create an account then pull your earphones out of the case to make them visible, on the home screen activate GPS and Bluetooth and put it in discovery mode and it will start looking for nearby QCY earphones, once it finds your specific model which is under the name of Ailypods, click on it to connect them together, and with that, you are good to start using the T20s for your needs.
The app's first column is the status, it will show you the earphone model in addition to the battery level of each one of the earphones separately, the Bluetooth connection established between your smartphone and the earphones whether it is BT5.3 or BT5.2, etc. Second, we find the sound control where we can play with the audio effects such as the Equalization and choose one of the many available preconfigured sound effects such as Default, Pop, Bass, Rock, Soft, Classic and you can even create a new profile where you personalize sound effects to match your preference.
The third section is what i found really mind blowing for a budget device, it is labeled configuration and it allows you to change the functions of gestures of the multifunction touch control area, i find the original setup quite convenient and practical but if you wish to change it to a setup that fits you more you can do that with utter ease just by going in the configuration and clicking on one of the gestures a menu of action will slide up, so you can choose a corresponding action for it, such as volume up or down, the voice assistant, previous/ next track and more, you can also activate the sleep mode which will deactivate the touch control so you don't accidentally raise the volume all the way up when you wear during sleep for example, next up we have the firmware update option which you can click on every now and then to make sure that the firmware running your earbuds is up to date not to miss on any new features QCY might bring to you, the app in itself has customizable skin that you can change so you are presented with the screen you like most when you connect with your Ailypods.
It is worth noting that the app has some bugs that may be bothersome and we hope the company fixes them to provide a better experience for the users.
Audio Quality of the QCY T20 and ANC
The QCY T20 earbuds are equipped with Bluetooth 5.3 chip that delivers high audio quality, additionally, they have a 13mm, LCP composite diaphragm that is loud and clear and maintains a high audio resolution even at higher volume, the earbuds even provide Active Noise Canceling (ANC) technology which we don't expect at all at this price range, this technology cancels out all the external noise in the background using the microphone by capturing it then negating it before it reaches your ears, this will allow you to focus more on what you are listening to even in complex environments.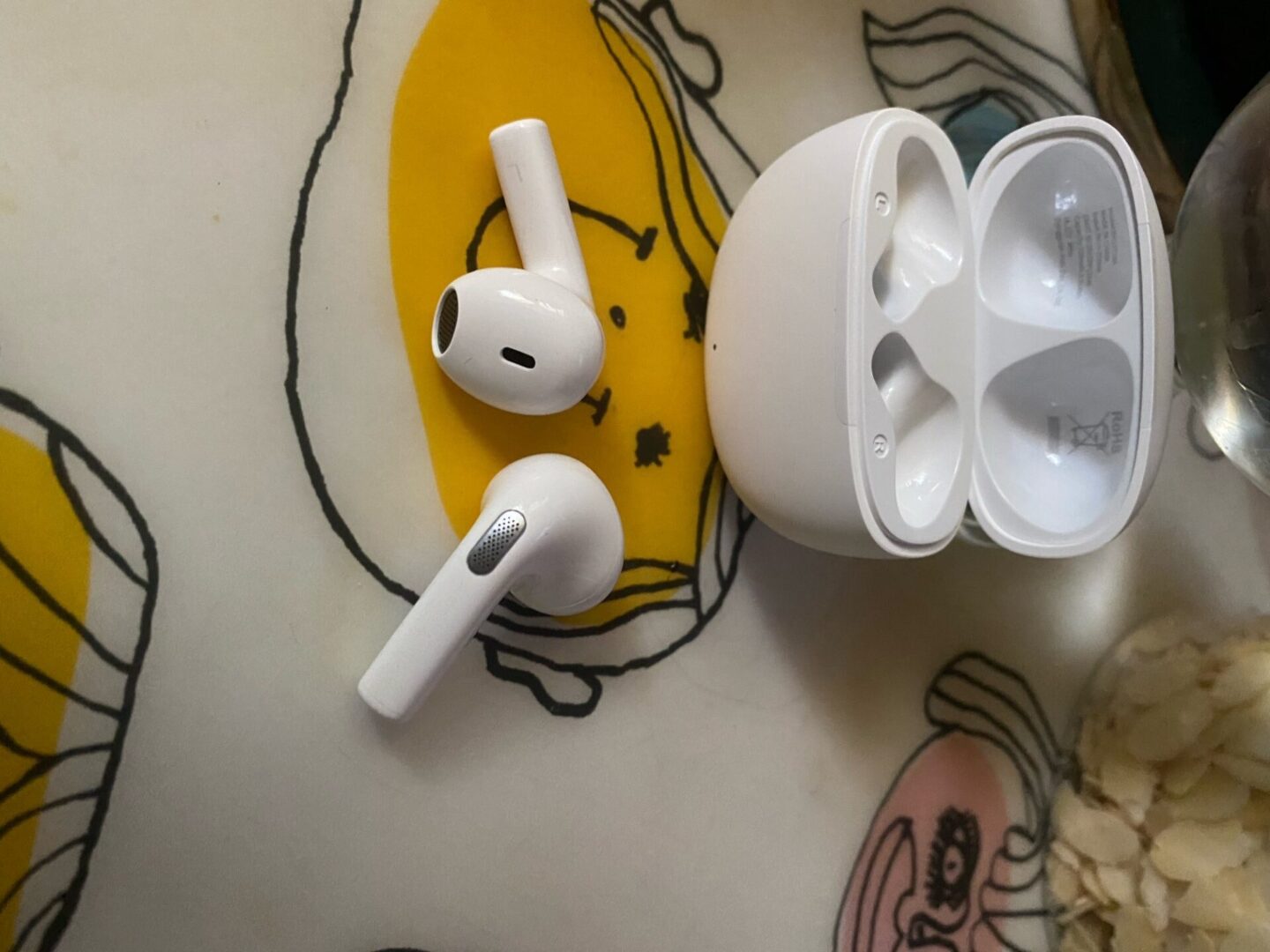 On the QCY app, you can customize the sound profile by choosing one of the preset ones, or create a new one and play with the levels until you get the sound that matches your taste, the earphones have proven to keep a clean sound even at high volume with no distortion and also provide good bass for all you bass enjoyers out there.
QCY T20 Microphone Quality and ENC
Speaking of the microphone and the Bluetooth calling feature, the QCY Ailypods is equipped with a quad microphone setup to pick up clear and net sound and transmit the best voice possible, the mics are mainly used for calling and passing commands to Siri, but they are also used in the ANC technology to capture noise and cancel it.
Using the Bluetooth 5.3 chip, these earbuds deliver clear audio when calling, additionally, thanks to the Electronic noise canceling technology (ENC) that detects noise and filters it so it doesn't go through the mic even if you are in a crowded space or in wind, the recipient will always hear you clearly, it's worth noting that this technology works best with newer Snapdragon chips, the minimal input latency opens the door for new activities such as streaming, whether its a meet conference or just chilling on twitch, your lips will be in sync with the audio all the time.
Since the QCY T20 offers great audio and microphone quality, the call quality you will get on them is on another level from any device of the same price range, in combination with the touch controls, you will be able to accept, talk, decline and hang up right from your earphone with no need of pulling your phone out, and even in unpleasant weather or if there is noise in the background, ENC, and ANC technology will take care of it so you can focus on the more important things.
Latency In Earphones and Gaming for QCY T20
For your content consumption this device delivers good latency that you will not notice any delays between the videos you are watching and the audio you are listening to even on platforms such as Netflix or HBO, which as this is expected from all earphones even the cheap ones since the technology has advanced and since that is the main function of the earphones anyway, but what we don't expect usually see at this price point is the very low latency that the Ailypods provide, with a simple triple touch gesture on the right earpiece you can activate the low latency gaming mode to get a low latency of 68ms which is just perfect for competitive gaming and will give you an advantage over devices of the same price range and help you win more games, it even works fine with streaming and you will get good lip-sync.
It's worth noting that lowering the latency to 10ms or less is not easy and can cost a lot, that's why we find it only in top-tier headphones, so even though QCY T20 offers one of the lowest latencies in its category, it cannot be compared to pricier options.
Battery And Charging Time of QCY T20
The Ailypods Bluetooth earphone is equipped with a 250mah battery that charges in around 1 hour using the USB  C cable that is included inside the box, by simply plugging into any charging brick that delivers around 10 watts or preferably your computer's USB A port, as for the earbuds, they last about 5 hours of continuous music playback and with the case, they last up to 20 hours so that you will be getting at least 3 days of battery life with these, but even when they run out of battery you can charge by simply putting them inside the case and the LED will turn red, in about an hour it will change the color that indicates that they are fully charged, and you can check their battery level on the QCY app.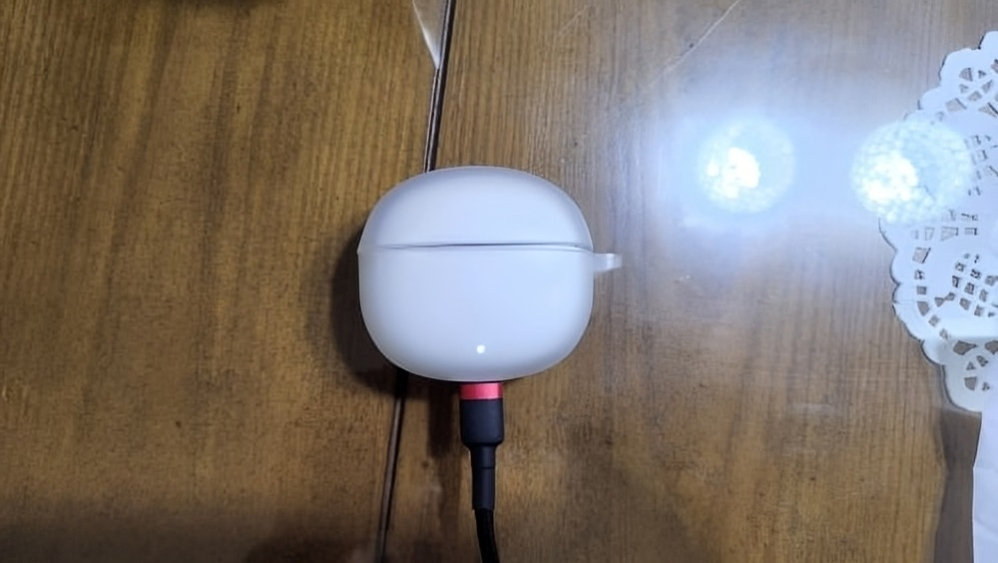 Final verdict
To be frank, I am genuinely confused as to how QCY was able to fit so many high-end features and offer them at this low price point, here is a list of the features I am talking about, a design that is ergonomic, an accurate and well-positioned touch control, Bluetooth 5.3 that gives a seamless pairing and a high-resolution audio and mic quality with ANC and ENC technologies, low latency gaming mode, huge battery life and top all that with an app for extra customizability, all this for just about 26$ USD, so I definitely think it is a good choice for people on a budget.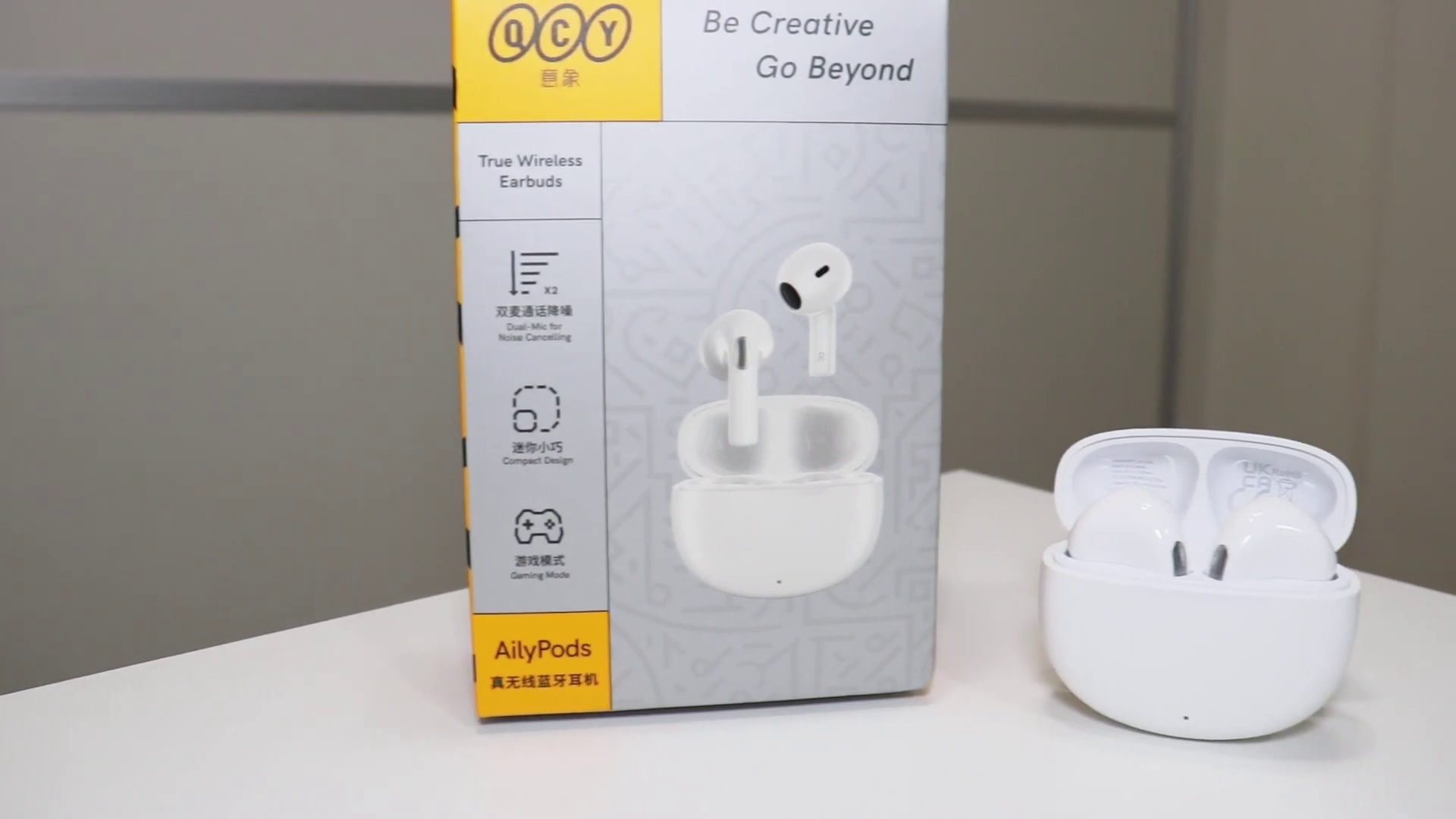 Price and where to buy
The QCY Ailypods are available for purchase on the AliExpress Store at a discount right now, grab them now and enjoy the best budget earphone experience.
Package Content
QCY T20 earbuds
Charging case

USB C Charging cable

User manual
QCY T20 Specifications
| | |
| --- | --- |
| Color | Black, White |
| Wearing Type | Half-in-ear |
| Material | Plastic, metal etched |
| Microphone | 4 mics |
| Bluetooth Version | V5.3 |
| features | ANC, ENC |
| App | QCY (play store, app store) |
| Transmission Distance | 39.3 feet (12m) |
| Frequency Response | 20-20kHz |
| Battery Capacity | Charging Box: 250mAh |
| Charging Time (h) | 1h |
| Music Time | 5h |
| Waterproof | IPX4 |
| Charging Port | Type-C |