There is no doubt that we live in the golden age of video games online for mobile. That is why smartphones have become a great place for such games due to the fact that the number of users who are interested in mobile games is increasing day by day and even games like PUBG Mobile and many other games are getting more developed and improved and this is what makes it so graphics demanding.
Here comes the Black Shark 4 Pro, one of the best gaming smartphones that provide the user with everything he wants for an enjoyable gaming experience from a powerful processor, smooth screen, giant battery, and ultra-fast charging. The most important thing that distinguishes this type of device is a dedicated gaming mode, internal cooling system, accessories for the gaming experience, and many more other advantages. Does this phone really come with the best gaming specifications and features?!, This is what we will talk about in detail in our current article.
Black Shark 4 Pro Features
Qualcomm@ SnapdragonTM 888 5G
Up to 12GB LPDDR5 RAM + Up to 256GB UFS3.1 Storage
4500mAh Battery Up to 120W Hyper Charging
6.67 inches, AMOLED, 144Hz Refresh Rate
64MP Rear Camera
JOYUI 12.5 OS
Magnetic pop-up triggers/ Magic Press
Superior Audio: NO.1 in DXO Audio Ranking
'Sandwich' liquid cooling system
Connection (Wi-Fi 6E + 5G + Antenna Design)
Design And Build Quality
The design in Black Shark 4 Pro is completely different from previous versions. It features a sculpted metal frame and glass back panel in a compact and elegant design. The screen is large at the front, measuring 6.67 inches Full HD + AMOLED and with the thin bezels surrounding the screen and the small hole that houses the front camera, the screen-to-body ratio has been greatly improved, which is something uncommon in the gaming world.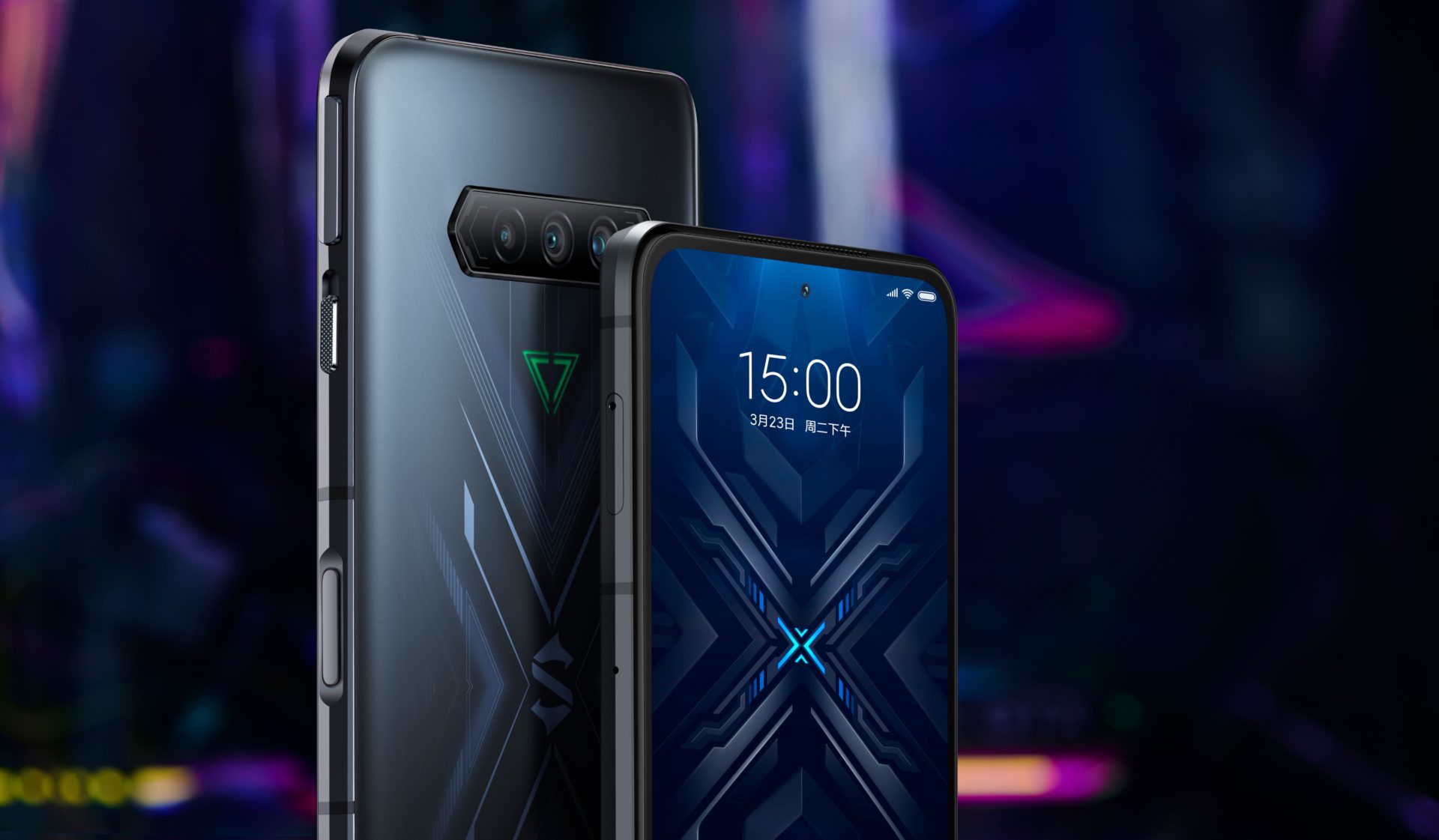 The X-shaped back panel comes in three colors: black, dark blue, and silver. There is a Black Shark's "S" logo at the X junction, the body of the phone is completely unaffected by any fingerprints and it also comes with a frosted back that is 163.83mm long and 76.35mm wide with a solid metal frame that gives you a kind of durability with a thickness of 9.9mm that feels comfortable when you hold it in your hand as it weighs just 220g, but it's still a heavyweight gaming phone.
We have the rear camera module which consists of three sensors that are placed in the middle of the back of the phone horizontally, and we also have physical buttons on both sides of the phone in order to contribute to a better gaming experience which gives you a great feeling when using.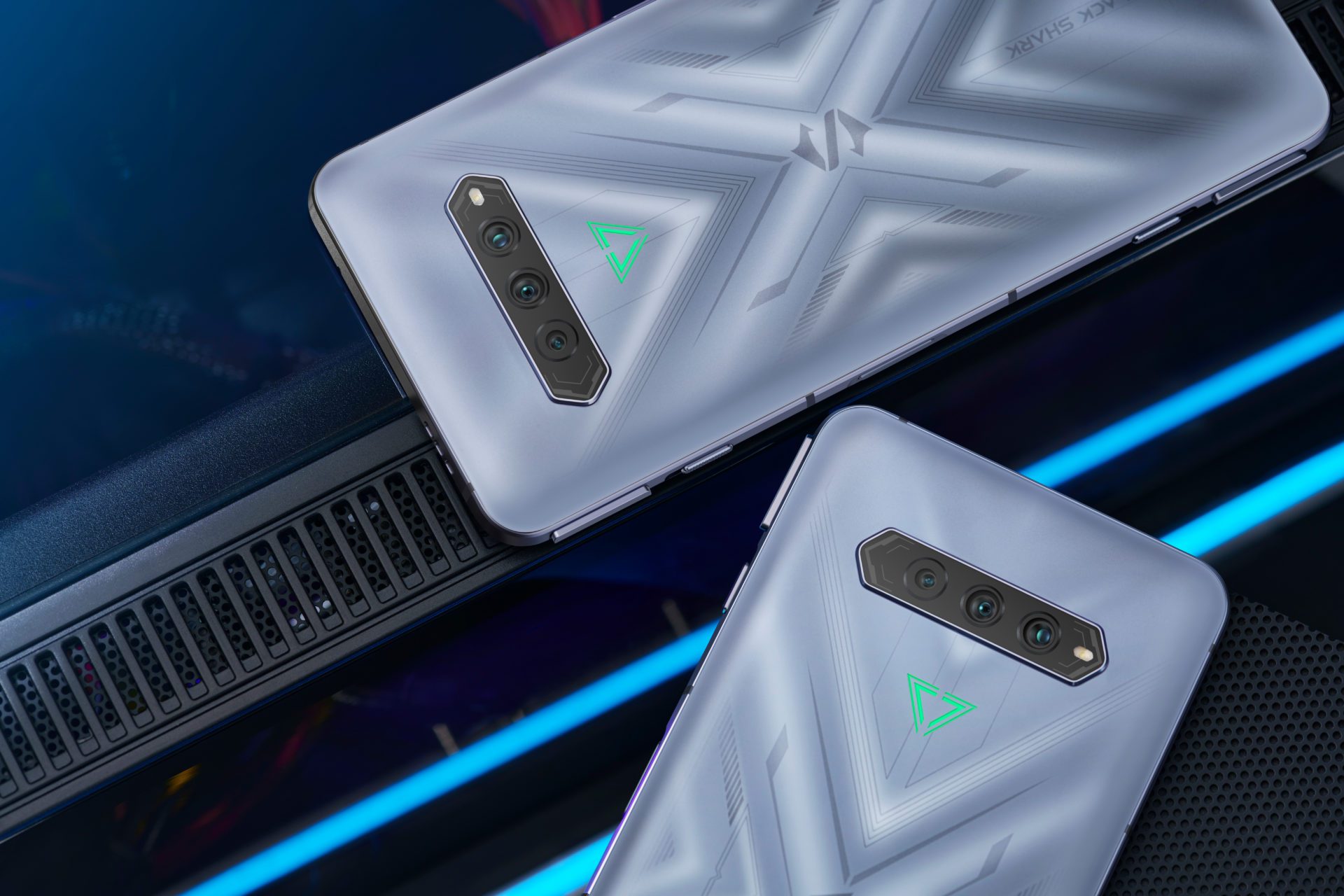 And if we talk about a gaming phone, we should mention RGB lighting, as it includes LED parts. You can specify the light on the back under the camera. Not just a great decoration for gaming sentiment, the light can be used for many other scenarios such as receiving notifications, displaying charging status, and playing music.
Black Shark 4 Pro – Display Quality
With Black Shark 4 Pro you get a big 6.67 inches AMOLED display with a very good resolution of 1080 x 2400 pixels gives you bright, sharp colors and wide viewing angles which are more than great for consuming visual content on YouTube or otherwise. However, the joy is completed only with a 144Hz high refresh rate, Add to that also includes a touch sensitivity rate of 720Hz for a lower touch delay of 8.3ms (multi-fingers) for smoother and more responsive gameplay, all these factors ultimately lead to a smooth and flexible user experience It is the number one standard in any successful gaming phone.
We also have Always On Display and HDR10+ and the color tones can also be adjusted according to the user's desire Users can also choose from three custom refresh rates of 120Hz, 90Hz, and 60Hz to achieve the appropriate screen refresh rate according to their preferences and application requirements to achieve more graphics smoothness;
Black Shark 4 Pro uses the E4 AMOLED display from Samsung for its gorgeous yet power-saving display. It features an ultra-narrow edge with a peak brightness of 1,300 Nits, a contrast ratio of 5000000:1, and a 15% reduction in power consumption. The front camera micro-hole measures only 2.76mm to minimize screen obstruction, creating a more immersive visual experience. True DC dimming is supported for you to avoid sore eyes. HDR 10+ certified? Yes. DCI-P3 color? Yes. The color is vivid and the details are lively. MEMC is supported to provide a smoother visual experience.
In short, with the Shark 4 Pro, I will say that it's one of the best screens for gaming smartphones in the mid-range category, you will get the best value for what you pay, a large and high-quality screen suitable for media consumption, whether you are watching the video, playing games or browsing the social media.
Magic Press
Black Shark is the world's first to carry out the dual press-sensitive display technology, and this beloved function continues on Black Shark 4 Pro, called Magic Press. This high-pressure-sensitivity display makes it easy to get precise movements for even the most competitive games. Just like the physical pop-up triggers, it's mappable; and it supports a wide range of press sensitivity up to 7 levels so that you can have fully accurate control of any gaming scenario. And this time, mistouch prevention is also well-improved for the best pressure-sensitive experience.
Black Shark 4 Pro uses the E4 AMOLED display from Samsung for its gorgeous yet power-saving display. It features an ultra-narrow edge with a peak brightness of 1,300 Nits, a contrast ratio of 5000000:1, and a 15% reduction in power consumption. The front camera micro-hole measures only 2.76mm to minimize screen obstruction, creating a more immersive visual experience. True DC dimming is supported for you to avoid sore eyes. HDR 10+ certified? Yes. DCI-P3 color? Yes. The color is vivid and the details are lively. MEMC is supported to provide a smoother visual experience.
Gaming Enhancement
Magnetic Pop-Up Triggers
Physical buttons? Yes, please. Thanks to our innovative magnet-lift technology, ultra-responsive shoulder triggers appear like magic with a gentle press for precise, customizable control in competitive games. When not in use, the triggers disappear seamlessly back into the edge of the Black Shark 4 Pro.
You can map various buttons on the screen in any game.
● 6 magnetic power to drive;
● 160g trigger pressure;
● 1,000,000+ times trigger life.
How to pop up / put down the triggers?
Easy. Just toggle the switch beside the triggers.
How to set up the triggers?
1. Enter Shark Space by pressing and holding both shoulder triggers at the same time.
2. Enter a game.
3. Enter Game Studio by swiping diagonally across the screen.
4. Click KeyMap (Master Control)
5. Drag the mapping button "A"/"B" to the button sections on the screen.
6. Customize the function you would like to use.
7. Click the physical triggers to trigger the setting.
How do the pop-up triggers work?
Uses the differences in polarity and its influence on Hall's Effect between the "open" and "close" positions to determine the state of deployment of the button.
The magnet groups are arranged alternatively in an "attraction-repulsion-attraction" layout to extend or retract the button as needed.
Popped-up
Retracted
Superior Audio Experience
Sound quality matters for day-to-day use, therefore, Black Shark developed a sophisticated audio system to deliver the best audio experience for its users. It ranks at the top of the DXOMARK smartphone rankings for audio.* Black Shark 4 Pro features dual-symmetrical linear stereo speakers, with high-power amplifiers and oversized sound cavity, which provide best-in-class sound quality. Plus, Black Shark also partnered with DTS and Cirrus Logic Technology to fine-tuned the sound effects. Not only the impeccable music playback, but the recording is also incredible. Packed with three microphones with noise cancellation, your voice can be recorded nice and clear even in a noisy environment. The 3.5mm headphone jack remains at the bottom so you can enjoy the lossless music with your wired headphones.
"Sandwich" Liquid Cooling System
Engineered using a patented welding technology, two liquid cooling internal components contribute to a 30% overall increase in heat dissipation, and the CPU temperature is reduced by 18 degrees*.
The entire cooling solution is designed around the three main heat sources in mobile phones (5G chip, processor, charging area) and these components are placed to avoid excessive heat concentration. A large surface area direct contact copper heatsink is designed to rapidly move the heat to the liquid cooling system to accelerate heat venting. A new intelligent NTC temperature sensor is added to detect the temperature and transmit the data to the cooling system for better control of the temperature in real-time.
*Compared to Black Shark3, data from Black Shark Lab.
Black Shark 4 Pro – Cameras
If you are looking for a gaming smartphone only, the photography experience will not be a deciding factor in your purchase decision or not. However, the Black Shark 4 Pro will not disappoint you in this regard as it comes with a triple rear camera with improved computing camera software and powerful features such as 60fps shooting, 4K Ultra HD photos, Ultra Night Scene, and Electronic Image Stabilization (EIS), And more. This is done via:
Triple Rear Camera
64MP ultra-high-resolution primary sensor – 0.7 µm, f/1.79
8 MP Ultra Wide Angle Lens HD – 1.12 µm, f / 2.2
5 MP Macro Lens – 1.12 µm, f/2.4, AF (2cm-10cm)
Front camera
20 MP Ultra HD Lens – 0.8 µm, f / 2.45
Black Shark 4 Pro Performance
One of the most powerful gaming smartphones needs the most powerful processor in the world at the moment and this is what the Black Shark 4 Pro offers. It is powered by Qualcomm's flagship Snapdragon 888 processor that uses an advanced 5nm process technology with an octa-core architecture for extremely fast processing power. The Kryo680 CPU super core delivers incredibly powerful performance.
It is based on fast LPDDR5 RAM and UFS 3.1 internal storage to make sure the data is transferred at the fastest speed in the phone. Installing games, loading games, and switching between scenes are now faster than ever.

Software
The Black Shark 4 Pro smartphone works on JOYUI 12 which inherits most of the functions of MIUI12 (based on Android 11) including Light Cone Motion Architecture, synchronous visualization, nature-inspired notification sounds as well as new functionality for improved privacy, note-taking, and more, Making the smartphone experience smoother and more personalized.
As I always say, the stock Android system is best for cheap devices, with a simple and smooth launcher for better performance, especially since it does not contain pre-installed apps or games, I really hate this because of the large number of ads, However, it has some toolkit apps but does not burden the device and is without pop-up ads.
Smart Assistant – Shark Chan
Shark Chan is your visualized smart assistant that can interact with you. She can help you set up the morning alarm clock, and show up in the wallpaper or while charging.
5.Shark Space 4.0
Shark Space has been upgraded to version 4.0 and can be accessed by pressing and holding both shoulder trigger buttons at the same time, or by selecting the APP from the menu.
Shark Space 4.0 allows users to quickly adjust their network status, performance, Do-Not-Disturb function, master touch settings, and other functions during the game without breaking the immersive gaming experience. Users can also select a driving mode in the game studio to avoid any disturbance when gaming.
Game Macro
Game macros can be programmed for specific scenes of the game. Repetitive actions can also be programmed to enable one-key execution. The macros reduce the need for repetitive actions and make controlling your gameplay much more fluid.
Motion Sensing
Free your finger from the repetitive touch of the screen while you can control the game with simple motion movement. Black Shark 4 Pro offers the Motion Sensing function in Shark Space 4. The gyroscope sensor will track the phone's movements and allows you to perform six gestures in total, like turn to the left or right, flip forward or back word, and lean to the left or right. With Motion Sensing, you can assign some actions to simple motion movements
Click KeyMap (Master Control). Then choose the motions you'd like to use from the list.
Game Studio Setting
In the Game Config, you can customize the setting of performance, display, touch, audio, and more.
Performance Setting
The Ludicrous Mode squeezes every last ounce of extreme performance from the equipment and allows super large games to run smoothly with no stuttering.
Display Setting
Ultra-high 144HZ refresh rate with Intelligent Switch option/Color enhancement / newly added Hunting Mode; the ultra-high refresh rate makes the game smoother, while the picture quality & color enhancement makes the game visuals clearer and brighter. The unique Hunting Mode makes it easier to spot enemies in FPS games.
(Hunting Mode)
Touch Setting
Gyroscope sensitivity adjustment/touch screen sensitivity adjustment/720HZ ultimate touch sampling rate activation/in-game edge mistouch prevention.
Audio Setting
The high-definition sound effects pull users into the game for a more engaging gaming experience. Voice changer allows for more interesting communicating options and smoother communication.
Connectivity
SA/NSA dual-mode 5G and Wi-Fi 6E provide the fastest data speeds, at home or on the go. The "X" antenna design and intelligent network switching ensure that you'll always get the fastest and most stable possible speeds. Say goodbye to the lags.
Black Shark 4 Pro Battery And Charging Time
With the Black Shark 4 Pro, say goodbye to battery worries forever. Thanks to a 4,500mAh battery that can be fully charged in 15 minutes with 120W supercharging technology and support for the all-new dual-cell eSports battery technology, this is perhaps the most efficient charging system in the industry. Smartphones, compared to the best results of our competitors.
Black Shark 4 Pro Price And Where To Buy
The Black Shark 4 Pro Gaming Smartphone is currently available on the Aliexpress Store for a very good price So, don't miss out on this great deal. And to view its price or buy it, you can access the offer by clicking on the store icon.
Black Shark 4 Pro
Fast Charge Power Adapter(120W)
USB Type-C data cable
SIM TrayEjector
Protective Case
Screen Protector
Quick Start Guide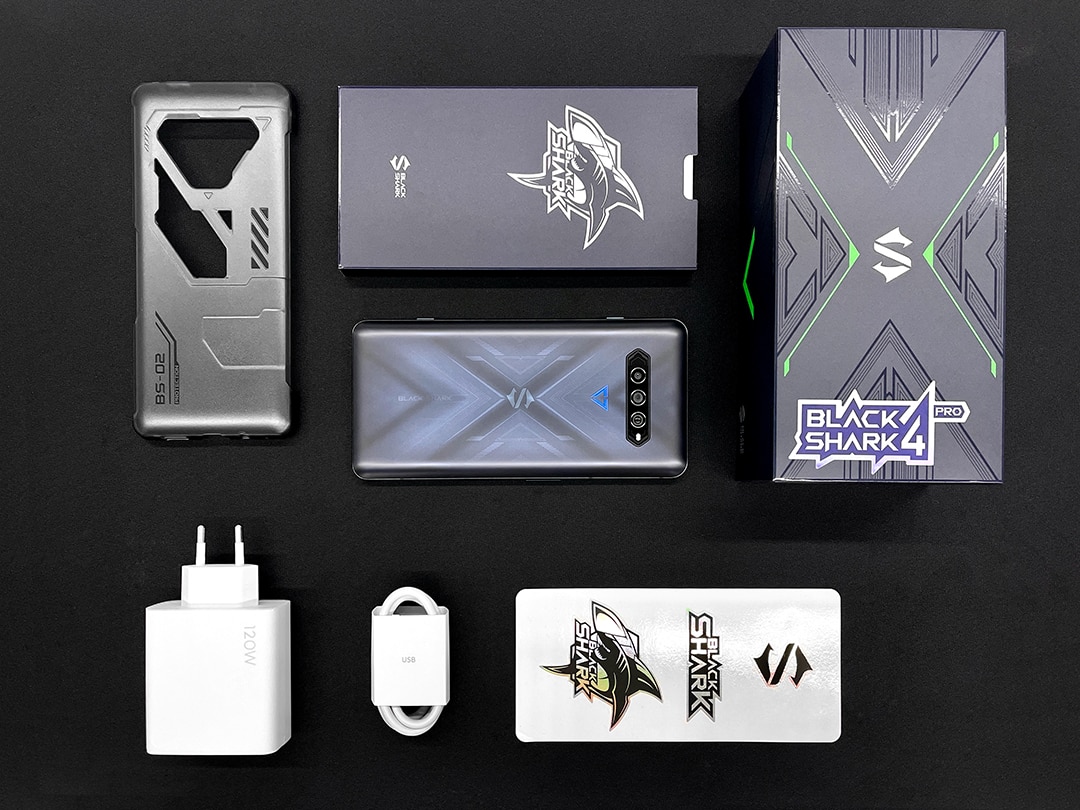 Black Shark 4 Pro Specifications
Product
Black Shark 4 Pro
Color
Shadow Black, Misty Grey, Cosmos Black
CPU
Snapdragon 888
GPU
Adreno™ 660
Storage
8GB+128GB, 12GB+256GB
Ram
LPDDR5 6400MHz
Rom
UFS3.1
Size
163.83mm * 76.35mm * 9.9mm, 220g
Battery
4500mAh(Typ), 120W, USB Type-C
Main Camera
64MP, 0.7µm, f/1.79
6P Lens
LED Flash
Support PDAF Autofocus
Dim Light Enhancement
Ultrashort HDR
Documents Mode
Portrait Mode
Dynamic Mode
Panorama Mode
AI Cam
HDR10+ Video Recording
Vlog Shooting
1080p 30fps,1080p 60fps,4K 30fps,4K 60fps Video Recording
Slomo 1080P@120fps, 1080P@240fps, 1080P@960fps
Super Nightscape
Wide Camera
8MP, 1.12µm, f/2.2, FF
5P Lens, 119°
Macro Camera
5MP, 1.12µm, f/2.4, AF(2cm-10cm)
3P Lens
Display
AMOLED, 144Hz, HDR10+, 1300 nits (peak)
6.67 inches
1080*2400 pixels
DCI-P3 111% TYP
MEMC Dynamic Motion
Master Touch
720Hz Reporting Rate
Connectivity
Dual nano-SIM Card
2 ✕ CA, 3 ✕ CA, 4 ✕ CA, 5 ✕ CA; EN-DC
SIM-1 supports 5G NR SA&NSA / TD LTE/FDD LTE/WCDMA/CDMA/GSM
SIM-2 supports 5G NR SA&NSA / TD LTE/FDD LTE/WCDMA/CDMA/GSM
Support wifi: 802.11a/b/g/n/ac/ax; 2.4G&5.0G
Supports 2*2 Mimo, MU MIMO
Supports WIFI Display, WIFI Direct, WIFI hotspot
Supports Bluetooth 5.0 wireless technology, supports aptX & aptX HD & aptX Adaptive & LDAC audio transfer
NFC
Bands
GSM/EDGE: B2/3/5/8
UMTS/WCDMA: B1/2/4/5/6/8/9/19
CDMA/EVDO: BCO
LTETDD: B34/B38/B39/B40/B41
LTE FDD: B1/B2/B3/B4/B5/B7/B8/B18/B19/B20/B26/B28a
5G: N1/N3/N8/N28a/N41/N77/N78/N79
Navigation
GPS/AGPS/GLONASS/BEIDOU/Galileo/QZSS
Sensor
Gravity sensor, Ambient light sensor, Proximity sensor, Gyroscope, Compass, fingerprint sensor
Light Effects
Shark Eye
Video
Supports 3gp, mp4, flv, avi, asf, webm, 3g2, etc…
Audio
DXO TOP1 Symmetric Speakers, Support 3.5mm Audio Jack, mp3, amr, FLAC, aac, wav, Ogg, WMA, ape, AIFF, etc…
Image
Supports png, gif, jpg, BMP, webp, wbmp, etc…
Thickness & Weight
163.83mm * 76.35mm * 9.9mm, 220g