BlitzWolf BW-HL1 first smartwatch from BlitzWolf comes with rectangular shape, multi-sports mode, IP68 waterproof, HD Color Screen, Advanced Sports Tracking, Real-time Health Monitoring, and Message Reminder, Let see the full details in this review.
Design of BlitzWolf BW-HL1:
BlitzWolf BW-HL1, Looking like an Apple Watch, has a rectangular design that is made of stainless metal effectively has. The dimensions are 42x35mm and it's 10.8mm tall. It weighs 57gramm and has no physical buttons on the side that make it pleasant to wear and has a very premium-looking build.
It features a soft 20mm universal strap and made of the high-class silicone so it is flexible and comfortable and soft to wear even for long hours And with a unique secure lock design. You can wear this strap while taking a shower or working out without an issue.
the watch comes with basic black color but You can change the strap actually easily with other colors if you'd as like pink and blue color from Banggood.com.
On the back of the watch, we find the heart rate sensor and the charging port. Both are completely waterproof so don't worry about that.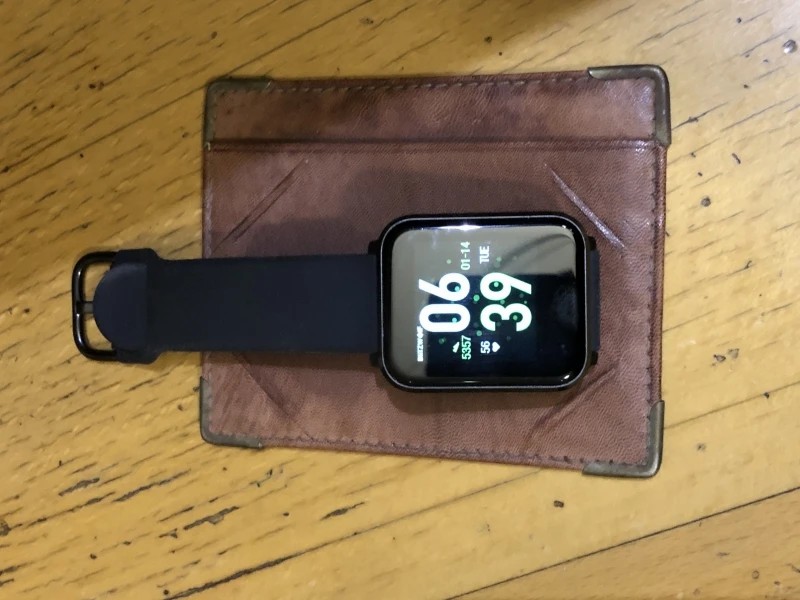 Display:
The display of BlitzWolf BW-HL1 is good, come with 2.5D color screen,1.3-inch IPS LCD with 240 x 240-pixel resolution.
The screen conveniently activates when you raise your hand, and There are 6 levels of brightness you can choose from. Unfortunately on direct sunlight is hard to view it, But it is fairly acceptable. The screen provides a one-touch primary for operation. and has 3 watch faces, which are showing all the information you need. The screen itself that shows information is pretty big.
To explore other options, read about the BlitzWolf BW-HL2 Smartwatch.
How to operate BlitzWolf BW-HL1?
There's a single touch key for control. On the bottom of the screen, One single click and you will go to the next screen/menu and a long press will start a measurement or go the deeper menus, like in Other. From here, you can switch menus, activate a measurement, or pick your activity from the watch screen. Unfortunately, there is no "home" button. If you want to go back to the watch face, you have to click your way back to the home screen.
Connectivity:
In terms of connectivity, it includes Bluetooth 4.0 and is compatible with Android 4.4 or above and iOS 8.0 or above. You can easily connect the smartphone via Bluetooth and get all the information right on your smartwatch. We are also able to reject calls or reply to messages. You get all notifications right on your home screen with little vibration. Once connected, you can take remote pictures from the watch, or play/pause, rewind or forward songs on your phone.
Features:
You can track a lot with the BlitzWolf BW-HL1, which means this is a feature-rich smartwatch. You are able to track multiple activities, measure your heart rate, blood pressure, and oxygen levels! Though they seem fairly accurate, I wouldn't bet on it for absolute accuracy but it might give you some idea of how your levels are.
Activities:
The "Training" mode allows you to track your performance under 8 different sports, which includes walking, running, cycling, skipping, badminton, basketball, football, and swimming. You can do the basics (which is enough for most), Unfortunately, you are unable to review the walk after you end it.
Sleep Tracking:
The BlitzWolf BW-HL1 offers the feature for Automatically sleep monitoring every night. Just wear the watch and the next morning, you get an overview of your night. You will see your light sleep, REM (Rapid Eye Movement) sleep, restful sleep (deep sleep), and awake time. That is detailed enough for me to see how my night went. And helps you adjust yourself in good condition.
Although the smartwatch includes sleep monitoring but records only between 8:00 PM to 9:00 AM and thus, if you sleep or take nap in the day time, it does not track it.
Heart Rate Sensor:
you can measure blood pressure by putting it on your wrist every day. In addition, the continuous heart rate can be measured in real-time and around the clock, and the daily measured data can be easily and conveniently managed with a smartphone. check your heart rate chart to analyze fat burning and optimize exercise intensity and time.
Waterproof:
With IP68 waterproof standard, you can swim, or shower with the BlitzWolf BW-HL1 without any concern. even in there is rain, This smartwatch is perfectly able to handle some water. with Max Depth 1m, for Time Limit 0.5h, Also does not support diving in the sea.
Just make sure to clean it with fresh water after being in contact with salt water (sea or sweat). This way you clean it and prevent it from damage.
Note: Not suitable for diving or bathing in HOT water.
Extras:
Via the menu, you can also control your camera shutter so you can set up your smartphone and activate the shutter with a long-pressing touch on your wrist menu, However, for this to work, you have to have your phone unlocked. you can't trigger your phone's camera app and this option only works with Blitzwolf's in-built camera app. Thus, you are restricted from tweaking any camera settings when taking pictures via the smartwatch.
you can also control your music (pause, play or next/previous song). this feature works even if the phone is locked. So, this limits the time you take out your smartphone from your pocket.
On the "Other" menu, you can activate a timer, set the mute on/off, reset the watch, power it off, or adjust the brightness.
Notifications:
The notification reminder on the BW-HL1 is something to appreciate. You can get notifications for calls, messages, and a handful of social networking apps like Facebook, Twitter, Whatsapp, Skype, Instagram, and SMS in 11 different languages. If you miss a call or signal on your phone, you'll be reminded by vibrations on your wrist. You can also receive notifications from other apps of your phone directly in the smartwatch.
Da Fit App:
First, we need to download and install the app "Da Fit" available on Google Play Store and Apple Store or by scanning the QR code provided in the user manual (Supported System: ios 8.0+, Android 4.4+.). And It has a pretty basic UI. help you to keep a track record of your daily workouts.
Whenever starting it you need of course to pair the BlitzWolf BW-HL1 what will take only a handful of seconds.
The app displays all stats from the smartwatch. In settings we can discover:
Watch Faces
Notifications
Alarms
Shutter
Others
Upgrade
And you can change other settings of the watch like your profile. you can view/edit your personal info that you'd previously entered. Similarly, you can also view/edit your goal for the number of steps to be taken on a day.
Also, You can use the app to synchronize the watch language with your phone through Bluetooth.
Note:
The initial state of the watch's language is the same as the phone's.
Please note that he watches only supports the languages: (Russian, French, Spanish, English, Chinese, Japanese, Portuguese)
Tips: Download the app before usage in order to compatible perfectly with your phone.
Battery Life:
The smartwatch is equipped with a 180 mAh battery. can give you up to 15 days standby and 7 to 10 days of working time.
For Charging, Clamp the two pins to the charging dots on the back of the watch and connect a USB charger. It took us about two hours for a complete charge with a magnetic charge.
Anyways do leave your thoughts about the BlitzWolf BW-HL1 on the comment section below.
BlitzWolf BW-HL1 Price and Availability:
The BlitzWolf BW-HL1 is currently available on Aliexpress store for just $19.99 and Banggood for $17.99. This is a very good price So, don't miss out on this great deal. And to view its price or buy it, you can access the offer by clicking on the store icon.
You can purchase the strap, charger, and protector with click on image accessory.
BlitzWolf BW-HL1 Smart Watch
USB charging cable
User Manual (English Version)
Q&A about BlitzWolf BW-HL1:
Why doesn't my watch start?
1.The BW-HL1 needs to be connected to the charger for the first time use.
2.If your BW-HL1 battery runs out, you need to charge it for a while before trying to activate your watch.
3.Try to activate your BW-HL1 by pressing the area below the screen for a long time.
Why my watch doesn't charge successfully?
1.Please make sure your charger is 5V/1A. If the current is too high, the BW-HL1 would into the automatic protection of the state.
2.Please confirm that the charging cable is well attached to the charging position on the back cover of your watch.
3.If your BW-HL1 still can't be charge successfully, contact our customer services right away. 
Why is there no charging cable in my package I received?
There is a charging cable in the separate box inside, please check it carefully. And if you don't receive the charging cable, please contact our customer services right away. 
How to change the date and time?
scan the QR code in the manual to download the [ DaFit ] APP. Then the time and date will be automatically synced when the your BW-HL1 is connected to your phone.
Can I wear it for swimming?
It is not recommended that you wear it to swim for more than 30mins on swimming pool, because it is not a professional swimming watch.
Do you support GPS?
Unfortunately, it is not supported.
Features BlitzWolf BW-HL1
Multiple Sports Modes–This premium watch features 8 different sports modes in addition to tracking for daily activities: Walking, Running, Cycling, Swimming, Skipping, Badminton, Basketball, Football. New Professional sensor gets more accurate data for calorie consumption, heart rate, and blood pressure measurements.
Multiple Language Support–With the BW-HL1 watch, you can quickly check app messages and SMS in different languages. If you miss a call or signal on your phone, you'll be reminded by vibrations on your wrist.
IPS HD Screen–The display has always been a crucial part of any smartwatch. That's why the BW-HL1 features a 1.3-inch IPS display with a panoramic view of all important information, and the lively colors deliver a crystal-clear viewing experience.
Encompassing Care for Your Health–BW-HL1 provides 24h continuous heart rate measurement to get a comprehensive view of your heart behavior day and night. Furthermore, it can monitor your blood pressure and blood oxygen saturation as well.
Specification BlitzWolf BW-HL1
Brand
BlitzWolf
Model
BW-HL1
Color
Black
Bluetooth Version
BT 4.0 or above
Compatible OS
Android 4.4 or above, iOS 8.0 or above
Operating Mode
Touch Key
APP Name
Da Fit
App Language
Support Multi-languages
Watch Support Language
English, Spanish, Portuguese, French, Russian, Japanese, Chinese
Waterproof
IP68 deep waterproof
Sensor
G-sensor, Heart Rate Sensor
Screen
Size: 1.3inch
Type: IPS
Resolution: 240*240pixels
Battery
Battery Capacity: 180mAh
Standby Time: About 15 days
Using time: About 7-10 days
Charging Time: About 2 hours
Charging Type: Magnetic charging
Band
Material: Silicone
Length: 198mm
Width: 20mm(support universal 20mm detachable strap)
Weight and Size

Product size: 42*35*10.6mm
Product weight: 49g
Functions BlitzWolf BW-HL1
| | |
| --- | --- |
| Heart Rate Monitor | Support |
| Blood Pressure Monitor | Support |
| Blood Oxygen Monitor | Support |
| Sleep Monitor | Support |
| Multi-sport Modes | walking, running, cycling, skipping, badminton, basketball, football, swimming 8 sports modes, etc |
| Weather Display | Support |
| Brightness Control | Support |
| Bluetooth Music Control | Support |
| Pedometer | Support |
| Call or Message Reminder | Support |
| Reject Call | Support |
| Notification | Support Facebook, Twitter, Wechat, WhatsApp, etc. |
| Alert Type | Vibration |
| Auto Light-up Screen | Support |
| Stopwatch | Support |
| Alarm | Support 3 sets of alarm |
| Other Functions | Support ,Calender,Sedentary reminder,Camera remote control,Anti-lost, |