Do you want to turn your regular TV into a smart device with Internet access, Want to play games, watch online movies, or surf the web on your TV? Just equip your TV with a smart function using this high-performance H9-X3 TV Box it has most of the unique features of the top brands like Beelink, and A95X with a little difference in the way it presents them. It runs on the Android 9.0 operating system and features an advanced Amlogic S905x3 Quad-core processor that offers smooth operation and fast browsing. You will be able to play, watch films, Youtube, and other apps in a very easy way.
H9-X3 Design:
H9-X3 comes on a miniature plastic case rectangular shape with a glossy surface and with a sleek and colorful design. On top of the box itself is a logo with the model name and a distinctive colored print, On the front panel, there is a small LED screen show the information. At the bottom of the device are 4 rubber feet and with excellent heat dissipation so, don't worry about buffering and overheat while you are watching movies or playing games.
The connectors included in the TV box are not many since it has a USB 2.0 port, another USB 3.0, a Gigabit Ethernet connector, an analog AV interface, and an HDMI 2.0 video output, DC Power Port, SPDIF, TF card.
Hardware:
The Smart Box H9 X3 includes the powerful processer of AMlogic S905X3 a Quad-Core ARM Cortex-A55 CPU, manufactured in 12nm that reaches up to 1.9 GHz speed and integrates a Mali-G31 MP2 graphics processor and 4GB DDR3 RAM make everything much easier and faster – play your favorite games without any lag. Its multifunctional TV box supports 4K resolution for high-definition pictures, and it also supports 3D video format. Also, come with 32GB or 64GB of internal memory space, it's capacity not enough for you? No problem, you can increase the memory up to 64GB with your own SD card.
The VPU is an Amlogic Video Engine 10 with HDR Dolby Vision optional, HDR10, HDR10, HLG, and PRIME HDR among others.
System of H9-X3:
H9-X3 runs with Android 9.0 Pie and this box is rooted so, you will be able to use all the applications that are on that platform from google play, and this OS compatible with the latest Android applications and runs smoothly without any lagging or freezing.
Note: It only supports 32-bit allowing it the only run 32-bit applications.
Video and Audio quality H9 X3:
Connect the H9 X3 tv box to your 4K TV to watch the latest 4K (4096×2160 pixel) movie or sports match with your family and friends after dinner, or play games on a large screen. But, I believe the H9 X3 hit a snag when it comes to 4K video playback especially with HDR.
it supports H.265 4K output, more powerful than H.264, lets you watch the 4K movie smoothly. And see every detail of the screen, to bring you a more realistic movie, game, and music experience.
The box comes with all the codecs needed for the playback of 4K videos with digital audio formats such as Dolby and DTS audio, and THX digital audio.
The H9 X3 has Google Widevine Level 3 with no HDCP protection. This means that it cannot play premium streaming services in HD and 4K quality because it needs to have Google Widevine level 1 digital rights, and HDCP protection 2.2 which protects against piracy of stream the content. So if you're looking for a Google-certified Android TV box this is not one of them, however, these premium services will play in basic 480p quality.
By now it's no surprise that premium services such as Netflix and Amazon prime only plays, in basic 480p quality as a result of the lack of required DRM support. And as usual, you can install any alternatives such as Kodi, or whatever source of free streaming you want and it will work on this box.
Connectivity:
At the wireless connectivity level, we find an H9 X3 has a 2.4G/5G Dual Band Wifi AC that allows you to display HD video smoothly and download massive resources from the Internet especially with a 5GHz Wi-Fi band or LAN port for the best Internet speeds, and Bluetooth 4.0 for all versions, in case you want to connect it to a mouse or keyboard wireless, or any accessory compatible with TV Box.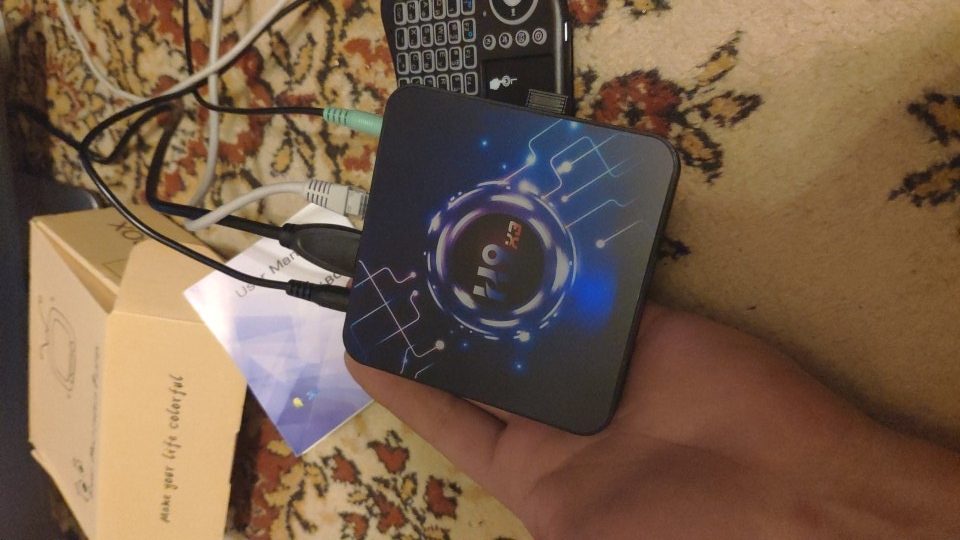 System Interface H9 X3:
The H9 X3 has a new startup animation never seen before. It's quite attractive and modern, and once it's done there's no startup wizard complete and you are taken directly to the launcher.
The launcher there's nothing new or amazing about it, it's clean and semitransparent with a basic design consisting of large main and shortcuts that cannot be changed and a custom shortcuts bar below here.
It has a navigation bar and a status bar on the top with pulldown system controls, and to the right top corner, you have one-click cleanup feature for killing apps running in the background and the freeing up system resources. we find on the status bar the pulldown system controls that also displays the hardware monitor tools.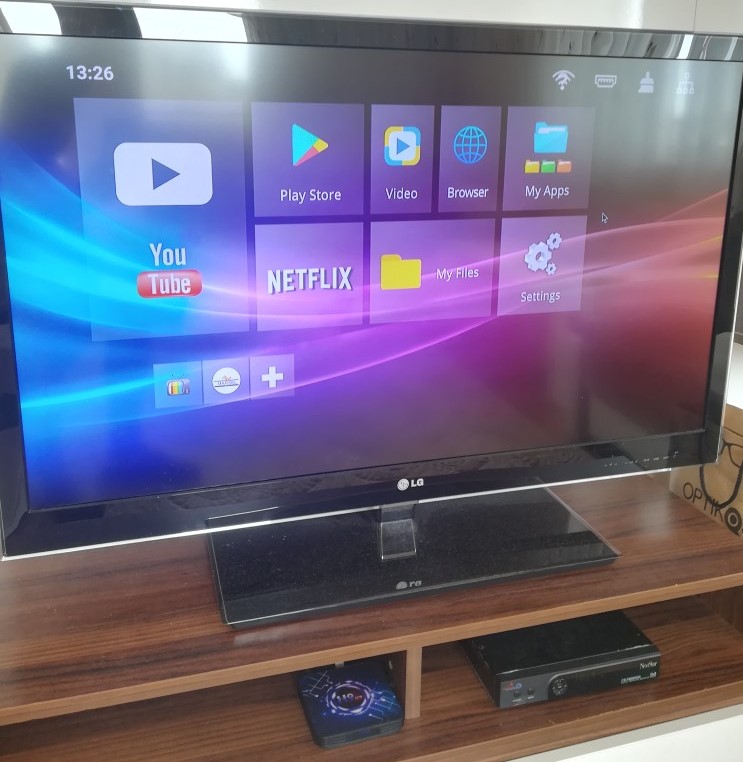 In the settings area, the developers took a new approach and rearranged the special features placing them in the main panel whereby preventing the user from having to scroll through too many menus to access them.
As you open the settings area right in the main panel you have the display setting, the hardware monitor tools, the root switch, and a feature called enable remote input service. This remote input service is the feature that allows you to use your cell phone as a wireless-mouse to navigate the box.
Launchers And Live Wallpapers:
For alternative launchers and live wallpapers, H9 X3 you can work with another launcher like ADW launcher 2 alternatives, all the features working such as long click menu pop-ups and drag and drop shortcuts. I also can install a live wallpaper app on this launcher, but it does not work on the stock launcher.
Pre-installed apps:
For pre-installed apps, they have included app like, chrome, browsers, media center, an official version of Miracast, movie player, Netflix, the Google play store, wireless updates, and YouTube.
Miracast:
The H9 X3 comes pre-installed with the official version of Miracast So, casting via Miracast works OK when used with a Miracast app on phone. However, To cast directly from the YouTube app it was unsuccessful.
Run Games:
The games played well and the graphics were high-quality, no, not on simple games that do not require high disease. In terms of temperature, the box works between 55 and 65 degrees Celsius under normal operation, and this can rise to 70 degrees during high-performance games.
To explore other options, read about the H96 Max X3 Android 9.0 Smart TV Box Review.
H9 X3 Price and Availability:
The H9 X3 is currently available on Banggood for $38.69 and Aliexpress store for just $32.63
This is a very good price for TV Bow with 4GB RAM 32GB ROM So, don't miss out on this great deal. And to view its price or buy it, you can access the offer by clicking on the store icon.
H9 X3 Amlogic S905x3 4G/32G 8K TV Box
Power Adapter
HDMI Cable
Remote Control
User Manual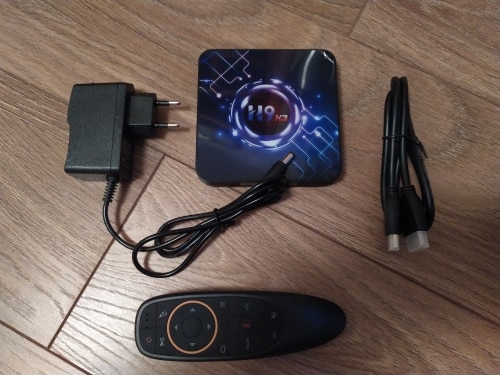 Specifications of H9 X3 TV BOX
CPU: Amlogic S905X3 Quad-Core 64bit Cortex A55
GPU: Mali-G31 MP2
RAM: 4GB DDR3
ROM: EMMC 32GB
OS: Android 9.0
Ethernet: 10/100 standard RJ-45
WiFi: Built-in 2.4G/5G dual-band WiFi, 802.11 a/b/g/n/ac
Bluetooth: 4.0
Decoder Format: Support H.263, H.264, H.265, HD MPEG4
Support 8K UHD Resolution
HDR: HDR10 and HLG Modes
Control Methods: IR remote control, 2.4G WiFi control, and mobile application control