In this review, we'll look at the i7S Tws Bluetooth earbuds, The superb sound quality headset which creating the best 360 degrees stereo sound and superb bass sound, with ultra-low power consumption Bluetooth V4.2, Coupled with a 950mAh charging dock can charge for your Bluetooth headset 5 times And most importantly its cheap price and design similar an Apple AirPods. Let's take a look at how it performs.
Features of i7s Tws Earbuds
Adopt true wireless technology.
Compact and lightweight design, reduce your ears' pressures.
The charging box provides a fast charge.
Allowing two persons to listen to the same song without the obstacle of the earphone line.
Ergonomic design, small detail protects your earphone from dropping .when you exercise strenuously.
Double click to redial outgoing call, one-click to play pause music.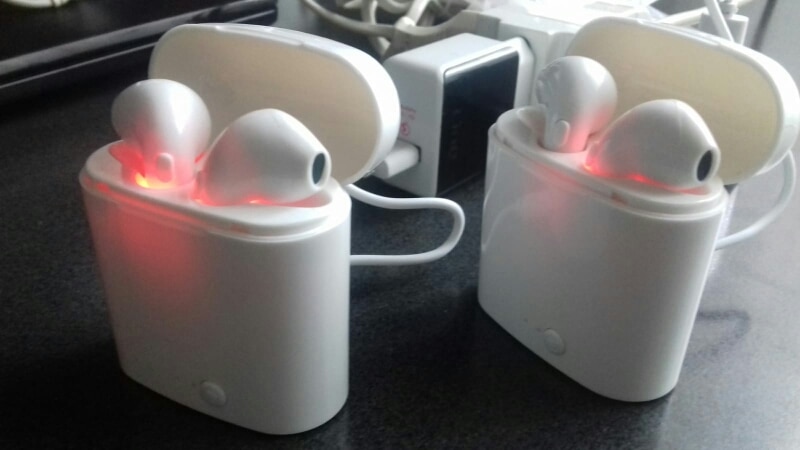 To explore other options, read about the Gocomma i11 TWS Earbuds Review.
Design:
In terms of appearance, the i7 TWS is similar to the appearance and size of AirPods, and he made of cheap plastic offered with two options black or white. The i7s TWS adopt Multi-function button control, It serves as a power button, volume controller, and music play/pause, There is also an indicator light underneath the button, this button will turn red when you charge it, which is slightly less sensitive in music control, Most likely, everyone thinks that you have Apple AirPods when earbuds are in the ears.
Color options for this product. the colors on the earbuds appear to be trying to match those of the iPhone which come with black, red, gold and rose gold.
The earbud has a charging port on the bottom and the power button on the side. LED flashes when earbuds are paired or charged. Also, i7s TWS has a built-in microphone, so you can make or receive calls.
Regarding Comfort, it does fit in-ear and it stays there. But the size is slightly bigger AirPods from Apple, making it a little bit harder to fit and easier to fall out. If you make sure they are well placed in your ear, you can wiggle your head hard and they won't fall or come loose. I don't know the exact weight, but it is not much, you won't notice that they are in your ear!
However, the charging case is made of the same plastic material as earbuds, and similar to the appearance and size of AirPods charging dock, it equipped with 2 LED indicators and a button, you can easily get the i7 TWS charging case battery state via button and these 2 LEDs. From the other side is the micro-USB port for charging the case.
Operations:
It almost has all the features the AirPods has, but In terms of operation, the i7 TWS does not interact perfectly with iOS devices like the original AirPods, such as pop-up windows, auto-pairing, don't you can not open Siri or Assistant. If you want to lower the volume, get your phone out because it is not possible to do it from the i7S. However, the operation is also very simple and convenient, you can get started quickly.
How To Pair i7S TWS Earbuds:
You can use one earbud separately, or two earbuds. There is a tutorial in the user manual on how to connect one or two earbuds.
Long press the multi-function buttons of both sides at the same time until the led flashing in red and blue alternately.
Then double-click the left earphone to automatically pair. and you will hear voice prompt – "Ready to pair".
Turn on the phone Bluetooth on your device and choose "i7S Tws" to connect.
Connect is done.
How To Use:
The i7 TWS depending on the state it is in when you press the button.
Turn on: Press and hold the Multi-function key for 4-5 seconds then the blue lights up
Turn off: Press and hold the Multi-function key for 3 seconds then the red lights up while they're working.
Answer A Call: When a call comes in you will hear "a beeping" on your left earbud. Now press the button on either earbud to answer a call.
Hang Up the Call: Short press the button on either earbud to hang up the call.
Reject an Incoming Call: Press and hold the button on either earbud for 1 second, until the voice prompt: call rejected.
Redial the Last Number: Press and hold the Multi-function key of the main earphone
Activate Voice Dialing: As long as your phone support for voice dialing, double click the Left Multi-function key during standby mode for 1second then the last number you have called will be redial out.
Music Playing Control:
Play/Pause: Press the button on either earbud to play or pause music.
Play Next Song: Click the Multi-function Key of the vice headset to play the next song.
Decrease the volume(-): Long touch the master earphone (left earphone) over 3 seconds to turn the volume down.
Increase the volume(+): Long touch the slave earphone (right earphone) over 3 seconds to turn the volume up.
Sound Quality and Microphone:
If you are interested in the sound quality of these cheap wireless earbuds, then it matches the price. The sound is a bad, flat, and it lacks bass. is not as good as that of high-class or medium earbuds, But, it is still good compared to other cheap brands of TWS headphones.
Audio playback while listening to songs or viewing a video coincides primarily great. And you will hear some noise if you pay attention while listening to music.
As for the microphone quality, it is quite good. You can talk comfortably indoors, there may be some interference in public places, but don't wary, it came with a powerful noise denouncing circuit. By the way, you can use only one earbud for calling.
Occasionally, we have trouble hearing other people while making calls or vice versa. Is it a microphone or speaker or is it a bad Bluetooth connection? You never know.
Connectivity:
The i7 TWS earbuds featured with Bluetooth V4.2, give a stable transmission about 10 meters of transmission distance without barriers, low power consumption, and strong compatibility.
Battery Life i7S Tws Earbuds:
As for the battery life, Each earbud is equipped with a 65mAh battery, and charging dock has a 960mAh allows recharging earbuds 5-6 times. i7 TWS talk time or music time is about 3 – 4h, and standby time is about 60 – 80 hours, The full charge takes about 1-2 hours.
Note: With a USB-to-pin you can be used to charging headphones directly. The pin charger links into the base of the stem of each headphone. is really practical.
You may also like BlitzWolf AIRAUX AA-UM1 Earbuds Review – All You Need to Know.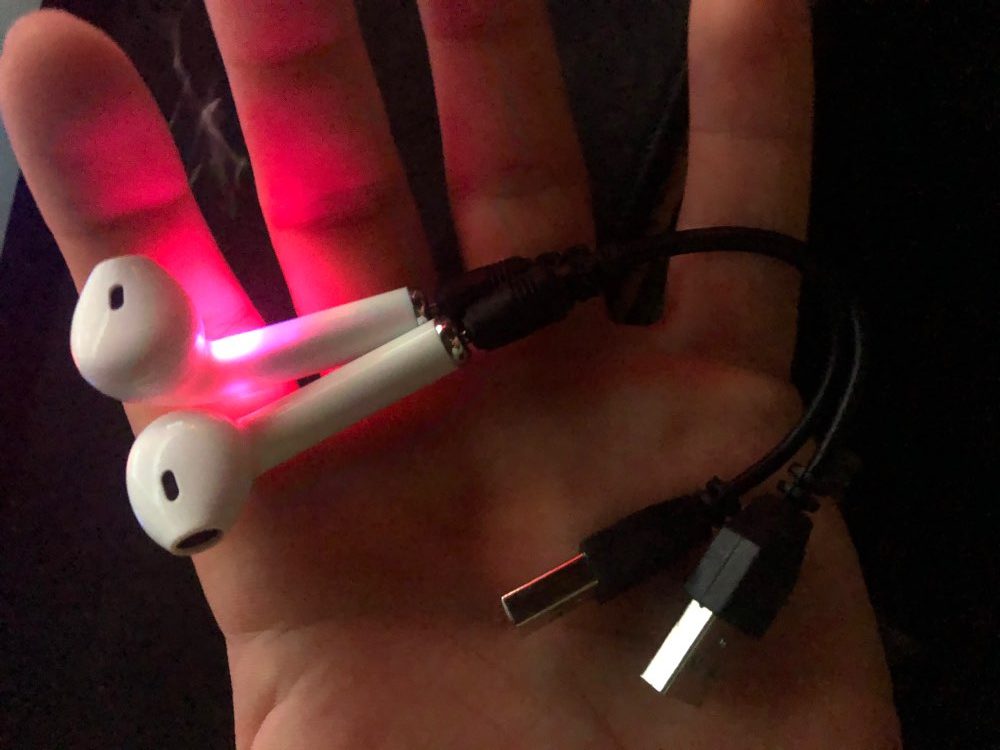 i7s Tws Price and Availability:
The i7s Tws is currently available on Gearbest for $12.86 and Aliexpress store for just $4.58.
This is a very good price Of course, you cannot expect high sound quality from $5 earbuds. From the other side, its really work, You can listen to music and even make calls. So, don't miss out on this great deal. And to view its price or buy it, you can access the offer by clicking on the store icon.
i7S Tws Bluetooth Headphones(left and right earphones)
Charging box
Micro USB Charging Cable
User Manual
Noted:This product does not have a retail package box.
Specification of i7S Tws Earbuds
Bluetooth version: Updated to Bluetooth v5.0
Power level: CLASS 2 and Class 3
Output power: 30mW
Frequency response: 2.4-2.85GHz
Operating voltage range: 3.0V-5V
Mic: -42dB (with microphone)
With A2DP / AVRCP high quality stereo audio transmission and remote control protocol
Powerful noise de-noising circuit (active noise reduction)
Earphones battery: Polymer lithium battery 50mA
Charging time:0.5-1 hours
Talk time: 2-3 hours
Music time: 2-3 hours (100% Guarantee, No virtual mark, It's full)
Standby time: 130 hours
Transmission distance: Outdoor straight distance of 10meters