In this review, we'll look at the of The stylish Gocomma i11 TWS earbuds, they are very similar to Apple Airpods 2, they come with features that make them one of the best earphones you can buy. Bluetooth 5.0 for smooth and stable transfer speeds, the latest high-quality speakers, up to 3 hours of music time, more power with the 300mAh charging case, CVC 6.0 noise cancellation with background noise filtering, without forgetting the IPX6 sweat-proof rating. Let's take a look at how it performs.
Bluetooth 5.0, faster, more stable than Bluetooth 4.2 for perfect wireless music experience.
The latest high-quality speakers reproduce great extra bass, stereo surround sound
Up to 18h music time, more power with 400mAh charging case.
Binaural call for enjoying chatting with CVC 6.0 noise-canceling filtering out background noise.
Ergonomic, sweatproof, comfortable fit for sports.
Compatible with nearly all Bluetooth devices, ideal for smartphones, tablets, laptops, PCs, etc.
Design i11 TWS Earbuds:
The i11 TWS Earbuds with the ergonomic design are very similar to the Apple Airpods but cost much less. These earphones come in a white tote bag and their design is similar to Apple's bag design as well. They are definitely made out of plastic but don't worry, the build quality is good. Don't look like the cheap type.
i11 TWS is lightweight with only 80 grams. With its compact size and lightweight, the earphones sit comfortably in your ears and will also be a better choice for exercises. Also, put don't Significantly pressure on your ears, And It stays in place and does not cause sweat even after heavy usage, providing comfortable wearing for a long time. It is certified waterproof. Antiperspirants keep your headphones fully functional even when they fall down with sweat during workouts.


To explore other options, read about the Bluedio HI TWS Review | Best Budget Bluetooth Headphones.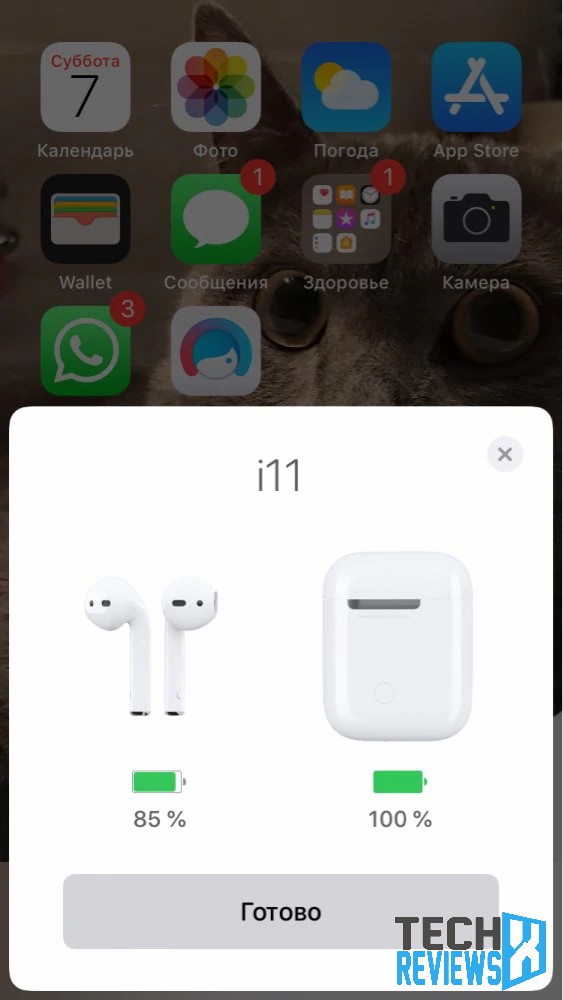 How to Use i11 TWS Earbuds:
To use the earphones i11 TWS click Long press on the multifunction touch button for two headphones at the same time until the flash turns blue and red alternately. Then double click on one of them you will be asked to send a ready-to-pair sound. Please turn on "Bluetooth" on your mobile phone and select "i11" on your list. When you remove them from their case, they begin syncing, and the blue LED will indicate this, as soon as the blinking light stops, you can start playing your favorite music. They also receive hands-free calls, thanks to the built-in microphone. Believe me, these earphones will comfort you perfectly.
In fact, I find that the light in the headphones is very bright and may attract attention in darkness.
To pick up or answer calls just tap in one time and you'll pick up or drop the call also to play and pause your video or music.
And to decrease the volume, tap three times on the right earphone.
If you tap three times on the left ear will increase the volume.
And if you want to skip a hit tap two times on the right earphone.
To skip backward tap two times on the left earphone.
Know that it will get you confused at first, so you have to wait a while to get used to it.
NOTE: when pairing, please pair the 2 earbuds firstly then to your Bluetooth devices.
The touch feedback, there is a delay in touch feedback in terms of playing and pausing and moving to the next track and so for you'll notice there's like a lag, of course, the usual there's this YouTube audio lag even if it's Bluetooth 5.0 and you will it will be less noticeable with phones that are using 5.0.
Performance i11 TWS Earbuds:
Sound:
The Gocomma i11 TWS Bluetooth 5.0 Earbuds actually do quite a good job, you get a good volume range and a balance between bass and treble and promises good audio quality so, you can listen to the bass and nuances of your favorite songs with clarity, In addition, it features a highly responsive touch sensor, this same sensor is also responsible for boosting the Bluetooth range and improves battery performance.
As I mentioned, it has good sound quality, With that, you should not be expecting a very high sound quality from the small earbuds, you probably won't even notice the difference, Do not forget we are dealing with earphones at the lowe-price, but you would notice the convenience of using earbuds with no wires.
To talk about clear the call quality, it's really loud, you can hear the person the only thing is you might sound slightly like your muffled but you can still hear the person, okay so It's good that both Pair of Earbuds is work together.


Battery Life :
When speaking about battery, these i11 TWS Earbuds have a 45mAh capacity which can perform 3 hours of nonstop music playback, a full charge will take from 70minutes. Standby time for one ear is an impressive 90 hours and, for both ears, it's 50 hours.
In addition, the charging case has 400mAh of capacity, which can charge for the earbuds for 4 times, which will allow you to charge them even if you are away from home. Store it securely in its case and charge it again to enjoy music for longer periods.
There is a reminding sound when the battery is low, and the LED would flash in red at the same time. When charging, the LED would be in red and turns in blue when fully charged.
Bluetooth 5.0:
Gocomma i11 with Bluetooth 5.0 technology allows you to easily connect them to your mobile or devices instantly than the TWS technology makes wireless synchronous connection stereo pairing come true.
And with two Pair of Earbuds can be used separately with someone sharing music or broadcast within a reasonable distance, or you can enjoy the stereo sound by using them both or alone.
The wireless connection distance for the earbuds is 10 to 15 meters and you can easily navigate music playback and other functionality via touch controls. For instance, a double-tap on the right earbud will let you adjust the volume; a tap on the left earbud will let you go forward and backward between tracks — and more.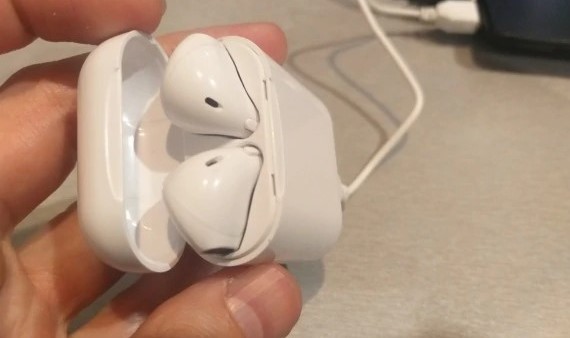 Compatibility:
Gocomma i11 TWS Earbuds are compatible with most Bluetooth enabled devices, such as Apple iPhone, iPod Touch, and Android Phones such as Samsung Galaxy.
Tips:
How to connect: press the button on both earbuds, they will pair with your device automatically.
When not in use for about 3 – 5 minutes, it will automatically turn off to save power.
i11 TWS Price and Availability:
The i11 TWS is currently available on Gearbest for $11.11 and Aliexpress store for just $6.64. We definitely recommend getting these earbuds according to all the features it provides for such a little price. So, don't miss out on this great deal. And to view its price or buy it, you can access the offer by clicking on the store icon.


Pair of Earbuds i11 ( with Charging Case ).
1 x USB Cable.
Chinese English Manual.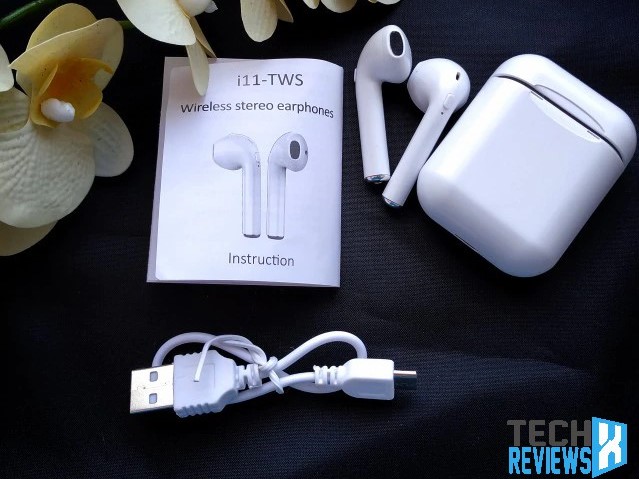 Material: ABS, PC
Color: White
Product weight: 29g
Product size (L x W x H): 5.35 x 4.40 x 2.30 cm / 2.11 x 1.73 x 0.91 inches
Connection: Bluetooth 5.0 Transmission distance up to 10m
Bluetooth Profile: A2DP/AVRCP
Transmission distance: up to 10 meters
Headset battery: 45mAh
Battery charging case: 400mAh
Battery charge: up to 3 hours
Charging time: up to 70 minutes
Charge voltage: 5V
Frequency response: 20Hz 20000
Microphone sensitivity: -42dB
Compatible with Siri and Google Assistant
Compatible with: iPhone,iPod,Android phones,PC