In this review, we will take a look at the specifications of the BlitzWolf BW-FYE8 TWS Earphone, Which comes with great features of elegant and beautiful design and the most important thing is comfortable and high-quality sound with a feature to reduce noise during calls and it is also waterproof and ethnicity and of course at a budget price. So, do not miss this review.
Design:
BlitzWolf BW-FYE8 TWS Earphone is stylish, unique, high-quality, and gently curved to fit your ear comfortably, and in a neutral black color with a touch button multifunction on both earbuds are quickly responsive. The earphones are an occasion for the ears to come with dimensions of 76.6 x 42.2 x 29 mm. It is an extremely lightweight product and weighs only 61.2gm, you will not feel heavy Earphones on your ears, which is important if you have been wearing headphones for a long time. In short, This earphone looks highly appealing on any occasion.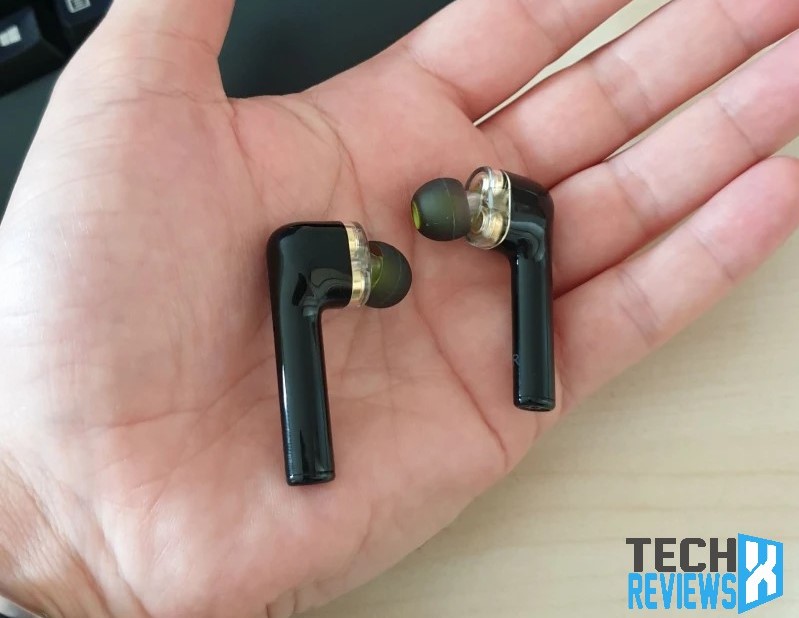 The charger box is also beautiful, it can fit in the pocket with your smartphone there is no problem, with a cylindrical design in matte grey and shiny black color made of ABS and plastic, On the front has a logo BlitzWolf and 4 points LED for show status of the battery and has a micro USB connector on the back. And the cap that looks strong and this is a good thing unlike some headphones, As for this, you can close it by just moving the box a little in your hand.
Performance:
The BW-FYE8 TWS Earphone uses the QCC3020 BT5.0 chip, which is a graphene-coated driver that delivers detailed audio and bass for apt-X, AAC, and SBC audio formats. QCC DSP and CVC 8.0 technologies work perfectly together for richer audio transmission and cleaner calls and your voice sounds like it's on the telephone and natural loud and clear, the surrounding noises are reduced effectively. And with 6mm dual dynamic drives, Enjoy comprehensive audio and high-quality stereo, And Audio synchronizes well with video on both Android and iPhone, on video services like Netflix and Amazon, and also YouTube. There is a delay in sound when playing games, This is almost normal, and you can find it in most wireless headphones.
It uses Bluetooth V5.0 for stable transmission and low power consumption at 3MB/s And it holds firm up to 10 meters, even with thin walls between you and your device.
BlitzWolf BW-FYE8 gives you the best dual-driver audio experience thanks to the dual dynamic driver, diaphragm graph, independent L / R, with IPX5 waterproofed through the rain and sweat.
How to pair BW-FYE8:
And of course, you need to pair it with a device like a phone. After pairing the earphones work automatically when you open the charging case so you don't have to do anything, this is very useful even if you need it a lot, so you don't have to enjoy it every time, just take it out of the box and use it. It can be used in pairs or only one. The earphones turn off automatically when the charging case is closed.
Note: When first pairing your device with headphones, a notification will appear asking for BW-FYE8L, please cancel the request.
How to control touch on BlitzWolf BW-FYE8 TWS:
The touch key controls a lot of everything, operates the earphones easily with a simple touch with the multi-touch key.
Play / Pause: Touch once
Previous song: Double touch left earbud
Next song: Double touch right earbud
Answer an incoming/hanged call: Touch once
Reject the call: double touch
Siri wakes up: triple touch (for iPhone)
You can also change the volume to increase it by holding the right earpiece, and decrease it by holding the left.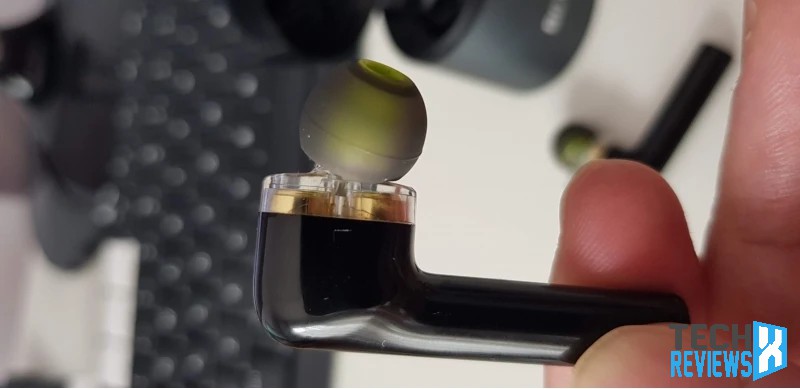 Technologies used in BlitzWolf BW-FYE8 TWS:
aptX: Excellent Hi-Fi Sound
AAC: Clear Voice
SBC: Balanced sound
CVC: Reduces background noise for net calls
DSP reduces the high and low frequency to achieve a clearer sound.
To explore other options, read about the BlitzWolf AIRAUX AA-UM1 Earbuds Review.
Battery & Use time:
The case is not just a storage box but also a portable battery with a capacity of 500 mAh, so the storage box itself can be recharged for 2h, then the earphones can be recharged 3-4 times, which can be used for 4-5 hours on a single charging device from 1h to 2h, The waiting time up to 40h. The case recharges via micro-USB instead of USB-C, so fast charging isn't available.
The earbuds are powered on/off automatically when the charging case is opened or closed. The device also displays the battery status of the charging case, this is useful to be on the lookout for.
BlitzWolf BW-FYE8 Price and Availability:
The BlitzWolf BW-FYE8 is currently available on Banggood for $42.99 and Aliexpress store for just $39.99. This is a very good price for the stylish design and the high-end functionality of this earphone makes it an ideal choice for people of different ages and interests. So, don't miss out on this great deal. And to view its price or buy it, you can access the offer by clicking on the store icon.
BlitzWolf® BW-FYE8 TWS with Charging Box
USB Charging Cable
3 pairs of ear tips
English Manual
Features of BlitzWolf BW-FYE8
The BlitzWolf BW-FYE8 TWS earphone uses the QCC3020 BT5.0 chip, graphene-coated drives that produce detailed sound and deep bass for apt-XM, AAC and SBC audio formats.
QCC DSP & CVC 8.0 technologies perfectly work together to bring richer audio streaming and clearer hands-free calls.
Double 6mm dynamic drivers. Enjoy comprehensive acoustics and high fidelity stereo.
Intuitive touch control lets you activate all features with just a tap on the earbud.
Dual-channel synchronous transmission: Rapidly pairs to your smartphone and outputs low-latency sound when gaming and watching the video.
Multipoint connection: Connect with two Bluetooth devices at the same time.
English voice prompt: Power on/pairing/connecting/battery low/power off.
Specification of BlitzWolf BW-FYE8
Brand
BlitzWolf®
Model
BW-FYE8
Color
Black
Wearing Type
In-ear
Material
ABS+ PC
Net Weight (g)
70g
Dimensions
5.7*4.1*5.5cm
Technical Parameters
Dual Microphones
Yes
bluetooth Chip
QCC3020
bluetooth Version
V5.0
Supported audio decoding
Apt-XM/ AAC/ SBC
Supported Profiles
HSP/HFP/A2DP/AVRCP
Transmission Distance
>10m
Rated Power
3mW
Receive Sensitivity
97dB
Impedance
16Ω
Frequency Response
20-20kHz
Battery Capacity
Charging box: 500mAh, 3.7V
Earphone: 40mAh*2, 3.7V
Charging Time (h)
Time in Charging the Earbuds——1-2H
Time in Charging the Battery Case——2H
Talking Time (h)
4h
Music Time (h)
Monaural Earbud with Full Electricity——5H
Consuming All the Electricity of the Charging Box——Up to 18H
Charging box charges the earphones
3-4times
Standby Time (h)
  40h
Waterproof
IPX5