The BlitzWolf BW-PCM1 is a portable monitor made from black anodized aluminum and designed for production and high-performance, it comes with a compact 11.6 inches full HD display and has multiple inputs so as to be used as an external display for devices such as laptops, gaming consoles, and smartphones.
Features BlitzWolf BW-PCM1
11.6-inch Portable Monitor with FHD 1080P Display Exquisite picture quality can show more real and accurate gorgeous colors, adapt to more scenes
Ultra-thin Body Aircraft-grade Aluminum Alloy, improve the compressive strength.
Dual Stereo Sound and OSD Button.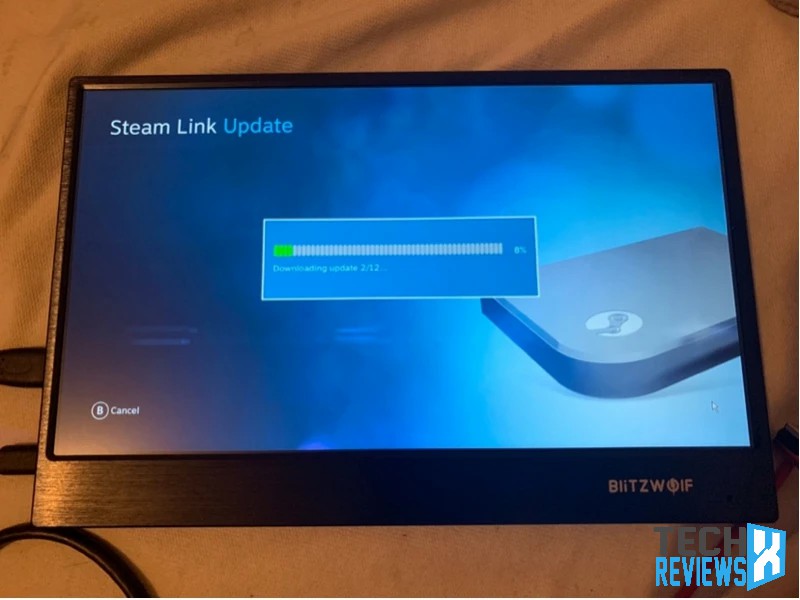 You may also like BlitzWolf BW-TH5 7 in 1 USB-C Data Hub Review – All You Need to Know.
Design:
The monitor BlitzWolf BW-PCM1 comes with a transport and protection bag and support to position it upright. designed to be lightweight, it measures 10.5″ x 6.8″ x 0.4″ and weights 1.3 lbs. It has an 11.6-inch display with Full HD and a resolution 1920 x 1080 pixel IPS display with a refresh rate that automatically variates between 24 Hz and 60 Hz. It supports up to 350 cd/m² of brightness and contrast of 1000:1 and supports 72 percent NTSC standard color gamut, which can show the best picture quality and more real and accurate gorgeous colors.
The screen needs to be plugged into a power source Because It doesn't have a battery.
It has a remote control, that is convenient but requires a CR2032 coin-cell battery that is unfortunately not included with the unit.
The BlitzWolf BW-PCM1 has a 1x USB Type-C port for power and data transfer, 2x mini HDMI 1.4 ports that you can use to connect the display to a laptop, gaming consoles, or other devices for multi-screen usage on the go.
There's also a 3.5mm audio jack, and the display features built-in stereo speakers useful for recovering sound transmitted via HDMI on headphones easily. and buttons including power, volume, settings, and back buttons.
The BlitzWolf BW-PCM1 can be connected to Nintendo Switch, Xbox and PS4, which is a distinct feature for a portable monitor.
Note:
There does seem to be a requirement that both an HDMI and USB must be connected to the mobile device in order to function properly as a second screen for your mobile devices.
How to connect: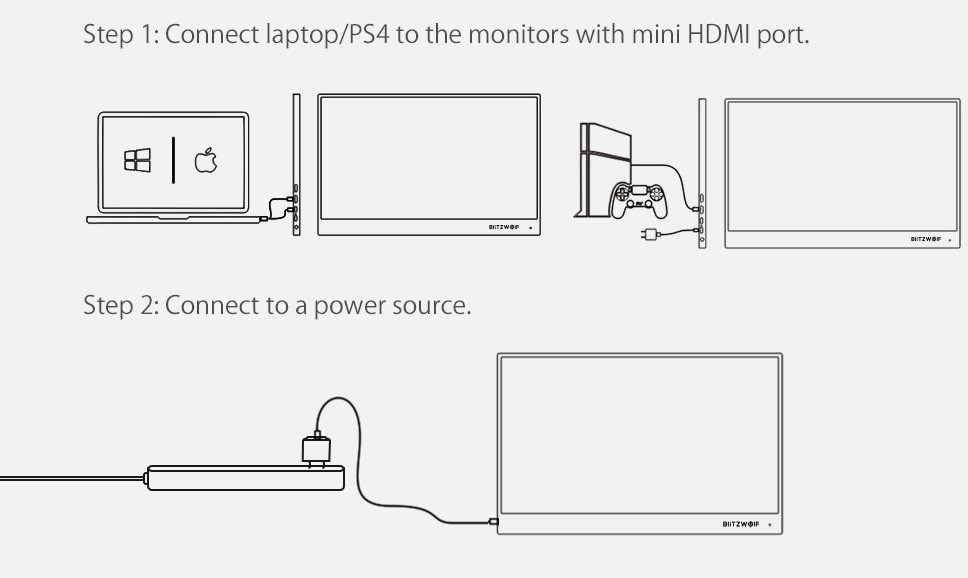 BlitzWolf BW-PCM1 Price and Availability:
The BlitzWolf BW-PCM1 is currently available on the Banggood store for $134.99. This is a very good price for Portable Monitor with FHD 1080P Display So, don't miss out on this great deal. And to view its price or buy it, you can access the offer by clicking on the store icon.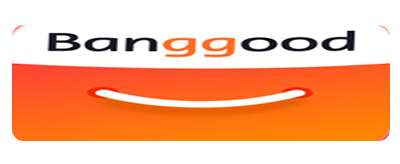 Other versions:
BW-PCM1 – 11.6 inch 1080p portable display monitor.
BW-PCM2 – 13.3 inch 1080p portable display monitor.
BW-PCM3 – 15.6 inch 1080p touchscreen portable display.
BW-PCM4 – 15.6 inches 4K non-touch portable display.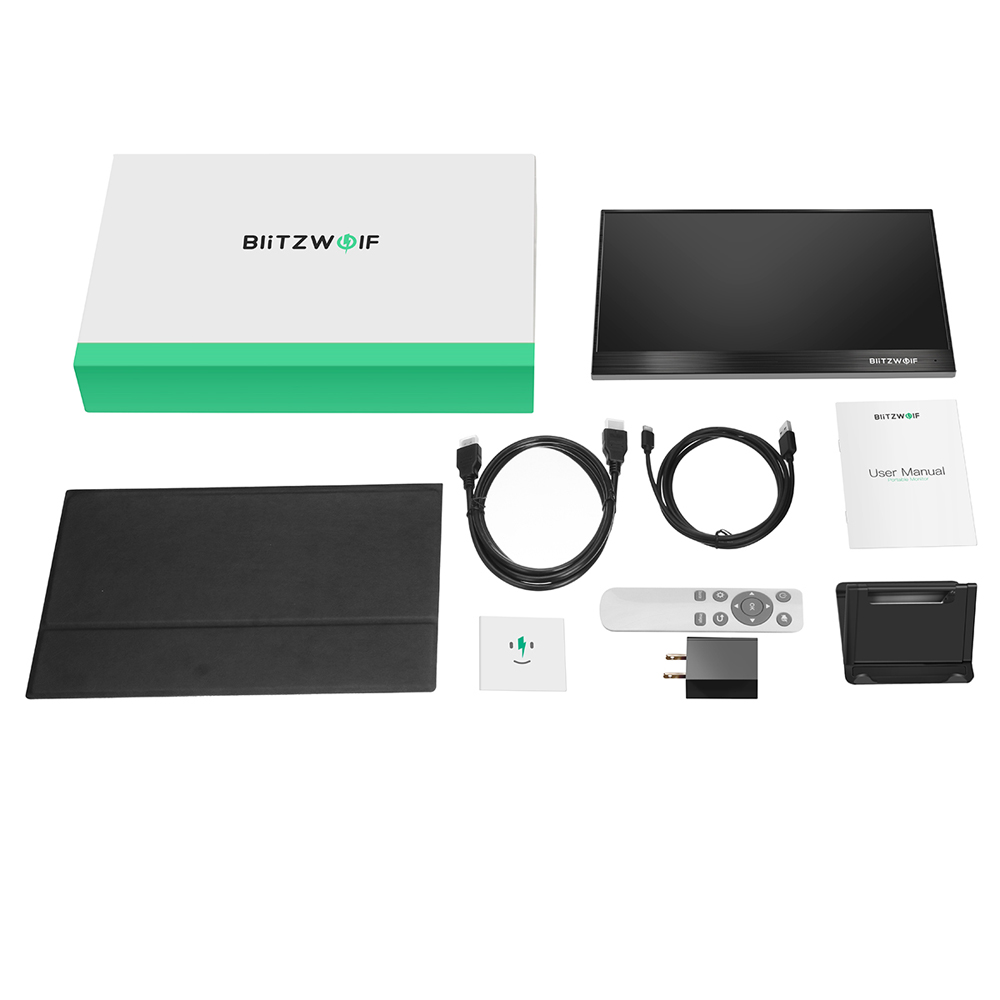 Specifications BlitzWolf BW-PCM1
Display Type
11.6" IPS
Resolution
1920*1080 FHD
Touch screen
×
Color gamut
72% NTSC
Refresh Frequency
24-60Hz(Automatic)
Brightness
300cd/㎡
Reverse charging
×
USB-C Power Input
DC 5V2A
Includes power adapter
√
HD Multimedia Interface Signal Input
Mini HD Multimedia Interface
HDR
√
Type-C full-feature
(power input and data transfer)
×
Type-C Version
/
USB-A Port (connecting peripherals)
×
3.5mm audio output
√
Infrared remote control
√(Not included CR2032 )
Holster bracket
√
Product Size
267*171*10mm
Net weight
460g