The KOSPET Prime 4G Smart Watch has a range of features that make it one of the best smartwatches that you can own, such as its modern design and the amazing specifications that come with it can be said easily with your smartphone on your wrist. Let's take a look at how it performs.
Design KOSPET Prime 4G:
KOSPET Prime 4G Smart Watch has a sporty design with a full circular touch screen covering the entire face of the watch to the edges made of ceramic elegant and symmetrical and with plastic making it extremely durable and lighter than metal. The ceramic bezel not only makes this device more solid but it is also resistant to scratches.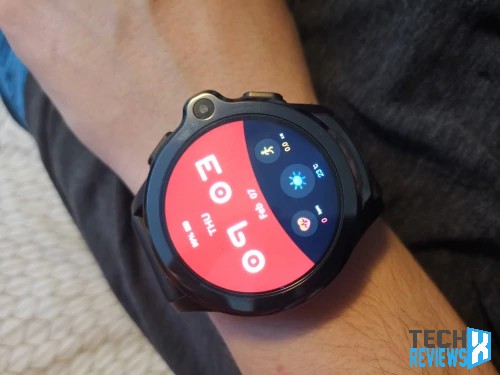 And comes with a silicone strap changeable 22 mm, There are two options: silicone and brown leather. weighing 86 grams bit heavy especially those who have smaller wrists, but this smartwatch well worth it.
At the edges of the display are two mechanical buttons made of soft plastic that resembles rubber – turning on and moving backward, on the right side of the watch, a power button and a button to give commands, Between the buttons, you will find a prominent part with two front and two side cameras. We also have a microphone, speaker.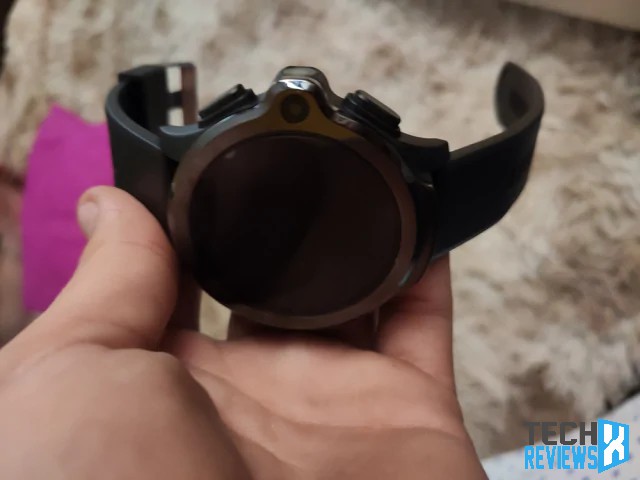 In the back of the watch, we have connectors for the charger, barometer, heart rate reader in addition trapdoor to access the nanoSIM slot.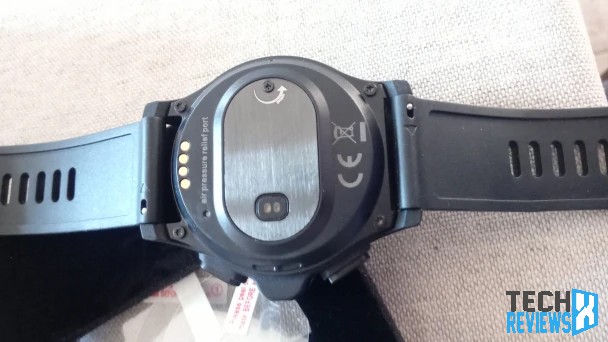 To explore other options, read about the Xiaomi Mi Band 4 Review.
IP67 protection:
In this KOSPET Prime 4G, we have IP67 protection so it is completely resistant to all environmental challenges, such as heavy rain, dust storms, or even immersion in water. However, developers are not advised to press the buttons in underwater mode. and resists immersions at 1 meter.
Display Screen:
In KOSPET Prime 4G smartwatch, we get a big full-round color display 1.6″ IPS HD multi-touch, with a clear resolution of 400×400 pixels in 285 PPI for a good high-quality picture, its bright enough to be seen outdoors.
The watch doesn't support always-on display but, supports feature turn on-screen every time you turn the arm towards yourself. And unfortunately, it takes about many seconds for the screen to come on every single time you rotate your wrist, and then you have to wait up to 2 seconds for the screen to come on. I wish that would have been faster because it is may cause inconvenience to some people.
We recommend deactivating the automatic ignition when turning the wrist If you want to conserve battery life for a longer period of time, And you can press a button to turn on the display, Other than that the screen is going to stay off at all times?.
Watching videos
Watching videos on this little screen isn't ideal because the screen is very small, not to mention the screen is around and most applications aren't actually designed for round screens.
Writing on screen:
If you're going to type on this screen, the letters are very small. You may find yourself typing the same letter twice on multiple occasions. So there are some limitations due to the size and around the screen.
Performance of KOSPET Prime 4G:
KOSPET Prime 4G can easily handle multiple tasks simultaneously and ensure quick launch, as it is a compact smartphone in your wrist. Thanks to its powerful MTK6739 4 Cores 1.25GHz processor that makes sure the device delivers high performance, Added to this are 3 GB of RAM and 32 GB of storage space. which is quite enough for daily use.
The operating system:
The KOSPET Prime 4G works on Android version 7.1, it has a good interface that is easy to navigate and smooth but, there are some delays if you scroll from the main screen to the main menu. The rest of the user interface is pretty fast and operates without any problems.
And the OS allows you to install almost any application and game from the Google Play Store. I did not find any performance issues and apps ran smoothly. Also, The device synchronizes with an application called WiiWatch 2 to access several sections, and have an overview of your activities, in the Health section, the graphs of physical activity are shown and in the Mark option, It supports both the Android and iOS devices on iOS 9.0 / Android 5.1 or above.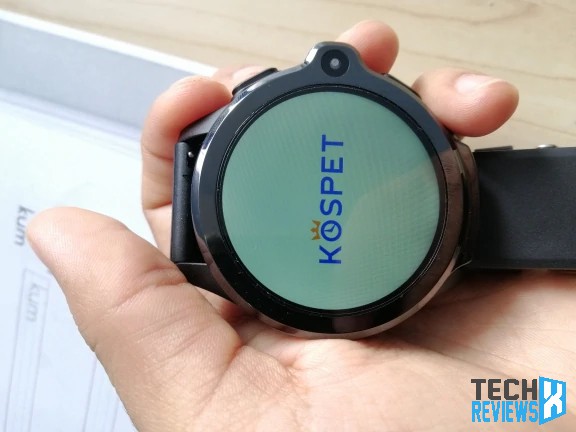 The interface and how to browse it:
The KOSPET Prime 4G main screen displays almost all useful information, such as time, day of the week, temperature, and battery level. Also, It comes pre-installed a bunch of watch faces. It is very simple to switch in between watch faces. You hold your finger pressed on the screen and then you can change the watch face. You can also install other watch faces – there are 11 available.

Also, You can choose the menu interface between two choices. The first one is the generic, scrolling menu that's present in most similar devices or between the more appealing to me, like that of the Apple Watch's bubble-styled apps display. And because there are several options for the menu and even the faces watch, I guarantee that you don't boring about this smartwatch, right?
How to browse it:
If you scroll down from the main screen, you will get to the quick settings menu. Here are the usual features: time, day of the week, connection to a smartphone and 4G network, data, and battery level.
If you scroll left, various settings will appear, such as: do not disturb mode, brightness settings, GPS, Bluetooth, Wi-Fi, and much more. Next is – quick cleaning, music player, and weather.
If you scroll up from the main screen, there will be a table with the steps taken and the distance.
If you scroll to the right – there will be a notification menu, and to the left – the main menu of the smartwatch.
Fitness and health on KOSPET Prime 4G:
For those looking to Fitness and health, The Kospet Prime has all the attributes of a sports watch and will be able to follow the daily activity as well as the sporting sessions on 9 sports modes proposed built-in on fitness app like running, cycling, badminton, and rope skipping a total of nine sports modes, The app will also measure your heart rate, calories burnt, and even track your location thanks to its GPS function
Connectivity:
One of the most important features on this KOSPET Prime 4G is the ability to connect to 4G networks, so the ability to insert a SIM card works independently in the back of the watch the place allocated to the chip and this allows you to do many things without the need for your phone and have Internet access everywhere.
In addition, they have dual-band Wi-Fi, and Bluetooth 4.0. That means that you can connect some Bluetooth headphones and then you can listen to music using headphones or make phone calls.
If you're using this watch with a SIM-card inside, you can do everything that you would do with the normal phone. If you receive a notification, you can answer to that notification. However, if you are using this watch connected to your smartphone, then you're going to be able to see the notification but you're not going to be able to reply. You need to use Kospet Prime as a phone to be able to reply to notifications.
Make phone calls:
Of course, you can make phone calls directly from the watch. We have a microphone and a speaker. Keep in mind that if you are using this watch connected to your smartphone, you're not going to be able to make phone calls on it through the phone. But if you have a SIM-card inside of it, then you can make phone calls just as you would from a normal phone.
KOSPET Prime 4G Camera:
The KOSPET Prime 4G also has two cameras, on front 2.0MP supports a Face Recognition You can use a password or a Schema to do the same. but, No one can tamper with your clock and review the content of your messages or call log. And on the side 8.0MP, you can use both cameras to record videos, take pictures, or video calls, and that pictures are best taken in bright lighting conditions.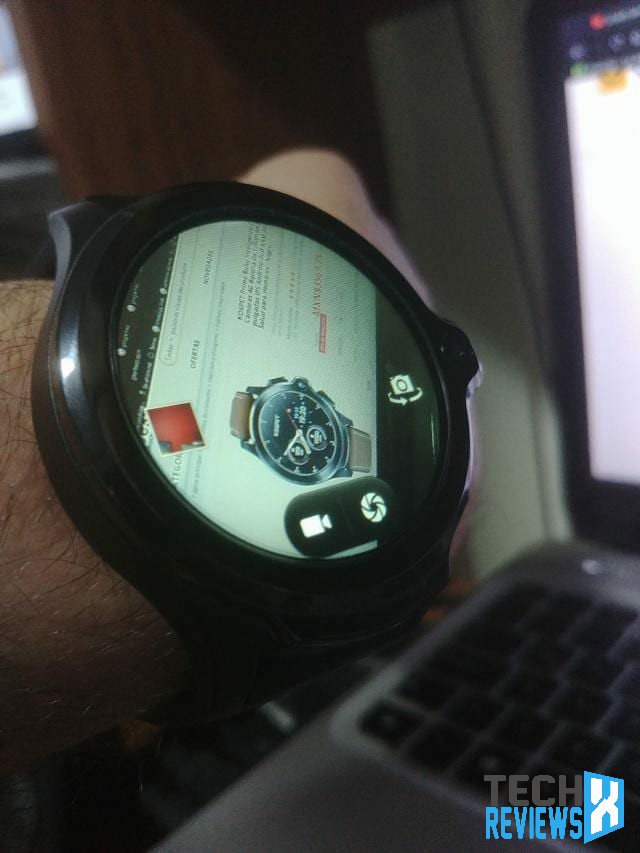 Smart lock:
There is also a smart lock, there is more than one choice to open the watch On the body, which makes the watch without lock while in the vicinity of certain phones you specify them, and there is also Place detection to determine a specific place To make the watch without a lock while in this place like home, and finally, voice detection to identify your voice to open the watch and face recognition.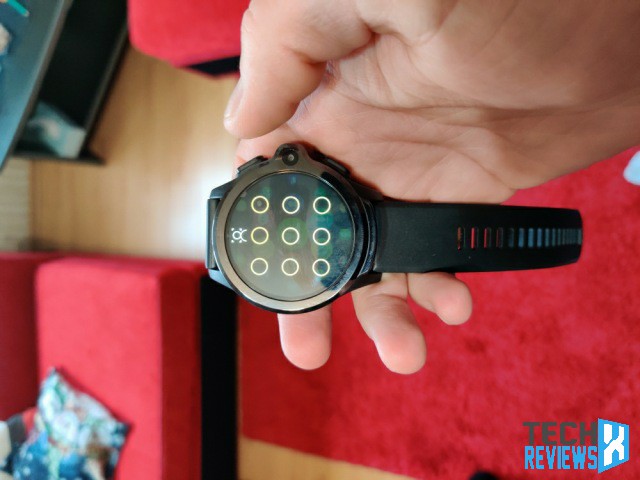 Note:
The face recognition sensor on dark does not work correctly and the operating time is not as fast as on modern smartphones.
Battery:
KOSPET Prime 4G SmartWatch is one of the best devices in terms of battery life, with capacity 1260 mAh which is great as there is no smartwatch that gives you this number currently, and withstand up to 2 days in active use or up to 7 days in standby mode and charging the watch 0-100% takes about 3h by using a micro USB cable.
You can finally make it through an entire day and more On one charge. This may seem normal to you, but believe me, with this Specification it is difficult to bring this result.
KOSPET Prime 4G Price and availability:
The KOSPET Prime 4G smartwatch now is available on the Gearbest and Banggood and AliExpress store starting from $150. This is a very good price if you're looking for a smartwatch that you can load a SIM card in with amazing specifications, this would be my best recommendation so far. So, don't miss out on this great deal. To view its price or buy it, you can access the offer by clicking on the store icon.
You can buy some newer straps because it's going to make the watch look better and they're probably going to be a bit more comfortable.
Kospet Prime 4G Smart Watch
Data Line
User Manual (English Version)
Charging Cable
Specification of KOSPET Prime 4G
Brand
Kospet
Model
Prime
bluetooth Version
BT 4.0
Operating System
Android 7.1.1
Compatible OS
Android 5.1 or above,iOS 9.0 or above
Operating Mode
Touch Screen+Press Button
Camera
Front: 2.0MP Side:8.0MP(5MP software update)
APP Name
Wiiwatch2
Watch Language
English(United States),English(England),German(Deutsch),French,Spanish(español),Portuguese(Português),Italian(Italiano),Russian(Русский язык),Hindi,Arabic(لغة عربية,)Ukrainian(УКРАЇНА),Czech(Čeština), Danish(Dansk),Hungarian,Dutch,Norwegian,Polish(Polski),Romanian(limba română),Turkish(Türkçe),Greek(Ελλάδα ),The kazak,Serbian(Cрпски),Persian(فارسی‎ = Fârsi),Korean(한국어),Japanese,Indonesia(Republik Indonesia),Malaysia,Philippines(Tagalog),Vietnam(Tiếng Việt),Bangladesh(Gônôprôjatôntri Bangladesh),Thai(ภาษาไทย),Laos(ພາສາລາວ),Cambodia,Chinese (simplified),Chinese (traditional) Etc.
Technical Parameters
Hardware
CPU: MTK6739 1.25GHZ
RAM: 3GB
ROM:32GB
Network
Network type: GSM+WCDMA+FDD-LTE+TDD-LTE
  Frequency:
TDD LTE: B38(2600MHz),B39(1900),B40(2300),B41(2500)
FDD LTE:B1(2100),B2(1900),B3(1800),B5(850),B7(2600),B8(900),B12(700),B17(700),B20(800)
  TD-SCDMA:B34(2100),B39(1900)
  WCDMA: B1(2100),B5(850),B2(1900)
  GSM:B2(1900),B3(1800),B5(850),B8(900)
 
 Wifi:Support
 SIM Card: Nano SIM
 GPS/GLONASS/A-GPS
Display
Size: 1.6inch
Type: TFT
Resolution: 400*400pixels
Sensor
G-sensor, Heart Rate Sensor
Battery
Battery Capacity: 1260mAh
Standby Time: About 5 days
Using time: About 2 days
Charging Time: About 3.5 hours
Charging Type: Dock Charging
Special Features of KOSPET Prime 4G
| | |
| --- | --- |
| Heart Rate Monitor | Support |
| Pedometer | Support |
| Call or Message Reminder | Support |
| Google Store | Support |
| Voice Search | Support |
| Other functions | Support Remote Camera, Weather Forecast,Map,Alarm, Calender,Sedentary reminder,Camera remote,Sound Recorder,Music Sync Function,Voice Search |
| Alert Type | Ring,Vibration |
| Auto Light-up Screen | Support |
| Stopwatch | Support |
| Audio File Format | Mp3,wma,flac |
| Video File Format | Mp4,rmvb,rm |
| Picture Format | Jpg,png,gif |