Xiaomi Mi Band 4 confirms itself as one of the best mid-priced fitness trackers of 2019. That's what most people think of me as one of them let's know it is true in Xiaomi Mi Band 4 Review.
Features Xiaomi Mi Band 4
Full-color AMOLED. touch display. View call, text, and. app notifications.
Activity and. swim tracking. Water-resistant up to 50m*; 3-axis accelerometer, 3-axis gyroscope.
Up to 20 days. battery* A single charge lasts. up to 20 days.
Health. monitoring. 24/7 heart rate. monitoring. and sleep tracking.
Design and Display:
The Mi Band 4 It's still one of the more generic-looking fitness trackers out there with its simple black band and unassuming case, but the improved display saves the Mi Band 4's good design.
It's a 0.95-inch RGB AMOLED display — from the black-and-white display. The 120 by 240-pixel density and the 400-nit brightness means it's easy to see in direct sunlight. It's a touchscreen display.
Swipe up or down to select different modes or settings, swipe left or right from the watch face to access music controls, or swipe right to go back from a different screen. You can also tap the capacitive button underneath the display to go back. Easy and simple.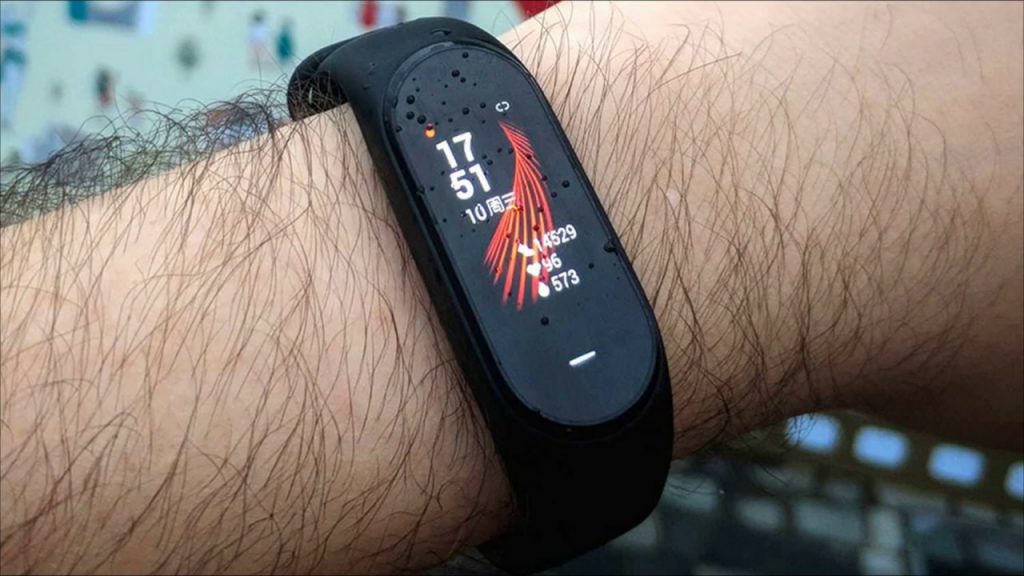 As for the strap, the simple buckle system is secure, comfortable, and is made from thermoplastic polyurethane. Available in black only, but old Mi Band 3 straps they are good with the Mi Band 4.
You can take the Xiaomi Mi Band 4 swimming or into the shower too as it's also waterproof up to 50 meters.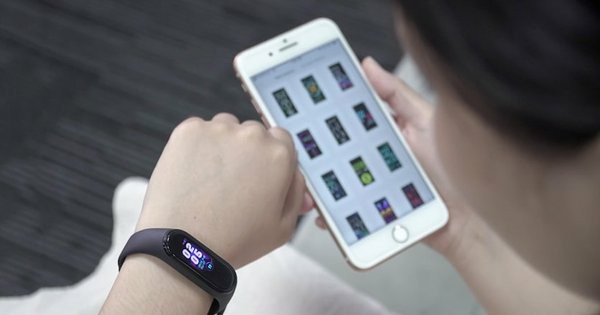 Xiaomi's Mi Fit app is what you'll use to pair the Mi Band 4 to your phone and view all your activity stats well-rounded, easy-to-use, and fitness platform The app could benefit from even more social features and compatibility with other fitness applications.
There are three sections of the Mi Fit app — workout, friends, and profile — which are all pretty straightforward. Friends are where you can connect with other Mi Fit users to see their activity and health info, and the profile section contains all your personal info, goals, and settings.
The workout section contains four sub-sections: status, walking, running, and swimming. Walking, running, and swimming are only used for manually starting those types of activities from your phone. The status section is where you'll find the current day's activities and goals.
I don't like how difficult it is to check into your workout or activity history. There's no button for it, so you may find yourself tapping around until you stumble across it. You can access your history by tapping the activity card in the status tab, swiping over to my workouts, tapping steps today, then history on the bottom of the screen. As someone who constantly checks into workout progression over time, this is a little cumbersome.
The Mi Fit app display tons of information, even down to the small five-minute activities it records throughout the day.
And there is nothing better than the Xiaomi Mi band 4 with the Xiaomi Redmi Note 8 Pro.
Battery Xiaomi Mi Band 4: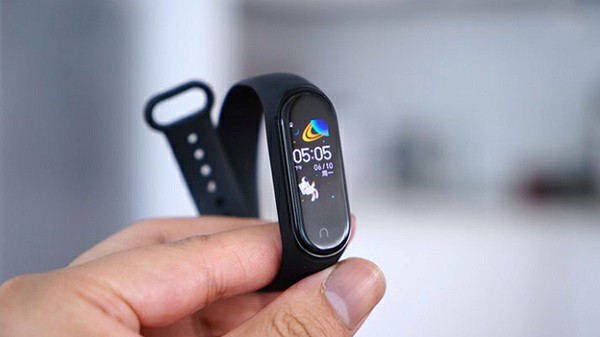 Somehow Xiaomi managed to improve the sleep tracker, so when you are sleeping, the device actually preserves the battery life and the Mi Smart Band 4 lives longer between charges.
gave me 14 to 15 days on a single charge. the Mi Smart Band 4 has 33% battery life remaining after 18 days of usage, so it's pretty safe to say it will hold on for at least another week. given the battery increased to 135 mAh.
You have to pop the tracker out of its band and slot it into a proprietary charger, so this won't work with a micro USB or USB-C cable.
Xiaomi Mi Band 4 Price and Availability:
The Xiaomi Mi Band 4 is currently available on Banggood for $32.99 and Gearbest for $33.99 and Aliexpress store for just $22.34. This is a very good price So, don't miss out on this great deal. And to view its price or buy it, you can access the offer by clicking on the store icon.