Today in our review of the Haylou GT6, one of the best headphones new to this series with a modern design, and AAC HD coding premium sound quality by 12mm dynamic driver and ultra-low latency of 65ms with the help of improved Bluetooth 5.2 chip to transmit a flawless connection, the wireless earbuds also has 25h long battery life. It's all for $20, which gives me a good feel for its capabilities, so let's dive into it.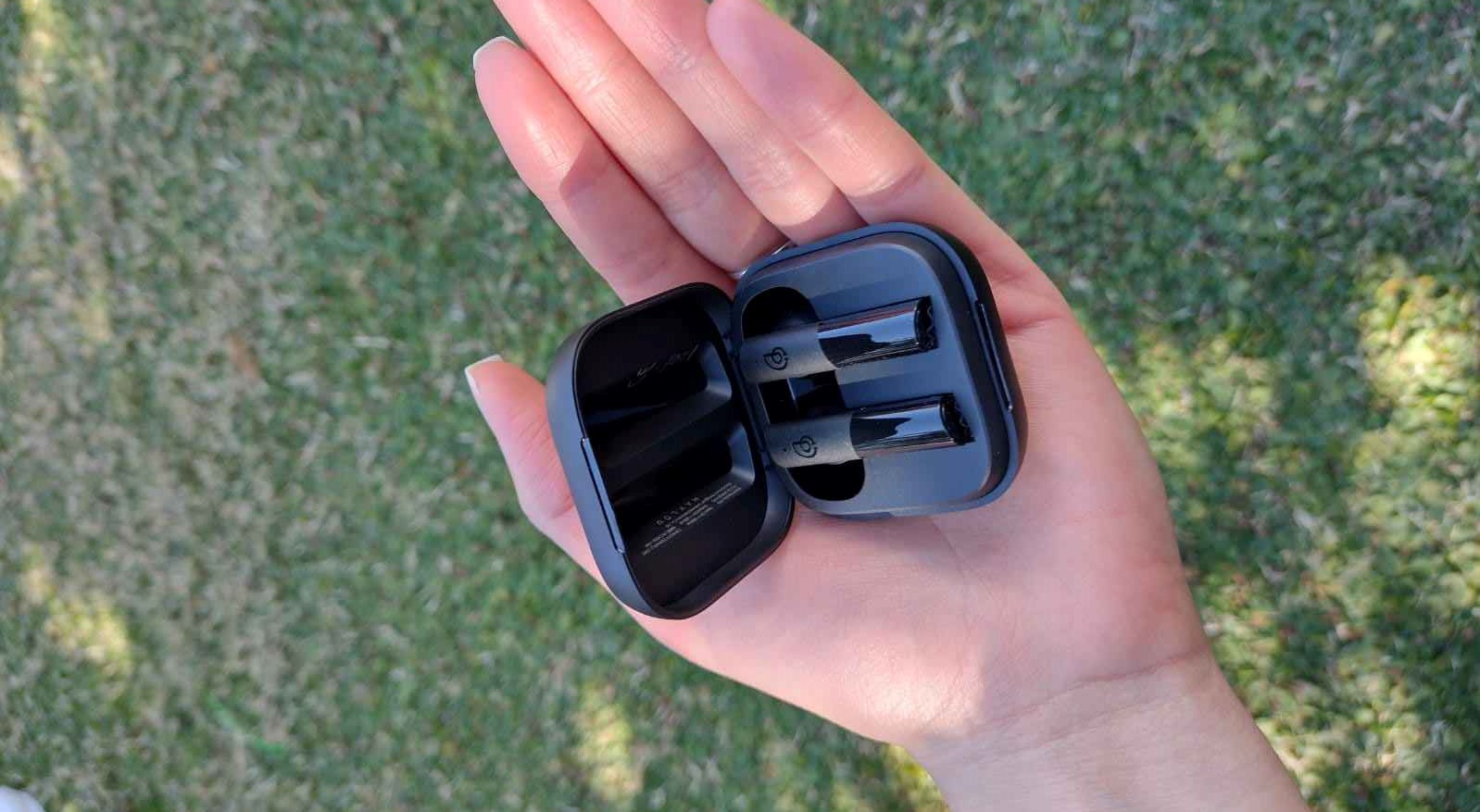 Haylou GT6 Earphones Features
25h Long battery life
Ultra-low latency of 65ms
12mm Dynamic Driver
Bluetooth V5.2 chip
AAC HD Coding Premium Sound Quality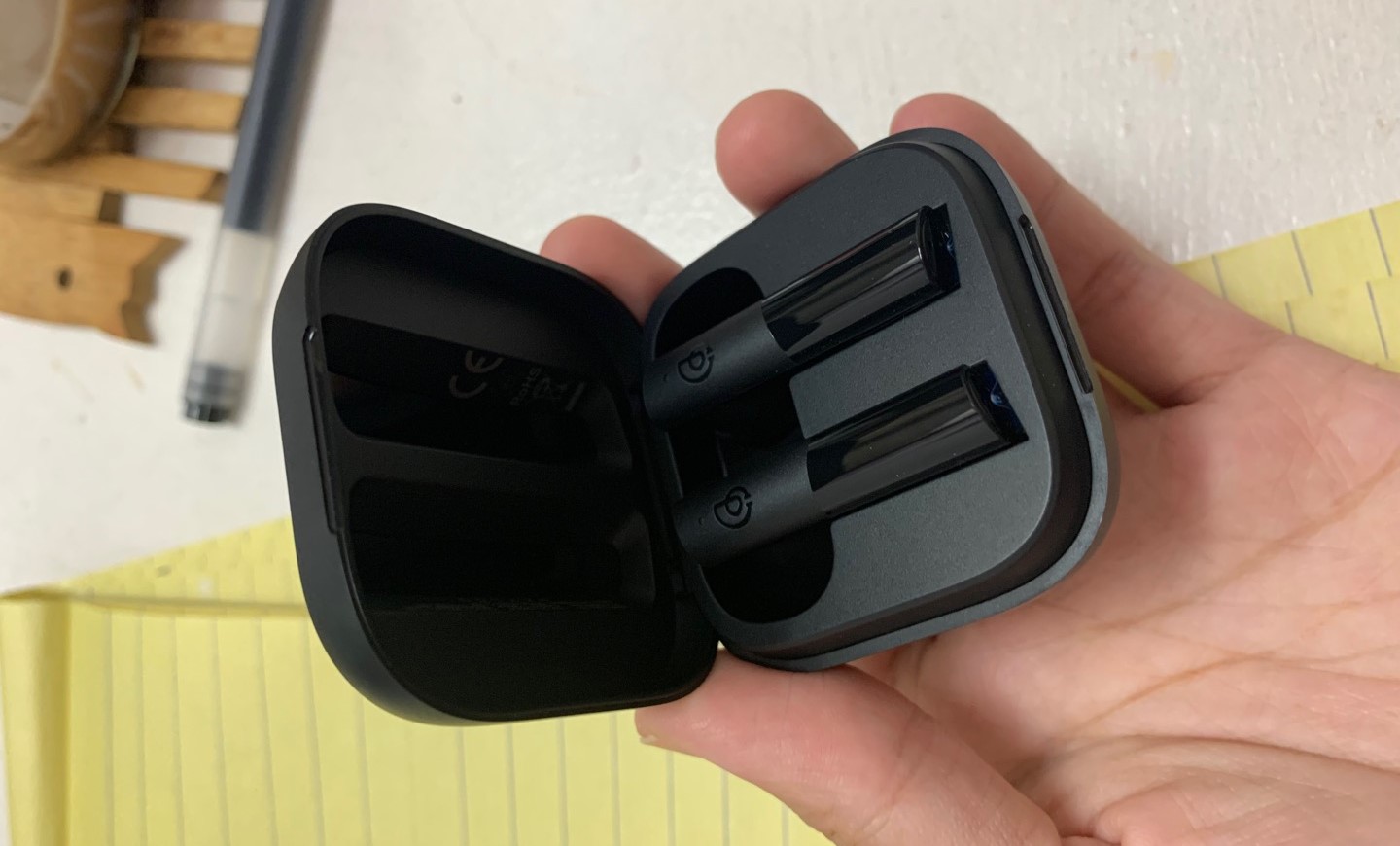 Design And Build Quality
Charging Case
Overall, The Haylou wireless earbuds adopt a simple design, For the charging case, it has a familiar design in the form of a rounded square at the corners, small and light, and a weight not exceeding 50g, made of black or white matte plastic with a logo Haylou printed on the top of the charging case.
There is also a long slit in the middle of the front to open the case, which is surrounded by a built-in magnet for easy opening and closing. Inside the charging case, there is a place for earphones with an automatic charging start. And below a slit, there are LED indicators, which Indicate battery status.
The most important thing is the Type-C charging port on the side it's really practical, I hate it when they put it on the bottom such as QCY T11 and others, especially on non-wireless charging cases.
Haylou GT6 Earphones
We are now moving on to the elegant, Haylou GT6 wireless earphone has a semi-in-ear design small and a lower part of the stem is shiny, the upper part is matte, also on white or black color and the most important, the shape is light about 3.9g only to be comfortable on the ear and with stability during movement, the strange thing here is that the ear tips are not soft silicone, they are with a single material similar to Apple's AirPods 3.
Also, "L" and "R" logos are printed at the bottom of the headphone grip to distinguish the left and right ears. Nearby is a magnetic charging contact and a microphone pick-up slot with good and clear sound reception during the call with the help of a noise reduction slot on the outside of the earphone, which cooperates with the microphone to accurately distinguish between human voice and noise.
Unfortunately, we have not found any official announcement about water protection, but it is likely that it's IPX4 against raindrops and sweat.
Touch Control Panel
And to control, their touch panel is located at the top of the earphone handle with the LED indicator, which can achieve precise control with very responsive touch sensitivity.
Tap L or R to play/ pause music
Double-tap R to skip to the next song
Double-tap L to activate low-latency gaming mode
Triple-tap L or R to activate the voice assistant
Tap to answer/end call
Unfortunately, it's not possible to change the volume directly from the earbuds, and it's also not possible to return to a previous song.
How To Pair Haylou GT6 With Smartphone
Haylou GT6 offers strong compatibility with both IOS and Android devices and is powered by a Qualcomm QCC3020 with Bluetooth 5.2 technology for stable and powerful transmission, lower delay, and smoother connection for high sound quality. Also, you can enjoy music up to 10m long even with thin walls between you and your device.
The pairing here is the same with any wireless earbuds, all you have to do is open the charging case and take out the earbuds, and the earbud will automatically turn on and enter the pairing state.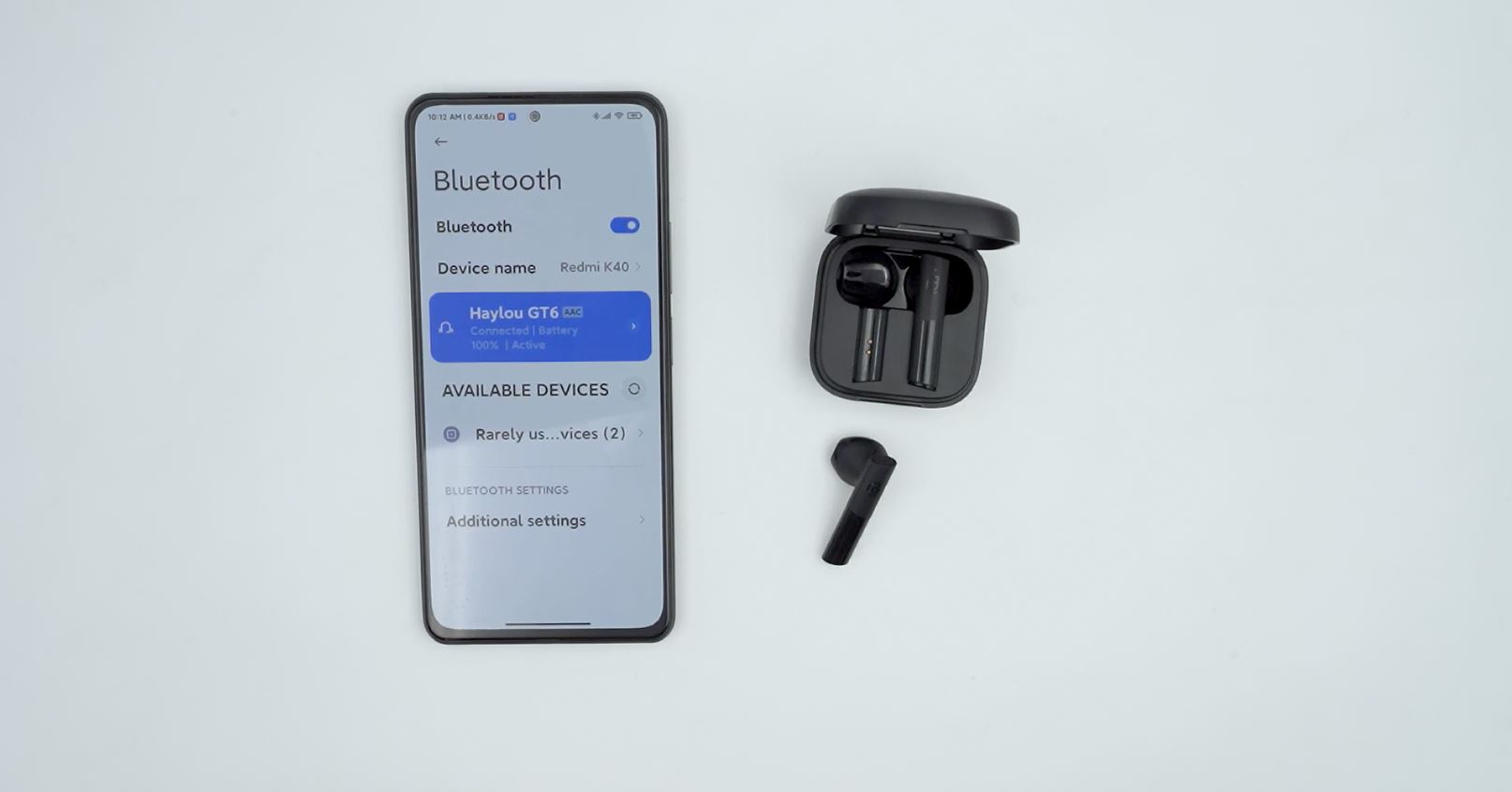 Immediately after that, open the Bluetooth interface of the smartphone, and the device name "Haylou GT6" will be automatically recognized, click on it, and the pairing is completed successfully. The pairing is done manually once, and after that it is automatic, you just have to remove it from the box and use it.
Sound Quality
The Haylou GT6 Earbuds have a wonderful stereo effect, it contains well-defined tones, as well as powerful bass and crisp mid-highs to deliver perfect performance in the full range with a better sound stage, rich sound, and excellent quality, thanks to the 12mm dynamic driver semi in-ear, so that dynamic sound delivers smooth, natural sound of pop, rock, and other strong rhythms. The armature driver delivers powerful, more accurate bass to provide more detail and excels in soothing genres such as acoustic and classical. This is done via the high-definition AAC HD audio codec to deliver the best HIFI stereo for all music styles in this price range.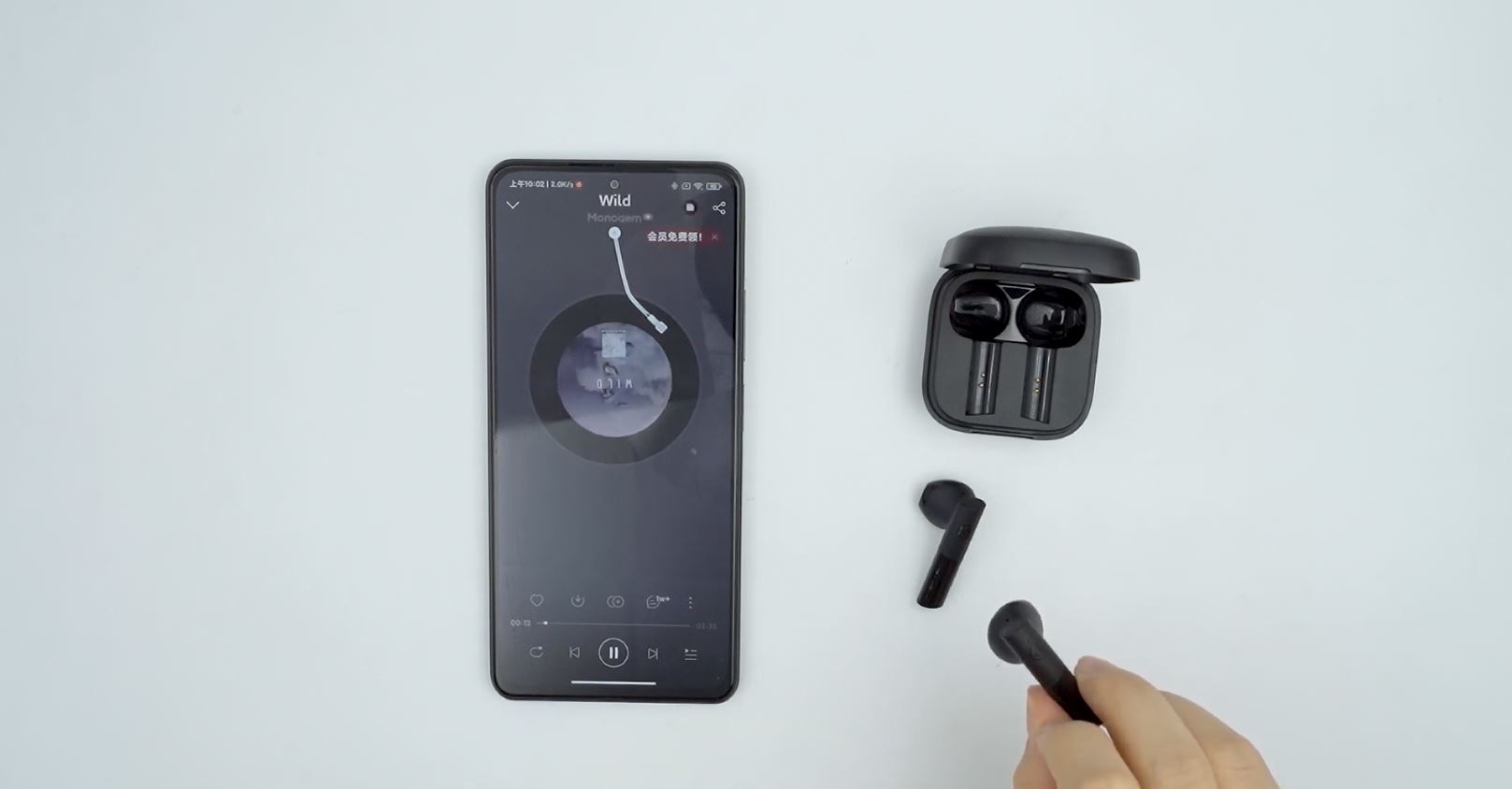 Call Quality
The Haylou GT6 is a budget earbuds, so I'm not surprised that they have a single microphone however let's check its quality, for testing a microphone has audio with good volume and little hiss, but a little muffled. It's not a perfect microphone, but it's quite audible for games and calls.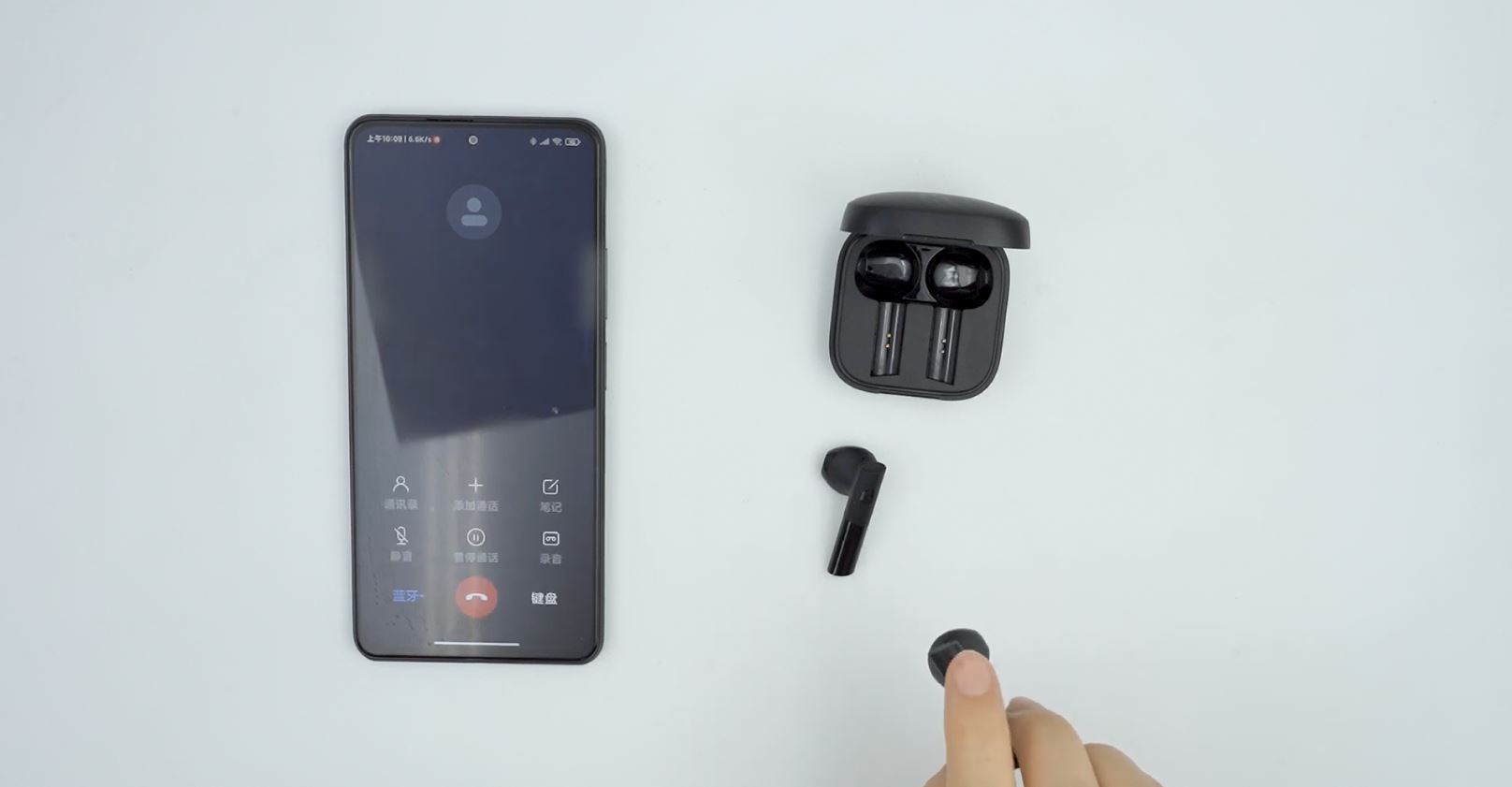 Latency Performance
When it comes to watching videos or playing online games on both iPhone and Android, the videos play without noticeable audio delay brings a low latency of 65ms, which is a good thing for gamers, even in the YouTube or Netflix app which is always a challenge on iPhone. However, it did well.
Unfortunately, there is a slight delay in audio when playing games, which is almost normal, and you can find it on most wireless headphones in this price range.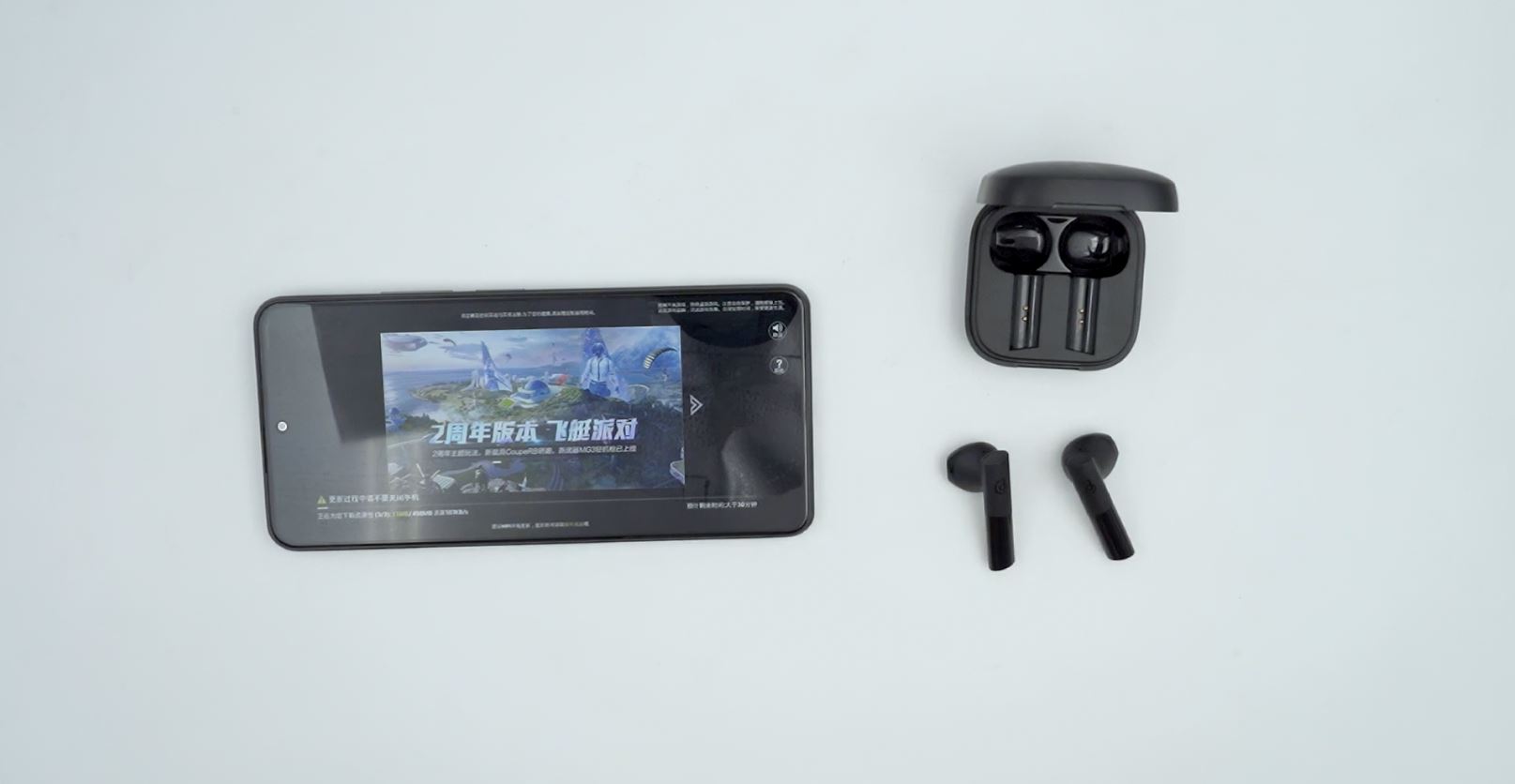 Haylou GT6 Battery And Charging Time
Regarding the battery, the charging case of the Haylou GT6 headphones is equipped with a built-in 310mAh lithium polymer battery, So the storage box itself can be recharged for 1.5hours, then the earphones can be recharged 3-4 times, which can be used for 4-5 hours on a single charger from 1 hour to 2 hours, It can add 12 hours with the charging case for a total of 16 hours. The case is recharged via type-C at the side of the case, however, the charging time is a bit long.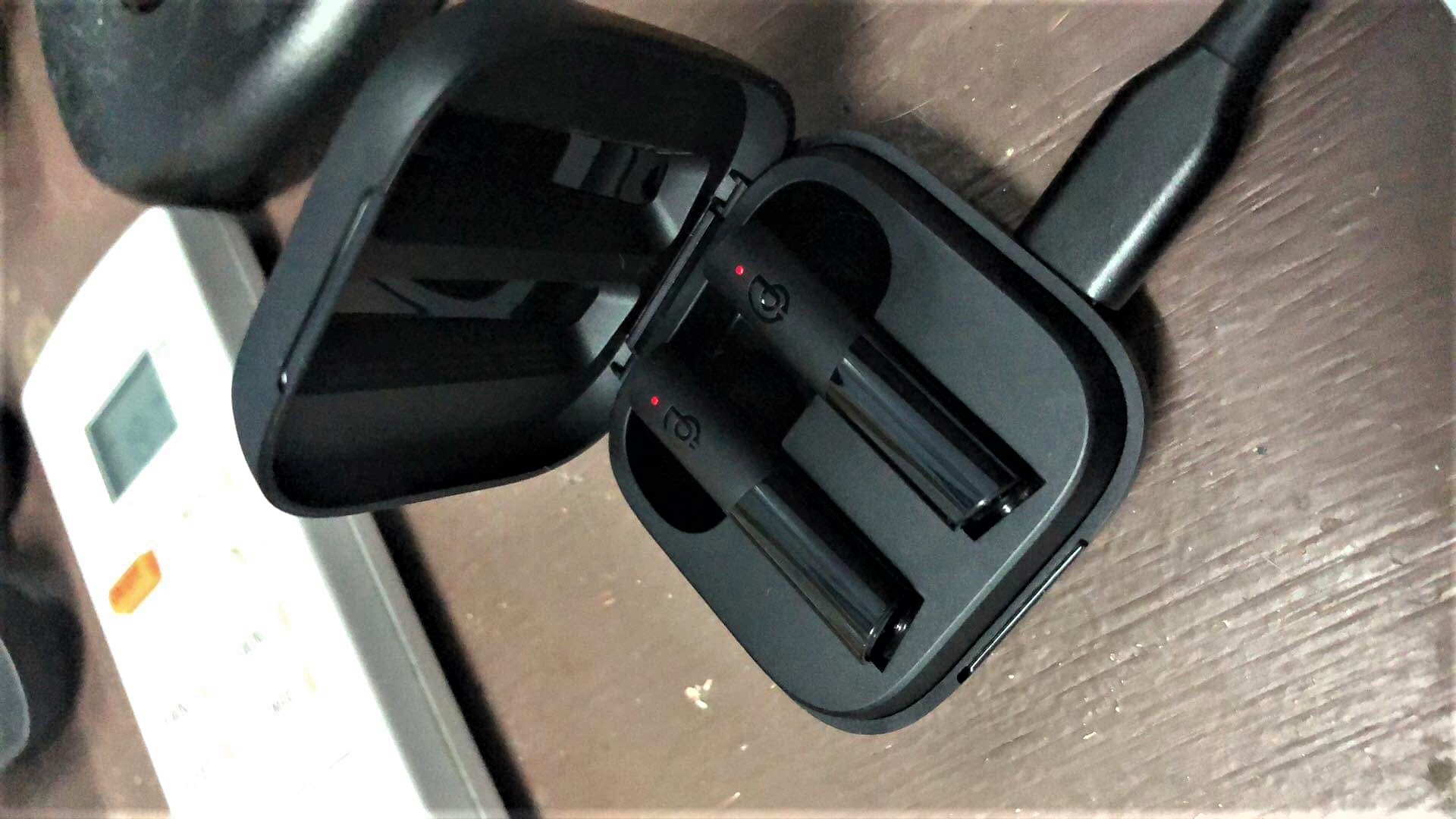 Conclusion
In this price category, sound quality is one of the main factors for choosing headphones, for this Haylou GT6 is equipped with a large 12mm drive to deliver powerful bass and high-fidelity mid-range sound. So the sound is good and balanced, they are generally great headphones especially when you consider the price.
Haylou GT6 Price And Where To Buy
The Haylou GT6 Earphones are currently available on Banggood and Aliexpress store for a very good price So, don't miss out on this great deal. And to view its price or buy it, you can access the offer by clicking on the store icon.
Haylou GT6 Headphones
Charging Case
3x Eartips
Manual
Type-C Cable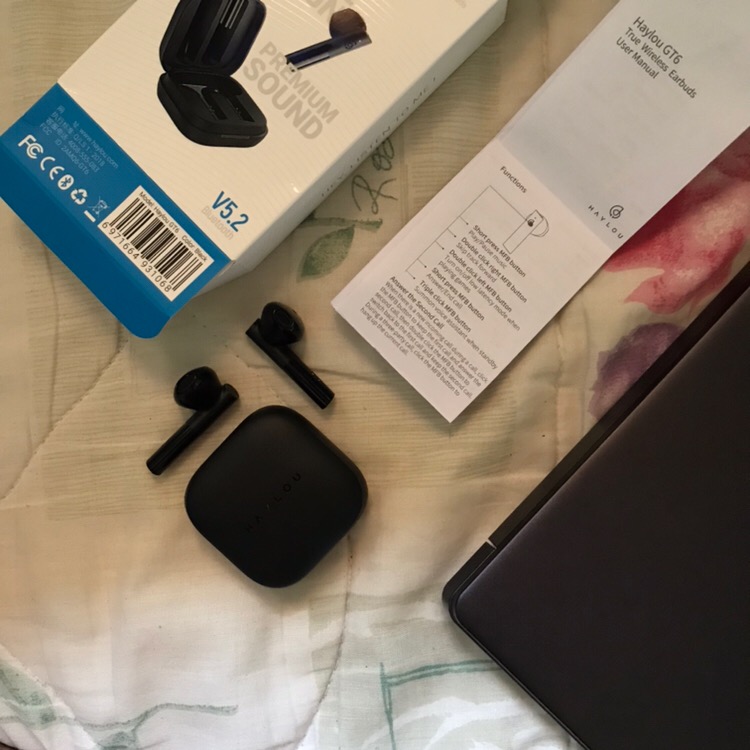 Haylou GT6 Earphones Specifications
| | |
| --- | --- |
| Brand | Haylou |
| Model Number | GT6 |
| Wearing Type | In-ear |
| Material | ABS+PC |
| Weight | 3.9 (earbuds) |
| Waterproof | IPX4 |
| Colors | Black |
| | |
| --- | --- |
| Control Button | Touch |
| Chipset | Qualcomm QCC3040 |
| Bluetooth | Bluetooth 5.2 |
| Transmission Distance | 10m |
| Dynamic Driver | 12 mm |
| Dynamic Numbers | One |
| Impedance | 32Ω |
| Sensitivity | 95dB |
| Frequency Response | 20HZ-20KHZ |
| Latency | 65ms |
| Supported audio decoding | AAC/SBC |
| Supported Profiles | A2DP, AVRCP, HFP, HSP |
| Microphone | Yes |
| Noise Reduction | – |
| Features | Game Mode, LED Flash, Mono, Stereo, TWS |
| | |
| --- | --- |
| Charging Case Battery Capacity | 310mAh |
| Charging Case Battery Life | 20 hours |
| Earbuds Battery Capacity | 35mAh |
| Earbuds Battery Life | 5 hours |
| Charging Time | 1.5 hours |
| Charging Port | USB Type-C |
| Wireless Charging | No |