Haylou, the brand that mainly focuses on wearable devices such as smartwatches and headphones, and most importantly, is considered affordable, but now it brings us new headphones of a different type. Haylou PurFree BC01 differs from the main headphones in the market, as it transmits sound through bone conduction directly to the cochlea, thus making you able to hear your environment more consciously, unlike traditional headphones that transmit sound through the air. And this is one of the main features of this product, which is also water resistant with a great battery and equipped with a fast charging feature and provides unusually good sound quality for a bone conduction device competing with Shokz with an ergonomic and lightweight design.
All this makes it the perfect choice if you do outdoor sports, in addition to using it for people with hearing impairments. Personally, I haven't tried many bone conduction headphones as someone who isn't an athlete, though these headphones proved to be very interesting and a great value to consider.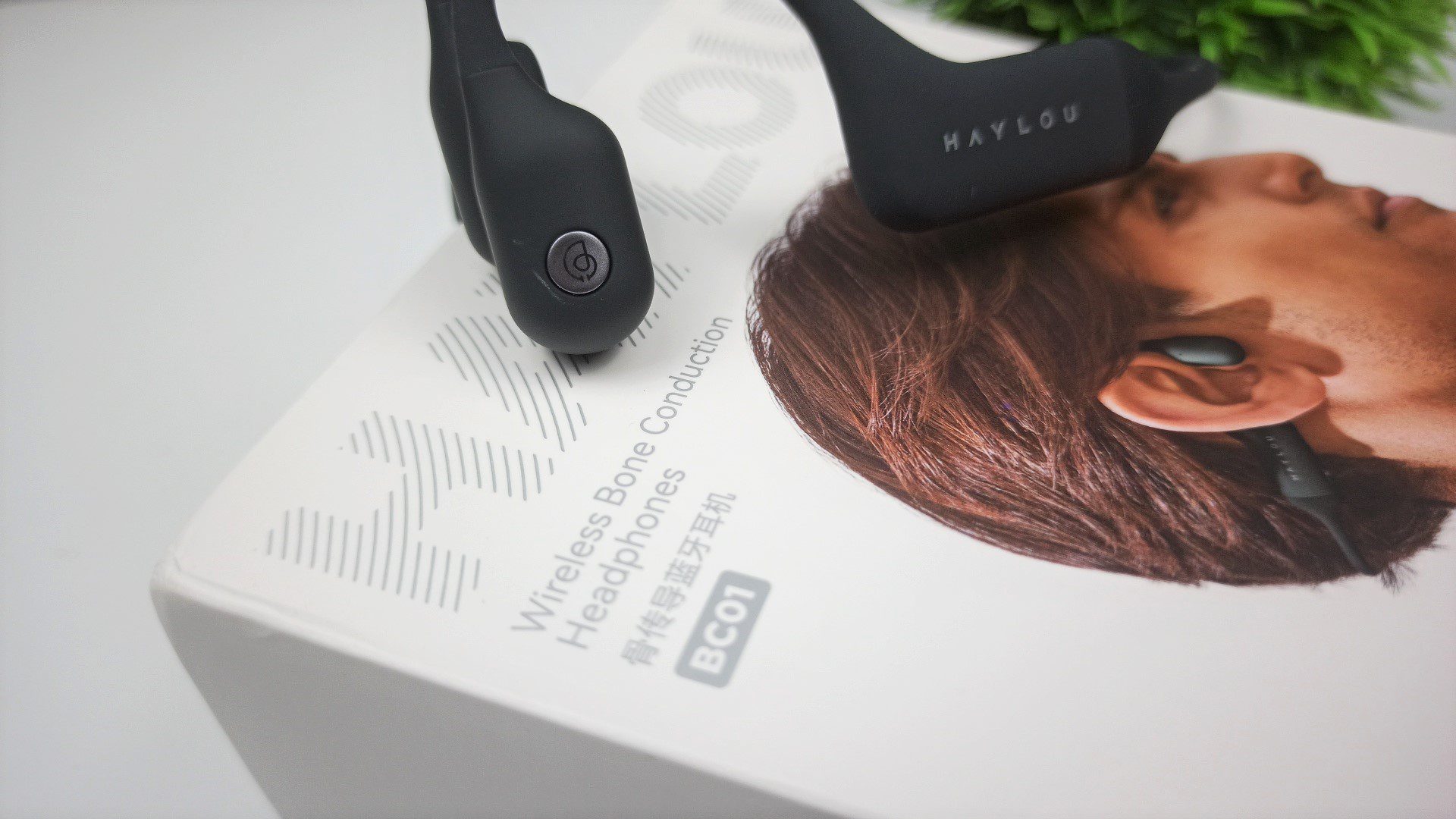 Haylou PurFree BC01 Features
Qualcomm 3044 & Bluetooth 5.2 Chip
8-hour Battery Life, Magnetic Fast Charging
Open-Ear Design, High -Elastic Titanium Wire
IP67 Waterproof
Lightweight And Comfortable
CVC & Dual-mic Call Noise Cancellation
AptX Premium Sound Quality
Dual-device Connection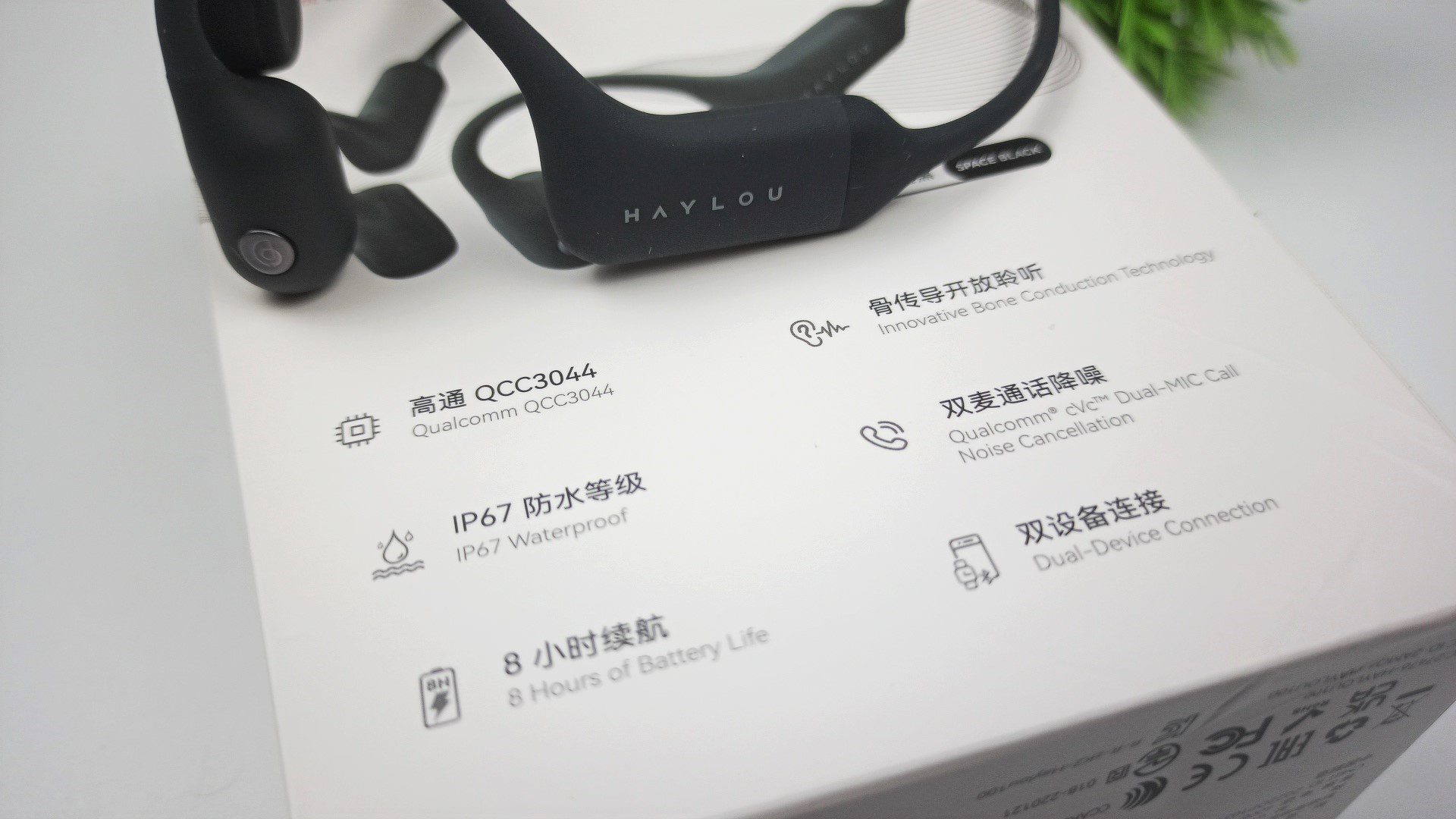 Unboxing video
Design And Build Quality
Haylou's PurFree BC01 relied on a design familiar to most fitness-focused bone conduction headphones, but it's simple and classy and definitely has the perfect blend of stability and strength with a smooth surface that's well-assembled, and you definitely feel like you're getting a quality product when you take it out of the box and back. It is made of titanium alloy (according to Haylou) to give strength, lightness, and durability, and what adds to its elegance is that it is two-color, with black on the strap and lobes on the inside. The rest of the material is a deep charcoal grey. Also, the collar is solid and connects to both sides of the headphones, which makes it very secure and you don't feel like the earphone is going to fall off. You can see why they won the 2022 German Red Dot Design Award.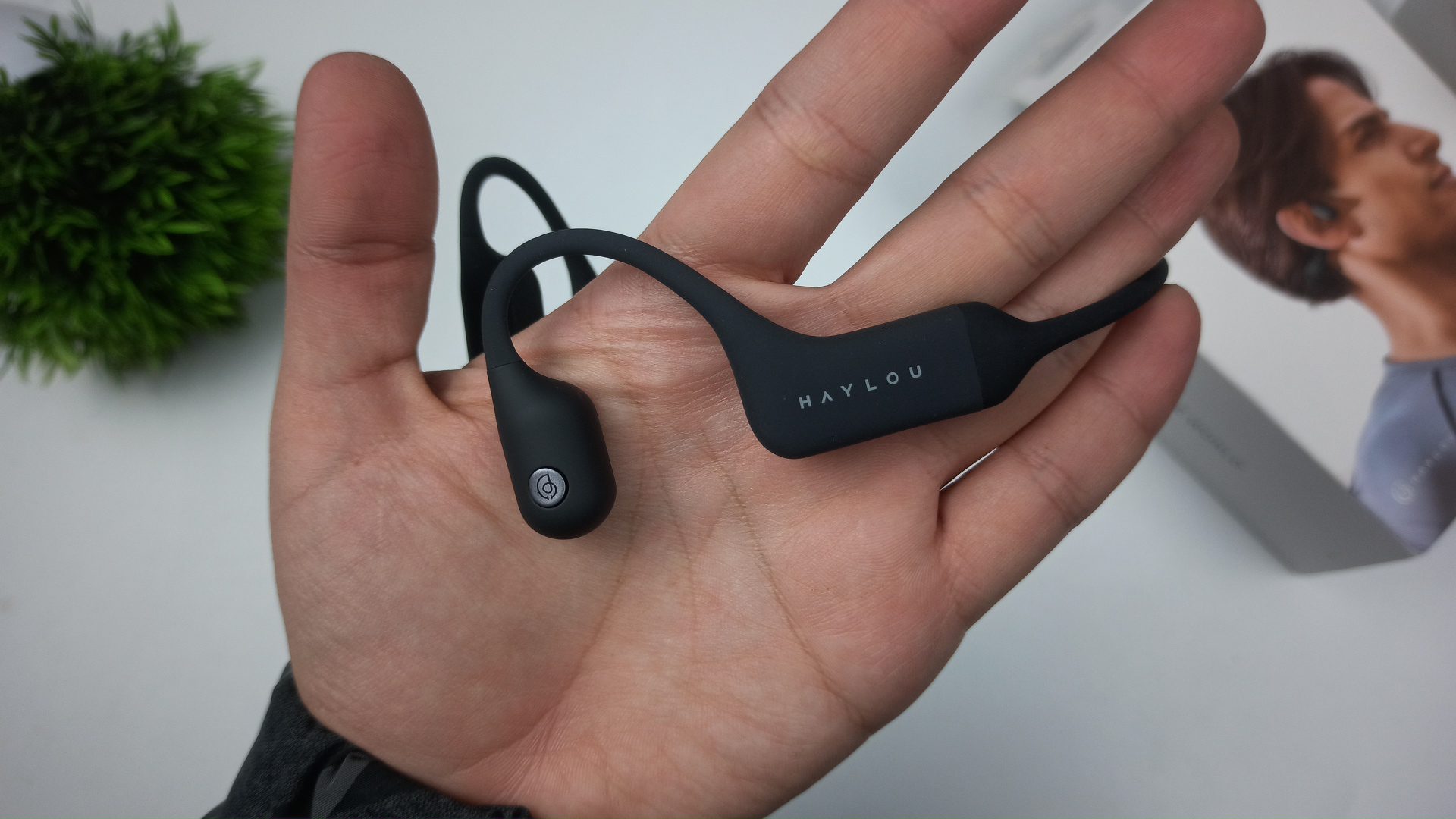 Haylou PurFree BC01 contains two bone conduction charge transducers connected via a lightweight, flexible strap to keep them in place. In the lower right back near the area where the charging cable is connected, we have two physical buttons to increase and decrease the volume, and on the left side there is a multifunctional button with the company logo, which at first is the power button, but it allows you to pause, in addition to responding to calls. So yes, there are 2 microphones that you can use to take calls while you're working out or whatever else you're doing. It can be said that the buttons were acceptable to me, although some may prefer the presence of touch buttons, which are sometimes better and faster.
In terms of comfort, they're pretty great and didn't put any unwanted pressure on the top or sides of my head during long exercise sessions. The flex in the range is good and you can move your head, jump up and down, and stay put. It's very lightweight at only 28 grams, so it's amazing how much pressure from the wire that goes through the back is able to keep it completely taut, which again makes it perfect for sports or any active activities you want to do, be it cycling, working out running, or something else. However, if you are new to this type of earphone, it may take some time for you to become familiar with it.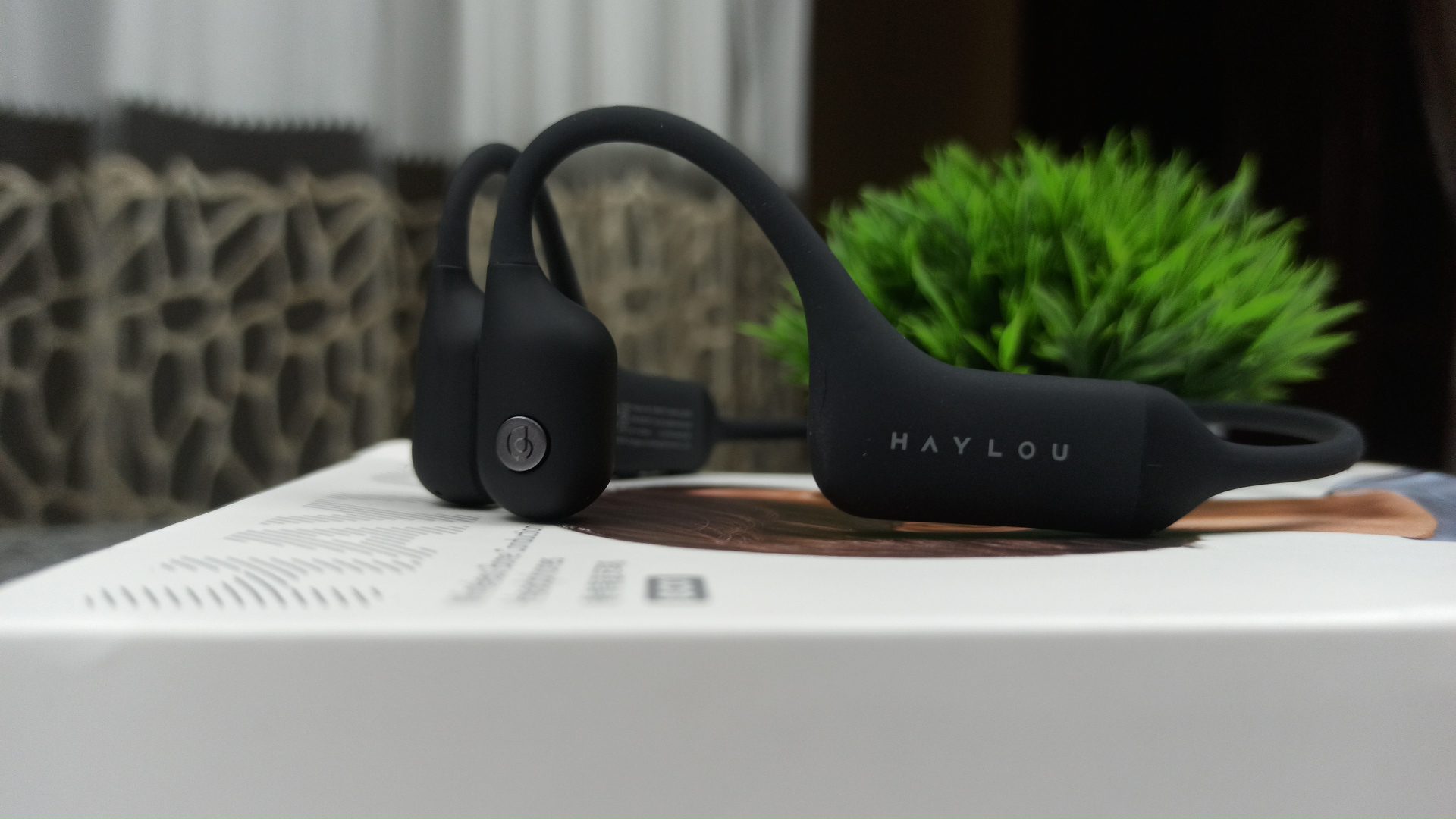 Control Functions
The controls for Haylous are very easy to use and without much difficulty to find, to power on Haylou PurFree just press the volume + button for 2 seconds and then the LED indicator on the right side will light up, and pressing the button for 5 seconds to Bluetooth pairing. For a multi-function button through which you can:
One-click: answer the call, play, and pause
Double tap: play music
Triple click: song returns
Press and hold for two seconds to activate the voice assistant
By pressing the volume + button and the multifunction button for 3 seconds, it can be connected to more than one device, which means that you can connect your computer and your phone to the earphone.
Haylou PurFree BC01 – Waterproof
PurFree BC01 headphone is suitable for use in any environment in the home or office, but they are specifically designed to be suitable for outdoor activities, fitness exercises, and sports with an IP67 waterproof rating which means that the BC01 can comfortably withstand sweat and light rain and should be able to Immerse the headphones underwater up to 1 meter for 30 minutes, but I do not advise you to rely on them for this purpose or even wear them to swim. However, if it's exposed to water in any way, I prefer to dry the headphone after immersing them in water and before operating them so that it stays with you for as long as possible.
Connectivity & Pairing Haylou PurFree BC01
Haylou Purfree is equipped with a Qualcomm QCC3044 chip which is a mid-range and power-efficient audio SoC, and the earphones also use Bluetooth 5.2 to connect to the source device and to provide fast and stable connections to devices at a large range that easily reaches more than 10 meters, in addition to the ability to connect to two devices at the same time. And the speed of this chip can be noticed from the connection when it is turned on to the audio playback that there is no delay between your audio and video, it all happens instantaneously. This may not matter while listening to music while working out, but if you are playing games or watching movies, it will offer you an exceptional listening experience.
Other advantages offered by the chip are SBC, AAC, and aptX codecs. Here we are going to talk about aptX which is basically a more efficient bit rate technology that ensures that you get high-quality sound on your headphone. However, this is only if your audio source (smartphone, laptop, audio player) supports it. And it won't be as clear as the sound hardware on regular earbuds, which is something to be expected from bone-conduction headphones.
The company says that it is possible to connect two devices at the same time. You can pair it on Android, Windows, and iOS devices. That is, you can connect to your phone and tablet at the same time and listen to music on your tablet. When your phone rings, you can answer the call and your tablet will pause and when you end the call, your headphones will return to your tablet. But not as smoothly as I would like.
You can turn on the PurFree BC01 earbuds by pressing and holding "+" for 5 seconds, then the red and white lights will flash alternately to enter pairing mode. Immediately after that, open the Bluetooth interface of the smartphone, and the device name "Haylou BC01" will be automatically recognized, click on it, and the pairing is completed successfully.
Two devices can be connected at the same time by pressing the volume button + and the multifunction button for 3 seconds, the white light will flash, then continue pairing from the Bluetooth settings on device 1.
Now press the "+" button of the headphone for 2 seconds for the red light to flash to turn off the headphone and put the pairing mode back on (press and hold the "+" for 5 seconds until the red and white light flashes alternately to enter the pairing mode) Go now On the device 2 Open Bluetooth connections and connect to the headset.
I want to note that when pairing a second device that is connected to the earphones, it has a high transmission time, so it will be difficult to watch videos or series and others, as there is a noticeable delay between video and audio, but for music, it works perfectly and without any delay.
Haylou PurFree BC01 – Audio Quality
Haylou Freear bone conduction headphones were developed specifically for sports as they convert sound waves into mechanical vibrations and transmit them directly to the cochlea through your bones because the bone is denser than air, which does a better job of transmitting sound. Thus, the headphones sit outside the ears, allowing the user to acoustically perceive their surroundings. The Haylou PurFree's open-ear design also makes it a great pair of headphones for athletes and provides a well-balanced sound suitable for all genres of music. Obviously, the sound is best when it's closest to your ear, and the sides of the headphones should rest snugly against your cheekbones next to your ear. In order for bone conduction to work as efficiently as possible.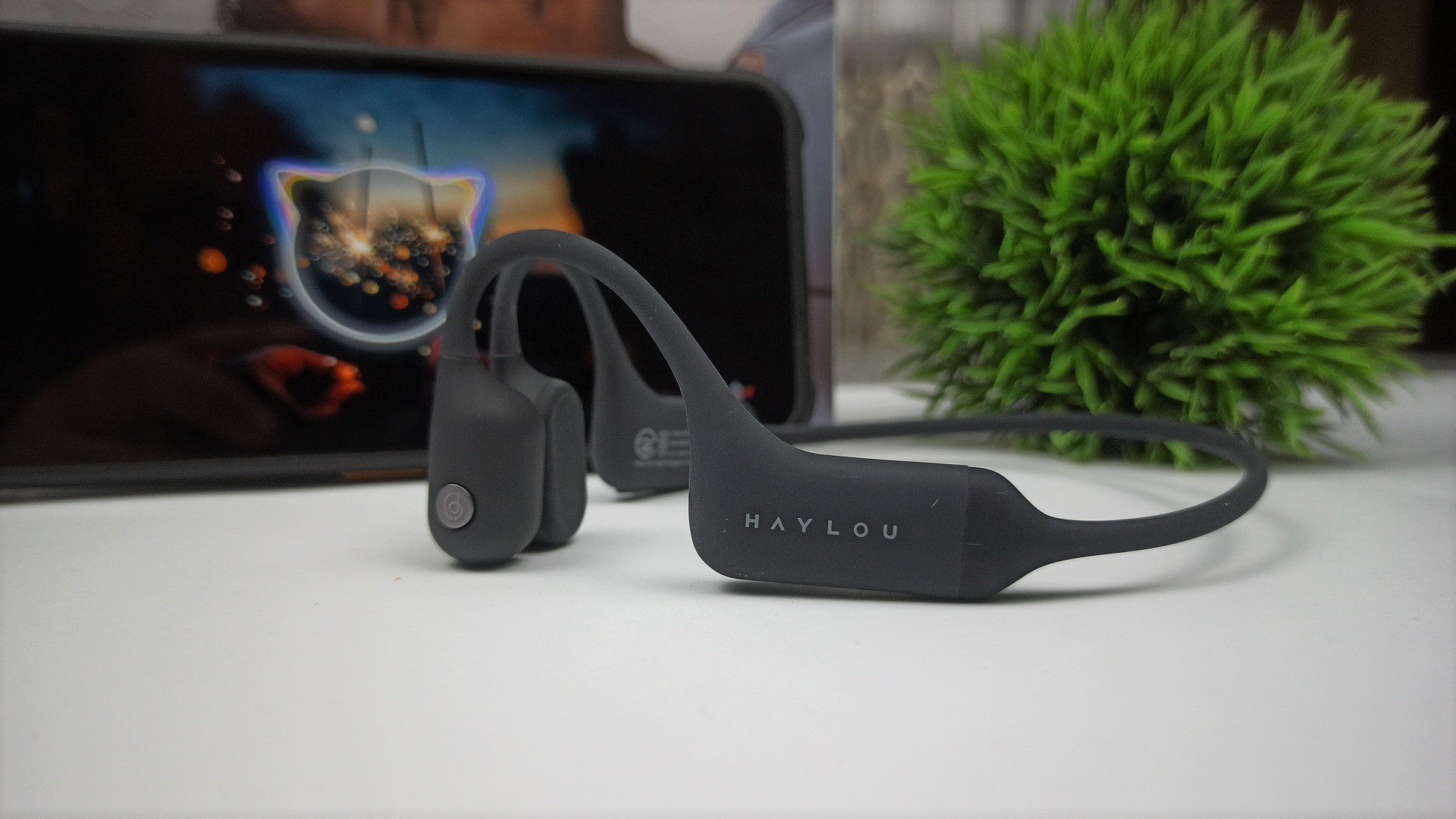 Speaking of sound, we have to remember that the main use of these headphones is for outdoor physical activities. You don't buy bone-conduction headphones for their sound quality. Luckily though, the PurFree BC01 does very well on the sound front. It's balanced enough to use while out and about. There's no punchy bass, but the mids are there with a greater focus on detail and clarity. The treble detail quality and balanced bass displayed here are at least equal to bone-conduction headphones and you don't feel the bone-conduction headphone vibration at relatively high volume levels.
While some cheaper competitors deliver a punchy, heavy bass that sends vibrations down your cheekbones noticeably at its maximum volume, it's painless but noticeable and somewhat annoying. The opposite of the Haylou PurFree BC01 bone conduction headphones that do not drown out the bass, thus avoiding loud vibrations.
Finally, it is worth noting that there is audio leakage, especially if you listen at a volume closer to the maximum, people close to you can hear and distortion can occur if the song peaks, so if you raise the volume limits, it will be unlistenable. That's why keep it at moderate volume levels, so the leakage becomes less noticeable. In terms of striking a nice balance between letting you hear your own voice and the sounds around you, the PurFree BC01 does a pretty good job on that front as well.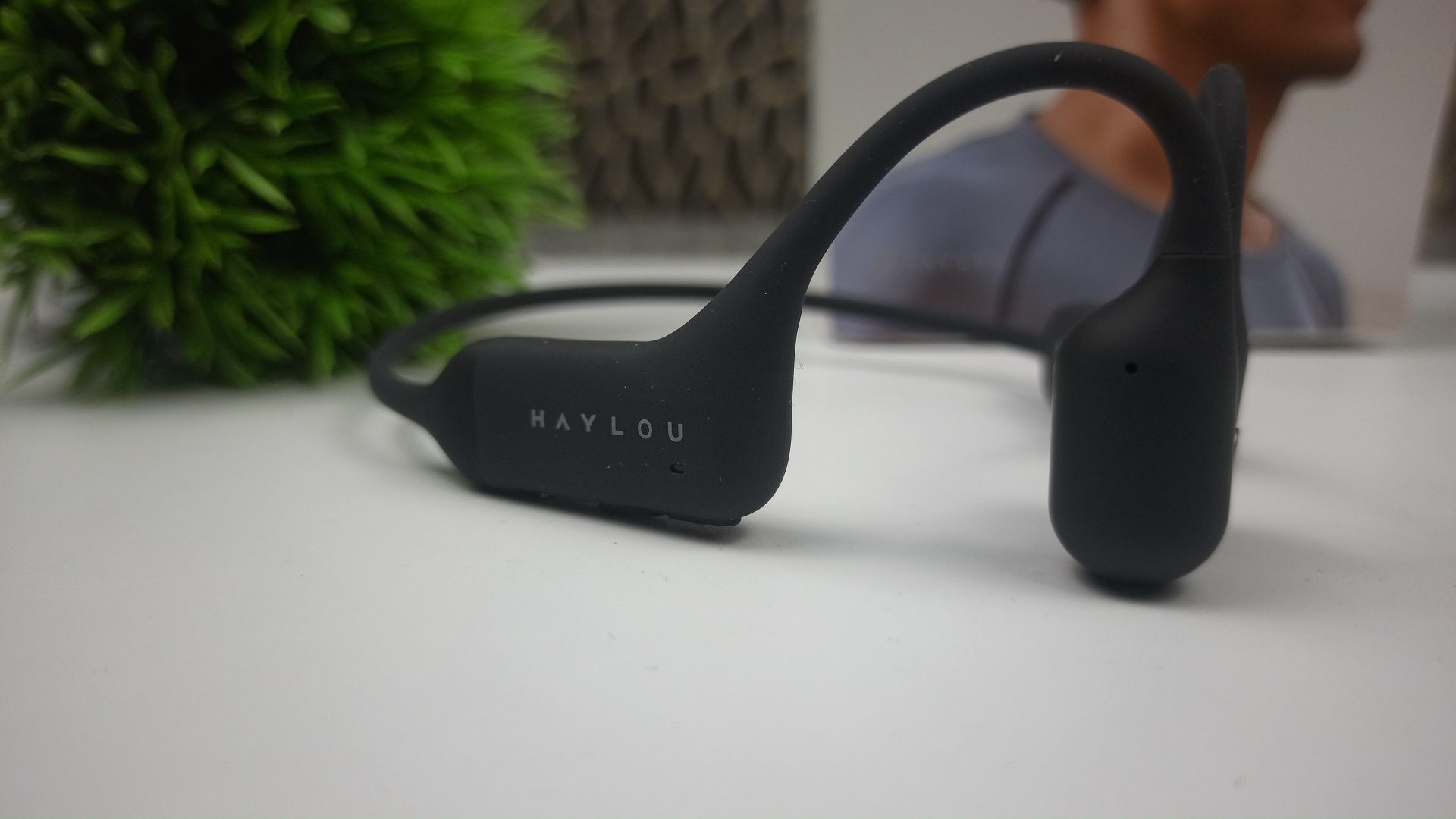 To make it short, sound-wise they can't compare to conventional headphones, and bone-conduction headphones shouldn't be your default headphones or your only pair of headphones if you care about sound quality. The most obvious benefit of the Haylou PurFree bone conduction headphones is for those who want to continue listening to their media playback without cutting out from the outside world – whether that's while working and wanting to stay alert to anyone in their surroundings or even traffic.
In addition to all this, the BC01 also includes a set of foam earplugs that are designed to provide better sound quality for those times when you need to be less aware of your surroundings. It blocks background noise better and is comfortable to wear.
Microphone Quality & Calling
For call quality, the Haylou PurFree BC01 has built-in dual microphones, one that picks up your voice and the other that uses intelligent noise canceling (cVc) to improve clarity and soften the sounds around you for those calling you. It also makes more of a difference indoors than outdoors, where there are some challenges when using it in noisy environments and there are often more sounds competing with those calls. I wouldn't describe calling quality as crystal clear, but it was very good in relatively silent environments and could be heard on the other end even in less quiet environments.
In general, the PurFree BC01 bone conduction headphones will not be your primary microphone for calls and other things, but just a secondary solution or a quick solution while you are exercising. And as mentioned earlier, it is also possible to summon Siri or Google Assistant.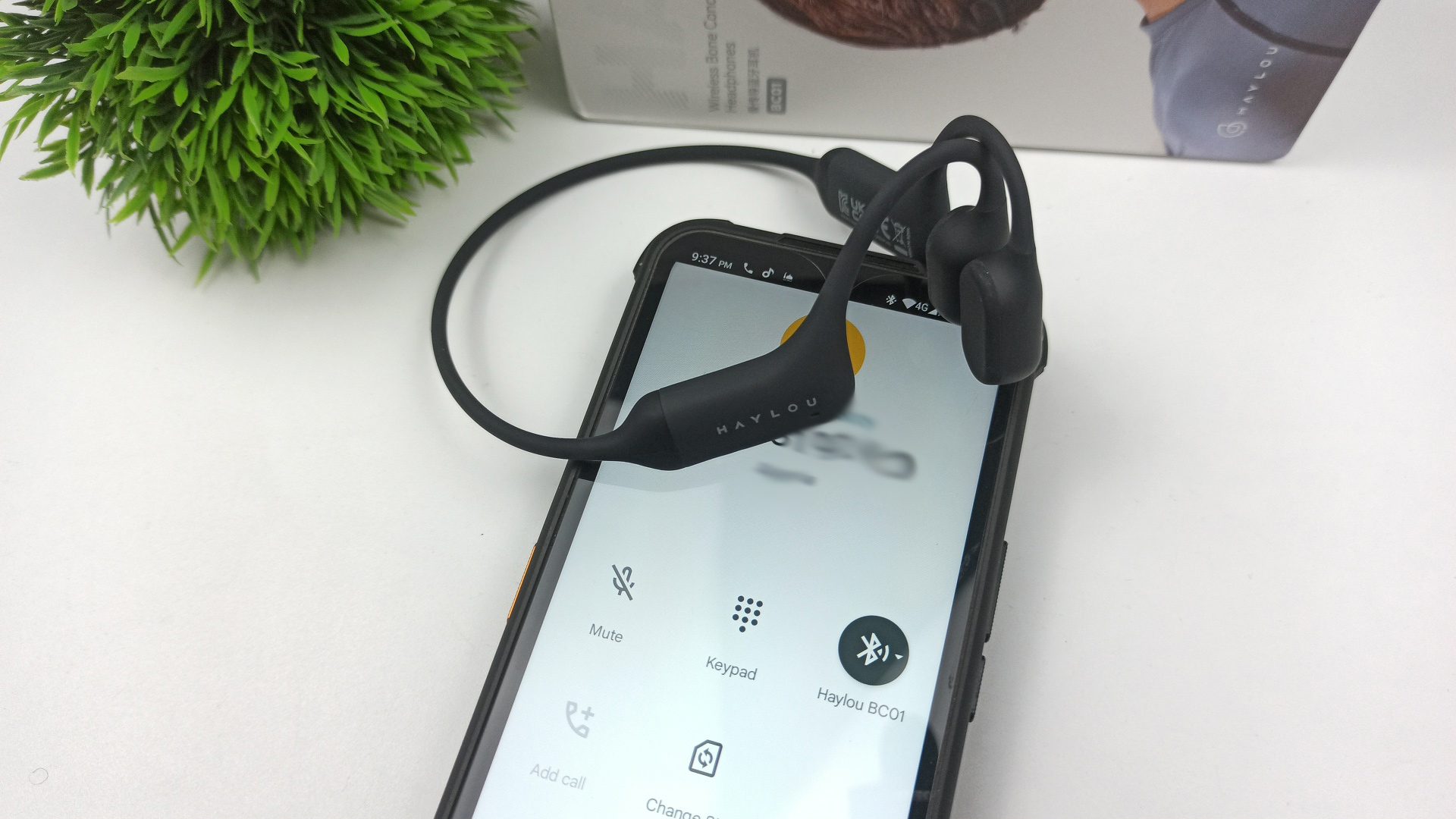 Haylou PurFree BC01 Battery And Charging Time
Battery life is definitely an indispensable feature, Haylou PurFree has a small battery of 165 mAh, but it lasts for a long time, exceeding 8 hours of continuous operation, which makes it one of the most important features of this product, but this depends on the volume of sound that you can use because the closer it gets to the top it sounds It drains the battery a little faster. This also applies to the extent of using calls, since it will cancel noise. With that, this battery life will enable you to use it for a whole week for an hour a day during your workouts and you will not need to recharge. And these earphones will keep you informed of the battery level every time you plug it in. This is done with a voice assistant that tells you if it is high, medium, or low. It is not a very accurate indicator but it is there, or you can simply check the power status from the Bluetooth settings on your device.
There is magnetic fast charging that can quickly recharge the earphones, and 10 minutes is able to provide up to 2 hours of music playback. It also takes 1.5 hours to fully charge to get 8 hours of battery life. But I'm also noticing that this size being a bit closer to the top seems to drain the battery a bit faster. One LED indicator shows red while charging and white when the battery is full.
If there is anything wrong with the PurFree BC01 in this regard, it is the charging cable which is a special magnetic charger from Haylou that is very thin and very short. If anything is wrong with it or it gets damaged, you will have to get a replacement from Haylou herself.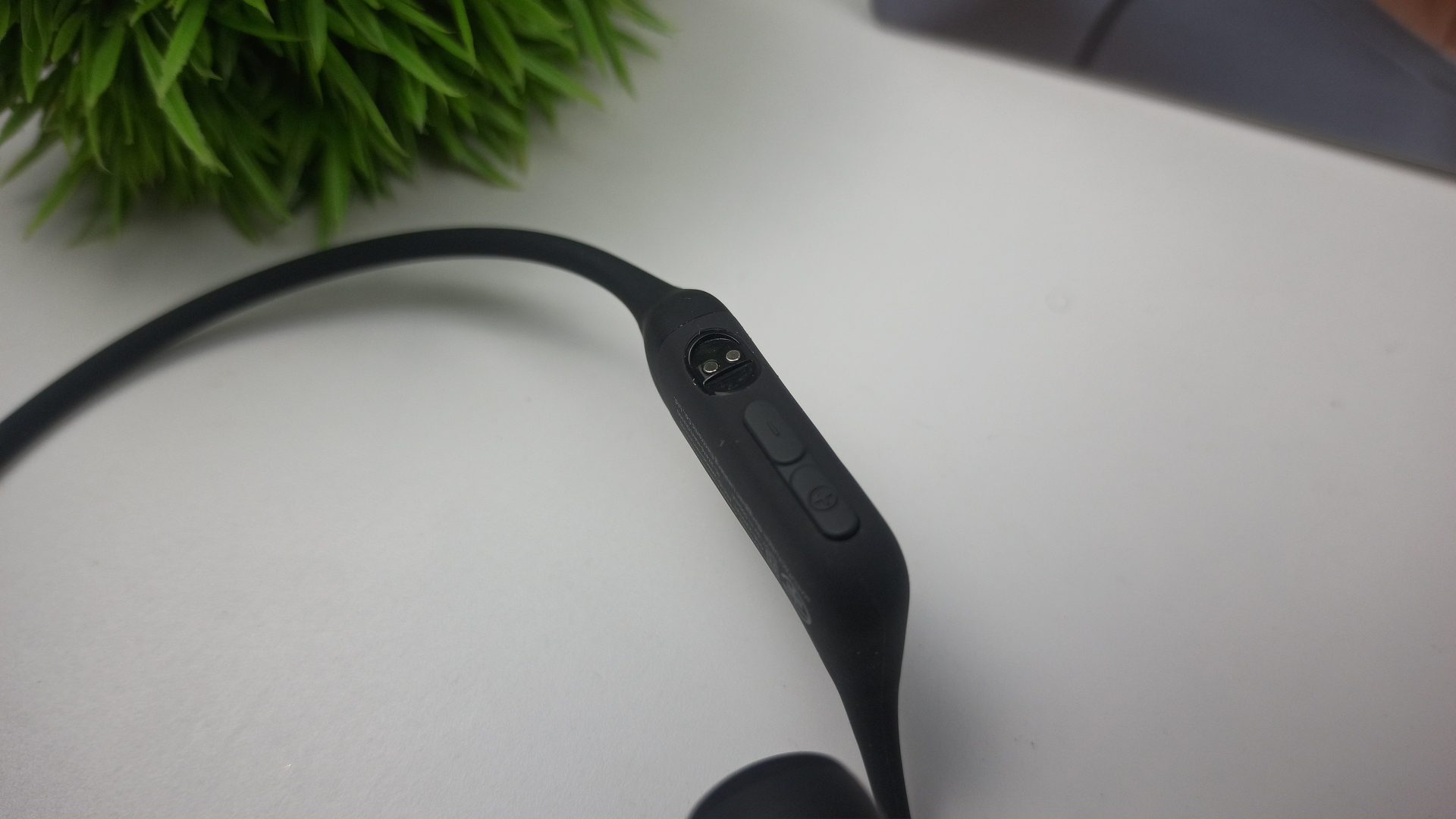 Final Verdict
Haylou PurFree bone conduction headphones have some advantages and disadvantages. The most prominent feature that distinguishes it from the rest of the competitors is the open-ear design aimed at athletes, it has an IP67 rating for dust and water resistance, it is also comfortable when wearing, and its battery life is great as well while allowing you to listen to whatever else is happening around you and support for high-resolution audio that makes it A great choice for workouts and other activities or even in the workplace and doesn't forget for people with hearing impairments because the Haylou PurFree BC01 should help you hear your favorite songs better.
However, they aren't perfect or even worthy of being your only pair of headphones, but you should keep in mind that they are not a replacement for "traditional" earphones, they can be an option if you want something that allows you to stay aware of your surroundings because they won't disappoint you.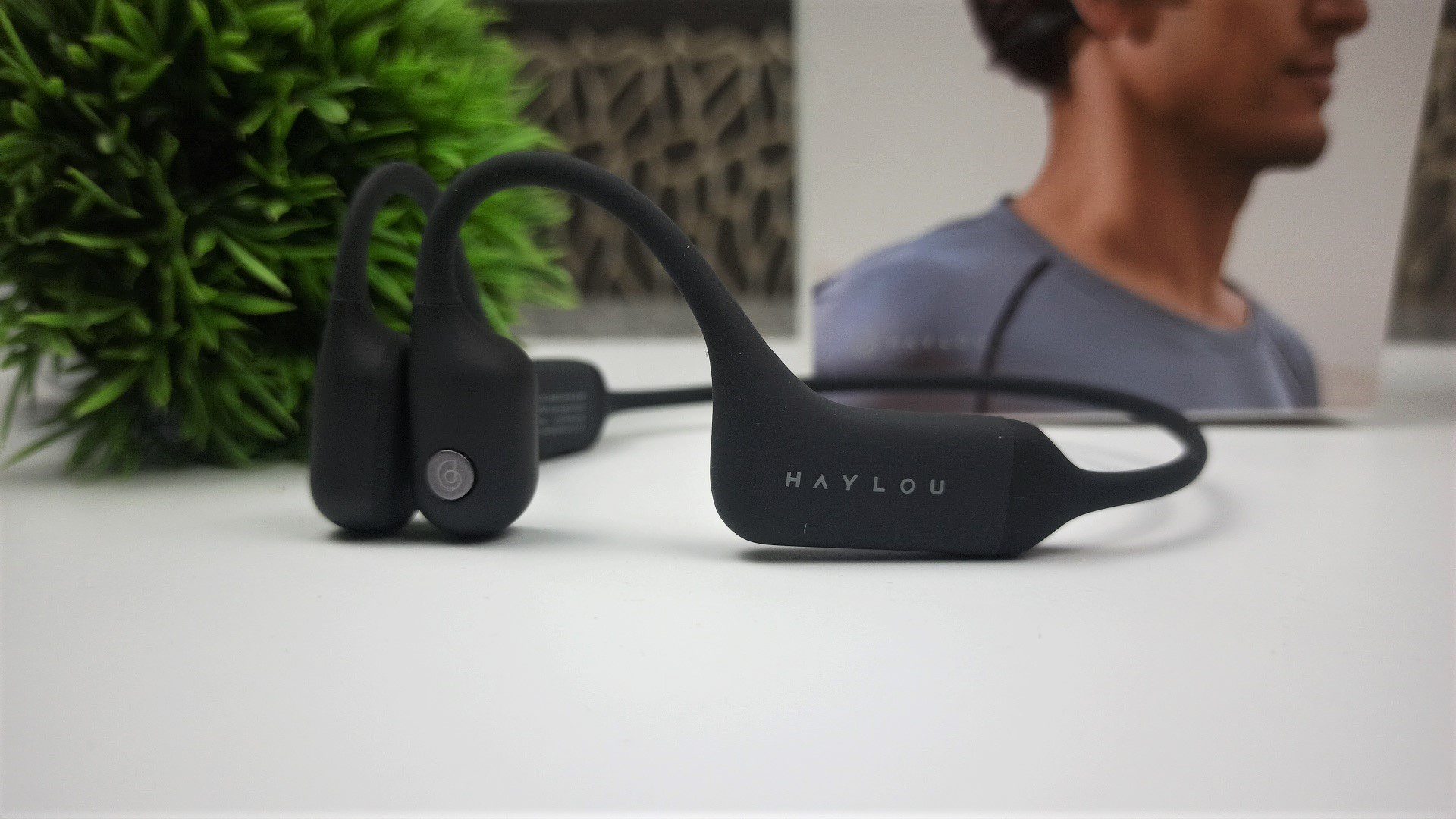 I might be a fan of the PurFree BC01 Bone Conduction Headphones. However, in terms of sound, it is not perfect, and the bass may be disappointing to some, although it is expected in this category, and the call quality is not that great, but what I am sure of is that the sound quality is much better than most other bone conduction headphones and equal To a large extent with the most famous brands in this type of earphones such as Shokz.
Finally, I can say that HAYLOU PurFree BC01 is quite a mixed bag, while they do some things really well, they fall short in others. If you want an affordable bone conduction headphone this can be a decent option and I can recommend it.
Haylou PurFree BC01 Price And Where To Buy
The Haylou PurFree BC01 is currently available on the AliExpress Store and Amazon for a very good price. So, don't miss out on this great deal. And to view its price or buy it, you can access the offer by clicking on the store icon.
Haylou PurFree BC01 Bluetooth
Charging Cable
Earplugs
Manual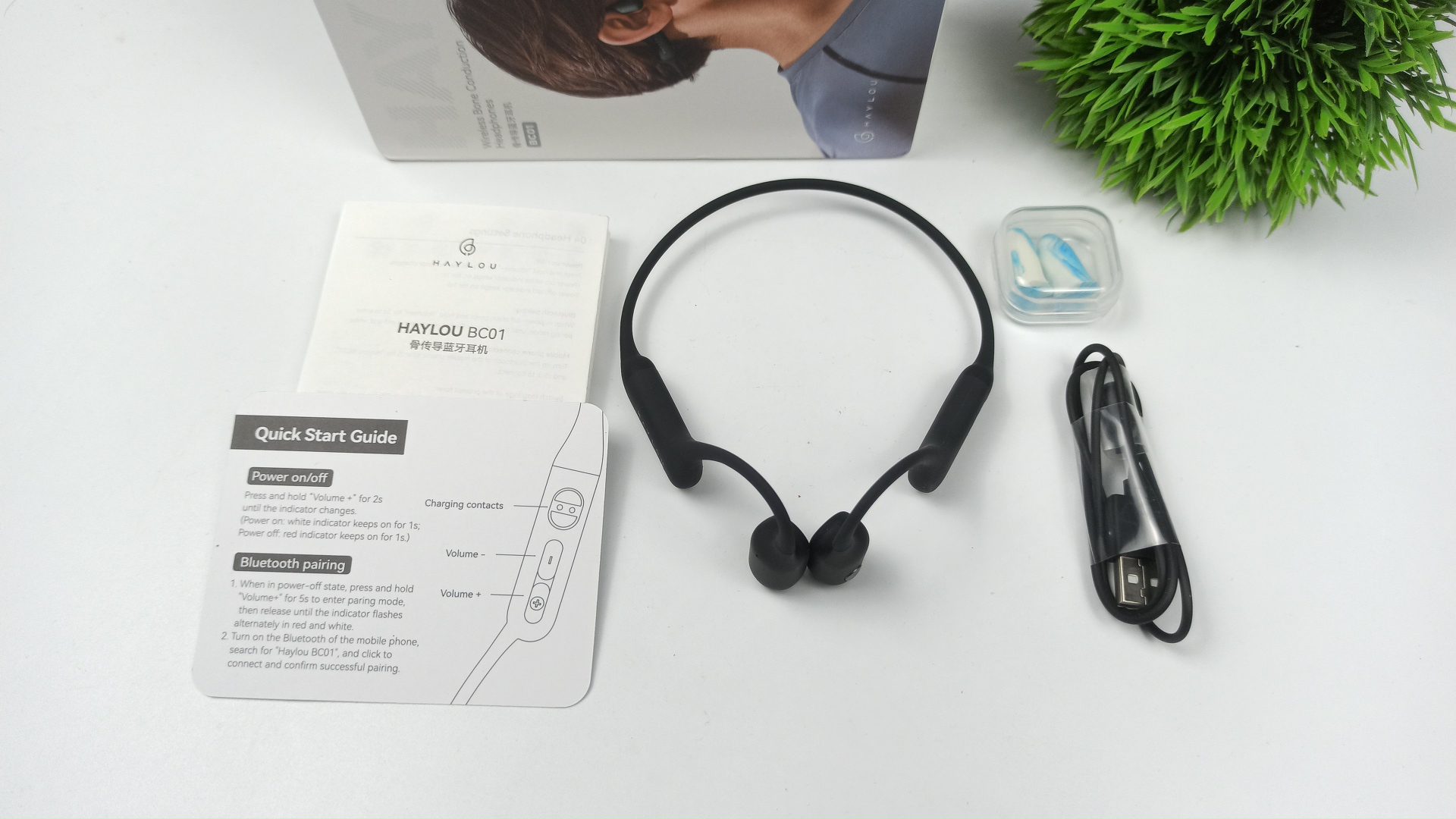 Haylou PurFree BC01 Specifications
| | |
| --- | --- |
| Model | Haylou PurFree BC01 |
| Weight/size | 28g |
| Connection | Bluetooth 5.2 |
| Bluetooth protocols | A2DP, AVRCP, HSP, HFP |
| communication distance | 10 meters (in places without obstacles) |
| Battery Type | lithium-ion polymer |
| chip | Qualcomm QCC3044 |
| Audio codec | SBC/aptX |
| Loading | magnetic type |
| battery capacity | 165mAh |
| time to load | 1 hour and a half |
| battery life | 8 hours |
| Standby duration | 240 hours |
| Noise cancellation | cVc + 2 MICs |
| Protection | IP67 |
| Color | Black |
| Microphones | Yes, two noise-canceling calls |
| Material | Titanium alloy wrapped in silicone |