QCY is one of the most famous and best producers of budget headphones, is back with new series of earbuds under the name QCY G1, making its first serious attempt at gaming earbuds, that has a modern design, better specifications, and features, and most importantly it's for a budget.
It's equipped with Quad Microphone for Noise-Cancellation to make clear calls without any interruption and has 10mm Driver–Stereo HIFI sound with the help of PixArt Bluetooth 5.2 Chip to transmit a flawless connection, the wireless earphone gives you a 24h battery life, and is supported QCY APP for more functions. all this and more in one place and at a price not exceeding $32, So let's take a look deep in these earbuds.
PixArt Bluetooth 5.2 chipset

Gaming Design

45ms Low Latency
Professional game sound effect
4 MIC+ENC Call Noise Reduction
10mm Driver-Stereo HIFI sound
32hr Long Battery life, Wireless charging
Pairing pop-up window
APP customizing Earbuds
Design And Build Quality
Overall, I find the design of the QCY G1 gaming headphones to be really cool, it doesn't look very gaming, it doesn't have crazy lighting, and the case doesn't have a bunch of lighting like a pair normally would and I think it's a really nice touch when the LEDs are meant to give you that gamer look that isn't annoying.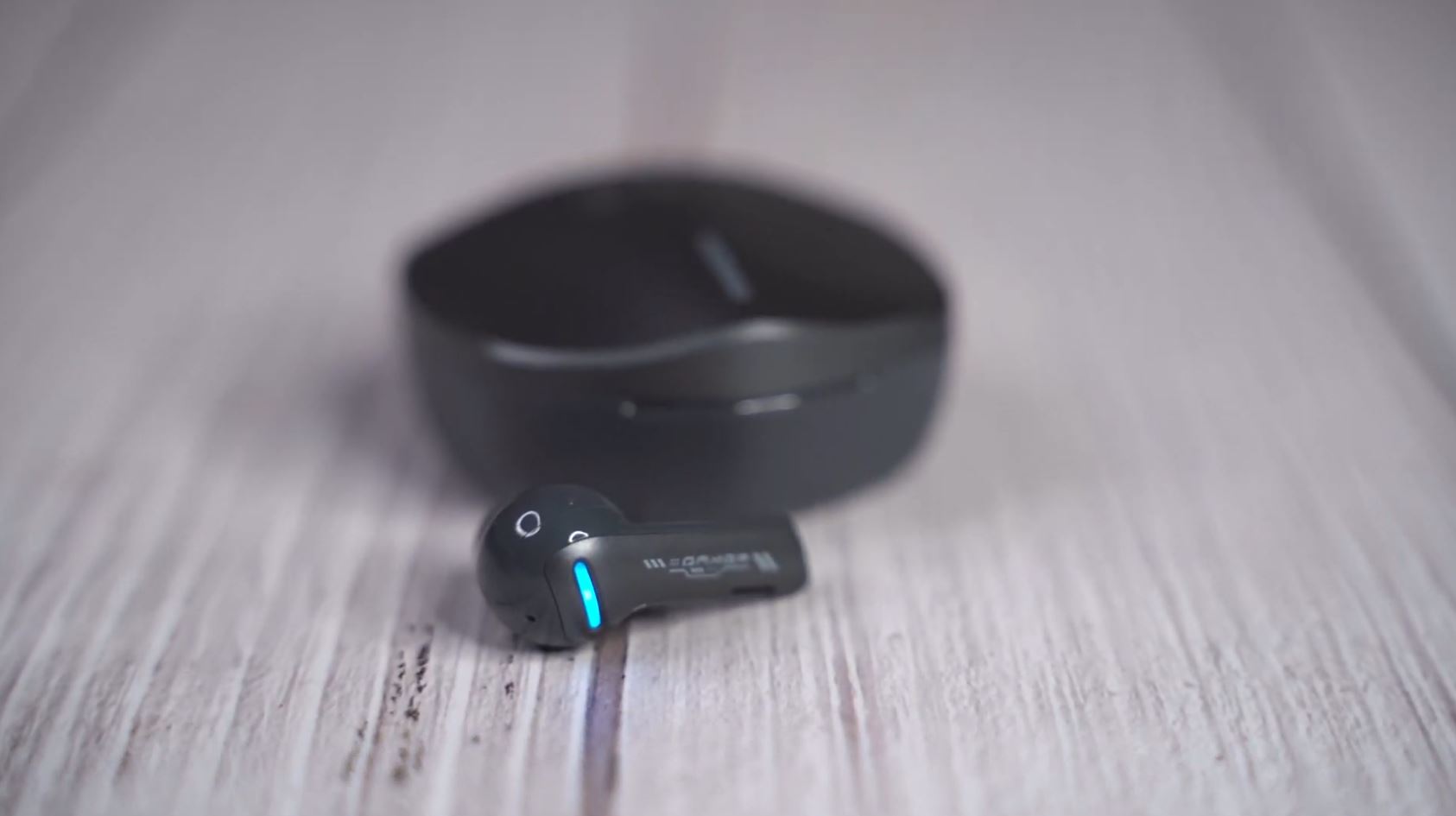 Charging Case
As for the charging case has an unusual shape with shiny metallic gray on the top and a non-metallic gray on the bottom, and it comes with a silver QCY logo and there's a LED on the top, LED will light up when connected to the charger to indicate that it is charging, if the LED lights up in blue battery is good and if it lights up red means the battery is low and if you put only one earbud inside the case and the other earbuds don't touch the contacts properly it will light up orange to tell you the earbuds are not connected Put them correctly and you need to place them better, This is a very smart move from QCY.
There is also a long slot in the center of the front to open the case, which is surrounded by a built-in magnet for easy opening and closing with one hand. Once opened, there is a place for the earbuds with an automatic charging start and between the buds, there is a factory reset button.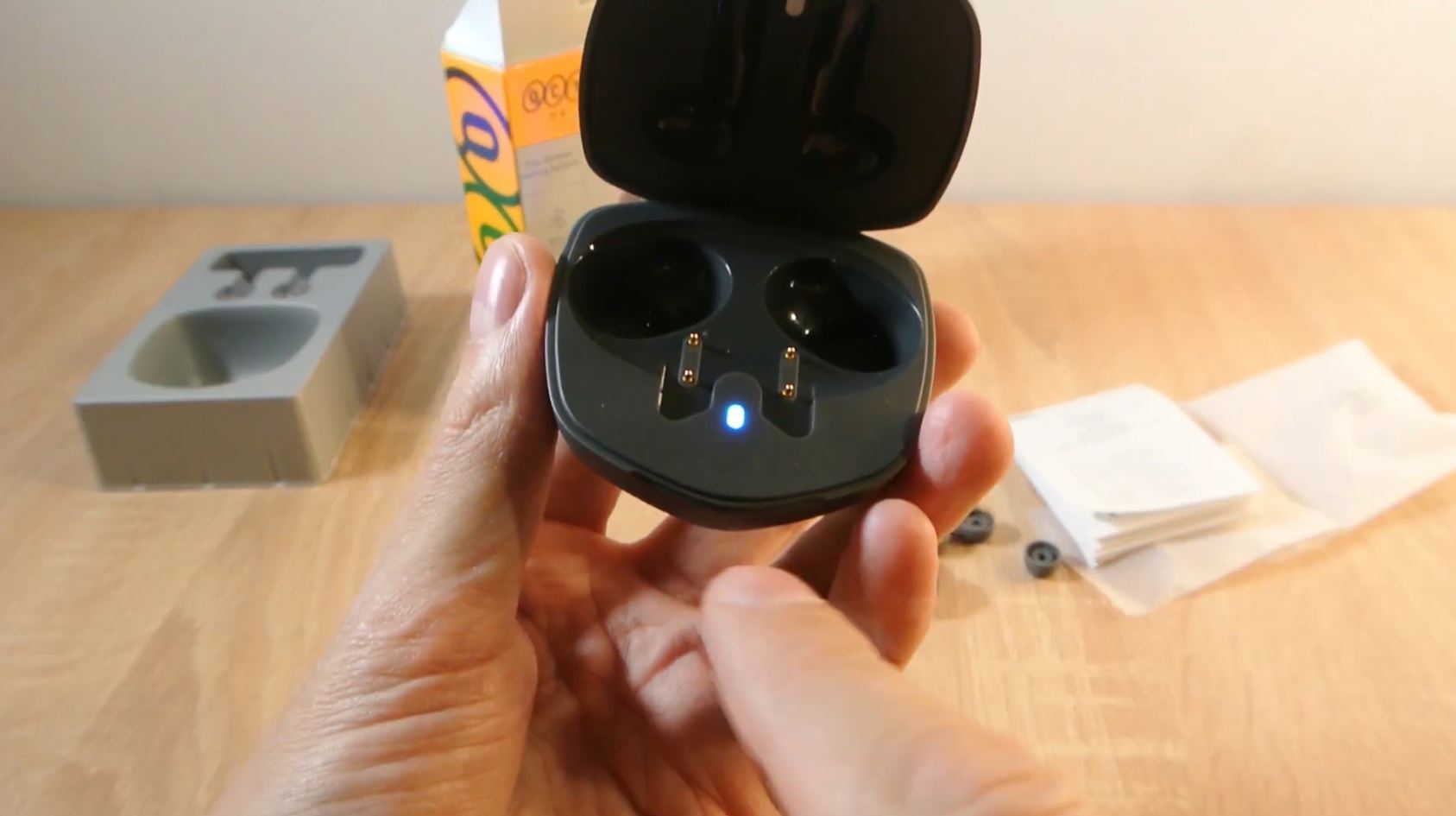 The bottom of the charging case is flat for easy stability, and on the back of the case you'll get a type-c charging port with support wireless charging, it's a great feature in this price range.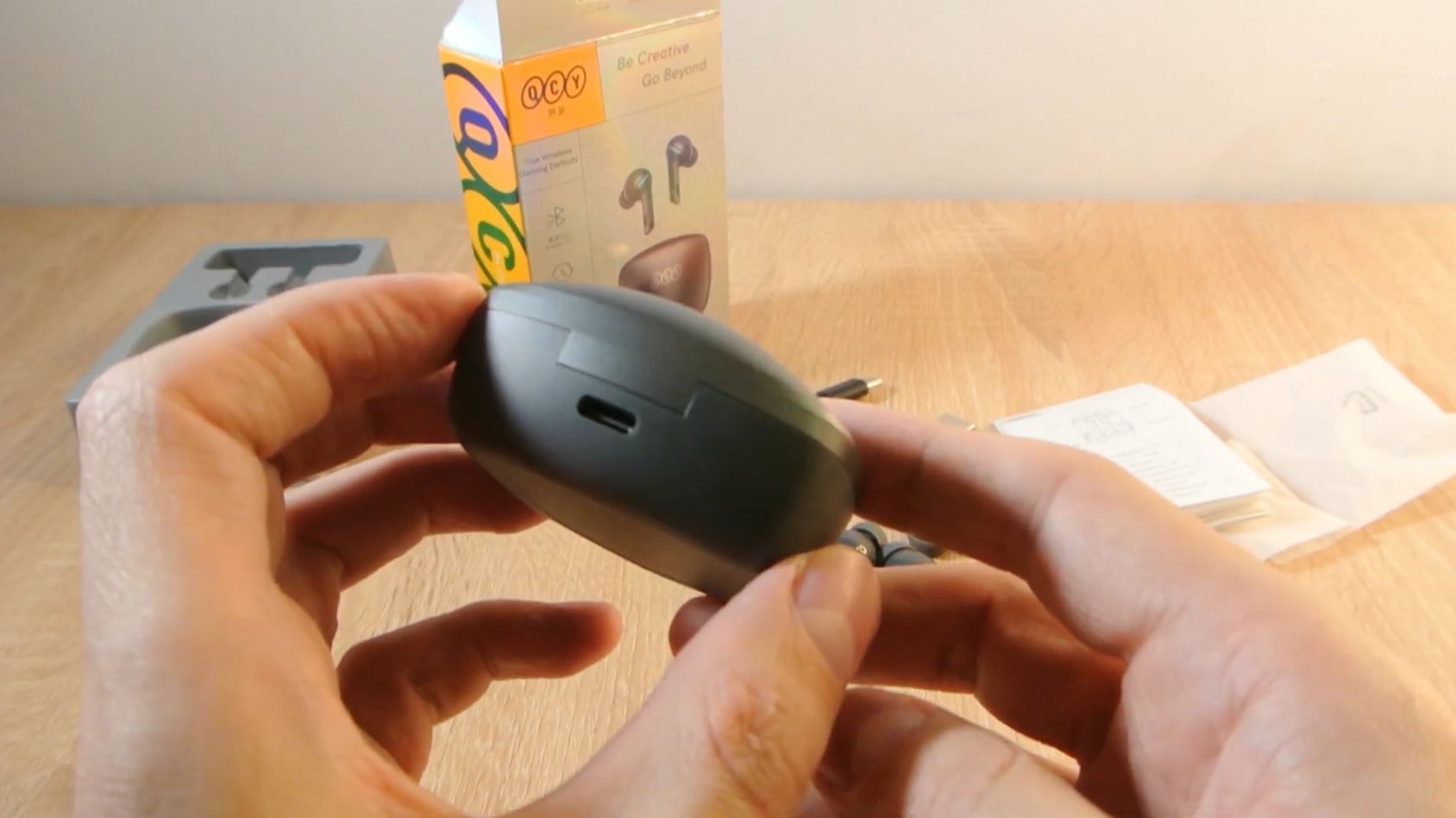 QCY G1 Earbuds
Now we move on to the stylish QCY G1 Wireless earbuds are in-ear design with AirPods style ear tips and they really sit comfortably inside your ears and right in front of the torso you can see here the nice looking LED strip so cool. The outer part with a touch panel is glossy, the rest is matte, and most importantly, the lightweight body is only about 4.2g to be comfortable on the ear while on the move with the help of the soft rubber ear bands made of silicone with round pressure relief holes inside the earphone, which can balance the internal and external air pressure and ventilation.
Next to the touch control, there is a magnetic charging contact and microphone pickup hole with good and clear sound reception during a call with the help of the noise reduction hole on the outside of the earphone, which cooperates with the microphone to accurately distinguish between human voice and noise. The outer side of the earbuds has touch control.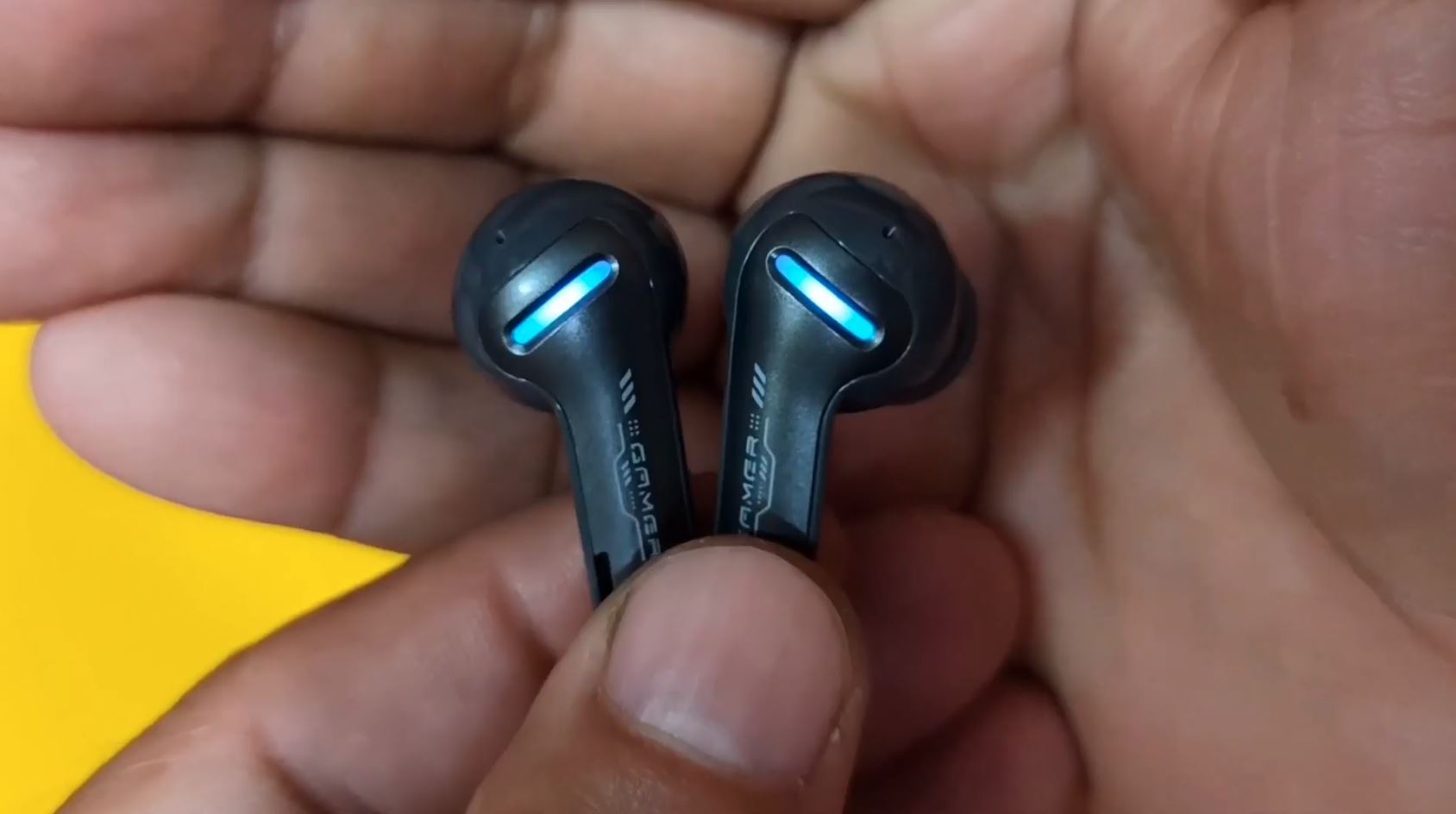 Touch Control Panel
To control the QCY G1, there is a high-precision touch control panel on the top of the earphone which can achieve precise control with good responsive touch sensitivity. With touch control, you can activate Voice Assistant, make calls, change music, Gaming mode, and so on.
Double touch for Pause/resume playing or Answer/end call
Keep touching right/left earbud for 1.5s for Skip track forward/backward
Keep touching 1.5s for ignoring the call
Triple touch right earbud for Gaming mode
Triple touch left earbud for Voice assistant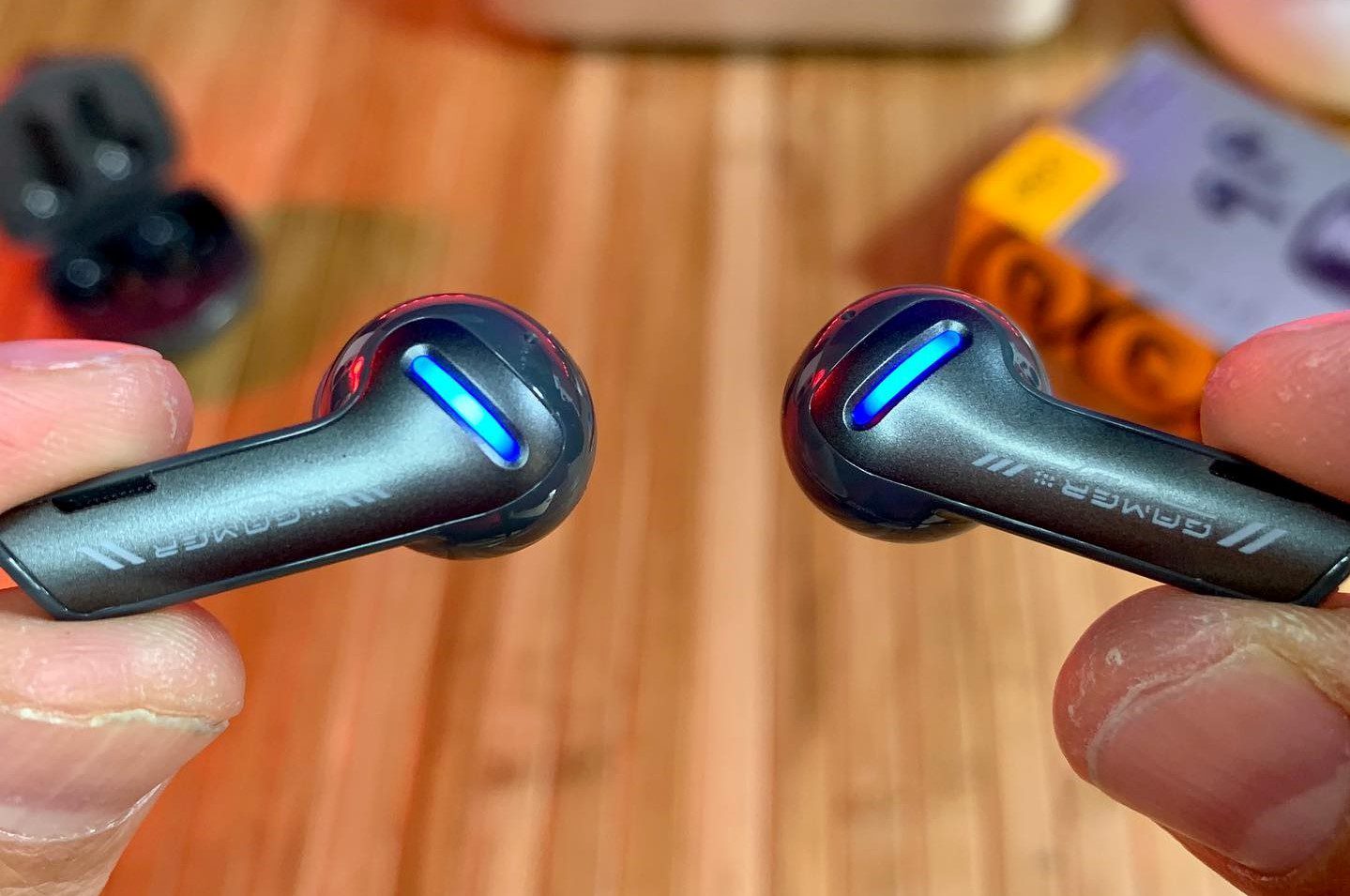 Waterproof
The earbuds don't come with any waterproof rating, I think QCY thinks their target market here wouldn't really use this in the rain but having an IP rating would be really nice.
QCY App For QCY G1
It's nice that the QCY app supports QCY G1, which means that these Bluetooth headsets support personal customization. The application here is smooth and with a simple interface through which you can, You'll be able to switch between sleep mode and gaming mode dedicated game effects that let you raise the sound of gunshots while walking in explosive planes along with other effects you might want to use for general music only and these effects stay with the headphones even if you use them with a different device I think this is a great feature that you can turn on in-game mode. You can also toggle the lights on and off and you can update the firmware.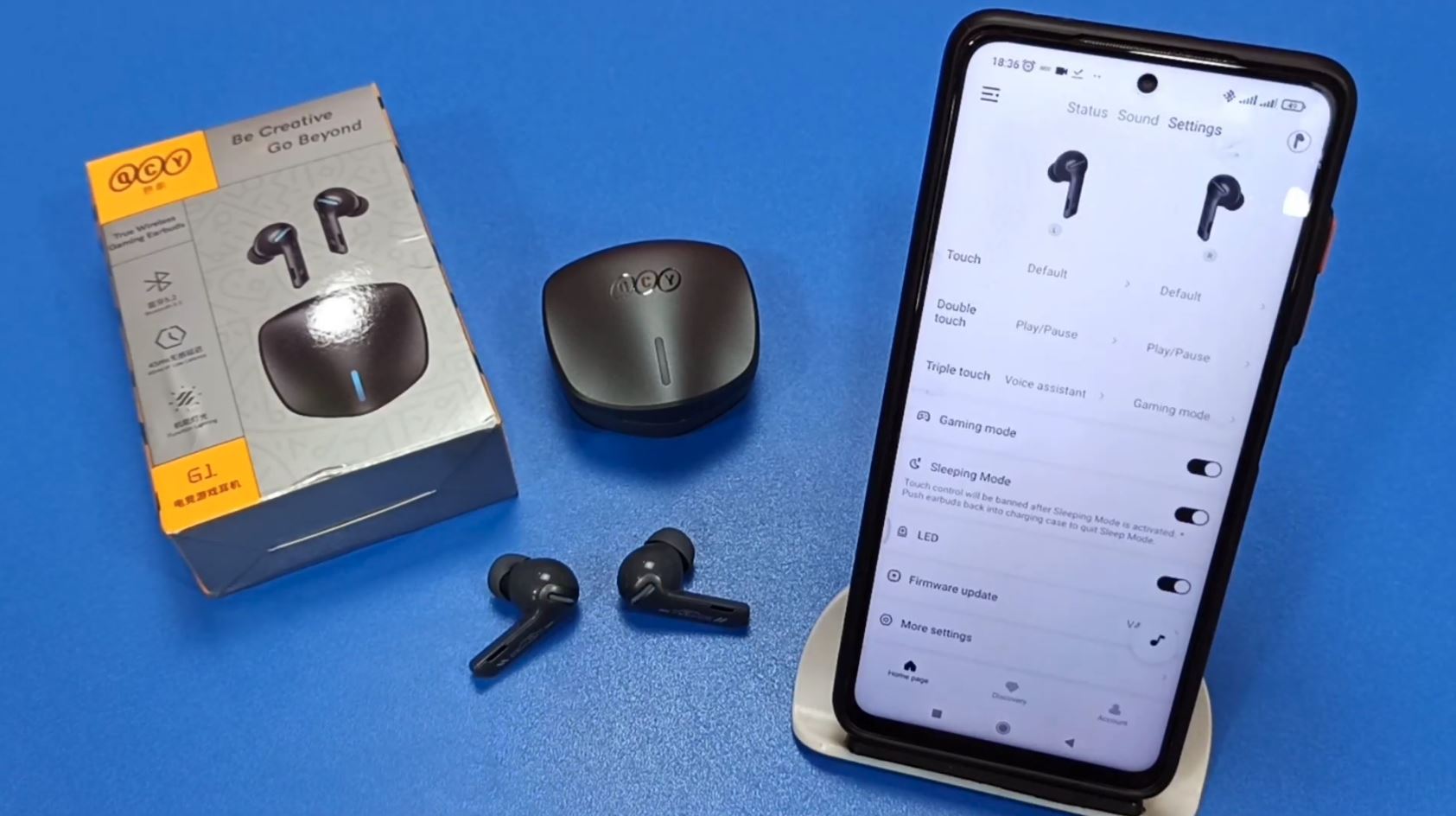 How To Pair QCY G1 With Smartphone
QCY G1 offers strong compatibility with both IOS and Android devices and adopts PixArt Bluetooth 5.2 Chip for stable and powerful transmission, lower delay, and smoother connection for high sound quality. that supports both AAC and SBC codecs so it makes sense that you are not getting any Aptx support here because gaming sound quality may not be the most important factor here thus lowering the cost of these earbuds.
The pairing here is the same with any wireless earbuds, all you have to do is open the charging case and take out the earbuds, and the earbud will automatically turn on and enter the pairing state and a popup window will appear on your phone.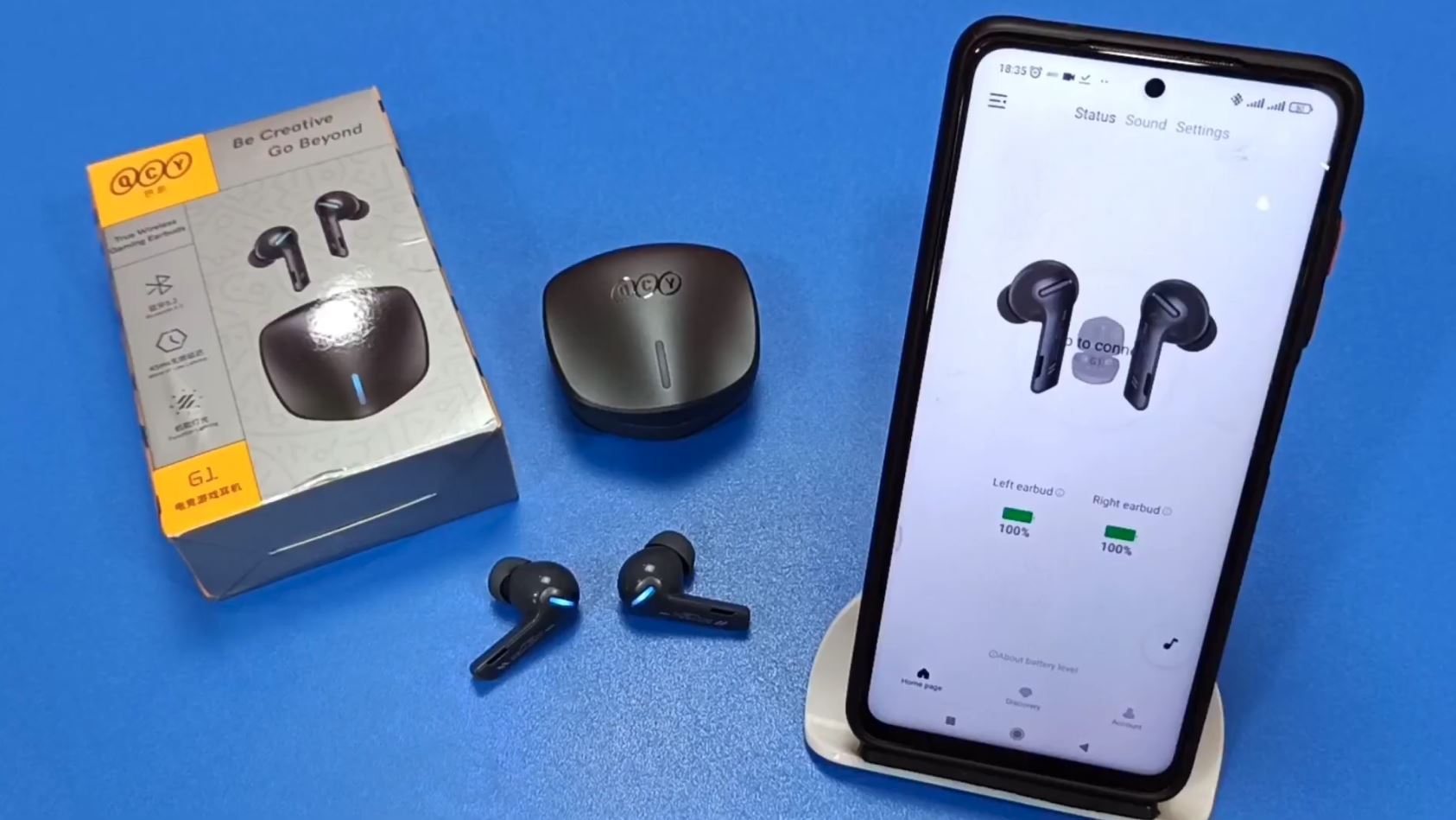 Immediately after that, open the Bluetooth interface of the smartphone, the device name "QCY-G1" will be automatically recognized, click it, and the pairing is completed successfully. The pairing is done manually once, after that it is automatic and fast provided Bluetooth is enabled, just remove it from the box and use it.
The Pop-Up window
To show you the cool popup window like the AirPods, just open the lid of the charging box. Take the device close to your device. Pop open and instantly you'll see an animation on your phone screen, Now just click connect to get started! Although you don't have to repeat this process every time.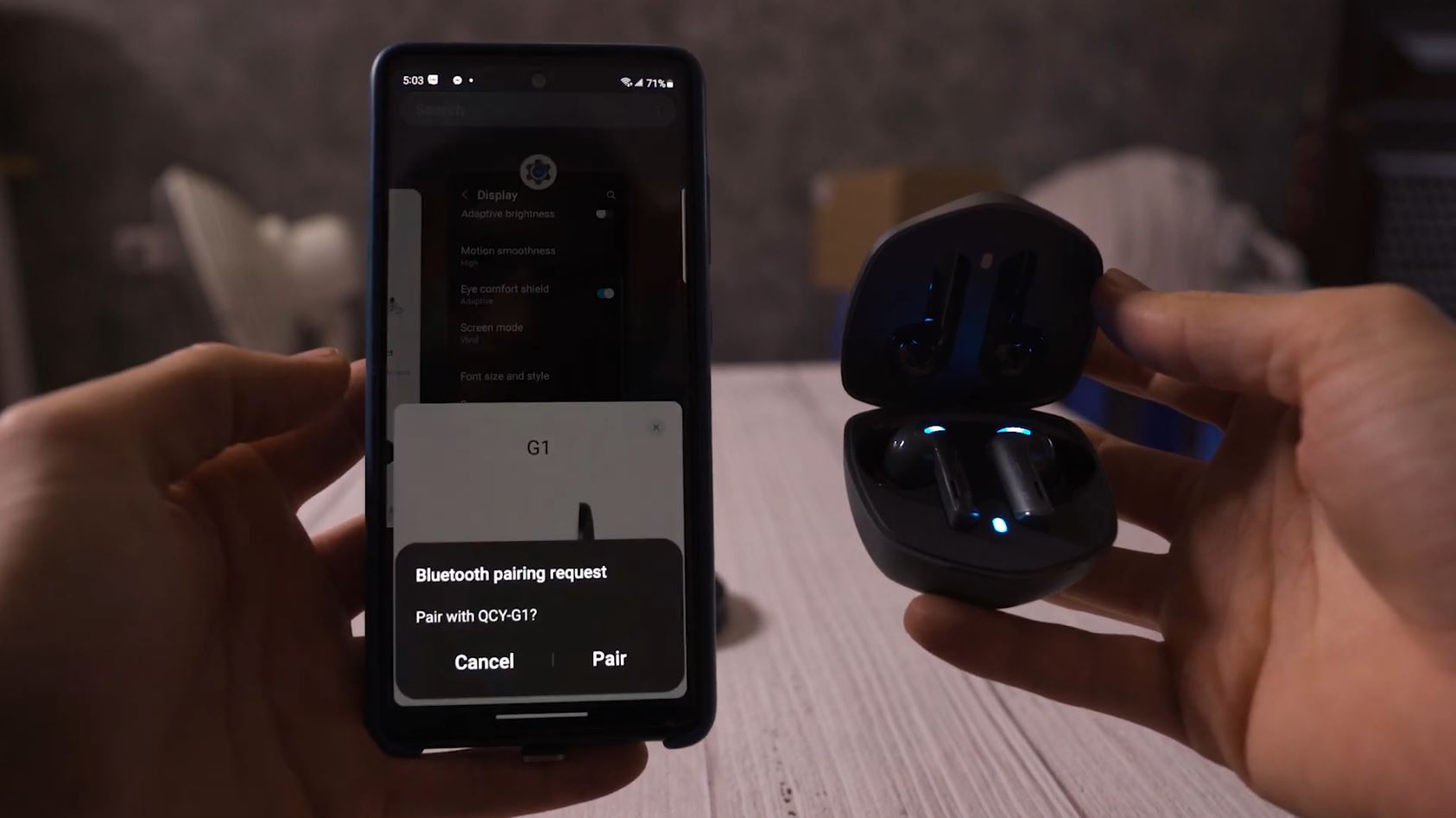 QCY G1 Audio Quality
Honestly the new QCY G1 it's really great, the sound and connectivity quality of these headphones were more than acceptable,
Also with a 10mm dynamic driver capable of pushing all frequencies brilliantly, the base here is very deep and particularly powerful because it gives you a very nice dynamic effect when gaming,
These are gaming headphones that fit their vocals well here they are nice and poppy and don't seem to be hiding behind any instruments and are well controlled between male and female voices and finally the higher highs here are very good.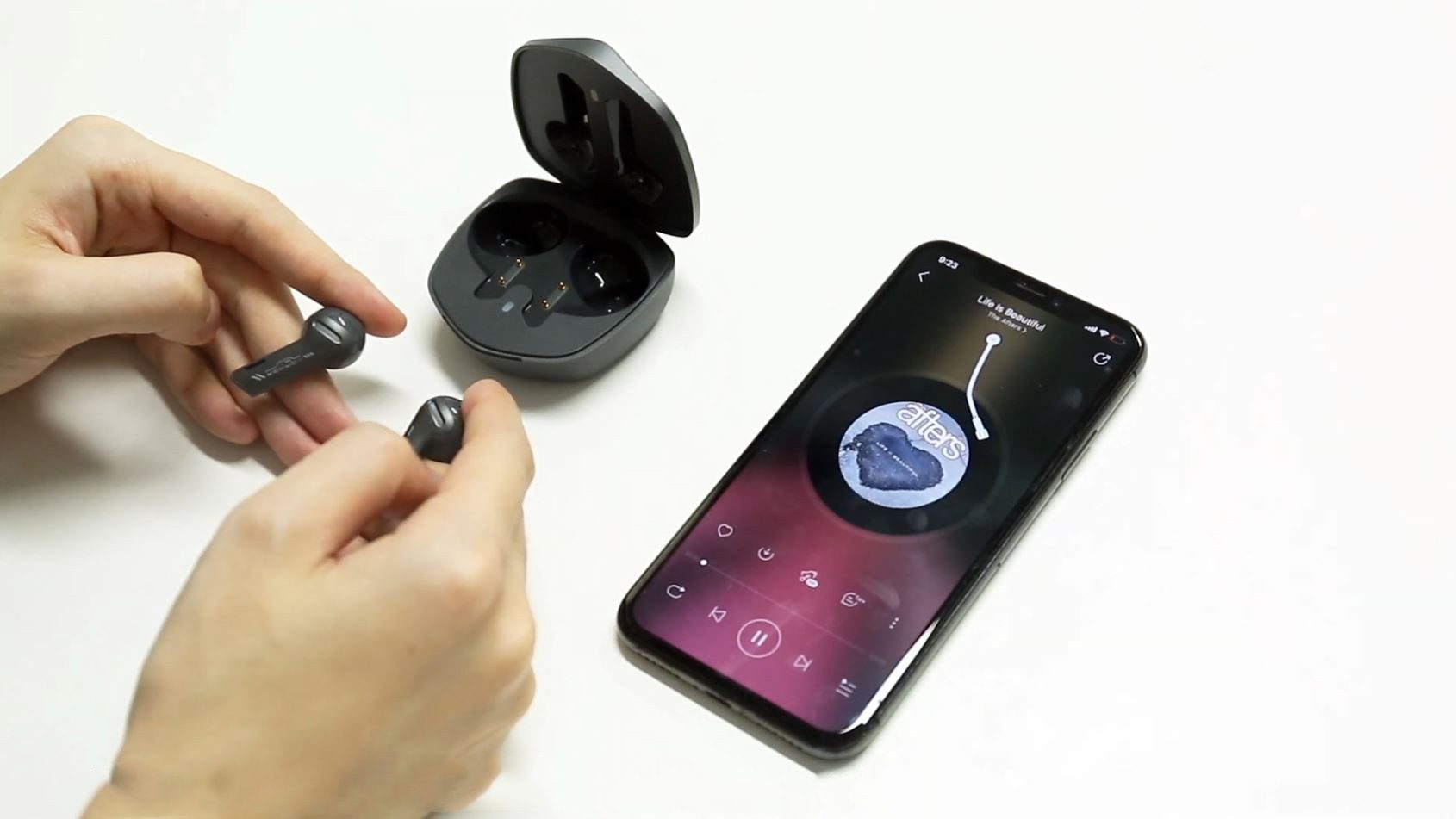 Noise Cancelling Technology
One of the strengths of the QCY G1 is the Noise Cancelling technology that is responsible for 2 built-in microphones on each bud. Here comes the noise-canceling aperture at the top responsible for capturing environmental noise while using algorithms to process internal digital signals and reduce background noise when making calls to achieve clear sound. So the sound here is satisfying because it's not too muffled and doesn't make a whistling sound, but that doesn't mean there is no noise at all. Overall, the G1 performs well enough for earphones of this size and price.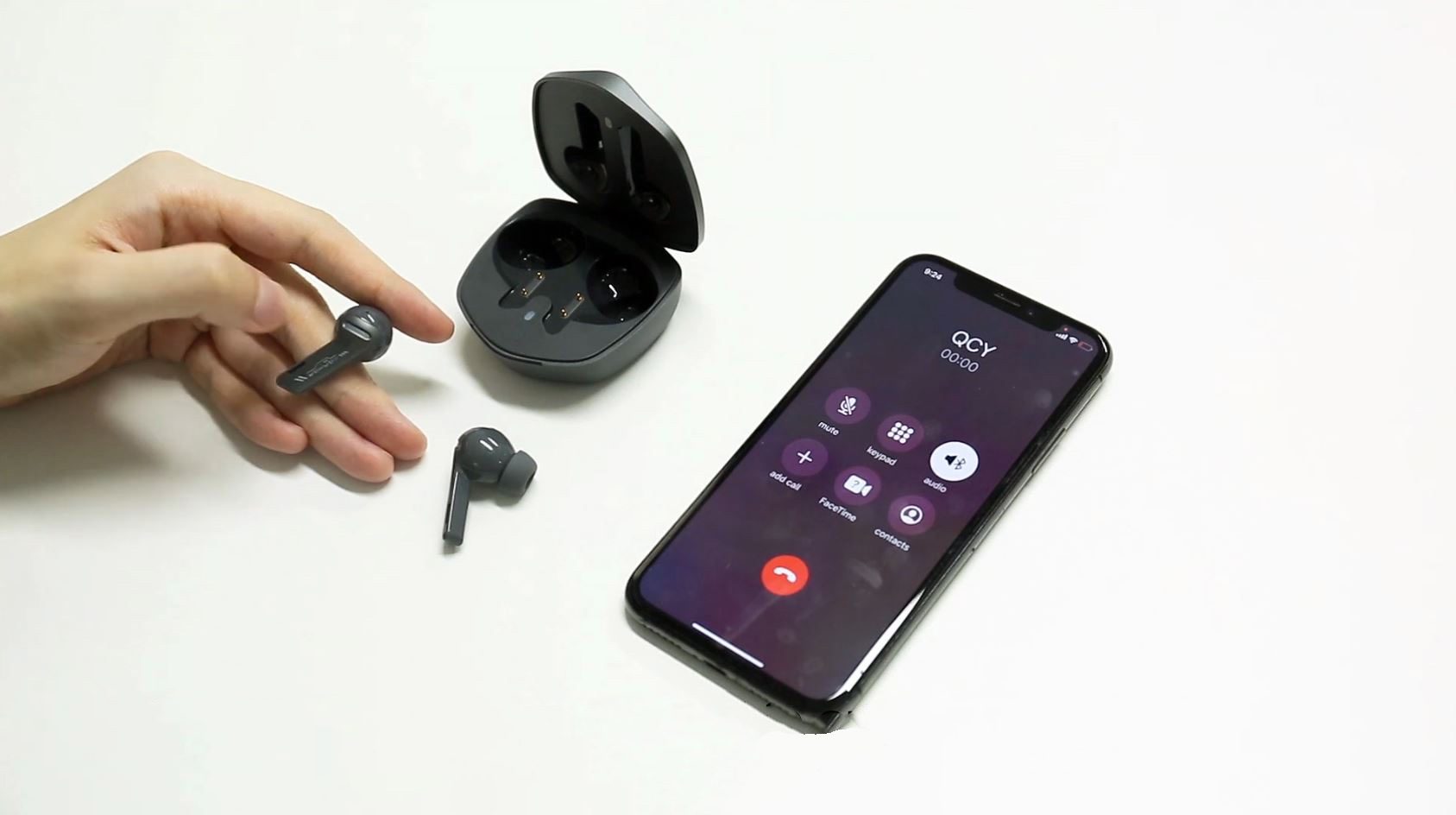 Low-Latency – Delay In Earphone
Next, The QCY G1 is also equipped with a 45ms low latency mode, which can be triggered by tapping three times on the right earphone. You can watch videos or play online games on both iPhone and Android without noticeable audio delay, even in YouTube or Netflix apps. Unfortunately, there is a slight audio delay of about 0.5 seconds when playing games, which is almost normal, and you can find it on most wireless headphones in this price range.
I found that these headphones do a great job not just at latency but at letting me hear when and where my footsteps come, and there's definitely a tactical advantage when playing with these headphones doesn't mean that none of the other headphones can do the same but these do them pretty well Because it's gaming, which is wonderful.
QCY G1 Battery And Charging Time
In terms of battery, the QCY G1 charging case is equipped with a built-in 450mAh Li-Polymer battery, it's really good if you don't activate gaming mode you will be looking at 8 hours of battery life and in my experience using game mode the battery drained faster and you will get a full 6 hours. which is great, it's above-average autonomy if we compare it with other headphones.
The case gives you 3 extra recharges so a total of 8 hours on the headphones plus an extra 24 hours with the case you're looking at nearly 30 hours of playback with these headphones I didn't have to charge them more than 2 weeks and I've been using these headphones a lot.
The case is recharged via Type-C on the back of the case and there is also no fast charging here, but in return, it comes with wireless charging.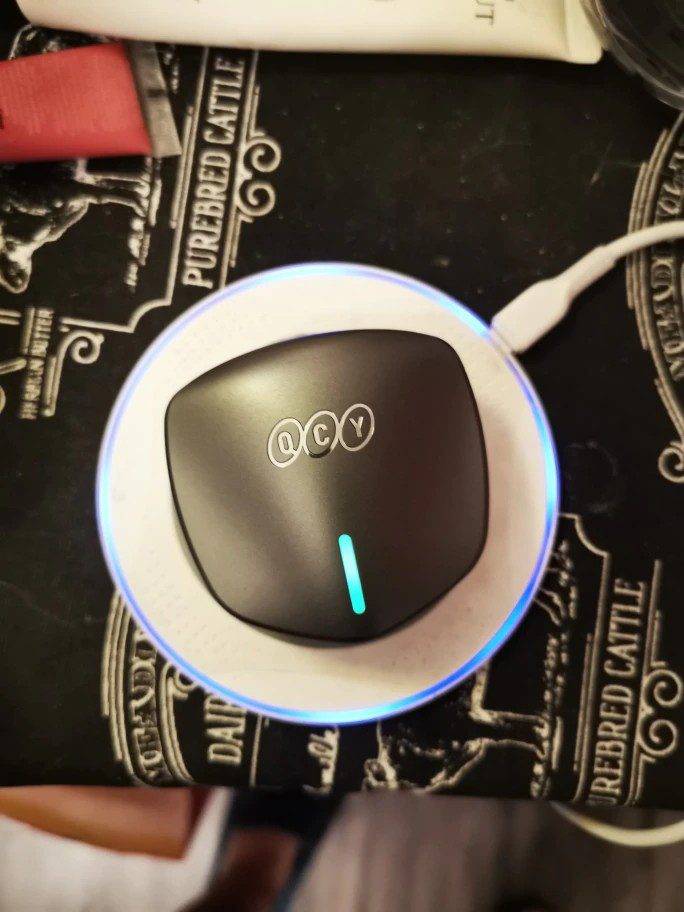 Conclusion
Honestly for very little money, the G1 are decent gaming earphones with good sound and good performance. Thanks to QCY, they make it really easy to recommend these headphones because they give you everything you need in any wireless headphones, all their bases are covered Good gaming performance, good battery life, good microphone, good sound quality, and an app that allows changing the controls to suit your preferences Personal. then QCY G1 is a very worthy option for budget gaming earbuds.
QCY G1 Price And Where To Buy
The QCY G1 Gaming Earbuds is currently available on the Aliexpress Store for a very good price So, don't miss out on this great deal. And to view its price or buy it, you can access the offer by clicking on the store icon.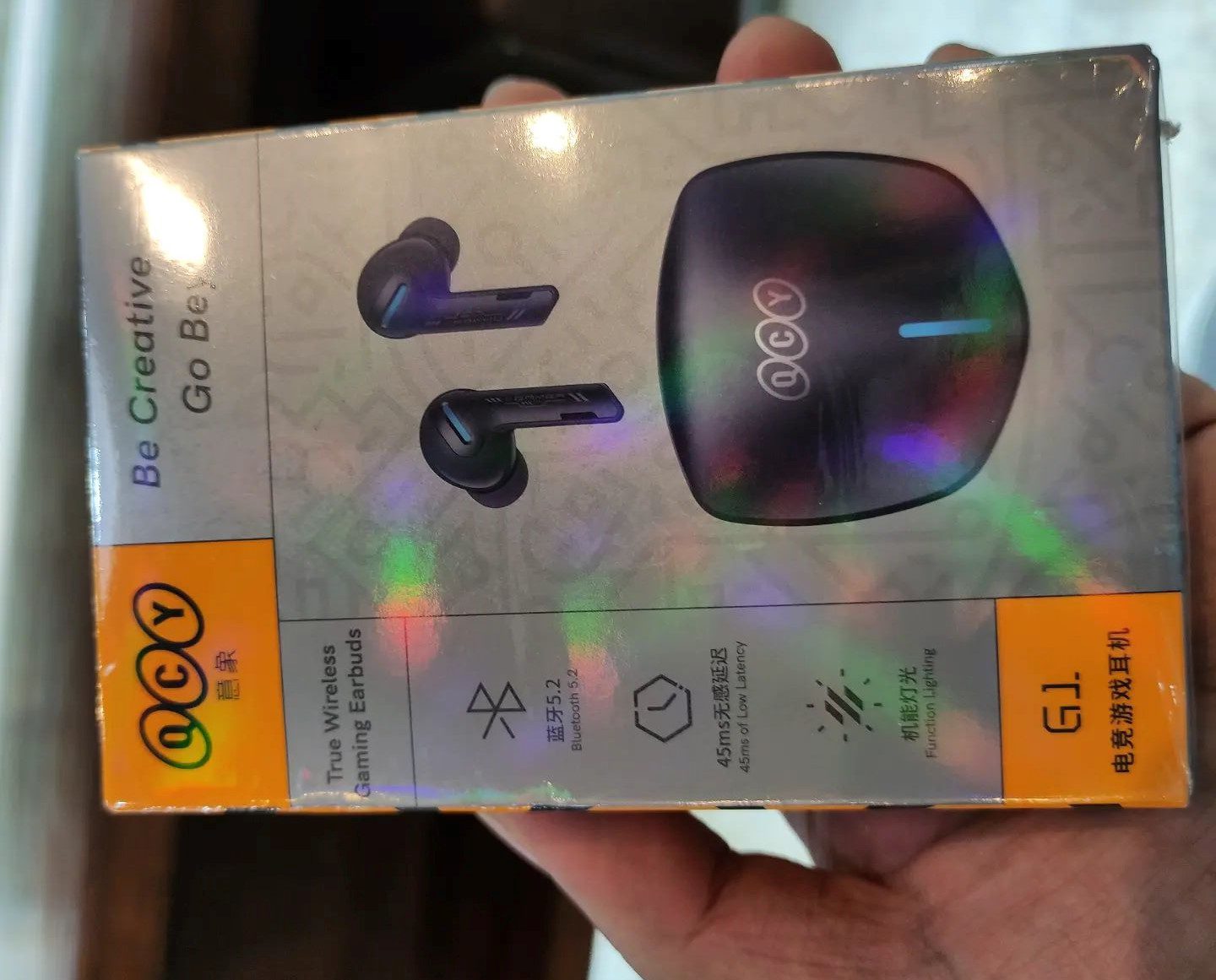 QCY G1 Bluetooth Earphones
Charging Box
3 x Pair of Soft-S / M / L Earplugs
USB-C Charging Cable
Manual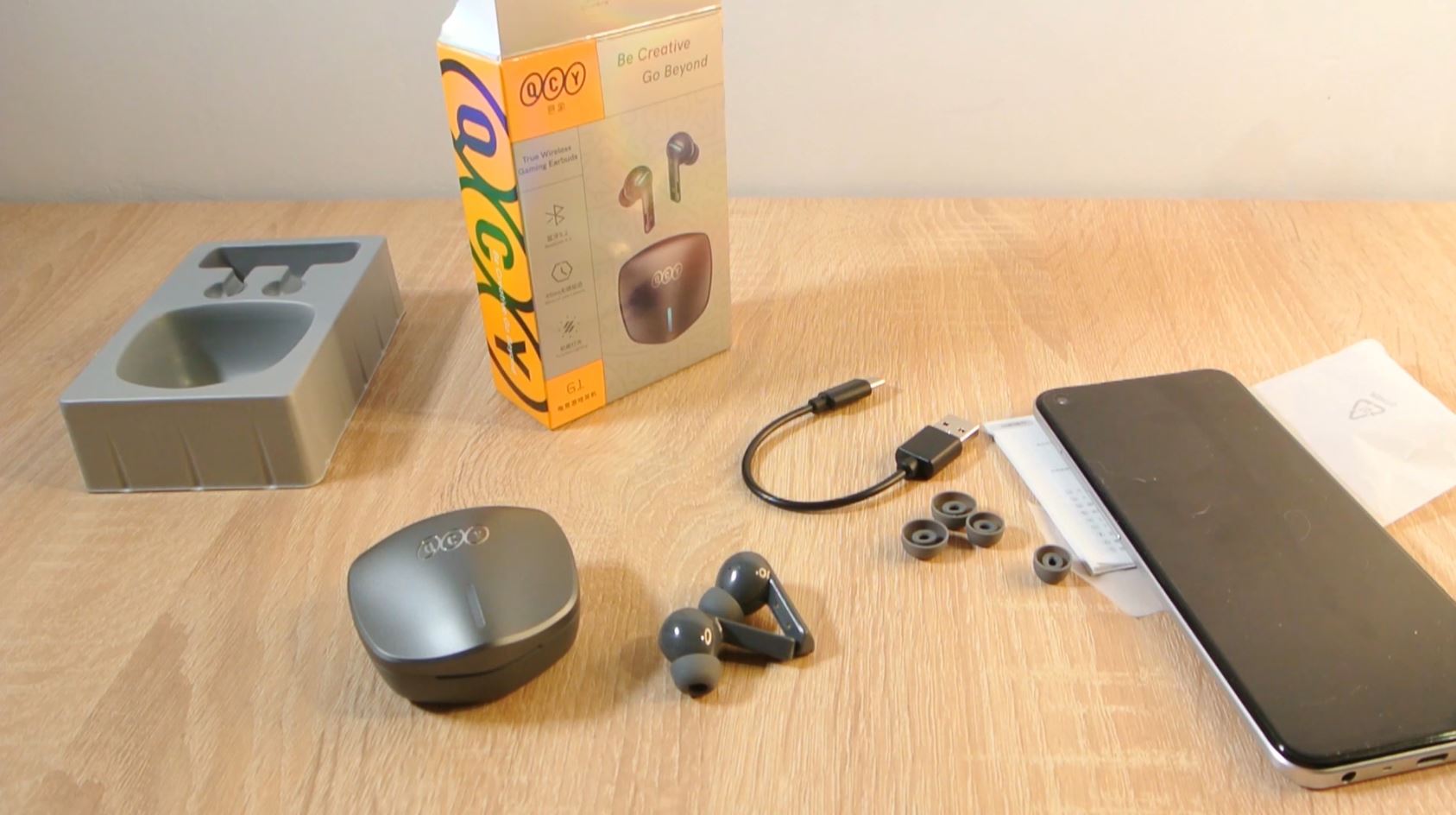 QCY G1 Earbuds Specifications
Product name: G1
Pairing name: QCY-G1
Certified model:BH21G1A
Bluetooth version: 5.2
Available system: iOS/ Android
Operation range: 10m
Battery life: 4.5hr of calling; 8hr of playback
6 hours of gaming(gaming mode on)
Bluetooth profiles: HFP/HSP/A2DP/AVRCP
Battery capacity(case): 450mAh
Top-ups by case: 3(for both earbuds)
Charging port: Type-C