HK1 Max Smart TV Box is a device that lets you use your TV like any other smart TV Android device, you can access the Internet and all the applications you want, and it comes with Rockchip RK3328 Quad-Core to run application smooth, which includes 4GB RAM and Android 9.0. And even it comes with a remote controller, you can even play games from PlayStore, watch videos from Youtube, Netflix, and more!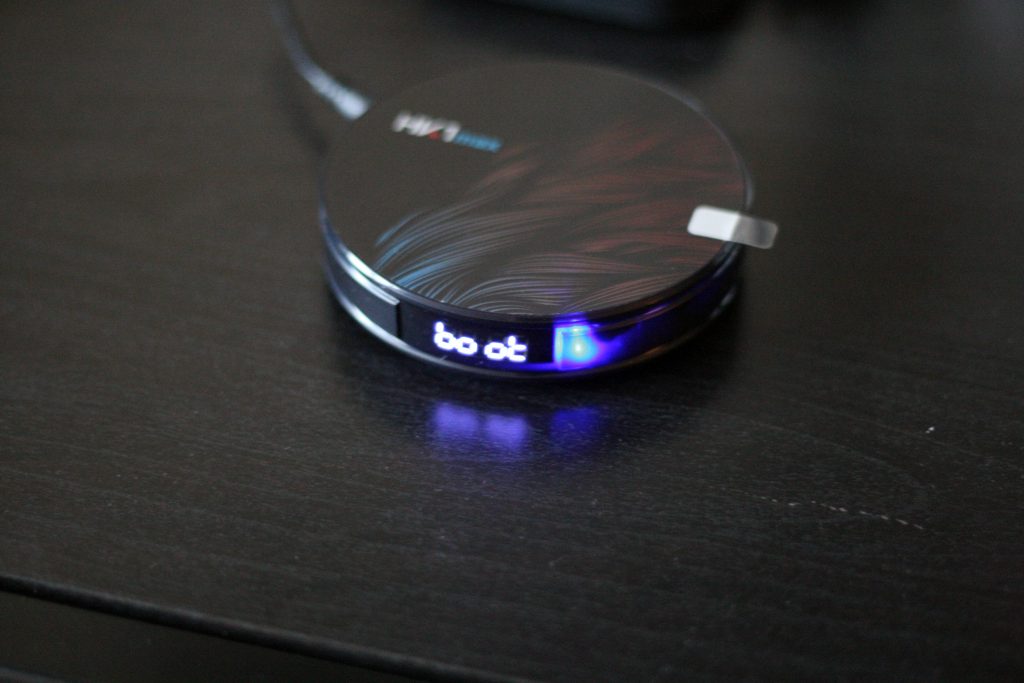 To explore other options, read about the A95X F1 Smart TV Box Review.
Design of HK1 Max:
HK1 Max Smart TV Box is a small device that provides a stylish and modern design, which makes it's simplified circular engineering and black color a mobile TV that can be placed anywhere.
On the side of the device, you'll find two USB ports, one USB 3.0 allows extremely fast data transfer, and another USB 2.0 for connecting keyboards and USB mice for easy web browsing. It is also equipped with an SD card reader that allows more storage space.
At the back of the TV-Box, there is a VGA port and another HDMI 2.0 port that provides video output and an Ethernet connector for cable connection and SPIDIF output for audio output.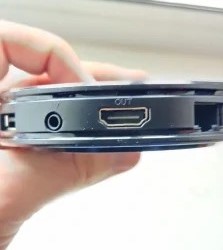 Either from the bottom, has holes for ventilation and this will definitely be needed if you want to play high-quality videos or play because they are consuming device resources, so you will notice a slight rise in the temperature rise.
Performance of HK1 Max:
With regard to performanceة HK1 Max Smart TV Box, we can say this is a good device. The built-in components of the TV-Box make it a very powerful device. In fact, the processor and its graphics card are the ideal duos for a device that expresses great power and an excellent ability to multitask and prove its value with excellent configuration, which makes all its performance possible.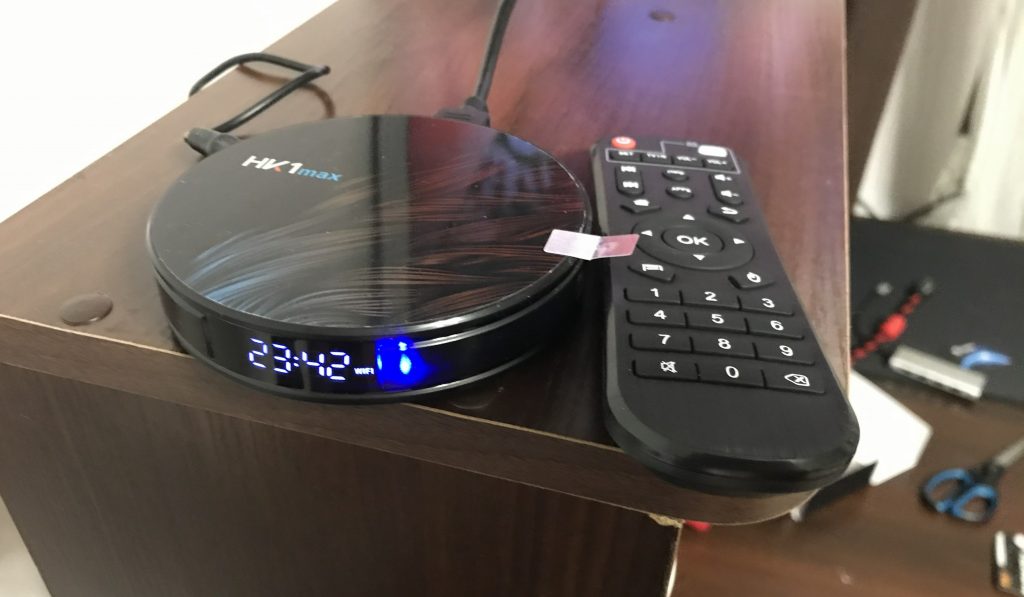 HK1 Max Smart TV Box is powered by an RK3328 processor, Convenient for multimedia content playback, and can transfer your data at high speed and Extremely powerful, can satisfy broadcasters and those looking for premium video broadcasts. This is due to the integrated A53 graphics card.
Regarding memory, HK1 Max is equipped with 4 Go of RAM DDR3 and 64 Go from eMMc that can be extended by adding a memory card in the included microSD card reader.
In fact, it lets you enjoy your videos with amazing playback speed. Downloads will be more flexible and you will be able to store many applications and a small amount of video in the TV-Box.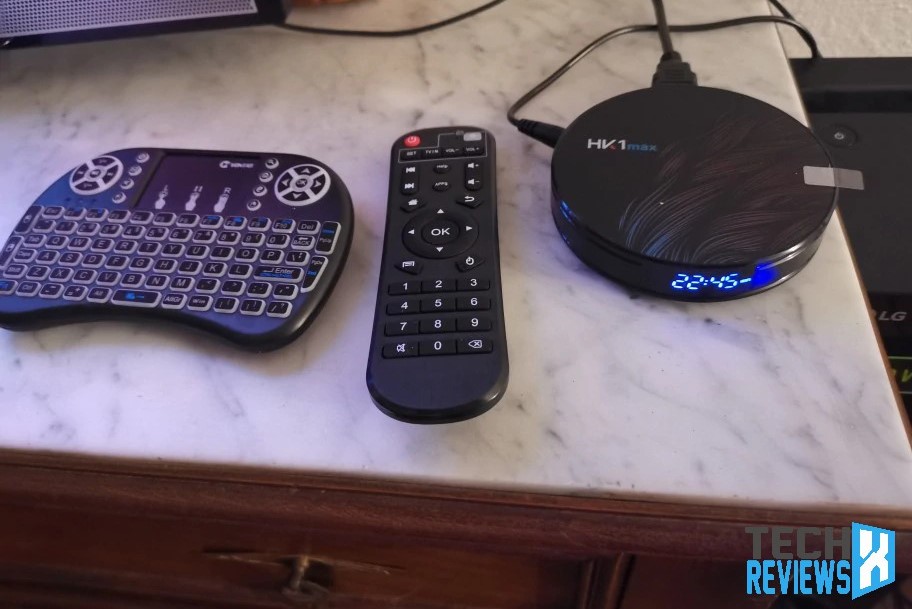 Its speed will also allow you to access your favorite movies and series without any system lag. We remind you that this device is capable of reading all video resolution including 4K @60fps with HLG HDR, we can also play basic games without increasing the demand for resources, as it will allow players to experience more flexible gaming sessions, but unfortunately, when playing heavy games and watching With 4K resolution you will notice a decrease in the speed of its performance and sometimes some convulsions due to the high voltage on the processor and the graphics card and the high temperature of the device.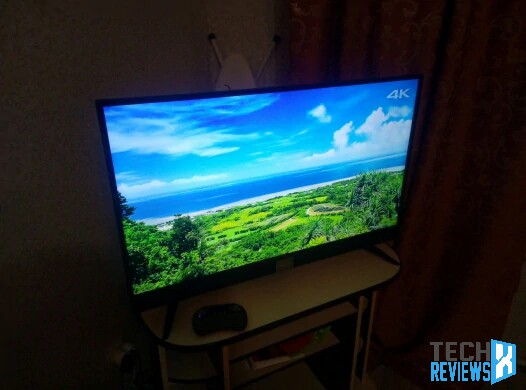 Connection:
Regarding internet connection, HK1 Max Smart TV Box provides cable connection via Ethernet cable and wireless connection via 2.4G + 5.8 IEEE 802.11a / b / g / g dual-band, which provides connection speed up to 1000MB LAN. And To ensure excellent connectivity, the TV-Box model features Bluetooth 4.0 functionality.
With a run on Android 9 Pie, this TV-Box offers a fluid and error-free interface and the most important thing is that it can be changed by downloading another launcher from the Play Store. It also has the advantage of being compatible with the 4K multimedia formats through the KODI app, which can be downloaded easily from the Play Store also, to Enjoy surround sound and Dolby DTS audio for whiteness experience
HK1 Max TV Box Price and availability:
The HK1 Max TV Box is currently available on Banggood and Gearbest and Aliexpress store, for the beginning price of $30 Depending on the specification of the version you want, 2/4GB RAM and 16/32/64GB EMMC. This is a very good price for TV Boxes with this powerful.
To view its price or buy it, you can access the offer by clicking on the store icon.
HK1 Max Smart TV Box.
Power Adapter.
HDMI Cable.
Remote Control.
English Manual.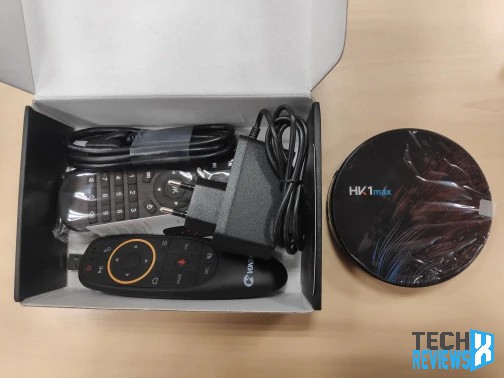 Specifications HK1 Max Smart TV Box
Chipset RK3328 Quad-Core 64bit Cortex-A53
Penta-Core GPU Mali-450
FLASH EMMC 64 GB
SDRAM 4 GB DDR3
OS Android 9.0
DC power supply 5 V /2A
Power indicator (LED) On Blue. Standby mode: red
Format Decoder support 4K VP9 video decoder, H.265 /H.264 video decoder
1080p other video decoders (VC-1, MPEG-1/2/4, VP6 /8)
HDR HDR10 and HLG modes
FAT16 /FAT32 /NTFS hard drive file system
Subtitle support SRT /SMI /SUB /SSA /IDX + USB
High-definition video output 4K (4096×2160 pixels)
KODI
USB Host 1x ​​USB 3.0 – 1x USB 2.0
TF card reader
AV output
HDMI output
Ethernet LAN: 10/100 standard RJ-45
Wireless IEEE 802.11 WiFi a /b /g /n 4G 2.4g + 5.8G
Support mouse and keyboard via USB; Support 2.4GHz wireless mouse and keyboard via 2.4GHz USB dongle
Language: Multi-language
Support 5.1 Surround Sound Output: Yes