if you're looking for a power bank with high battery capacity and with elegant design and all the protections that you want, you're in luck as Romoss is introducing eight new power banks in their lineup start from 20000mAh to 30000mAh. and in this review will take a closer look at the Romoss LT20 model, It contains everything that consumers need in battery capacity, features, and price. The LT20 has a 20,000mAh capacity and with three input ports and two output ports. It also has an LED display that shows the current capacity of the power bank.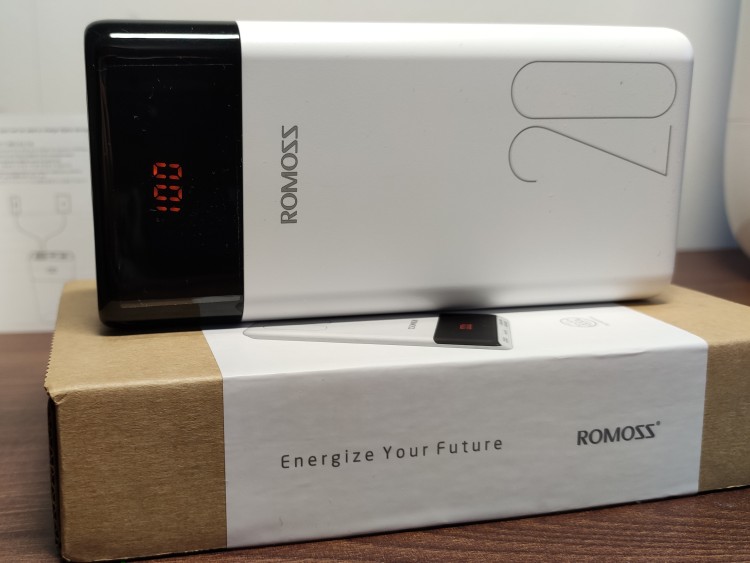 Design:
The Romoss LT-20 is a 20,000mAh power bank that has a unique design compared with the other power banks in the lineup where with arched body design you can take with single-hand, it is more comfortable for you and easy to carry with measure 167 x 82.5 x 23 mm and weight 472 g. while the rest of the body has a sandblasted texture from plastic to avoid scratches and a bit heavier than usual but feels solid overall.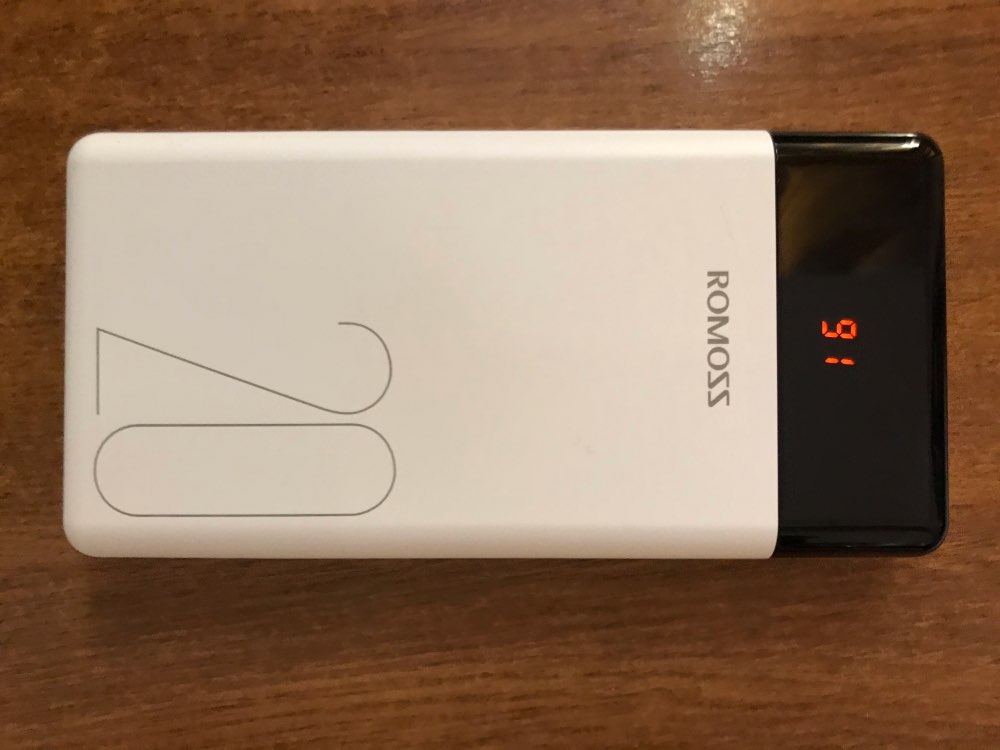 It has a LED display (black-colored area) with a glossy finish The LED display shows the battery percentage of the power bank which gives you a better idea about its power level.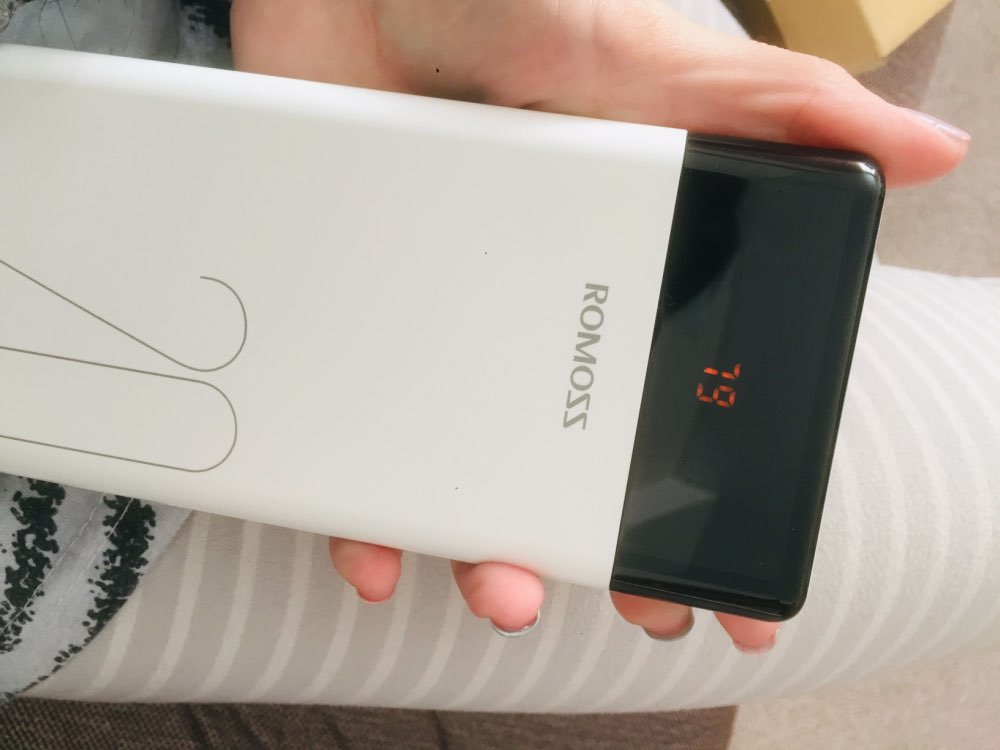 Regarding the ports, It has two USB Type-A output ports at the top – one with single lightning and one with a double lightning symbol, and a Micro USB port (arrow symbol) for input. On the right side is battery power.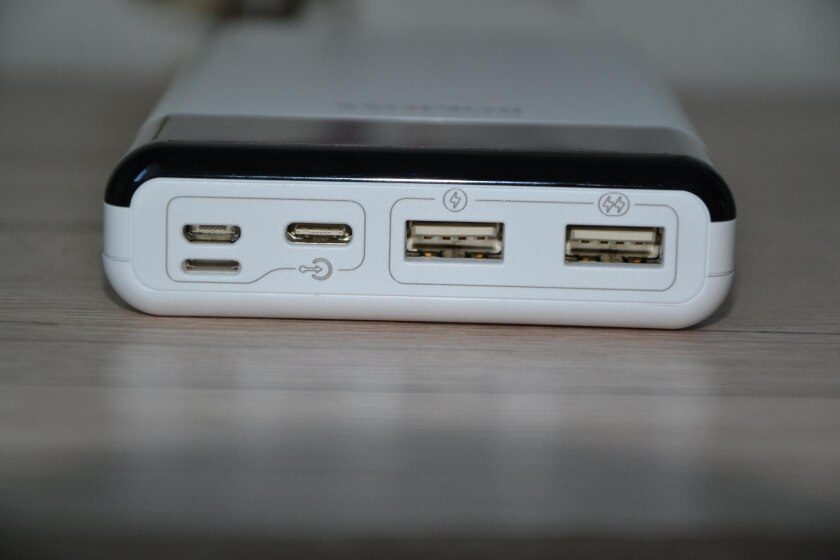 Performance of ROMOSS LT20:
With 20000mAh Ultra-High Capacity Li-Polymer battery and dual USB port(Up to 2.1A), it charges the iPhone 7 almost eight times, the Huawei P9 five times or the iPad mini 2 three times So, it's suitable for everyday using, traveling, camping, or other outdoor activities. You will not have to worry about running out of charge for your mobile devices.
Romoss LT20, It can be recharged using three ways via a micro-USB, lightning, or USB Type-C cable. Meanwhile, it can re-charge smartphones and other gadgets with standard 5V/1A power or the faster 5V/2.1A rating for newer Android phones and iPhones.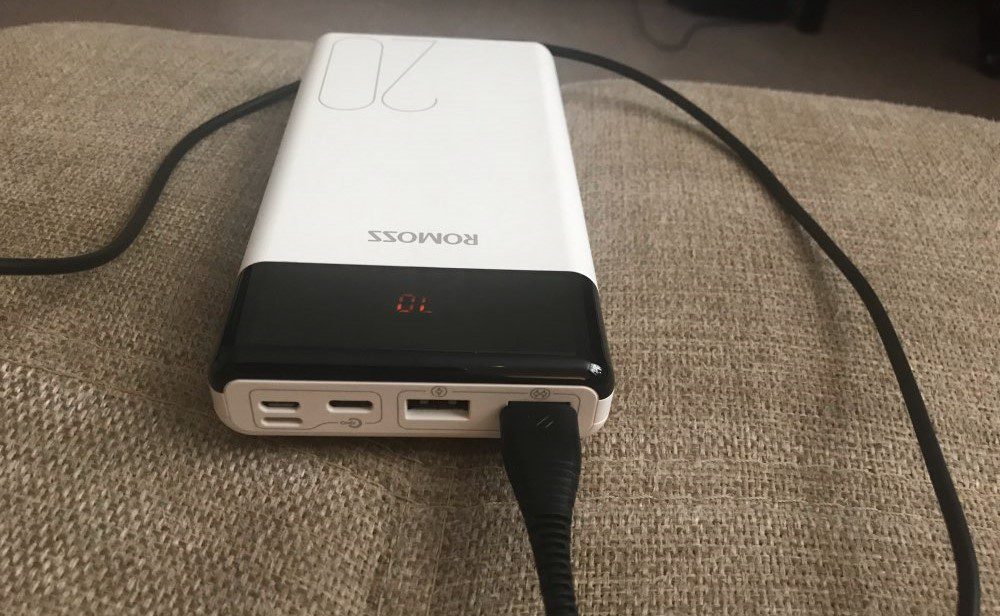 this power bank can charge up to two mobile devices, a tablet, or for Nintendo Switch at the same time (one single lightning port and one double lightning port).
Single Lightning: This symbol to the output capacity of 5V-1A.
Double Lightning: This symbol to the output capacity of 5V-2.1A.
When it comes to power banks, power surge protection is extremely important for safety. Thankfully, Romoss power banks can prevent overcharging, over-discharging, over-voltage, an unusual spike in temperature, short circuit, and many more.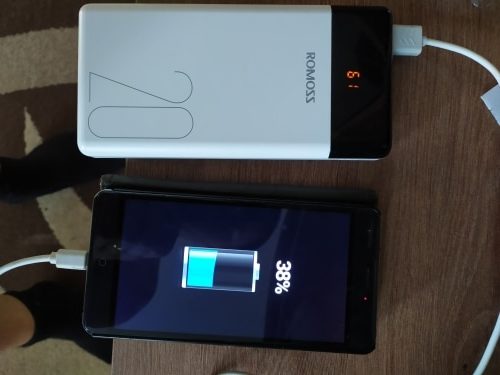 Note: For first use, please drain up the power bank to 0 before charging it to 100% to activate the digital LED screen.
To explore other options, read about the Ugreen Power Bank 10000mAh Wireless Portable Charger.
ROMOSS LT20 Price And Availability:
The ROMOSS LT20 20000mAh Power Bank is currently available on the Aliexpress store for just $17.99. This is a very good price, And I recommend this product for anyone he suffers from a power outage in his area or needs power when going out on trips, This power bank is your best reserve for you. So, don't miss out on this great deal. And to view its price or buy it, you can access the offer by clicking on the store icon.

And I will be grateful to you if I purchase through this link because the company will give me a commission on that and this helps me to bring more devices for review and development from the site and improve the quality of the reviews and thank you in advance.
Romoss LT20 20000mAh power bank.
1 x Cable(please pay attention to, LT20 with the cable, but LT20PS without cable).
Use Manual.
Specifications of ROMOSS LT20
Type: Power Bank/External Battery Pack/Portable Charger
Model No: Sense LT20
Rated Power: 74Wh/3.7V
Capacity: 20000mAh Lithium-Ion battery
Output: 2 x USB (5V/2.1A & 5V/1A)
Input:

Micro-USB (5V/2A)
Lightning (5V/2.1A)

Color: White
Transform Rate: ~85%
Certification: FCC/CE
Self-charging time: ~13hours(Using 2.1A Adapter)
Size: 167 x 82.5 x 23 mm
Weight: 472 g
LED display
Scratch proof
Protections: Overcharge, Over-Current, Reset, Over-discharge, Voltage-Surge, Power-surge, Temperature, Short Circuit, Recovery, RFI protection