In this review, I will introduce you to the fabulous Ugreen Power Bank 10000mah supports fast charging, you can charge up to 3 devices at once, With USB A cable, Type-C or the wireless charging.

Specification Ugreen Power Bank 10000mah
| | |
| --- | --- |
| Battery | 10000mAh/3.8V (38Wh) |
| Wireless Charger Output | 10W |
| USB-C / USB-A output | 5V/3A; 9V/2A; 12V/1.5A |
| USB 3.0 output | 5V/3A |
| Input | USB Type C |
| Color | Black |
| Size | 145 x W73 x H17mm |
| Weight | 251g |
You may also like Samsung Wireless Power Bank 10000mAh Review – All You Need to Know.
Performance Ugreen Power Bank 10000mah:
Ugreen Wireless power bank, a perfect combination of 10000mAh power bank and wireless charger, you can charge up to 3 devices at once, you can either use the USB A cable, USB Type-C cable or choose the wireless charging feature.
This Ugreen Wireless power bank will enter protection mode when metal is detected.
Protects both the battery pack and your devices from overcharge, over-temperature, over-current, over-voltage, and short circuit.
Fireproofing and flame resistant material polymer battery ensures a safe charging process.
When it comes to input/output options:
There's a USB Type-A port that you can use to connect a standard USB-Type A to Micro-USB/ Lightning.
USB-Type C cable. This port is used only for output.
Then there's a USB Type-C port which can be used both for input and output purpose. The power bank charges using a USB-Type C cable.
Compatibility:
Wired Charging: High-Speed Charging 18W of power delivery.
Wireless Charging:
-10W fast charging for Samsung Galaxy S9 S8 Plus Note 8 S7 edge S6 edge+ and other Qi-enabled quick charge devices.
-7.5W Compatible iPhone Xs Max/XR/XS/X/8/8Plus.
-5W standard charging for iPhone XS Max X 8 Plus and other Qi-certified standard devices.
The UGreen wireless power bank charges via USB-C cable. If you want fast charging times, it is recommended to use Qualcomm Quick Charge compatible charger to charge the power bank. If the charger is Quick Charge 3/ Quick Charge 4 compatible, you will be able to charge the power bank in under 4 hours.
This power bank has a capacity of 10000mAh but thanks since you are transferring the power from one source to the other, there will be some energy loss during the transfer.
You can expect to charge Samsung Galaxy S10 twice fully with this power bank before requiring a recharge. You can expect a similar charge cycle with the iPhone XS Max- two full charges before requiring a recharge. And the price of this power bank is great too. It offers 1.4 times the faster-charging speed for your devices.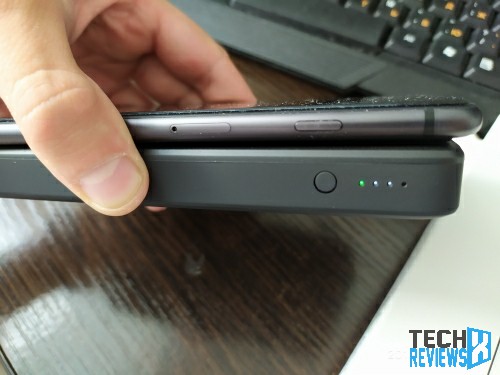 Note :
Metal and magnet will hinder wireless charging capabilities.
Non-Qi enabled phones will need a Qi wireless charging receiver to power up.
Ugreen Power Bank Price and Availability:
The Ugreen Power Bank is currently available on the Aliexpress store for just $36.99. This is a very good price So, don't miss out on this great deal. And to view its price or buy it, you can access the offer by clicking on the store icon.

Ugreen wireless portable charger
1 x type c cable
user manual
warranty card