SuperEQ is a new sub-brand of the well-known OneOdio headphone manufacturer with over 10 years of audio production experience and is the most popular budget audio brand on Amazon, and this is what it proved in the OneOdio Monitor 60 and Monitor 80. which is why the SuperEQ Q2 Pro will be in the first review of earbuds for this promising brand.
These new earbuds have a modern design, good specifications, and most importantly it is cheap. It's equipped with Active Noise Cancelling to make clear calls without any interruption and a 12mm dynamic driver for High-Quality Sound with the help of Bluetooth 5.2 Chip to transmit a flawless connection, the wireless earphone gives you a 30h battery life, all this in one place. So let's test the SuperEQ Q2 Pro and see if they can offer better value for money than their competitors.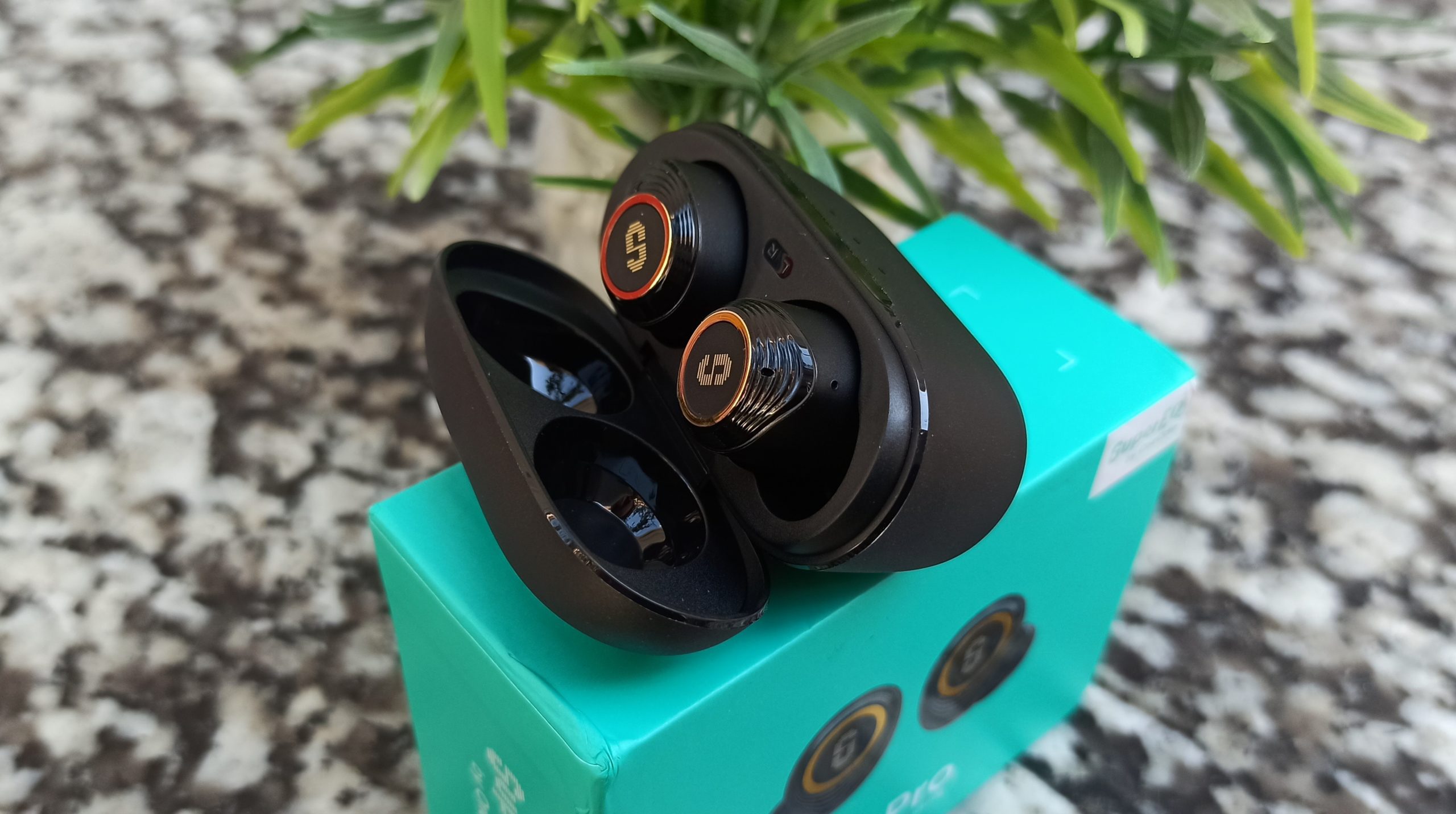 Disclaimer: Thanks to SuperEQ for sending to us SuperEQ Q2 Pro in exchange for an honest review, and all observations and opinions are my own based on my experience with the product.
Hybrid Active Noise Cancellation
Bluetooth 5.2 latest version chip
12mm large drivers for HI-FI sound
4 Mics for better calling; Transparency mode
30h long playtime; IPX5 waterproof
One-Step Pairing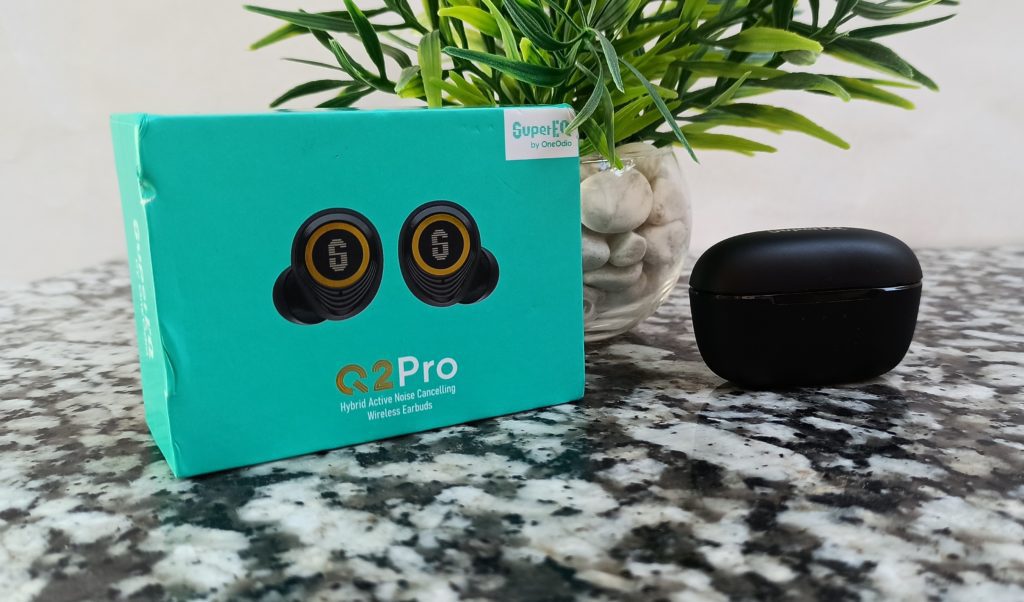 Design & Build Quality
Charging Case
Overall, SuperEQ adopts a simple and elegant design. As for the charger case, which is elongated and rounded in shape, small enough to fit in a pocket, and light at just 34g, it looks more like a plastic capsule with a matte black finish and a gold SuperEQ logo on the top. It looks sturdy, compact and in principle should withstand any fall or accidental impact without problems.
There is also a long slot in the center of the front to open the case, which is surrounded by a built-in magnet for easy opening and closing with one hand. Once opened, there is room for the earbuds with automatic charging start. Under the notch is three LEDs that glow white to indicate the remaining charge. When the box is charging, it lights up blue, and when it is charged, it turns off. When the headphones are charged from the inside, the LED indicator lights up in red.
The bottom of the charging case is flat for easy stability, and the USB-C charging port on the back was fine and not at the bottom, which is annoying in some cases.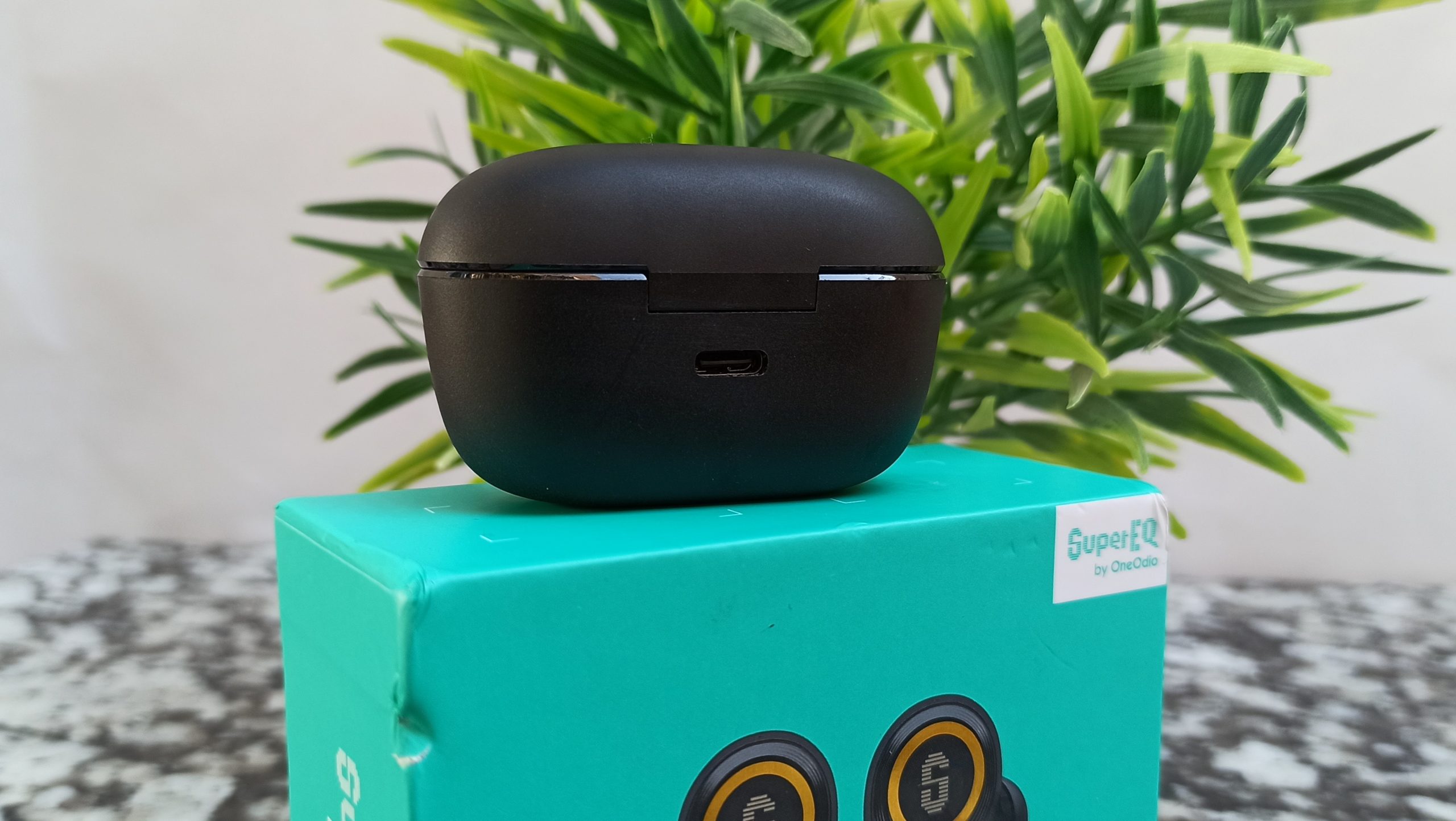 SuperEQ Q2 Pro Earbuds
Looking at the design, the SuperEQ Q2 Pro Wireless Headphone has a compact 'in-ear' design in a matte black finish while the exterior is glossy black in a wavy pattern and features a touch panel with a rather large gold S-mark surrounded by a gold ring, and most importantly the body Lightweight at only about 6g to be comfortable on the ear while on the go with the help of soft rubberized silicone ear cups with rounded holes to relieve pressure inside the earpiece for a better fit and isolating sound. I find the Q2 Pro comfortable to wear and the fit feels secure.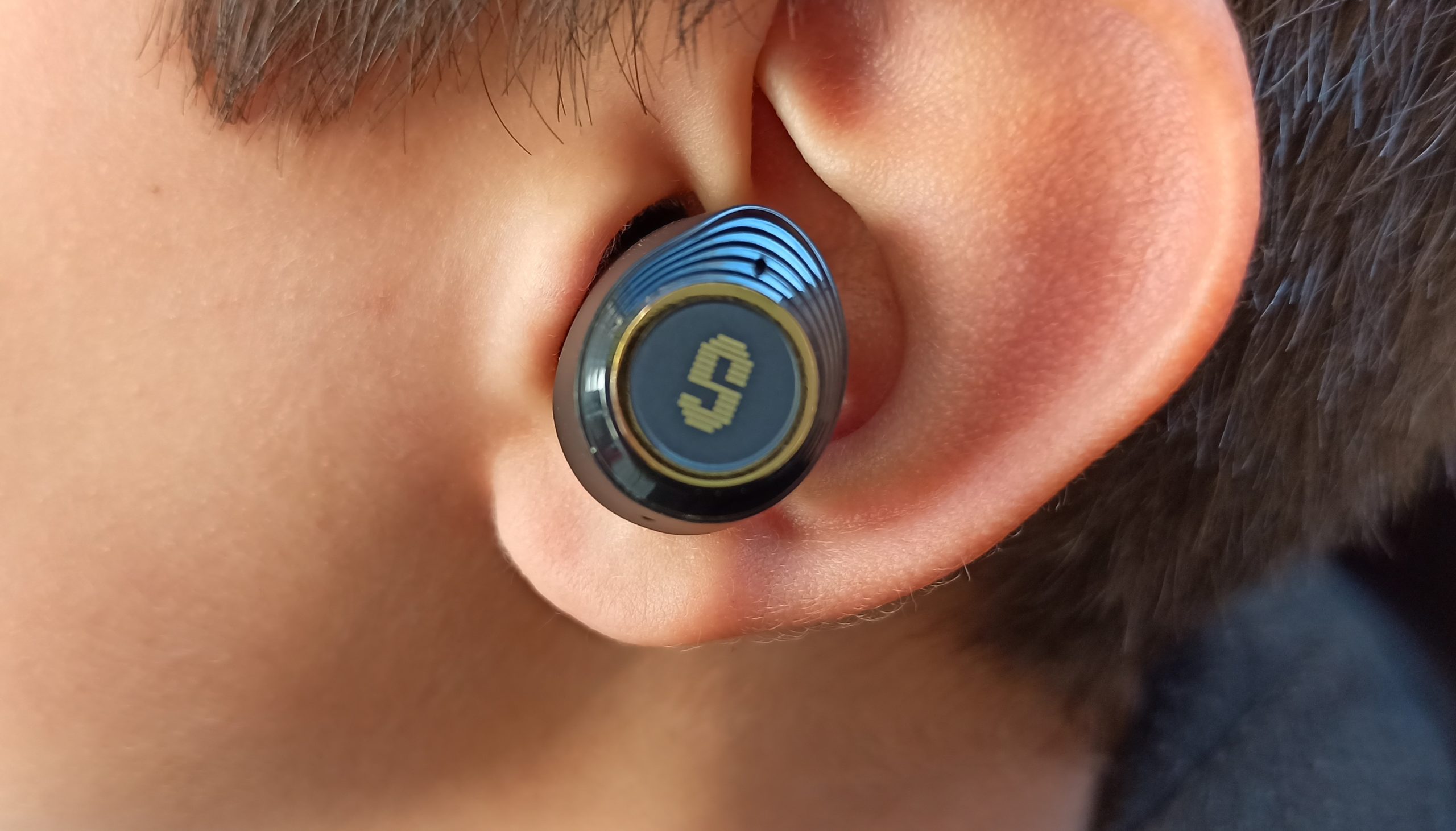 Besides the touch control, there is a magnetic charging connector and with a total of four microphones, 2 for each bud, plus another microphone for the front, which is responsible for reducing ambient noise for good and clear sound reception during calls and to accurately distinguish between human voice and noise.
SuperEQ says the Q2 Pro is IPX5 rated which means sweat and some light rain won't have an effect on the earbuds but don't wear them while showering or swimming and do not use it in a sauna or steam room. The charging case is not waterproof, as a result of daily use, the effectiveness of the earbuds' waterproofing may reduce over time.
Touch Control Panel
To control the SuperEQ Q2 Pro, there is a high-precision touch control panel on the top of the earbud that can achieve precise control with responsive touch sensitivity that's big enough that you don't have to use your fingers very precisely to get things done.
With touch control, you can use a different number of clicks. With a single tap on either earbud, you'll pause/resume any track that's playing, and if you make a call, you'll also answer it or end the call.
Two clicks on L will take you back to the previous track or R to go to the next track and a two-second tap on L or R will allow you to switch between normal mode, ANC mode, and transparent as well as cancel the call if there is an incoming call. Triple tap turns on the voice assistant.
Pressing L or R once will play/pause/answer a call or end a call. Unfortunately, there is no volume control on the earbuds themselves, but you can still control the volume via the voice assistant on your phone.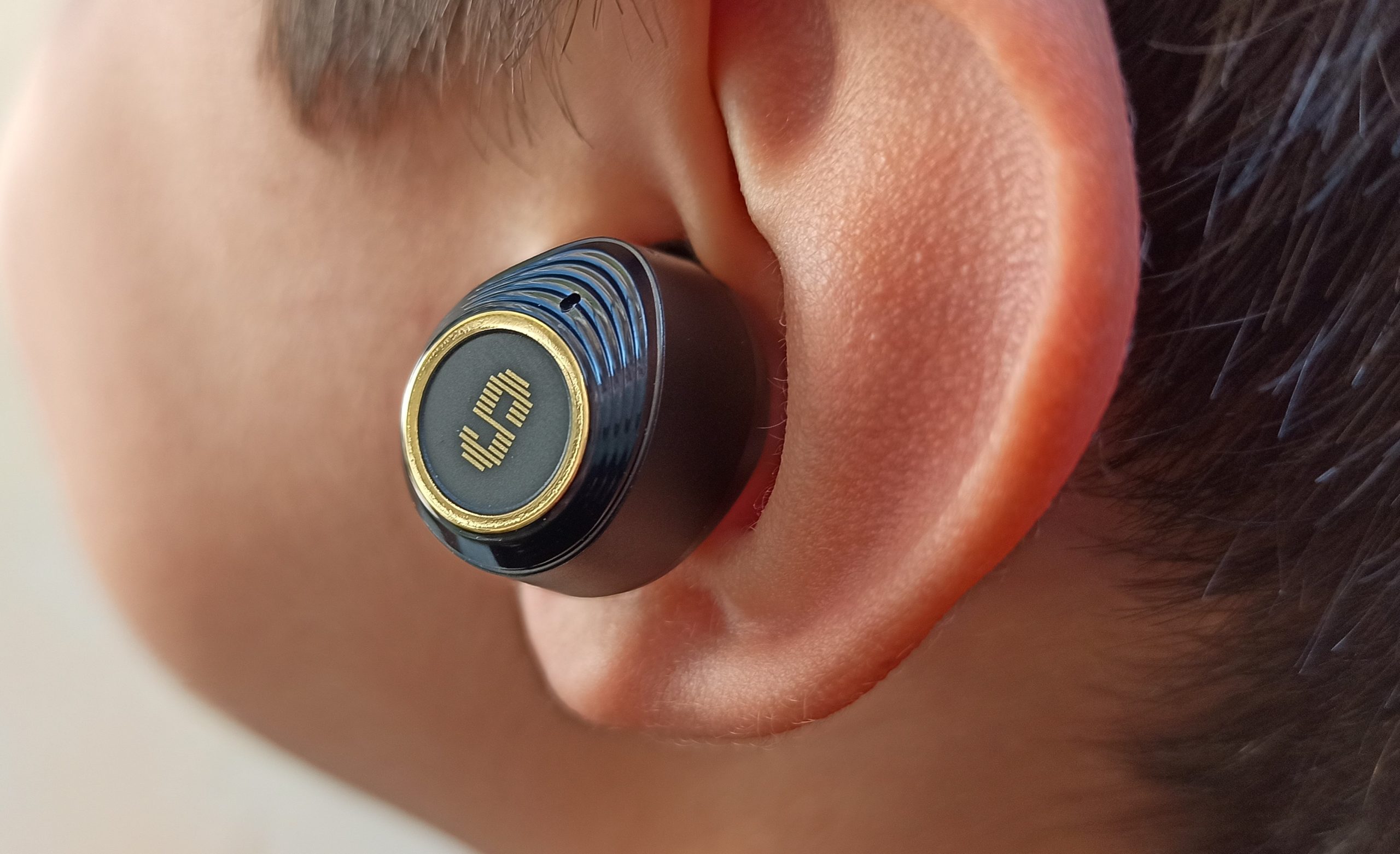 Yes, the controls are very intuitive but a bit too many and it takes a while to get used to it, but once you get used to it, the system works just fine.
How To Pair SuperEQ Q2 Pro With Smartphone
SuperEQ Q2 Pro offers strong compatibility with both IOS and Android devices and adopts Bluetooth 5.2 technology for stable and powerful transmission, lower delay, and smoother connection for high sound quality. It also supports audio decoding for SBC and AAC, the most popular. And you can enjoy music up to 10m long even with thin walls between you and your device.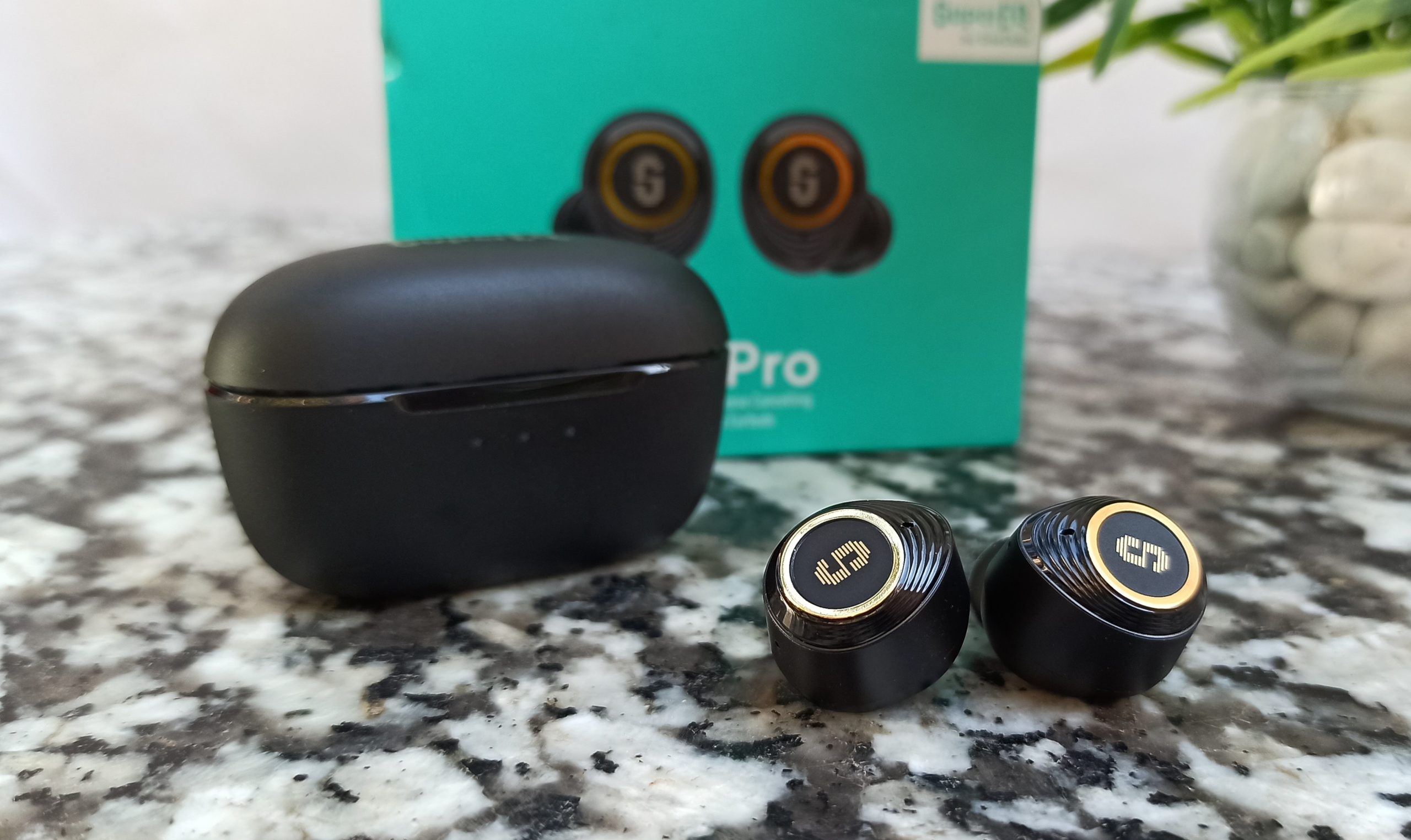 The pairing is easy and simple All you have to do is open the charging case and with Hall Switch will be automatically connected once open the case (No Need To Take The Ear buds Out).
Immediately after that, open the Bluetooth interface of the smartphone, the "SuperEQ Q2 Pro" earphone will automatically be recognized, click it, and the pairing is completed successfully. Pairing is done manually once, after which it's automatic and fast with Bluetooth enabled, just remove it from the box and use it. You can also choose to connect only one earphone at a time without any problem.
Important
Try to reset the SuperEQ Q2 Pro and restore the factory default if you face any difficulties
Place both the 2 earbuds into the charging case.
Quickly tap 5 times in both ears at the same frequency.
The blue LED flashes and resets successfully.
If the right and left earbuds disconnect with each other, click the left earbud three times to send the pairing instruction to the right earbud, and the pairing will be successful again.
Performance Overview
SuperEQ makes sure the earbuds can deliver a good audio experience with 12mm dynamic drivers, and the ANC mode is able to reduce background noise up to 35dB. and Transparency Mode in reverse, amplifying ambient sound, so you can listen to people talking without having to pause your song. There is also a built-in microphone that can be used for phone calls.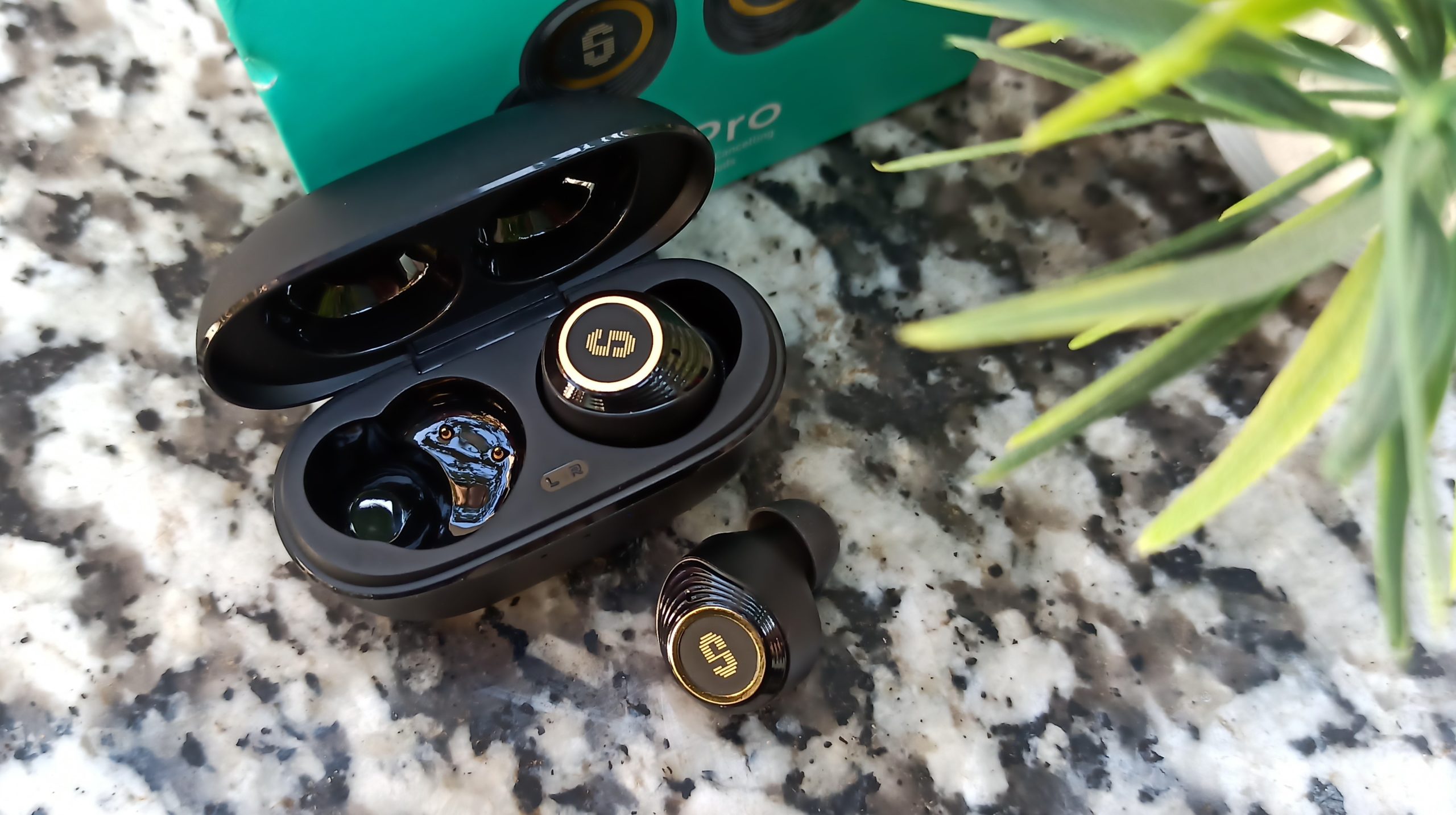 SuperEQ Q2 Pro Audio Quality
In terms of sound quality, the SuperEQ Q2 Pro earphones have a great stereo effect and powerful dynamic range for all types of music with excellent treble, mid-tones, and bass. Equipped with 12mm dynamic drivers that give you surprisingly clean sound with little to no noise when the ultra-low frequencies let you know where each singer was positioned, the intensity of their voice, instrument discrimination was good and everything felt very balanced. So the Q2 Pro was great in that regard. Unfortunately, there's no aptX so you're left with the standard codecs.
The bass was a bit richer and more noticeable on most tracks where the vocals and most instruments sounded amazing, but the drums and bass sounded more steady. This does not mean that music sounds bad, on the contrary, it sounds great. Though you won't get the nice deep sound you would get with a good subwoofer as these are not bass headphones but the bass level will be fine for regular users.
The midrange is a bit off but the overall clarity is good, male and female voices are clear and attractive. The instruments sound fairly natural and have an organic tone, but some mid-range instruments such as guitars and drums lack some edge. With this, it will not tire you out and will allow long comfortable listening periods. The details in the Q2 Pro are very good and it allows you to hear many small details in the music.
Hybrid Active Noise Canceling
In addition to the sound quality, Hybrid ANC technology and an advanced noise-reduction algorithm make for a really great combination as it reduces ambient noise up to 35dB, which means it can filter out up to 95% of outside noise. The downside is that there's only a microphone dedicated to this feature, so it's better to think of it as noise reduction rather than complete cancellation. That is why you can hear some slight noise, and activating and disabling ANC will not give you that dazzling impression and there will not be a significant impact on the sound quality, but it is acceptable in this category. To make it simple, the high end of the background noise will still be audible, helping with directionality, but the bass and mids no longer block the music.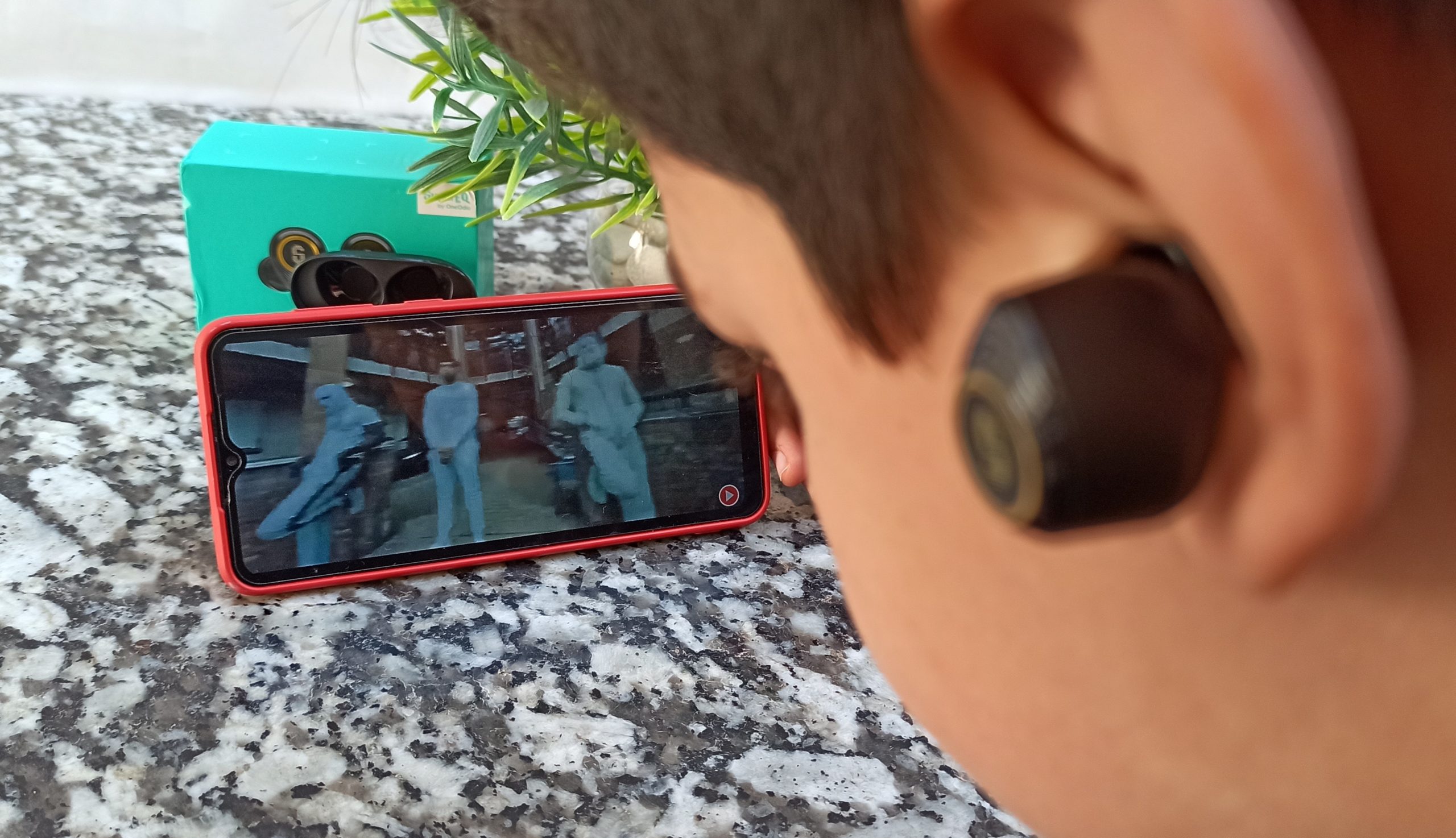 Transparency Modes
Modes are one of the true features of the SuperEQ Q2 Pro Hybrid ANC TWS Earbuds. When you turn on Transparency Mode, which is usually the default, you can still hear traffic, someone talking, and footsteps, but it's a bit muffled.
Call Quality
In addition to the sound modes, the call quality of the SuperEQ Q2 Pro is interesting. It sounded better and was above average as the earbuds were under $100 so the call quality is excellent and this is due to the presence of two good microphones that pick up your voice very clearly without capturing all the surrounding sounds around you from echo or any other interference. And because the sound quality is also good on these headphones, the caller was heard well too.
Low-Latency – Delay In Earphone
After that, the latency in the SuperEQ Q2 Pro is not bad and just needs some improvement, so that you can watch videos or play online games on both iPhone and Android without noticeable audio delay.
When it comes to gaming, Bluetooth 5.2 works well with minimal latency and FPS gaming is a viable option with these headphones. You won't notice any problem when listening to an audio file on the headphones, but when watching a movie and video in the YouTube or Netflix app, there is a slight lag, about half a second or less, between when the actions in the movie play, and when the feedback reaches your ear. This applies to gaming as well, which is almost normal, and you can find it on most wireless headphones in this price range.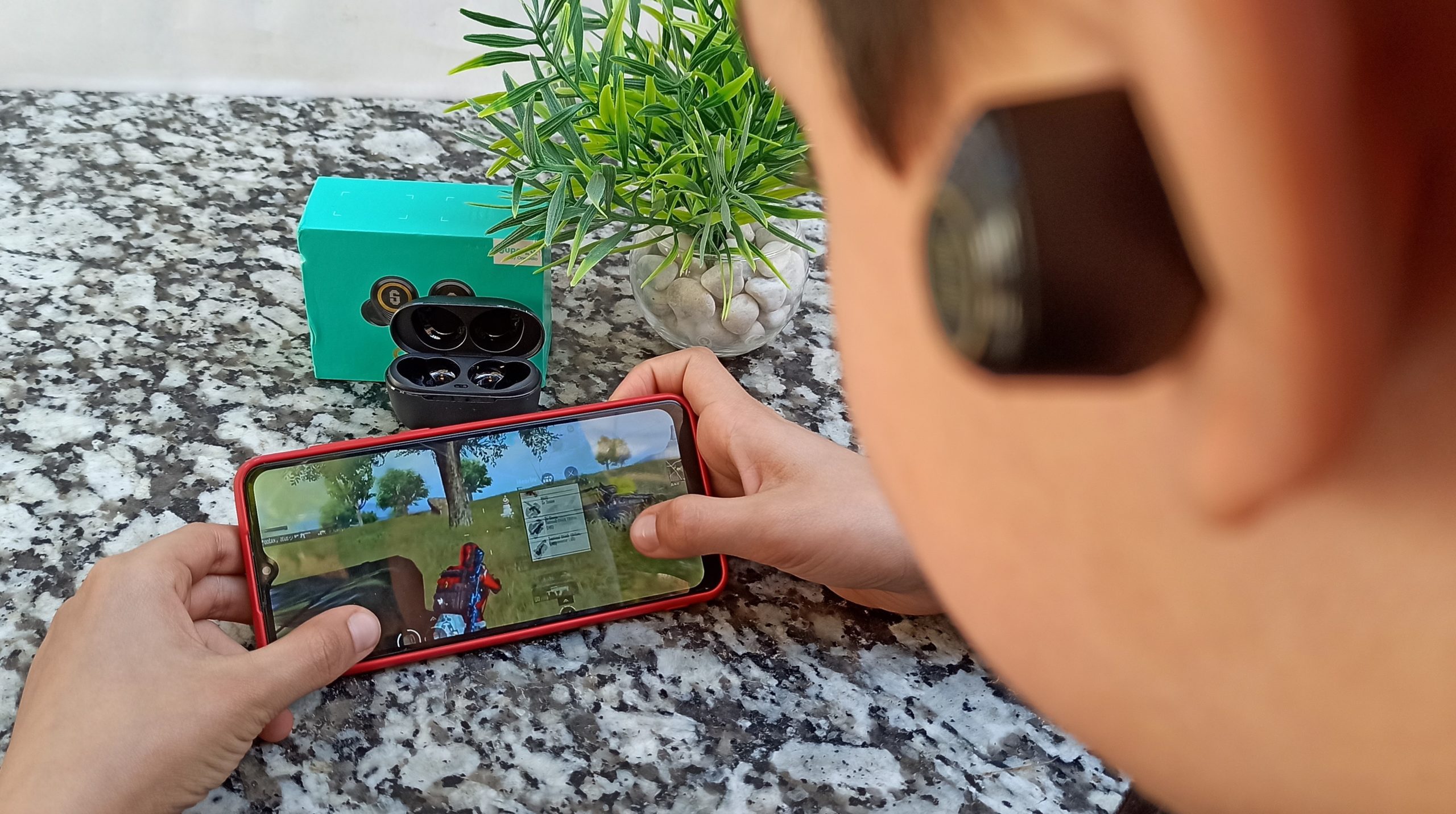 SuperEQ Q2 Pro Battery And Charging Time
In terms of battery, the SuperEQ Q2 Pro charging case is equipped with a built-in 370mAh Li-Polymer battery and provides the user with an additional 6h of uninterrupted playback while the earbuds are fully charged, each Q2 Pro bud contains a 55mAh battery, with ANC turned off we should get up to 10h and with ANC turned on we get about 7h. The total battery life can be up to about 30h with the charging case, and the headphones can be recharged three times before they need new power, which is great, the autonomy is above average if we compare it with other headphones.
When you put the earphone into the charging case, the earphone will automatically enter into the charging state. The storage box itself can be recharged for 2h. The case is recharged via Type-C on the case back.
The Q2 Pro charging case has three LED notifications on the front to show the charge level and indicate charging, flashing white when charging the case and breathing blue when charging either of the earphones. Buds also have their own notification indicators that flash white when connected, and blue when paired.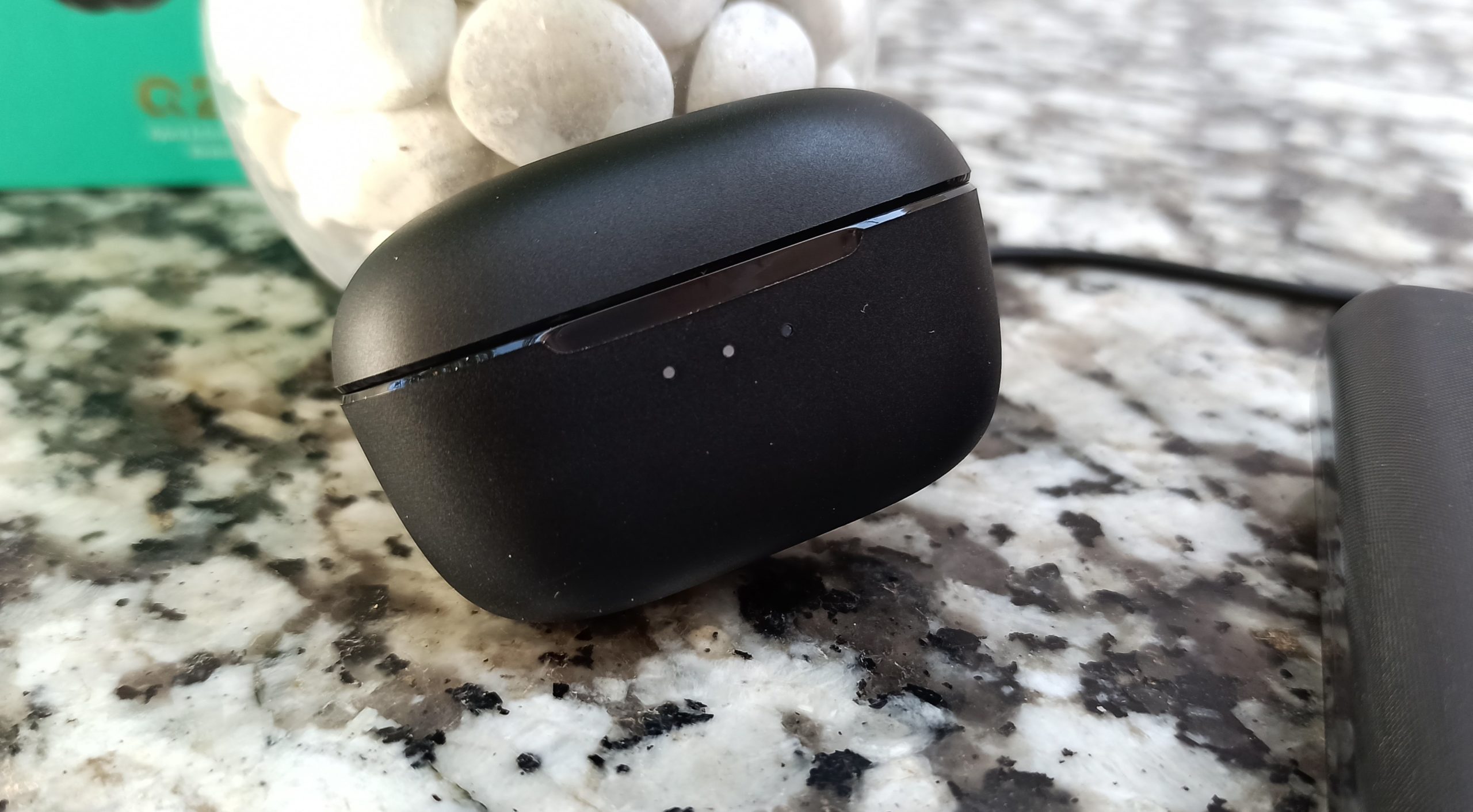 Verdict
Overall, for those on a tight budget, the SuperEQ Q2 Pro Hybrid ANC TWS Earbuds are a great true wireless option that offers a lot for the money where the perfect sound is with the presence of an ANC.
Other than that, one of the weaknesses is the lack of an app for customizing the sound and switching between modes, although this requirement may not be important for some. With that, SuperEQ managed to create a well-balanced device. The battery life is amazing, the sound quality is very good for its price, the ANC works to a certain extent, the call quality is excellent, the design is stylish and it is fairly comfortable to wear. So, the Q2 Pro TWS earbuds definitely stand out from the crowd and deserve to have this on your list.
SuperEQ Q2 Pro Price And Where To Buy
The SuperEQ Q2 Pro Earbuds is currently available on the official SuperEQ website for a very good price and you can buy 1 get 1 free. so don't miss out on this great deal.
SuperEQ Q2 Pro Bluetooth Earphones
Charging Box
3 x Earplugs S / M / L
USB-C Charging Cable
Manual
SuperEQ Q2 Pro Specifications
Bluetooth: 5.2
Driver: 12mm Dynamic Driver
Battery Power: 55mAh
Charging Case: 370mAh
Playback Time: 7.5hrs (with ANC On)
Hybrid Active Noise-Canceling: ~35db ambient noise reduction
Impedance: 28Ω;
Speaker(Full Range): 2 x 12mm
Frequency Response: 20Hz-20kHz
IPX5 waterproof
Bluetooth Chip: AB1562A
Impedance: 28Ω±15%
Frequency Response: 20-20kHz
Sensitivity: 104±3dB
Charging Time: About 1.5hrs
Charging Voltage: DC 5V