Today every person wants to turn the regular TV its own into a smart TV, and even if was smart he wants with Android, This is why the solution comes with Android TV BOX devices, and what everyone agrees they want it to be a strongbox at a cheap price, in short, the value for the price and this is what is built in this device that we will review today, The T95.
The T95 H616 from its name you know that it comes with a powerful processor, the Allwinner H616 Quad Core ARM Cortex A53, which offers good performance in browsing and playing content by streaming in resolutions up to 6K and 4K, but in the games, I will not say the best because it has a Mali G31 GPU, it also comes with 2G or 4G RAM for better multitasking, and 16G/32G/64G storage space is not the largest but it enough, with the possibility of expansion, and all of this is linked to the latest Android 10.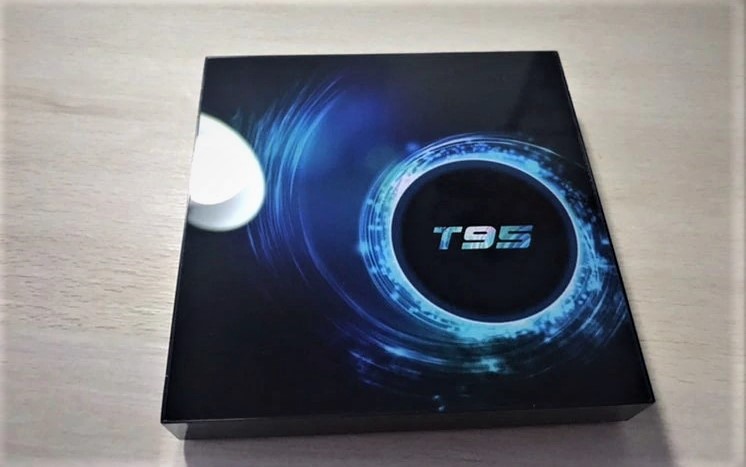 And as we said it collects the value For the price, So its don't exceed 25 dollars for the minimum version. If you want an in-depth analysis of the pros and cons of this TV Box, do not skimp with Like for motivation, and let us continue the review.
Allwinner H616 Quad Core ARM Cortex A53.
GPU: Mali G31.
Android 10.0 OS.
RAM/ROM: 2G/4G,16G/32G/64G.
Support H.265, 6K, 4k.
Ethernet 10/100M, 2.4GHz Wifi.
Design:
In terms of design, the T95 is ordinary and not impressive comes in a full square plastic box with a smooth surface and T95 logo on the top with some blue embellishment, and from below the air vents, and has an LCD panel with blue LED lights in the front to display the time and status the network.
On the side, there are connectors not many: 2x USB 2.0, SD cards slot, HDMI 2.0 video port, Audio port, RJ45 Ethernet port (10 / 100M), DC 5V / 2A, AV port, It's disappointing not having a USB 3.0 for high speed.
Under the Hood:
The T95 TV BOX is equipped with a processor that is quite powerful, the Allwinner H616 Quad-core with 1.4Ghz and ARM Cortex-A53 64bit that gives you good performance in data processing and comes with it a Mali-G31 GPU with 60Hz and OpenGL ES version 2.0 and GPU version 3.2 which is not good for gaming in 2020.
But will be good at running games with low or medium settings and can play video content up The 4K 60 fps, and this is done with the help of 4 GB RAM DDR3 and you can take the version with 2 GB, and regarding the storage memory it comes with 3 options 16/32/64 GB eMMc, is not the best thing, but it can be expanded with SD cards or linked directly With an external hard disk.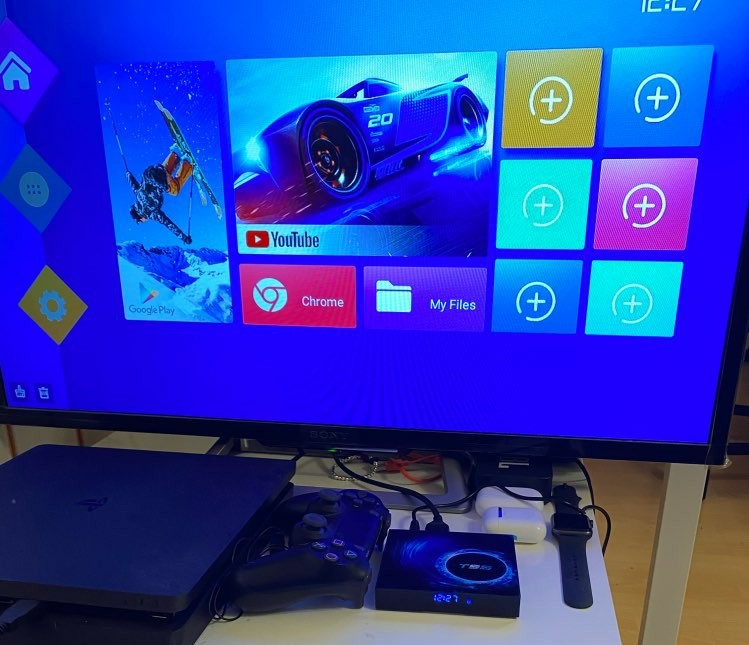 Regarding connectivity, this box supports only 2.4GHz WiFi, 802.11b/g/n, and can you connect a keyboard or mouse via a USB port or cable (it supports wireless connection via 2.4GHz dongle).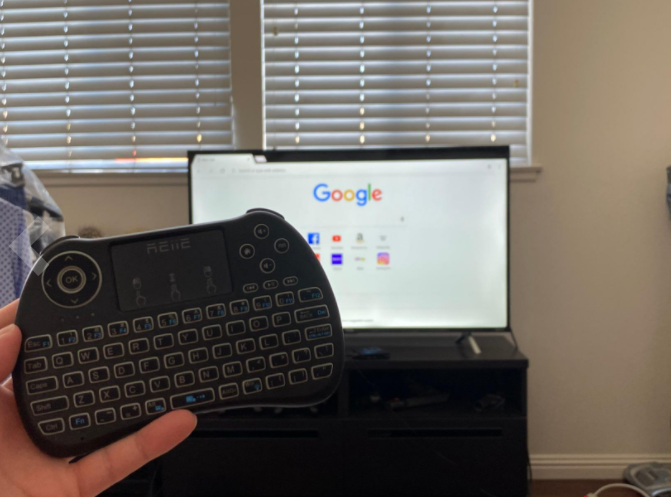 You may also like VONTAR X1 New TV Box with Android 10 In 2020 Under $30 Review – All You Need to Know.
Software:
T95 H616 TV BOX is based on Android 10 (Oreo) for more compatible with more software, games, and applications, And It's rooted, so you have ample possibility to modify in the system.
In the beginning, it's fast to boot up, it will not take more than a few seconds to take you directly to the launcher with no setup wizard.
The launcher is clean with a flat design unfamiliar, I like it, In the middle, there are the buttons that cannot be moved, but you can add some shortcuts, and on the left, there are 3 main buttons: the home button, the applications button, the settings button. And below that, there are two buttons for cleaning cache and uninstall apps.
Unfortunately, the navigation and status bars are not included in this launcher, But you can try an alternative application for this matter.
And with Android 10 allows applications to be installed from Google Play Store (Google Play Store version for Android TV OS) and has pre-installed Apps like the Chrome browser, file manager, Firefox browser, Miracast, Netflix, Aptoide app store, KDPlayer, Google Play Store, and YouTube.
Even if you do not find some of the applications that you need on Google Play or the Aptoide app store, all you have to do is search for them on Google from any browser and download them in APK format, and the matter is done.
T95 TV BOX Performance:
Playback:
T95 H616 Supports 4K 60FPS video out via HDMI 2.0 port which provides you high definition viewing and fluent video playing, making it the highest resolution signal available for home movies to let you watch the 6K movie smoothly, every detail of the screen is lucidity.
Also, has Google Widevine Level 3 with no HDCP protection, THE Android TV operating system is usually accompanied by Google Widevine Level 1 with HDCP protection this allows Netflix and other premium services to play an HD and 4k quality, And this is where the strength of Android TV OS, which you cannot find in the Chinese TV box.
So, cannot play the videos with 4k or HD quality on Netflix and Amazon Prime in this TV BOX. However, you can play it at 480p or you can use other alternative applications and free, and this TV box is compatible with most applications IPTV, Which supports any resolution you want.
When you go to YouTube, you can play videos on 4K 30FPS, and this is the maximum limit to enjoy high quality without freezing and with smooth performance, although playing videos on 1080p will be more than enough. However, this box has a maximum refresh rate ranges from 40 to 60 fps on average in HD / FULL HD.
And the box does not have an HDR display, Dolby Vision or Dolby Atmos, or DTS audio output.
Play Games:
Regarding the games played in the box T95, The experience was bad and the graphics rendering was not the most smooth. The graphics actually suffered in the most powerful games, but the games that did not require strong hardware had acceptable performance and If you ask me if he is good at games, my answer is absolute no.
And when the device is used at full power while playing games or watching a video with very high quality, it generates a little extra heat due to suffocation and poor cooling system, and this causes a decrease in the speed of its performance and sometimes and some spasms resulting from high voltage on the processor and graphics card and overheating of the device.
Temperature testing the device stay in the 55-65 C range in normal use, and the plastic case does get warm to the touch above the CPU, I recommend using a cooling fan on the bottom for better performance.
Note: The version used in the review is 4GB Ram and 64GB eMMC, and 2GB of RAM is not enough.
T95 H616 Price And Where To Buy:
The T95 TV BOX is currently available on Gearbest for $49.98 and Aliexpress store for just $24.20. And this for Tv Box with 2G RAM and 16G EMMC, This is a very good price So, don't miss out on this great deal. And to view its price or buy it, you can access the offer by clicking on the store icon.
There are Three Options for T95:
2GB+16GB+2.4G Wifi+100M
4GB+32GB+2.4G Wifi+100M
4GB+64GB+2.4G Wifi+100M
And I will be grateful to you if I purchase through this link because the company will give me a commission on that and this helps me to bring more devices for review and development from the site and improve the quality of the reviews and thank you in advance.
T95 H616 TV Box
Remote control
Power Supply(5V/2A)
HD Cable
User Manual
General
Model: T95
OS: Android 10.0
CPU: Allwinner H616 Quad-core ARM Cortex-A53
GPU: Mali-G31
RAM: 2GB/4GB DDR3
eMMc: 16GB/32GB/64GB
Max. Extended Capacity: TF card up to 64GB (not included)
Color: Black
Media Supported
Decoder Format: H.263, H.264, H.265, HD MPEG4
Audio format: Supports MP3, AAC, WMA, RM, FLAC, Ogg and programmable with 7.1/5.1 down-mixing
Video format: 6K-4K@24 fps MKV,WMV/VC-1 SP/MP/AP,MPG,MPEG,dat,avi,mov,iso,mp4,rm,H.264,H.265,realVideo 8/9/10, VP8/9,up to 2160P
Photo Format: HD JPEG、BMP、GIF、PNG、TIF
Support 5.1 Surround Sound Output: Yes
Product Details
WiFi: 2.4G
WIFI: 802.11b/g/n
Power Supply: Charge Adapter
Interface: AV,HDMI,RJ45,TF card,USB2.0
Language: Multilanguage
HDMI Version: 2.0
Other Functions: Others
HDMI Function: HDCP
Power Consumption.: 5W
RJ45 Port Speed: 100Mbps
Power Requirement
Power Type: External Power Adapter Mode
Adapter Input: 100-240V / 50-60Hz
Battery Information
Remote Controller Battery: 2 x AAA Battery ( not included )
Dimensions and Weight
Product weight: 0.3500 kg
Product size (L x W x H): 10.00 x 10.00 x 2.00 cm / 3.94 x 3.94 x 0.79 inches