If you were looking for a way to turn your regular TV into a Smart-TV for cheap. The new X88 PRO X3 TV Box is a device you may consider getting for that matter, for it provides a high-quality display up to 6k, and is preferment, has multiple inputs and output ports, and has a Gigabytes LAN port. In this review, we will address the most important aspects of this TV BOX, list its pros and cons, and help you decide whether you should get it or not.
Amlogic S905X3 Quad-core CPU + Mali-G31 GPU
Android 9.0 OS
8K UHD Resolution with 24fps and 4K x 2K 60fps.
2GB / 4GB RAM + 16GB / 32GB / 64GB / 128GB ROM storage memory.
Ethernet: 1000M LAN
WIFI: 2.4G /5G dual-band Wifi 802.11 a/b/g/n/ac
Design:
From the outside, the X88 PRO X3 looks amazing, a very thin black box with a cool design of flames in many colors and the X88 PRO X3 logo on the top, On the front side we find an LED display, it shows time, WI-FI, USB and alarm clock.
On the back there is a power socket, an SPDIF audio input, HDMI 2.1 port, a Gigabytes LAN port, and an AV port, On the left side we have a USB2 port, a USB3.0 port, and a memory card slot for expandable storage, the right side is empty.
The bottom side has some vents for aeration and four rubber feet for stabilization.
Internal Components:
X88 PRO X3 runs on an Amlogic S905X3 Quad-core 64bits Cortex-A55 and Mali G31 GPU, a very capable High-efficiency processor that could go up to double the performance of its precedent generation the A53 in multi-threaded processes, yet is about 15% more power-efficient according to benchmarks, more reliable, more secure and runs on lower temperature levels even in long sessions.
It has 4Gb of DDR3 RAM for a snappier experience and an expendable 128/64/32 Gb, with a read speed of 133MB/s which is ok, but the write speed of 69MB/s is low and makes this TV Box run slow, nonetheless, the storage is sufficient and you can expand it which is a great advantage in comparison to other TV Boxes.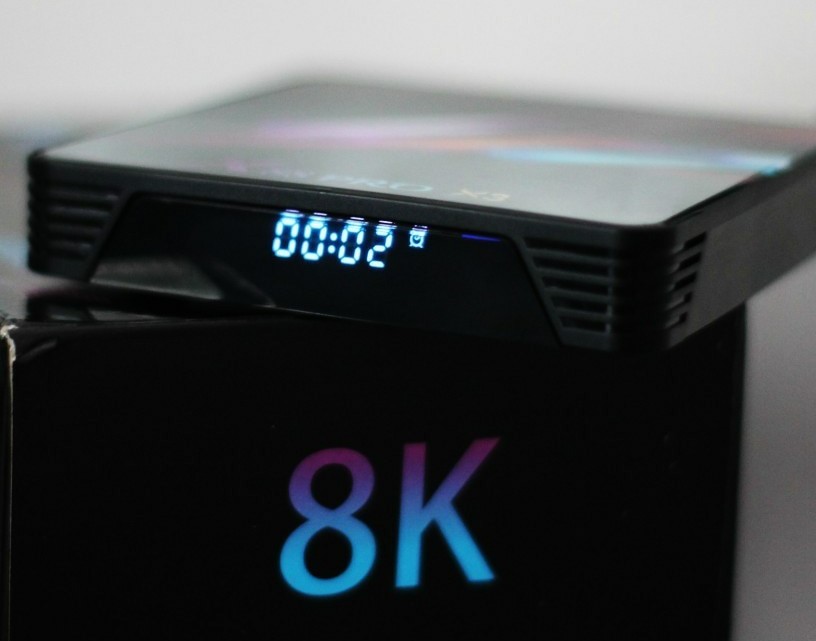 Connectivity of the X88 PRO X3:
For connectivity, the X88 PRO X3 TV Box comes with an old version of Bluetooth which is the BT4.1 but that is acceptable at this price point, it has a Dual Band WI-FI AC both 2.4GHz and 5Ghz for faster data transmission and better streaming experience, it also comes with a feature that is missing in a lot of other TV Boxes which is a 1000Mb LAN, that is more reliable than WI-FI and provides even better data transmission.
And can you connect a keyboard or mouse via a USB port or cable (it supports wireless connection via 2.4GHz dongle).
X88 PRO X3 Performance:
Software:
The X88 PRO X3 is a full android TV BOX, it comes with root permissions that you could enable or disable, It runs on Android 9 and not an android TV OS, that is the reason why it cannot stream 4k Netflix or any other streaming service and it also lacks some apps from the play store and you will have to download their apk files from third-party stores.
A fresh boot took 49s to fully load to the home screen, on the top of the home screen there is a bar displaying some information such as display resolution and refresh rate, cellular data connection, WI-FI and MAC address, battery percentage, and the current time.
On the home screen, you look at 5 shortcuts that are: Chrome browser, Youtube app, built-in APPS, Play Store, Settings that you cannot remove, which is a downside since android is all about being customizable according to what the user likes and what makes him comfortable.
But, you still get an area for customizable shortcuts right above the previous one, where you can add as many shortcuts as you please, there also is a big and clear widget for date and time display, one major con to the software is the lack of navigation/status bar.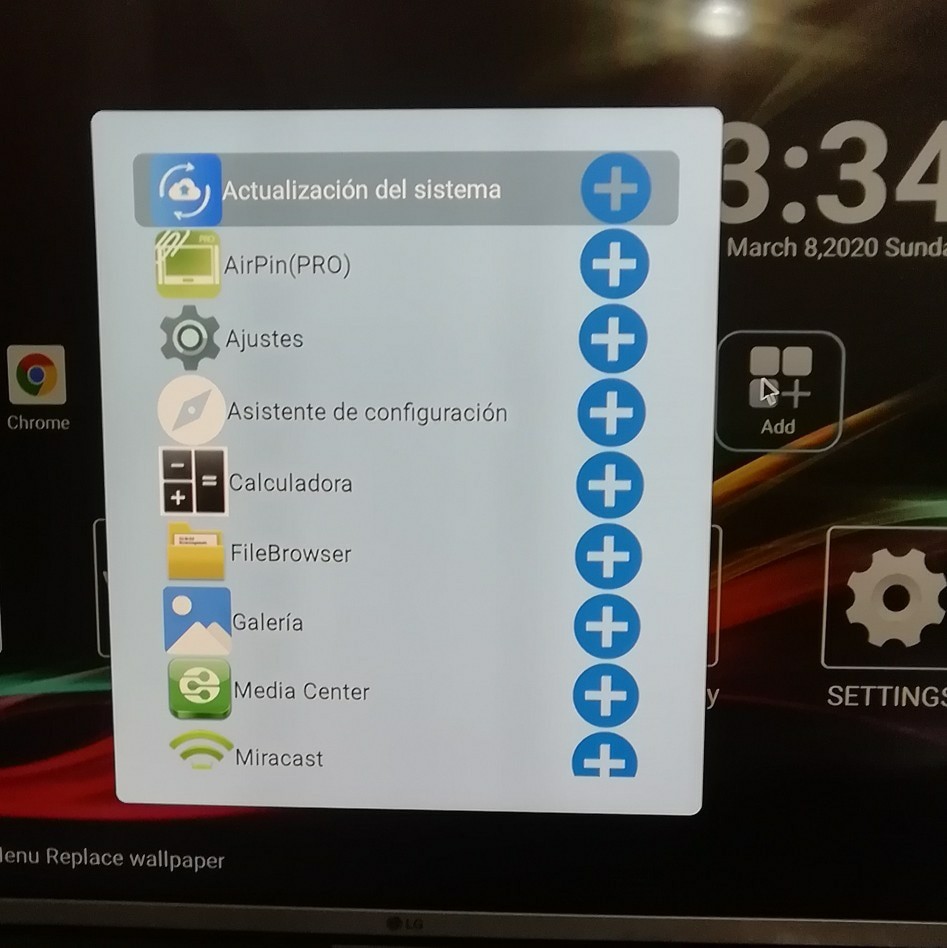 Screen mirroring with Mira-cast works just fine on the X88 PRO X3, with very minimum lag that you can hardly notice, you also get pre-installed AirPin(PRO), a paid app you get it for free and it allows you to mirror your IOS device on the TV Box, and from tests, it works like a charm.
Display:
Thanks to the HDMI 2.1 port, the X88 PRO X3 can send very high-resolution signals to you TV, up to 6K with high Color Saturation and excellent image quality, no latency, or stuttering, that is the power of this device.
The X88 Pro X3 claims to be able to play 8K 24fps, but tests have proven otherwise, this chipset is not capable of displaying 8K videos and it keeps displaying a video file error message, nevertheless, it is still capable of playing 4K 60fps High Bit Rate videos smoothly, just download an alternative media player to the built-in movie player app since it can show stuttering, like KODI for example. Now to streaming services, albeit the A55 is capable of 4K streaming, it doesn't have DRM certification, which means it cannot stream High-Quality videos from services such as Netflix or Hulu, the best quality available in 480P, which is low by 2020 standards but is still fine.
Thankfully, this TV BOX streams 4K Youtube videos very easily and smoothly and the image quality is outstanding.
Gaming:
The X88 PRO X3 has a Mali G31 GPU, even though it is a relatively weak GPU, tests confirm that it runs games that require little to medium graphic processing very smoothly and with no noticeable lagging. Despite the results, this TV Box is not for gaming, and because of that, you will notice high temperatures, this will reduce its lifespan on the long run, and may also negatively affect the overall performance of this device, so I would recommend not to use it for gaming, precisely not high graphics demanding games such PUBG.
Temperature testing the device stay in the 55-65 C range in normal use, and the plastic case does get warm to the touch above the CPU, I recommend using a cooling fan on the bottom for better performance.
X88 PRO X3 Price And Where To Buy:
At the end of this review, I say that the X88 PRO X3 offers great performance and features for a reasonable price and I totally recommend getting it to upgrade your regular TV to a smart one.
And it's currently available on Banggood for $51.99 with 4GB RAM 64GB ROM And on the Aliexpress store for just $34.16 for 4GB RAM 32GB ROM. This is a very good price So, don't miss out on this great deal. And to view its price or buy it, you can access the offer by clicking on the store icon.
There are Four Options for X88 PRO X3 Box:
4GB+32GB+Dual Wifi +BT4.1+1000M
4GB+64GB+Dual Wifi +BT4.1+1000M
4GB+128GB+Dual Wifi+BT4.1+1000M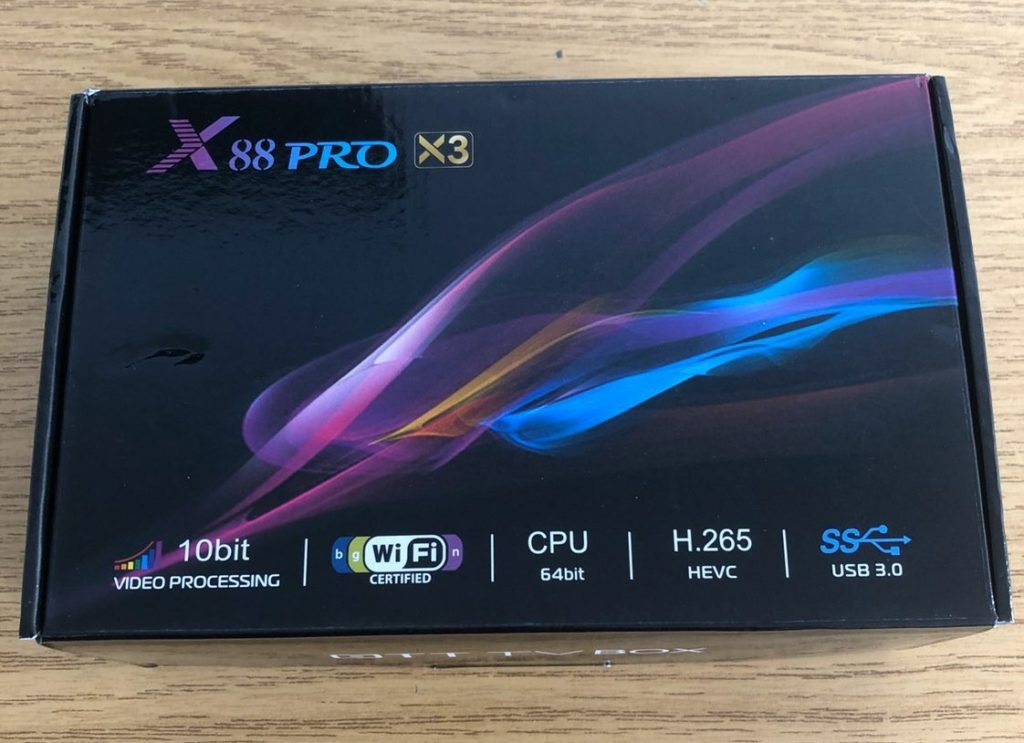 Inside the box we find:
The X88 PRO X3 TV BOX.
Remote control.
Power adapter.
HDMI cable.
User manual.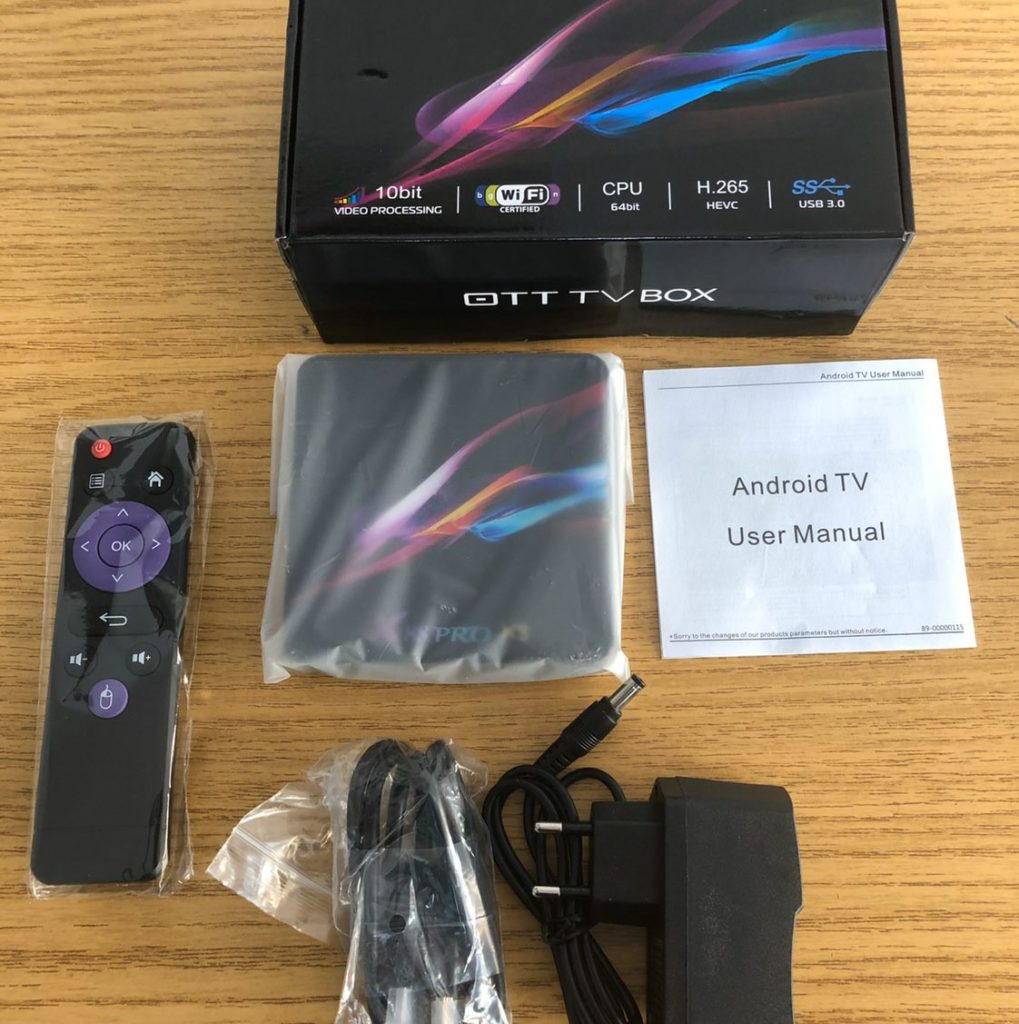 General
Model: X88 PRO X3
Type: TV Box
GPU: Mali-G31
System: Android 9.0
CPU: Amlogic S905X3
Core: Quad-Core
RAM: 4G RAM
RAM Type: DDR3
Max. Extended Capacity: TF card up to 64GB (not included)
Media Supported
Decoder Format: H.263, H.264, H.265, HD MPEG4
Audio format: AAC, AAC, FLAC, AVE, MP3, OGG, RM, WMA, WMV
Video format: VP9 Profile-2 up to 4Kx2K @ 60fps H.265 HEVC MP-10@L5.1 up to 4Kx2K @ 60fps AVS2-P2 Profile up to 4Kx2K @ 60fps H.264 AVC HP@L5.1 up to 4Kx2K @ 30fps
Photo Format: JPG, JPEG, BMP, GIF, PNG, JFIF … etc photo format
Support 5.1 Surround Sound Output: Yes
Product Details
5G WiFi: Yes
WIFI: 802.11 a/b/g/n
Bluetooth: Bluetooth 4.1
Power Supply: Charge Adapter
Interface: AV,HDMI,RJ45,SPDIF,TF card,USB2.0,USB3.0
Language: Multilanguage
HDMI Version: 2.0
Other Functions: Others
HDMI Function: HDCP
Power Consumption.: 5W
RJ45 Port Speed: 1000Mbps
Power Requirement
Power Type: External Power Adapter Mode
Adapter Input: 100-240V / 50-60Hz
Dimensions and Weight
Product weight: 0.1850 kg
Product size (L x W x H): 10.20 x 10.20 x 1.90 cm / 4.02 x 4.02 x 0.75 inches