In the market of wireless audio, finding the perfect blend of affordability and quality can be a daunting task. While many options promise exceptional sound and comfort, it's not always easy to separate the gems from the duds. That's where the Lenovo XT60 Bluetooth Sports Headphones come into play. Lenovo, a brand synonymous with dependable tech products, has ventured into the realm of low-cost sports headphones, offering an affordable yet feature-packed solution for audiophiles and fitness enthusiasts alike. If you've been on the hunt for a pair of wireless headphones that won't break the bank but still deliver impressive audio performance, you're in the right place.
In this review, we'll take you through every aspect of the Lenovo XT60 headphones, from unboxing to audio quality, and everything in between. We'll explore the design, and the built-in features, and put the headphones through their paces to help you make an informed decision. Join us on this audio journey as we uncover the impressive features and value for money that the XT60 Bluetooth Sports Headphones bring to the table.
Lenovo XT60 Features
Elastic Earhook with Adjustable Rotation Design
Power Digital display
10mm Dynamic Driver
Advanced Bluetooth 5.3 chip
Ultra Low latency
24H Long Battery Life
Unboxing and Impressions
Let's kick things off with the unboxing experience, an integral part of any tech product. I was pleased to find that my Lenovo XT60 arrived swiftly. While the packaging provided ample protection, it did bear some minor signs of wear and tear, likely due to the rigors of shipping. Upon opening the box, you'll discover the Lenovo XT60 earbuds thoughtfully nestled within their charging case. Alongside them, you'll find a compact manual with a Chinese and English version. Additionally, Lenovo includes a USB Type-C charging cable and two extra pairs of rubber ear tips, offering users the option to customize their fit.
Design and Build Quality
Design-wise, the Lenovo XT60 bears a striking resemblance to its predecessor, the Lenovo XT80. While they aren't identical, the overall design cues are remarkably similar. The charging case for the XT60, however, is slightly larger than that of the XT80, making it one of the more substantial cases we've encountered. The top of the case sports the "ThinkPlus" branding, while the bottom showcases the specifications.
Now, quickly turning our attention to the earbuds themselves and will be back soon to the case. The earbuds closely mirror the design of the XT80. However, one notable difference is the absence of dedicated volume control buttons, a feature present in the XT80. Instead, each earbud features a single multifunction button. In terms of fit, they feel quite similar, but in my experience, with medium-sized ears, I found the XT80 to be slightly more comfortable and preferable. However, if you have larger ears, the XT60 may be a better fit for you.
The Lenovo XT60 Bluetooth Sports Headphones boast an ergonomic design with flexible ear hooks that immediately caught my attention, and are available in different colors, so you can choose the one that matches your style. These ear hooks ensure a comfortable and secure fit, even during intense workouts or long runs. The headphones are designed to stay in place, allowing you to move freely without the fear of them falling out. The ear hooks fit snugly around your ears, providing stability and comfort simultaneously.
One minor drawback worth noting is that wearing these earbuds alongside glasses might present a minor challenge. The two can occasionally compete for space on your ears, requiring a bit of adjustment to find the perfect harmony. However, once you've mastered the positioning, they tend to stay reasonably comfortable even during extended listening sessions.
As we mentioned, similar to its sibling, the Lenovo XT80, these earbuds feature physical buttons, as opposed to the more prevalent touch controls. The inclusion of a multifunctional button on each earbud enables convenient music playback control and call management. With a simple press of a button, users can play or pause their music, answer calls, and more. The dual indicator lights on the earbuds continuously flash in red and blue, signifying their readiness to connect to a Bluetooth device. Once connected, the flashing lights cease, assuring users of a stable and uninterrupted connection.
Now back to the charging case that accompanies the Lenovo XT60 Bluetooth Sports Headphones is both functional and aesthetically pleasing. The case is designed to be compact and easily portable, making it convenient to carry with you wherever you're heading. It slips comfortably into your pocket or bag, allowing you to have your headphones ready whenever you need them.
One standout feature of the charging case is the built-in battery indicator display. This digital screen provides real-time information about the battery status of both the case and the earbuds. This visual feedback is highly useful, as it keeps you informed about the charging progress and ensures you won't run out of power unexpectedly.
The charging port is located at the back of the case and uses a USB Type-C connector, which is both common and convenient. USB Type-C is reversible, so you can easily connect the charging cable without worrying about its orientation. It's a small yet thoughtful detail that adds to the user-friendliness of the Lenovo XT60 headphones.
Operation and Controls
The physical buttons on the XT60 earbuds offer a versatile range of controls, making them easy to operate and versatile. Here's a breakdown of some of the key functions:
| Functionality | Description |
| --- | --- |
| Play/Pause Music | Single press on either earbud |
| Volume Up | Double press on left earbud |
| Volume Down | Double press on right earbud |
| Next Song | Triple press on right earbud |
| Previous Song | Triple press on left earbud |
| Gaming/Music Mode Switch | Long press (2 seconds) on right earbud |
| Activate Google Assistant | Long press (2 seconds) on the left earbud |
| Answer/End Calls | Single press on either earbud |
| Reject Calls | Long press (2 seconds) on either earbud |
Audio Performance
The audio performance of the Lenovo XT60 headphones goes beyond what you'd typically expect from a budget-friendly pair. These headphones offer a rich and immersive audio experience. but it's essential to manage your expectations in the budget category, these earbuds do manage to deliver a sound experience that's more than satisfactory given their price point.
Notably, it offers a remarkable volume level that truly impressed me. In fact, it was so loud that I couldn't even reach its maximum setting during testing. The highs are crisp, and the mids are well-balanced. However, when it comes to bass, while it is certainly present, it does not overpower the other frequencies. In comparison to its sibling, the XT80, the XT60 offers a slightly different sound profile, with less emphasis on bass. Nevertheless, I found the audio quality to be impressive, and suitable for a wide range of musical genres and activities.
The Lenovo XT60 headphones incorporate dynamic coil technology, which significantly contributes to their audio performance. This technology enhances the headphones' ability to reproduce a wide range of frequencies with precision, resulting in clear and powerful sound. And delivered both the subtle nuances of acoustic instruments and the thumping basslines of EDM tracks, all with impressive accuracy. This versatility ensures that no matter your musical preference, the Lenovo XT60 can accommodate it.
Bluetooth 5.3 for Seamless Connectivity
In addition to their remarkable sound quality, these headphones feature Bluetooth 5.3 technology. This upgraded Bluetooth version ensures a stable and seamless connection between the headphones and your paired device. It means you won't experience annoying signal drops or interruptions, even during intense workouts or while on a jog. As for the distance test, the XT60 demonstrated a strong Bluetooth connection. Even at a distance of approximately 14 meters with no obstacles, the audio remained uninterrupted. However, it's worth noting that when faced with multiple physical barriers, such as walls, its performance can start to waver.
Noise Reduction and Call Quality
One of the standout features of the Lenovo XT60 Bluetooth Sports Headphones is its built-in CVC (Clear Voice Capture) noise reduction technology. This technology is designed to block out background sounds, ensuring that your voice comes through crystal clear during phone calls. Whether you're in a bustling gym, a crowded street, or any other noisy setting, these headphones excel at minimizing unwanted distractions and focusing on your voice.
This noise reduction technology significantly enhances the call quality, allowing you to have smooth, uninterrupted conversations. In our testing, the Lenovo XT60 headphones effectively suppressed background noise, making calls a breeze, even when surrounded by commotion. The experience of talking on these headphones is impressive, with the background noise being reduced to a minimum, ensuring that your voice is heard with clarity on the other end of the call.
Low-Latency & Gaming
The Lenovo XT60 is not marketed as a gaming headphone. But, it incorporates a fast Bluetooth 5.3 chip and a dedicated game mode that can be activated by long tapping on the right earphone. In game mode, the XT60 is well-suited for gaming, especially on smartphones. Considering its affordable price point, the minimal delay of approximately 0.5 seconds in online games such as PUBG or COD is hardly noticeable unless you specifically pay extra attention. This minor lag is quite common among wireless headphones in this price range, so it won't pose a significant issue for regular mobile gamers or even PC gamers.
When it comes to content consumption, the XT60 excels not only in sound quality but also in synchronization between audio and video. Whether you're watching Netflix, YouTube, or HBO, the earphones exhibit no noticeable delay, ensuring perfect lip-synching throughout. This seamless synchronization between audio and video is exactly what users desire, and the XT60 delivers on that front, providing an optimal experience for multimedia consumption.
Battery Life & Chargin
The Lenovo XT60 Bluetooth Sports Headphones boast an impressive battery life. Inside the charging case, you'll find a 400mAh battery, which is a considerable capacity for a pair of true wireless earbuds. This power source ensures that you can enjoy your music for extended periods without worrying about running out of juice.
With a fully charged Lenovo XT60 and its case, you can expect an impressive 24 hours of usage time. This means you can enjoy your music and take calls throughout the day without worrying about running out of power. The earbuds themselves offer approximately six hours of playback on a single charge, and this depends on the volume level, from our extensive testing, it appears to deliver on this promise, making them suitable for extended use. This duration is quite impressive and should cover most daily activities without the need for frequent recharging. When it's time to recharge, the fast-charging feature means you can go from 0% to 100% in approximately an hour and a half.
When you open the charging case, the display shows the battery capacity of the case itself. Also indicates the charging status of the earbuds when they're placed inside the case. This feature allows you to check whether the earbuds are fully charged, currently charging, or need more power the intuitive design of the indicator display makes it easy to read and understand. You don't need to consult a separate app or check your smartphone for battery updates – it's all right there on the case.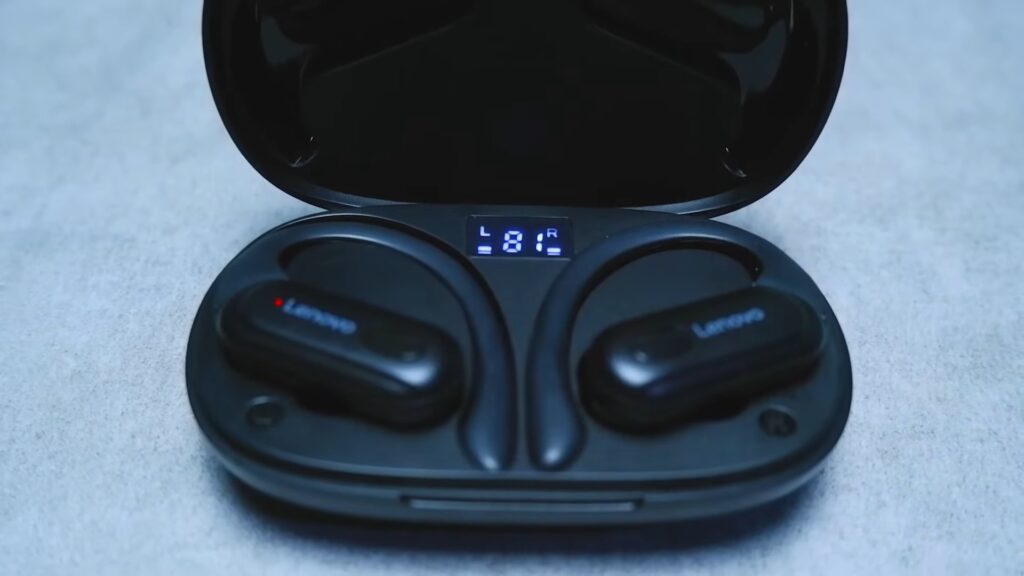 A quick comparison between Lenovo XT60 & XT80
The Lenovo XT60 is a budget-friendly TWS earbud option that may remind you of its sibling, the XT80. While they share similarities in design and specifications, the XT60 distinguishes itself with a balanced sound profile that's suitable for a variety of audio experiences.
If you're faced with the choice between the XT80 and XT60, your preference may come down to the size of your ears and your sound profile preference. For those with medium-sized ears like mine, the XT80 might offer a more comfortable fit and a slightly different sound signature. However, if you have larger ears and prefer a balanced audio profile, the XT60 is a solid option.
Conclusion
Lenovo is known for its reliable and affordable tech products, and the XT60 headphones are no exception. They offer a combination of value for money and dependable performance, making them an excellent choice for those in need of sports headphones that won't break the bank. With a price tag that often falls below 10$ in AliExpress Stores, these headphones represent excellent value for money.
The secure and comfortable fit, complemented by the flexible ear hooks, ensures that they stay in place even during rigorous workouts, without causing discomfort. When it comes to audio performance, the Lenovo XT60 headphones truly shine. With a 3D surround sound system and a 10mm dynamic coil, they deliver a rich and immersive audio experience. The Bluetooth 5.3 connectivity ensures a stable and uninterrupted connection with your device, even during strenuous activities.
Moreover, the built-in CVC noise reduction feature effectively blocks out background noise during calls, allowing you to communicate clearly in various environments. Battery life is another strong point for the Lenovo XT60 headphones. The battery capacity of the charging case provides a total usage time of up to 24 hours on a full charge. With only these buds, you can enjoy approximately six hours of continuous use, making these headphones an ideal choice for extended workouts or long journeys.
Ultimately, the Lenovo XT60 serves as a reminder that quality audio doesn't always demand a hefty price tag. So, if you're looking for a cost-effective and trustworthy, the Lenovo XT60 Bluetooth Sports Headphones should be on your radar. Lenovo's reputation for delivering dependable technology products, along with the affordability and longevity of its offerings, makes the XT60 an appealing choice.