There is no doubt that Chinese companies are the king of budget smartphones that offer us value for the price, and among these companies is UMIDIGI promising in this field, which they have reviewed many of their devices from smartphones and smartwatches, the latest of which is UMIDIGI Bison, so now we offer you the latest smartphone and the new generation of the A-series, UMIDIGI A9 Pro is the higher version of the A7 Pro and has great specifications in terms of processor, cameras, or even storage capacity, but it's strange it has an unconnected infrared thermometer! What an unfamiliar feature, however, this does not mean anything if its general performance is not up to its price or the competition in this category.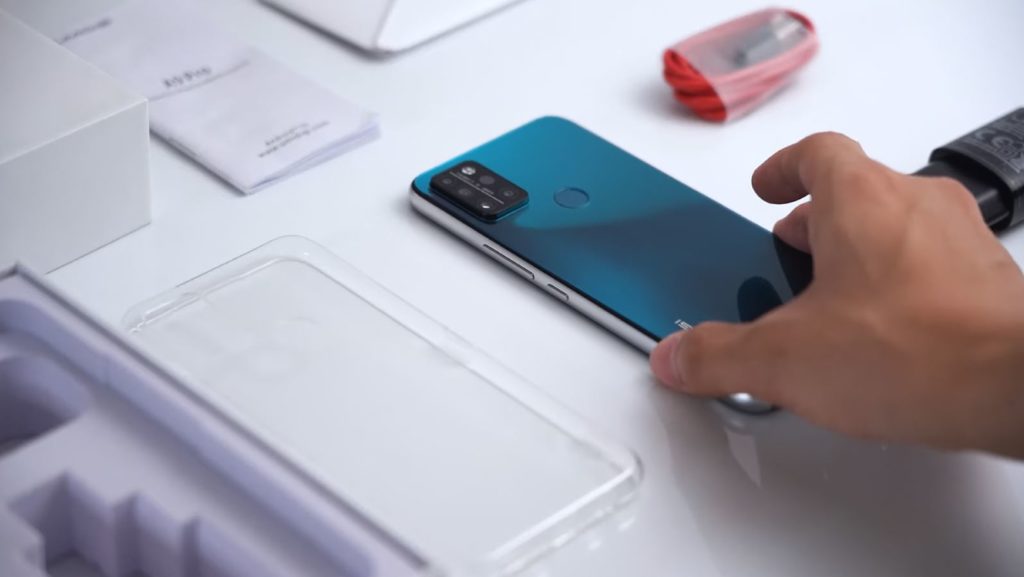 So, I wonder what is new for upgrading from UMIDIGI A7 Pro to A9 Pro, many questions about this phone that we will answer and we get to know it here In this review.
OS: Stock Android 10
CPU: MediaTek Helio P60
GPU: ARM Mali G72 MP3
RAM: 4GB / 6GB
ROM: 64GB / 128GB
Display: 6.3″ FHD+ Waterdrop Display
Sony AI Matrix Quad Rear Camera: 48MP+16MP+5MP+5MP / 24MP Front Camera
Battery: 4150mAh
Dual 4G Network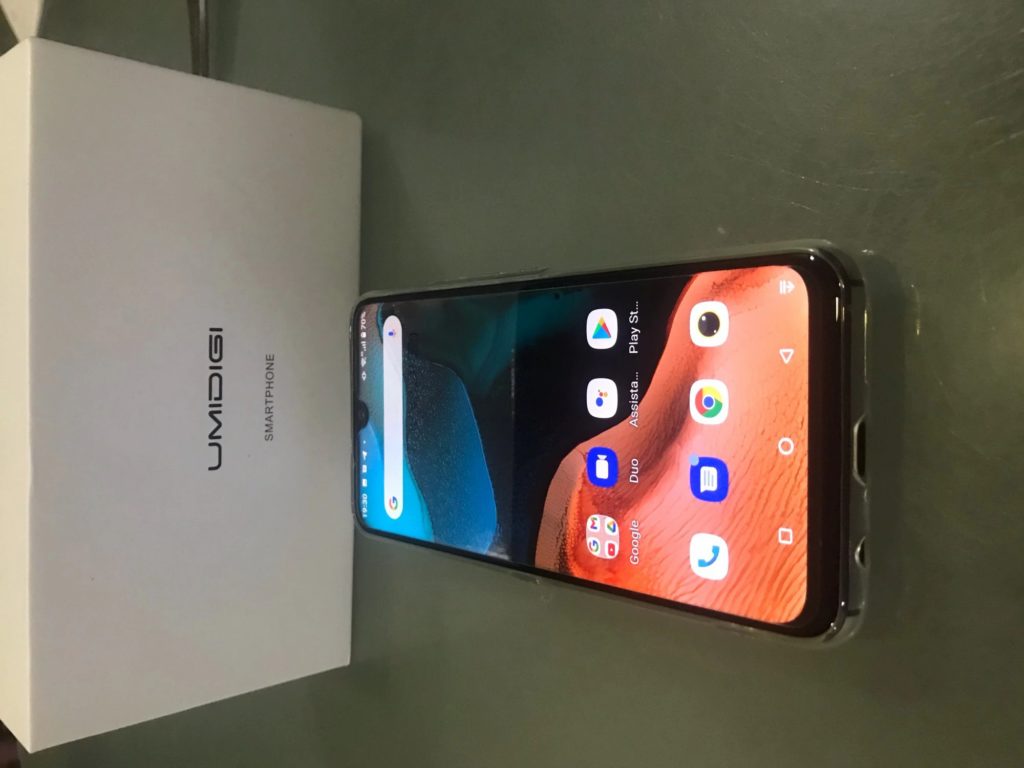 Design And Build Quality:
The design in UMIDIGI A9 Pro, yes, beautiful, elegant and modern, and at the same time similar to UMIDIGI A7 Pro with simple changes and this disappointed me a little, as it features a glass construction on both sides with a length of 158.7 mm and a width of 74.9 mm with a solid metal frame some kind of thickness 8.6 mm gives you a premier feel when holding it in your hand, although its 205g weight may be heavy for some, I hope its performance is worth it.
Both the front and back glass are 2.5D, which means that the glass is slightly curved at all sides and comes in two colors, either Onyx Black or Forest Green this from the back, and the metal frame remains in silver.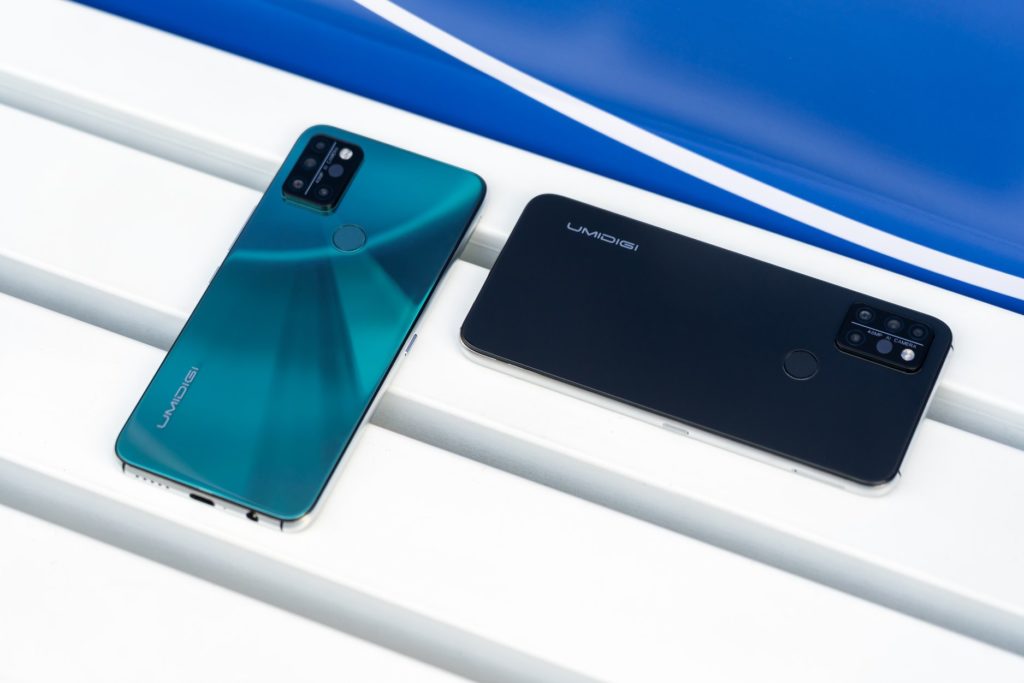 On the front of the device, you have a full screen with very thin edges on the sides, at the bottom, there is a chin that is not too narrow but it is sufficient, with the addition of a U-shaped teardrop notch from the top that contains the selfie camera that we will talk about soon.
At the back, you have a flat and clean back panel with a premier look and as mentioned there are only two colors to choose. What will catch your attention is the quad cameras in the upper left corner with a protrusion larger than necessary, so you have to protect it with a cover, there is also the UMIDIGI logo on the bottom side as well fingerprint sensor in the middle and was fast by the way. The flash and Infrared Thermometer are located in the same position as the cameras.
As for the ports, the phone comes with a 3.5 mm headphone jack and a USB Type-C port, both of which are at the bottom with a powerful speaker. The buttons are as usual the power button, the + and – button, in addition to the sim card slot and memory.
So, if you ask me the quality of manufacturing, there is nothing to complain about as it is close to a premier, in terms of design, yes it was beautiful and elegant, but I was waiting for an updated design at least and not a copy of the previous generation.
Note: This smartphone is not waterproof, so it should not be exposed to any water source.
UMIDIGI A9 Pro – Display Quality:
By 2020 standards, if you are talking about a budget Chinese phone, the screen will be LCD IPS, and this is what UMIDIGI A9 Pro offers, but this does not mean that it is bad, as it is a large size of 6.3 inches with FHD + technology in addition to LTPS technology with a screen resolution of 2340 x 1080 that gives you Bright, sharp and saturated colors are more than wonderful for consuming visual content on YouTube or other (AMOLED screen remains the best).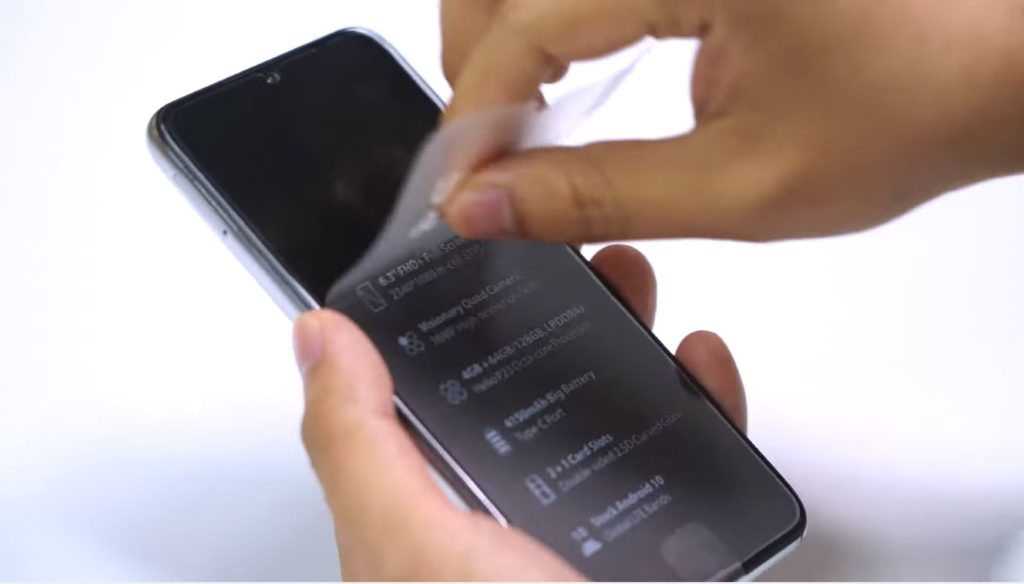 In addition, the display is in the form of a teardrop, with a ratio of 19.5: 9, and a screen coverage of 92.7%, and it comes with a very high density of about 409 PPI and this is a very high number of PPI so that you cannot see any pixels on the screen from a close distance.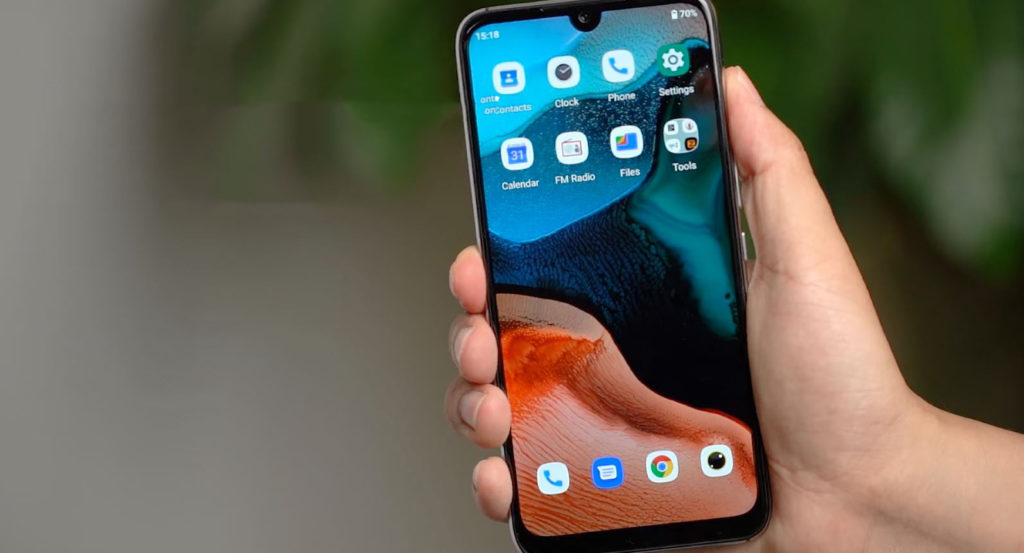 In short, with the A9 Pro, I will not say that it is the best screen, even it does not differ from the A7 pro, but in the budget category, you will get the best value for what you pay, a large and high-quality screen suitable for media consumption, whether you are watching videos, playing games or browsing the communication site Social.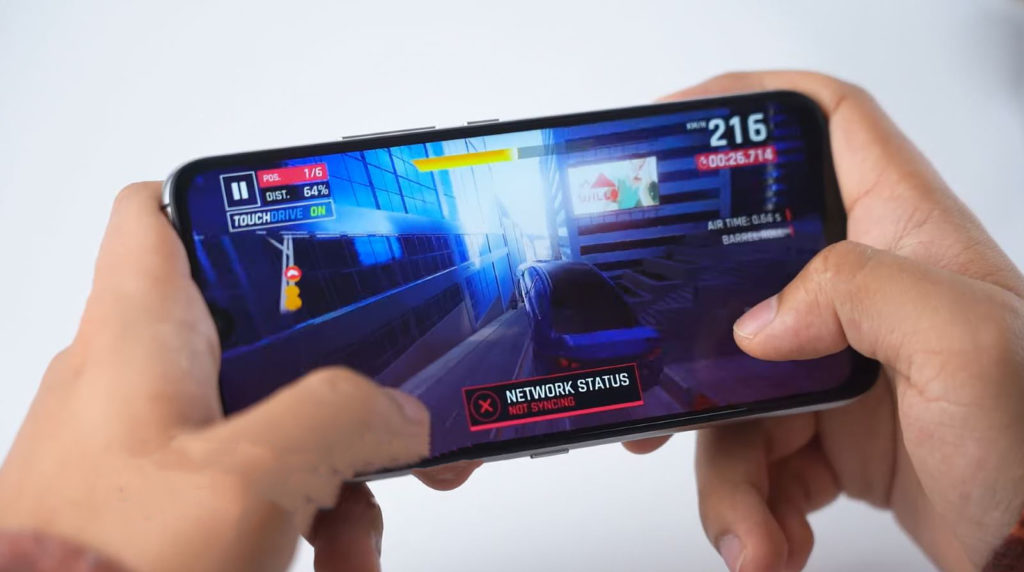 Note:
I didn't experience the screen for a long time in terms of scratches. So, I recommend using a protective film even though it looks protected by Corning Gorilla Glass on both sides.
UMIDIGI A9 Pro – Cameras:
One of the main points of the UMIDIGI A9 Pro is the cameras. In terms of their specifications, there is nothing to worry about, but the word remains in the actual performance.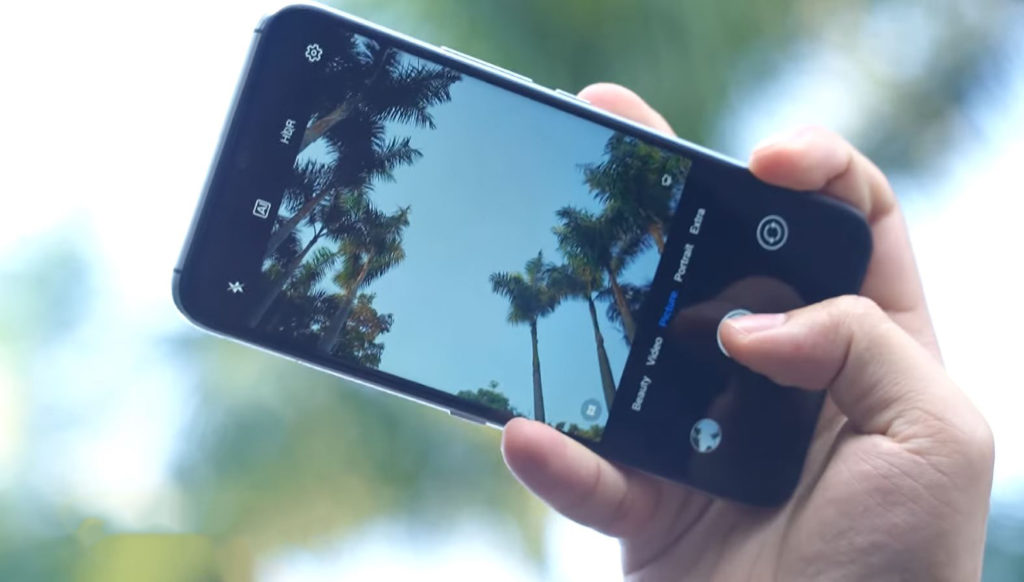 Quad rear cameras:
On the back, you get a quad-camera setup that features a 48MP Sony lens as the primary lens, which you should note that it's only available on the 6 GB / 128 GB version, and for the 4 GB / 64 GB version you will get a Sony sensor as well, but with 32 MP.
For the rest of the cameras, you have a 16MP wide-angle lens with a 120-degree field of view and a 5MP macro lens with a distance of 2.5 cm. And finally, a 5-megapixel lens for depth.
The camera flaw remains the noticeable time it takes to autofocus, sometimes being annoying.
So far, the technical specifications are good, so let's move on to the realistic performance, in photography under good lighting, the cameras can take really good pictures and capture a lot of details and with beautiful color saturation, so I liked the cameras, but in the night photos, they lacked quality with that, still good cameras considering the price.
Front camera:
In the forefront of selfies or video chats, you get Sony's 24MP ultra-clear front camera with F / 2.0 aperture with an impressive algorithm and several modes to choose from.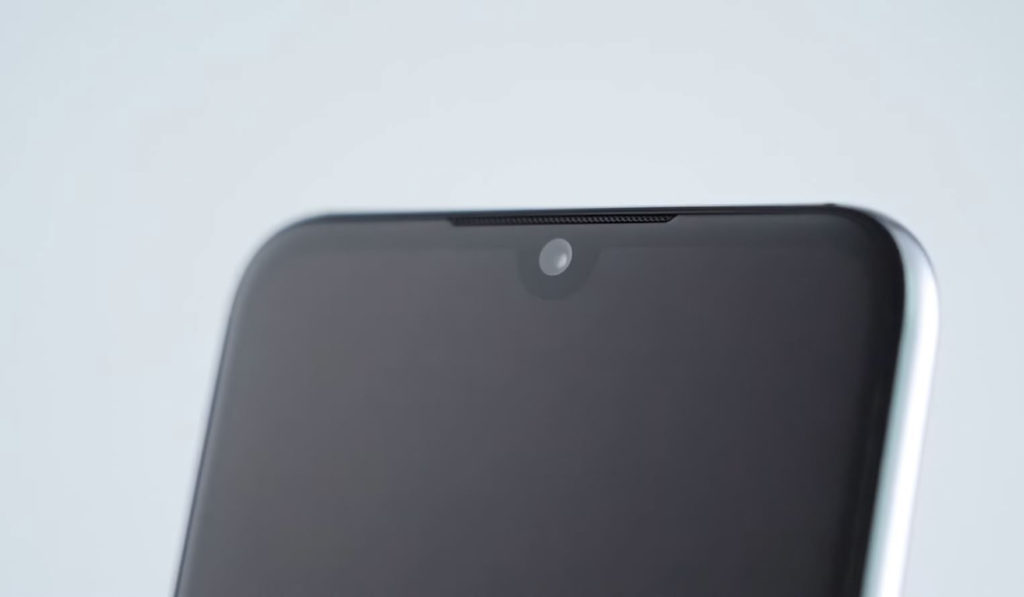 Video:
You can shoot 1080p HD videos at 30 fps from both front and back cameras in well-lit environments with some poor stability.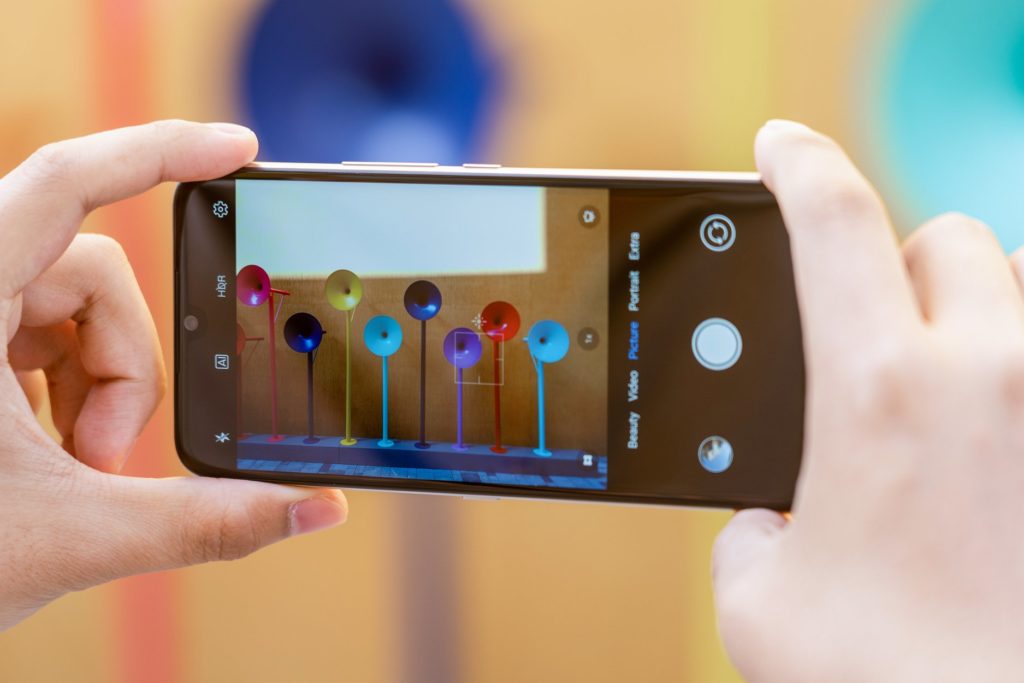 UMiDigi A9 Pro Performance:
When talking about performance, the first thing that will come to your mind is the CPU, in the UMiDigi A9 Pro you will get a Mediatek Helio P60 processor yes, I agree with you a little old processor, I even recently reviewed a smartwatch that carries it, however, it is still an excellent processor It offers powerful performance and is fast enough to give you a hassle-free experience when doing daily tasks like gaming, watching videos, or browsing, etc.
GPU:
Thanks to the integrated Mali G72 GPU, the performance was good in games, but it depends on the type of game and its requirements, and sometimes there is a kind of delay, although it did not constitute an obstacle, and this in games such as CoD mobile and PUBG. However, all you have to do is play on the settings Low to medium, more than that settings, yes you can play but not with a perfect experience.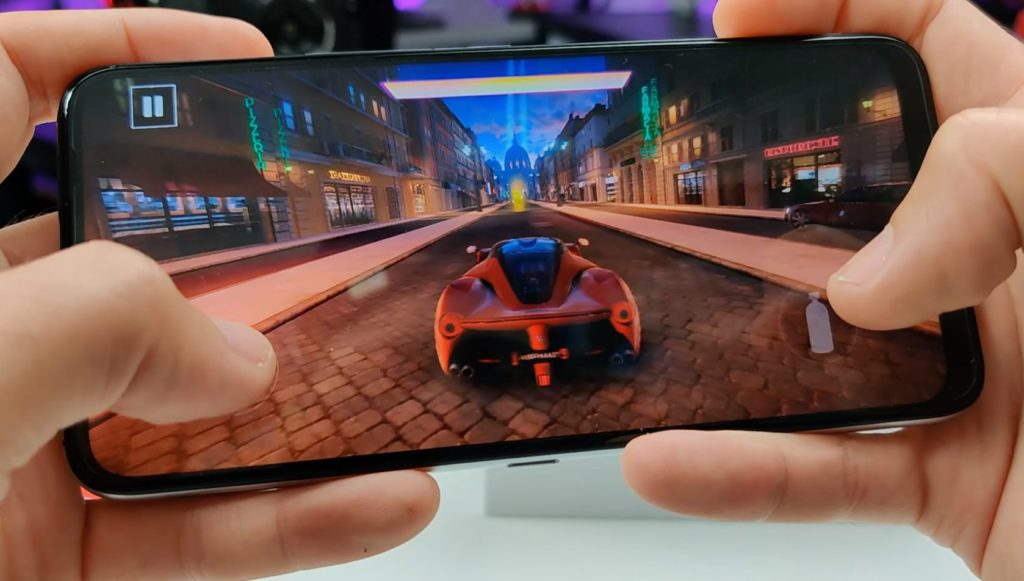 Storage Space:
As for the storage space, you have 2 options, 4 GB RAM or 6 GB LPDDR4X and UFS 2.1 64 GB or 128 GB internal storage capacity for the ability to download programs and take pictures more freely and you have the option to expand the storage space Up to 256 GB using an external MicroSD card, and both technologies used in RAM and storage space are new and advanced that improve the overall performance of speed and reduce energy consumption significantly. I also recommend buying the higher version, it is suitable for games and more productive in multitasking, in addition to large storage space, although the lower version from UMiDigi A9 Pro is sufficient for normal use, but you will get with it a basic camera of 32MP and not 64MP even the price is not too much between the two versions.
The Temperature:
The temperature on the device during normal use there is nothing that attracts attention and during heavy use, there is a slight rise in temperature, but it remains moderate and most of the heat is only in the back area.
Overall Performance:
In sum, the performance on this phone is more than good, at least it surpasses its precedent UMIDIGI A7 Pro in tests even its competes with the new phones of international brands, The A9 Pro as a mid-range phone focused on daily use and playing games with medium settings and is equipped with a set of specifications and respectable features such camera, durability, and design make it interesting to have.
DMR information and Widevine security:
Next, let's take a look at the DMR information and Widevine security. I can tell you I'm a little disappointed with this because it's only Level 3, so you won't be able to get HD on Netflix or other streaming services.
OS:
In terms of OS, UMiDIGI A9 Pro runs on the latest stock Android 10 Pie. As for browsing speed, the user interface works fast and opens applications quickly. And you will find all the basic Android 10 features, on top of which is the dark mode.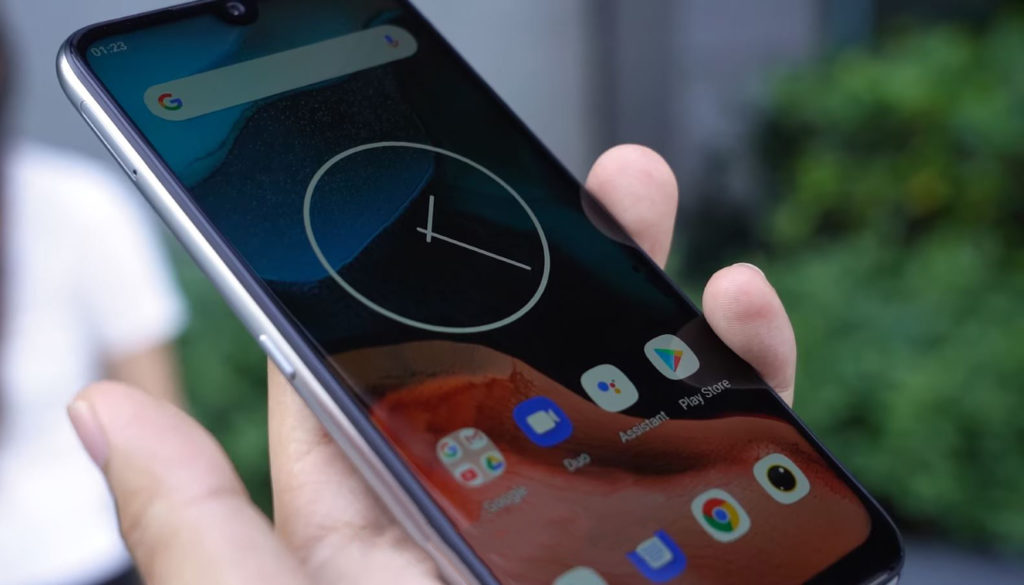 Connectivity:
UMIDIGI A9 Pro is a dual-SIM smartphone equipped with a SIM slot that accommodates two 4G nano-sim cards that support all bandwidth offerings of 4G and 3G and so on, so it is expected that you will get wide coverage for calls and internet. In addition to having a MicroSD card on the same socket.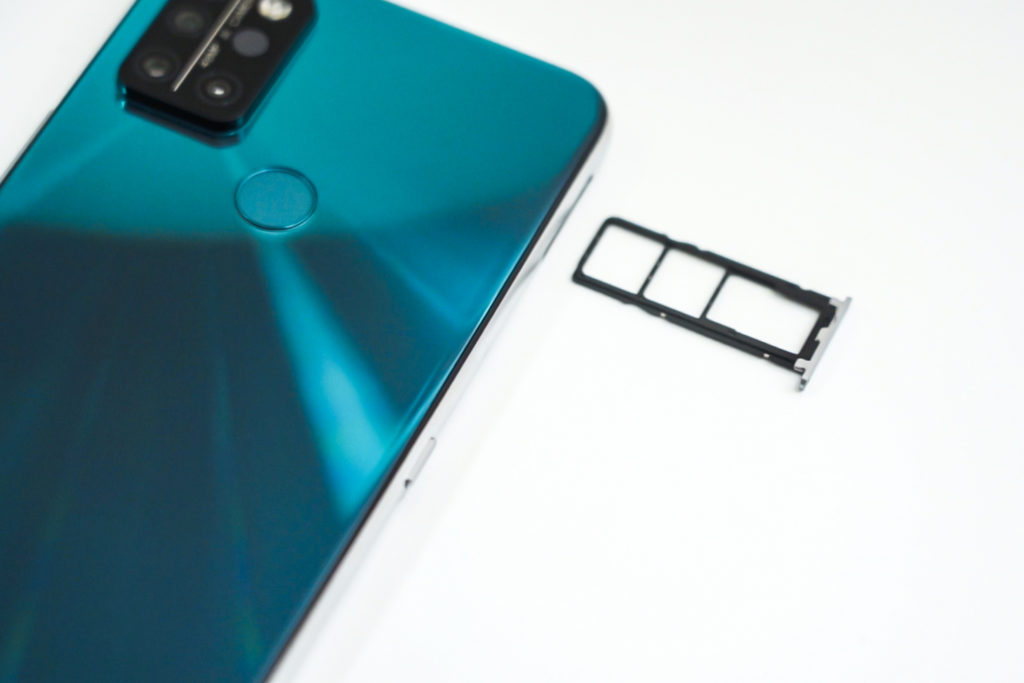 To connect to WiFi networks, the A9 Pro supports dual bandwidths of 2.4GHz and 5GHz, and of course, there is Bluetooth 4.2 at this point it was better if it came with Bluetooth 5.0.
That's not all. There are also some basic sensors for a smartphone, including a gyroscope, accelerometers, and even an electronic compass.
Note:
UMIDIGI A9 Pro doesn't have NFC so you can't make mobile payments.
UMiDigi A9 Pro Thermometer:
The infrared temperature sensor on the UMiDigi A9 Pro is real and located inside the rear camera compartment, and it can be used by pointing the sensor towards a person's forehead or any hot surface and it will show you their body temperature, which is not as accurate as a custom infrared thermometer. It is not a real medical device, however, the temperature readings it shows are very close to the medical device and give you an approximate idea of ​​the person's temperature, how to operate, its simple all you have to do is use the dedicated shortcut key you often find between applications.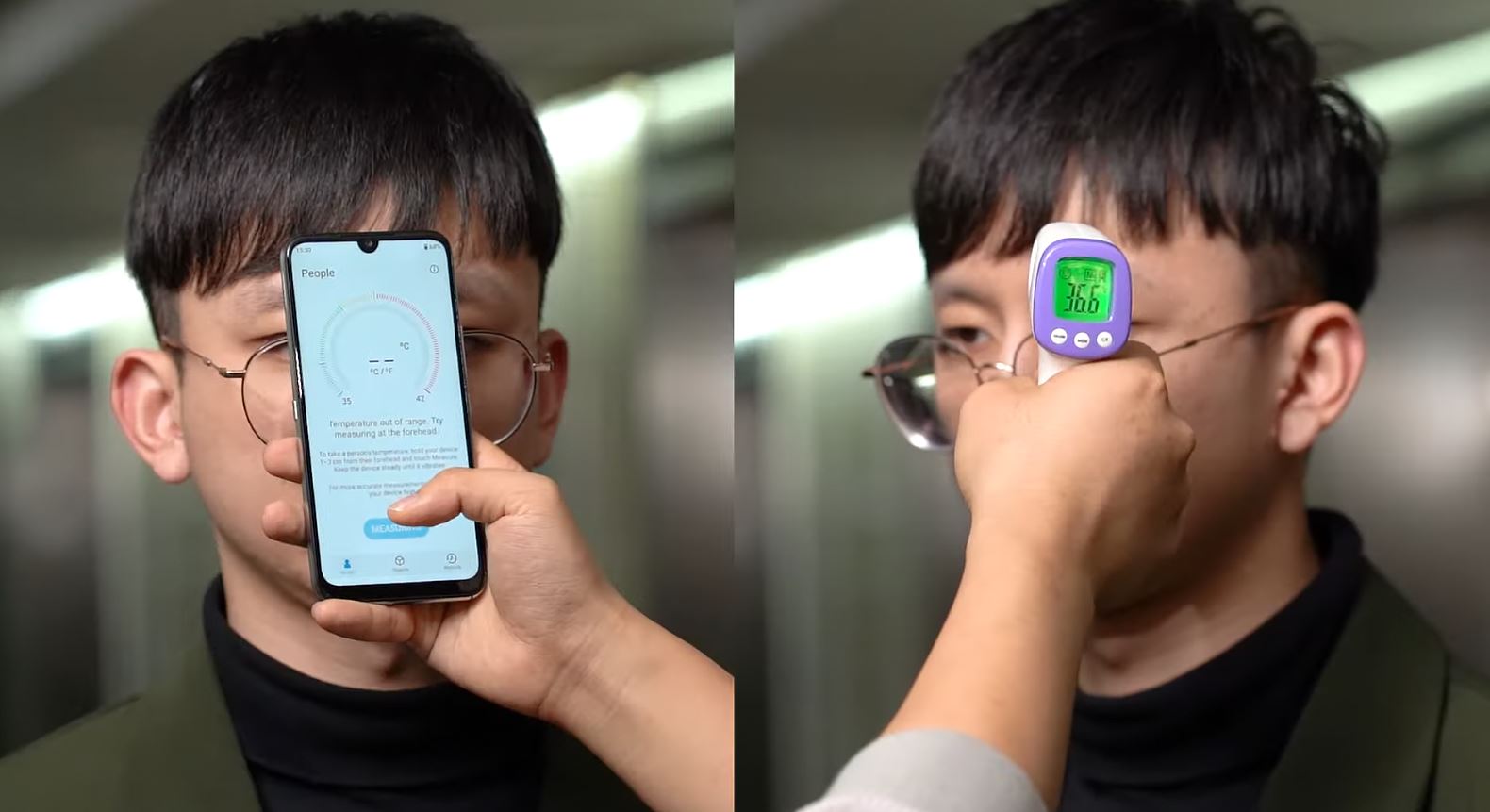 UMiDigi A9 Pro Battery And Charging:
Regarding the battery, the UMIDIGI A9 Pro features a fairly large 4150mAh Li-Po battery that is not removable with 10W fast charging, not very fast but better than the basic 5W and it takes about 3 hours to fully charge via the USB Type-C, plus there is no wireless charging, but its absence in this category is normal.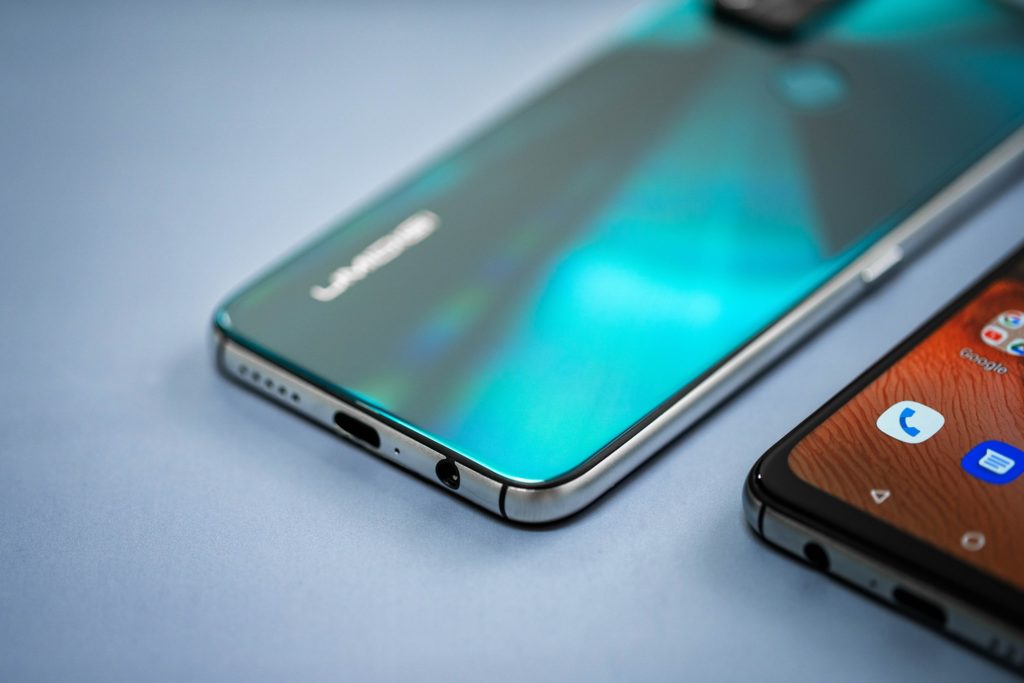 If you are a regular user, the battery will easily last for a whole working day, depending on your usage such as the times you open the screen, and the type of applications you run, also it suffices for more than 9 consecutive hours of watching videos.
I expected that the size of the battery will be larger than that due to competitors, however, its performance was good and this is mostly because it is equipped with stock Android 10 don't have any pre-installed programs, even the interface is simple without any complications or processes in the background and this is what limits battery drain.
Conclusion about UMIDIGI A9 PRO:
If you ask me if the UMIDIGI A9 PRO smartphone is worth buying or you can recommend, my answer is definitely yes, and this is due to the experience that it will give you, given that it is a mid-cost smartphone and price does not exceed $ 150 with a stylish design and decent specifications in terms of the screen, cameras, and even the battery is acceptable with the addition of a scale Infrared heat, although this feature does not make this phone better, however, the A9 PRO will not disappoint you.
UMIDIGI A9 Pro Price And Where To Buy:
The UMIDIGI A9 Pro is currently available on Banggood for $139.99 and Gearbest for $155.98 and Aliexpress store for $146.99. This is a very good price So, don't miss out on this great deal. And to view its price or buy it, you can access the offer by clicking on the store icon.
VERSION INSTRUCTIONS:
The difference between (EU Version) and (Other Area) only is software. Other functions are the same. This is Googles request for software to be used.
If you come from the European Union, Please choose the EU Version.
If you come from the Non-European Union, Please choose the Other Area Version.
This is very important, otherwise you can't use the phone normally!
UMIDIGI A9 Pro Smartphone
EU Charger
Type-C Cable
Phone Case
Phone Screen Protector (pre-applied)
SIM Card Tool
Quick Start Guide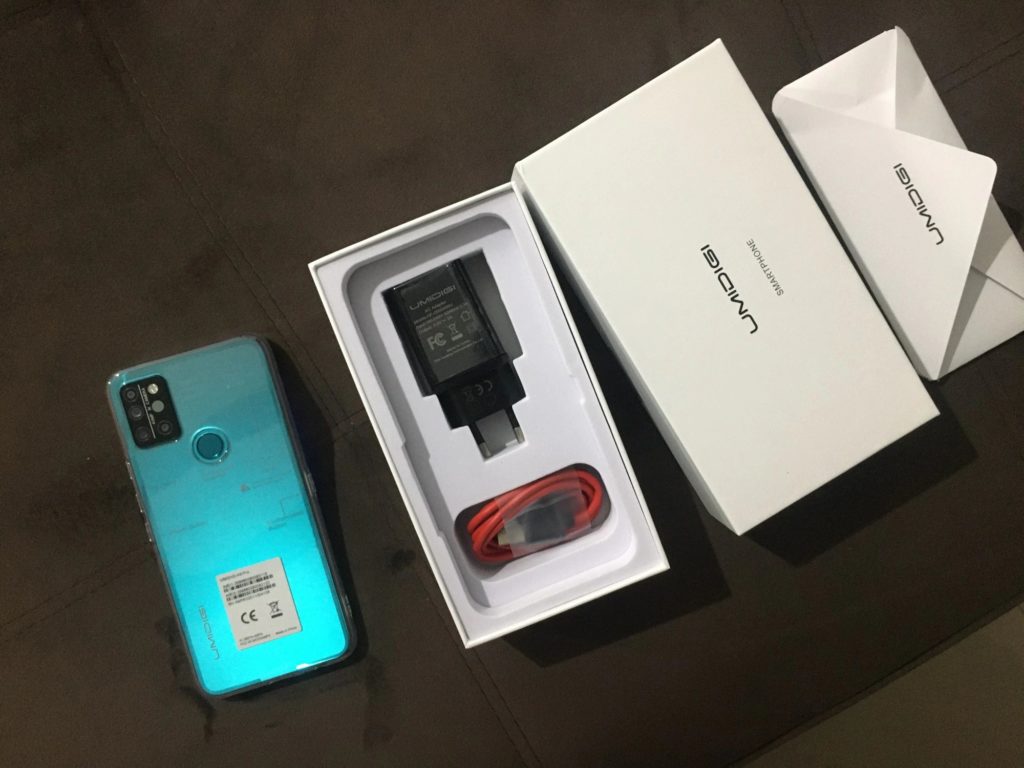 UMIDIGI A9 Pro Specification
Model
UMIDIGI A9 Pro Global Bands
RAM and Storage Options: 4GB + 64GB / 4GB + 128GB / 6GB + 128GB
Hardware
OS: Stock Android 10
CPU: MediaTek, Helio P60, 4xCortex-A73 & 4xCortex-A53, up to 1.8GHz (12nm)
GPU: ARM Mali G72 MP3, up to 800MHz
RAM: 4GB/6GB, LPDDR4X dual-channel
ROM: 64GB / 128GB, UFS 2.1 (6GB RAM version only)
Card Extend: Supports expandable storage up to 256GB (VFAT format)
Materials: Plastic, Glass, Metal
Colors: Onyx Black / Forest Green
Display
Display Size: 6.3 inch, 540cd/cm2 (~92.7% screen-to-body ratio)
Type: LCD IPS
Resolution: 1080 x 2340 pixels, FHD+, 19.5:9 ratio (~409 ppi Very high density)
Touch: Capacitive multi-touch
Double-Sided 2.5D Curved Glass + Solid Metal Frame
Display Protection: Corning Gorilla Glass
Rear Camera
Sony AI Matrix Quad Rear Camera: 48MP+16MP+5MP+5MP
48MP Sony primary camera, 1/2" image sensor, 1.6μm 4-in-1 super pixel, F/1.79 aperture, 6-element lens [4GB + 128GB / 6GB + 128GB variant]
(32MP Sony primary camera for 4GB + 64GB variant)
16MP ultra wide angle camera, FOV 120°
5MP depth camera
5MP macro camera, 2cm macro distance
Features: 48MP HD, Ultra wide-angle mode, Steady handheld night photography, Slow motion video, Macro mode, Portrait mode, Panorama mode, HDR, AI Beautify, Ultra wide-angle edge distortion correction, Dual LED flash, Face recognition, Real-time filters
Read Camera Video Features: 1080p, 720p video recording, 30fps
Front Camera
Front Camera: 24MP Sony ultra-clear front camera
F/2.0 aperture
5-element lens
Features: AI Beautify, Face recognition, Selfie countdown
Front Camera Video Features: 1080p, 720p, 480p video recording, 30fps
Battery & Charging
Battery: Non-removable Li-Po 4150mAh Battery
Charging Power: 10W(5V/2A)
Wireless Charging: No
Charge Interface: Type-C 
Other Features
WIFI: 2.4GHz/5GHz, IEEE802.11 a/b/g/n/ac
Bluetooth: BT4.2, HID
Positioning: GPS, Glonass, Galileo
Sensor: Infrared Temperature Sensor, Proximity Sensor, Ambient Light Sensor, Accelerometer, Gyroscope, Electronic Compass
OTG: Yes
Unlock Options: Rear Fingerprint Unlock + Face Unlock
FM Radio: Yes
Earphone Jack: 3.5mm
Notification LED: No
Shortcut Key: Yes
Network
2G: GSM: B2/B3/B5/B8
3G: WCDMA: B1/B2/B4/B5/B6/B8-TD-SCDMA: B34/B39
4G: FDD-TLE: BB1/B2/B3/B4/B5/B7/B8/B12/B13/B17/B18/B19/B20/B26/B28A/B28B/B66 TD-TLE: B34/B38/B39/B40/B41
SIM Card Slots: Dual SIM Dual Standby(2 Nano SIM Card + 1 MicroSD Card)
Language
English, Bahasa Indonesia, Bahasa Melayu, Cestina, Dansk, Deutsch, Espanol, Filipino, French, Hrvatski, latviesu ,lietuviu , Italiano, Magyar, Nederlands, Norsk, Polish, Portuguese, Romana, Slovencina, Suomi, Svenska, Tieng Viet, Turkish, Greek, Bulgarian, Russian, Ukrainian, Hebrew, Arabic, Thai, Khmer, Korean, Simplified/Traditional Chinese
Size & Weight
Height:158.7mm
Width:74.9mm
Thickness: 8.6mm
Weight: 205g