After our review of the Zeblaze Thor 6 smartwatch, which has become very popular among users, it is time to review a new smartwatch that is from the Vibe series called Zeblaze Vibe 6 and it comes with a robust updated design and good features centered around a speaker and microphone for making calls via a smartwatch and supports Monitor blood pressure with 10 exercise modes and more, which we will learn more about in this article.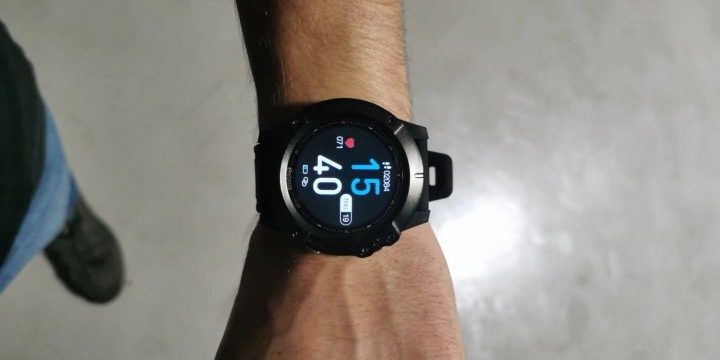 Features of Zeblaze VIBE 6
Built-in Speaker and Microphone
Stand-alone Music Player
7x24h Heart Rate Monitor And Blood Pressure Monitor
Female Physical Health Track
10 kinds of Mainstream Sport Modes
25 Days Long Battery Life
IP67 Water-Resistant
Design:
The Zeblaze Vibe 6 smartwatch comes with a durable circular design similar to previous Vibe watches. It is 51 mm in diameter and 16 mm thick. Yes, it is larger than usual. Its weight is about 67 grams, which makes it suitable and will not cause any fatigue on the wrist. The body is made of zinc alloy with a metal frame and premier manufacturing quality, in addition to that there are two buttons on the side, one for power on-off and another for sports modes and the speaker position from the top and a microphone from the bottom.
At the bottom, as usual, it's plastic with a heart rate sensor and 4 charging connectors.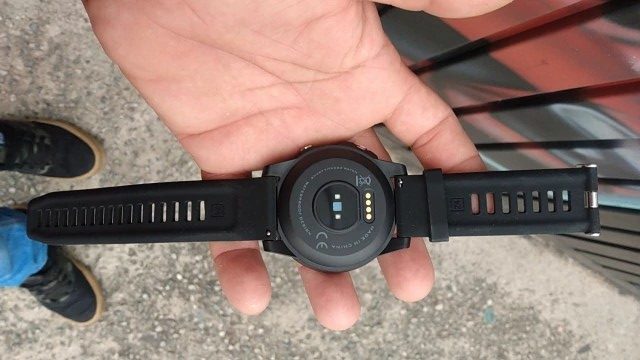 While it has a 24 mm removable silicone strap and has several different colors in Black / Gray / Blue / Green, the watch body itself remains black.
Display:
The new smartwatch has a 1.3-inch IPS full touch screen with a resolution of 240 * 240 pixels, in short, the screen is acceptable but not the best thing and sometimes the touch response is annoying. And you can raise the brightness to 12 levels for better contrast under the sun. As for the wake-up feature, the response was quick.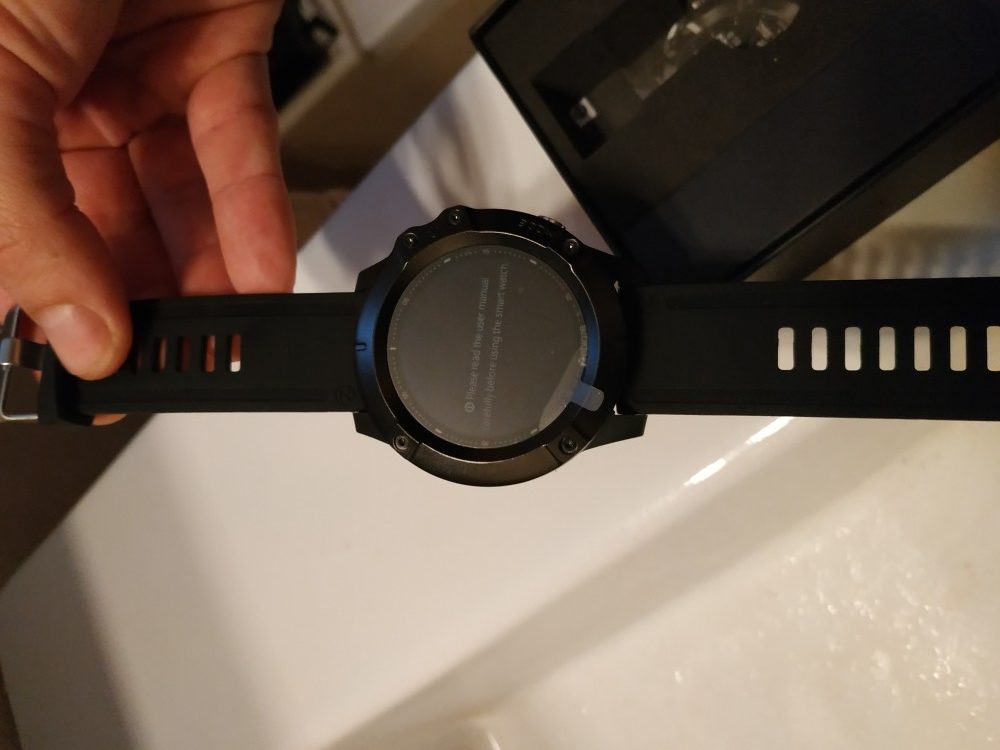 Watch Faces:
The watch faces in this new version were not impressive, bearing a simple design, and their number does not exceed 4 pre-installed faces.
Waterproof:
The watch is already water and dust resistant with IP67 protection, so you can handle it when washing hands or on rainy days. I don't recommend using it for swimming as it doesn't withstand pressure and saltwater can damage it.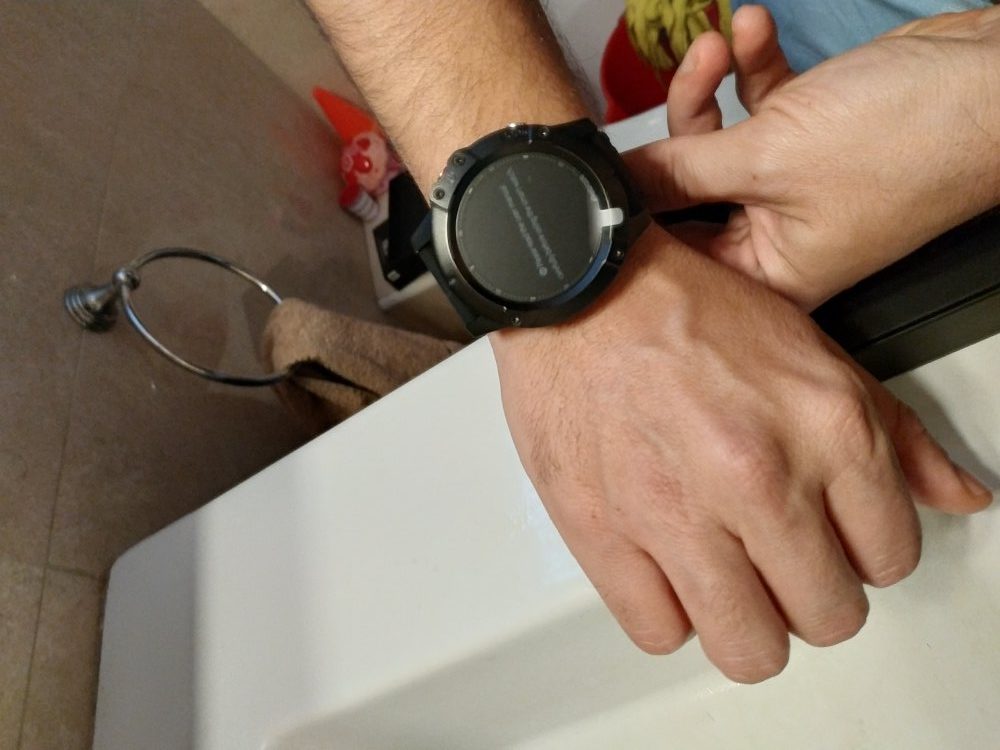 Under the Hood:
The Zeblaze Vibe 6 smartwatch is equipped with the GR5515 chip with 128MB storage memory to store audio files, the specifications may look bad, but in fact, it is a cheap smartwatch, it does not carry a system like Android and iOS which makes it enough to give you a smooth transition between menus and functions. In addition, it is equipped with a G-sensor and a heart rate sensor.
Health and Fitness:
Control your physical activity with the help of Zeblaze Vibe 6 and track your physical activity, such as monitoring your heart rate, movements, distance traveled, calories burned, steps taken during the day, etc. so that you can get accurate information about your activity. In addition, the smartwatch can track 10 sports activities such as walking, running and horseback riding; Hiking..etc.
How to connect with Zeblaze Vibe 6:
After turning on the watch, the first thing you have to do is connect it to your smartphone via Bluetooth v5.0 and by synchronizing it with the application that enables you to use the smartwatch and set up all the details such as time and so on. And the smartwatch works fine and is compatible with Android 4.4 or IOS 9 (or above). The data exchange between the smartphone and the smartwatch is done via the H Band app that can send notifications from the smartphone to the Vibe 6 Smartwatch and display them as social networks and calls.
Through the app, you can also monitor your physical activity and health status such as blood oxygen, blood pressure, heart rate monitoring, pedometer, sleep monitor, and through the analysis that your smartwatch makes and the data collected, you can create a program to improve your training results and maintain your health.
You can also listen to music directly on your watch because it is equipped with a loudspeaker or through the watch itself because it has a storage space to which you can transfer some of your favorite songs. Not much, but it can be used especially, and that the watch can also be linked to Bluetooth headphones.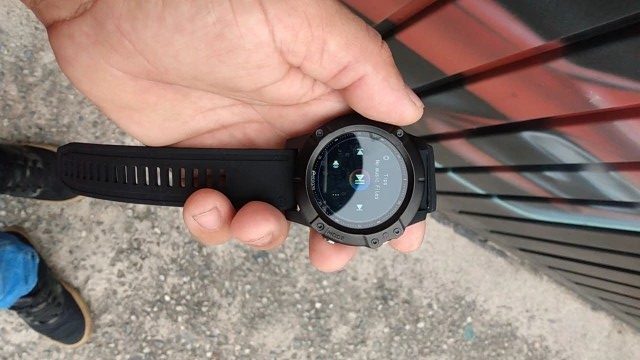 There is also a Bluetooth v3.0 dedicated to making or receiving calls directly on your smartwatch without turning on the smartphone, thanks to the built-in microphone and loudspeaker.
About notifications, Zeblaze Vibe 6 supports notifications from social apps like Facebook, Instagram, Skype, Twitter, Wechat, and WhatsApp.
Battery and charging time:
In terms of battery life, the Vibe 6 comes with a 300mAh battery capacity that takes between one to two hours to fully charge via magnetic charging and gives you between 10 to 14 days of battery life in normal use with the monitoring sensor and 25 days of standby time without Using the monitoring sensor, charging is done via a magnetic cable with 4 pins, through which you can transfer some audio files to the watch.
Zeblaze VIBE 6 Price And Where To Buy:
The Zeblaze VIBE 6 is currently available on Banggood for $46.69 and the Aliexpress store for just $37.19. This is a very good price So, don't miss out on this great deal. And to view its price or buy it, you can access the offer by clicking on the store icon.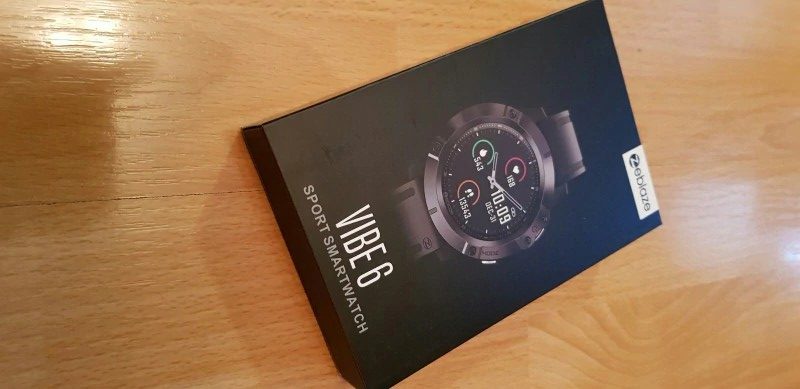 Zeblaze VIBE 6 Smart Bracelet
Charging Cable
User Manual (English, Deutsch, русский, Espanyol, Portuguese, France, Japanese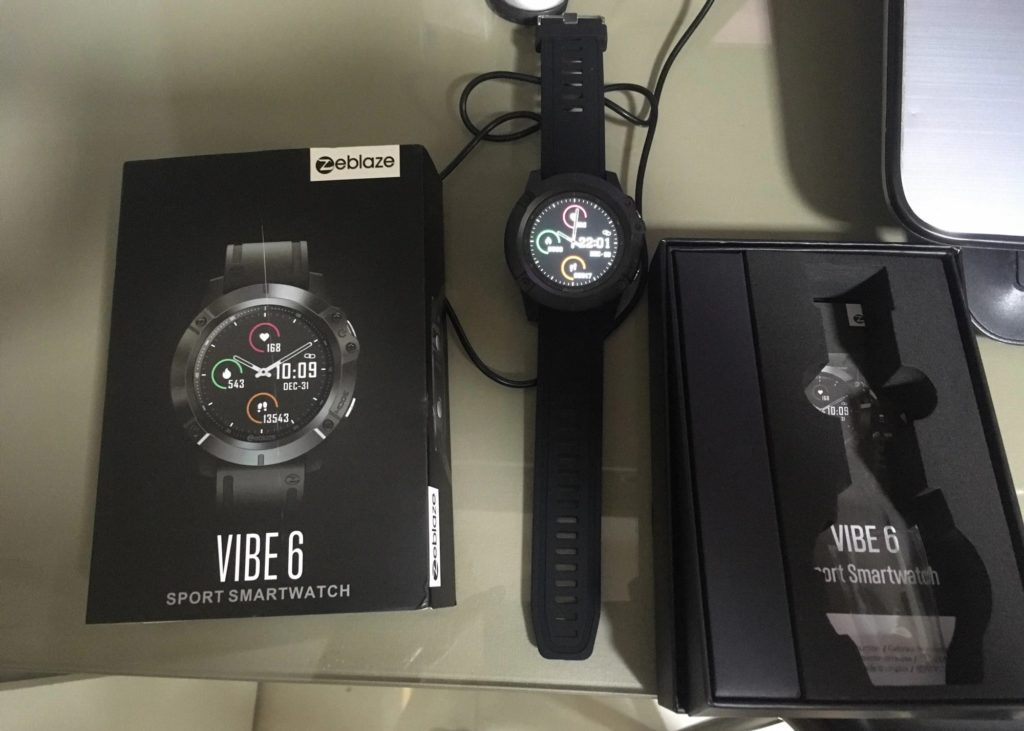 Zeblaze VIBE 6 Specification
Brand
Zeblaze
Model
VIBE 6
Ship
ROM
GR5515
128MB
Bluetooth Version
BT5.0+3.0
Compatible OS
Android 4.4 or above, iOS 9.0 or above
Operating Mode
Full Touch
APP Name
H Band
App Language
English, Português(Brasil), Português(Portuguesa), русский, Español, Italiano, Français, Deutsch, Türkçe, Čeština, Polski, ภาษาไทย, 日本語, 한국어, Arabic, Persian, Tiếng Việt
Message Push Language
Chinese, Japanese, Korean, Latin, Cyrillic; Latin includes: (English, French, Spanish, Portuguese, German, Dutch, Vietnamese, Northern Europe, Central Europe, Southern Europe Italian, Southeast Asia, Africa); Siri Irvine includes: (Russian, Eastern Europe, Asia), covering 150 countries
Waterproof
temperature
IP67
-20°C – 45°C
Sensor
G-sensor, Heart Rate Sensor, Proximity sensor, Accelerometer
Screen
Size: 1.3 inch
Type: IPS
Resolution: 240*240pixels
Battery
Battery Capacity: 300mAh
Using time:
25 days (Basic watch mode)
15 days (Daily use mode)
280 mins (Continuous Bluetooth Calling )
220 mins (Continuous Music Playing)
Charging Time: About 1.5 hours
Charging Type: Magnetic charging
body material
Strap width
Strap material
Color
Metal Bezel + Zinc alloy+ABS
24 mm
Silicon
Black/Gray/Blue/Green
Product Size
Product weight
Dial Size: about 51*51*16mm
67g
Heart Rate Monitor
Support

PPG Biological Tracking Optical Sensor

Blood Pressure Monitor
Support
Female Health
Support
Sleep Tracking & Stages
Support
Real-time Pace & Distance
Support
Multi-sport Modes

10 Mainstream Exercise Modes

Steps Tracking
Support
Calorie Burn Tracking
Support
Pedometer
Support
Multi-watch Faces
Support
Bluetooth Call
Support(Receive / Make Call)
Call or Message Reminder
Support
Reject Call
Support
Call ID Display
Support
Stand-alone Music Player
Support
Alert Type
Vibration
Auto Light-up Screen
Support
Stopwatch
Support
Countdown
Support
Real-time Weather Display
Support
More Functions
Support Alarm, Calendar, Sedentary reminder, Camera remote control, Anti-lost, Music control