If you are looking for a new TV box with good specifications and at a cheap price that does not exceed $ 25, then through my review, we will get to know one of these devices. H96 Mini V8 is the lowest and most beautiful version of the H96 max, as it adopts the Android 10 operating system with the RK3228A processor supported by 2 GB RAM and 16 GB ROM in addition to other specifications.
CPU: RK3228A, 28nm Quad core Cortex A7
GPU: ARM Mali-400 GPU
Memory: 1GB / 2GB DDR3 RAM
Flash: 8GB / 16GB eMMC
OS: Android 10.0
Support Widevine Level1 DRM PlayReady, Verimatrix
Support TikTok TV contro
Design:
The design in the TV box is not a big thing, it just has to be simple and modern to suit the general atmosphere. And this is what we find in the H96 Mini V8 in a square shape made of black plastic with acceptable manufacturing quality, from the top it is decorated with the brand logo, on the front it is just a blue LED lamp that shows the condition of the TV box.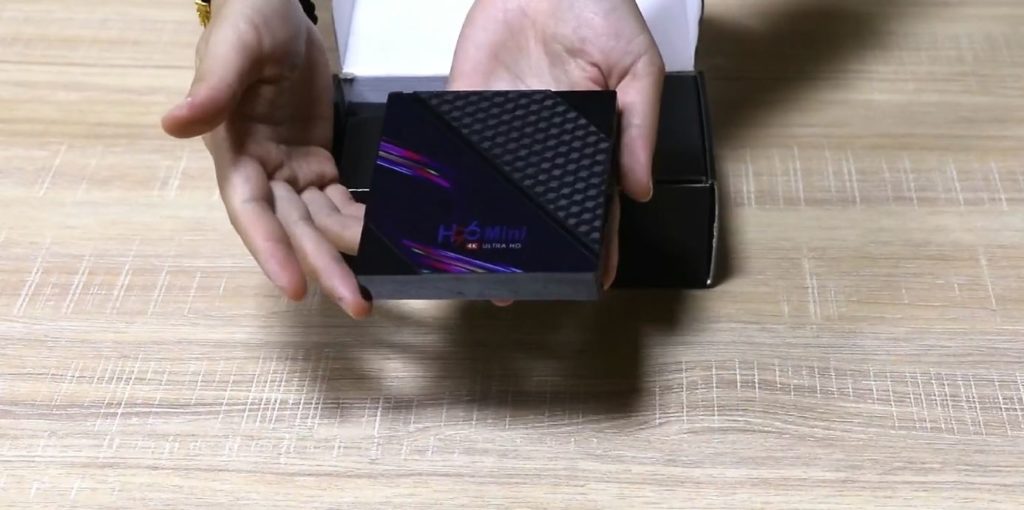 As for the ports on the back and the side, which were not very much, just 2 * USB 2.0 and DC input 5V / 2A, Ethernet 10 / 100M, and HDMI 2.0 port, in addition to the recovery slot.
Performance:
As we mentioned earlier, the H96 Mini V8 is just a minimal version of the H96 max at a cheap price, but that does not mean that it is bad as it gives you full value for what you pay, it is equipped with a 64-bit SoC RK3228A that includes four ARM Cortex-A7 processors with a speed of 1.5 GB Hz and Mali-400 GPU which includes H.265 and original VP9 video decoding up to 4K 60fps video decoding with HLG HDR10 support.
It also includes 1/2 GB of DDR3 RAM and 8/16 GB of eMMc storage which we can expand by adding some memory devices in one of its USB ports as there is no SD card port. As always we recommend the 2GB RAM version to be fast for opening apps, downloading and saving favorite movies, videos, pictures, ebooks, etc., and you won't have to worry about space.
This may be a box of the cheapest that you can find, but it still has the ability to play video at quality up to 4K 60fps and here I do not mean that you can play a 4K video, but the dimensions are at 3840 x 2160.
Operating Oystem:
Android 10 exists as an operating system with a faster-operating speed, better compatibility with applications, an excellent user interface, and it can work as a media player because for other aspects such as games, it will be limited because this is CPU and GPU is not intended for this kind of things. In short, it's a very basic box suitable only for a media player.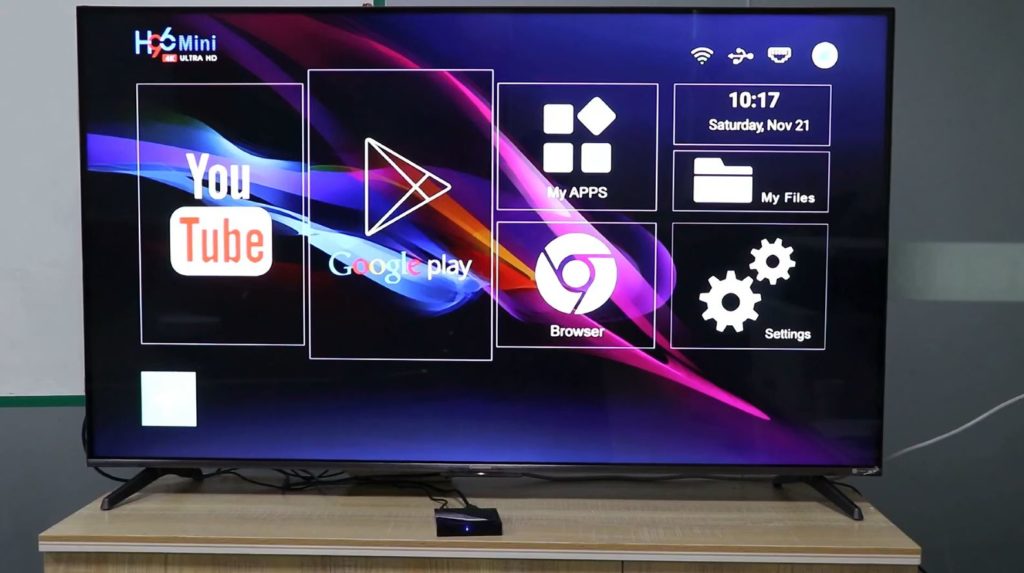 Streaming Services:
As for Netflix and other similar streaming services, most of the android TV boxes do not support it due to copyright issues, and this applies to the H96 Mini V8 as it works normally but on 480p. Although the company stated that it supports Widevine Level 1 but only DRM PlayReady, Verimatrix, and these licenses do not work with Netflix and other streaming services.
On the mention of applications, some applications cannot be found in the Google Play Store or even do not work, and it is mostly because this TV box supports the TV version and not the mobile version or something else. For this, you just have to search for it in APK format or download it from another alternative store to can install the applications you want.
Tips:
One of the problems that you may encounter when using the H96 Mini V8 is the temperature, so you should not press it by using applications that need a lot of hardware. However, using an external fan may reduce the heat.
For some applications that are mainly used in phones or computers, it may be difficult to use the TV remote version to navigate them using the remote control, as these applications are mainly provided for tablets and phones that have a touch screen or mouse settings. And the solution is to connect a wireless mouse or keyboard for easier and faster control.
Connectivity:
In terms of wireless communication, we only have basic connectivity, with only WiFi b / g / n 2.4ghz with an internal antenna and Bluetooth 4.0.
H96 Mini V8 Price And Where To Buy:
The H96 Mini V8 is currently available on Banggood for $22.99 to the first 300 pcs on Pre-orders and Gearbest for $41.99 and Aliexpress store for just $18.93. This is a very good price for a version with 2GB RAM and 16GB eMMC So, don't miss out on this great deal. And to view its price or buy it, you can access the offer by clicking on the store icon.
You can also get a version less with 1 GB RAM and 8 GB ROM, although, I do not recommend it because it will be a decrease in overall performance.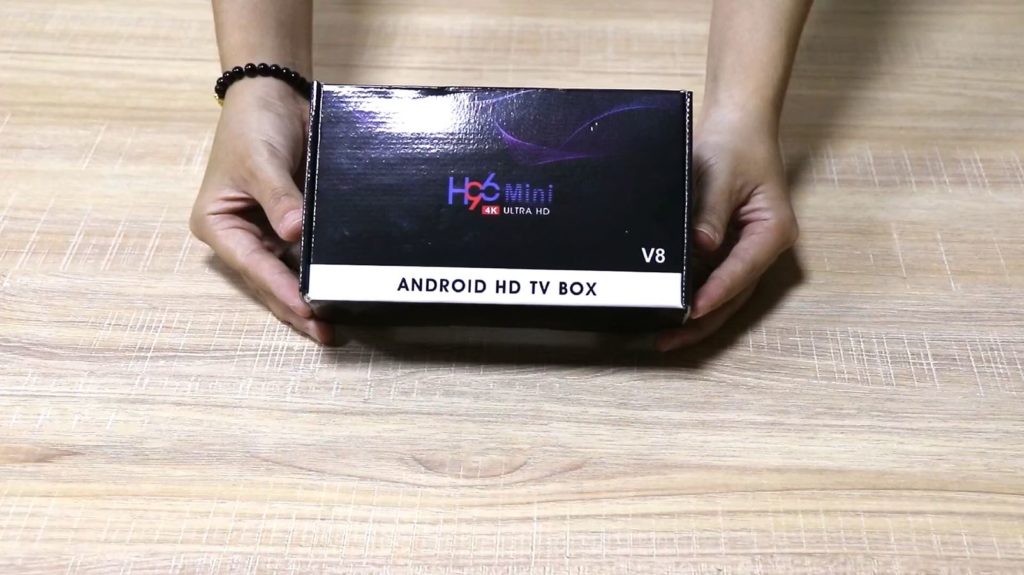 H96 Mini V8 TV Box
Remote Control
Power Adapter
HD Cable
User Manua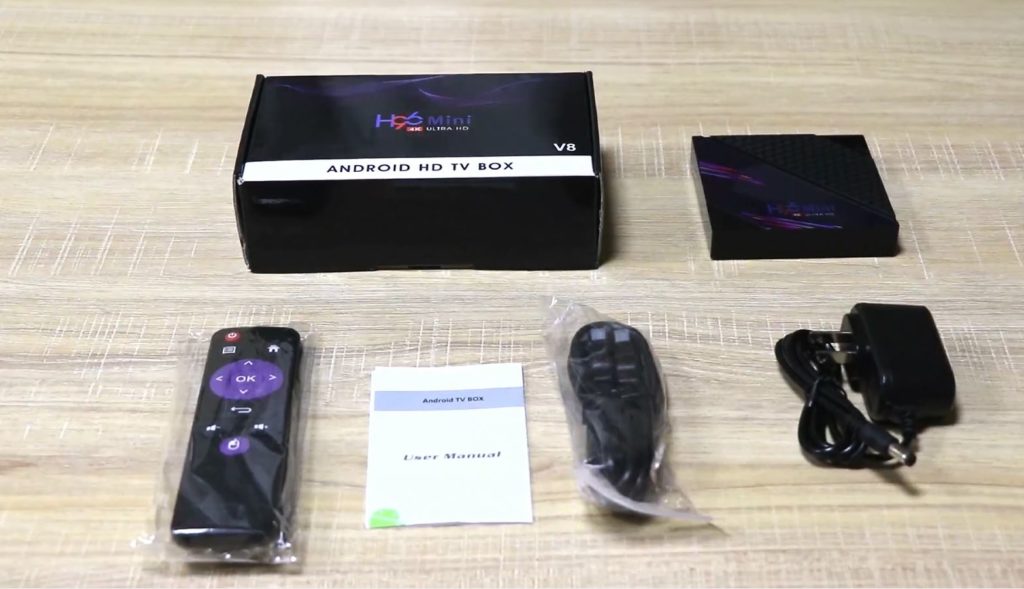 H96 Mini V8 Specification
CPU
RK3228A 2.0GHz, 28nm Quad-core Cortex A7, High cost performance 4K OTT Box solution
GPU
ARM Mali-400 GPU
HDMI
Including an HDMI 2.0 for HDMI 2.0 for 4K YUV420@30Hz with HDCP 1.4/2.2
Support 4K 10-bit H.265, H.264, VP9 video playback and display
Memory
1GB / 2GB DDR3
Flash
8GB / 16GB Emmc
WiFi
802.11 b/g/n 2.4G
bluetooth
BT4.0
USB HOST
2 x USB2.0
Wired network
Ethernet GMAC 10/100M Ethernet controller
Support 10/100Mbps data transfer rate and RGMII interface
IR
Infra Remote control
Power Supply
DC input 5V/2A
Software
OS
Android 10.0
3D
Hardward 3D graphics acceleration
Video decoding
4K VP9 Video decoder, 4K 10-bits H.265/H.264 video decoder
1080P other video decoders (VC-1, MPEG-1/2/4, VP6/8)
Support conversion from BT.2020 to Rec.709/Rec.601
Video post processor: de-interlace
H.263/H.264 2160P 24fps / VC-1 ,MPEG – 1 1080p 60fps
Support MPEG- 2 2160P @ 24fps / Support MPEG-4 1080P @ 60fps
Support AVS 1080p @ 60fps / MVC 2160P @ 24fps
WMV, 3GP, MKV, ASF, 3G2M4V, MJPEG, RV8, RV9, RV10 1080P@60fps / Support HEVC decoder
Support Main/Main10 HEVC/H.265 decoder, 4K@60FPS
4096×2304 resolution
HDMI 720P-2160P FUII 3D HD( 2160P, 3840 * 2160 ), 4K+2K
Support flash11.1
Video Decoder format
H.264, H.265, VP8, MVC(1080P)
Video format
DIVD/DIVX/REAL8 / 9 / 10, RV, RM, RMVB, PMP, FLV, MP4, M4V, VOB, VP6, VP8 2160P @ 24fps
Audio format
MP1, MP2, MP3, WMA, OGG, AAC, M4A, FLAC, APE, AMR, RA, WAV, etc
Picture format
JPG, JPEG, BMP, GIF, PNG, JFIF, etc
Resolution 8192×8192
HDD file system
FAT16 / FAT32 / NTFS
Support Subtitle
SRT, SMI, SUB, SSA, IDX+USB
for XBMC
Support
DRM
Support Widewine Level1, DRM PlayReady, Verimatrix, built-in Trust zone
HDCP 2.2/1.4
Support language
Chinese, English, Germany, Japanese, Korea etc. multilateral languages
Appliactions
Online
Browse all video websites, support Netflix, Hulu, Flixster, Toutube, TikTok TV Version etc
Apps
Apps download freely form android market, amazon appstor etc
Medium
Local Media playback, support HDD, U disck
Talk online
SKYPE video call, MSN, Facebook, Twitter, QQ, etc
Others
support WiFi hotspot could be as a wireless router
Support DLNA, Google TV Remote, LAN, 3D Movie, Email, office suit, etc