The Baseus is one of the most famous and best producers of original accessories such as earphones, smartwatches, speakers, etc. However, we have not mentioned their products in our reviews before, so this will be the beginning of the first review with them through the latest headphones in their arsenal, which is the Baseus H1.
These new Headphones have a stylish appearance, good specifications, and most importantly it is cheap. It's equipped with the wireless operation and Hybrid Active Noice Cancelling helps reduce outside noise, making it much easier to focus on your work and a 40mm dynamic driver for High-Quality Sound with the help of Bluetooth 5.2 Chip to transmit a flawless connection, the wireless earphone gives you a 40h battery life, all this in one place. So I'll take a look at them to see if they live up to the best budget wireless headphones under $60 by inviting you to discover our opinion in this article.
40db Hybrid Active Noise Cancellation
Bluetooth 5.2 Chip
40mm Drivers For Hi-Res Audio & Deep Bass
Built-in 4 Mics
45h Long Playtime
APP supports adaptive EQ adjustment
Foldable And Convenient
Design And Build Quality
The Baseus H1 portable headphone follows a lively look with a beautiful matte Gray and Rice White version, It seems to be inspired by the Apple AirPods Max which makes it look really cool. The build is well made and looks sturdy enough despite the hard plastic but it's light on the head for its size and weighs 300g so it doesn't create much pressure on the top of the head.
The headband, it's nice that it's made of metal so you can take it off constantly without worrying about it breaking and it adds stability to stay on your head, luckily it doesn't add a lot of weight and can be adjusted with just a few steps.
The leather ear pads with just the right amount of padding are very soft and comfortable to wear, the synthetic leather covered with a durable and soft lining was comfortable for me wearing them for a long period of time and could just cover my ears without putting too much pressure on them and it might be different if you have bigger ears. The inner ear cups are also marked L and R for left and right and each ear cup also has microphones that help cancel out more background noise or phone calls when paired with a smartphone.
Buttons And Controls
Finally, there are no touch-sensitive controls but it is compensated by three buttons for controls all placed on the right earpiece.
The three buttons next to each other are for Bluetooth pairing, volume and track skip and more. And the fourth and last one on the other side for Noise Cancellation.
With that, you need to memorize the different functions of pressing the short and long buttons, plus it's good that the buttons have dimples to help you feel what you're doing, the button in the middle (two points) is used for play/pause and Activate the voice assistant. By pressing the right or left button (+/-) to increase and decrease the volume respectively and to switch the track (long press for 1.5 seconds). The headphones also allow you to answer, hang up, or switch calls. In short, the controls are adequate but they are small and will take some time to get used to. And finally, for charging, there is a Type-C port.
Baseus H1 – Connectivity & Pairing
The Baseus H1 offers strong compatibility with both IOS and Android devices and adopts Bluetooth 5.2 technology for stable and powerful transmission, lower delay, and smoother connection for high sound quality. In terms of codecs, the most popular SBC and AAC audio decoding are supported and aptX is not.
Pairing is easy and simple all you have to do is press the ANC button for 2 seconds. Then turn on Bluetooth on your device, and connect to the Baseus H1. And you can enjoy music up to 10 meters long even with thin walls between you and your device and if you are not within the effective range, the connection will be disconnected.
Performance Overview
Baseus makes sure the headphones can deliver a good audio experience with 40mm dynamic drivers, and the ANC mode is able to reduce background noise up to 40dB. There is also a built-in microphone that can be used for phone calls.
Baseus H1 Audio Quality
Knowing that the Baseus H1 is a budget-friendly option, however, it is equipped with a 40mm dynamic driver that is fully capable of producing high-quality sound, so it doesn't give you any distortion even at high volume levels or unfavorable tones, which is great, because in many of the cases budget headphones can become a problem at high volume levels with an unwanted stream of distortion. However, the H1 pays special attention to the heavy bass, as it is balanced and tuned to the right level. It's not overly strong and seems well suited to giving a nice balance, so they mostly excelled with rich bass tunes such as dance, electronic styles, and hip-hop – that's the kind of music this type of headphone produces so well.
When listening to pop music, we've found the vocals are relatively low, the high frequencies aren't quite as bright with many layers struggling for clarity and bleeding through in a lot of frequency response. The mid-range sounds are pushed into the background by excessive bass, while the treble in particular is completely lost.
However, for the price, the bass is enough to be acceptable, the bass elements receive some coloration, and the smooth resonance, especially when listening to rock music with more percussion instruments is more enjoyable. The bass is really full and powerful. So listening through these headphones was a somewhat satisfying experience that you don't usually get with headphones under $100.
Overall, the Baseus H1 Hybrid Wireless Headphones is a stylish and good bass headphone targeting the youth market, it represents good value for money and provides a great experience for music lovers.
Baseus H1 – Hybrid Active Noise Canceling
In addition to the sound quality, one of the outstanding features of the Baseus H1 headphones is the Hybrid ANC technology and advanced noise reduction algorithm that is able to create a really great mix because it reduces ambient noise up to 40dB, which means that it can filter out up to 90% of external noise. The downside is that there's only a dedicated microphone for this feature, so it's best to think of it as noise reduction rather than full cancellation. That's why you can hear some minor noises and unnecessary low frequency, and activating and disabling ANC will not give you that dazzling impression with a fair impact on sound quality by providing you a clean acoustic environment, which is acceptable in this category.
To keep it simple, the high end of the background noise will still be audible, which helps with directional identification, and it can't be compared to expensive headphones from established brands, but it's pretty cool in the lower price range.
Call Quality
In addition to the audio modes, the call quality of the Baseus H1 is interesting. It sounded better and was above average because the headphones were under $100, though I wouldn't say it's not perfect, it's a lot better than some other headphones in the same price range and a bit higher.
So the call quality is excellent and this is due to having a good quality built-in microphone that picks up your voice very clearly without picking up all the sounds around you from echoing or anything else to distort and the other party didn't have any problem with our voice. And since the sound quality is also good on these headphones, the caller was heard with excellent clarity as well. So there are no complaints regarding phone calls, which makes this headset ideal for random phone calls throughout the day or online conferences or classes.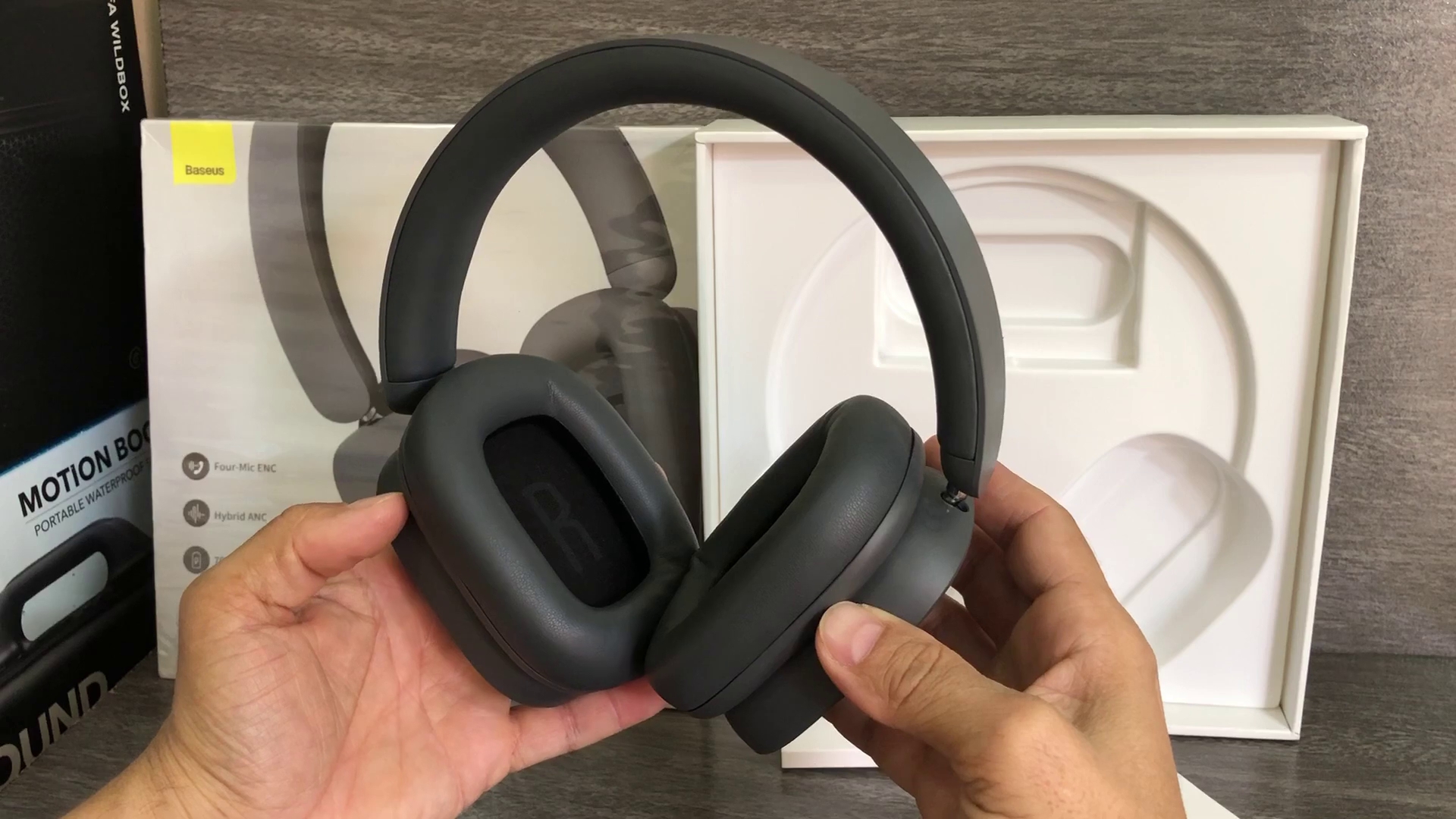 Low-Latency
After that, the latency of the Baseus H1 is not bad and just needs some optimization, so that you can watch videos or play online games on both iPhone and Android without noticeable audio delay.
When it comes to gaming, Bluetooth 5.2 works well with minimal latency, and FPS gaming is a viable option with these headphones. You won't notice a problem when listening to an audio file on headphones, but when watching a movie and video in the YouTube or Netflix app, there is a slight lag, about half a second or less, between when actions are performed in the movie playback and when the feedback reaches your ear. This also applies to gaming, which is almost normal, and you can find it on most wireless headphones in this price range.
Baseus H1 Battery And Charging Time
In terms of battery, the Baseus H1 is equipped with a built-in 400mAh Li-Polymer battery that provides the user with 40-50h of uninterrupted playback which equates to 10 days for two weeks of moderate use before they need to be charged again, of course, varies Battery life depending on whether ambient noise or noise cancellation is turned on.
With the ANC turned off we should get up to 50h and with the ANC turned on we get about 40h though it still lasts a long time compared to most wireless headphones in this price range. So if you're more concerned about battery life, the Baseus H1 might be a really good choice.
Recharging the H1 from 0 to 100% takes no more than 1.5 hours with USB-C port, and don't support fast charging support.
Verdict
Overall, for those on a tight budget, the Baseus H1 Hybrid ANC headphones are a great true wireless option that offers a lot for the money where the perfect sound is with the presence of ANC.
Baseus managed to create a well-balanced device. And be sure that you will get more than you pay for with good build quality, stylish design, comfortable and more youth-focused, as well as impressive battery life, the sound quality is very good and balanced and the bass is free from distortion For its price with some lacking, ANC works fairly well with a volume contrast between on and off ANC, call quality is excellent. So, the H1 headphones definitely stand out from the crowd and are worth giving a shot.
Baseus H1 Price And Where To Buy
The Baseus H1 Headphone is currently available on the AliExpress Store for a very good price. so don't miss out on this great deal.
Baseus H1 ANC Headphones
User Guides
USB Charging Cable
Name: Baseus Bowie H1 Noise cancellation Wireless Headphones
Model No. :Baseus Bowie H1
Color: Gray/ Rice White
Material: ABS+PC+Metal
Product weight: 300g
Version: V5.2
Communication distance: 10m
Suitable for: Compatible with all wireless devices
Battery capacity: 400mAh/1.48Wh
Charge interface: Type-C
Fully charging time: About 1 Hour
Music playing time: 70Hours(volume at 70%,  with ANC off)

40Hours(volume at 70%, with ANC on)

Codec protocol: AAC/SBC
Frequency response range: 20Hz-20kHz