The BlitzWolf BW-AT1 Smartwatch is a great opportunity for you to get a smartwatch for a very affordable price. It is a very good Heart Rate / Sleep Monitor / Blood Pressure Measurement device and with many Features.
Design of BlitzWolf BW-AT1:
BlitzWolf BW-AT1 comes in a stylish and modern look and design. It is a full circle with one physical button on the side that enables you to move between the different statistics that the smartwatch tracks and has a PC body with a chrono-markings on top. Its size is 46.8mm * 46mm * 12.6mm.
while it comes with soft TPU strap compatible with other 22mm bands and steel pin buckle which ensures the comfortable wearing experience, and body of the watch is available in black color only, but the strap is available in black, gray, and red colors.
On the back, I will find the heart rate sensor is well works and its height does not bother the wrist. And within a minute, you have your heart rate measured. And next to the sensor we find also find the charger pins, those are magnetic so it stays waterproof.
To explore other options, read about the BlitzWolf BW-HL2 Smartwatch Review.
Display:
The display of the BW-AT1 smartwatch has a 1.3″ IPS with touch Screen in the middle and a resolution of 240 * 240-pixels that shows you high-Definition pictures, the screen brightness can be adjusted freely.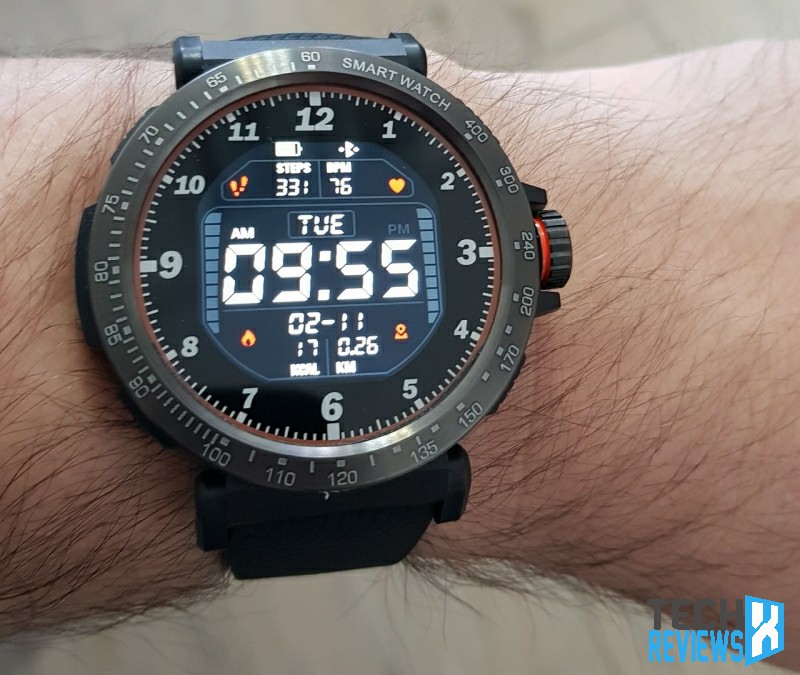 IP68 Waterproof:
The watch is IP68-rated, which protects it from water splashes and dust. With this, it's automatically safe from sweat and possible wearing it in the shower. And Swimming is not recommended while wearing it more in one meter deep and no longer than half an hour, especially in saltwater.
Under the Hood of BlitzWolf BW-AT1:
The smartwatch has a g-sensor, heart rate monitor, blood pressure as well as blood oxygen monitor. This device manages your motion every moment and takes good care of you all day long.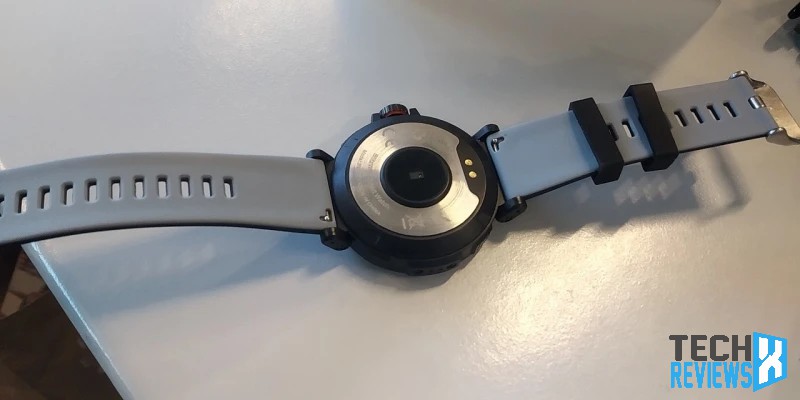 Activities:
It can also be configured BW-AT1 smartwatch in 8 sports modes including walking, running, biking, skipping, badminton, basketball, football, and swimming.
Additional features are real-time heart rate monitoring to check whether it beats normally or not low or high, sleep monitoring to know if you had a lot of deep sleep or light sleep, blood pressure and oxygen levels in the blood monitoring to improve cardiovascular capacity, anti weight gain, pedometer, call or message notifications, stopwatch, alarm, Calendar, sedentary reminder, and remote camera controller to take selfies with a touch on the screen and you can control the music from just a watch.
It provides health advice like when you need to sleep, rest, exercise, wake up, etc. It also informs you when there is an incoming call even in a noisy environment.
Also, it has Bluetooth 4.0 compatible with the Android 4.4 operating system and above or iOS 8.0 and above, it would have been better if it had 5.0 for a faster connection and a larger range.
Da Fit APP:
BlitzWolf BW-AT1, It comes with a mobile app Da Fit for android and iOS, to help you set it up the watch and use it more efficiently. You may take advantage of some features and stats and functions without any additional equipment, like the taken steps, the slept hours, and the heart rate measurements you did. And you can set an alarm, change the watch faces, or you can set your daily step goal, change your profile settings.
And the collected data can then be synchronized with your smartphone or tablet. keep in mind that this is not medical grade equipment that is why it does not rely entirely on smartwatch data.
Downloading the app goes through the Google Play Store or the Apple App Store, so you know it is a safe app.
How To Connect?
To connect the BlitzWolf BW-AT1 with your phone is easy. After installing the Da Fit APP and setup, all you have to do is login it and click on the + sign at the top of the main page And the application will search for the watch and find it in seconds, and when that was done, click on the BW-AT1 and it will be done Communication directly and without any complications.
Notifications:
The notifications are clearly shown and easily readable. You can swipe from the top down to see the notifications and click on them to see the content. Or go back to the notification you missed and read the content.
You can pick a lot of different popular applications to give notifications on your BlitzWolf BW-AT1. For example, WhatsApp, SMS text messages, incoming calls, and WeChat and other Applications supported.
Watch Faces:
The BlitzWolf BW-AT1 has three pre-installed different watch faces available you can easily switch between them within the Da Fit application.
Battery Life:
The smartwatch offers 280 mAH battery capacity give you 7 days of normal use and 20 days of standby and this depending on the number of activities you track, And you have to charge it with the magnetic charger cable and this takes approximately 2 hours.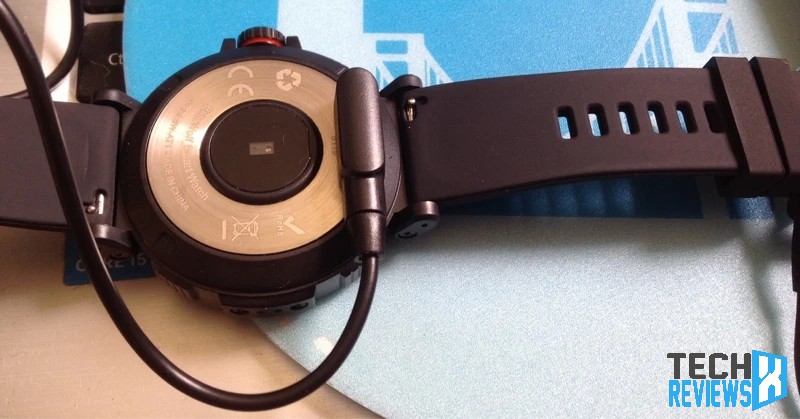 BlitzWolf BW-AT1 Price and Availability:
The BlitzWolf BW-AT1 is currently available on Banggood for $25.99 and Aliexpress store for $27.68. This is a very good price So, Don't miss out. Get one. And to view its price or buy it, you can access the offer by clicking on the store icon.
BlitzWolf BW-AT1 Smart Bracelet
Charging Cable
User Manual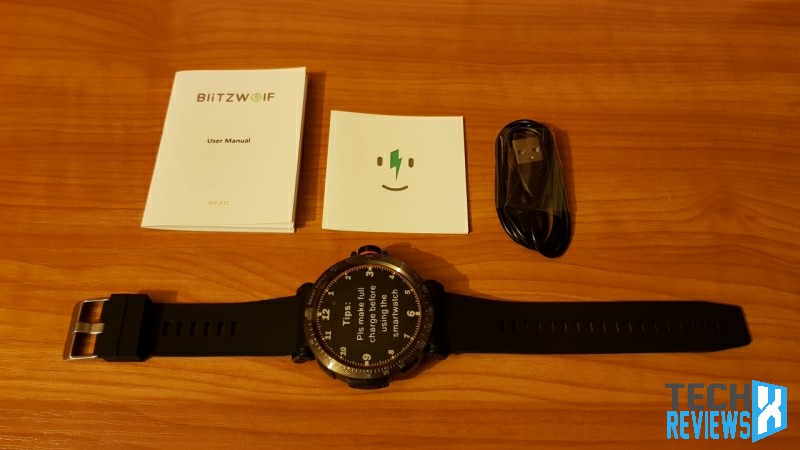 Specification of BlitzWolf BW-AT1
Material: Silicone
Color Black, Gray, Red
Bluetooth Version BT 4.0
Compatible OS Android 4.4 or above, iOS 8.0 or above
Operating Mode Full Touch Screen + Press Button
APP Name Da Fit
Waterproof IP68 deep waterproof
Sensor G-sensor, Heart Rate Sensor
Size: 1.3inch
Type: IPS
Resolution: 240*240 pixels
Battery Capacity: 280mAh
Standby Time: About 20 days
Using time: About 7 days
Charging Time: About 2.5 hours
Charging Type: Magnetic charging
Features BlitzWolf BW-AT1
1.3 inches Full Touch Screen with Dynamic UI Display
Smart Heart Rate Blood Pressure Oxygen Monitor
Convenient Brightness Control
Multiple Languages Support
Real-time Weather Display
IP68 Deep Waterproof
Special Features
Waterproof
IP68 deep waterproof
Heart Rate Monitor
Supported
Blood Pressure Monitor
Supported
Blood Oxygen Monitor
Supported
Sleep Monitor
Supported
Multi-sport Modes
Supported: walking, running, cycling, skipping, badminton, basketball, football, swimming
8 sports modes etc
Pedometer
Supported
Call or Message Reminder
Supported
Call ID Display
Supported
Do not Disturb Mode
Supported
Notification
Supports Facebook, Twitter, Wechat, WhatsApp, etc.
Alert Type
Vibration
Alarm Clock
Supports 3 sets of alarm
12h / 24h Time Setting
Supported
Weather Push
Supported
Brightness Control
Supported
Auto Light-up Screen
Supported
Stopwatch
Supported
Other Functions
Supports Alarm,Calender,Sedentary reminder,Camera remote control,Anti-lost,
| | |
| --- | --- |
| App Language | Ukrainian,Russian,German,Italian,French,Japanese,Thai,Simplified Chinese,Traditional Chinese,English,Portuguese,Spanish,Arabic,Korean |
| Watch Language | English, Spanish, Portuguese, French, Russian, Japanese, Chinese |
| Push Language | Supports more than 30 languages. |