Brand Blitzwolf launched the first smartwatch for this year 2020, and this watch is the new version of the series of watches BlitzWolf BW-HL1 and BW-HL2, The watch came under the name Blitzwolf BW-HL3 is a sporty smartwatch that can track sports activities and manage health status and monitoring SpO2, And come with stylish design, classy, and compatible with men and women. The battery is good and the price is discounted and reasonable as well. So, Let's take a look at how it performs.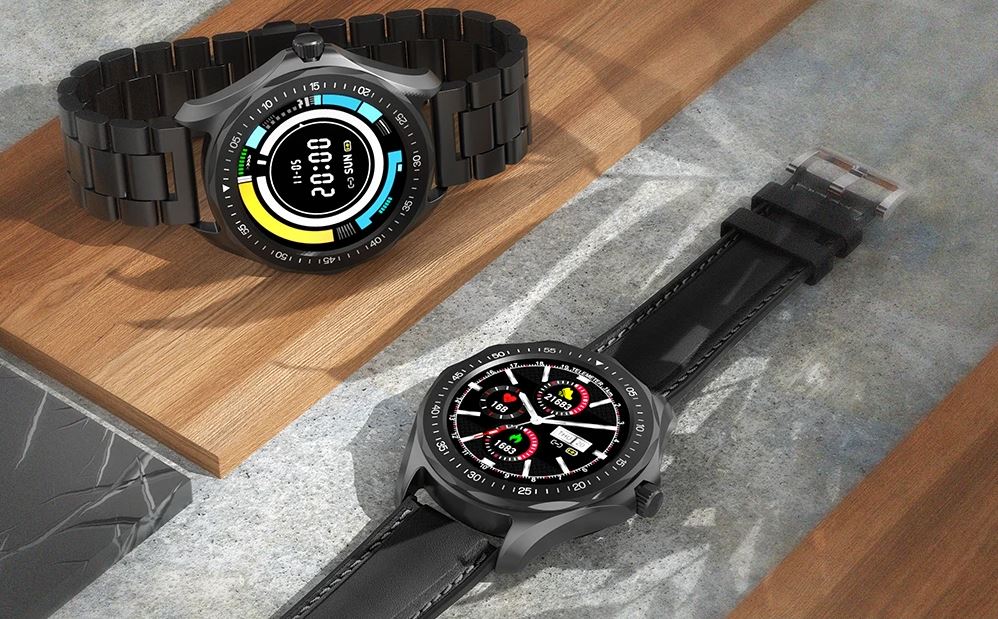 Design of BlitzWolf BW-HL3:
Blitzwolf BW-HL3 smartwatch comes with a round shape that is classic and sporty at the same time. you can wear them when you do sports or even at work and in daily life. measuring 247 x 46.5 x 13.7mm and weighing about 62.g. The body is made of Zinc alloy while the 22 mm strap removable and available in leather and silicone. So it can be changed easily and choose the strap color that suits you.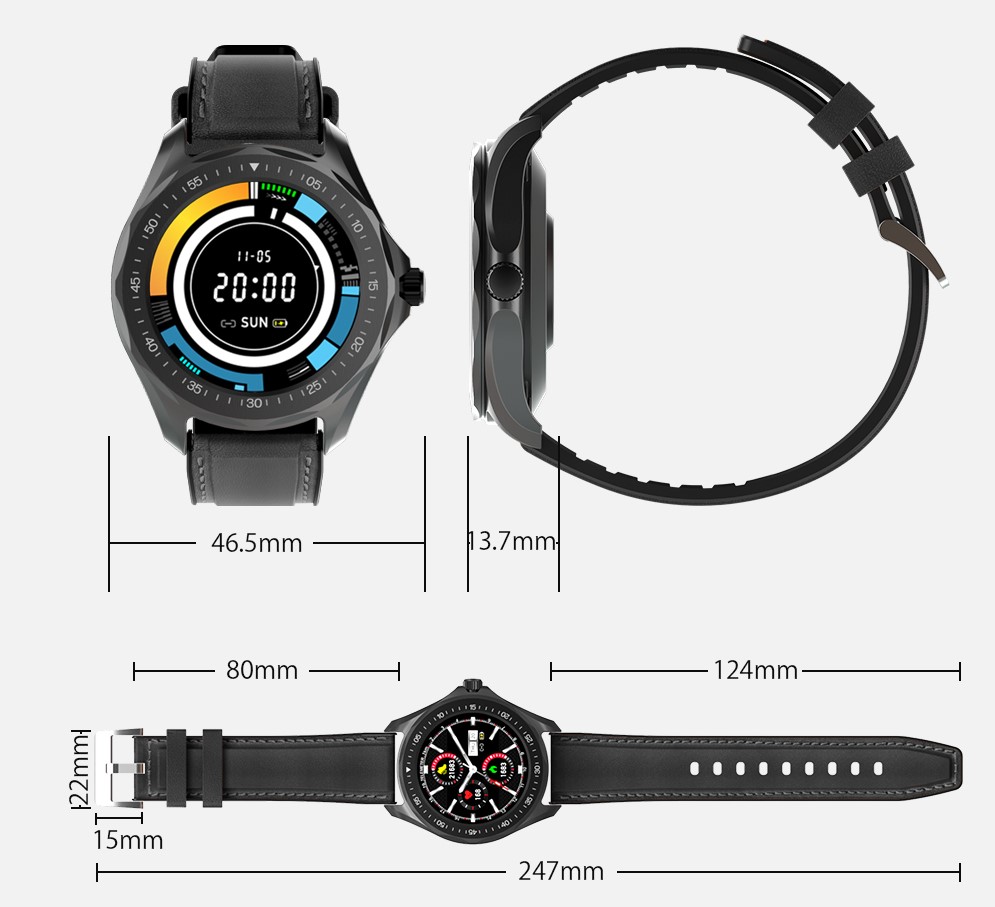 Display of BlitzWolf BW-HL3:
Regarding the display screen! The BW-HL3 smartwatch has a 1.3 inch full round TFT touch screen with 240 x 240 pixels resolution, offers a very clear view with super bright colors, With Bright Screen Time Setting Support in the App.
Return to the last screen or switch to the next screen freely. The screen conveniently activates when you raise your hand. Enable clear display whether outdoors or indoors situation by adjusting brightness. You can also set different times to automatically turn off the screen in 5s, 10s, 15s. And the possibility of changing watch faces.
Features of BlitzWolf BW-HL3:
BlitzWolf BW-HL3 also supports 4 kinds of health monitoring! provides 24h continuous heart rate measurement (HRS3300), to get a comprehensive view of your heart behavior day and night.
SpO2 monitoring:
Furthermore, The new BlitzWolf BW-HL3 smartwatch comes with support for SpO2 monitoring which allows you to keep an eye on the levels of oxygen saturation in the bloodstream, a feature always appreciated when it comes to wearables.
as well as various modes athletic which accompany the monitoring of the calories consumed and the distance traveled, that of sleep, and the heart rate monitor.
the smartwatch supports 7 sports modes include running, cycling, climbing, ping-pong, badminton, tennis, and swimming.
Bluetooth 5.0:
With Bluetooth 5.0 Version, the connection is faster and more stable, your BW-HL3 and phone will not disconnect frequently, synchronizing information will also be faster. So, you can monitor your health anytime anywhere, and sync data to the APP, and notifications of the main messaging and social applications (WeChat, QQ, SMS, Facebook, Twitter) in addition to those of calls, of course.
Note:
The time and date will be automatically synced when the BW-HL3 is connected to your phone with GloryFit App For this it is recommended to download and synchronize it with the watch first.
The APP Compatible with Android 4.4 or above, iOS 8.0 or above.
GPS:
GPS Run Route Track When running outdoors, you can wear BW HL3, open the running route function in the APP, BW-HL3 will automatically synchronize the running route, and then upload the data  to the APP, and you can view the running route and data in the APP.
Waterproof:
BW-HL3 is an IP68 waterproof smartwatch. you can wear it when you washing hands, on rainy days or even in swimming for more than 30mins in the swimming pool because it is not a professional swimming watch and not suitable for diving.
Battery of BlitzWolf BW-HL3:
While the battery capacity of BlitzWolf BW-HL3 is 180mAh Give you 14 days of standby time and 5-7 days of normal usage against a 2-hour recharge (via magnetic pin)
Availability:
The Blitzwolf BW-HL3 smartwatch now is available on the Banggood store in pre-order So, We will certainly have to wait, but as bookings increase, the price will rise, Therefore, if you request it now you will take it at a reduced price. To view its price, you can access the offer by clicking on the store icon.
Difference between BlitzWolf BW-HL3 and BW-HL2?
The time period between the issuance of the two smartwatches is not so great, that ranges between several months, the BW-HL2 was launched in late 2019, and the BW-HL3 in April 2020, Therefore, the difference between the two watches was not a big deal, they share almost the same design and specifications except In a few details such as the number of sports modes and the battery capacity.
BlitzWolf BW-HL3 Smart Watch
Charging Cable
User Manual
Brand
BlitzWolf
Model
BW-HL3
Color
Black Case & Black Strap, Silver Case & Brown Strap
Bluetooth Version
BT 5.0
Compatible OS
Android 4.4 or above , iOS 8.0 or above
Operating Mode
Full Touch Screen + Press Button
APP Name
GloryFit
App Language
Russian, Indonesian, German,Italian, Czech, Japanese, French, Simplified Chinese,  Traditional Chinese, English, Portuguese,Spanish, Arabic, Korean
Watch Language
English, Chinese Simplified, Chinese Traditional, Japanese, German, Korean, Italian,
  French, Spanish, Portuguese, Russian, Polish, Dutch, Indonesian, Czech, Arabic, Hindi
Push Language
Russian, Indonesian, German, Italian, Czech, Japanese, French, Simplified Chinese,
 Traditional Chinese, English, Portuguese, Spanish, Arabic, Korean, Polish, Dutch
Sensor
G-sensor, Heart Rate Sensor
Screen
Size: 1.3inch
Type: IPS
Resolution: 240*240pixels
Battery
Battery Capacity: 180mAh
Standby Time: about 20 days
Using time: about 7-10 days
Charging Time: about 2 hours
Charging Type: Magnetic charging
Band
Material: Leather
Band Size: about 75+120mm *22mm (support universal 22mm detachable strap)
Weight and Size

Product size: about 46.8*60*12.6mm
Product weight: about 50g
Waterproof
IP68 Deep Waterproof
24h Continuous Heart Rate
 Monitor
Support, Set in the App
Heart Rate Monitor
Support
Blood Pressure Monitor
Support
Blood Oxygen Monitor
Support
Sleep Monitor
Support
Pedometer
Support
Stopwatch
Support
Alert Type
Vibration
Alarm Clock
Support
Brightness Control
Support
Do not Disturb Modes
Support
Call or Message Reminder
Support
Call ID Display
Support
Reject Call
Support.
  Long press on the screen to reject a call.
Multi-sport Modes
Support.
 7 sport modes.  running, skipping, cycling, table tennis, tennis, swimming, badminton
GPS Run Route Track
Support Outdoor Walking, Running, Cycling.
Notification
Support Facebook,Twitter,Instagram, Youtube,messenger,gmail,snapchat,pinterest,
 hangouts,linkedln,skype,tumblr,viber,LINE,Google+,Flickr,VK,KaKao Talk,Other,Wechat, QQ,WhatsApp etc.
Bright Screen Time Setting
Support, Set in the App.
  Can set 5s, 10s, 15s to automatically turn off the screen.
Auto Light-up Screen
Support, Set in the App
Firmware Upgrade
Support, Set in the App
Centimeter-Kilometer, Foot-Mile Setting
Support, Set in the App
KG, Pound Setting
Support, Set in the App
Switch between Celsius and Fahrenheit
Support, Set in the App
Other Functions
Support ,Calender,Sedentary reminder,Camera remote control,Find phone, Find bracelet