We've been gone for a long time from gaming PC accessories, but today we're back with a great budget acrylic keyboard, the GamaKay K61 that features a modern design with glass acrylic panels and Gateron hot-swap switches, for compatibility with other types of switches. This keyboard responds very quickly and is extremely smooth, so if you want a great budget hot-swappable keyboard for around $50, you're in the right place.
PBT Double-shot Pudding Keycaps 
5000W Gateron Optical Switch: Yellow V2 / Green / Red / Brown / Blue.
Full RGB Backlight, 6 themed lighting effects, 16 million colors adjustable.
Hot Swappable, plug, and change switch DIY.
Customizable Large Onboard Memory
Type-C USB Connection 
Supports NKRO
IPX4 Waterproof
Ergonomically Designed
Design And Build Quality
It's time to talk about design and build quality. The GamaKay K61 has a plastic body that looks high quality in black or white, beautiful and clean. The buttons are also the same color but the bottom section is transparent to allow some light to escape, which we also see among the clear letters.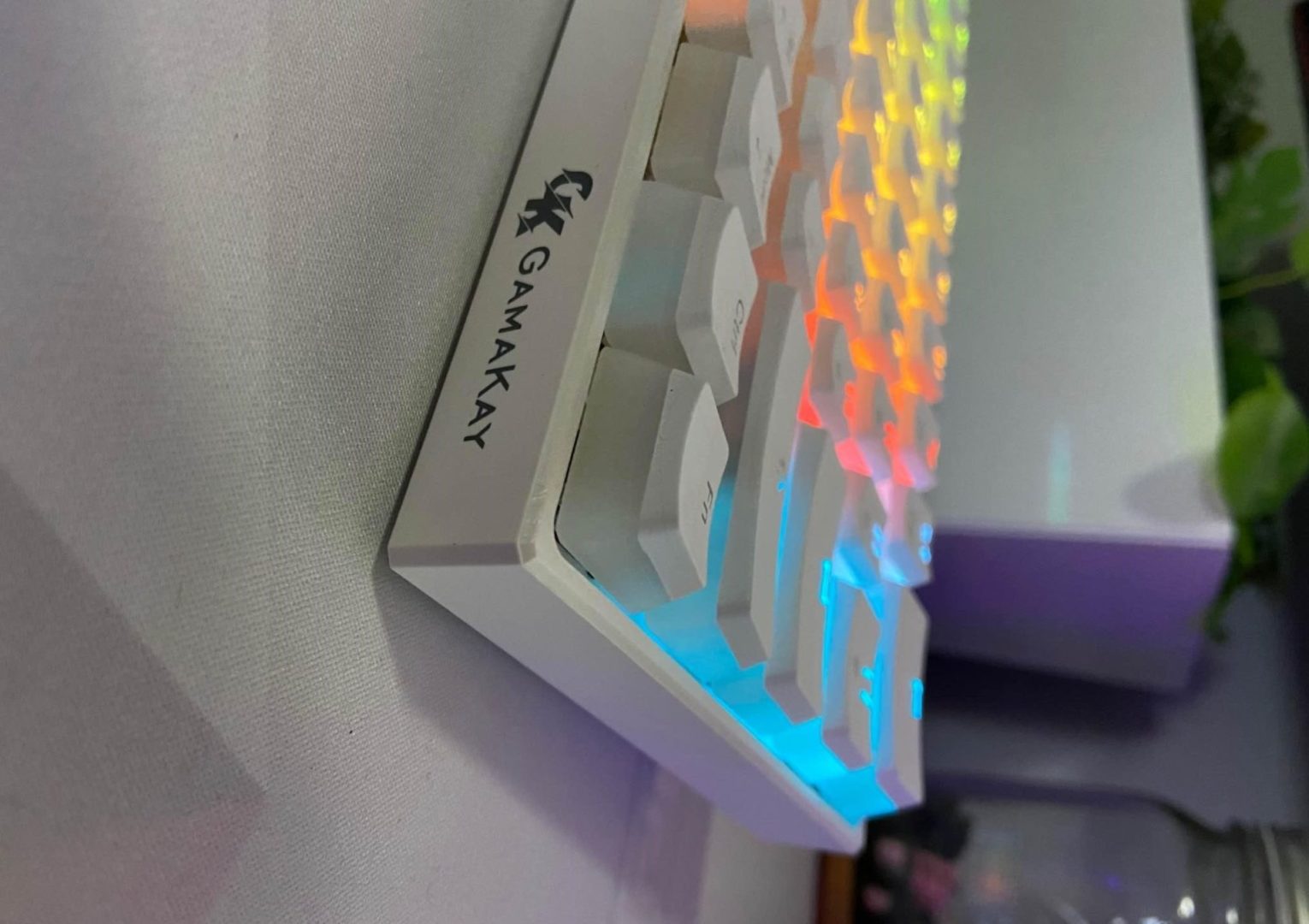 The bottom of the keys is clear with three acrylic pieces held together by Phillip's head screws. In addition to the LEDs under the switches, there are LEDs placed throughout the frame, and the light shines through the smoothly polished acrylic. The end result is vibrant and shiny, and the chassis has a charming appearance. This would go well with a colorful or neon desk setup. It comes without foldable legs and is offset by rubber feet for good stability and is totally comfortable for both gaming and typing.
And if we talk about its size and weight, we have it about 29 x 10 x 4 cm and its weight is about 570 grams. Perfect for taking it with you everywhere and its main and obvious advantage is the small space it takes up.
There's also a USB-C port on the right back of the case, and it actually has a USB 3.1 transfer rate, which in practice means that the delay between pressing a button and the movement of the screen-controlled character has been essentially eliminated. The cable is made of rubber and it is good that it is removable.
keycaps
As the Gamekay MK61 model number suggests, the keyboard has 61 keys and the keycaps are one of the strengths of this keyboard, due to their high-quality double-shot PBT plastic with a smoother finish and the 0.8mm wall thickness may look brittle and But it is of high quality and durable enough with little squeaking and bending. This is more comfortable for your wrist. In addition, this slope helps you to write more easily as you type.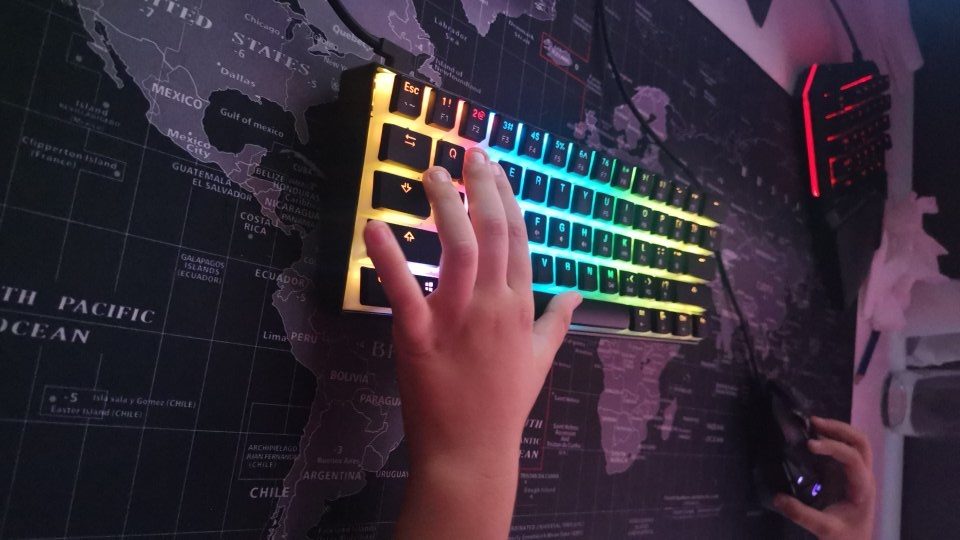 The K61 is available in the usual Gateron Red, Brown, and Blue switches, and there are also additional line options including Blacks and Yellows. For example, Gateron Browns have a lighter actuation force of 45 grams, so tactile bumps are more noticeable. The stabilizers are pretty average and there was some rattle on the larger keys, but the spacebar was really decent. The K61 has a distinctive sound due to its unique chassis design, which is more than a soft, high-pitched keyboard.
The quick switch feature is very useful, and the procedure for replacing the switch or lube is easy. Some of the keys were very hard to get out, so be careful not to damage the acrylic board.
The Fn layer in the K61 is a beautiful abstraction. The only Nav Cluster keys you have are Delete, Insert, and Prt Scr. There are some useful volume controls, and the arrow keys are conveniently placed on the WASD. You can do RGB rotation and control the brightness, but to change the speed and direction you will need to download the program.
Gateron quick switch sockets
Cherry used to be the standard among manufacturers, but now there are better manufacturers among the cheap ones for example Gateron optical switches which is an option that some consider better than the Cherry MX, with the possibility to choose between classic colors, red, blue, or brown, and we also have green and yellow; In addition, full RGB backlighting, 6 themed lighting effects, 16 million color settings, customization is available.
Gamakay MK61 lighting
If we talk about the strength and quality of the lighting, then I can say that I think it is very good, the colors and transparent acrylic are really very high quality. And part of that credit goes to candy keycaps that allow light to pass through making the keys appear to float on the keyboard.
Software, Macros, Lighting
Yes, GamaKay K61 has software that seems to be still in beta because it is only available in Windows, and it is not at all like software from other brands like Razer or HyperX, except that it does its job perfectly.
It has all the expected RGB controls so we can change the lights, effects, and brightness with it. There is also a macro option, you can create your own effects, it has its own internal memory where the saved functions of the buttons can be stored, and there is an RGB color palette that allows you to choose single colors. By unchecking the Light checkbox, you can access a one-key reset.
There are a few basic options here, including macros, single key, and multimedia functions. The Fn key cannot be reset or moved, so having custom arrows is not really possible, as we can't rearrange the keys in the lower right corner. You will have to be satisfied with the arrow function of the Fn layer.
There are a total of 18 RGB modes, and you can switch between them with the right Fn + Ctrl. You can set the status LEDs with Fn + Left Ctrl. To change from RGB to a single color, press Fn + Space Bar, then select a color from one of the keys. Just press the spacebar a second time to go back to RGB colors.
Conclusion
GamaKay K61 is the best budget keyboard around $60 for those looking for a 60% format mechanical keyboard, as it offers good finishes with high-quality PBT plastic keys. Also, underneath it hides some really good Gateron Optical switches, and you get a nice clean exterior with RGB LED lighting, with a very good typing experience. Add the fact that this panel has the required hot-swap feature.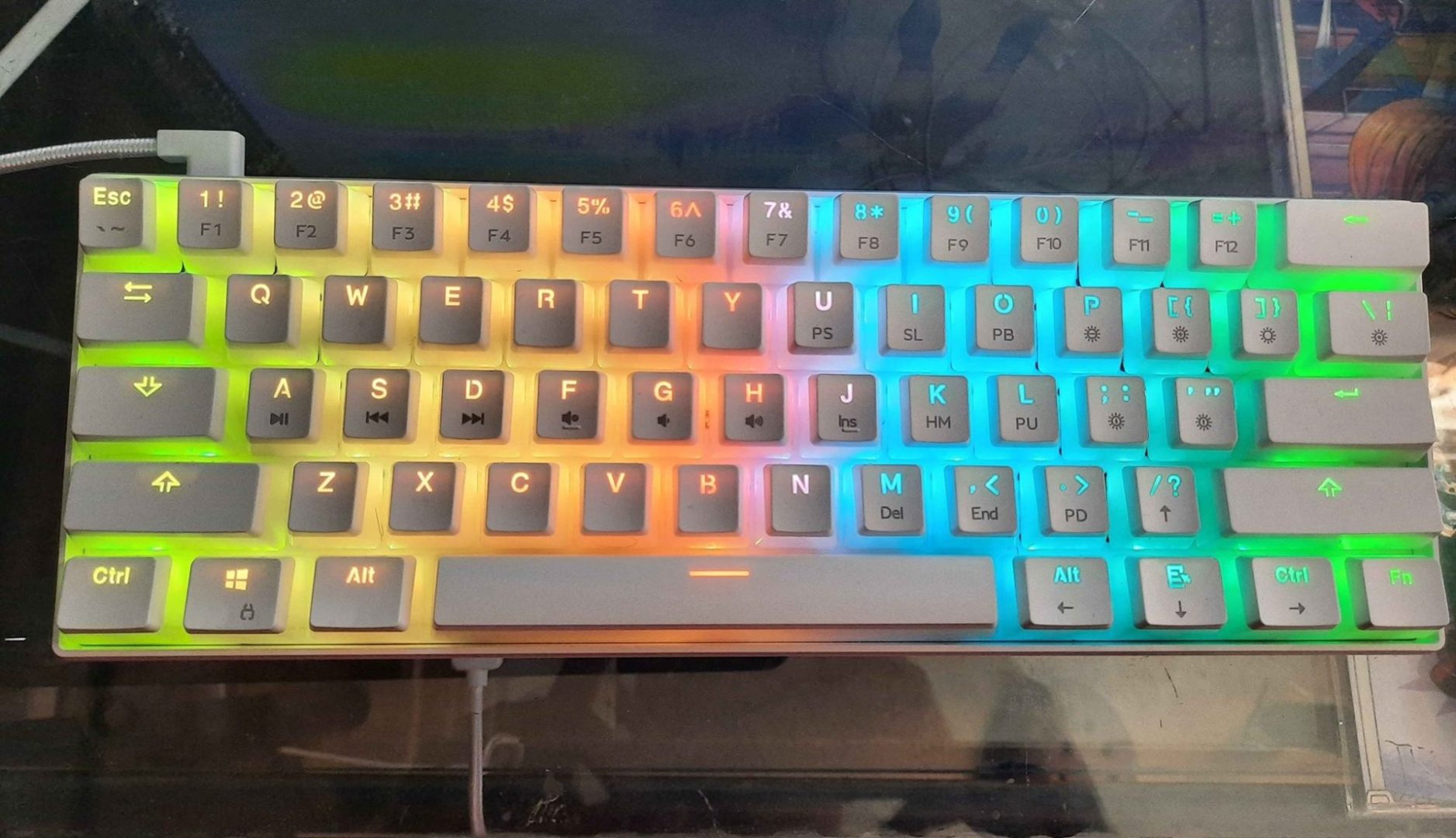 Gamakay K61 Price And Where To Buy
The Gamakay K61 RGB Mechanical Keyboard is currently available on the Aliexpress store and Banggood and Amazon for a very good price So, don't miss out on this great deal. And to view its price or buy it, you can access the offer by clicking on the store icon.
GamaKay MK61 61 Keys Mechanical Gaming Keyboard
Type-C Cable
User Manual
Switch extractor
2 extra switches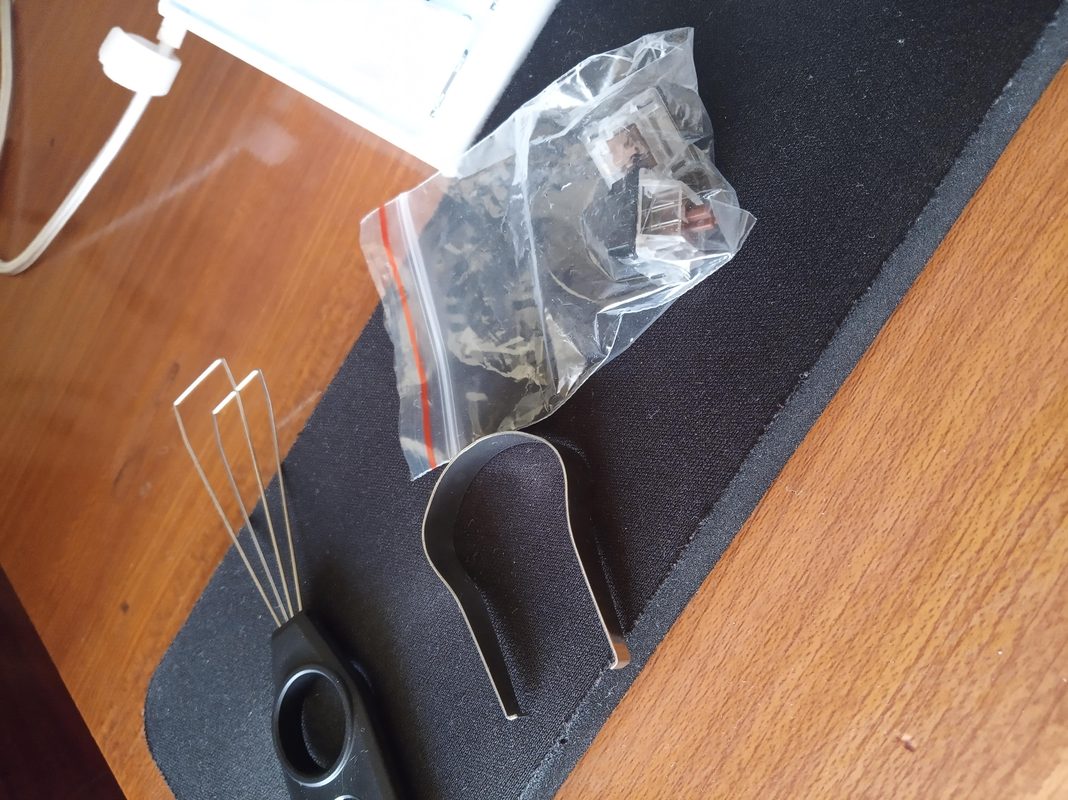 Gamakay K61 Specifications
Brand: GamaKay
Name: Mechanical Gaming Keyboard
Model: MK61
Keys Number: 61 Keys
Keycaps: PBT Double-shot Pudding Keycaps
Backlight: RGB Backlight
Interface: Type-C 3.1
Voltage: 5V ≤ 350mA
Support: for Mac OS / Windows XP / 7 / 8.1 / 10
Dimensions 29 x 10 x 4 cm (length, width, height)
Format 60%
Weight 570 grams
Gateron Optical Blue / Brown / Green / Red / Yellow Switch Keys hot-swap
50 million keystrokes
Anti-Ghosting N-Key Rollover Technology
ARGB LED lighting with 6 effects
USB-C connection with detachable 1.5 m mesh cable
IPX4 protection