Our review of the day The Anne Pro 2 Gaming Keyboard Review, A 60% mechanical keyboard (full-sized keyboard sans the number pad), with Gateron switches PBT Keycaps and RGB lighting configurable key by key that we can connect to our PC via cable USB Type-C or Bluetooth 4.0 and Manage Your RGB Backlit and Macro Settings for Each Key by ObinsKit, In addition to 1900mah Battery. It's one of the best gaming keyboards wireless/wired 60% (in this price range).
Dual Mode Connection: Bluetooth 4.0 and Type-C USB-C dual-mode connection, makes it widely compatible with multiple systems, for Mac, iOS, Windows, Linux, and Android.
Double FN: Double FN key(FN1/FN2) that creates more possibilities for you to set the layer function. 
Intelligent "Tap Key" and "Magic Fn" function
Long Endurance Time: 1900mAh large capacity battery, built-in protection circuit prevents harm to the battery.
PBT keycaps: Doubleshot PBT keycaps, durable, and not easy to shine as ABS keycaps.
Full RGB Backlight: Full RGB backlit, each key can be set RGB backlit independently.
Large Onboard Memory for Customization: All keys programmable, built-in large capacity onboard memory for TAP/Magic FN function customization, light effect setting, keyboard layout setting, and macro setting. 
Supports NKRO in wired mode.
You may also like Silverstone LD03 Gaming Case Review – All You Need to Know.
Design Anne Pro 2 Gaming Keyboard:
Anne Pro 2 features a soft and round plastic chassis, PBT key covers, smooth, unified keys, simple yet practical design, and RGB quality. It prevents the weight of this keyboard from slipping, increasing efficiency, and stability in every typing and gaming experience.
Of course, the most important thing about Anne Pro 2 keyboard is that it has a 60% configuration, ie the smallest desktop keyboard size that we can find on the market. The keyboard is really small. There are 61 keys for its functions This keyboard measures 292 mm, 97 mm wide and 40 mm high, with a total weight of 635 g, which I find relatively lightweight.
For construction use, ABS plastic is used entirely, providing us with very good quality finishes in edges, structure, and keys. The entire keyboard is located within the frame of the material and integrated into one piece. Within this, we have another block finished in white and be responsible for pressing the floating keyboard and all the internal devices you carry.
This Anne Pro 2 does not have extendable legs but is set directly in italic mode to be more comfortable for the user. On the other hand, the tilt feature gives you access to all keys even without including armrests. In this case, four non-slip rubber feet are placed that eliminate vibrations and give good stability. At the back, there is a Bluetooth on / off switch which was one of the most requested features of the keyboard.
In the right front area, we find a USB Type-C port to connect to your computer. The cable is 1.8 meters long, and the interface will be via USB Type-A. The second function of this cable is to charge the keyboard battery of 1900 mAh.
The manufacturer also has different variations of this keyboard on the Gateron Red and Blue keys. The first is with a click of sound and touch and the second is oriented to games, silent and purely linear. In addition, we can choose between brown, blue, or red color.
RGB controller software:
Anne Pro 2 comes with ObinsKit, a simple, unobtrusive app that gives you the ability to set up macros, reset keys, and customize RGB lighting for each key. It comes with a complete user interface, for easier keyboard setup. There are multiple tabs to adjust the key layout, lighting, special settings, firmware, and create macros of up to 16 groups.
Through the application, you can customize the basic design, the layout that will be active when you press the FN1 key, a layout that will be active when you press the FN2 key, in addition to the so-called "compression layer", which when combined pressed performs various actions from a short press of the work. It means that by using the FN2 key, we can modify the RGB lighting settings by pressing FN2 + 9.0, -, +. We can change or deactivate the lighting profile, reduce or increase the brightness.
Also, using the software, you can configure and save in your keyboard not only the layout settings but also the backlight settings to create the most complex lighting effects in seconds.
There are many backlight modes that, in addition, it is possible to choose ten levels of brightness, which are perfectly convenient if you are working on a computer in the dark and without lighting. Thus, you'll never get bored of the same design – you can keep your keyboard looking new every time!
Performance Anne Pro 2 Gaming Keyboard:
When talking about performance of the Anne Pro 2 Gaming Keyboard in this Review, I found that Bluetooth connectivity is slower than a USB-C connection (not slow enough to disrupt your gaming experience), but for game lovers and teachers, I suggest you use USB-C if you're worried about keyboard lag.
The addition of USB-C is easy to connect to the cable without looking at the port. Kahli keys and enhanced installation bars for larger keys make the typing and gaming experience much better.
The Magic Fn on the Caps Lock button makes it easy to use the F1-F12 keys during gameplay, which gives you quick access to the media player, custom function, etc.
One interesting thing about its wireless capability is that we can pair it simultaneously with up to 4 devices. To do this, the key must be turned on, then press FN2 + 1 until the second key flashes green (about 4 or 5 seconds). At the moment, the team will locate and pair. We can repeat the same procedure with keys 1, 2, 3, and 4 to connect it to four different devices. To change the equipment, press FN2 + 1, 2, 3, or 4 again and we will proceed to the device in question. Anne Pro 2 works great and performs well in every aspect, expected to perform the right gaming keyboard.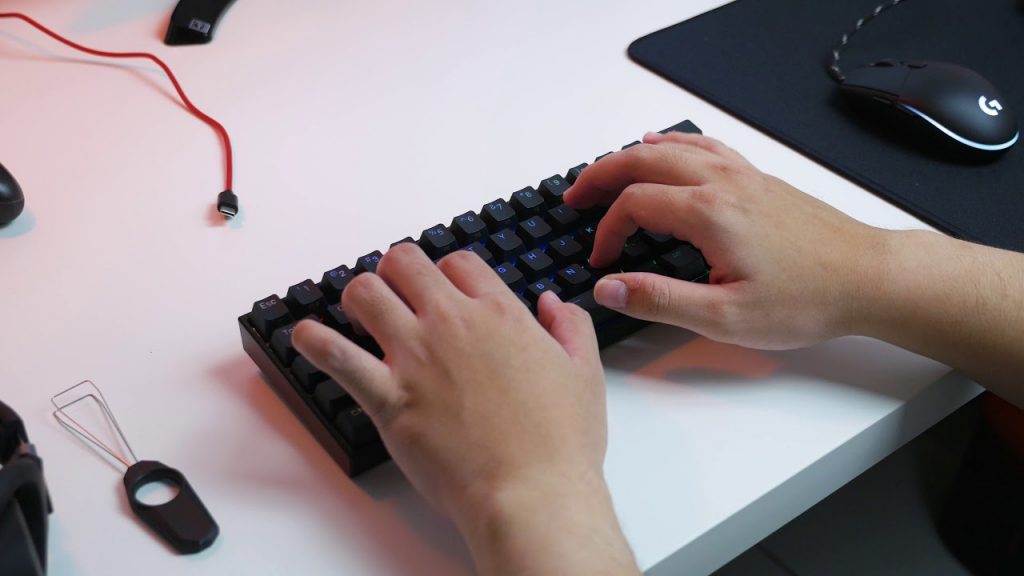 Battery Anne Pro 2 Gaming Keyboard:
Anne Pro 2 uses a 1900mAh battery that will last for an acceptable period of time, up to 8 hours of wireless use under normal conditions with lighting activated, meaning a life cycle of a few days on a single charge. There is also a built-in on/off switch to conserve battery power during transfer or when not in use. Can be used wirelessly with Bluetooth LE 4.0 (Windows 8 / 10̵ Mac̵ OS Linux Android 4.4 and later, IOS 7.0 and above)
If we deactivate the lighting, we can extend it for a few extra hours.
So that you're looking for the Gaming Keyboard Mechanical RGB, Anne Pro 2 Gaming Keyboard Review you will like it.
Anne Pro 2 Price and Availability:
Anne Pro 2 keyboard is currently available on Banggood for $82.39 and Amazon store for $90.65. And to view its price or buy it, you can access the offer by clicking on the store icon.
Anne Pro2 Keyboard
Keycap Puller
USB Type-C Cord
User Manual
Additional Keycaps Set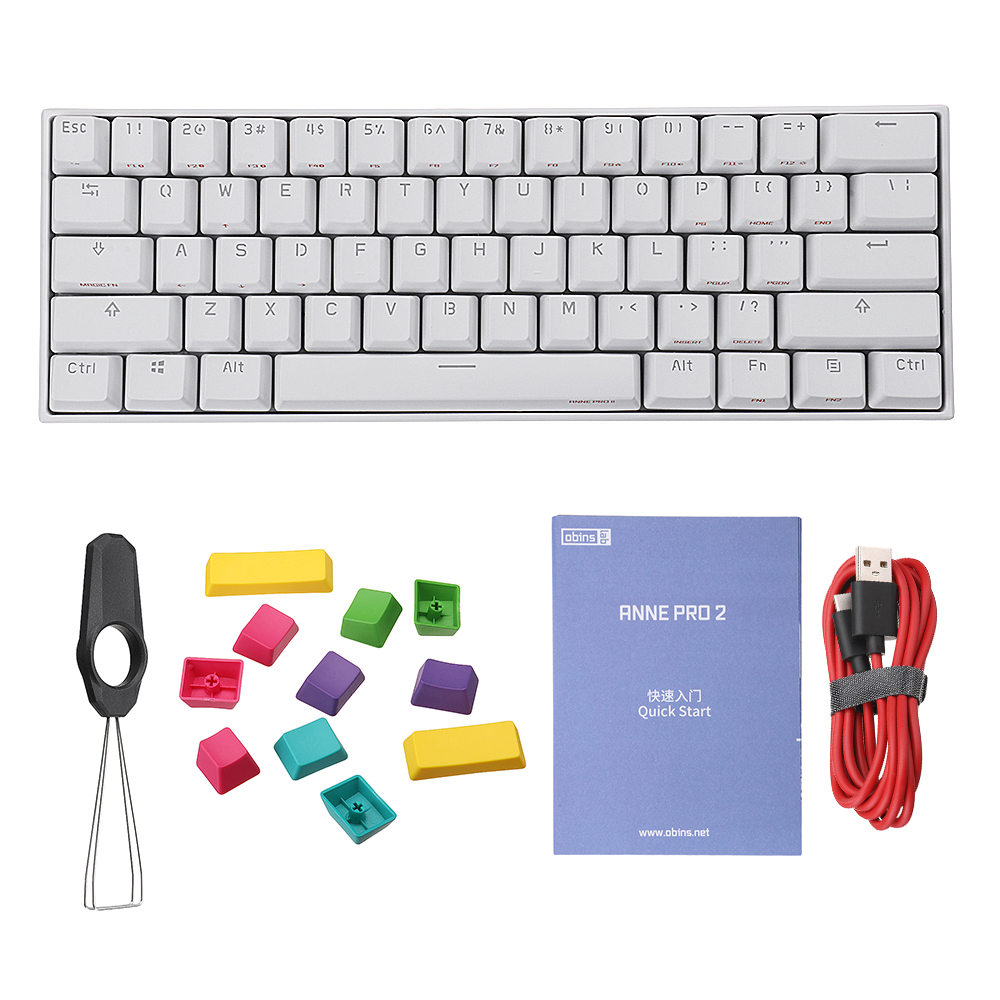 | | |
| --- | --- |
| Layout | 60% ANSI |
| Keys Amount | 61 Keys |
| Case | ABS Black/White Case |
| Switch | Gateron Switch (Brown Switch, Red Switch, Blue Switch) |
| Backlit | 16.8 Million RGB Backlit |
| Light Source | SMD Lamp Beads |
| Anti-Ghost Key | NKRO |
| Keycap | PBT Double Shot Molding Keycap |
| Battery | Built-in 1900mAh Rechargeable Li-ion Battery |
| USB Operating Current | DC 5V, 500mA Max |
| Dimension | 97*284*40mm |
| Weight | 635g |
| Cable | 1.8m Type-C USB Cable |