Alfawise KS1 smart home universal remote controller, It is a smart device that wirelessly connects to our router and allows you to control all infrared home devices via a smartphone, supports more than 80,000 models such as smart bulbs, TV, air conditioning, smart bulbs, also works with Alexa and Many others, so do not miss this review.
How to use Alfawise KS1:
The first thing, download Alfawise KS1 APP Usmarthome on iOS or Android system.
For the-first-time App setting, this controller and your mobile phone must be connecting the same home WiFi.
Networking the controller→Press the controller's reset button → the indicator flashes quickly → add a device ( on a mobile phone )→ select "Infrared device" → next (search for device) → bind the searched device to a certain room.


And there are other ways to connect, by the web link the mobile phone can login to the link, to connect to Alfawise KS1, And If you need to connect to Alexa, please choose the first web link, and then use the regular connection of Alexa to associate with Alfawise KS1.
Note: This product is only for IR devices, not supported for RF devices.
Performance Alfawise KS1:
Alfawise KS1 Smart Home Universal Remote Controller sings all the infrared remote controls in your home, no more searching for remote control again. It is very convenient to use, it can be connected to TVs, air conditioners, TV boxes, DVDs, projectors, Amazon Alexa platform also supported, etc. through easy installation and configuration.
Many devices can be set, set the time for each device, and can be configured and controlled easily through the application downloaded directly through your smartphone, from anywhere over 8-15 meters. It has a compatible app for scheduling scenes, setting repetitive shapes daily, automatically turning on devices when we go home, closing when we leave, etc.
This product is an infrared controller. The signal cannot pass through the wall. One controller uses one controller. Multiple controllers can be focused on a single application. Please be careful to edit your console name to highlight it.
Note: Only one room can be connected to one "Gate" or "Infrared Companion", you can click "Device" in "I" → "My Device", and set the room where the device is located.
Control outside does not work until you first set up the app. To set up the app for the first time, the controller and your mobile phone must be connected to the same home WIFI, please make sure that the first task setting works.
You can open tasks in IF function and set time + temperature. When the time and temperature reach the requirements you specify, the air conditioner will automatically turn on and off according to the temperature.
How to complete the controller and mobile phone pairing?
Press the reset button on the console, the cursor blinks quickly, then add a device, select "Infrared device", then Next (Find device), then connect the searched device to a specific room (Note: Only one room can Connect it to "Gateway") or "Infrared Companion", you can click "Device" in "I" → "My device", and set the room where the device is located.
How do I enter the contents and functions of the remote control into the application?
After pairing the mobile phone with the remote control, add the device and brand, and let the corresponding remote control aim to KS1 to receive the infrared signal of the remote control. At the same time, press the content of the remote control and press the corresponding button to complete the remote code process.
Alfawise KS1 Price and Availability:
The Alfawise KS1 is currently available Gearbest store for just $10.99. This is a very good price So, don't miss out on this great deal. And to view its price or buy it, you can access the offer by clicking on the store icon.

Alfawise KS1 Controller
USB Cable
English Manual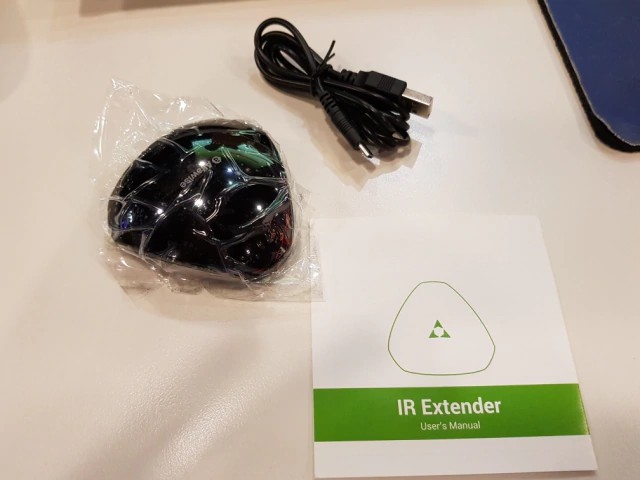 Smart Control: Controls your infrared devices from your smartphone remotely outside your home
Easy App Control: Remotely switching on / off, and setting up timers for home devices
Temperature sensing, and smart triggers for infrared home devices
IR Control: Supports all infrared remote-controlled devices such as TVs, DVD player, air conditioner, electric curtains, smart lamps
Temperature sensing: Detecting the ambient temperature, when the temperature reaches the set value can turn on or off-air conditioner, heating system, humidifier, etc.
Timing function: Set timer to switch on / off air conditioner and TVs.
Scene mode: Supports various modes, such as going home, leaving home, sleeping, watching the ball, looking after children, and other modes.