Oclean is a well-known brand for producing some really outstanding oral healthcare products in the entire market, with the premium build quality and performance while keeping the prices affordable. If you have had an eye for good oral healthcare products, then this is the perfect time to grab those products at unbelievable prices. Oclean has already announced their Family Deals on the occasion of Mother's Day and Father's Day. The offer period will last from May 5th to May 6th. Here in this review guide, we will be talking about the most famous and successful products from Oclean, including the Oclean Flow, Oclean X Pro Elite, Oclean Z1 toothbrushes, Oclean Air 2T, and other accessories.
Best Brush & Floss Bundle
Most Popular Combination with the Oclean Flow Sonic Electric Toothbrush + 4x Brush Heads, an Oclean W10 Water Flosser, and an Oclean S1 Toothbrush UVC Sterilizer. All this you will get for $119 during the promotion, Yet it could have cost you $132.97 as the original price, And more than this, you will also receive free gifts which are 2 standard nozzles and 2 brush heads. Just tell me what are you waiting for.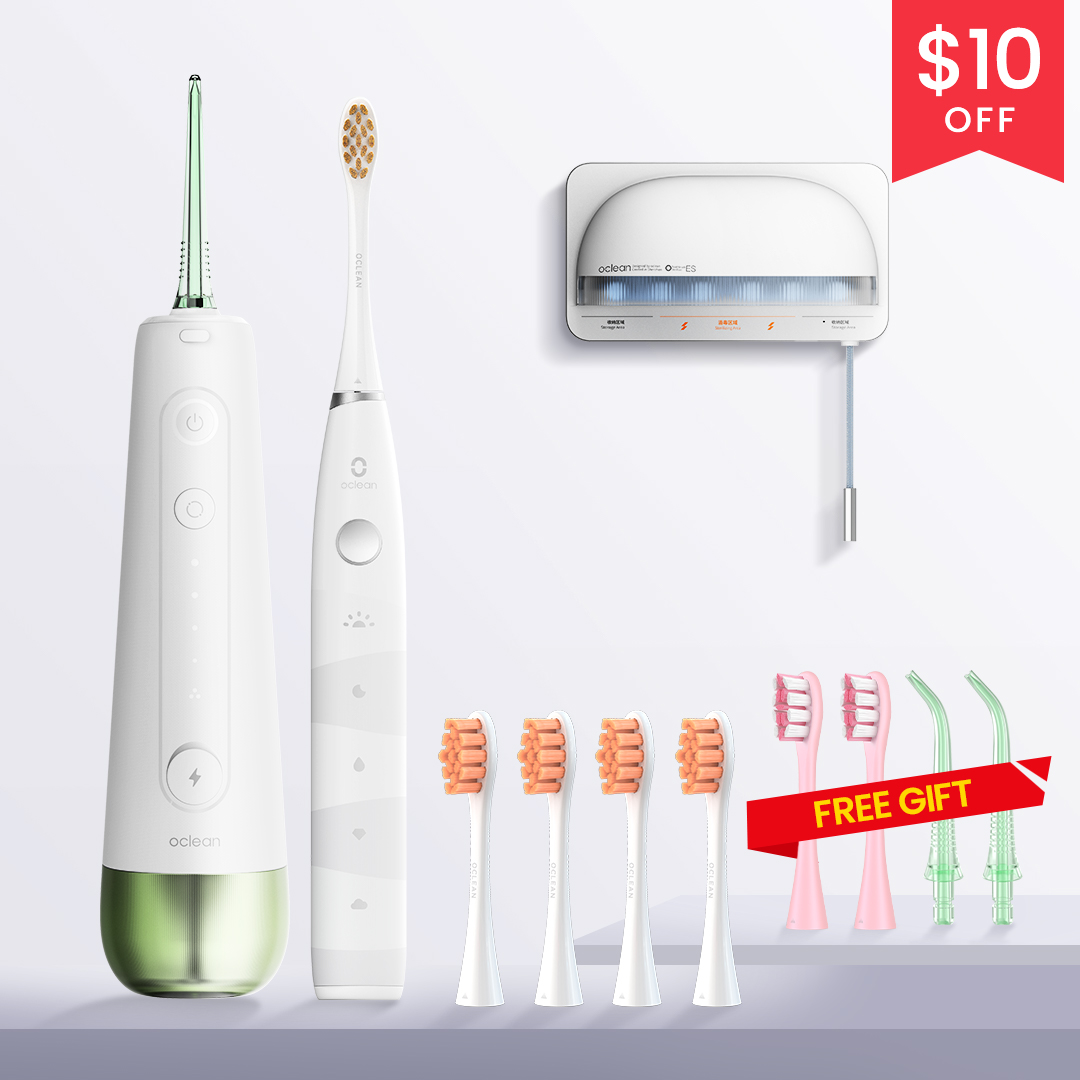 Oclean Flow is a smart electric toothbrush with a smart timer that is easy to control for beginners and features 5 cleaning modes for high performance: morning/night/standard/whitening / gentle. special night mode deeply cleans food residue and plaque, the whitening mode works Effectively removing stains from your teeth to restore their natural whiteness. It also comes with a 2-minute smart timer, 30-second zone key reminder, powerful motor, and smart indicator lights. This electric toothbrush features sonic technology that vibrates at a rate of 38000 times per minute and soft DuPont bristles. This effectively removes dental plaque and protects tooth enamel for a powerful and thorough oral cleaning experience. The good thing is that it comes with an IPX7-rated waterproof design.
It also charges fully in 5 hours with a battery life of 180 days. This electric sonic brush means you no longer have to worry about electricity shortages making it a great choice for home and travel.
Professional Brushing Bundle
This package is geared more towards professionals and the price and content will notice this that you will get as it includes the high-end Oclean X Pro Elite Electric Toothbrush, 4 brush heads, and a travel case of Oclean X Pro Elite/X Pro/X/Z1/F1, and an Oclean S1 Toothbrush UVC Sterilizer. All this you will get for $139 during the promotion, Yet it could have cost you $155.97 as the original price. I think it's a good deal.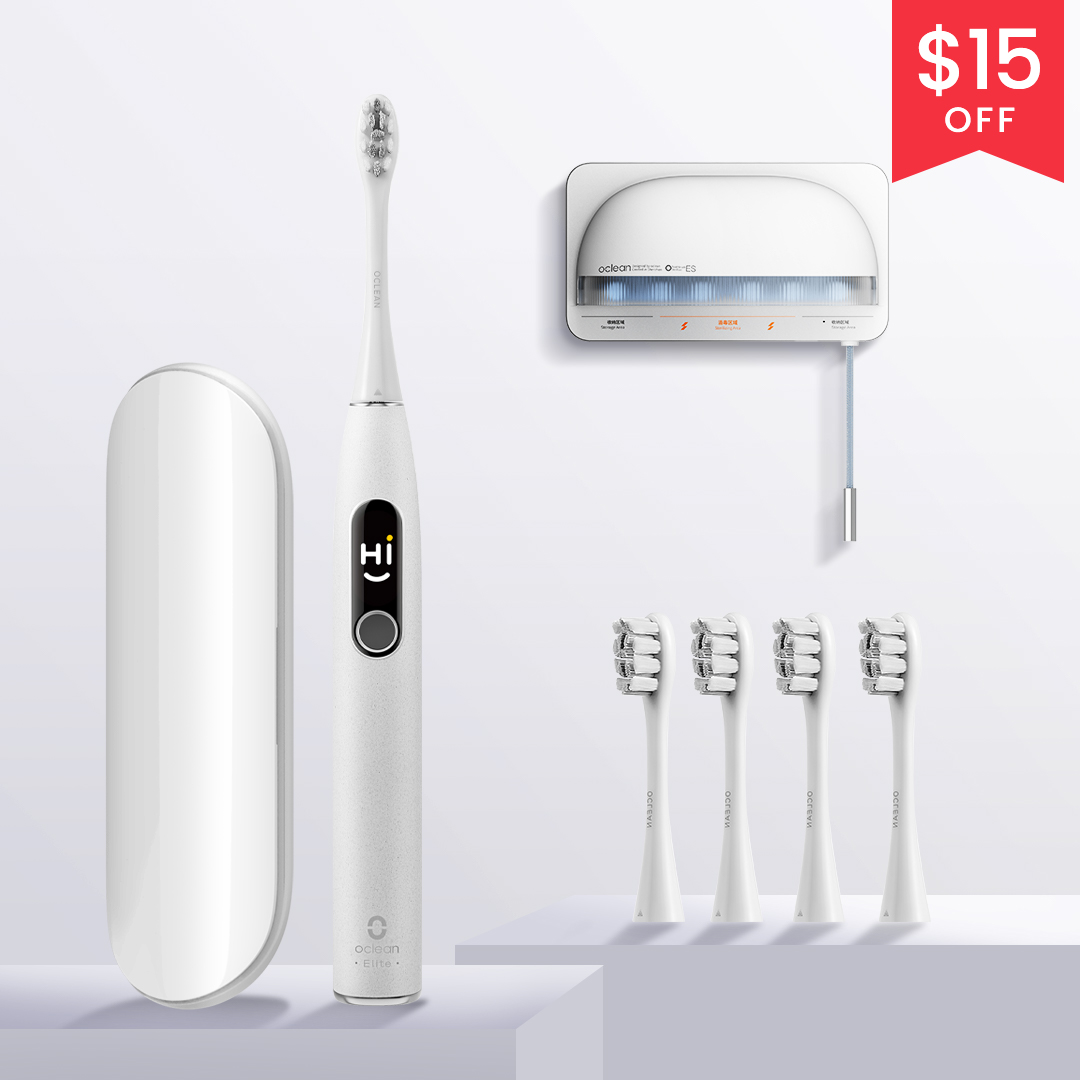 The Oclean X Pro Elite features a 0.96-inch color LCD touch screen for easy and intuitive operation, just set the mode, level, and time zone with a few swipes and get started. You can monitor the quality of brushing your teeth through the report displayed directly on the screen after brushing your teeth. This is the first set of smart electric toothbrushes that puts all the information you need in the palm of your hand.
The X Pro Elite delivers up to 42,000 brush strokes per minute to bring a powerful and thorough oral cleaning experience. This smart toothbrush features a built-in gyroscope capable of detecting movement, angle, and pressure. Instantly generates brushing reports including brushing degree, brushing time, and most importantly blind zone reminder, which has been upgraded to be divided into 8 zones.
With 4 high-performance cleaning modes and 32 intensity, this smart toothbrush can meet all your different cleaning needs. Besides, the Oclean 14 app provides a default customization scheme to be selected whatever the condition of your teeth and gums. A full charge in 2 hours provides up to 30 days of battery life.
Budget Brushing Bundle
Now, let's move on to an affordable package that offers value for money, through Oclean Z1 Sonic Electric Toothbrush, 4x brush heads, and a travel case for Oclean X Pro Elite/X Pro/X/Z1/F1. All this you will get for a low price of $54.98 during the promotion, Yet it could have cost you $62.98 as the original price. So, If you don't have the budget to buy a high-end electric brush or want to enter this adventure for the first time, I think this package is not to be missed.
Oclean Z1 Electric Toothbrush Equipped with a brushless electromagnetic motor, this sonic toothbrush supports up to 40,000 brush strokes per minute. The maximum twisting force of 220 gf.cm ensures a strong, balanced brush, even if the brush is brushed too hard or too weakly. The smart electric toothbrush also offers 3 cleaning modes, 32 intensity levels, and 14 default customization schemes for the Oclean app to be selected. Or you can just customize a brushing plan through the app to suit different conditions for your teeth and gums.
Powered by USB charging, a full charge can support 2 hours 30 days for daily use. Bring this rechargeable toothbrush on any trip with the handy magnetic charging base. When the battery power is low, the LED indicator turns red.
The built-in 6-axis gyroscope helps identify 8 areas of your mouth and tracks your coverage. Generates your cleaning report in the app instantly after completion. So you can check your brushing degree and see exactly where you brushed and where you missed.
Easy to use, just short press the button to turn the electric toothbrush on/off, or long-press for 2 seconds to switch the intensity. The LED light will indicate the intensity change. Automatically shuts off after 2 minutes of dentist-recommended brushing time. IPX7 waterproof design allows you to use it even in the shower.
New Launches – Oclean Air 2T Set
One of the important offers is the new Electric Toothbrush launch and included in this package, Oclean Air 2T Sonic Electric Toothbrush which comes with a travel case and Wall-Mount. All this you will get for a low price of $69.99 during the promotion, And more than this, you will also receive free gifts which are 4 x Brush Head Refills (Random Color).
The unique Oclean Air 2T electric toothbrush is adopted to comprehensively and effectively dissolve food residue between teeth, greatly remove stains and improve oral and dental health. This ultra-quiet toothbrush comes with a completely clean experience with DuPont & Pedex bristles to fight hard-to-reach areas for more complete oral care.
The daily dental hygiene experience can be customized with 2 effective brushing modes, Gentle and Standard, and 2 intensities, according to specific oral care needs: with the Gentle Brushing mode to achieve a worry-free dental care experience when it comes to sensitive gums or gingivitis. Standard brushing mode vibrates 40,000 blows per minute to disable stains for everyday brushing needs. Dentist-approved 2-minute smart timer and a 30-second reminder to lead a smart and experimental lifestyle.
The magnetic charging base provides time-saving charging and is convenient to install on accessible surfaces. With a built-in 800mAh battery, this smart electric toothbrush lasts up to another 4 weeks on a full charge. It only takes 2.5 hours to get over 40 days of long-lasting brushing fun. With an IPX7 water resistance rating, this sonic electric toothbrush can be used safely while bathing, showering, and rinsing with water immediately after use.
The Sonic Toothbrush is USB rechargeable for convenient charging wherever and whenever possible, with a lightweight design of only 95g, lighter than half a regular toothbrush that can be easily carried around for those who love to go on the road. Perfect for business trips and travel, it is also the best gift choice for family, loved ones, friends, business partners, etc.
With Oclean's patented Whisperclean Technology to reduce toothbrush noise by as little as 45dB, you'll immerse yourself in a moment of calm. The Sonic Electric Toothbrush is powered by 2000Hz ultrasonic technology which enables the motor to operate silently and provides a quiet and peaceful brushing experience both day and night.
20% off $39 on Accessories
If you thought we were done, you were wrong, because there is another bundle for accessories where you can use the promo code 20OFFA to get 20% off on $39 including 8* Oclean Replacement Brush Heads, 1* 2-in-1 Charger & Holder for Oclean X Pro/ X/Z1/F1, 2* Oclean Standard Nozzles (W10 Only) and 1*Wireless Charger for Oclean X Pro Elite.
Oclean F1 Sonic Electric Toothbrush
And finally, I will come to you Oclean F1 Sonic Electric Toothbrush for a low price of $29.99 during the promotion by using Coupon Code CAREF1, Yet it could have cost you $34.99 as the original price. with the Package, you get also 8 * Oclean Brush Head Refills.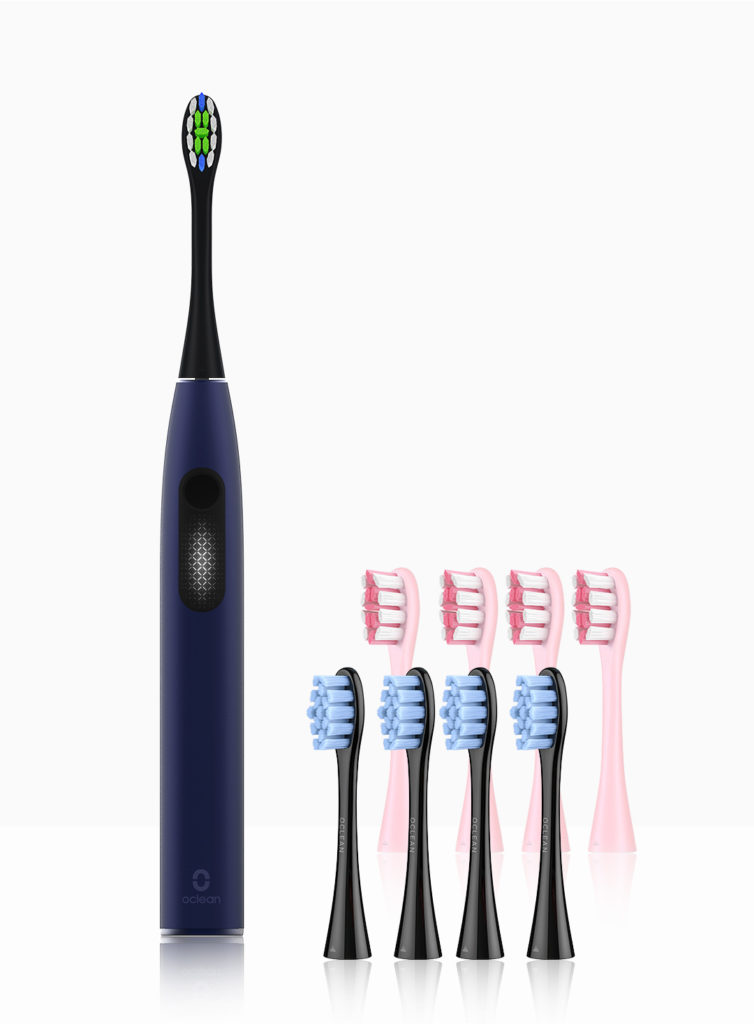 Oclean F1 Sonic Electric Toothbrush offers a high-performance maglev brushless motor of 36000 brush strokes per minute to efficiently remove stains and food residue from your teeth and gums. With 3 modes for different mouth conditions of cleaning needs, you can find suitable modes with the Oclean F1 Electric Toothbrush. Easily switch the mode for 2 seconds by pressing the button (or briefly press the on/off), the equipped LED will display the mode. An easy-to-operate electronic toothbrush designed just for you. The soft bristles of the toothbrush are made of DuPont filaments, 3D designed to fit the surface of the teeth as closely as possible during brushing to ensure a better cleaning effect. Additionally, the ends of the bristle are gently curved to improve comfort and prevent gum damage.
F1 stops automatically after the dentist has recommended brushing time with the built-in smart timer. It will also remember to change the brush area every 30 seconds, so you don't miss cleaning a single spot in your mouth. Oclean electric toothbrushes are intended to encourage good brushing habits.
Charge this electric toothbrush anywhere with any compatible USB charger (not included) or device with USB ports. Perfect for home and travel use. Don't worry about running out of battery while traveling anymore.