The new MantisTek GK1 keyboard stands out at a very low price as a mechanical keyboard with RGB LED lighting, is softer and has a quick touch response. so do not miss this review.
GK1 fully supports the NKRO function.
Extreme Durability- JX mechanical switches are rated up to 50 million keystrokes.
Backlit setting makes you easy typing in the dark.
Easy hotkeys for convenient volume control/media playback and other movements.
Strong construction provides your keyboard is a better life.
No driver design makes it easier on using.
Performance and design MantisTek GK1:
MANTISTEK GK1 We see it as a full mechanical keyboard, with LED backlight and JX Blue keys. In the number pad, the usual LED for the keyboard is blue and in the form of buttons. It features a compact design and a very simple, attractive and strong appearance, made of black GK1 plastic on top and transparent plastic on the back. Measuring 439.2 x 144.6 x 39.4 mm and weighing 1,032 grams, the QWERTY keyboard is a series called Blue that produces slightly more noise than the equivalent series in Cherry Red or Brawn.
The keyboard has 104 keys with LED lighting and is made of ABS plastic with a good touch. MANTISTEK has an anti-shadow system and a Key Rollover in each of its 104 keys (estimated lifespan of 50 million keystrokes). Strong 60g and 2.44mm compression is required to compress and is recommended for Gaming users looking for the best gaming experience. The keyboard design makes placing keys at the same base level, making it easier to design and clean.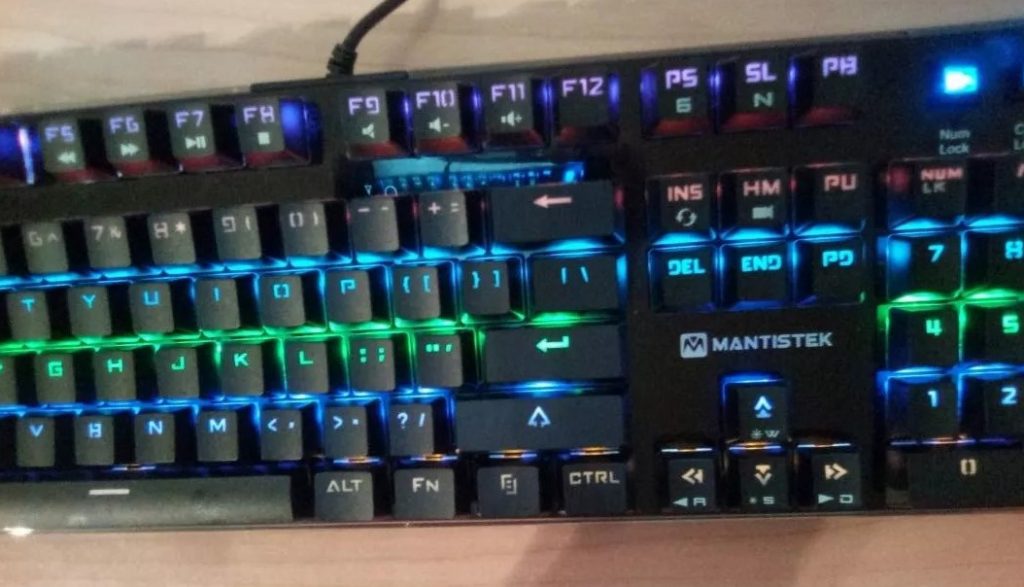 At the top, it has a white MANTISTEK logo that gives everyone a great look. On the reverse addition of the product label, it includes two lifting legs, plus six surfers or rubber feet, responsible for mounting the keyboard on our table, preventing it from moving easily.
The cable includes a durable, braided black nylon coating, which has good flexibility and a thickness of 1.8 meters, including a set of Velcro cables with the manufacturer's logo. At its end, it has a gold-plated USB connector.
The keyboard also comes with replacements for its switches, so if damaged, we can easily replace the damaged key with a completely new key, which should not happen even in a few years even with intensive uses.
Lighting MantisTek GK1:
LED lighting is essential for keyboards that have RGB-based lighting, and because this keyboard doesn't have any kind of software to configure because lighting is controlled by a set of keys.
The different lighting modes are configured using a combination of keys and are as follows:
FN + PU – increase the power of LED lighting (0% – 33% – 66% – 100%).
FN + DN – reduce the power of LED lighting (100% – 66% – 33% – 0%).
FN + Esc – Switch between different lighting modes: Normal mode – Breathing mode – Game key mode – Game mode breathing keys.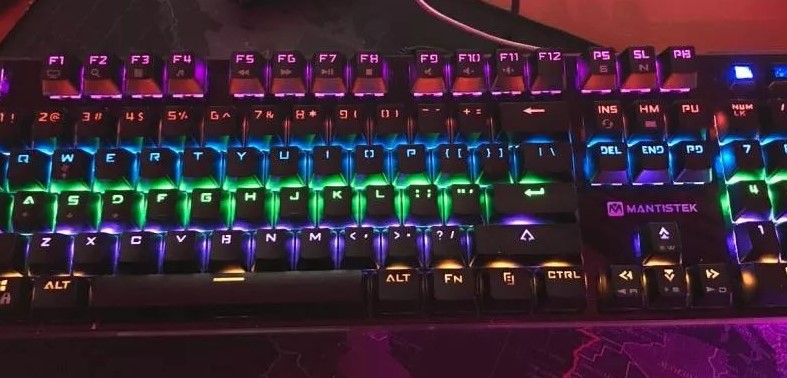 Its density is good, being perfect even at full power at night.
Function Keys:
FN+F1: Player
FN+F2: Play/Pause
FN+F3: Last Song
FN+F4: Next Song
FN+F5: Stop
FN+F6: Volume decrease
FN+F7 Volume increase
FN+F9: Web Page
FN+F10: Mail Box
FN+F11: all keys lock
FN+F12: Win Key Lock
FN+W: exchange the function of ASDW to UpDownLeftRight
FN+Pause: Standard Model and All Keys Model Switch
Note: Keyboard layout QWERTY
To explore other options, read about the Anne Pro 2 Gaming Keyboard Review.
Summary:
And Finally, For the MANTISTEK GK1 keyboard, I tell you it's a mechanical keyboard for gamers looking for the best experience in their favorite games thanks to the responsiveness of their blue mechanical keys. It also has a gaming aesthetic due to its LED lighting which can be configured with many effects that make it an interesting keyboard with an attractive visual appearance, and the most important thing right price.

MantisTek GK1 mechanical gaming keyboard.
switches for replacements.
English language user manual.
Brand Name
MantisTek
Model Number
GK1
Product Name
Mechanical Keyboard
Switch
JX Blue Switch
Key Travel
2.0±0.6mm
Action Force
60g
Tactile
Yes
Clicky
Yes
Key Life
50 Million Clicks
System Require
WIN2000/WINXP/7/
8/VISTA/MAC/LINUX
Working Environment
Voltage: 5V±5%V
Current:<400mA
Temperature:0-40°C