The Motospeed CK80 gaming keyboard is somewhat unique and comes packed with extra or extraordinary features from several types of gaming consoles that make it different from its usual counterparts easily available at a discounted price.
Using pure PBT material two-color keycap
Full-key RGB lighting effects
Circular RGB streamer effect
Support of 9 types of LED backlight
The ZEUS optical chip
Corner knob design is more fashionable and convenient
Free of EEPROM memory. Flash memory chip
Motospeed CK80 keyboards are made of durable ABS and PBT materials to make them strong and comfortable during heavy work. Unlike cheap and fake keyboards that suffer from worn-out keys because of low quality easily through intense work. In addition, PC gaming consoles have programmable tricks. Programmable keys can be used comfortably in various games. In these keyboards, tricks can be programmed to be suitable for video games you play continuously to facilitate gameplay and perform operations you want quickly.
RGB mechanical keyboard provides a great and elegant appearance, it features an RGB Backlight PBT Keycap All Secret Anti-Ghost ZEUS Chip, and a good response speed of 0.2M/S so that you will not suffer from delayed response speed in gameplay, in addition, it has effects RGB switches with full switch, round RGB stream effect with corner handle design to take advantage of them. It is suitable for the eyes while playing video games or even at work. In addition, the built-in lights will definitely help you not to miss dynamic keystrokes while playing at night and you don't want to, of course.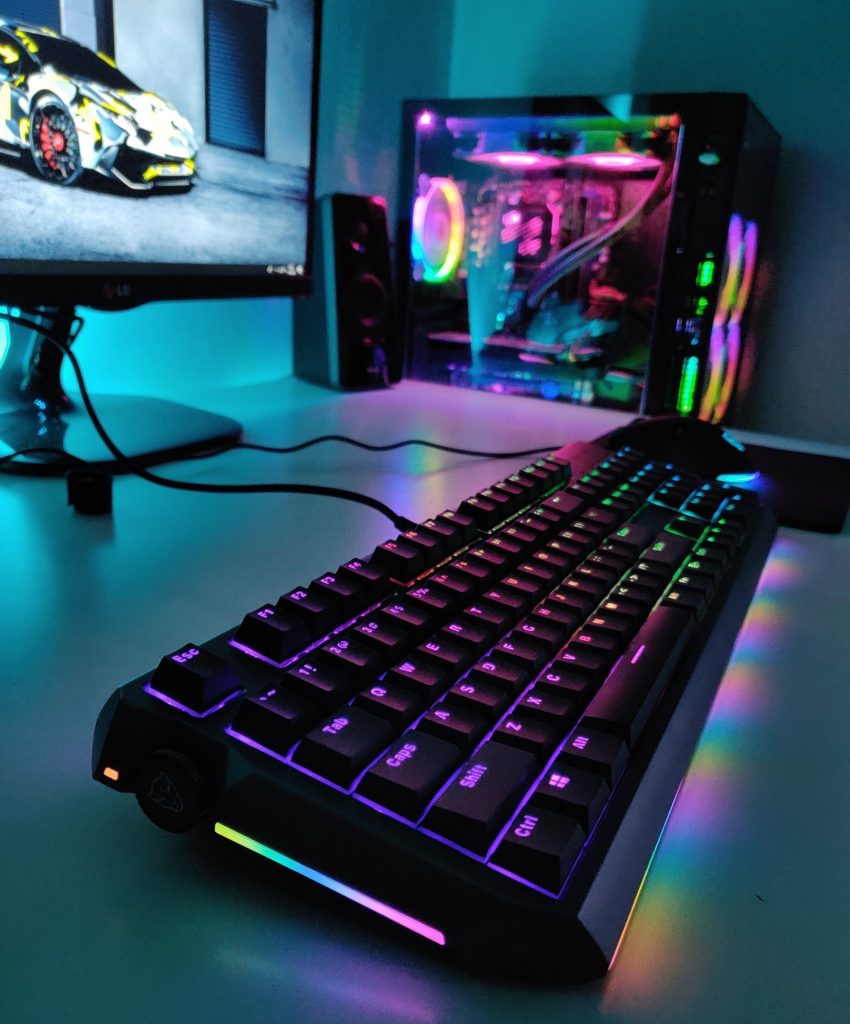 To set up the individual backlight mode:
Press FN and key.
Once the red lights on the right (Caps and Scroll Lock indicators) are flashing, press FN, and the right arrow key.
You will see a 'glowing key' given color; press any key on the keyboard to set that key to the current color.
Press FN and right arrow key to move to the next color. push any keys you want for this color.
Repeat step 4 until you have all the custom keys as you wish. (You can also set individual keys so they are not lit at all during this process.)
When finished, press FN + `to exit customization mode and use the keyboard as usual.
The only possible thing I could think that would make this keyboard better is some kind of point to notify you that the Windows key is closed or not. Otherwise, this is a very cool mechanical keyboard introduction.
To explore other options, read about the MantisTek GK1 RGB Keyboard Review.

Motospeed CK80 Keyboard.
Chinese / English manual.
1 x Keycap Puller.
Specification Motospeed CK80
Material: ABS, PBT
Cable Length (m): 1.6m
Connection: Wired
Interface: USB 2.0
Key Number: 104
Layout: QWERTY
Switch: Blue
Keyboard Lifespan ( times): 60 million times
Response Speed: 0.2M/S
Keyboard Type: Mechanical Keyboard
Backlight Type: RGB Light
Product weight: 1.2650 kg
Product size (L x W x H): 46.40 x 15.10 x 3.84 cm / 18.27 x 5.94 x 1.51 inches.