In this review, we'll look at the GSM Smart Power Outlet Plug Socket, is different from the ordinary socket, is a built-in the GSM module, controlling socket through SMS command users can use mobile phones to control electric appliances at any time and any place, making home appliances more intelligent.
not affected by distance, it even can achieve the user's mobile phone to communicate with the product at any time and any place, making equipment, electrical appliances more intelligent.
It can be used to control many household electric appliances, such as electric heater, electric convector, light, server, etc.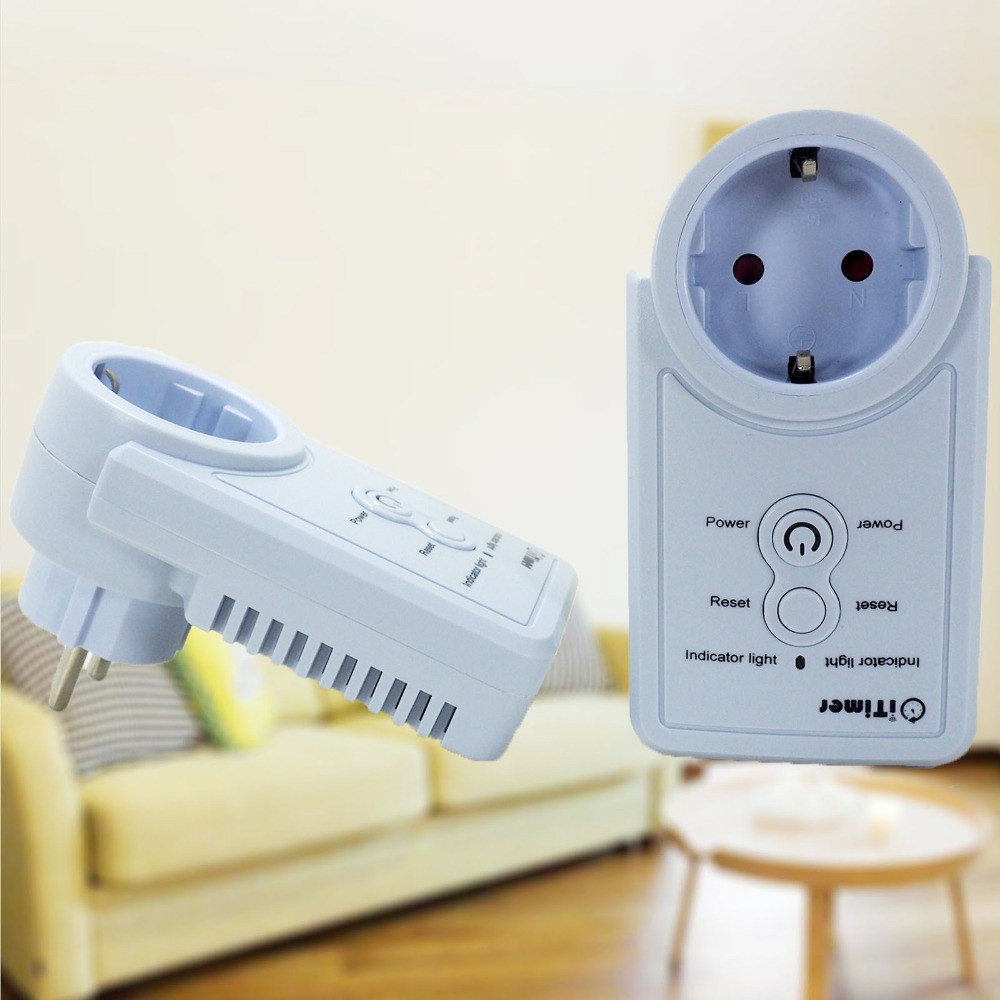 Need to insert GSM SIM card to use.
Only support the 2G network.
Support multi-user SMS command to control the socket.
Can delay or timing control socket output.
Remotely query environment temperature.
With the function of temperature control and warning. (Users work within the range of specified temperature. When the temperature is beyond or below the range of values, it will stop work and send an SMS warning. )
Can set one master number and multiple family numbers.
Fetion control is available, more convenient, and saving.
Measuring function: voltage, current, power.
It can be used in most countries, but not support CDMA.
Built-in buzzer to prompt the switch on or off and alarm prompt(can send SMS command to turn on this function).
SMS language: Russian or English version for selection
You may also like Alfawise KS1 Smart Home Universal Remote Controller review – All You Need to Know.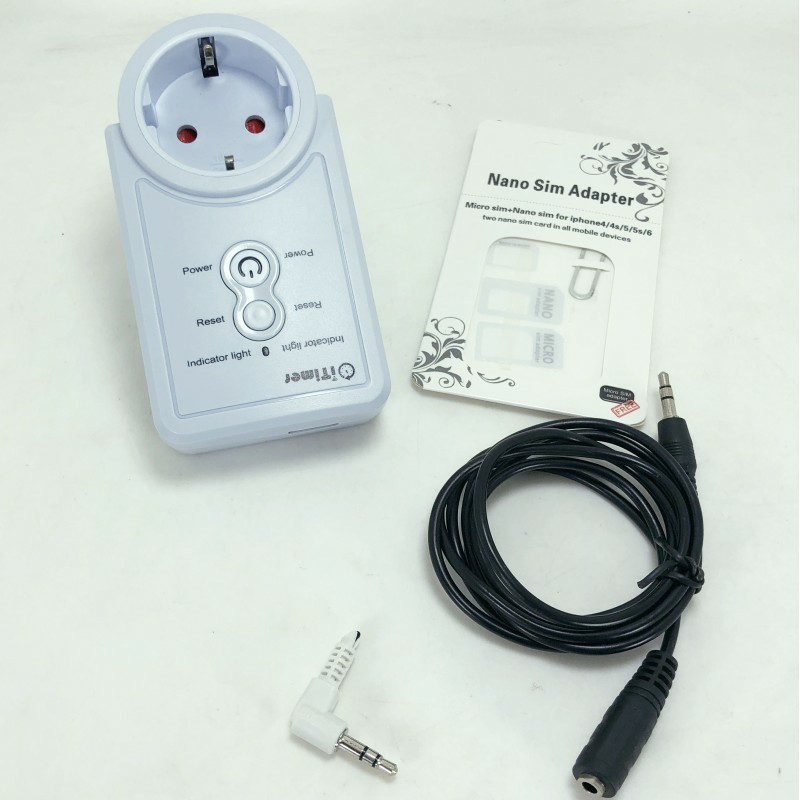 Note: this socket supports GSM SIM card only.
It can be used in most countries, but not support CDMA.
Our GSM socket has two types:
Type 1: English version–GSM socket with English SMS
Type 2: Russian version–GSM socket with Russian SMS
Design GSM Smart Power Outlet Plug Socket: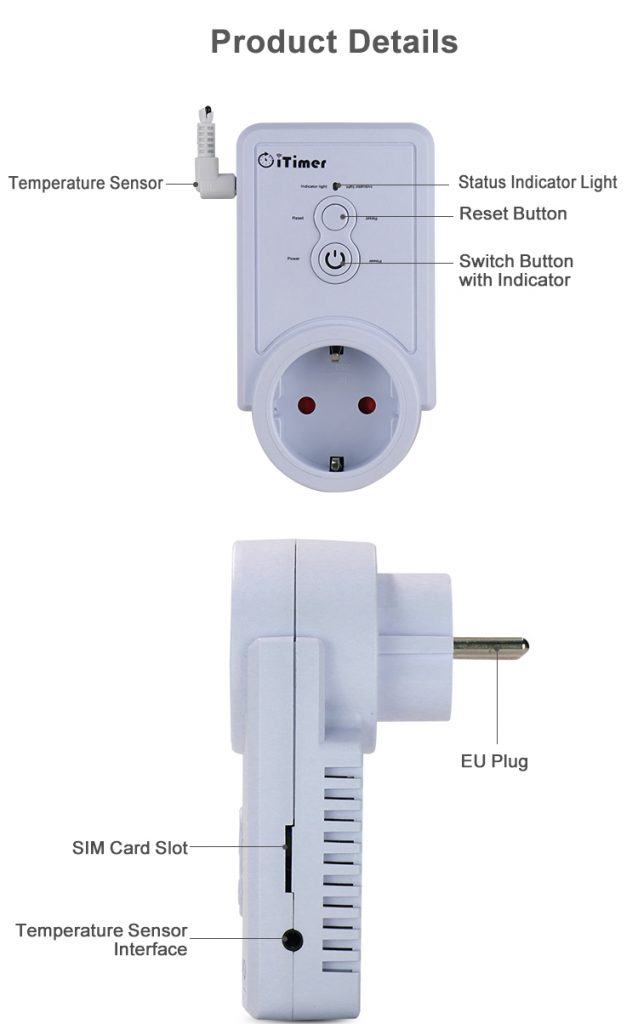 Operation Method of GSM Smart Power Outlet Plug Socket:
Please insert a valid SIM card correctly before use and insert the GSM socket to the power socket (110V-220V).
Wait for the device to search for the network signal. When the green light is on, the red light flashes for 3 seconds/ times, means that it is connected to the network and can enter the working state (this process takes about 15seconds).
Press and hold the reset button to restore the factory settings. After hearing the buzzer sound once, release it and wait for the buzzer to make 4 continuous sounds, that is it, the initialization succeeded. Short press the socket's switch button to manually control the socket output (green light on means "ON", red light means
"OFF").
For the first usage, it needs to be bound to the user's mobile phone. Send SMS command #00# to the SIM card number of the product. Wait for the GSM socket to receive the command and reply message to the master number: 'The master number has been set, password: 1234″.
GSM Power Plug Price and Availability:
The GSM Power Plug is currently available on Banggood for $38.23 and Aliexpress store for just $27.65. This is a very good price So, don't miss out on this great deal. And to view its price or buy it, you can access the offer by clicking on the store icon.
GSM Socket (GSM SIM card not included)
Temperature Sensor
User Manual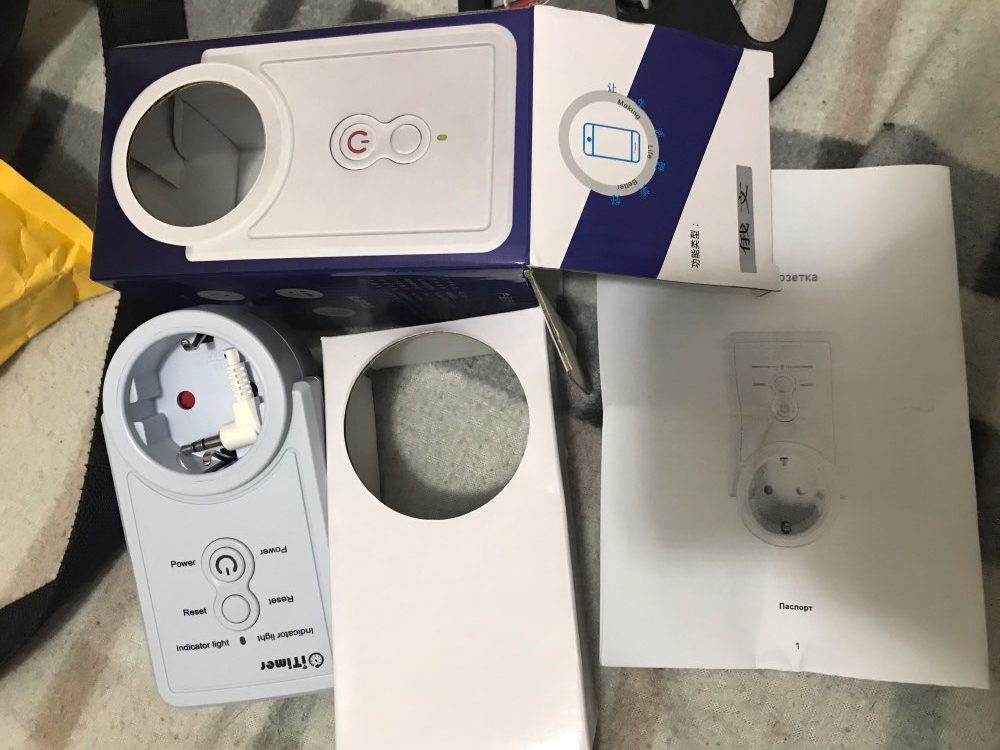 Condition: 100% Brand New
Material: Plastic
Color: White
Plug Type: EU Plug
Type: English Version, Russian Version(Optional)
Socket Input/Output Voltage Range: AC110~250V
Temperature Transducer Induction Range: -10?~50?
Load Maximum Working Current: 10A
Working Current: 110 ~180mA
USB Output: DC 5V
Working Temperature: -20?~55?
Storage Temperature: -20?~ 70?
Weight: approx. 182g