SilverStone LD03 Mini-ITX Gaming Case in 2020, comes with Three tempered glass side panels and super cool vertical design, It has innovative ventilation methods to give your computer everything it has, Stays with the review.
Specifications Silverstone LD03
Case Type:
ITX-Tower
Material:
Steel, tempered glass, plastic
Weight:
5.34 kg
Slots:
2
Drive Bays:
1x Internal 2.5/3.5″
1x Internal 2.5″
Motherboard
Form Factors:
Mini-DTX, Mini-ITX
Dimensions:
265 mm (W) x 414 mm (H) x 230 mm (D), 25.2 Liters
Top Fans:
1x 120 mm (pre-installed)
Bottom Fans:
1x 120 mm (pre-installed)
I/O:
2x USB 3.0
1x Headphone
1x Microphone
Compatibility:
CPU Cooler: 190 mm
GPU: 309 mm
PSU: SFX, SFX-L up to 130 mm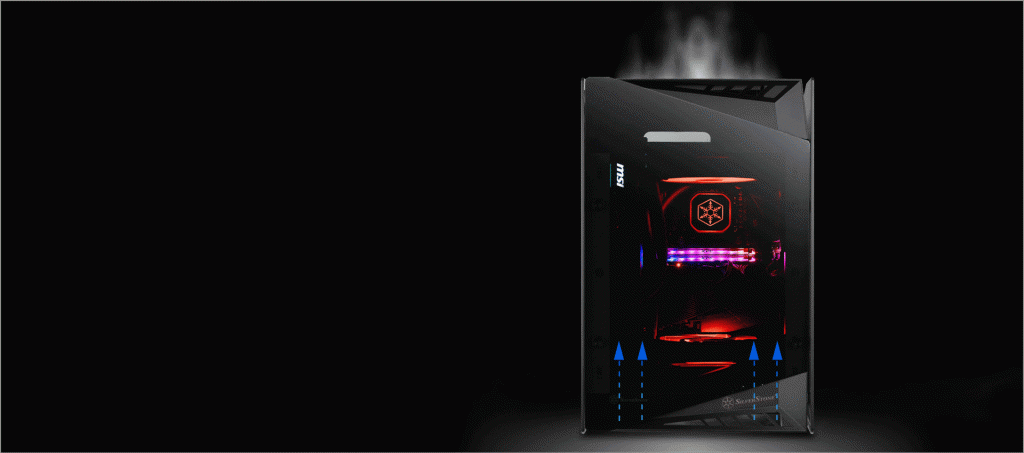 To explore other options, read about the Kolink Rocket Mini-ITX gaming case Review.
Design Silverstone LD03 Gaming Case:
Silverstone LD03 is a complex design with three unique glazed panels, high-gloss, asymmetrical corners and a black bezel, approximately 16 feet high. It will make it a masterpiece whether on the desk or living room.
On the side of the interface is the name and logo of SilverStone at the bottom edge.
At the back is a steel back with a detachable dust filter where the SFX PSU draws fresh air. There is also a hole in the top cover, so you can point the cables back well. And I / O card slots on the motherboard.
Both the left and right sides of LD03 are formed in the same way and are made of stained glass. This means you are able to take a peek at the system on three sides if you like.
At the top is a large plastic top cover, which makes all system connectors easily outward, and acts as a secondary mesh to allow heat to escape from the case's inner frame. It has two USB 3.0 as well as the usual audio connectors plus a small LED lamp for activities. Once you pull the top cover, you can clearly see where and how the motherboard will be placed internally.
At the heart of LD03, there is another removable dust filter at the bottom of the chassis with a 120 mm fan mounted. This means that all protected areas are protected from dirt, dust and excellent ventilation.
The box does not contain any RGB lighting, although the appearance of the overall very beautiful, and with the addition of the strip of RGB inside will give you a legendary appearance.
How to open:
Support components:
up to 190mm air cooler of height Support.
Support SFX / SFX-L power supply up to 130mm of length.
Support graphics card up to 309mm of length.
At the end of the Silverstone LD03 Gaming Case Review, I think Although it is slightly more expensive in the United States than in other countries, it has good potential.