In this review, we'll look at the Ozmo Active Smart Water Cup is designed to combat dehydration and maintain your moisture and health, by connecting it to the Ozmo application via Bluetooth to automatically record your water and coffee consumption through built-in sensors, it can withstand a drink under 80 ° C.
Features Ozmo Active Smart Water Cup
LED lights that communicate achievement without App.
Vibration alerts that remind you to stay hydrated throughout the day.
Automatic detection of water or coffee, with optional manual input for other beverages.
Convenient carrying handle for life on the go.
High precision and accuracy in measurement.
Up to 3 weeks of battery on a single, full charge.
Design Ozmo Active Smart Water Cup:
Ozmo Active Smart Water Cup weighs from 360 grams and is made of ABS plastic with a Tritan-free inner layer that provides better protection in case you accidentally drop it.
It comes in blue, purple, red and gray, along with compatible covers and USB adapters.
The lid should be tight on the cup to properly record what you drink. The bottle will vibrate to let you know that the lid is tight. There is a removable rubber tab, at the bottom of each cup hides the reset button for initial configuration and charging Micro-USB port.
The cup is also equipped with LED lights. It's fully charged when all three are lit.
You may also like the best smartwatch under 30$ in 2020 Umidigi Uwatch 2 Review – All You Need to Know.
Ozmo app and setup:
Ozmo is available on the App Store and Google Play and works with Apple Health and Fitbit to achieve your health and fitness goals. It is the main source for displaying all your drinking stats. The home screen displays a measure of progress and other pages in the app give you a daily, weekly or monthly analysis of how much you drink and how close you are to your goal. You can also adjust application and target settings, and make programming changes to the bottle itself.
The simple initial setup guides you after connecting Ozmo to Bluetooth and asks for some basic information – your age, your height and weight, and your activity level (from low to maximum). To reach the best amount of water you should drink every day, the program also determines the maximum intake of caffeine per day for you.
You can follow the app to track your progress, but the LED can also alert you. When the first, second or third light blinks alone, you have reached 20, 50 or 90 percent of your daily goal. When all three lights flash, you have reached your daily goal. Ozmo has many vibration-based alerts – it goes off once when you plug the cup into its power adapter and sounds six times when you don't have anything to drink in more than an hour.
If you choose to use Ozmo for a drink other than water or coffee, you can scan a barcode with your phone or manually enter information about your favorite drink.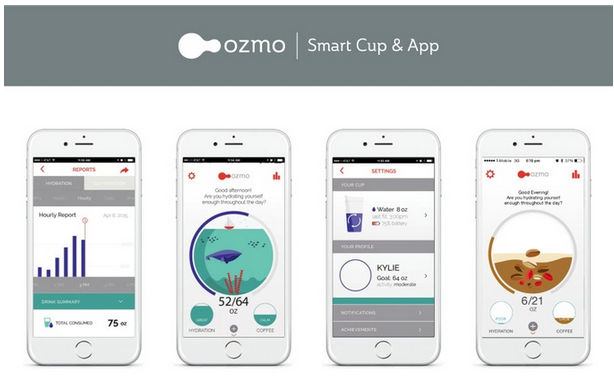 Battery Ozmo Active Smart Water Cup:
Charging from 0 to full takes about an hour to last up to three weeks on one charge.
The user manual says that "battery life may deteriorate over time with frequent use.
note :
The bottle will detect water level changes between sensor levels, small sips might not register.
Sensors detect a volume change of 2 ounces and up.
So that you're looking for the Best Bottle Hydration Tracker, Ozmo Active Smart Water Cup Review you will like it.
Specifications Ozmo Active Smart Water Cup
LED Light Display
Capacity: 16 ounces (473 ml)
Weight: 12.7 ounces (360 grams)
Battery Life: 120 min full charge
Up to 3-week battery life
Leak-Proof
ABS Plastic outer body
Bluetooth 4.1
Tritan BPA free inner body
Double-walled, not vacuum insulated
Hand wash only
Vibration alert system
The bottle will detect water level changes between sensor levels, small sips might not register. Total water consumed will be accurate
Sensors detect volume change of 2 ounces and up
Works with IOS