Alfawise P2 One of the best smart air purifiers in 2020, It has many features, touch screen, Wi-Fi connectivity, voice control, filter system 3-layer, And more of all this in the review.
With used Advanced technology on Alfawise P2 air purifier, it provides clean and safe air to you. The main function of it is to remove particulate matter in the air, including allergens and indoor PM2.5, and to solve the problem of air pollution. It is very suitable for newly renovated homes for the elderly, children, pregnant women, newborns, or people with asthma, allergic rhinitis, and pollen allergies.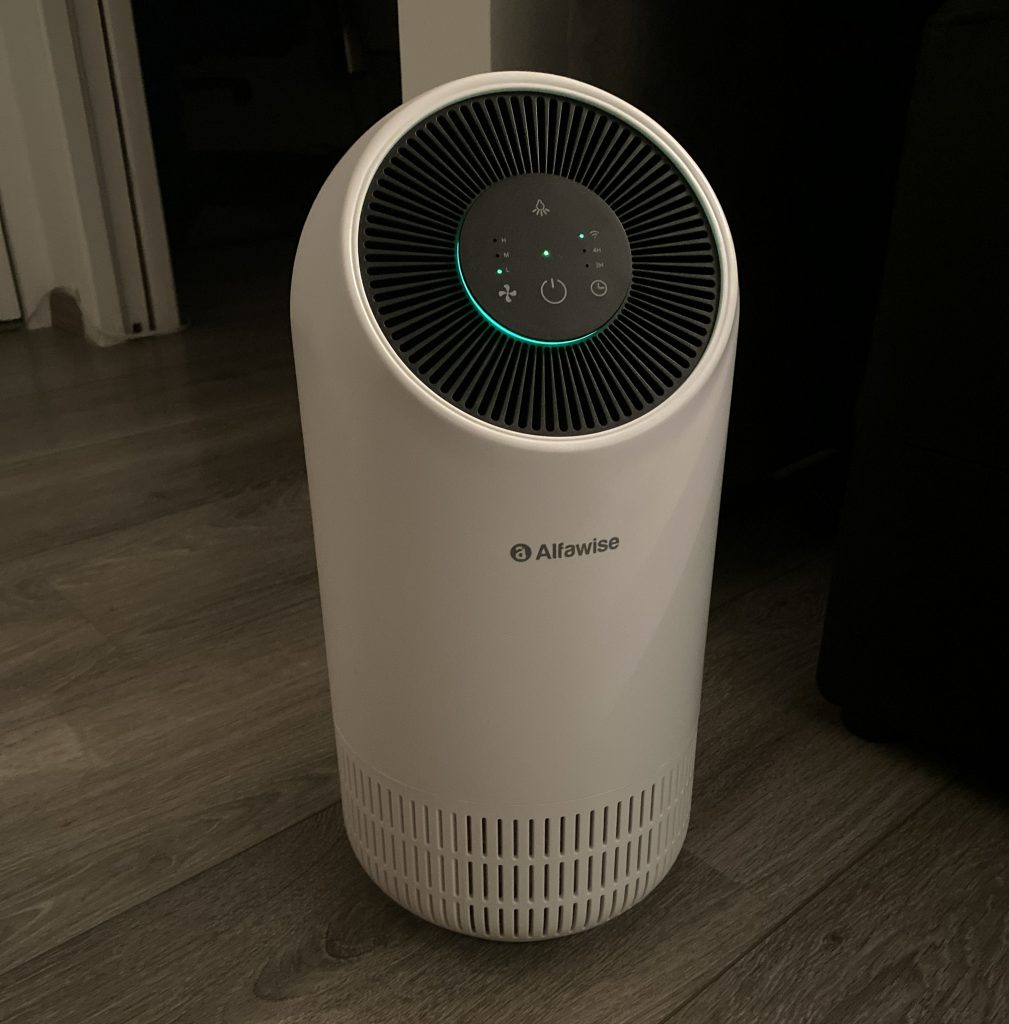 Features of Alfawise P2 Air Purifier
WiFi connection controlled by a smartphone app and an AI voice assistant (support Alexa Google home).
3-layer filter system.
Touch screen panel.
3 wind speeds.
Light adjustment.
15-20㎡ purification area.

Design:
Alfawise P2 is cylindrical in shape but has a diagonal crest descending. Its size is 19.50 x 19.50 x 40.30 cm so it is not large and can be moved from one place to another and it is more suitable to be placed on the floor rather than on the desktop. The material by which it is made of, is ABS plastic and this makes it is lighter in weight.
At the top, there is an interface with touch buttons to use and read the condition of the air purifier, there has a soft and natural built-in lighting that allows you to read it day and night comfortably.
Performance of Alfawise P2 Air Purifier:
Alfawise P2 Air Purifier has a touch screen panel that is very convenient to operate and read the condition of the air purifier. And has a capacity of 110 meters every 3 hours and is recommended by the manufacturer for a maximum of 20m, ie suitable for one room or smaller space.
Filtering system:
Due to the 3-layer filtration system of non-airborne materials odor, dust, pollen, organic molecules (bacteria), To Be efficacy with 97% to 99% which is wonderful and a mind-blowing result to make sure to remove the dust and pollutant air perfectly, This is in contrast to other purifying systems that have a Less layer filtration system. The primary filter, which is the most important part of this system. And The second one is the H11 HEPA Filter and the third is the activated carbon portion.
The rated power is of Alfawise P2 is 35W, 0.84 kWh for daily consumption which is why it is fairly economical.
Speed of the winds:
Also, Alfawise P2 comes with 3 wind speeds grade high /medium/ low, for your choice to meet your different needs And to reduce the noise to the maximum degree without forgetting that some people are Upset by the strong winds, This function is very useful.
Noise level & Control:
With regard to noise, It generates up to 50 decibels of loud noise during playback This is considered a normal level, for this is provides a comfortable and quiet sleep environment for you at night.
And can be controlled with a Smart Life app and an AI voice assistant (supports Alexa Google home) as it supports Wi-Fi connecting system, so it can be connected by the smartphone of the user, That is why you do not have to rise from your bed to turn it off or change its speeds, And That contributes to Control it.
Alfawise P2 Air Purifier Price and availability:
The Alfawise P2 Air Purifier is currently available on the Gearbest store for just $62.99. This is a very good price is neither too high nor too low. To view its price or buy it, you can access the offer by clicking on the store icon. There are two versions, one that supports wifi, and no wifi with different color lighting.

Alfawise P2 Air Purifier
English User Manual