Orico 5 port USB charging smart Station It comes with many power charging features with high manufacturing quality and modern style that fits your desk All this in the review.
Suffering from the tangle of charging wires in your office or home, you have many devices phones, tablets, and smartwatches and hated the search for power chargers have, then I found you the solution !? Then this modern Orico docking station is the product you need. You can store and charge up to five tablets or smartphones.
Specifications of Orico Smart Station
Material: aluminum + ABS.
Total payload: 40W.
Output by USB port: 2.4A (5V).
5 standards for tablets/smartphones.
Color: white + black.
Cable length: 1.5 meters.
Dimensions: 128mm x 99mm x 53mm.
Slot space: 15mm wide, 25mm deep.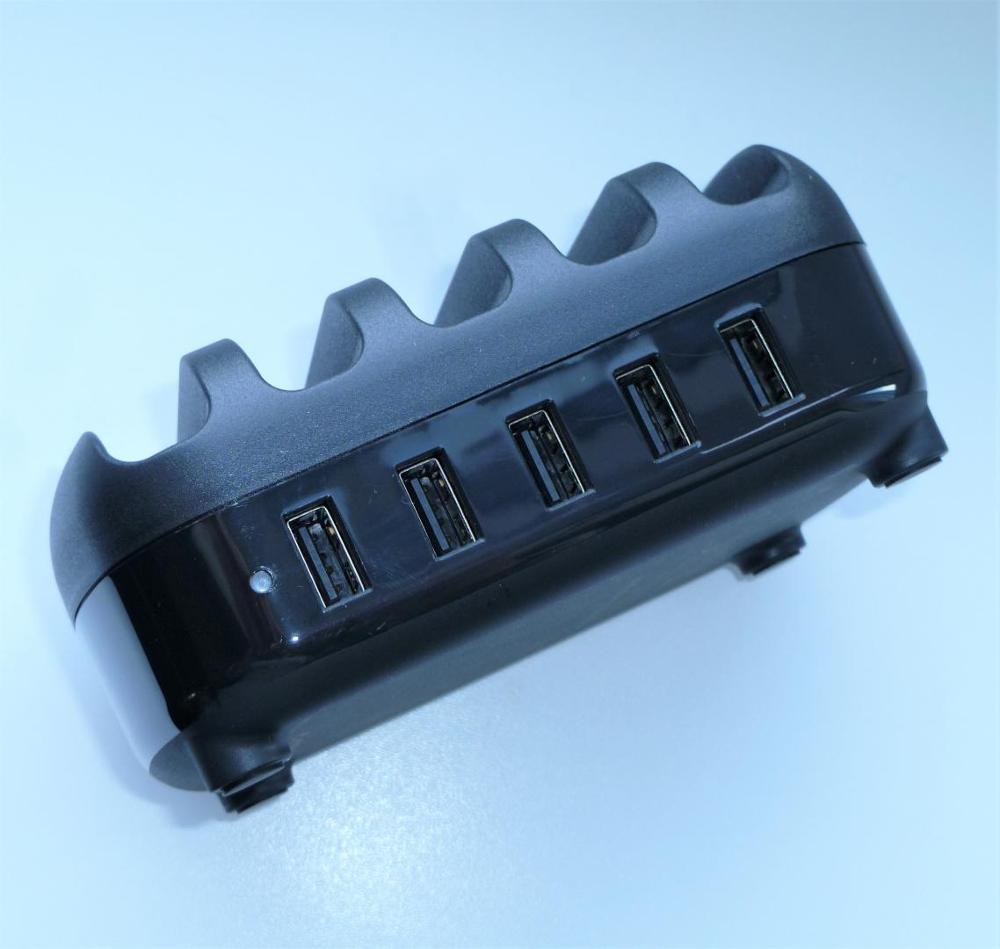 You may also like TV box H96 MAX RK3318 Review – All You Need to Know.
Design Orico Smart Station:
Orico smart charging station comes with 5 USB ports on the front, 5 slots for tablets or phones from the top, plus a button and a power cable port from the back, there are ventilation holes on the sides due to the integrated cooling fan, in addition to the beautiful shape high-quality manufacturing materials and Heat resistant up to 750 ° C. It comes in black and white colors. dimensions 128mm x 99mm x 53mm.
Performance:
This intelligent charging station docking station with 5 smart USB ports for multiple devices, the integrated smart chip automatically recognizes the optimal output, modulation, and distribution, and each device can get the maximum charging speed each gets a maximum of 2.4A, and a total of 40W thanks to the smart controller And simultaneous MPS correction to charge your devices safely, efficiently and quickly. This dual technology optimizes charging.
Since at least five devices can be placed in the Orico station, you can create a central point where everything can be charged safely and at the same time. This ensures that you can easily access any device if necessary. This is very useful for home, as well as for the office, in a restaurant, in a hotel, at the airport or at school.
Orico Station protects your phone from overcharging, surge, overheating, short circuit protection, overload protection, USB charging case for computer charging Made of industrial fire-resistant PC material which can be resistant to 750 ℃.
Orico Smart Station Price and Availability:
The Orico Smart Station is currently available on Banggood for $27.03 and Aliexpress store for just $19.99. This is a very good price So, don't miss out on this great deal. And to view its price or buy it, you can access the offer by clicking on the store icon.