Lenovo has launched a lot of affordable wireless headphones in the year 2022, each new one came with different specifications and features to meet the needs of specific categories of people, be it gamers, students, sporty people, or just people who want to enjoy good quality music and consume content, the one common thing is between all of these recent Bluetooth headphones is that they are of good quality, they have the latest technology with solid implementation and their batteries last a long while.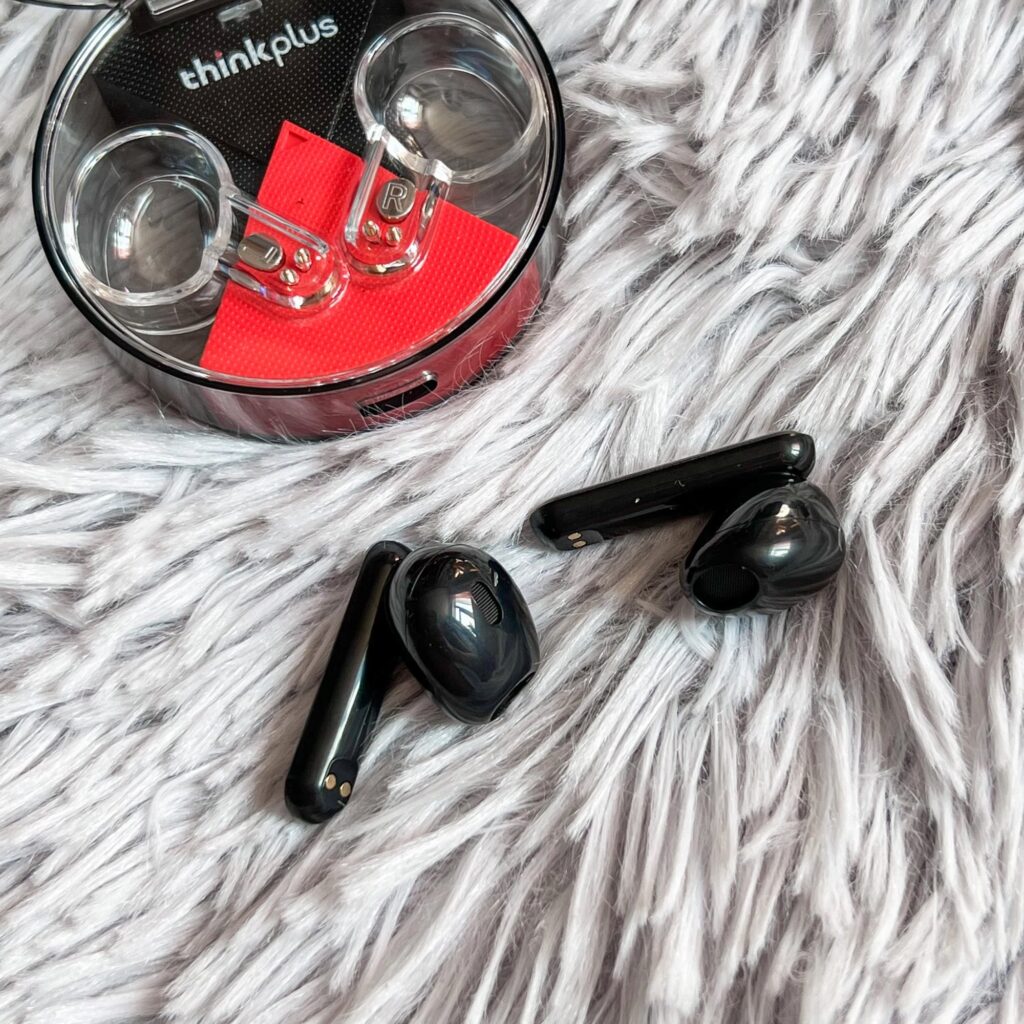 In this post, I have selected the 5 best Bluetooth headphones that Lenovo has made so far in 2022 to share with you and help make up your mind about which one is most suitable for your daily needs.
Lenovo XT88
We are going to kick start this list with my absolute favorite Bluetooth headphones of this year, which is the Lenovo XT88, this compact device packs it all in a very small and lightweight case that can be taken with on the go easily, the case is glossy and looks elegant with its oval shape that is comfortable to hold in one hand, the earbuds are also small with a short stem and comfortable wear that allows you to use them for several hours thanks to the small form factor and the replaceable ear tips with multiple sizes for all ear shapes.
The Lenovo XT88 was one of the first cheap headphones to adopt the latest Bluetooth 5.3 technology which offers stable, automatic, and instant connectivity with most Bluetooth-enabled devices and is compatible with multiple platforms such as Android, IOS, windows, etc, and it also supports AAC codec which can be activated in the Bluetooth settings, the 13mm horn produces a punchy bass and overall clear sound quality, the microphones do a good job of passing calls for this price range, especially in quiet spaces, the touch control serves as playback and volume control, as well as for answering calls and launching the voice assistant, it has been improved by making it more accurate, sensitive and by placing it at the top of the stem so you may never touch it by mistake, and last but not least, the Thinkplus XT88 comes with a 250mAh battery and each earbud has 35mAh battery, these offer an autonomy of up to 20 hours so you don't have to worry about its battery life.
In my experience, I found the Lenovo XT88 to be the most suitable bluetooth earbud for general usage, that is because I could use it for anything and it would do the job with high competence, the sound quality is pleasant either for music or content consumption such as podcasts, the microphone allowed me to pass calls with no communication issues and that's a hard task for cheap headphones, the earbuds stick very well to the ear and don't fall off which is convenient for sports, the touch control saved me a lot of pulling my phone out in public just to reduce the volume or skip the current song, in addition to all of this, the battery life I got with XT88 was huge, you won't need to charge it for over 3 days even if you use it for a long time both for music and calls, and last but not least, the connectivity is top tier, thanks to the Bluetooth 5.3 chip, the connection is instantaneous with any device, once you pull them out of the case, they connect with your smartphone automatically.
Lenovo LP40 pro earbuds
At this point I think everybody has heard about the Lenovo LP40, it is a good headset, I have reviewed it before and had some complaints about it, Lenovo has made a new version of it and named it the Lenovo LP40 Pro, where they fixed most of the issues that I faced with the LP40, the design of the charging case has remained unchanged but the earbuds received a core upgrade in the design, they have added replaceable rubber ear tips that you can choose whichever size fits you best and reduce the size of the nozzles so it doesn't hurt when you put it in your ear anymore, additionally, they have shortened the stem so it looks more elegant which is my personal favorite.
Under the hood, the Lenovo LP40 Pro packs the improved Bluetooth 5.1 chip that establishes a stable, automatic and instant connectivity with most Bluetooth enabled smartphones or laptops running any modern Operating system with no issues, additionally, it preserves the battery and delivers lower latency, the second major improvement is the usage of a 13mm dual-frequency large moving coil unit that solved the distortion issue users notices on high volume levels, additionally, they have implemented a more secure IP rating that protects devices against water jets from any directions which is the IPX5 instead of the IPX4 that only protects against light water droplets, as for the microphones, even though this has ENC which works well in quiet places, it still finds a hard time working properly in complex environments, luckily, the battery has become more enduring, the big 230mAh battery can last up to 20 hours and the earbuds have a 30mAh battery that offers up to 4 hours of continuous music playback which is great autonomy for students and workers and even on the go.
The Lenovo LP40 Pro is a great choice for everyday usage, simply for the fact that it is hustle-free, thanks to the stability of the connection between the earbuds and the smartphone, another thing is the touch control, it is very responsive and accurate, you won't misclick or launch voice assistance by mistake because of its positioning improved sensors, the main improvement, in my opinion, is the earbud's style which made it very comfortable to wear for long periods of time, I can imagine myself using these for an extended session of study or work by keeping the volume at 50%, because my ears will not get hurt, not to mention that it has been the best selling on Aliexpress and received tons of positive feedback so people really like it.
Read: the Lenovo LP40 Pro Review
Lenovo GM2 Pro Headphones for gaming
The third item on our list is the absolute best gaming headphones from Lenovo at this price range, it's the Lenovo GM2 Pro, the predecessor of the GM2 that comes with tons of improvements both aesthetically and specifications wise, from the outside they made it look like a seashell, but when you turn that big LED in the middle it resembles a UFO from space, the case is made out of ABS plastic with a matt finish so you know it is going to look new for a long time, also, the good build quality gives me a good feeling about its longevity, as for the earbuds, I like this new futuristic design, it is of medium size and has a matt finish like the case, it fits very well inside the ear, it doesn't hurt if you use it for long hours and won't fall off that easily while you are practicing sports, it has an LED line that indicates connectivity and the battery and its exterior is made flat which improves the accuracy of the touch control.
Under the hood, the Lenovo GM2 Pro packs very promising features that make it one of my top picks, first we have the newest Bluetooth version in the market which is the BT5.3, this chip has been well optimized for battery saving, it can establish a stable connectivity your Android/IOS smartphone, but the most important thing is the low latency, it is very low that it can beat headphones 3 times its price, when watching videos such as movie on Netflix or a Youtube video which is known to be challenging, you will notice any delay between the audio and the video and the lip-synching is perfect, this offers users a seamless content consumption experience, as for gaming, this earbud is one of the very few affordable wireless headphones that delivers on the low latency promise, whether you are gaming on a smartphone like playing PUBG Mobile or on a computer, the BM2 Pro offer latency of under 60ms, this will give you advantage to win in online games, as well as providing a pleasant gaming experience.
The Lenovo GM2 Pro doesn't fall short on other aspects as well, the sound quality of the earphones is above average, whether you are listening to music or just watching a video, the sound quality one of the best there is on them market, the microphones do a good job of passing calls even though it is a very hard task to do for cheap headphones, the touch control is located on the flat exterior of the stem which increases its accuracy so you can rely on it for accepting/rejecting call, as well increasing and reducing the volume and launching the voice assistant, the battery is one other strong point for the GM2 Pro since the case is equipped with a 350mAh battery and the earbuds have a 40mAh battery each, this translates to up to 5 hours of continuous usage and a whopping 30 hours of calls and music playback in a single charge, unfortunately, these headphones don't come with an IP rating, that means they have no protection against water or dust and you will have to be extra careful with them and keep them away from water sources.
Read: the Lenovo GM2 Pro Review
Lenovo LP10 – Nothing ear copy
The Lenovo LP10 has also made it to this by being one of the best-selling Bluetooth headphones on Aliexpress in addition to having a beautiful design, above-average specifications and a price that is affordable to most people, the Design of the Lenovo LP10 looks somewhat similar to the nothing ear, simply because it has a transparent body that allows you to see inside the case, it made out of ABS plastic and has a good build quality that I believe must give it a long life expectancy, it is lightweight and small in size so you can carry it with you around especially if you are a student, the earbuds themselves are also small with a short stem, they sit very comfortably inside your ear and don't fall during fast movement, they look quite elegant and you can wear them for long hours without getting hurt because they are lightweight, plus the flat exterior makes the touch control more accurate than earbuds with curved stems.
The Lenovo LP10 packs the essentials with a good implementation, inside the earbuds, there is a 13mm horn which is bigger than the 10mm and produces better sound quality, especially with the possibility of using AAC codec, so you can enjoy high-quality music with a punchy bass as well consume content whether it's a Youtube video or a Netflix serial, there absolutely no noticeable delay between the audio and the video, on the opposite side, I wouldn't recommend the LP10 for gaming, since it has a high latency which will put you at a disadvantage in competitive games such as PUBG Mobile.
Thanks to the Bluetooth 5.2 chip inside the case, the LP10 can connect to any type of smartphone instantly and automatically, this hustle free experience makes them more reliable, and when combined with a 300mAh battery that offers up to 20 hours of total usage so you can take them with you on the go and not worry about them dying out in the middle of the day, knowing that one earphone can offer around 5 hours of music playback at around 70% of volume.
The most two important things that differentiate the Thinkplus LP10 from devices of the same price range are first, the IP54 water and dust proof rating, which we don't find on any other model and makes the LP10 invincible to strong water jets and gives you the freedom of using it in dusty places without worrying about damaging it; the second thing is the microphone, the LP10 has a better call quality than all other Budget headphones I have written about, that's because it is reliable even in complex environments and will get your voice through even when there is background noise.
All in all, I find the Lenovo LP10 a fine choice for general usage, the microphones give it a huge advantage without sacrificing the sound quality, the connectivity, or any other major features you might need on a daily basis, all of this for a cheap price, i think it is a good deal.
Read: the Lenovo LP10 nothing ear copy Review
Lenovo LP75 Headphones
The Lenovo LP75 is the predecessor for its previous model the LP7 which was a great sports Bluetooth headphones for the time being, but people needed more improvements and upgrades, so Lenovo made the LP75 with improved design that is more comfortable and practical for people who like to practice sports while enjoying music or podcasts for long times nad under any weather condition, at first glance, with a very big charging case available in black and in white, with a cool design pattern that makes it looks like an orca dolphin, it has an LED panel that displays the exact battery level of the case and each earbud on real time, the case can't be stored in your pockets but you can easily carry it inside your backpack with ease, the earbuds inside the case are also big because they house a big 40mah battery, a Bluetooth chip and have a wide area dedicated for touch control, the special thing about them is the earhook attached at their end, they stick very well to the ear and may never fall off even when you move fast, and they have been improved from the last generation to be more comfortable by making them more flexible instead of being sturdy, also, the rubber eartips are replaceable and don't hurt the ear, with these two design choices, the Lenovo LP75 has become very comfortable to wear for long hours without hurting your ear so you can use them during long workout sessions with no issues.
Because of the design we know the thinkplus LP75 is the best Bluetooth headset in the thinkplus line, these may never fall off, but it offers a lot more, the sound quality you get in the LP75 goes toe to toe with all the previous headphones in this list, and the connectivity is stable thanks to Bluetooth 5.2 with compatibility with most modern smartphones and laptop running any platform, the touch control has been improved and dedicated a large spot on the exterior surface of the earbuds so you don't miss it when you try to execute a command during movement, last but not least, for protection, they have equipped these headphones with an IPX5 rating that protects against strong water jets from all directions to give you freedom of practicing even under the rain without worrying about damaging them.
My opinion of the Lenovo LP75 is that it is a complete device, it is clearly made for sporty people, but in my opinion, it is a perfect option for all categories of people if you don't mind the ear hooks, it checks all the boxes like good sound quality, a better than average microphone that can be heard even in complex environments, in addition to stable connectivity, multifunction touch control for playback and volume control as well as calls, all of this and more for an affordable price, I totally recommend it and that's why it is on this list.