Smartwatches have become more than just timekeeping devices; they've evolved into advanced tech gadgets that offer a multitude of features and stylish designs. Among the latest entries in this category is the H12 Pro Plus, boasting an all-new WatchOS 10 UI. And this smartwatch resembles the Apple Watch Series 9, generating significant buzz in the market of the Apple watch clone. It's often labeled as a replica, but can it truly live up to the reputation of its illustrious counterpart?
In this detailed review, we'll explore the H12 Pro Plus, focusing on its unique WatchOS 10 theme, user interface, display quality, customizable watch faces, menu styles, and other features that make it stand out in a crowded market. The question will be, does it manage to mimic the Apple Watch successfully, or does it bring something distinct to the table? Let's embark on this exploration to find out.
Making & Answer Calls via Bluetooth
2.04-inch AMOLED Screen, Always On Display
7 Days Battery Life, Wireless Charging
Heart Rate & Blood Pressure Monitor
Multifunction NFC, Voice Assistant
Multi-Sport Modes
IP68 Waterproof
4GB ROM, Local Music & E-book & Photo Album
Supports Sound Recording
Multitasking Bar, Customize Side Button
Watch Faces, Menu Style
Built-in Compass & Built-in Game
Design And Build Quality
The first aspect that immediately captures our attention is the design of the H12 Pro Plus. The smartwatch is encased in a matte finish that exudes a sense of elegance and sophistication. Available in two attractive color options, Midnight Blue and Starlight Grey, which are similar to the original Apple Watch colors. They are quite impressive, and it's great to see them offering some unique options. Notably, the minimalistic design is elevated by the presence of ultra-thin bezels that frame the AMOLED display. With its 1.91-inch 2.5D curved display and slim chassis, the watch boasts a sleek and modern look. The power button and side key on the right side a key elements for navigation, enabling users to access the menu and scroll through options. The microphone is positioned between the buttons, and the left side houses the speaker for crisp call quality.
This watch makes significant strides in the right direction within this segment. Its lightweight and comfortable design makes it a desirable accessory, while its impressive functionalities and Apple-inspired design enhance its appeal. As one of the top smartwatch clones of the Apple Watch Series 9, it exudes elegance and offers a premium feel. Despite its budget-friendly nature, the watch boasts sturdy construction and a high-quality stainless steel body with a sleek matt finish.
One of the most noteworthy features of the H12 Pro Plus is its compatibility with Apple Watch accessories. This means that the 45mm version of the smartwatch seamlessly connects with Apple Watch Series 9 accessories. it closely resembles the exact copy of the original Apple Watch even more than the HK9 Pro Gen2 or HK9 Pro Plus.
Underneath the watch, you'll find the sensor that powers all the health and sports features of the device, showcasing its commitment to providing comprehensive tracking capabilities. As is customary, the metal ring facilitates wireless magnetic charging, ensuring convenient and hassle-free charging experiences. Additionally, on the sides, you'll find two lock buttons designed to secure the strap in place, providing a reliable and secure fit.
The strap plays a significant role in completing the overall aesthetic of the watch. Crafted from lightweight and comfortable silicone, it ensures a pleasant experience during extended wear. Moreover, its removable nature allows for customization, as you have the option to use any 42/45mm belt. For those seeking alternative options, there is also the possibility to purchase a metal or leather strap, further expanding the style choices to suit individual preferences.
Display Quality
Now, let's turn our attention to the most visible aspect of the H12 Pro Plus – its display. This smartwatch boasts a true AMOLED display, which is a favorite type for many users and one of the strengths of this smartwatch, Unlike other clones that contain an IPS panel, this watch has slimmer bezels, enabling you to see more content on the tiny display than ever before, it's a lovely punchy display with a 1.91-inch AMOLED display, But the true marvel of this display is not just its size—it's the superior quality it offers, it delivers vibrant colors, inky blacks, and exceptional visibility even under direct sunlight, thanks to the high resolution of 320*385 pixels and a high pixel density.
That's why a sharp, vivid screen is central to the success of a smartwatch product, and the watch face stands out, and this is something Apple does very well in its watches. Also worth noting is the peak brightness that is capable of rendering content on the screen even in direct sunlight, texts, and numbers are crystal clear for reading. Therefore, there is no problem in displaying various contents on the screen. The contrast and sharpness offered by 60Hz elevate this panel on par with most popular competitors. Definitely, it's the best screen in a budget smartwatch in terms of size and resolution.
The H12 Pro Plus smartwatch offers an exceptional user experience, surpassing expectations for a budget device. Its remarkable color accuracy and sharpness result in clear and vibrant images, even in direct sunlight. Whether you're checking notifications or monitoring your health stats, using the smartwatch is effortless and convenient, eliminating the need to constantly retrieve your phone from your pocket. In terms of size and resolution, it's the best screen among budget smartwatches, providing a visually immersive experience.
Additionally, the inclusion of always-on screen dials, a feature typically found in OLED screens, sets it apart from other devices in its price range. Despite the technological challenges, the watch overcomes these obstacles to deliver an impressive always-on display experience (though not identical to OLED screens). Also comes with two screen dial options, offering a pointer clock and a digital clock. Additionally, the Palm gesture is a convenient feature that turns off the display when it's not needed, helping conserve battery life.
Exploring Watch Faces
Watchfaces are often the most personal aspect of any smartwatch, and the H12 Pro Plus doesn't disappoint in this department. The array of options caters to diverse tastes, ranging from classic analog styles to dynamic digital designs. Switching between watch faces is made easy through various methods, such as long presses on the home screen or using the VDO Fit app.
Additionally, users have access to over 250 online watch faces for download, offering a wide variety of choices. Users even have the option to use their own photos as a watch face background or choose any wallpaper they desire, allowing for a personalized touch. More importantly, it includes the latest and exclusive watch faces for Apple Watch Series 9 and Ultra 2. So yes, you will not miss the fun.
A crucial point to keep in mind is that you can install a maximum of six watch faces from the dial market. To add a new one, you'll need to remove an existing watch face. By touching and holding the screen, users can access a dedicated interface to select and lock their preferred watch face. This feature ensures that accidental interactions with the crown do not result in unintended changes to the watch's face.
Waterproof
The watch is equipped with an IP68 waterproof rating, which means it can handle sweat and splashes of water. However, it is important to note that the watch is not suitable for swimming or exposure to hot water or saltwater, as it is not specifically approved for such activities. To prevent any potential damage in the long or short term, it is advisable to avoid submerging the watch or exposing it to water. Additionally, with the presence of a speaker and microphone, it is recommended to keep the watch dry to maintain its functionality. In the event that the watch does come into contact with water, it is advisable to dry it thoroughly before using it again, ensuring its longevity and optimal performance over time.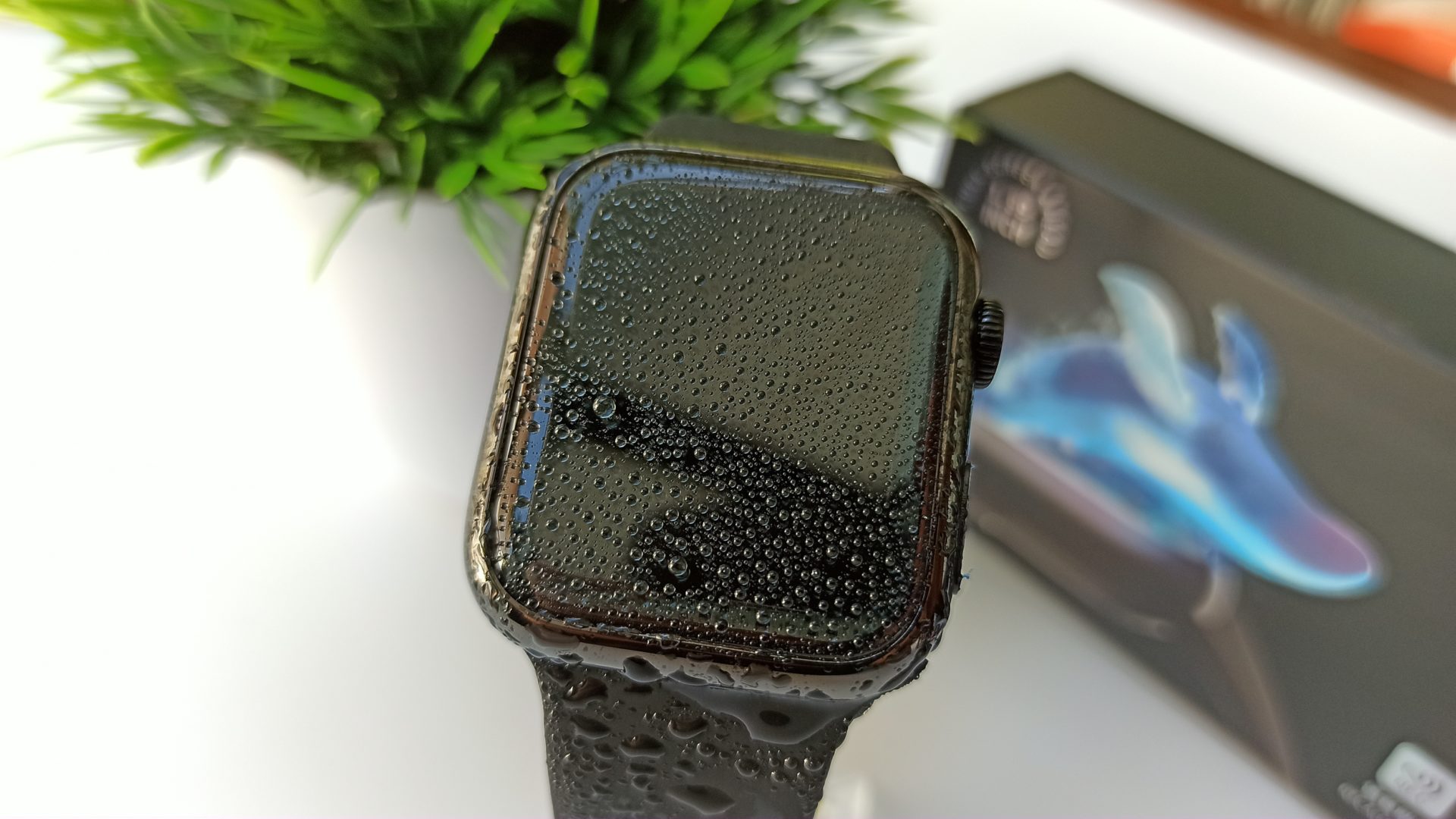 Under The Hood
Upon powering on the H12 Pro Plus, the boot-up process is remarkably fast, thanks to the A16 processor, much like its predecessor, the Hello Watch 3 and 3 Plus. This processor delivers improved speed and responsiveness compared to its predecessor, resulting in a smoother and more efficient user experience. The vibration feedback of the watch is notable, conveying a sense of durability and quality. Also, This advanced chipset ensures faster response times and efficient data processing without lag, providing a user experience that is exceptionally fast and efficient, and it is specifically crafted for the new Watch 10 UI.
Moving on to the features and functionality, the H12 brings several notable improvements. One of the key enhancements is the increase in internal memory to 4GB, providing ample space for storing data, favorite music tracks, e-books, and recordings. This expanded memory ensures a smoother user experience with faster app loading times and the ability to store more personal data on the watch itself. The watch is equipped with Bluetooth 5.0, which offers stable connectivity and efficient pairing with smartphones.
Furthermore, the inclusion of a built-in compass adds further versatility to the smartwatch's capabilities. This feature is typically found in more advanced smartwatches, and its inclusion in the H12 Pro Plus enhances its versatility and functionality. But unfortunately, is sluggish and presents inaccurate readings. And there's no apparent way to calibrate the compass, which might lead to some usability issues for users who require precise direction tracking.
It is important to clarify that the H12 Pro Plus does not include a built-in GPS module, contrary to some misleading information found in certain stores. However, it is compatible with your smartphone's GPS, allowing you to track your outdoor activities accurately.
AI Voice Assistant
One notable advantage of the H12 Pro Plus is its built-in speaker. This allows for voice communication with your AI assistant. This advanced feature enables you to effortlessly give voice commands and ask queries, allowing you to perform specific tasks with ease. The voice assistant acts as your personal AI companion, whether you need to set reminders, check the weather, or access information on the go, The voice assistant on the watch simplifies these tasks and enables hands-free operation.
NFC Access Control
The smartwatch in question brings a new level of convenience with its NFC Access Control feature. This innovative technology allows for keyless and frictionless door entry using the smartwatch as an authentication device. Simply raise your wrist when reaching home to quickly open the door. The NFC functionality of the device supports IC door cards with a frequency of 13.56MHz, which covers a majority (80%) of the market. It also enables payment through popular platforms like Alipay and WeChat Pay, offering secure and convenient transactions. It's important to note that while NFC supports these payment platforms, credit cards or other payment modes are not supported. This feature adds to the overall versatility and convenience of the smartwatch, making it a valuable companion in your daily routines.
User Interface of H12 Pro Plus
The H12 Pro Plus runs on the latest WatchOS 10, and the user interface exemplifies the improvements and refinements that come with this new operating system. The interface is not just responsive; it's exceptionally smooth, promising a delightful user experience. One of the first things you'll notice is the widgets page, which provides real-time data at a glance. Widgets display live information, such as the weather forecast, your daily activity, and even your last recorded blood oxygen level. The widgets are interactive, allowing you to tap on them to access the corresponding applications.
The user interface might look good, but it's important to note that, in my opinion, the H12 Pro Plus falls short of the Hk9 Pro Plus when it comes to overall smoothness and responsiveness. It's not as fluid and can be somewhat sluggish.
The control center is accessible by swiping from top to bottom. Here, you can conveniently enable Bluetooth pairing with phones, Settings, Lock Screen, Do Not Disturb, Sound Mode, Photo Album, and more. The H12 Pro Plus also allows users to add additional functions to the control center, further personalizing their smartwatch experience. Notably, it supports both 12-hour and 24-hour clock formats, a flexible choice for users. These functionalities are easily accessible and enhance the convenience and versatility of the smartwatch.
The settings menu is where you can personalize and configure your H12 Pro Plus. It allows you to sync your name, profile picture, height, weight, and BMI, tailoring the smartwatch to your preferences.
As mentioned earlier, the side button on the smartwatch serves as a convenient way to access the Multitasking bar, allowing you to switch between previously opened applications with ease. This functionality bears a striking resemblance to the Apple Watch. With just a click of the side button, you can effortlessly navigate through your recently used apps, enhancing multitasking capabilities and streamlining your interactions with the device. And you can drag the apps from the right to close them in the background.
The H12 Pro Plus introduces a range of menu styles, with the WatchOS 10 theme as its crown jewel. The new cellular menu style is a significant enhancement, providing fluid transitions and an aesthetic that is visually pleasing. Notably, this smartwatch takes a step further by introducing bouncy icons when opening the menu, a feature that sets it apart from competitors and adds a playful touch to the user interface. When using the menu, you'll notice that the H12 Pro Plus, similar to the HK9 Pro Plus and Apple Watch running WatchOS 10, does not include quitting transitions when closing apps. This omission doesn't detract from the overall experience, but it's a notable point to consider.
The H12 offers users the option to personalize their smartwatch experience with two different menu styles to choose from, including the Watch 10 cellular menu, and list view.
Cellular Menu Style: The new cellular menu style is equipped with a vertical movement that provides a refreshing approach to navigating your smartwatch's menu. As you interact with this menu, transitions are in place, delivering a pleasing visual effect. However, it's important to mention that, much like other elements of the H12 Pro Plus, it lacks the bouncy icons found in some competing devices. Additionally, quitting transitions aren't present.
List View: The list view is another option, offering an alternative way to explore your menu. When in list view, you can scroll all the way down to tap on the grid view button, which then takes you to the cellular menu style. This flexibility ensures that you can choose the menu style that best suits your preferences.
The watch boasts a few additional features that add to its overall appeal. One of these features is the built-in voice recorder and photo album feature and many games.
Health & Fitness Functions
The H12 Pro Plus is not just a stylish timepiece; it also doubles as a comprehensive health and fitness companion. With features like step tracking, calorie counting, compass, heart rate monitoring, and even a sleep tracker, it offers a well-rounded set of tools to help you stay on top of your fitness goals.
Typically, these watches are not designed for intense sports activities due to their sensor limitations. When comparing the heart rate readings to a dedicated oximeter, the results were relatively accurate, with a minimal margin of error. The SpO2 readings also showed promising results, with the H12 Pro Plus displaying levels close to the actual measurements. There may be a slight difference of one or two units between the watch's readings and more precise medical equipment. However, for general use and trend tracking, these measurements are still acceptable.
Furthermore, the H12 Pro Plus offers different sports modes, ensuring accurate tracking and analysis of your workouts. One of the standout features of this watch is its extensive range of sports modes. With a total of 173 different options, this smartwatch caters to a wide range of fitness enthusiasts. Whether you're into running, cycling, swimming, yoga, or other activities.
Connectivity and Compatibility
The H12 Pro Plus Plus offers seamless connectivity with your smartphone, thanks to its Bluetooth 5.0 technology. This high-level Bluetooth version ensures stable and efficient communication between the watch and your device, minimizing connection drops and latency. Whether you want to receive notifications, control music playback, or even make or answer calls directly from your wrist, the H12 Pro Plus provides a convenient and reliable connection.
The watch is compatible with both iOS and Android devices, allowing a wide range of users to experience its impressive features. By downloading the companion app, you can effortlessly sync your data, customize watch faces, and access additional settings to tailor the watch to your preferences. The companion app provides a user-friendly interface that allows you to access detailed health and fitness data, set goals, and track your progress over time. It also enables you to receive firmware updates, ensuring that your H12 Pro Plus stays up to date with the latest features and improvements.
Downloading and Installing the App:
To unlock the full potential of the H12 Pro Plus, it is essential to download the VDO Fit app. This app acts as a bridge between the watch and your smartphone, syncing data and allowing for seamless integration. The app provides a comprehensive overview of your watch's performance, health data, and various settings. With the VDO Fit app, you can personalize notifications, manage reminders, and access local music.
After the successful installation, we may encounter a few more permission prompts when opening the app. For example, the app may request access to your location. Grant the necessary permissions to proceed with the configuration. Additionally, ensure that your phone's Bluetooth and location services are enabled.
Device Pairing:
Now, it's time to pair your H12 Pro Plus with your smartphone. Open the app and locate the "Add Device" option. The app will display the H12 device, allowing you to connect it to your phone. Once the connection is established, the device name will appear in green at the top, indicating a successful pairing. After successful pairing, you will be directed to the main screen of the application.
The album feature allows you to receive notifications from selected applications directly on your smartwatch. You can enable and customize these notifications according to your preferences. Additionally, you can set reminders for activities such as staying active and drinking water.
The "Local Music" section allows you to upload music from your phone to the smartwatch. Similarly, in the "E-Book" section, you can upload and view books on your smartwatch. There is also a recording feature that allows you to record audio and listen to it through the app on your phone.
The smartwatch offers additional features such as the "Do Not Disturb" mode and the "Find Device" mode, which helps you locate your smartwatch. You can access these features by navigating through the settings menu.
Another exciting feature is the ability to take remote photos using the smartwatch. By accessing the "Take Photo" option, you can remotely trigger your phone's camera and capture photos from a distance.
The application also allows you to customize settings such as weather display preferences and time format (24-hour or 12-hour).
One of the noteworthy features of the app is the wide range of watch faces available. You can choose from various watch face styles, including both digital and analog designs.
Finally, the app offers the convenience of syncing your contacts through Bluetooth. By enabling the "Sync Contacts" feature, you can seamlessly access your phonebook directly from the smartwatch.
How adding a photo album in H12 Pro Plus
The highly anticipated photo album function is now available, allowing users to store and view their cherished moments directly on their smartwatch. In this part of the review, I will guide you through the process of using this new feature, showcasing its capabilities and highlighting its user-friendly nature.
Using the Photo Album Function:
Upon opening the VDO Fit app, you will notice the addition of the photo album feature. To get started, select the photo album option within the app. Here, you will have the option to choose the desired photos to add to your smartwatch. Each time, you can add up to 100 photos, and the procedure may take some time, depending on the number of images.
Viewing Photos on the Watch:
Once you have added the desired photos to your smartwatch, let's navigate to the gallery to view them. On your H12 Pro Plus, you will find a dedicated photo album section. Enter the photo album, and you will be greeted with a stunning display of your photos. You can easily scroll through the photos, reliving each memory with a simple swipe.
The H12 Pro Plus smartwatch offers additional customization options for your photos. Within the photo album function, you will find icons representing various actions. By pressing the Create as Wallpaper icon, you can instantly set a photo as your watch face. This feature adds a personal touch to your smartwatch, allowing you to display your favorite moments directly on the home screen. Tapping on an image will display it in full screen. Additionally, the delete icon allows for easy removal of unwanted photos, ensuring a clutter-free and organized photo album.
How adding music in H12 Pro Plus
For music lovers, the H12 Pro Plus shines with its music control capabilities. You can effortlessly manage your music playback directly from your wrist. Now, let's dive into the process of adding music to your Watch from your device.
First, ensure that you have the latest version of the application installed. If you already have the app, it is recommended to uninstall the previous version before updating. You can find the updated version by visiting the official website, and grant all the necessary permissions when prompted.
Now, navigate to the "Local Music" or "Music Library" section. Tap on "Add Music" or a similar button.
Choose the music you wish to transfer from your device to the smartwatch. Wait for the transfer process to complete. Note that the process may take some time, as indicated by the progress percentage displayed on the screen.
Once the transfer is complete, the music will be added to your H12 Pro Plus music library. You can now enjoy your favorite tunes directly from your smartwatch. Keep in mind that the watch becomes inaccessible during the file transfer.
Congratulations! You have successfully added music from your Android device to your Watch. This new feature expands the functionality of your smartwatch, allowing you to enjoy your favorite music on the go. Also, the watch allows you to connect earphones, making it convenient to enjoy your favorite music while working out.
Add ebook:
you'll also find the ebook option. Tap "Add ebook" and select a file from your storage. Once transferred, access the App Store within the app, scroll down to "ebook," and you'll find your saved file. Enjoy reading your favorite ebooks right on your H12 Pro Plus. It's great to see the ebook feature working flawlessly. Additionally, the ebook application supports TXT and PDF formats, allowing you to read text content directly on your wrist. While it may not replace your e-reader entirely, it's a handy feature for quick access to reading material on the go.
Sound Recording:
Recording audio on the H12 Pro Plus is another exciting feature. The sound recording function allows you to record audio for up to 8 hours with its ample 4GB storage capacity. After recording, the file is saved, and you can download and play it back on the watch. However, the download speed may vary and can be slow for even short recordings.
Bluetooth Calling Function On H12 Pro Plus
In addition to receiving call notifications, H12 Pro Plus allows you to answer smartphone calls directly from the watch itself. By syncing your smartphone and the smartwatch via Bluetooth 5.0, you can easily answer incoming calls by tapping the button that appears on the watch's screen, also the watch will display caller names, even if you haven't synced your contacts.
With its integrated microphone and speaker, the H12 Pro Plus ensures clear sound quality during calls, even in noisy environments such as on the road. The microphone is primarily used for on-wrist calls or when paired with a smartphone. This means that you can not only see incoming call notifications on the watch but also make and receive calls directly from the watch using Bluetooth connectivity. During a call, you can control the volume, transfer the call to your phone, mute the microphone, or end the call.
Furthermore, the smartwatch allows you to save important and frequently-called contacts, making it easier and faster to initiate calls without having to search through a lengthy contact list. Additionally, it features a dial pad for quick and convenient call dialing.
Notifications
The H12 Pro Plus includes a comprehensive notification system, delivering timely alerts and updates directly to your wrist. The watch provides seamless integration with your smartphone, ensuring you never miss an important message, call, or notification. From top to bottom, you can effortlessly access your notifications. The device's customizable vibration alerts ensure that you won't miss important notifications. You can adjust settings for call and message notifications to suit your preferences.
To activate notifications, navigate to the message notification settings within the app. At this point, you might encounter another permission prompt. Grant the required permission to enable notifications on your smartwatch. You will now receive notifications from various apps, including Facebook, Twitter, Messenger, and SMS. It's important to mention that the H12 Pro Plus still doesn't support stacked notifications or emojis in notifications, which could be an issue for users who prioritize these features.
Introducing a new push interaction form, the Watch implements a convenient top pop-up window. By clicking on the 'pop-up box,' users can seamlessly access message details. Once the message appears, a simple swipe on the screen or a click of a button will hide it.
H12 Pro Plus Battery Life & Charging Time
The H12 Pro Plus excels in its battery performance, making it a standout feature of this smartwatch. With a substantial 310mAh capacity, it boasts one of the largest battery capacities in its price range. However, it's essential to note that its real-world battery performance might not be as impressive as its specifications suggest. In practical terms, the H12 Pro Plus doesn't offer the best battery life. During our test period of around 135 minutes (roughly 2 hours and 15 minutes), the battery depleted from 53% to 32%. This translates to a battery drain rate of approximately 1% every 6 to 7 minutes. Multiple factors contribute to this rapid battery drain, including the numerous animations, the bright display, and the use of the Always On Display (AOD) mode. But for average use, you can expect around 3 days.
Charging is convenient and hassle-free, thanks to its wireless charging capability. Simply ensure that you place the watch correctly on the charger, and it will begin charging automatically. A full charge typically takes around two hours, allowing you to quickly replenish the battery and continue enjoying the smartwatch's functionality without extended downtime. When it comes to charging, it is recommended to use a maximum 5-watt power charger or connect it directly to a USB port on a computer for optimal safety and performance.
In addition to its impressive features, the watch offers a delightful charging experience with captivating and vibrant animations. While charging the watch, you'll be treated to a visually appealing display that seamlessly switches between horizontal and vertical screens. To enhance your bedtime experience, simply activate the "bedside clock mode" and place the watch on its side while connected to the power supply. The watch will automatically transition into the bedside clock mode, allowing you to use it as a convenient bedside lamp.
Concluding Thoughts
The H12 Pro Plus has undoubtedly made a lasting impression in the world of smartwatches. With a combination of sturdy hardware, feature-rich software, and a focus on enhancing your daily life, it stands out as a significant upgrade. As we've explored the various facets of this smartwatch, it's clear that the H12 Pro Plus Plus offers an extensive range of features, making it a versatile companion. The H12 Pro Plus Smartwatch is currently available on the AliExpress Store for a very good price.
The hardware build of the H12 Pro Plus is commendable, and it can easily rival some of the more premium smartwatches in terms of design and durability. It features a 1.91-inch AMOLED display with a crisp resolution, ensuring that your watch faces and notifications look vibrant and clear. The smartwatch allows you to store music and photos, and even record audio directly. The H12 is a strong contender for users who appreciate the benefits of an all-in-one smartwatch. Its performance and features make it an ideal choice for those who wish to combine fitness tracking, health monitoring, and a range of other features into one sleek device.
Arguably the most crucial update that the H12 Pro Plus brings to the table is the introduction of WatchOS 10. This software enhancement has breathed new life into the smartwatch, propelling it to the forefront of the smartwatch market. WatchOS 10 not only refines the user experience but also introduces a plethora of exciting features that cater to a wide range of user needs.
One of the standout features of WatchOS 10 is the improved fluidity and responsiveness of the user interface. While it may not quite match the seamless performance of high-end smartwatches. The UI animations, transitions, and overall system performance are markedly smoother, which is a notable improvement.
Furthermore, OS 10 brings an exciting level of flexibility when it comes to customizing the smartwatch. Users can now choose from a more extensive selection of watch faces, each catering to different tastes and preferences. A noteworthy mention goes to the enhanced media controls, which significantly enrich the user's interaction with their paired devices. The H12 Pro Plus is now capable of directly managing media playback on the connected smartphone. These additions turn the smartwatch into a more holistic and self-sufficient device, eliminating the need for users to frequently reach for their smartphones for basic tasks. The inclusion of these features reflects a smartwatch that isn't just a companion device but a capable standalone gadget.
However, there are areas where it might fall short when compared to other smartwatches, such as the HK9 Pro Plus. In particular, the reviewer highlights that the H12 Pro Plus might not match the smoothness and overall user experience offered by its competitors. Performance-related concerns, as well as some UI design elements, are points that could be addressed in future iterations.
H12 Pro Plus Smartwatch
2* Silicon Strap
Wireless Charger
User Manual