Smartwatches have become more than just timekeeping devices; they've evolved into advanced tech gadgets that offer a multitude of features and stylish designs. Among the latest entries in this category is the HK9 Pro Plus, It's the highly anticipated successor to the HK9 Pro Gen 2, boasting an all-new WatchOS 10 UI. And this smartwatch resembles the Apple Watch Series 9, generating significant buzz in the market of the Apple watch clone. It's often labeled as a replica, but can it truly live up to the reputation of its illustrious counterpart?
In this detailed review, we'll explore the HK9 Pro Plus, focusing on its unique Watch 10 theme, user interface, display quality, customizable watch faces, menu styles, and other features that make it stand out in a crowded market. The question will be, does it manage to mimic the Apple Watch successfully, or does it bring something distinct to the table? Let's embark on this exploration to find out.
Making & Answer Calls via Bluetooth
2.04-inch AMOLED Screen, Always On Display
WatchOS 10 UI
7 Days Battery Life, Wireless Charging
Heart Rate & Blood Pressure Monitor
Wallet Function & Business Cards
Multifunction NFC, Voice Assistant
Multi-Sport Modes
IP68 Waterproof
2GB ROM for Local Music
AI Watch Face Support
Application Market
Supports Sound Recording
Multitasking Bar, Customize Side Button
Location Sharing, Tiktok Remote Control
Watch Faces, Menu Style
Built-in Compass & Built-in Game
Unboxing Experience
The journey with the HK9 Pro Plus begins with an exciting unboxing experience. The box proudly displays the product's hk9 Pro logo and mentions key features like the application market, AI watches face support, and playback recording. The packaging itself is sleek and stylish, creating an impression of quality.
Within the box, the user manual provides valuable guidance for setting up the device, though it's worth mentioning that pairing this smartwatch is a breeze. What sets this unboxing experience apart are the bands included, One is a woven band, while the other is a silicone band with a woven pattern. Additionally, a wireless charger. Finally, you'll encounter the star of the show – the smartwatch itself, snugly protected to ensure it arrives in pristine condition.
Design And Build Quality
At first glance, the HK9 Pro Plus presents itself as a testament to artisanship. Drawing inspiration from the Series 9, its metal build exudes an air of elegance, while the meticulous paint finish adds a touch of refinement. Notably, the minimalistic design is elevated by the presence of ultra-thin bezels that frame the AMOLED display. With its 2.04-inch 2.5D curved display and slim chassis, the watch boasts a sleek and modern look. The power button on the right side is a key element for navigation, enabling users to access the menu and scroll through options. The side key, adjacent to the power button, provides access to the control center. Remarkably, you can customize the double-click and press-and-hold functions on the side key. The microphone is positioned between the buttons, and the left side houses the speaker for crisp call quality.
The HK9 Pro Plus WATCH makes significant strides in the right direction within this segment. Its lightweight and comfortable design makes it a desirable accessory, while its impressive functionalities and Apple-inspired design enhance its appeal. As one of the top smartwatch clones of the Apple Watch Series 9, it exudes elegance and offers a premium feel. Despite its budget-friendly nature, the watch boasts sturdy construction and a high-quality stainless steel body with a sleek matt finish.
With its 46mm case dimensions and weight of 60g, it closely resembles the exact copy of the original Apple Watch even more than the JS9 Pro Max or HK9 Pro. Notably, it's not compatible with Apple Watch cases. The primary reason is its slightly larger size and the different location of the speaker compared to Apple's largest watch size (45mm). Users might potentially use a silicone case on it, but it might require some stretching.
The HK9 Pro Plus offers the flexibility to customize the side button according to your preferences with a double-click, you can assign your most frequently used functions or shortcuts for quick access. Whether you're interested in tracking sports activities, monitoring SPO2 levels, checking your steps, or keeping an eye on your heart rate, the choice is yours. Simply navigate to the settings menu and select the function that suits your needs.
Underneath the watch, you'll find the sensor that powers all the health and sports features of the device, showcasing its commitment to providing comprehensive tracking capabilities. As is customary, the metal ring facilitates wireless magnetic charging, ensuring convenient and hassle-free charging experiences. Additionally, on the sides, you'll find two lock buttons designed to secure the strap in place, providing a reliable and secure fit.
The strap plays a significant role in completing the overall aesthetic of the watch. Crafted from lightweight and comfortable silicone, it ensures a pleasant experience during extended wear. Moreover, its removable nature allows for customization, as you have the option to use any 42/45mm belt. For those seeking alternative options, there is also the possibility to purchase a metal or leather strap, further expanding the style choices to suit individual preferences.
Display Quality
On the other hand, The crowning jewel of the HK9 Pro Plus is undoubtedly its AMOLED display. I am happy to say that I was completely impressed with its display, which is my favorite type and one of the strengths of this smartwatch, Unlike other clones that contain an IPS panel, this watch has slimmer bezels, enabling you to see more content on the tiny display than ever before, it's a lovely punchy display with a 2.04-inch AMOLED display, and because its larger than other smartwatches being one of the few smartwatch clones that are the same size as the apple watch, the images displayed on the screen are clear thanks to the high resolution of 485*520 pixels and a high pixel density.
That's why a sharp, vivid screen is central to the success of a smartwatch product, and the watch face stands out, and this is something Apple does very well in its watches. Also worth noting is the peak brightness that is capable of rendering content on the screen even in direct sunlight, texts, and numbers are crystal clear for reading. Therefore, there is no problem in displaying various contents on the screen. The contrast and sharpness offered by 60Hz elevate this panel on par with most popular competitors. Definitely, it's the best screen in a budget smartwatch in terms of size and resolution.
The HK9 Pro Plus smartwatch offers an exceptional user experience, surpassing expectations for a budget device. Its remarkable color accuracy and sharpness result in clear and vibrant images, even in direct sunlight. Whether you're checking notifications or monitoring your health stats, using the smartwatch is effortless and convenient, eliminating the need to constantly retrieve your phone from your pocket. In terms of size and resolution, it's the best screen among budget smartwatches, providing a visually immersive experience. Additionally, the inclusion of always-on screen dials, a feature typically found in OLED screens, sets it apart from other devices in its price range. Despite the technological challenges, the watch overcomes these obstacles to deliver an impressive always-on display experience (though not identical to OLED screens).
Also, hk9 Pro Plus gives users control over screen time, with a maximum setting of 30 seconds for the standard screen duration. Additionally, it introduces an always-on mode that can maintain the display's activity for up to 20 minutes, ensuring important information is readily accessible.
Exploring Watch Faces
Watchfaces are often the most personal aspect of any smartwatch, and the HK9 Pro Plus doesn't disappoint in this department. This is where this watch shows its mettle, rivaling some of the best in the smartwatch industry. Users have the option to choose from eight built-in watch faces, some of these watch faces are interactive and provide customization options, including different themes. With the added flexibility to import more from the gallery or craft custom watch faces using AI.
A new watch face stands out, showcasing remarkably thin bezels and an even appearance, which is an essential detail for aesthetics. Customization options allow users to tweak the color of the dial, adding a personal touch to the watch face. The available watch faces are sure to cater to a wide range of preferences. In total, you can store up to 15 watch faces at a time on the HK9 Pro Plus.
Switching between watch faces is made easy through various methods, a standout feature is the capacity to switch between different watch face themes using the Crown Key, closely mimicking the original Watch OS experience. Or by long presses on the home screen or using the Wearfit Pro app. Additionally, users have access to over 200 online watch faces for download, offering a wide variety of choices. While some watch face dials are free, there are also numerous paid options available to further enhance customization. Users even have the option to use their own photos as a watch face background or choose any wallpaper they desire, allowing for a personalized touch.
A curious feature that I bring to our attention is the voice command function, designed to generate watch faces through voice instructions. While promising, this feature does have a limitation – primarily recognizing English commands. This is an essential consideration for non-English speakers who may find this feature less practical.
Waterproof
The watch is equipped with an IP68 waterproof rating, which means it can handle sweat and splashes of water. However, it is important to note that the watch is not suitable for swimming or exposure to hot water or saltwater, as it is not specifically approved for such activities. To prevent any potential damage in the long or short term, it is advisable to avoid submerging the watch or exposing it to water. Additionally, with the presence of a speaker and microphone, it is recommended to keep the watch dry to maintain its functionality. In the event that the watch does come into contact with water, it is advisable to dry it thoroughly before using it again, ensuring its longevity and optimal performance over time.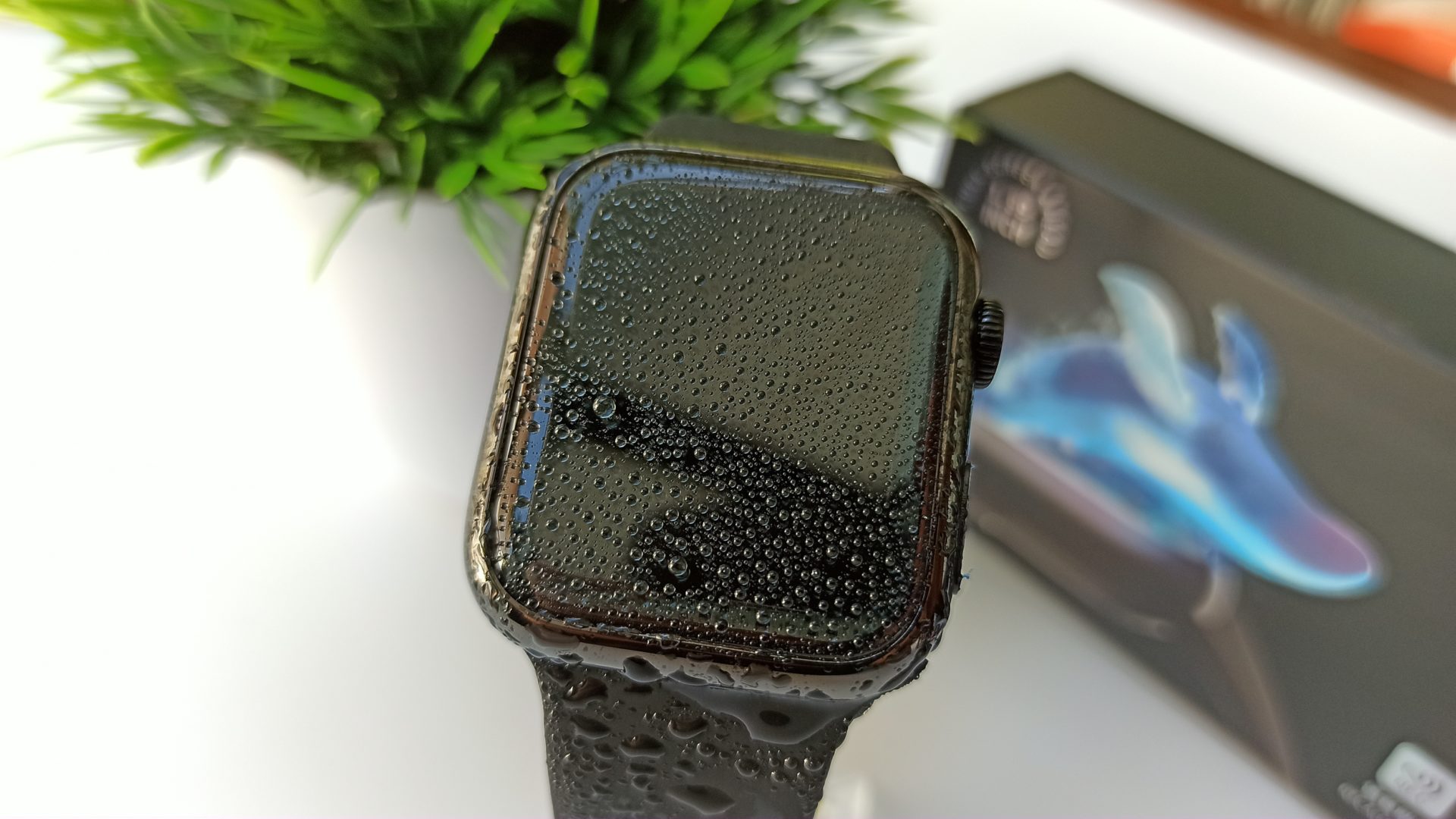 Under The Hood
A remarkable feature of the HK9 Pro Plus is its responsive and smooth user experience. Operating with exceptional speed, it delivers a high-performance user interface that could easily rival the original Apple Watch. The secret to this impressive performance is the latest top chip, the SF32LB551, featuring a high-performance dual-core processor, an integrated 2D graphics engine, and an artificial intelligence neural network accelerator. This advanced chipset ensures faster response times and efficient data processing without lag, providing a user experience that is exceptionally fast and efficient, and it is specifically crafted for the new Watch 10 UI.
What makes the HK9 Pro Plus stand out is its 2GB of internal storage capacity. This feature allows users to load their favorite music directly onto the watch. This means you can enjoy your favorite music without the need for a smartphone. However, connecting TWS earbuds via Bluetooth for music playback isn't currently supported. This feature, eagerly awaited by many users, has the potential to be a valuable addition to future firmware updates. However, This stands in contrast to other models like the H12 Pro Plus, which offer this convenience.
In terms of sensors, the watch incorporates a highly reliable Heart Rate and G-sensor. This sensor is known for its accuracy and provides valuable insights into your health and fitness. Whether you're monitoring your heart rate or tracking your workouts, this sensor will help you take better care of your health and motivate you to stay active. The watch's powerful hardware and sensor combination make it a standout choice in the smartwatch market.
In addition to its impressive hardware and sensor capabilities, the HK9 Pro Plus is equipped with a Bluetooth v5.1 chip. This advanced Bluetooth technology ensures fast and stable connections, allowing you to make and receive calls effortlessly. You can stay connected without any concerns about connectivity issues, thanks to the reliable and speedy Bluetooth performance of the watch.
It's important to note that the watch does not have its own GPS sensor. Therefore, if you require GPS functionality, you'll need to rely on your smartphone's GPS for location tracking. The watch serves as a companion device, utilizing the GPS capabilities of your connected smartphone when needed. Furthermore, the inclusion of a built-in compass adds further versatility to the smartwatch's capabilities. This feature is typically found in more advanced smartwatches, and its inclusion in the HK9 Pro Plus enhances its versatility and functionality. The built-in compass allows users to easily navigate and find their bearings, making it a valuable tool for outdoor activities and exploring unfamiliar areas.
AI Voice Assistant
One notable advantage of the HK9 Pro Plus is its built-in speaker. This allows for voice communication with your AI assistant. This advanced feature enables you to effortlessly give voice commands and ask queries, allowing you to perform specific tasks with ease. The voice assistant acts as your personal AI companion, whether you need to set reminders, check the weather, or access information on the go, The voice assistant on the watch simplifies these tasks and enables hands-free operation.
AI Integration: The Chat-GPT
One of the most intriguing aspects of the HK9 Pro Plus is its integration with AI through Chat GPT. Although the full scope of this integration is yet to be explored, the potential for AI-driven conversations, recommendations, and insights is a tantalizing prospect. Syncing between the watch and the "Warfit Pro" app paves the way for interactive AI experiences, expanding the smartwatch's capabilities beyond conventional expectations. The ability to seek information, receive AI-driven recommendations, and gain insights into various topics promises a dynamic user experience.
NFC Access Control
The smartwatch in question brings a new level of convenience with its NFC Access Control feature. This innovative technology allows for keyless and frictionless door entry using the smartwatch as an authentication device. Simply raise your wrist when reaching home to quickly open the door. The NFC functionality of the device supports IC door cards with a frequency of 13.56MHz, which covers a majority (80%) of the market. It also enables payment through popular platforms like Alipay and WeChat Pay, offering secure and convenient transactions. It's important to note that while NFC supports these payment platforms, credit cards or other payment modes are not supported. This feature adds to the overall versatility and convenience of the smartwatch, making it a valuable companion in your daily routines.
User Interface of HK9 Pro Plus
The software on the smartwatch enhances the overall user experience, providing a pleasant and feature-rich interface. Notably, one of the significant updates is the redesigned menus, icons, and overall software appearance, offering a fresh and modern look. Navigating the hk9 Pro Plus is a delightful experience, facilitated by its exceptional performance. The user interface boasts a level of smoothness that sets it apart, with quick menu options closely resembling WatchOS 10, but adds its unique elements, such as an exclusive control center with a distinctive background. Swiping from different directions reveals notification panels, menus, and quick access options. The device's fluidity and responsiveness set it apart from many other clones on the market.
A useful feature is the Control Center, accessible via the side key. Here, you can conveniently enable Bluetooth pairing with phones, Flashlight, Location Sharing, Always-on Display, Do Not Disturb mode, brightness, NFC capabilities, Chat-GPT, time formats, and more. Notably, it supports both 12-hour and 24-hour clock formats, a flexible choice for users. These functionalities are easily accessible and enhance the convenience and versatility of the smartwatch.
As mentioned earlier, the side button on the smartwatch serves as a convenient way to access the Multitasking bar, allowing you to switch between previously opened applications with ease. This functionality bears a striking resemblance to the Apple Watch. With just a double click of the side button, you can effortlessly navigate through your recently used apps, enhancing multitasking capabilities and streamlining your interactions with the device. You can drag the apps from the right to close them in the background.
The hk9 Pro Plus introduces a range of menu styles, with the WatchOS 10 theme as its crown jewel. The new cellular menu style is a significant enhancement, providing fluid transitions and an aesthetic that is visually pleasing. Notably, this smartwatch takes a step further by introducing bouncy icons when opening the menu, a feature that sets it apart from competitors and adds a playful touch to the user interface.
The HK9 Pro Plus offers users the option to personalize their smartwatch experience with three different menu styles to choose from, including the Watch 10 cellular menu, old cellular menu style, list view, and grid view, among others. These menu styles come with impressive opening and quitting animations, adding an engaging dimension to navigation. Each menu style provides a unique and visually appealing way to navigate through the device's interface. Whether you prefer a more organized grid layout or a stylish striped design, the Pro Plus has you covered. Switching between menu styles is as simple as double-clicking the scrolling wheel, allowing for effortless customization based on your preference.
Health & Fitness Functions
The HK9 Pro Plus stands out as a highly competitive smartwatch that caters to all the essential aspects one would expect. Specifically focusing on sports activities, it is evident that the company has put considerable effort into providing comprehensive support for a wide range of exercises. Whether you enjoy walking, cycling, or engaging in winter sports or ball-related activities, this smartwatch is well-equipped to meet your needs. By scrolling through the extensive list of available options, users can explore numerous different activities, ensuring there's something for everyone.
The HK9 Pro Plus combines impressive sports features with extensive health monitoring capabilities to help you track your well-being throughout the day. The smartwatch records a wide range of health metrics to provide a comprehensive overview of your daily activities and indicators by tracking steps, distance, and calories and continuously monitoring heart rate 24/7. The inclusion of a SpO2 sensor allows real-time tracking of blood oxygen levels. Continuous heart rate monitoring provides insights into cardiovascular fitness. Sleep tracking functionality assesses sleep quality, analyzing patterns and wake time.
While the watch incorporates a sensor that offers improved accuracy compared to other smartwatches, it's important to note that the measurements provided by the device may not be entirely accurate. It's crucial to understand that the watch is not a medical instrument, and as is common with many watches in this price range, the measurements can be unreliable to some extent. However, despite these limitations, the watch still serves as a valuable tool to raise awareness of your health and physical performance.
Setup and Pairing
To fully enjoy the extensive features of your HK9 Pro Plus, it is recommended to connect it to the Wearfit Pro app, which offers a range of beneficial functionalities to support your fitness and overall health. The app is compatible with both Android and iOS devices and can be downloaded from the Google Play Store or the App Store.
Setting up the HK9 Pro Plus is a relatively simple process. After selecting your preferred language, the watch is ready to be paired with your smartphone. While we won't delve into the intricacies of the pairing process in this article, the user manual is there to guide you through this seamless experience.
Once you have downloaded and launched the app, set the necessary permissions. Then, add your HK9 Pro Plus smartwatch device and connect it to the app. Customize your personalization options and settings according to your preferences. Once connected, the app will facilitate seamless communication with your smartwatch, automatically adjusting the time, language, and weather settings. Additionally, it provides features such as phone call functionality and software updates for the smartwatch, if available.
Wearfit Pro App For HK9 Pro Plus
The WearFit Pro application is the companion app for the smartwatch. While it offers essential functionalities, it's not without its downsides, such as the inclusion of ads and occasional full-screen video ads. However, The app includes a dedicated health menu that displays comprehensive data collected by the smartwatch. You can easily access information such as the number of steps taken, daily goals, calories burned, and distance traveled. By clicking on each label, you can expand the view to explore more detailed information, including weekly and monthly summaries.
The app also offers detailed sleep monitoring capabilities. By clicking on the sleep monitoring label, you can access data related to light and deep sleep, total sleep duration, awake time, and more. This information is presented in an informative graph, allowing you to track your sleep patterns over time. Furthermore, the Wearfit Pro app provides access to vital health metrics such as heart rate, blood pressure, and blood oxygen levels. Each metric has its dedicated label, which can be clicked to either initiate real-time measurements or review previously recorded data. With the Wearfit Pro app, the HK9 Pro Plus smartwatch expands its capabilities, empowering users to monitor and analyze various aspects of their health.
Main Features of the App
The Wearfit Pro app offers a comprehensive range of features and settings that greatly enhance the functionality of the HK9 Pro Plus smartwatch. Users can access a gallery of custom watch faces and add them to their smartwatch through the application. This app also provides users with the ability to manage their installed watch faces. It offers the convenience of syncing favorite contacts to the smartwatch. Users can set up a payment QR code on the smartwatch, allowing others to make payments directly by scanning the QR code. Additionally, they can create custom QR codes for various applications and services.
The smartwatch can provide weather updates, including current conditions, daytime and nighttime temperatures, and a week-ahead forecast. And you can double as an NFC access card for certain applications. Or even Find Phone Option to help users locate their smartphone by making it ring when needed, offering practical assistance when the phone seems to have gone missing.
In addition, the app provides various settings to personalize your experience, including the option to add your favorite contacts for quick and easy access. While the app allows you to add up to eight favorite contacts, it ensures that you have easy access to the most important people in your life.
Control Short Videos
One of the interesting capabilities of the HK9 Pro Plus smartwatch is its ability to function as a multifunctional smart remote control for short videos with simple operations for watching videos. Using the smart remote control feature, you can easily perform actions such as one-click control, pause/play, and navigate up and down. Additionally, you can even use the smartwatch to indicate your liking for content. While this feature may not be advantageous for everyone, it provides additional functionality that can be useful for those who prefer the convenience of controlling their media playback from their smartwatch.
Bluetooth Calling Function On HK9 Pro Plus
The HK9 Pro Plus smartwatch offers a unique feature that sets it apart from other smartwatches. In addition to receiving call notifications, it allows you to answer smartphone calls directly from the watch itself. By syncing your smartphone and the smartwatch via Bluetooth 5.1, you can easily answer incoming calls by tapping the button that appears on the watch's screen. It even supports gesture controls for accepting calls, making it a versatile tool for daily tasks.
With its integrated microphone and speaker, the HK9 Pro Plus ensures clear sound quality during calls, even in noisy environments such as on the road. The microphone is primarily used for on-wrist calls or when paired with a smartphone. This means that you can not only see incoming call notifications on the watch but also make and receive calls directly from the watch using Bluetooth connectivity. This eliminates the need to take out your phone every time you want to make or answer a call, providing convenience and efficiency.
Furthermore, the smartwatch allows you to save important and frequently-called contacts, making it easier and faster to initiate calls without having to search through a lengthy contact list. Additionally, it features a dial pad for quick and convenient call dialing.
Notifications
The HK9 Pro Plus smartwatch ensures that you stay updated and never miss out on important messages or notifications. With its clear and easily readable display, you can conveniently view incoming calls, messages, social media notifications (Facebook, WhatsApp, Twitter), and other app alerts right on your wrist, keeping you connected even when you're on the go. Notifications appear as banners and are interactive, enabling quick responses. However, a downside is that once you read a notification, it's automatically deleted from the watch.
Also, has a few delightful surprises in store within its notification center. Unlike previous models, this smartwatch is designed to turn on its display as soon as a new notification is received, ensuring you never miss an important update. It also introduces support for system notification sounds, making for a more engaging and immersive user experience. Perhaps one of the most exciting additions is emoji support for notifications, injecting a dash of fun and expressiveness into your messages.
HK9 Pro Plus Battery Life & Charging Time
The HK9 Pro Plus excels in its battery performance, making it a standout feature of this smartwatch. With a substantial 320mAh capacity, it boasts one of the largest battery capacities in its price range. However, it's essential to note that its real-world battery performance might not be as impressive as its specifications suggest. In practical terms, the HK9 Pro Plus doesn't offer the best battery life. During our test period of around 135 minutes (roughly 2 hours and 15 minutes), the battery depleted from 53% to 32%. This translates to a battery drain rate of approximately 1% every 6 to 7 minutes. Multiple factors contribute to this rapid battery drain, including the numerous animations, the bright display, and the non-use of a pure black wallpaper for the Always On Display (AOD) mode.
Charging is convenient and hassle-free, thanks to its wireless charging capability. Simply ensure that you place the watch correctly on the charger, and it will begin charging automatically. A full charge typically takes around two hours, allowing you to quickly replenish the battery and continue enjoying the smartwatch's functionality without extended downtime.
In addition to its impressive features, the WATCH offers a delightful charging experience with captivating and vibrant animations. While charging the watch, you'll be treated to a visually appealing display that seamlessly switches between horizontal and vertical screens. To enhance your bedtime experience, simply activate the "bedside clock mode" and place the watch on its side while connected to the power supply. The watch will automatically transition into the bedside clock mode, allowing you to use it as a convenient bedside lamp.
The Final Verdict
The HK9 Pro Plus is more than a mere replica – it's a smartwatch that stands on its own merits, offering a delightful blend of design, and features, and combining functionality and affordability. While its resemblance to the Apple Watch Series 9 is undeniable, its performance and features make it a compelling choice for anyone seeking a stylish and functional smartwatch.
Also, the HK9 Pro Plus stands out as a feature-rich and versatile smartwatch. With its extensive watch face options, music transfer capabilities, and reliable notification handling, it caters to users who seek a seamless connectivity experience, fitness tracking, and the ability to personalize their devices.
The device's vibrant 2.04-inch AMOLED display offers clarity and an always-on feature, enhancing the user experience. The integration of Chat-GPT AI brings a unique dimension to the HK9 Pro Plus, with the potential for interactive experiences and insights. NFC access control and Bluetooth calling further contribute to its practicality and convenience. Notably, the device boasts a fresh animation system for menus and transactions, enhancing the overall interface interactivity. Navigating through menus and executing transactions becomes a more engaging and visually pleasing process, reflecting the commitment to user-centered design.
However, the smartwatch isn't without its potential drawbacks. Firmware updates, crucial for the device's optimal performance, come with potential risks. Users are advised to handle these updates with caution. Additionally, altering certain settings, such as the 'Always On Display' duration, can significantly impact battery life. Therefore, users must find the right balance between functionality and power management.
By combining these innovations with its existing features, the smartwatch continues to push the boundaries of what budget-friendly devices can offer. So, for those seeking a reliable and feature-packed smartwatch with an appealing design, the HK9 Pro Plus is a worthy choice. It prides itself on being user-centric, allowing for a personalized and efficient user experience.
HK9 Pro Plus Price And Where To Buy
The HK9 Pro Plus Smartwatch is currently available on the AliExpress Store for a very good price. So, don't miss out on this great deal. To view its price or buy it, you can access the offer by clicking on the store icon.