In a world where wearable technology continues to evolve at a rapid pace, smartwatches have become increasingly popular among tech-savvy individuals. With their ability to seamlessly integrate with our smartphones and provide us with a host of convenient features, smartwatches have become more than just time-telling accessories – they have become an essential part of our daily lives, and finding a device that combines style, functionality, and affordability can be a daunting task. One such smartwatch that has been generating a lot of buzz and is much-anticipated is the Hello Watch 3.
The Watch 3 has emerged as a strong contender, offering a remarkable user experience that rivals even the most popular smartwatches on the market. Boasting an array of impressive features and a stylish design, to capture the attention of consumers who seek both functionality and aesthetics in their wearable devices.
I had the opportunity to unbox this Watch and explore its capabilities firsthand. In this full review, I will delve into all aspects of the Hello Watch 3, from its design and build quality to its performance and software capabilities, shedding light on why it deserves recognition as one of the best smartwatches available. Without further ado, Join me as we uncover the strengths and weaknesses of this highly anticipated smartwatch.
Making & Answer Calls via Bluetooth
2.04-inch AMOLED Screen, Multitasking Bar
Always On Display with 2 Standby Dials
4GB ROM, Local Music & E-book & Photo Album
Multitasking Bar, Built-in Games
49mm Rugged Design – Quick Action button
7 Days Battery Life, Wireless Charging
Watch Faces, Menu Style
Heart Rate & Blood Pressure Monitor
Wallet Function & Business Cards
Multifunction NFC, Voice Assistant
+170 Multi-Sport Modes
IP68 Waterproof
Built-in Compass
Unboxing of Hello Watch 3:
Let's begin by unboxing the Hello Watch 3 and examining its contents, and right from the start, I must say, it looks stunning. Inside, we find the watch's manual, which provides essential information about the device, As we explore the contents, we discover the watch's straps neatly placed in a compartment, and underneath, we find the wireless charging cable. It's worth mentioning that while the package does not include additional accessories such as extra straps or screen protectors, the availability of these items may vary depending on the variant or retailer.
As I carefully remove the packaging, I'm greeted by the sleek and stylish design of the smartwatch. The Hello Watch 3 retains the same color scheme as its predecessor Watch 2 with a few subtle changes, maintaining a sense of familiarity, However, I must note that the Watch 3 appears to be slimmer and more refined. This continuity in design is visually pleasing, and I'm excited to explore the enhancements and upgrades. Comparing it side by side with the original Ultra Watch, it's difficult to distinguish between the two, showcasing the attention to detail in maintaining the brand's aesthetic.
Design and Build Quality:
From the moment we unboxed the Hello Watch 3, we were impressed by its sleek and modern design. When comparing the physical build, the Hello Watch 3 shares similarities with its predecessor, sporting a metallic body. However, the finishing on the Watch 3 is more refined, providing a premium feel. Unlike the shiny finish of the Hello Watch 2, this Watch offers a more matte-like texture, which enhances its overall aesthetic appeal.
The device boasts an eye-catching display, accompanied by well-placed buttons, From the right side, we notice the presence of two holes, accommodating the top and bottom microphones. The crown, located on the right side, offers smooth and precise navigation, akin to its original Apple counterpart. Another notable feature is the second button, conveniently placed for easy access. On the back, we find a sensor, a charging interface, and four screws that secure the watch's components. The left side of the watch boasts ten holes for the speaker, while a striking orange button adds a touch of uniqueness to the overall design.
Turning the watch over reveals four genuine screws, watch band buttons, and informative text about the look, including sensor placement. It is worth mentioning that there is no temperature sensor present in this model.
The Hello Watch 3 boasts a sturdy build quality that inspires confidence in its durability. The watch is constructed with a durable alloy frame and a lightweight design, it offers a comfortable wearing experience throughout the day. The combination of metal and high-grade plastic components ensures that the watch can withstand daily wear and tear. The attention to detail becomes apparent as we examine the 49mm case, which closely resembles the original Apple Watch Ultra. The precision and craftsmanship evident in the design highlight the commitment of the Watch 3 to emulate its high-end counterpart. This small yet significant detail reflects the manufacturer's dedication to replicating the minute intricacies of the original device.
The overall weight of the watch may feel slightly heavier than other models on the market, but this can be attributed to the substantial build and enhanced materials used in its construction. While some individuals may prefer lighter options, the weight of the Wella Watch 3 adds to its robustness and premium feel. The display is protected by durable glass or a scratch-resistant coating, safeguarding it against minor bumps and scratches. Additionally, the watch is rated for water resistance, making it suitable for activities such as swimming or showering without worrying about water damage.
The straps of the Hello Watch 3 are made from high-quality materials, striking a balance between comfort and durability. They are easily adjustable and provide a secure fit on the wrist. The straps are also replaceable, allowing users to customize the watch's appearance by choosing from a variety of strap options available in the market.
Waterproof
On the whole, it's a really good-looking watch and doesn't feel too obtrusive, thanks to its sleek profile. Having IP68 Waterproof which it means can only handle sweat and splashes of water, although the watch is not approved for swimming but is good for wearing for activities, so, I do not recommend swimming or exposing it to hot water or saltwater to avoid any harm Long or short term and with the presence of a speaker and a microphone, avoiding it will be good, however, if it's exposed to water in any way, I prefer to dry the watch after immersing it in water and before operating it so that it stays with you for as long as possible.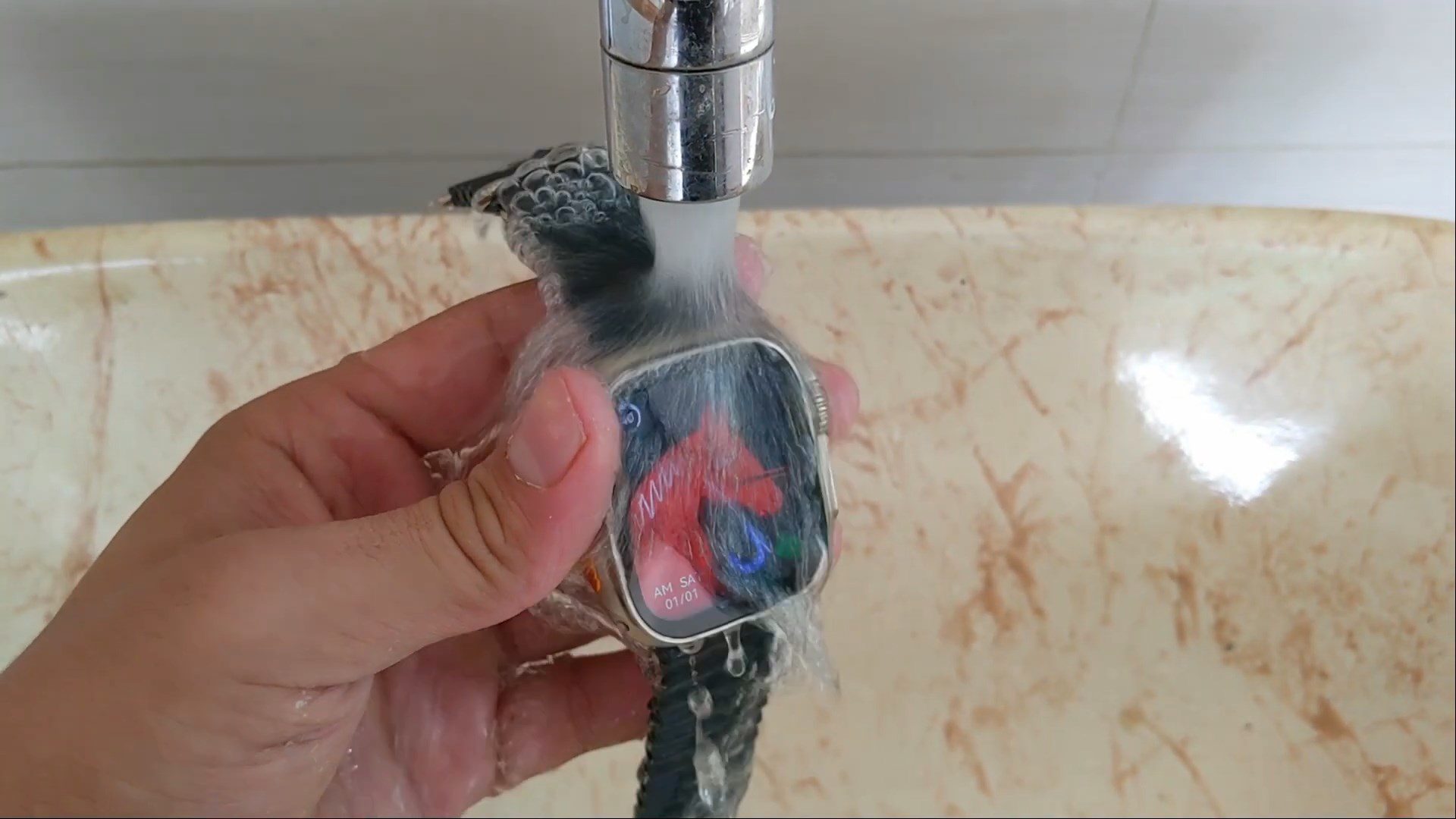 Hello Watch 3 – Display:
Moving on to the display, the Hello Watch 3 leaps forward by incorporating a 2.04-inch AMOLED panel which is a significant upgrade from its predecessor. The visual quality is impressive, with vibrant colors and deep blacks to rival other high-end smartwatches on the mark. The IPS display found in the previous version simply cannot compete with the sharpness and clarity provided by the AMOLED technology used in the Hello Watch 3, and I'm thoroughly satisfied with the enhanced display quality.
This display technology ensures that images and text appear sharp, providing an immersive and enjoyable visual experience. The AMOLED technology also contributes to energy efficiency, preserving battery life without compromising on visual quality.
The watch's display boasts an impressive resolution of 425×518 pixels, resulting in crisp and detailed visuals. Whether you're checking notifications, browsing apps, or viewing photos, the Hello Watch 3's high resolution ensures that content is rendered with precision and clarity. Additionally, offers excellent brightness levels, allowing for clear visibility even in various lighting conditions whether you're outdoors under direct sunlight or in dimly lit environments.
I can say with certainty that the Hello Watch 3 model is currently the best among Apple Watch Ultra replicas. I am not aware of any other model that surpasses it. If another model does come out, we will certainly conduct a detailed review of it, but for now, there is no better model than the Watch 3. Additionally, the watch offers different screen-off clock styles, allowing you to choose between a variety of designs and layouts. Whether you prefer a minimalist digital display or an elegant analog clock.
Multiple Watch Faces
Hello, Series has made a concerted effort to tailor the plethora of watch faces included on the Hello Watch 3 that's why brings you 10 different pre-installed watch faces to choose from, you can switch between them easily in many ways, by rotating the button or via the QiFit app for more watch faces with over 500 online watch faces are available for download and it's included a variety of colors, retro, analog, 3D, and digital faces, or you can even use your photos as a watch face background or any wallpaper and have the possibility of customization. More importantly, it includes the latest and exclusive watch faces for Apple Watch Series 8 and Ultra. So yes, you will not miss the fun.
By touching and holding the screen, users can access a dedicated interface to select and lock their preferred watch face. This feature ensures that accidental interactions with the crown do not result in unintended changes to the watch's face.
Performance of Hello Watch 3:
Upon powering on the Hello Watch 3, the boot-up process is remarkably fast, thanks to the A16 processor powering the watch. This processor delivers improved speed and responsiveness compared to its predecessor, resulting in a smoother and more efficient user experience. The vibration feedback of the watch is notable, conveying a sense of durability and quality.
Moving on to the features and functionality, the Watch 3 brings several notable improvements. One of the key enhancements is the increase in internal memory to 4GB, providing ample space for storing data, favorite music tracks, e-books, and recordings. This expanded memory ensures a smoother user experience with faster app loading times and the ability to store more personal data on the watch itself.
Furthermore, the inclusion of a built-in compass adds further versatility to the smartwatch's capabilities. This feature is typically found in more advanced smartwatches, and its inclusion in the Hello Watch 3 enhances its versatility and functionality. The built-in compass allows users to easily navigate and find their bearings, making it a valuable tool for outdoor activities and exploring unfamiliar areas. This addition further demonstrates the commitment of the Hello Series to providing a feature-rich and reliable smartwatch experience.
It is important to clarify that the Hello Watch 3 does not include a built-in GPS module, contrary to some misleading information found in certain stores. However, it is compatible with your smartphone's GPS, allowing you to track your outdoor activities accurately. The watch is equipped with Bluetooth 5.0, which offers stable connectivity and efficient pairing with smartphones.
AI Voice Assistant
One notable advantage of the Hello Watch 3 Ultra is its built-in speaker. This allows for voice communication with your AI assistant. This advanced feature enables you to effortlessly give voice commands and ask queries, allowing you to perform specific tasks with ease. The voice assistant acts as your personal AI companion, whether you need to set reminders, check the weather, or access information on the go, the voice assistant on the Watch 3 simplifies these tasks and enables hands-free operation.
NFC Access Control
The smartwatch in question brings a new level of convenience with its NFC Access Control feature. This innovative technology allows for keyless and frictionless door entry using the smartwatch as an authentication device. Simply raise your wrist when reaching home to quickly open the door. The NFC functionality of the device supports IC door cards with a frequency of 13.56MHz, which covers a majority (80%) of the market. It also enables payment through popular platforms like Alipay and WeChat Pay, offering secure and convenient transactions. It's important to note that while NFC supports these payment platforms, credit cards or other payment modes are not supported. This feature adds to the overall versatility and convenience of the smartwatch, making it a valuable companion in your daily routines.
User Interface and Navigation:
Powering on the Hello Watch 3, we are greeted familiar boot-up logo, indicating that it shares similarities with its predecessor in terms of the user interface. The watch faces are dynamic and visually appealing, providing a customizable experience. Navigating through the watch is smooth and responsive, thanks to the upgraded CPU. Swiping gestures allow easy access to message notifications, split-screen mode, and customizable shortcuts.
From top to bottom, users can quickly view message notifications, ensuring that important information is readily available at a glance.
Swiping left to right activates the split-screen feature, facilitating multitasking with ease.
The control center, accessible by swiping from top to bottom, offers quick access to various settings such as connectivity status and allows you to change brightness, Bluetooth Call, Settings, Lock Screen, Do Not Disturb, Sound Mode, Photo Album, and more. The Hello Watch 3 also allows users to add additional functions to the control center, further personalizing their smartwatch experience.
Swiping from right to left reveals the step counter, heart rate monitor, and phone functionalities, ensuring that users can easily access these essential features.
The orange button, conveniently customizable, allows users to assign specific functions based on their preferences. These customization options add a layer of personalization, catering to individual needs and enhancing the overall user experience.
As mentioned earlier, the side button on the smartwatch serves as a convenient way to access the Multitasking bar, allowing you to switch between previously opened applications with ease. This functionality bears a striking resemblance to the Apple Watch. With just a click of the side button, you can effortlessly navigate through your recently used apps, enhancing multitasking capabilities and streamlining your interactions with the device. And you can drag the apps from the right to close them in the background.
The system's responsiveness is commendable, allowing for smooth and efficient navigation. This action will reveal a range of useful features and options. Among the available options, you'll find heart rate and sleep monitoring functionalities, various sports modes tailored to your fitness needs, and a comprehensive settings menu where you can customize the device according to your preferences. Additionally, the smartwatch offers convenient features such as capturing photos, music control, weather updates, games, voice assistant, menu styles, and phone functions. The diverse range of features and capabilities accessible through the main menu ensures that you have all the tools you need.
The Hello Watch 3 offers two menu interfaces to choose from: the list view and the Smart View. Both interfaces provide easy access to your desired applications, ensuring a seamless user experience. The menu includes popular apps like weather, calendar, alarm, music control, and a stopwatch. These apps come pre-installed on the watch, ensuring you have essential tools readily available.
The Watch 3 boasts a few additional features that add to its overall appeal. One of these features is the built-in voice recorder and photo album feature and many games.
Health and Fitness Features:
The Hello Watch 3 is not just a stylish timepiece; it also doubles as a comprehensive health and fitness companion. With features like step tracking, calorie counting, compass, heart rate monitoring, and even a sleep tracker, it offers a well-rounded set of tools to help you stay on top of your fitness goals.
Typically, these watches are not designed for intense sports activities due to their sensor limitations. When comparing the heart rate readings to a dedicated oximeter, the results were relatively accurate, with a minimal margin of error. The SpO2 readings also showed promising results, with the Hello Watch 3 displaying levels close to the actual measurements. There may be a slight difference of one or two units between the watch's readings and more precise medical equipment. However, for general use and trend tracking, these measurements are still acceptable.
Additionally, the watch includes sedentary reminders, which notify you when you've been inactive for an extended period. These reminders encourage you to move and take breaks, promoting a healthier and more active lifestyle.
Furthermore, the Hello Watch 3 offers different sports modes, ensuring accurate tracking and analysis of your workouts. One of the standout features of the Watch 3 is its extensive range of sports modes. With a total of 173 different options, this smartwatch caters to a wide range of fitness enthusiasts. Whether you're into running, cycling, swimming, yoga, or other activities.
In addition to the extensive sports modes, the Watch 3 also includes a built-in compass. This compass feature proves handy during outdoor activities and adventures, ensuring you stay on the right track and navigate accurately. The watch allows you to connect earphones, making it convenient to enjoy your favorite music while working out.
Connectivity and Compatibility:
The Hello Watch 3 offers seamless connectivity with your smartphone, thanks to its Bluetooth 5.0 technology. This high-level Bluetooth version ensures stable and efficient communication between the watch and your device, minimizing connection drops and latency. Whether you want to receive notifications, control music playback, or even make or answer calls directly from your wrist, the Hello Watch 3 provides a convenient and reliable connection. The watch also supports NFC, allowing for quick and easy payments via compatible payment systems.
The watch is compatible with both iOS and Android devices, allowing a wide range of users to experience its impressive features. By downloading the companion app, you can effortlessly sync your data, customize watch faces, and access additional settings to tailor the watch to your preferences. The companion app provides a user-friendly interface that allows you to access detailed health and fitness data, set goals, and track your progress over time. It also enables you to receive firmware updates, ensuring that your Hello Watch 3 stays up to date with the latest features and improvements.
Downloading and Installing the App:
To unlock the full potential of the Hello Watch 3, it is essential to download the QIFit app. This app acts as a bridge between the watch and your smartphone, syncing data and allowing for seamless integration. The app provides a comprehensive overview of your watch's performance, health data, and various settings. With the QIFit app, you can personalize notifications, manage reminders, and access local music.
To begin, you can download the app by visiting the provided link, which differs from the version found on the Play Store. you'll need to open your browser and visit the following URL: "fir.qcwxwire.com". Scroll down on the page to find the latest build. Tap the download icon to begin the download process. Once the file is downloaded, access it from your files. If you haven't enabled downloads from unknown sources, you'll need to enable it in your settings. Uninstall the previous version of Qifit, then install the downloaded APK file. Once installed, you'll find the Qifit app in your menu.
Granting Permissions and Configuration:
After the successful installation, we may encounter a few more permission prompts when opening the app. For example, the app may request access to your location. Grant the necessary permissions to proceed with the configuration. Additionally, ensure that your phone's Bluetooth and location services are enabled.
Device Pairing:
Now, it's time to pair your Hello Watch 3 with your smartphone. Open the app and locate the "Add Device" option. The app will display the Hello Watch 3 device, allowing you to connect it to your phone. Once the connection is established, the device name will appear in green at the top, indicating a successful pairing.
After successful pairing, you will be directed to the main screen of the application.
The album feature allows you to receive notifications from selected applications directly on your smartwatch. You can enable and customize these notifications according to your preferences. Additionally, you can set reminders for activities such as staying active and drinking water.
The "Local Music" section allows you to upload music from your phone to the smartwatch. Similarly, in the "E-Book" section, you can upload and view books on your smartwatch. There is also a recording feature that allows you to record audio and listen to it through the app on your phone.
The smartwatch offers additional features such as the "Do Not Disturb" mode and the "Find Device" mode, which helps you locate your smartwatch. You can access these features by navigating through the settings menu.
Another exciting feature is the ability to take remote photos using the smartwatch. By accessing the "Take Photo" option, you can remotely trigger your phone's camera and capture photos from a distance.
The application also allows you to customize settings such as weather display preferences and time format (24-hour or 12-hour).
One of the noteworthy features of the app is the wide range of watch faces available. You can choose from various watch face styles, including both digital and analog designs.
Finally, the app offers the convenience of syncing your contacts through Bluetooth. By enabling the "Sync Contacts" feature, you can seamlessly access your phonebook directly from the smartwatch.
How adding a photo album in Hello Watch 3
The highly anticipated photo album function is now available, allowing users to store and view their cherished moments directly on their smartwatch. In this part of the review, I will guide you through the process of using this new feature, showcasing its capabilities and highlighting its user-friendly nature. Before we dive into the photo album function, let's ensure that we have the latest version of the QI Fit app installed on our device. To check the version, navigate to the settings within the app and locate version number 1.0056 or above.
Using the Photo Album Function:
Upon opening the QI Fit app, you will notice the addition of the photo album feature. To get started, select the photo album option within the app. Here, you will have the option to choose the desired photos to add to your smartwatch. Each time, you can add up to 100 photos, and the procedure may take some time, depending on the number of images.
Viewing Photos on the Watch:
Once you have added the desired photos to your smartwatch, let's navigate to the gallery to view them. On your Hello Watch 3 watch, you will find a dedicated photo album section. Enter the photo album, and you will be greeted with a stunning display of your photos. You can easily scroll through the photos, reliving each memory with a simple swipe.
Customization Options:
The Hello Watch 3 smartwatch offers additional customization options for your photos. Within the photo album function, you will find icons representing various actions. By pressing the Create as Wallpaper icon, you can instantly set a photo as your watch face. This feature adds a personal touch to your smartwatch, allowing you to display your favorite moments directly on the home screen. Tapping on an image will display it in full screen. Additionally, the delete icon allows for easy removal of unwanted photos, ensuring a clutter-free and organized photo album.
Add ebook:
you'll also find the ebook option. Tap "Add ebook" and select a file from your storage. Once transferred, access the App Store within the app, scroll down to "ebook," and you'll find your saved file. Enjoy reading your favorite ebooks right on your Hello Watch 3. It's great to see the ebook feature working flawlessly.
How adding music in Hello Watch 3
Now, let's dive into the process of adding music to your Hello Watch 3 from your device.
First, ensure that you have the latest version of the application installed. If you already have the app, it is recommended to uninstall the previous version before updating. You can find the updated version by visiting the official website, and grant all the necessary permissions when prompted.
Now, navigate to the "Local Music" or "Music Library" section. Tap on "Add Music" or a similar button.
Choose the music you wish to transfer from your device to the smartwatch. Wait for the transfer process to complete. Note that the process may take some time, as indicated by the progress percentage displayed on the screen.
Once the transfer is complete, the music will be added to your Hello Watch 3's music library. You can now enjoy your favorite tunes directly from your smartwatch. Keep in mind that the watch becomes inaccessible during the file transfer.
Congratulations! You have successfully added music from your Android device to your Hello Watch 3. This new feature expands the functionality of your smartwatch, allowing you to enjoy your favorite music on the go. Also, the watch allows you to connect earphones, making it convenient to enjoy your favorite music while working out.
Bluetooth Calling Function On Hello Watch 3
The Hello Watch 3 smartwatch offers a unique feature that sets it apart from other smartwatches. In addition to receiving call notifications, it allows you to answer smartphone calls directly from the watch itself. By syncing your smartphone and the smartwatch via Bluetooth 5.0, you can easily answer incoming calls by tapping the button that appears on the watch's screen.
With its integrated microphone and speaker, the Watch 3 ensures clear sound quality during calls, even in noisy environments such as when on the road. The microphone is primarily used for on-wrist calls or when paired with a smartphone. This means that you can not only see incoming call notifications on the watch but also make and receive calls directly from the watch using Bluetooth connectivity. This eliminates the need to take out your phone every time you want to make or answer a call, providing convenience and efficiency.
Furthermore, the smartwatch allows you to save important and frequently-called contacts, making it easier and faster to initiate calls without having to search through a lengthy contact list. Additionally, it features a dial pad for quick and convenient call dialing.
Notification:
The Hello Watch 3 includes a comprehensive notification system, delivering timely alerts and updates directly to your wrist. The watch provides seamless integration with your smartphone, ensuring you never miss an important message, call, or notification. From top to bottom, you can effortlessly access your notifications.
To activate notifications, navigate to the message notification settings within the app. At this point, you might encounter another permission prompt. Grant the required permission to enable notifications on your smartwatch. You will now receive notifications from various apps, including Facebook, Twitter, Messenger, and SMS. For SMS notifications, you may need to grant additional permissions.
Introducing a new push interaction form, the W69 Ultra implements a convenient top pop-up window. By clicking on the 'pop-up box,' users can seamlessly access message details. Once the message appears, a simple swipe on the screen or a click of a button will hide it. Notably, on specific pages, there is no response when clicking on the message pop-up box, eliminating the need to navigate to the message details page. This streamlined approach applies to various functions such as starting exercises, breathing training, charging, lock screen, bedside clock, stopwatch/timer, and dialing/calling.
Sound Recording:
Recording audio on the Hello Watch 3 is another exciting feature. The sound recording function allows you to record audio for up to 8 hours with its ample 4GB storage capacity. After recording, the file is saved, and you can download and play it back on the watch. However, the download speed may vary and can be slow for even short recordings.
Battery Life and Charging:
Battery life is always a concern when it comes to smartwatches, but the Hello Watch 3 surprises us with its exceptional power management. Equipped with a 450mAh battery, the Watch offers decent battery life. Under average usage, including receiving notifications, tracking activities, and occasional phone calls, the watch lasted approximately 3 days before requiring a recharge. Your usage pattern and settings, such as screen brightness and always-on display, may affect battery life. It's worth noting that if you use the watch solely as an accessory without connecting it to the mobile app or using intensive features, the battery life could be even longer.
Charging the Hello Watch 3 is straightforward, thanks to its magnetic charging dock. Simply align the dock with the watch's charging place, and the magnets securely hold the watch in place while charging. The watch charges relatively quickly, reaching a full charge in about 1.5 to 2 hours. When it comes to charging, it is recommended to use a maximum 5-watt power charger or connect it directly to a USB port on a computer for optimal safety and performance.
In addition to its impressive features, the Watch 3 offers a delightful charging experience with captivating and vibrant animations. While charging the watch, you'll be treated to a visually appealing display that seamlessly switches between horizontal and vertical screens. To enhance your bedtime experience, simply activate the "bedside clock mode" and place the watch on its side while connected to the power supply. The watch will automatically transition into the bedside clock mode, allowing you to use it as a convenient bedside lamp.
Hello Watch 3 – Final Verdict:
Priced competitively, the Hello Watch 3 offers exceptional value for money. After thoroughly reviewing the Watch 3, I must conclude that it impresses on multiple fronts. Its sleek design, powerful performance, and extensive range of features make it a compelling choice in the smartwatch market and stands as a strong alternative to more expensive smartwatches.
The unboxing experience reveals attention to detail and build quality that matches its visual appeal. The user interface is intuitive, allowing for effortless navigation through its various functions. The Watch 3 excels as a health and fitness companion, offering comprehensive tracking and analysis tools to support your well-being. Syncing with the QIFit app enhances the watch's capabilities and provides a centralized hub for managing your watch's data and settings. The continuous software updates demonstrate the manufacturer's commitment to enhancing the user experience, but some persistent issues, such as ghost touch and compass calibration, require urgent attention.
Its striking resemblance to the Apple Watch, coupled with a competitive price point, makes it an appealing option for tech enthusiasts. While some aspects, such as the absence of built-in GPS and waterproof capabilities, may disappoint certain users, the overall performance, sleek design, and robust feature set of the Watch 3 make it a noteworthy contender in the smartwatch market.
If you're in the market for a stylish, feature-rich smartwatch that seamlessly integrates into your daily life, the Watch 3 is certainly worth considering. It's important to remember that personal preferences and requirements play a significant role in determining whether the Hello Watch 3 is the right choice for you.
Hello Watch 3 Price And Where To Buy
The Hello Watch 3 Smartwatch is currently available on the AliExpress Store for a very good price. So, don't miss out on this great deal. And to view its price or buy it, you can access the offer by clicking on the store icon.