The KingWear Company came up with a very interesting and new concept of smartwatches, by introducing the KW10, the ladies smartwatch. A minimalistic single touch screen smartwatch with cool fitness and health features for women to lead a healthy lifestyle. In this review we will address all the important points you need to consider before deciding whether to purchase it or not.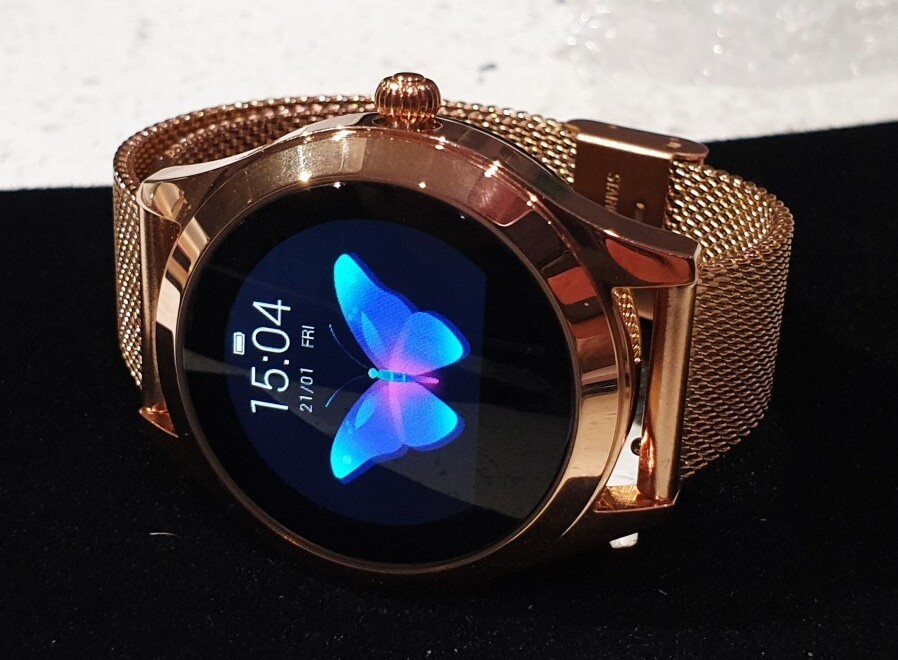 A new and fashionable look for lady, 1.04-inch colorful touch screen.
IP68 waterproof rating.
Health care monitors: heart rate monitor, pedometer, sport modes, etc * Reminders: call reminder/message reminder/sedentary reminder/water drinking reminder
Multi-Sports Modes: Running/Walking /Climbing/Cycling/Swimming/Play Ping-Pong/Play Basketball/Play Football.
BT4.0, Compatible with Android and IOS.
Watch faces: Several watch faces for your choice.
OTA: support update the latest firmware in the APP.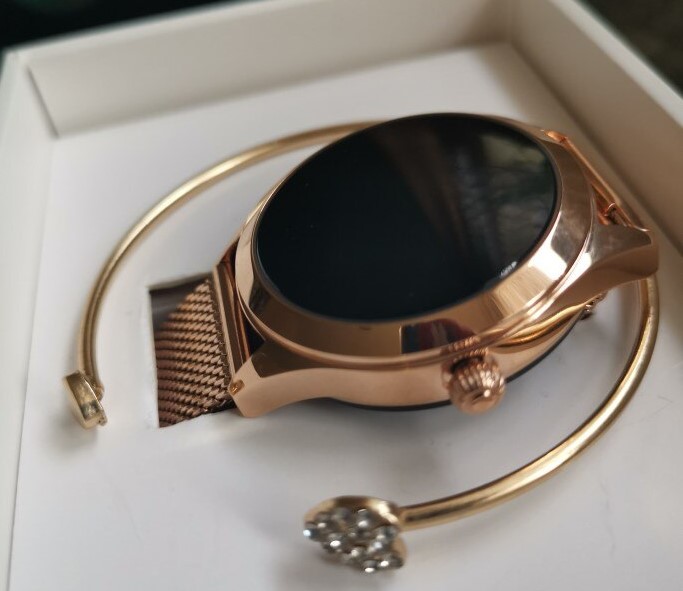 KingWear KW10 Design:
The kingwear KW10 Smartwatch has a unique look that you cannot find in any other smartwatch in the market. Both the frame of the display and the strap are made of stainless steel that looks beautiful and feels solid and durable, in my opinion, that's what distinguishes the KW10 from other smartwatches.
From the outside it looks just like a typical watch that is the simplicity of it, a glossy and compact unicolor body (strap + watch) with a button on the side that looks like a crown and gives a nice touch that doesn't change the time but turns the smartwatch on/off, it comes with a 1.3" round single touch display that is bright even under sunlight, so you don't have to squint just to check the time every time you are outside.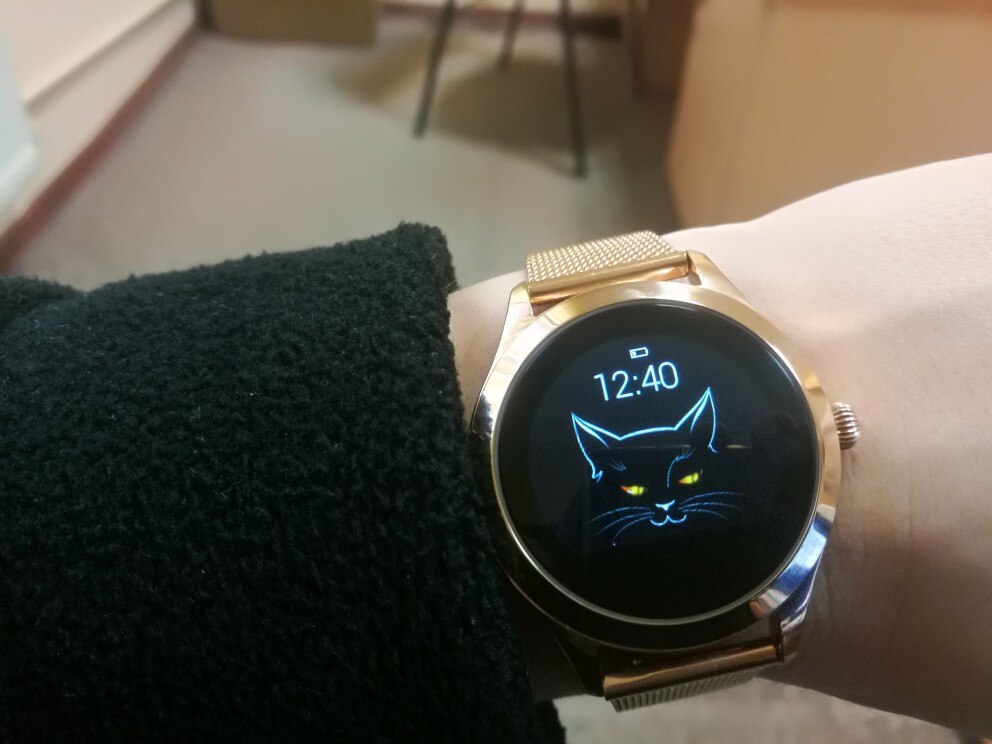 The bottom side is a removable plastic cover, you will find the heart rate sensor that captures and monitors your physical condition and help you with your fitness activities along with the charging pins.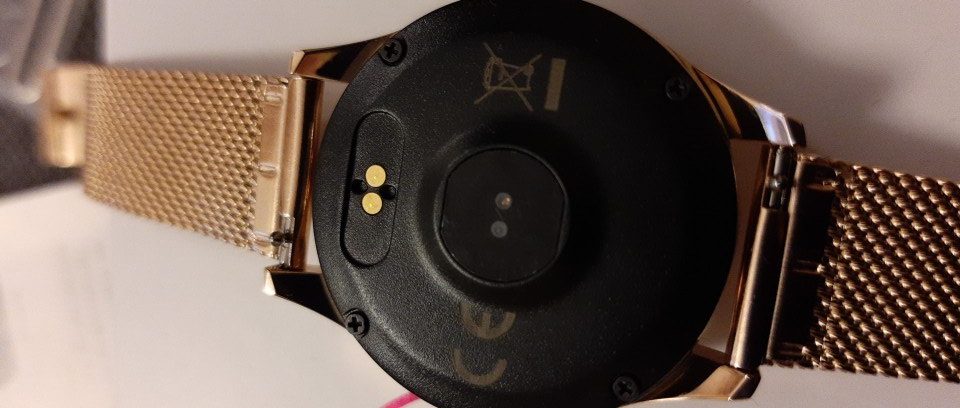 And it comes with many removable straps, you can either choose from the leather or steel metal and is available in 5 colors: steal Rose Gold, Steel Silver, Leather Gold Black, Leather Silver Black, Leather White.
The KW10 is overall small with the only 38*45*10.8mm, but that is because the design is feminine and is intended for females, it weighs only 70g so it is lightweight and that makes comfortable to wear all day long without feeling like carrying a heavy burden on your wrist.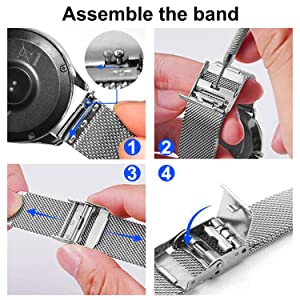 How to assemble watch starp:
Toggle the pins to install the band;
Open the buckle with an iron needle(attached);
Adjust the position of the buckle to fit the wrist;
Merge the buckle, complete installation.
Waterproof And Durability:
The KingWear KW10 gives the feeling of a solid device with its body frame made of stainless steel and is IP68 water and dustproof certified. That means you don't need to worry about water damaging your smartwatch. Whether you are washing your hands, taking a bath, walking on a rainy day, or just sweating extensively of exercising, your smartwatch is always safe from water. However, we do not recommend swimming or putting the KW10 underwater for long periods of time, as it is not designed for these purposes and it may get destroyed.
Display:
The Kingwear KW10 smartwatch comes with a single touch IPS LCD 1.04" color display that is round of shape with a curve designed and has a resolution of 240*198 pixels. Personally, I find that this display suits the smartwatch well, regarding the minimalistic and simple design and the price point.
To turn the display on, just click the crown and it'll display your watch face and lets you interact with your smartwatch. You can also adjust the bright by long pressing the smartwatch, when it shows the brightness icon.
Under the hood:
The KW10 isn't particularly a powerful smartwatch by 2020 standards, even though it comes with the Nordic52832 processor, in addition to 64Kb RAM and 512kb ROM storage. Nevertheless, this smartwatch is snappy and doesn't show any major lags or slowdowns. It is worth to mention that the animation of the watch faces is laggy, but that doesn't affect the overall performance, and wouldn't be a turn off for most users. The most important component of this smartwatch is the sensor that allows it to offer all the cool health and fitness features.
You may also like Bakeey F35 New Smartwatch For Healthy Life-Style Review – All You Need to Know.
Software And Compatibility:
When it comes to software, the KW10 runs on a standard operating system, it uses Bluetooth 4.0 to connect to LinkTo Health on Android and iPhone devices, and by this, it is available on the Google Play and Play Store platform.
For Android, the app was logged in it and linked to the watch successfully, but while doing this on the iPhone we encountered an error message in the event that this happens I advise you to use an alternative "WearHealth" app and make sure that your device runs on Android 4.4 or iOS 8.0 and above. Before the first usage of the smartwatch, make sure to charge it up for at least 2 hours, and Install the LinkTo Health app to connect the smartwatch to the smartphone and make the best use of it.
The KW10 has so many cool and practical features for fitness and health and other basic things such: messages, long-press test, blood rate monitor, steps count, distance counter, burnt calories calculator, workout mode, stopwatch, find my phone.
And theme selection that allows you to choose one of 5 live skins as a watch face and brightness control.
And among the many features, you can get notifications directly on your smartwatch, and it supports many social networks such as Facebook, Twitter, WhatsApp, Line, Skype, Twitter, Wechat. Of course, you cannot reply from the KW10.
Fitness and Health Care In KW10:
The KW10 is fitness smartwatch, it comes equipped with sensors that captures your blood rate, Oxygen levels in blood, blood pressure, steps count, burnt calories, in addition to what makes this watch a ladies smartwatch which is logging menstrual cycles and symptoms, just enter some of your data to the app, and the smartwatch will do the rest.
In addition to heart data, a smart watch also analyzes your sleep quality with sensors and shows you your periods of a deep sleep, light sleep, and waking time ideal for tailoring your schedule to get the best night's rest. This feature is so important to live a healthy life because sleep is one of the most critical things that affect your health.
Keep in mind that the data that this smart watch gives you is not accurate, as it is not from medical equipment. It only gives you approximate information about your health condition.
10 Sports Modes:
For your indoors or outdoors workout, the KW10 offers people who exercise some sports modes for each activity, the sports modes are: running, walking, cycling, climbing, swimming, ping-pong, basketball, badminton, and football.
KingWear KW10 Battery And Charging:
The KW10 comes with a fairly large battery of 120mAh of capacity, since its a single touch display, the screen doesn't consume much battery, that allows it to run up to one week in normal daily usage mode. To charge it, you only need to connect the magnetic charger to the pins on the bottom side of the watch and it will start charging and take about 2h. It worth mentioning that the smartwatch needs to be charged for at least 2 hours before the first usage.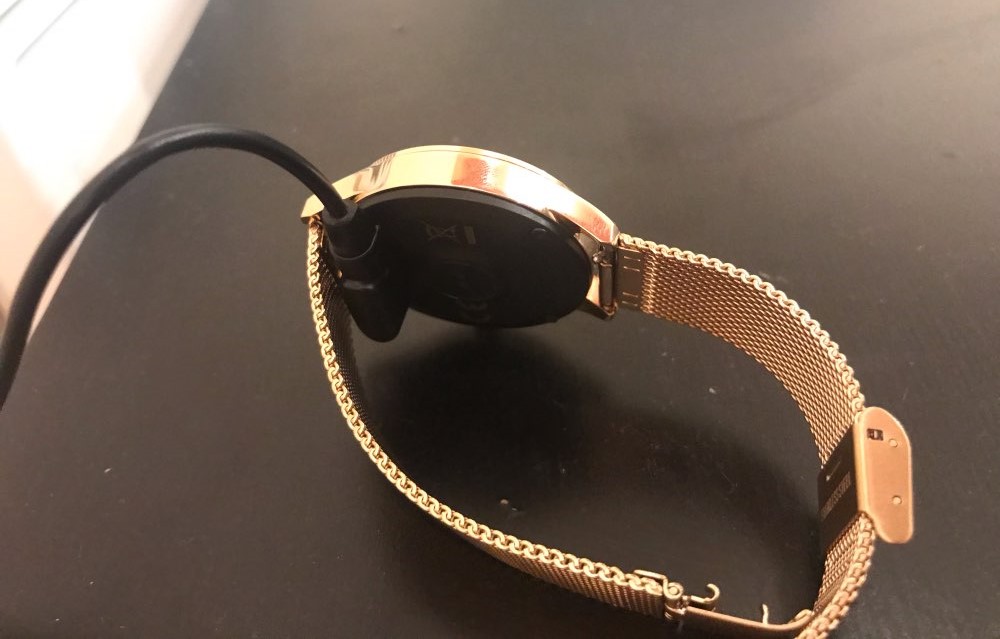 KingWear KW10 Price And Where To Buy:
The KingWear KW10 is currently available on Banggood for $45.99 and Gearbest for $47.25 and Aliexpress store for just $31. This is a very good price So, don't miss out on this great deal. And to view its price or buy it, you can access the offer by clicking on the store icon.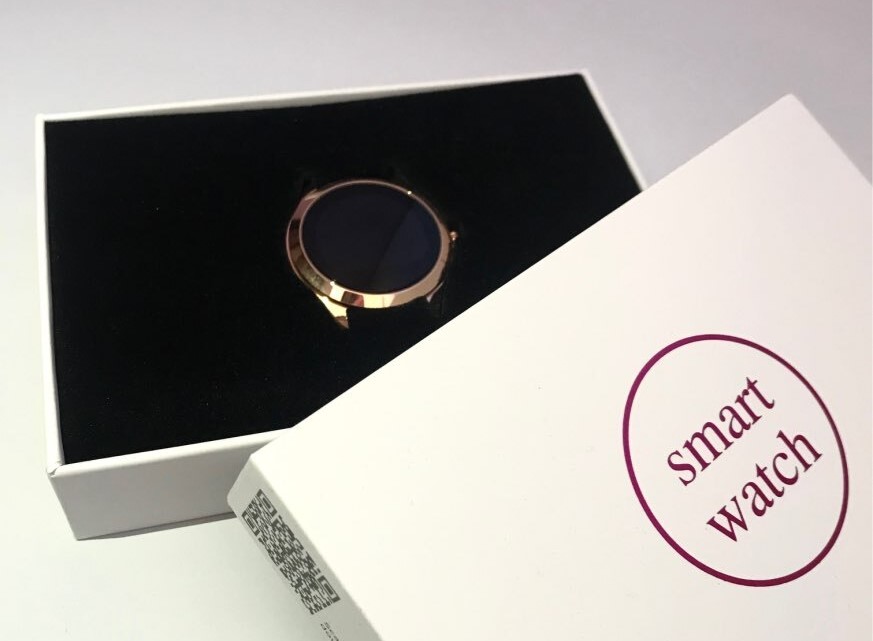 KW10 Smartwatch.
Charger cable.
User manual.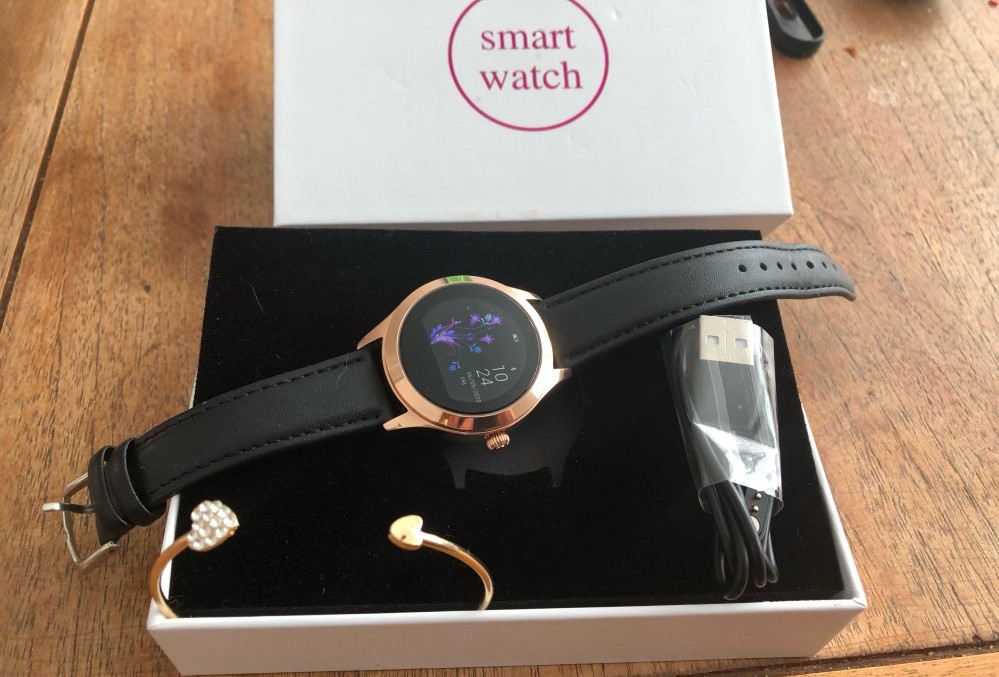 KingWear KW10 Specification
Brand
KINGWEAR
Model
KW10
Color
Black-Leather, Black-Stainless Steel, Silver-Leather, Silver-Stainless Steel
Button
Power on/off key
CPU
NRF52832
bluetooth Version
BT 4.0 or above
Compatible OS
Android 4.4 or above , iOS 8.0 or above
Operating Mode
Single Touch
APP Name
WearHealth
Technical Parameters
Sensor
G-sensor, Heart Rate Sensor
Screen
Size: 1.04 inch
Type: IPS
Resolution: 240*198 pixels
Battery
Battery Capacity: 120 mAh
Standby Time: About 10 days
Using time: About 7 days
Charging Time: About 2 hours
Charging Type: Magnetic charging
Appearance & Details
Band
Material: Stainless Steel / Leather
Length: about 241 mm
Width: about 15.7 mm
Weight and Size

Product size: about 45*38*10.8mm
Product weight: about 70g
Waterproof
IP68 waterproof rating
Heart Rate Monitor
Yes, details of your heart rate data, support to set continuous heartrate mode in the APP
Sleep Monitor
Yes, analysis of your sleep quality, support to set sleep target in the APP
Multi-sport Modes
Yes, support running, walking, climbing, cycling, swimming, play ping-pong/ football/
basketball/ badminton, etc.
Pedometer
Yes, includes calories, distance, steps
Information sync
Yes, all real time information can be pushed from your mobile phone
Reminders
Yes, support to set in the APP, includes Pill reminder/ meeting reminder/ sedentary
reminder/ water drinking reminder
Shake Photos
Yes, shake your smart bracelet to remote capture
Find device
Yes, you could find your watch from your mobile phone
Call or Message Reminder
Yes, support to set in the APP
Auto Light-up Screen
Yes, support to set in the APP
Alarm Clock
Yes, support to set in the APP
OTA
Yes, update the latest firmware in the APP
Time format
24h or 12h format, support to set in the APP
Alert Type
Vibration